General objective is to gather practical knowledge about Hospitality industry. Here focus on Housekeeping Operations of Hotel Abakash. Other objectives are to know about departments of the Hotel Abakash and discuss different techniques, methods, equipments etc. Finally discuss about operation aspects of the hotel and prepare SWOT analysis and give some suggestions.
Introduction
Hotel Abakash is an ideal hotel. The current study aims are to get acquainted with the organizational structure of The Hotel Abakash understands and orientation of application of the theoretical learning acquired from conceptual concentration in the undergraduate program. The major objectives of this study are to determine how a front office deals with visitor and the revenue earning sources to identify the pattern of revenue sources element. One recommendations and suggestions have been made to improve both the pattern of front office revenue and the trend of earnings from various resources.
To this aim, I have collected the data & information collected through primary & secondary sources. My report is the House keeping Operation of The Hotel Abakash. I have collected the primary information through face-to-face conversation and interview with officials of The Hotel Abakash, data from Computer generated database etc. Secondary data are collected basically from observation & collection from Journals, Brochures, Annual Reports, internal documents, Magazines, Publications, Books and others form of publications as well as websites.
Background of the Study
In today's world, only academic qualification does not make a student perfect to compete with the outside world. Internship is highly needed to gain idea, knowledge and experience.
Victoria University of Bangladesh (VUB), one of the reputed private universities in Bangladesh, has designed the curriculum of the BTHM course housekeeping in mind the standard of the international graduates. From this internship, program students get the opportunity to learn practically the real business world.
This Internship program will help us properly to understand about theoretical & practical terms in our real life.
Objectives of the Report
The objective of the report can be divided into 2 major parts as follows:
General objective of the report:
General objective is to complete the internship. As per requirement of BTHM Program of the Victoria University of Bangladesh (VUB), one student can gather practical knowledge about Hospitality industry.
Specific objective of the report:
The specific objective of preparing this report is to clarify the knowledge gathered during the internship program. Some other specific objective can be expressed as follows:
Know about departments of the Hotel Abakash.
Share some personal experience.
Discuss different techniques, methods, equipments etc.
Know the operation aspects of the hotel.
Prepare SWOT analysis and give some suggestions.
Dhaka City History
The historic city of Dhaka, the capital, lies on the banks of the river Buriganga in the centre of Bangladesh. The old town of Dhaka, south of the city centre, is the site of most of the tourist attractions, including the Lalbagh Fort, the Star Mosque, and the Ahsan Manzil Palace Museum.
The city of Dhaka was predominantly a city of the Mughals, whose governors and viceroys built several palaces, mosques and katras. Dhaka's finest specimen of this time is the Aurangabad Fort, commonly known as Lalbagh Fort, uncompleted but worth a visit. Also in this area of Dhaka is the spectacular Ahsan Manzil Palace Museum, the Bara Katra, the Chota Katra and several mosques of note.
The old European quarter lies just north of Dhaka's old town, which houses the Presidential Palace and the National Museum. Dhaka's commercial and diplomatic regions are north-east of this zone. Dhaka Zoo and the Botanical Gardens are a short taxi ride into the suburbs.
Once famed for its muslin, Dhaka is now renowned for pink pearls and a rich tradition of handicrafts. Shoppers can find terrific prices for gold and silver products, and the Dhaka shopping areas of New Market and Elephant Road are often busy but worth the trip.
Hotels of Dhaka City
Pan Pacific Sonargaon, Dhaka.
Hotel Roppshi Bangla, Dhaka.
Tropical Daisy
Green House Dhaka.
Hotel Saria
Dhaka regency Hotel & Resort
Hotel 71
Hotel Rose Garden
Hotel Swiss Garden
Babulon Garden
Best Western La venchi Hotel
Contemporary Heights Hotel
Platinum Suits
Washington Hotel, Dhaka.
Radisson Blue water garden Hotel, Dhaka.
Asia pacific Blossom Hotel
Asia pacific Hotel
Hotel Lake Castle
Duties and Responsibilities Performed During My Internship At Hotel Abakash:
House Keeping:
Now I have known that the duties of a hotel housekeeper are probably the most important duties that take place in a hotel on a daily basis. If the housekeeper has not done his job to expectations, the hotel could lose business. Hotel guests expect their rooms to be cleaned with the utmost accuracy and attention to detail. The cleanliness of a hotel is the key selling factor.
Starting the Workday
At the beginning of each workday, a hotel housekeeper will refill her wheeled cart with fresh bath towels, hand towels, wash cloths, fitted sheets, flat sheets, pillow cases and any other linen required in each room. She will also refill her cleaning supplies as well as her stock of coffee and other amenities that are often left in guest rooms.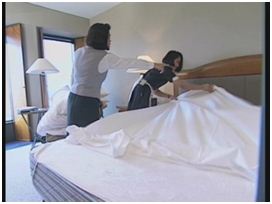 Stripping the Room
The first part to cleaning a vacant hotel guest room is stripping the room, which consists of pulling all the blankets, linens and pillows off of all the beds in the room in which the housekeeper is currently working. She will also take all the used towels, wash cloths and other bathing linens out of the bathroom. She will then have to ensure that these used linens get to the laundry to be properly washed for reuse.
Garbage
Every hotel room has at least one garbage can in the room. The housekeeper will have to empty the garbage can(s) in the room and replace the can liners with fresh, unused liners. Before emptying the room trash, the housekeeper will generally clean up any garbage lying around the room, such as tissues, candy wrappers or other trash items the guest may have left in the room.
Making the Beds
Each hotel will have a specific style and way to make the beds in the room. This style may be different between bed sizes. The housekeeper will make each bed in the room according to the style mandated by the hotel. A fresh set of bed sheets and pillowcases is used to make the bed for the next occupant.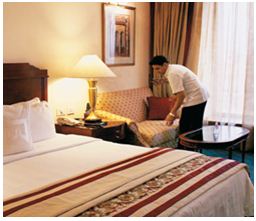 Bathroom
The guest room bathroom gets some much-deserved attention. After each guest checks out of the room, the housekeeper will thoroughly clean the toilet, sink, bathing area and floor of the bathroom with industrial cleaner. The guest bathroom is particularly important as this is the area often filled with germs. There should not be a single inch left untouched in the bathroom, including the walls.
Dusting
The room itself will receive a complete dusting from the furniture to the lamp shades. Each item–including lamps, TV, phone and alarm clock among others–is checked to be sure it is in proper working order. Amenities such as soap, shampoo and coffee are restocked throughout the room.
Finishing Touches
After the housekeeper completes all of the above, she will then vacuum the room. Many hotels will use air freshener before informing the front desk staff that the room is clean and available for the next guest.
Laundry:Duties and Responsibilities:
Pre Season Duties
Clean and set up laundry and storage rooms for opening
Clean all common areas for opening
View all unit types in building and understand amenities in building
Understand how everything operates in laundry room ie. Washer, dryer, folding linen
Chemicals
Understand the mountain and village layout and be able to give directions
Any other reasonable request as made by a Central Reservations Manager
Laundry
Carry laundry bags from floors in hotel to laundry room
Clean, dry and fold all laundry
Clean and maintain laundry room areas while keeping up with standards set by the Housekeeping Supervisor and General Manager
Distribute all linen and maintain any housekeeping supply rooms
Assist housekeepers when needed
Ensure high level of customer service is maintained at all times
Assist guests with all questions and reasonable requests
Ensure accurate information is provided to all clients with respect to all Big White and Central Reservations product
 Other
Maintain clean and tidy appearance
Maintain clean and tidy work area
Any other reasonable requests as made by a Central Reservations Manager.
Housekeeping Operation:
There are three shifts. These are –Morning, Evening & Night shift.
Morning Shift ž07AM to 04 PM
Evening Shiftž 02 PM to 11 PM
Night Shift ž 10 PM to 07 AM.
Every staff of every shift cheek the room. Clean the floor, making the bed and wash the bathroom. Housekeepers are responsible for the cleanliness of all rooms in such a way that a guest would not realize someone had just checked out of the room earlier that same morning. You will also strip linen off each bed and make each bed according to the hotel standards. The guest rooms are meticulously cleaned and sanitized before a guest arrives. Smaller hotels may require the housekeepers to do the laundry, which will require you to wash, dry and fold all linens, including sheets, pillowcases, comforters and blankets. As a laundry person, you would be required to also remove stains that may be in any linen, when possible.
Guest facilities provides
Soap
Shampo
Tooth Brush and tooth pest
Toilet tissue and facial tissue
Glass and traye
Newspaper and magazine
Pan and paper
Cleaning agents:
1.Trix
2.Savlon
3.Pure water
detergent
polies
Cleaning equipment
Mop
Scribeing
Scruiser
Hand brush and toilet brush
Busket and bucket
Buffing
Tolly
 Hotel Furniture
1.Bed
2.Dresing Table
3.Sofa
4.Chair and table
5.T-table
6.Wirdrobe
7.Telivision
8.Telephone
Findings and Analysis:
Reception section.
PABX (Tel. Section):
Front office cash section
So, here the professionals are designated as receptionist, cashier, reservation clerk, telephone operator or supervisor/ manager in front office department.
Reservation: Reservation is the section of the front office. The first activity of a guest starts here when reservation comes from various sources and received and the processed. Properly documented, stored or filed at the right time to assign the room upon guest's arrival.
Reception: After processing in reservation section, the next activity goes to reception desk. Here the receptionist welcomes and receives the guests and assigns them a room after registration formalities. Reception controls the room's key, mail and massages. Reception should be always well organized with all kinds of information of the hotel as well as the city to facilitate guest information he needs.
PABX (Tel. Section): The big hotels the out-going telephone lines and internal extensions are needed. In smaller hotels Switchboard is normally placed in or near the reception desk to be operated by receptions. But in big hotels switchboard/exchange are installed in a separated/independent place. Here in the telephone section, the telephone supervisor and the telephone operators deal with the in-coming and out-going telephone calls.
Front Office Cash Section: this section does all transactions concerning guests. There is a supervisor and the rest are front office cashiers and night auditors.
Reservation: One of the most important parts of the front office is reservation. This section is the core of the front office department. Requests for reservation of rooms from a range of sources are received and the information is processed, properly documented, stored and retrieved at the suitable time to ensure to a guest in his room. The reservation process of Hotel Abakash is situated in two different places for the guest convenience. They continuously exchange information about the status of reservation by corresponding through fax, e-mail, and telephone to stop over booking.
 Receive, Register and allocate: This part fall under front office, which is accountable for this job, is called reception. After greeting and completing registration process the front office personnel in this section allocate rooms to the guests.
Information: From this section room keys, messages are controlled. While working in this section I had to take keys when guest go out of the hotel and also had to give back keys to but certainly the guest had to ask for key by mentioning the room number. Furthermore, while guest come to reception I had to pass messages to the guest and or writing the message on a message pad and subsequently sending a Bellboy to his room. Besides, I had to notify the guest about the facilities of the hotel also about the nearest town, shopping arcade, transport fare from the hotel to different destinations, nearest cheap hotel for their motor vehicle drivers, different attractive tourist spots etc.
Housekeeping
We both work one month in housekeeping department that's why it's very much cleared to us that what is the relation between housekeeping and front office. We found that is impossible to have control on rooms unless front office coordinates with the Housekeeping department. It is through the room status report in every 8 hours and in the pick hour also verbal notification comes along at any time to help front office be aware of the status of rooms and therefore they can sell the room. The Housekeeping staff checks each room on every floor and advises their room status through that report of verbal notification. Before sending the guest in there room each front office staff call in the housekeeping department and asked whether room is VC (Vacant and Clean) After knowing from housekeeping front office staff sent guest in there room. Not only that most of the time guest ask extra bed ,room clean ,pillow, blanked and other housekeeping related amenities in front office that time front office staff need to informed housekeeping department .From here we can say that without proper coordinates with front office and housekeeping it's will impossible to run the services smoothly.
Food and Beverage
Arrival and Departure: At first when guest came in the reception area that time front office staff call in restaurant for welcome drinks this is beginning for food and beverage services. The room service is kept closely informed on arrivals and departures of guests. It is because they are responsible to serve food and beverages to guests' room and must be informed time to time about the changes of guest room, group arrival and departure. Depending on the front office welcome drinks and meal count restaurant prepared food
VIP Procedures: If it is written on the reservation form by the front office manager from, cookies platter, fruit basket, mineral water to provide guest then this expression order is sent to room service and they write it on a K.O.T (Kitchen Order Ticket) and send the order to kitchen.
Engineering:
As engineering department responsible for maintaining all the hotel property and whenever any  arrival of group setup for road side then front office staff informed the engineering and they act like that way. Sometime when guest complain about problem regarding air conditioning system failure, plumbing requirement, satellite television connection failure, or faulty curtain, the front office inform it to engineering department. That's why engineering department also very much related with the front office department.
Stores
The stores are mostly responsible for stationary supply to front office, Moreover, prior to the big group check – in or before a high occupancy day the store is informed about the number of rooms t be occupied and the luncheon or dinner party mentioned in the function contact so that they can consult with the Room Division Manager and gives purchase order regarding the raw materials requirement for those high occupancy days. In night shift front office staff responsible for stores, if there is any shortages of raw materials in the restaurant or bar then front office staff open the store and provide that.
Support Services
There is some automated and manual   support equipment in the Front office those are-
Cash:
For charging guest mobile there is one charging board. To read  credit card there are magnetic strip reader which reads data that is magnetically encoded and stored on the magnetic stripe on the back of a credit card and transmits this data to the credit card authorization service centre for authorization which is connected through lad phone cable. Hotel Abakash safety box also located in the front office department here guest can put there valuable goods. Moreover, Debit vouchers, guest folio, manua cash summery, credit vouchers, front office cash summary, calculator, telephone, seat departure slip is placed to help operate front office efficiently.
Reception:
Printed registration cards are stacked in a box for expected guest and walk-in guest. Arrival departure register to write guests name, room number, and room rent, main guest list, expected arrival, log book, arrival and departure slip box, complimentary expression order , housekeeping daily report ,extra bed report, breakfast, dinner, lunch coupon box, room change slip box, brochure,  are also placed in the reception as well as also so many others stationary equipments.
Determining Hotels Rules and Regulations in Hotel Abakash
To run a hotel or any organization systematically it is essential to have some rules and regulations. Besides different types of rules and regulations to be followed by guests, there are also some rules and regulations that are followed by the staffs. The staffs of. Hotel Abakash are abide be the followings miscellaneous hotels rules and regulations:
Employees are not allowed to misuse the Hotels Property
Employees are not allowed to carry out Hotels Property
Employees are not allowed to remain in the Hotel apart from their duties at other things
Employees are not allowed to conduct any other business in or out of the premises on a professional basis
Employees are not allowed to accept any money that is not a part of official transaction
Employees are not allowed to use Hotels Vehicles for personal transportation
Employees are not allowed to borrow any Hotels items for personal use without proper authorization
Destruction of Hotels Property is an offence and can be charged to your salary
Reservations
It is where the guests first get information about the hotel and if persuaded then he or she decide to reserve the room. During the reservation guest ask facilities about the hotel and so on so. As the reservation requests grew beyond the front desk reservation section's ability to handle them efficiently because of remote establishment of, Hotel Abakash they created a sales and marketing department, which at the same time control the reservation of the hotel. What we found with the shift of responsibility for occupancy and revenue from the front desk to the reservations department, the sales department has taken a more important role in reservations. But as we work in front office in  Hotel Abakash Limited I saw/handling so many reservations in our own hand. Although a little portion of direct reservation come straight to front desk reservation but we can say that front office staff also work as a marketer for his hotel.
Processing reservations involves some job stated below in an order written below:
Reservation inquiry
Room availabilities and rates
Recording reservation
Confirming tentative reservation
Maintaining reservation
Producing reservation reports
Researching, planning, and monitoring reservation
The above order was taught by Mr.Nusrat Goni , consultant and training instructor of Hotel Abakash. Later we found that each of the jobs we do in different stages unless the researching, planning, and monitoring reservation due to not maintaining guest history profile. When a front office staff took any reservation then he need to maintain the connection with the guest that whether he is coming or not.
Requests for reservation come by various ways:
E-mail
Fax
Telephones
Physically coming to the hotel
The common sources from which reservation requests come up are:
Travel agents
Airlines
Free Individual Traveler (FIT)
Corporate clients
Relative
Embassies / consulates
While handling group reservation it is important to ensure the following:
The booking needs to be recorded accurately on the reservation chart
A separate file is opened for all the groups arriving the same day.
Room allocation list
What sort of program they will organize.
Time of arrival and departure
Know the name of the group leader so that all matters' concerning to the group arrival may be referred to him and also the most important thing is to settle the bill and get signed the folio before departure.
Extra bed policies.
Details about the VIP's.
Passport details of foreigners to complete all government formalities before arrival.
Information's needed for the group reservation
While signing the function contract it is important to gather some reservation records to identify guests need. This record enables us to personalize the guests' need and personalize guest services.
Group name
Group leaders name
Group's official address and billing address.
Email address
Extra bed policy
Guests telephone number, fax number including area code
Information regarding contact person (If guest himself is not making the reservation)
Extra bill policy.
Number of people in the group and the number of children's below 05 years
Arrival and departure date and time
Any special request
Billing method
Meal arrangement
Front Office Cashier:
In the front office department, cash is a major part .This section took the most of the responsibility in Hotel Abakash because our operation system manually that's why in the high occupancy time they need suffer a lot.
Front office cashier main duties and responsibility given below –
After check in the guest front office cashier used to open the new Folio
Before open the folio should check all the guest information
Before receipt any outlet bill they should check Room no. & Signature
They input all the outlet bill in folio with outlet Master check
In the morning shift Cashier should take all expected departure folio
Then he should check all individual outlet bills
Cashier has to check advance money with original money receipt
Collect the Room keys and send hard copy of the folio to the guest
Before checked out guest cashier should inform H/K to check the Minibar
Front office cashier used to take cares deposit box.
Front office cashier handle the medicine box
Each night shift cashier need to prepare front office cashier report.
House keeping Staff Uniforms:
House keeping is the mirror for any hotel that's why front office staff uniforms should need to be properly match .Front office is the first and last contact point with the guest. Hotel Abakash front office staff uniforms details given below –
Black jackets with a blue tie provided.
White shirts long sleeve
Black trouser
Should be decent hair cut
Alert about personal hygiene
Staff Training:
House keeping staff training conduct of Hotel Abakash  is given below-
Answering a telephone call
Personal grooming and etiquette and manner
Taking a message
Check in and check out procedure
Handling guest complain
Handling reservation
English speaking class