Biography of Alan Lomax
Alan Lomax – American ethnomusicologist and musician.
Name: Alan Lomax
Date of Birth: January 31, 1915
Place of Birth: Austin, Texas, United States
Date of Death: July 19, 2002 (aged 87)
Place of Death: Safety Harbor, Florida, United States
Occupation: Folklorist, Ethnomusicologist, Musician
Father: John Lomax
Mother: Bess Bauman-Brown Lomax
Spouse/Ex: Elizabeth Lyttleton Harold (m. 1937–1949), Antoinette Marchand (m. 1961–1967)
Children: Anna Lomax Wood
Early Life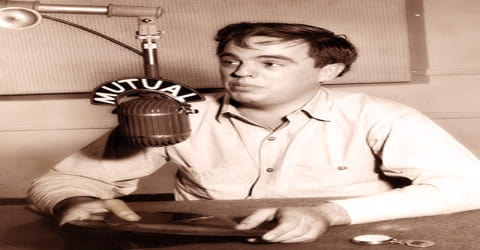 An American ethnomusicologist, one of the most dedicated and knowledgeable folk-music scholars of the 20th century, Alan Lomax was born in Austin, Texas, in 1915, the third of four children born to Bess Brown and pioneering folklorist and author John A. Lomax. He was also a musician himself, as well as a folklorist, archivist, writer, scholar, political activist, oral historian, and film-maker. Lomax produced recordings, concerts, and radio shows in the US and in England, which played an important role in preserving folk music traditions in both countries, and helped start both the American and British folk revivals of the 1940s, 1950s, and early 1960s.
A student of Philosophy from the 'Texas A&M University', he showed an innate passion for curating music, considered by many to be the influence of his father, also a well-known collector. As a young boy, he started out accompanying his father on field trips, and eventually went along with other folklorists. As a member of the 'Library of Congress', he recorded several albums and interviews with famous folk music singers and musicians. The musicologist has also helped organize various shows and concerts for America and Britain, in a bid to help folk music survive in the two nations. Apart from music, his interests lay in politics, writing and human rights. He was champion for the cause of minorities in particular African Americans. He has also presented various popular radio shows in his prime time. Alan has collected music from places like America, Ireland, Spain, Italy, and Britain. He has founded 'The Association for Cultural Equity', aiming at preserving the dying art form of folk music, and spreading awareness about its beauty. He has written various books and has won several awards, including a few post-death honors.
Lomax's greatest legacy is in preserving and publishing recordings of musicians in many folk and blues traditions around the US and Europe. Among the artists, Lomax is credited with discovering and bringing to a wider audience include blues guitarist Robert Johnson, protest singer Woody Guthrie, folk artist Pete Seeger, country musician Burl Ives, and country blues singer Lead Belly, among many others.
Childhood, Family and Educational Life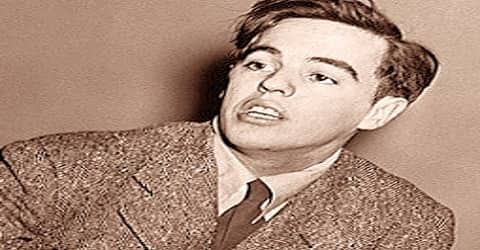 Alan Lomax was born to author John Lomax and his wife Bess Brown, on January 31, 1915, in Austin, America. John was an English teacher at the Texas A&M University, and a famous writer who wrote about folklore and cowboy songs of the city. He was the youngest amongst four siblings.
Due to childhood asthma, chronic ear infections, and generally frail health, Lomax had mostly been homeschooled in elementary school. In Dallas, he entered the Terrill School for Boys (a tiny prep school that later became St. Mark's School of Texas). Lomax excelled at Terrill and then transferred to the Choate School (now Choate Rosemary Hall) in Connecticut for a year, graduating eighth in his class at age 15 in 1930.
Lomax got his matriculation degree from the 'University of Texas', where he became interested in philosophy and the works of Greek scholar Friedrich Nietzsche. Lomax also wrote for 'The Daily Texan', the university paper, but left it when they rejected his editorial piece on birth control measures. During this time he developed the hobby of collecting phonograph records meant for African American audiences. At the age of sixteen, he started studying philosophy and physics at the 'Harvard University' on a scholarship and was also taught the works of Plato and Pre-Socratic thinkers, by Professor Albert P. Brogan.
While studying in college, his scores decreased drastically due to his interest in radical politics and a bout of pneumonia. Alan dropped out of 'Harvard' and accompanied his father in collecting folk songs for the 'Library of Congress'.
Personal Life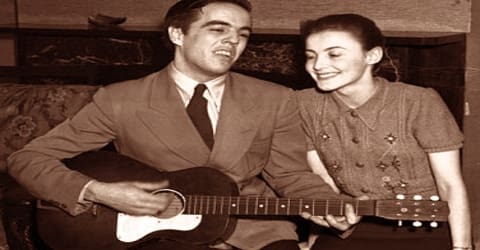 (Alan Lomax and his first wife Elizabeth Harold Goodman)
Alan Lomax married Elizabeth Harold Goodman, then a student at the University of Texas, in February 1937. They were married for 12 years and had a daughter, Anne (later known as Anna). Elizabeth assisted him in recording in Haiti, Alabama, Appalachia, and Mississippi. Elizabeth also wrote radio scripts of folk operas featuring American music that was broadcast over the BBC Home Service as part of the war effort. During the 1950s, after she and Lomax divorced, she conducted lengthy interviews for Lomax with folk music personalities, including Vera Ward Hall and the Reverend Gary Davis.
The musicologist fell in love with Shirley Collins, a folk singer from England, in the 1950s. However, after their last journey together towards the end of the decade, Collins got married to record producer Austin John Marshal.
Alan Lomax married Antoinette Marchand on August 26, 1961. They separated the following year and were divorced in 1967.
This American ethnomusicologist is famous for having developed his own effective method of evaluating anthropological information using statistics, known as 'Canometrics'.
Career and Works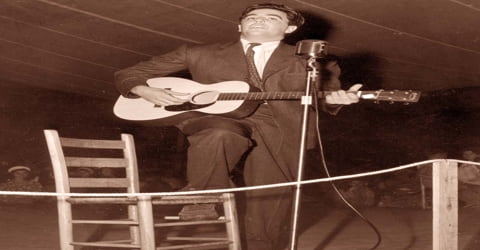 Beginning in 1933 and lasting through to 1942, Alan Lomax working alone as well as in conjunction with his father, writer Zora Neale Hurston, musicologist John Work and others recorded folk and traditional music for the Library of Congress throughout the Deep South, as well as in New England, Michigan, Wisconsin, New York, and Ohio. He also recorded in Haiti and the Bahamas, pioneering the archival study of world music which increased in the decades to follow, and in the field made the first-ever recordings of Woody Guthrie, Muddy Waters, and Aunt Molly Jackson. Concurrently, the Lomaxes teamed on a number of books, including 1934's American Ballads and Folksongs, 1936's Negro Folk Songs as Sung by Leadbelly, 1937's Cowboy Songs, and 1938's Our Singing Country.
In 1936, Alan Lomax co-wrote 'Negro Folk Songs as Sung by Lead Belly' with his father. The same year he earned his degree in Philosophy from the 'University of Texas'. Alan was appointed as the 'Assistant in Charge of the Archive of Folk Song' by the 'Library of Congress', in 1937. Two years later, he hosted two episodes called 'American Folk Song' and 'Wellsprings of Music', on the show 'American School of the Air', which were broadcast by America's 'CBS' television network.
As part of this work, Lomax traveled through Michigan and Wisconsin in 1938 to record and document the traditional music of that region. Over four hundred recordings from this collection are now available at the Library of Congress. "He traveled in a 1935 Plymouth sedan, toting a Presto instantaneous disc recorder and a movie camera. And when he returned nearly three months later, having driven thousands of miles on barely paved roads, it was with a cache of 250 discs and 8 reels of film, documents of the incredible range of ethnic diversity, expressive traditions, and occupational folklife in Michigan."
In 1938, Lomax turned to jazz, recording more than eight hours of vocals, instrumentals, and spoken recollections from one of the founders of the form, Jelly Roll Morton. A year later, he premiered "American Folk Songs," a 26-week historical overview broadcast as part of the CBS radio series American School of the Air; Lomax also continued to write and direct special broadcasts promoting the war effort in the months ahead.
In 1940 under Lomax's supervision, RCA made two groundbreaking suites of commercial folk music recordings: Woody Guthrie's Dust Bowl Ballads and Lead Belly's Midnight Special and Other Southern Prison Songs. Though they did not sell especially well when released, Lomax's biographer, John Szwed calls these "some of the first concept albums." In 1940, Lomax and his close friend Nicholas Ray went on to write and produce a fifteen-minute program, Back Where I Came From, which aired three nights a week on CBS and featured folk tales, proverbs, prose, and sermons, as well as songs, organized thematically. Its racially integrated cast included Burl Ives, Lead Belly, Josh White, Sonny Terry, and Brownie McGhee.
In 1941-42 Lomax was accompanied by music collectors John Wesley Work III and Lewis Jones on a trip to Mississippi. During this time, he also interviewed the American citizens, through means of telegrams, on their opinions about the Pearl Harbour bombing. The American folklorist was interrogated by the 'Federal Bureau of Investigation' ('FBI') for his presumptuous association with Communists, on many occasions since 1942.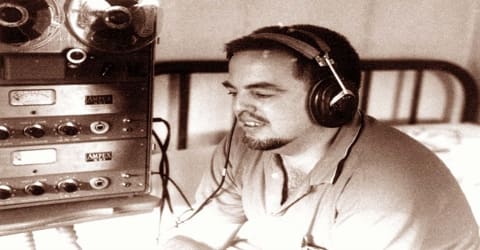 While serving in the Army in World War II Lomax produced and hosted numerous radio programs in connection with the war effort. The 1944 "ballad opera", The Martins and the Coys, broadcast in Britain (but not the USA) by the BBC, featuring Burl Ives, Woody Guthrie, Will Geer, Sonny Terry, Pete Seeger, and Fiddlin' Arthur Smith, among others, was released on Rounder Records in 2000.
In 1946, Lomax sat down with Memphis Slim, Sonny Boy Williamson, and Big Bill Broonzy to explore the origins and philosophy of the blues, issuing the sessions in 1959 as Blues in the Mississippi Night; he spent the remainder of the decade recording prison songs in the Mississippi area, and in 1948 became host and writer of the Mutual Broadcasting Network series On Top of Old Smokey.  In 1948, during the Presidential elections, Lomax arranged music for candidate Henry A. Wallace's campaign. The music advocated human rights for minorities in the nation, like the African Americans and the Jews.
In the late 1940s, Lomax produced a series of commercial folk music albums for Decca Records and organized a series of concerts at New York's Town Hall and Carnegie Hall, featuring blues, calypso, and flamenco music. He also hosted a radio show, Your Ballad Man, in 1949 that was broadcast nationwide on the Mutual Radio Network and featured a highly eclectic program, from gamelan music, to Django Reinhardt, to Klezmer music, to Sidney Bechet and Wild Bill Davison, to jazzy pop songs by Maxine Sullivan and Jo Stafford, to readings of the poetry of Carl Sandburg, to hillbilly music with electric guitars, to Finnish brass bands to name a few. He also was a key participant in the V. D. Radio Project in 1949, creating a number of "ballad dramas" featuring country and gospel superstars, including Roy Acuff, Woody Guthrie, Hank Williams, and Sister Rosetta Tharpe (among others), that aimed to convince men and women suffering from syphilis to seek treatment.
In 1950, Lomax relocated to England, where he remained for much of the decade; there he documented the traditional music of the British Isles, with his recordings becoming the basis of the ten-disc 1961 series Folksongs of Great Britain. During the same period, he also made extensive field recordings in Spain and Italy.
A profound folklorist who was also interested in the historical and social origins of jazz, Lomax wrote an outstanding biography of Jelly Roll Morton, Mr. Jelly Roll (1950). The Folk Songs of North America in the English Language was published in 1960. His work in cantometrics (the statistical analysis of singing styles correlated with anthropological data), which he developed with Victor Grauer, is the most comprehensive study of folk song as yet undertaken.
Lomax spent the 1950s based in London, from where he edited the 18-volume Columbia World Library of Folk and Primitive Music, an anthology issued on newly invented LP records. He spent seven months in Spain, where, in addition to recording three thousand items from most of the regions of Spain, he made copious notes and took hundreds of photos of "not only singers and musicians but anything that interested him empty streets, old buildings, and country roads", bringing to these photos, "a concern for form and composition that went beyond the ethnographic to the artistic".
Italian music professor Diego Carpitella and the American music enthusiast conducted a survey of conventional Italian folk songs that were on the verge of extinction. The survey carried out with the help of news giant 'BBC' and Rome's 'Accademia Nazionale di Santa Cecilia' in 1953-54, was meant for the 'Columbia World Library'. Theatre director Joan Littlewood showcased Alan's 'Big Rock Candy Mountain', a ballad performance by singer Ramblin' Jack Elliot, in her theatre workshop, in 1955.
Lomax returned to the States in 1959 and immediately made another expedition into the South, where he discovered, among others, bluesman Mississippi Fred McDowell. He produced a concert, Folksong '59, in Carnegie Hall, featuring Arkansas singer Jimmy Driftwood; the Selah Jubilee Singers and Drexel Singers (gospel groups); Muddy Waters and Memphis Slim (blues); Earl Taylor and the Stoney Mountain Boys (bluegrass); Pete Seeger, Mike Seeger (urban folk revival); and The Cadillacs (a rock and roll group). The occasion marked the first time rock and roll and bluegrass were performed on the Carnegie Hall Stage. "The time has come for Americans not to be ashamed of what we go for, musically, from primitive ballads to rock 'n' roll songs", Lomax told the audience. According to Izzy Young, the audience booed when he told them to lay down their prejudices and listen to rock 'n' roll. In Young's opinion, "Lomax put on what is probably the turning point in American folk music . . . . At that concert, the point he was trying to make was that Negro and white music were mixing, and rock and roll was that thing."
In 1962, 'Freedom in the Air: Albany Georgia', an album by Lomax and social activist Guy Carawan, was released under the banner of 'Vanguard Records'. The compilation was targeted at the 'Student Nonviolent Coordinating Committee', one of the most important student bodies during the 'American Civil Rights Movement'. In the next two decades, the famous folklorist helped an association of museums named 'Smithsonian Institution' to make a sequence of movies about folk songs. The series, titled 'American Patchwork' was meant for the ' Folklife Festival', which aims at giving due recognition to the nation's rich cultural history.
In 1967, Lomax teamed with Woody Guthrie and Pete Seeger for the book Hard Hitting Songs for Hard-Hit People; Folk Song Style and Culture, the product of his years of world music study, followed in 1968. The advent of new technologies opened up new worlds for Lomax, and in the '70s and '80s, he made a series of journeys back to the South to videotape traditional musical performances for the PBS series American Patchwork, completed and broadcast in 1990. At the same time, he continued work on the Global Jukebox an "intelligent museum" interactive software project and put the finishing touches on 1993's The Land Where the Blues Began, which won a National Book Award.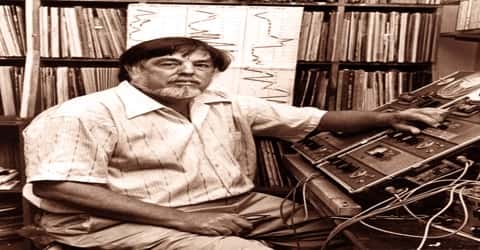 The brilliant folklorist established 'The Association for Cultural Equity' ('ACE') was established in 1983 at New York City's 'Hunter College'. Twelve years later he finished a book on the history of blues music, titled 'The Land Where the Blues Began'.
Cantometrics: A Handbook and Training Method appeared in 1976. Lomax also wrote and directed the documentary The Land Where the Blues Began (1985). In 1997 the Alan Lomax Collection debuted on Rounder Records. The series featured more than 100 albums of music recorded by Lomax.
Awards and Honor
President Ronald Reagan felicitated Alan Lomax with the 'National Medal of Arts' in 1986. The honor is the most prestigious in the nation aimed at commemorating esteemed contributors in the field of cultural arts.
In 2000, the celebrated folklorist was honored with the 'Library of Congress Living Legend Award' for his contribution to American life.
The 'Tulane University of Louisiana' presented him with an 'Honorary Doctorate in Philosophy' in 2001.
In 1993, his celebrated memoir 'The Land Where the Blues Began' fetched him the 'Ralph J. Gleason Music Book Award' and the 'National Book Critics Circle Award'.
Lomax was posthumously felicitated with the 'Grammy Trustees Award' in 2003, honoring all his achievements. Three years later, his music compilation, 'Jelly Roll Morton: The Complete Library of Congress Recordings by Alan Lomax' won two 'Grammy Awards'.
Death and Legacy
Alan Lomax died in Safety Harbor, Florida on July 19, 2002, at the age of 87. Fortunately for archivists and music lovers everywhere, his painstaking documentation of the music and cultures of the world will be educating and enriching the lives of curious listeners for centuries to come.
One of the most famous works by this eminent folklorist and archivist is 'The Land Where the Blues Began', which is a non-fictional account of the origins of the African American blues music. The memoir states that the origin of the blues is deeply connected to the history of racism and slavery in America.
As a member of the Popular Front and People's Songs in the 1940s, Alan Lomax promoted what was then known as "One World" and today is called multiculturalism. In the late forties, he produced a series of concerts at Town Hall and Carnegie Hall that presented flamenco guitar and calypso, along with country blues, Appalachian music, Andean music, and jazz. His radio shows of the 1940s and 1950s explored the music of all the world's peoples.
'American Folklife Center', of the 'Library of Congress', collaborated with Lomax's 'Association for Cultural Equity' in 2012, to release more than 17,000 tracks from the folklorist's collection in digital forms.
Information Source: