Biography of Astor Piazzolla
Astor Piazzolla – Argentine tango composer, bandoneon player, and arranger.
Name: Astor Pantaleón Piazzolla
Date of Birth: March 11, 1921
Place of Birth: Mar Del Plata, Argentina
Date of Death: July 4, 1992 (aged 71)
Place of Death: Buenos Aires, Argentina
Occupation: Musician, Composer, Arranger
Early Life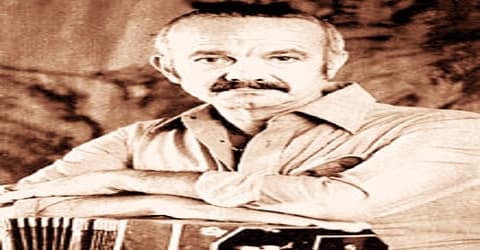 An Argentine musician, a virtuoso on the bandoneón (a square-built button accordion), who left traditional Latin American tango bands in 1955 to create a new tango that blended elements of jazz and classical music, Astor Piazzolla was born in Mar del Plata, Argentina, in 1921, the only child of Italian immigrant parents, Vicente "Nonino" Piazzolla and Assunta Manetti. He was a major Latin American composer of the 20th century. His oeuvre revolutionized the traditional tango into a new style termed nuevo tango, incorporating elements from jazz and classical music. A virtuoso bandoneonist, he regularly performed his own compositions with a variety of ensembles.
Piazzolla's place in Argentina's greatest cultural export is roughly equivalent to that of Duke Ellington in jazz the genius composer who took an earthy, sensual, even disreputable folk music and elevated it into a sophisticated form of high art. But even more than Ellington, Piazzolla was also a virtuosic performer with a near-unparalleled mastery of his chosen instrument, the bandoneon, a large button accordion noted for its unwieldy size and difficult fingering system. In Piazzolla's hands, tango was no longer strictly a piece of dance music; his compositions borrowed from jazz and classical forms, creating a whole new harmonic and rhythmic vocabulary made for the concert hall more than the ballroom (which was dubbed "nuevo tango"). Some of his devices could be downright experimental he wasn't afraid of dissonance or abrupt shifts in tempo and meter, and he often composed segmented pieces with hugely contrasting moods that interrupted the normal flow and demanded the audience's concentration.
In 1992, American music critic Stephen Holden described Piazzolla as "the world's foremost composer of tango music". The complexity and ambition of Piazzolla's oeuvre brought him enormous international acclaim, particularly in Europe and Latin America, but it also earned him the lasting enmity of many tango purists, who attacked him mercilessly for his supposed abandonment of tradition (and even helped drive him out of the country for several years). But Piazzolla always stuck to his guns and remained tango's foremost emissary to the world at large up until his death in 1992.
Childhood, Family and Educational Life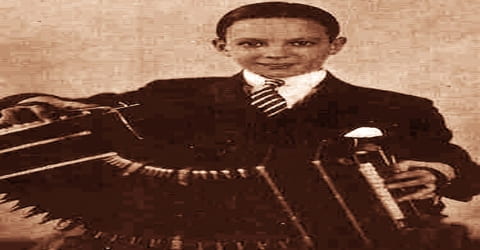 Astor Piazzolla, in full Astor Pantaleón Piazzolla, was born on March 11, 1921, Mar del Plata, Argentina, the only child of Italian immigrant parents, Vicente "Nonino" Piazzolla and Assunta Manetti. His paternal grandfather, a sailor, and fisherman named Pantaleo (later Pantaleón) Piazzolla had immigrated to Mar del Plata from Trani, a seaport in the southeastern Italian region of Apulia, at the end of the 19th century. His mother was the daughter of two Italian immigrants from Lucca in Tuscany.
Piazzolla's parents were poor Italian immigrants who moved to New York City in 1924, affording the young Piazzolla extensive exposure to jazz artists like Duke Ellington and Cab Calloway. His father also played tango records by the early masters, especially the legendary vocalist/composer Carlos Gardel, and gave Astor a bandoneon for his ninth birthday. In 1932 Piazzolla composed his first tango, "La Catinga". In addition to lessons on that instrument (which encompassed American music, like Gershwin, as well as tango), Piazzolla also studied with classical pianist Bela Wilda in 1933, becoming an ardent fan of Bach and Rachmaninoff.
In 1934 Piazzolla met Carlos Gardel, one of the most important figures in the history of tango, and played a cameo role as a paperboy in his movie El día que me quieras. Gardel invited the young bandoneon player to join him on his tour. Much to Piazzolla's dismay, his father decided that he was not old enough to go along. The disappointment of being forbidden to join the tour proved to be fortunate, as it was on this tour in 1935 that Gardel and his entire orchestra perished in a plane crash. In later years, Piazzolla made light of this near miss, joking that if his father had not been so careful, Piazzolla would be playing the harp rather than the bandoneon.
Career and Works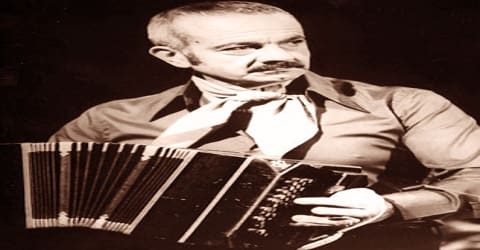 In 1936, Astor Piazzolla's family returned to Mar del Plata, and his passion for tango music was fired anew by violinist Elvino Vardaro's sextet. The still-teenaged Piazzolla moved to Buenos Aires in 1938, seeking work as a musician. After about a year of dues-paying, he caught on with the widely renowned Anibal Troilo orchestra, where he spent several high-profile years.
By 1941 Piazzolla was earning a good wage, enough to pay for music lessons with Alberto Ginastera, an eminent Argentine composer of classical music. It was the pianist Arthur Rubinstein, then living in Buenos Aires, who had advised him to study with Ginastera and delving into scores of Stravinsky, Bartók, Ravel, and others, Piazzolla rose early each morning to hear the Teatro Colón orchestra rehearse while continuing a grueling performing schedule in the tango clubs at night. During his five years of study with Ginastera, he mastered orchestration, which he later considered to be one of his strong points. In 1943 he started piano lessons with the Argentine classical pianist Raúl Spivak, which would continue for the next five years, and wrote his first classical works Preludio No. 1 for Violin and Piano and Suite for Strings and Harps. That same year he married his first wife, Dedé Wolff, an artist, with whom he had two children, Diana and Daniel.
At age 17 Astor Piazzolla moved to Buenos Aires. He formed his own orchestra in 1946, composing new works and experimenting with the sound and structure of the tango. About the same time, he began to compose music for the film. In 1949 he disbanded the orchestra, unsatisfied with his own efforts and still interested in classical composition. Having won a composing contest with his symphonic piece Buenos Aires (1951), he went to study in Paris with Nadia Boulanger. She urged him to remain true to himself and to continue his experiments with the tango. Henceforth he combined his two musical passions, despite much criticism from tango traditionalists. e studied Ravel, Bartók, and Stravinsky, also immersing himself in American jazz, and worked mostly on his compositional skills for a few years. His 1953 piece "Buenos Aires" caused a stir for its use of bandoneon in a classical orchestral setting.
Having disbanded his first orchestra in 1950 Piazzolla almost abandoned tango altogether as he continued to study Bartok and Stravinsky and orchestra direction with Hermann Scherchen. He spent a lot of time listening to jazz and searching for a musical style of his own beyond the realms of tango. He decided to drop the bandoneon and to dedicate himself to writing and to studying music. Between 1950 and 1954 he composed a series of works that began to develop his unique style: Para lucirse, Tanguango, Prepárense, Contrabajeando, Triunfal, and Lo que vendrá.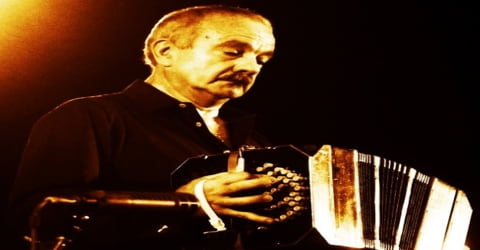 In 1954, Piazzolla won a scholarship to study in Paris with the hugely influential Nadia Boulanger, who also taught Aaron Copland, Philip Glass, and Quincy Jones, among many others. Boulanger encouraged Piazzolla not to ignore tango, but to reinvigorate the form with his jazz and classical training. Piazzolla returned home in 1955 and immediately set the tango world on its ear, forming an octet that played tango as self-contained chamber music, rather than accompaniment for vocalists or dancers. In 1958 Piazzolla disbanded both the Octeto and the String Orchestra and returned to New York City with his family where he struggled to make a living as a musician and arranger. Briefly forming his own group, the Jazz Tango Quintet with whom he made just two recordings, his attempts to blend jazz and tango were not successful. He received the news of the death of his father in October 1959 while performing with Juan Carlos Copes and María Nieves in Puerto Rico and on his return to New York City a few days later, he asked to be left alone in his apartment and in less than an hour wrote his famous tango 'Adiós Nonino', in homage to his father.
Copes and Nieves packed out Club Flamboyan in San Juan, Puerto Rico with "Compañia Argentina Tangolandia". Piazzolla was serving as the musical director. The tour continued in New York, Chicago and then Washington. The last show that the three of them did together was an appearance on CBS the only color TV channel in the US on the Arthur Murray Show in April 1960. Back in Buenos Aires later that year he put together the first, and perhaps most famous, of his quintets, the first Quinteto, initially comprising bandoneon (Piazzolla), piano (Jaime Gosis), violin (Simón Bajour), electric guitar (Horacio Malvicino ) and double bass (Kicho Díaz). Of the many ensembles that Piazzolla set up during his career, it was the quintet formation which best expressed his approach to tango. In 1963 he set up his Nuevo Octeto and the same year premiered his Tres Tangos Sinfónicos, under the direction of Paul Klecky, for which he was awarded the Hirsch Prize.
In 1965, Piazzolla made a record of his concert at New York's Philharmonic Hall, and also cut an album of poems by Jorge Luis Borges set to music. In 1967, Piazzolla struck a deal with poet Horacio Ferrer to collaborate exclusively with each other, resulting in the groundbreaking so-called "operita" Maria de Buenos Aires, which was premiered by singer Amelita Baltar in 1968 (she would later become Piazzolla's second wife). Piazzolla and Ferrer next collaborated on a series of "tango-canciones" (tango songs) which produced his first genuine commercial hit, "Balada Para un Loco" ("Ballad of a Madman"). In addition to composing songs and more elaborate pieces for orchestra (such as 1970's El Pueblo Joven), Piazzolla also flexed his muscles scoring numerous films of the period.
When Astor Piazzolla returned again to Argentina, he formed the influential Quinteto Nuevo Tango (1960), featuring a violin, electric guitar, piano, double bass, and bandoneón. Though many of his 750 compositions were written for that quintet, he also composed pieces for orchestra, big band, bandoneón, and cello. His innovations, including counterpoint and new rhythms and harmonies, were initially not well received in his country, but they were greatly admired in the United States and Europe. He moved to Paris in 1974 but returned to Argentina in 1985.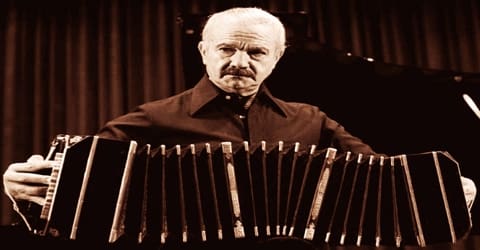 In 1970 Piazzolla returned to Paris where with Ferrer he wrote the oratorio El pueblo joven later premiered in Saarbrücken, Germany in 1971. On May 19, 1970, he gave a concert with his Quinteto at the Teatro Regina in Buenos Aires in which he premiered his composition Cuatro Estaciones Porteñas. Back in Buenos Aires, he founded his Conjunto 9 (a.k.a. Nonet), a chamber music formation, which was a realization of a dream for Piazzolla and for which he composed some of his most sophisticated music. He now put aside his first Quinteto and made several recordings with his new ensemble in Italy. Within a year the Conjunto 9 had run into financial problems and was dissolved and in 1972 he participated in his first concert at the Teatro Colón in Buenos Aires, sharing the bill with other Tango orchestras.
In 1973, Piazzolla suffered a heart attack, and after recovering, he decided that, with sentiments running high against him, it would be wiser for him to live in Italy. There he formed a group called the Conjunto Electronico, which placed bandoneon at the forefront of what was essential, instrumentation-wise, an electric jazz ensemble; this period also produced one of his most celebrated compositions, "Libertango." In 1974, Piazzolla cut an album with jazz baritone saxophonist Gerry Mulligan called Summit, with backing by Italian musicians; the following year, he found a new favorite vocal interpreter in Jose Angel Trelles. 1976 brought a major concert back in Buenos Aires, with the Conjunto Electronico premiering the piece "500 Motivaciones."
In 1978 Astor Piazzolla formed his second Quintet, with which he would tour the world for 11 years, and would make him world-renowned. He also returned to writing chamber music and symphonic works. During the period of Argentine military dictatorship from 1976 to 1983, Piazzolla lived in Italy, but returned many times to Argentina, recorded there, and on at least one occasion had lunch with the dictator Jorge Rafael Videla. However, his relationship with the dictator might have been less than friendly, as recounted in Astor Piazzolla, A Manera de memorias (a comprehensive collection of interviews, constituting a memoir):
One year before the Los Largartos issue you went to Videla's house and had lunch with him. Why did you accept that invitation?
What invitation? They sent a couple of guys in black suits and a letter with my name on it that said that Videla expected me a particular day in a particular place. I have a book around someplace, with pictures of all the guests: Eladia Blázquez, Daniel Tinayre, Olga Ferri, the composer Juan Carlos Tauriello, there were painters, actors … – Astor Piazzolla, A Manera de memorias
In 1982 Astor Piazzolla recorded the album Oblivion with an orchestra in Italy for the film Enrico IV, directed by Marco Bellocchio, and in May 1982, in the middle of the Falklands War, he played in a concert at the Teatro Regina, Buenos Aires with the second Quinteto and the singer Roberto Goyeneche. That same year he wrote Le Grand Tango for cello and piano, dedicated to Russian cellist, Mstislav Rostropovich which would be premiered by him in 1990 in New Orleans. On 11 June 1983, he put on one of the best concerts of his life when he played a program of his music at the Teatro Colón in Buenos Aires. For the occasion, he regrouped the Conjunto 9 and played solo with the Buenos Aires Philharmonic, directed by Pedro Ignacio Calderón. The programme included his three-movement Concierto para bandoneón y Orquesta and his 3 movements Concierto de Nacar.
In 1986, Astor Piazzolla entered the studio with his quintet and American producer Kip Hanrahan and recorded what he considered the finest album of his career, Tango: Zero Hour. The same year, he played the Montreux Jazz Festival with vibraphonist Gary Burton, resulting in the live set Suite for Vibraphone and New Tango Quintet. The official follow-up to Tango: Zero Hour, The Rough Dancer and the Cyclical Night, won equally glowing reviews, and Piazzolla staged a major homecoming concert in New York's Central Park in 1987.
In 1985 Piazzolla was named Illustrious Citizen of Buenos Aires and premiered his Concerto for Bandoneon and Guitar (also known as Tribute to Liège and written in 1979), at the Fifth International Liège Guitar Festival on March 15, with the Liège Philharmonic Orchestra conducted by Leo Brouwer and Cacho Tirao on guitar. Piazzolla made his London debut with his second Quinteto at the Almeida Theatre in London at the end of June. With the film score for El exilio de Gardel, he won the French critics Cesar Award in Paris for best film music in 1986. Piazzolla appeared at the Montreux Jazz Festival, Montreux, Switzerland, with vibraphonist Gary Burton in July 1986 and on 6 September 1987 gave a concert in New York's Central Park, in the city where he spent his childhood.
Unfortunately, at the height of his international fame (and belated celebration at home), Piazzolla's health began to fail him. He underwent quadruple bypass surgery in 1988 but recovered well enough to mount an international tour in 1989, including what would be his final concert in Argentina. La Camorra, another excellent recording, was released in 1989, the same year Piazzolla formed a new sextet with an unheard-of two bandoneons.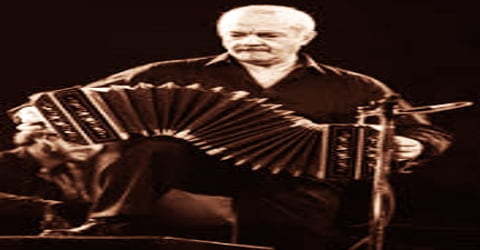 Early in 1989, Piazzolla formed his Sexteto Nuevo Tango, his last ensemble, with two bandoneons, piano, electric guitar, bass, and cello. Together they gave a concert at the Club Italiano in Buenos Aires in April, a recording of which was issued under the title of Tres Minutos con la Realidad. Later he appeared with them at the Teatro Opera in Buenos Aires in the presence of the newly elected Argentine President Carlos Menem on Friday, June 9. This would be Piazzolla's last concert in Argentina. His 1982 composition, Le grand tango, for cello and piano was premiered in New Orleans by the Russian cellist Mstislav Rostropovich and the pianist Igor Uriash in 1990 and on July 3 he gave his last concert in Athens, Greece, with the Athens Orchestra of Colours, conducted by Manos Hatzidakis.
In 1990, Piazzolla recorded a short album with modern-classical iconoclasts the Kronos Quartet, titled Five Tango Sensations. Sadly, not long afterward, Piazzolla suffered a stroke that left him unable to perform or compose.
Awards and Honor
In 1995 Astor Piazzolla's family received the Konex Award, as the most important musician of the decade in Argentina.
Death and Legacy
Astor Piazzolla suffered a cerebral hemorrhage in Paris on August 4, 1990, which left him in a coma and died in Buenos Aires, just under two years later on July 4, 1992, without regaining consciousness. He died in his beloved Buenos Aires due to the lingering after-effects, leaving behind a monumental legacy as one of South America's greatest musical figures ever, and a major composer of the 20th century.
Among his followers, the composer and pianist Fernando Otero and Piazzolla's protégé, bandoneonist Marcelo Nisinman, are the best known innovators of the tango music of the new millennium, while Pablo Ziegler, a pianist with Piazzolla's second quintet, has assumed the role of principal custodian of nuevo tango, extending the jazz influence in the style. The Brazilian guitarist Sergio Assad has also experimented with folk-derived, complex virtuoso compositions that show Piazzolla's structural influence while steering clear of tango sounds; and Osvaldo Golijov has acknowledged Piazzolla as perhaps the greatest influence on his globally oriented, eclectic compositions for classical and klezmer performers.
Information Source: