Biography of B.B. King
B.B. King – American blues singer, electric guitarist, songwriter, and record producer.
Name: Riley B. King
Date of Birth: September 16, 1925
Place of Birth: Itta Bena, Mississippi, United States
Date of Death: May 14, 2015 (aged 89)
Place of Death: Las Vegas, Nevada, United States
Occupation: Singer, Guitarist, Songwriter, Record producer
Father: Albert King
Mother: Nora Ella Farr
Spouse/Ex: Martha Lee Denton (m. 1946–1952), Sue Carol Hall (m. 1958–1966)
Early Life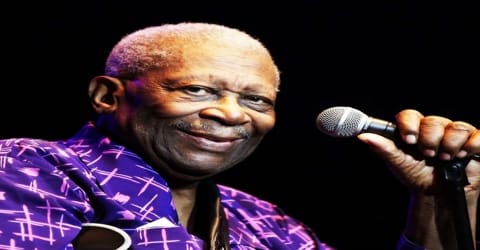 American guitarist and singer, B.B. King were born on September 16, 1925, on the Berclair cotton plantation near the town of Itta Bena, Mississippi, the son of sharecroppers Albert and Nora Ella King. King introduced a sophisticated style of soloing based on fluid string bending and shimmering vibrato that influenced many later electric blues guitarists. He was a principal figure in the development of blues and from whose style leading popular musicians drew inspiration.
Regarded as one of the most influential blues musicians of all time, he was often called "The King of the Blues", and is credited to have made the genre of blues popular all over the world. Born to sharecroppers on a cotton plantation in Mississippi, he came from a family of very humble means. He loved music from a young age and harbored the dream of making it big as a famous musician. He fell in love with the guitar and taught himself to play the instrument. An ambitious individual, he moved to Memphis in order to make a career for himself and found his big break when he performed on Sonny Boy Williamson's radio program on KWEM out of West Memphis. The success of the show ensured that he received steady engagements and eventually he started recording. Following the success of his super-hit, '3 O'Clock Blues', he started touring extensively, which made him a much popular figure and earned him a huge fan following. Over the next few years, he developed his own unique style of playing the guitar, combining the elements of traditional blues, jazz, swing, and mainstream pop.
King was inducted into the Rock and Roll Hall of Fame in 1987, and is considered one of the most influential blues musicians of all time, earning the nickname "The King of the Blues", and is considered one of the "Three Kings of the Blues Guitar" (along with Albert and Freddie King). King was known for performing tirelessly throughout his musical career, appearing on average at more than 200 concerts per year into his 70s. In 1956 alone, he reportedly appeared at 342 shows.
After his hit-making days, King partnered with such musicians as Eric Clapton and U2 and managed his own acclaimed solo career, all the while maintaining his immediately recognizable style on the electric guitar. For decades, he reigned as the undisputed king of blues and died in 2015 at the age of 89.
Childhood, Family and Educational Life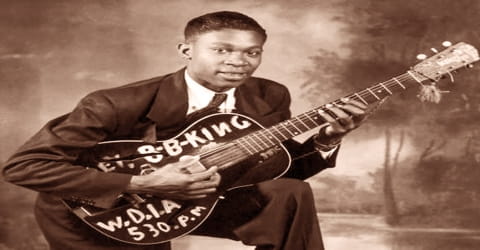 B.B. King, by name of Riley B. King, was born on September 16, 1925, in Mississippi to Albert and Nora Ella King. His parents were sharecroppers on a cotton plantation. His mother abandoned the family when Riley was young and thus he was raised by his maternal grandmother.
While young, King sang in the gospel choir at Elkhorn Baptist Church in Kilmichael. King was attracted to the Pentecostal Church of God in Christ because of its music. The local minister performed with a Sears Roebuck Silvertone guitar during services. The minister taught King his first three chords. It seems that at the age of 12 he purchased his first guitar for $15.00, although another source indicates he was given his first guitar by Bukka White, his mother's first cousin (King's grandmother and White's mother were sisters).
Working on a cotton plantation in Indianola, King earned $22.50 a week. "I guess the earliest sound of blues that I can remember was in the fields while people would be pickin' cotton or choppin' or somethin'," King noted in a 1988 Living Blues interview cited in Contemporary Musicians. "When I sing and play now I can hear those same sounds that I used to hear them as a kid."
As a young man, he acquired the nickname "the Beale Street Blues Boy" which was later shortened to just "B.B.".
Personal Life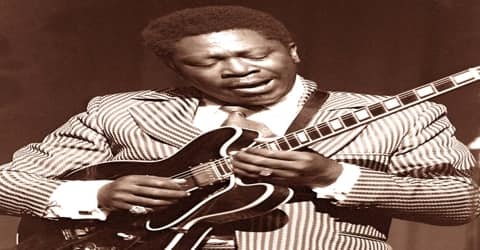 B.B. King was married twice, to Martha Lee Denton, November 1946 to 1952, and to Sue Carol Hall, 1958 to 1966. The failure of both marriages has been attributed to the heavy demands made by King's 250 performances a year.
It is reported that King had been involved with other several women as well and had fathered 15 children. After his death, three more have come forward, claiming King as their father as well. In May 2016, the 11 surviving children initiated legal proceedings against King's appointed trustee over his estimated $30 million to $40 million estates. Several of them also went public with the allegation that King's business manager, LaVerne Toney, and his personal assistant, Myron Johnson, had fatally poisoned him. Autopsy results showed no evidence of poisoning. A defamation suit filed by Johnson against the accusing family members (including his own sister, Karen Williams) is pending. Other children have filed lawsuits targeting King's music estate, which remains in dispute.
King was diagnosed with type 2 diabetes in 1990. He lived with diabetes for over 20 years and was a high-profile spokesman in the fight against the disease.
Career and Works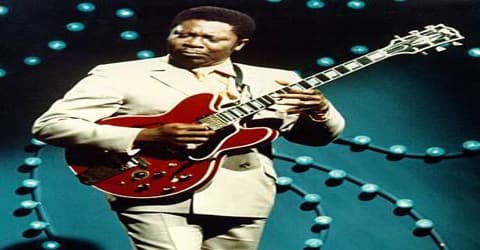 King was reared in the Mississippi Delta, and gospel music in church was the earliest influence on his singing. To his own impassioned vocal calls, King played lyrical single-string guitar responses with a distinctive vibrato; his guitar style was influenced by T-Bone Walker, by Delta blues players (including his cousin Bukka White), and by such jazz guitarists like Django Reinhardt and Charlie Christian.
King moved to Memphis to embark on a musical career. He got a chance to perform on Sonny Boy Williamson's radio program on KWEM, following which he gained some popularity. He worked at WDIA as a singer and disc jockey, where he was given the nickname "Beale Street Blues Boy", later shortened to "Blues Boy", and finally to B.B. It was there that he first met T-Bone Walker. King said, "Once I'd heard him for the first time, I knew I'd have to have an electric guitar myself.'Had' to have one, short of stealing!"
In 1949, King began recording songs under contract with Los Angeles-based RPM Records. Many of King's early recordings were produced by Sam Phillips, who later founded Sun Records. Before his RPM contract, King had debuted on Bullet Records by issuing the single, "Miss Martha King" (1949), which did not chart well. "My very first recordings in 1949 were for a company out of Nashville called Bullet, the Bullet Record Transcription Company," King recalled. "I had horns that very first session. I had Phineas Newborn on piano; his father played drums, and his brother, Calvin, played guitar with me. I had Tuff Green on bass, Ben Branch on tenor sax, his brother, Thomas, on trumpet, and a lady trombone player. The Newborn family was the house band at the famous Plantation Inn in West Memphis."
Propelled by the success of this single, King began touring extensively. By the mid-1950s he gained a reputation for performing in hundreds of shows in a year in 1956, he along with his band played an astonishing 342 one-night stands. He became the uncrowned king of blues and one of the most influential names in R&B music in the 1950s. Some of the super-hits he produced in the decade are 'You Know I Love You', 'Woke Up This Morning', 'Please Love Me', 'When My Heart Beats like a Hammer', 'Whole Lotta Love', and 'You Upset Me Baby'.
In 1951 King made a hit record of "Three O'Clock Blues," and he thereafter began what became a lifetime of nearly continuous touring throughout the country and later the world. He often played 300 or more one-night stands a year with his 13-piece band. A long succession of hits including "Woke Up This Morning" (1953), "Every Day I Have the Blues," and "Sweet Sixteen" enhanced his popularity. In 1964 in Chicago he recorded the seminal album Live at the Regal, and his 1969 recording "The Thrill Is Gone" won him the first of 15 Grammy Awards. By the late 1960s, rock guitarists were acknowledging his influence and priority; they introduced King and his guitar, Lucille, to a broader white public, who until then had heard blues chiefly in derivative versions.
Once when King was playing at a dance in Twist, Arkansas, two men got into a fight and knocked over a heater, starting a fire that spread through the dancehall. King escaped the burning building, then remembered his sixty-dollar guitar and ran back in, nearly dying in an attempt to rescue it. When he discovered that the men who had started the blaze were fighting over a woman named Lucille, he gave the name to his guitar "to remind myself never to do anything that foolish."
In 1956 became a record-breaking year, with 342 concerts booked and three recording sessions. That same year he founded his own record label, Blues Boys Kingdom, with headquarters at Beale Street in Memphis. There, among other projects, he was a producer for artists such as Millard Lee and Levi Seabury. In 1962, King signed to ABC-Paramount Records, which was later absorbed into MCA Records (which itself was later absorbed into Geffen Records). In November 1964, King recorded the Live at the Regal album at the Regal Theater. King later said that Regal Live "is considered by some the best recording I've ever had . . . that particular day in Chicago everything came together . . ."
Although King distanced himself from rock and roll when the new style emerged in the 1950s, he soon began to add some of the traits of early rockers like Little Richard and Fats Domino to his act. In 1962 he moved to the ABC label, and in 1965 he put out his first album, Live at the Regal. In 1968, after the assassination of civil rights leader Martin Luther King Jr. (1929–1968), King played an all-night blues benefit with fellow guitarists Jimi Hendrix (1942–1970) and Buddy Guy to raise money for King's Southern Christian Leadership Conference.
His streak of success continued throughout the 1960s. By this time King had a new manager Sid Seidenberg who ensured that B.B. achieved popularity among the white crowd as well. He played at the Newport Folk Festival and at Bill Graham's Fillmore West in 1968 which helped to further popularize his image.
It was during this era that King first named his beloved guitar "Lucille." Seems that while he was playing a joint in a little Arkansas town called Twist, fisticuffs broke out between two jealous suitors over a lady. The brawlers knocked over a kerosene-filled garbage pail that was heating the place, setting the room ablaze. In the frantic scramble to escape the flames, King left his guitar inside. He foolishly ran back in to retrieve it, dodging the flames and almost losing his life. When the smoke had cleared, King learned that the lady who had inspired such violent passion was named Lucille. Plenty of Lucilles have passed through his hands since; Gibson has even marketed a B.B.-approved guitar model under the name.
King was as prolific as ever during the 1970s and 1980s, touring frequently and releasing albums. His notable albums from this time include 'B.B. King in London' (1971), 'To Know You Is to Love You' (1973), 'Friends' (1974), 'Midnight Believer' (1978), 'Take It Home' (1979), 'Love Me Tender' (1982), and 'King of the Blues: 1989' (1988).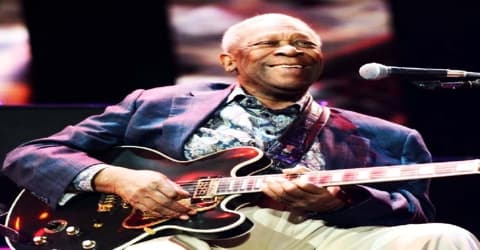 During the late 1960s, praise for King from English rock musicians such as Eric Clapton and Jimmy Page led to renewed interest in the blues among U.S. audiences. King found himself playing concerts with bands such as Led Zeppelin, Black Sabbath, and Santana. As African American audiences moved away from the blues, King began to attract young white listeners. In 1969 "The Thrill Is Gone" was released; the song won a Grammy in 1971 and became King's biggest hit. In 1971, with attorney F. Lee Bailey, King founded FAIRR (the Foundation for the Advancement of Inmate Rehabilitation and Recreation), an organization dedicated to the improvement of prison conditions. King often gave concerts in prisons, one of which was recorded and released as Live at San Quentin.
In 1973, King ventured to Philadelphia to record a pair of huge sellers, "To Know You Is to Love You" and "I Like to Live the Love," with the same silky rhythm section that powered the hits of the Spinners and the O'Jays. In 1976, he teamed up with his old cohort Bland to wax some well-received duets. And in 1978, he joined forces with the jazzy Crusaders to make the gloriously funky "Never Make Your Move Too Soon" and an inspiring "When It All Comes Down." Occasionally, the daring deviations veered off-course; Love Me Tender, an album that attempted to harness the Nashville country sound, was an artistic disaster.
From the 1980s to his death in 2015, he maintained a highly visible and active career, appearing on numerous television shows and sometimes performing 300 nights a year. In 1988, King reached a new generation of fans with the single "When Love Comes to Town," a collaborative effort between King and the Irish band U2 on their Rattle and Hum album. In December 1997, he performed in the Vatican's fifth annual Christmas concert and presented his trademark guitar "Lucille" to Pope John Paul II. In 1998, King appeared in The Blues Brothers 2000, playing the part of the lead singer of the Louisiana Gator Boys, along with Eric Clapton, Dr. John, Koko Taylor, and Bo Diddley. In 2000, he and Clapton teamed up again to record Riding With the King, which won a Grammy Award for Best Traditional Blues Album.
King was faced with a heartbreaking situation in 1992 when he played at a jail in Gainesville, Florida; among the inmates, there was his daughter Patty, who was serving time on drug charges. By the time he reached his late sixties, King had slowed down his performance schedule somewhat, though he still toured regularly. In 1994 he played a concert at the Hard Rock Café in Beijing, China. He was by now playing Lucille the Fifteenth. "We've spent 40 years together," he said to Ebony. "She likes younger men but puts up with me."
In 2006, King went on a "farewell" world tour, although he remained active afterward. In late October 2006, King recorded a concert album and video entitled B.B. King: Live at his B.B. King Blues Clubs in Nashville and Memphis. The video of the four-night production featured his regular B.B. King Blues Band and captured his show as he performed it nightly around the world. Released in 2008, they documented his first live performances in over a decade. In 2007, King played at Eric Clapton's second Crossroads Guitar Festival and contributed the songs "Goin' Home", to Goin' Home: A Tribute to Fats Domino (with Ivan Neville's DumpstaPhunk) and "One Shoe Blues" to Sandra Boynton's children's album Blue Moo, accompanied by a pair of sock puppets in a music video for the song.
King returned to his roots with One Kind Favor (2008), a collection of songs from the 1940s and '50s including blues classics by the likes of John Lee Hooker and Lonnie Johnson. Joining King in the simple four-part arrangements on the T-Bone Burnett-produced album were stalwart New Orleans pianist Dr. John, ace session drummer Jim Keltner, and stand-up bassist Nathan East. The album earned King his final Grammy, for a best traditional blues album.
In the summer of 2008, King played at the Bonnaroo Music and Arts Festival in Manchester, Tennessee, where he was given a key to the city. King performed at the Mawazine festival in Rabat, Morocco, on May 27, 2010. In June 2010, King performed at the Crossroads Guitar Festival with Robert Cray, Jimmie Vaughan, and Eric Clapton. He also contributed to Cyndi Lauper's album Memphis Blues, which was released on June 22, 2010. In 2011, King played at the Glastonbury Music Festival, and in the Royal Albert Hall in London, where he recorded a concert video. Rolling Stone ranked King at No. 6 on its 2011 list of the 100 greatest guitarists of all time.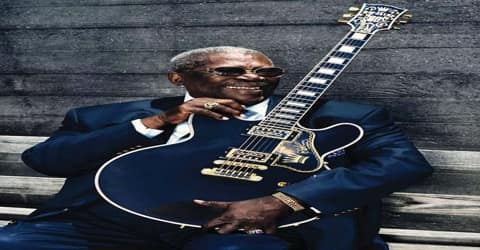 On February 21, 2012, B.B. King was among the performers of "In Performance at the White House: Red, White, and Blues," during which President Barack Obama sang part of "Sweet Home Chicago". King recorded for the debut album of rapper and producer Big K.R.I.T., who also hails from Mississippi. On July 5, 2012, King performed a concert at the Byblos International Festival in Lebanon. On May 26, 2013, King appeared at the New Orleans Jazz Festival. On October 3, 2014, after completing his live performance at the House of Blues in Chicago, a doctor diagnosed King with dehydration and exhaustion, and the eight remaining shows of his ongoing tour had to be canceled. King didn't schedule any additional shows for the remainder of the year.
Awards and Honor
B.B. King was inducted into the Blues Hall of Fame in 1980, the Rock and Roll Hall of Fame in 1987, and the Official Rhythm & Blues Music Hall of Fame in 2014.
B.B. King was the recipient of numerous Grammy Awards and was presented with a Grammy Lifetime Achievement Award in 1987.
In the early 1990s, King was inducted into the Rock and Roll Hall of Fame, received a Presidential Medal of Freedom from George Bush, and even earned a star on Hollywood's Walk of Fame.
In 2000 King was elected to the Mississippi Musicians Hall of Fame. The same year he received a Heroes Award from the National Academy of Recording Arts & Sciences.
In February 2001 King won another Grammy in the traditional blues album category for Riding with the King, which he recorded with Eric Clapton.
In 2004, King was awarded the international Polar Music Prize, given to artists "in recognition of exceptional achievements in the creation and advancement of music."
In 2006, President George W. Bush awarded King the Presidential Medal of Freedom.
Death and Legacy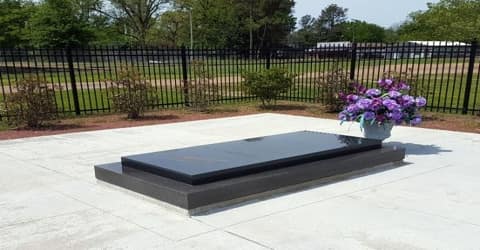 B.B. King died in his sleep on May 14, 2015, at the age of 89, from vascular dementia caused by a series of small strokes as a consequence of his type 2 diabetes. Two of his daughters alleged that King was deliberately poisoned by two associates trying to induce diabetic shock; however, an autopsy showed no evidence of poisoning.
The blues album, 'Riding with the King', released by King in collaboration with Eric Clapton was his most commercially successful album. The album peaked at No. 1 on the Billboard's Top Blues Albums and was certified Multi-Platinum in the United States.
On May 27, 2015, King's body was flown to Memphis. A funeral procession went down Beale Street, with a brass band marching in front of the hearse, playing "When the Saints Go Marching In." Thousands lined the streets to pay their last respects. His body was then driven down Route 61 to his hometown of Indianola, Mississippi. He was laid in repose at the B.B. King Museum and Delta Interpretive Center, in Indianola, for people to view his open casket. The funeral took place at the Bell Grove Missionary Baptist Church in Indianola, on May 30. He was buried at the B.B. King Museum.
Although his concerts were consistent as satisfying as anyone in the field (King asserted himself as a road warrior of remarkable resiliency who gigged an average of 300 nights a year), King tempered his studio activities somewhat. Nevertheless, his 1993 MCA disc Blues Summit was a return to form, as King duetted with his peers (John Lee Hooker, Etta James, Fulson, Koko Taylor) on a program of standards. Other notable releases from that period include 1999's Let the Good Times Roll: The Music of Louis Jordan and 2000's Riding with the King, a collaboration with Eric Clapton.
Information Source: