Biography of Barbara Cartland
Barbara Cartland – English novelist.
Name: Dame Mary Barbara Hamilton Cartland
Date of Birth: 9 July 1901
Place of Birth: Edgbaston, Birmingham, England
Date of Death: 21 May 2000 (aged 98)
Place of Death: Camfield Place, Hertfordshire, England
Occupation: Novelist
Father: Major James Bertram Cartland
Mother: Mary Hamilton Scobell
Spouse/Ex: Alexander McCorquodale (m. 1927–1933); Hugh McCorquodale (m. 1936–1963)
Children: Raine McCorquodale, Ian McCorquodale, Glen McCorquodale
Early Life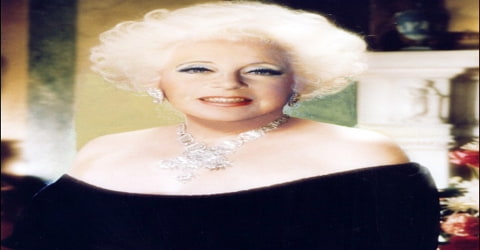 Barbara Cartland was an English author of more than 700 books, mostly formulaic novels of romantic love set in the 19th century and she was born on July 9, 1901, in Edgbaston, Birmingham, England. Her first novel, Jigsaw, was a popular success and her output grew steadily. By the 1970s she was averaging 23 books a year, all of which she dictated. Her 723 novels were translated into 38 languages and she continues to be referenced in the Guinness World Records for the most novels published in a single year in 1976.
After her marriage, she used to write under her married name, Barbara McCorquodale. She has written more than 700 books and it is estimated that above 750 million copies of her books have sold. Her first novel is "Jig-Saw", a thriller that became a best seller. Her later novels attained popularity despite their moderate storyline. She was even named as the top-selling author across the world by the Guinness Book of World Records for writing 23 novels in a single year. One of the main inspirations behind her romantic novels was Edwardian author Elinor Glyn, a pioneer in the mass-market erotic fiction.
As Barbara Cartland, she is known for writing numerous romantic novels but she had also written books under her married name of Barbara McCorquodale and briefly under the pseudonym of Marcus Belfry. She wrote more than 700 books, as well as plays, music, verse, drama, magazine articles and operetta, and was a prominent philanthropist. She reportedly sold more than 750 million copies. Other sources estimate her total book sales at more than two billion copies. She specialized in 19th-century Victorian era pure romance. Her novels all featured portrait-style artwork, particularly the cover art, usually designed by Francis Marshall (1901–1980).
As she came from an aristocratic society, the background and characters of her novels represent British upper class. The interesting feature of her novels is that all of them have a happy ending. Idealistic love and ideal women play a dominant part in all of these novels. She also wrote biographies of several real historical characters like Josephine, Empress of France. She was a popular media personality and used to make appearances on television and public events to discuss issues like love, politics, and society. During the period between the 1920s and 1930s, she was popular for her beauty, charm and daring parties.
As head of Cartland Promotions, she became one of London's most prominent society figures. Always presenting herself in a pink chiffon gown, plumed hat, blonde wig, and heavy make-up, she became one of Britain's most popular media personalities.
Childhood, Family and Educational Life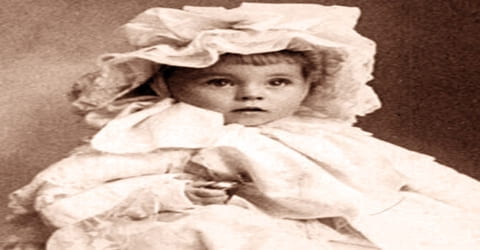 Dame Barbara Cartland, in full Mary Barbara Hamilton Cartland, married name Barbara McCorquodale, was born on July 9, 1901, Edgbaston, Birmingham, in England. She was the only daughter and eldest child of a British Army officer Major James Bertram "Bertie" Falkner Cartland[6] (1876–1918), and his wife, Mary Hamilton Scobell, known as "Polly" (1877–1976). Cartland had two brothers: Major Ronald Cartland, a Member of Parliament and British Army Major of World War II (1907–1940), and James Anthony "Tony" Hamilton Cartland, (1912–1940).
After the death of her father in World War I, her mother opened a dress shop in London to earn livelihood. She grew up with her two brothers whose names were Anthony and Ronald. Though she was born into middle-class comfort, the Cartland family's finances rapidly deteriorated shortly after her birth. Cartland would later attribute this downturn to the suicide of her paternal grandfather, James Cartland, who, she claimed, was a financier who shot himself in the wake of bankruptcy. However, according to the entry in the probate registry, James Cartland, the proprietor of a brass foundry, left an estate of £92,000, suggesting that Barbara Cartland's version of events is to a large degree fictional.
Cartland studied at The Alice Ottley School in Worcester. Later, she was educated at Malvern Girls' College, and Abbey House, an educational institution in Hampshire. Cartland soon became successful as a society reporter after 1922, and a writer of romantic fiction. Cartland admitted she was inspired in her early work by the novels of Edwardian author Elinor Glyn, whom she idolized and eventually befriended.
Personal Life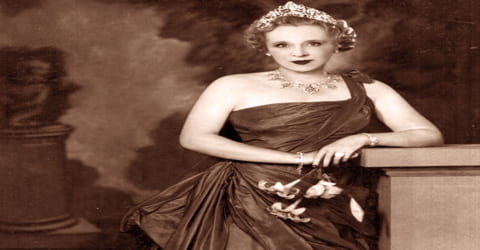 In 1927, Cartland married Captain Alexander George McCorquodale, a British Army officer from Scotland. They had a daughter namely Raine McCorquodale whom she later claimed as the daughter of Prince George, Duke of Kent.
After the McCorquodales' 1933 divorce, which involved charges and countercharges of infidelity, Cartland married her former husband's cousin, Hugh McCorquodale, on 28 December 1936. Cartland and her second husband, who died in 1963, had two sons: Ian McCorquodale (born 11 October 1937), a former Debretts publisher, and Glen McCorquodale (born 1939), a stockbroker.
Career and Works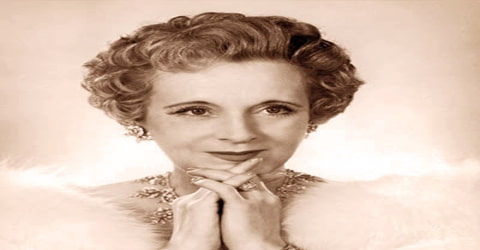 Following the death of her father in World War I, Cartland moved with her family to London. There she began contributing to the Daily Express newspaper, receiving instruction in writing from its proprietor, Lord Beaverbrook. Cartland's first novel, Jigsaw (1925), was a popular success and it became a bestseller within a short period. She also began writing and producing somewhat racy plays, one of which, Blood Money (1926), was banned by the Lord Chamberlain's Office.
In the 1920s and 1930s, Cartland was a prominent young hostess in London society, noted for her beauty, energetic charm, and daring parties. Her fashion sense also had a part, and she was one of the first clients of designer Norman Hartnell; she remained a client until he died in 1979. He made her presentation and wedding dresses; the latter was made to her own design against Hartnell's wishes, and she admitted it was a failure.
During the Second World War from 1939 to 1945, she acted as the Chief Lady Welfare Officer in Bedfordshire whose job included looking after 20,000 service men and women. She became the recipient of the Certificate of Merit from Eastern Command. She was invested at Buckingham Palace as a Commander of the Order of St. John of Jerusalem in 1953.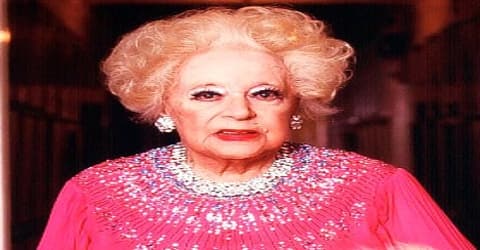 In 1950, Cartland was accused of plagiarism by author Georgette Heyer, after a reader drew attention to the apparent borrowing of Heyer's character names, character traits, dialogue, and plot points in Cartland's early historical romances. In particular, A Hazard of Hearts (1949), which replicated characters (including names) from Heyer's Friday's Child (1944) and The Knave of Hearts (1950) which, Heyer alleged, "the conception … , the principal characters, and many of the incidents, derive directly from an early book of my own, entitled These Old Shades, first published in 1926. … For minor situations and other characters, she has drawn upon four of my other novels." Heyer completed a detailed analysis of the alleged plagiarisms for her solicitors, but the case never came to court.
After her election as a councilor on Hertfordshire County Council in 1955, she crusaded for the rights of gypsies. For this purpose, she supported the idea of having a permanent place for them to live. As a result of her strong campaign, an act was passed in Parliament.
In 1964, she opened one of the gypsy camps namely Barbaraville. As a result of this, a number of gypsy families got a place to live and it ensured the education of their children in the local area. In the same year, she established the National Association for Health in the United Kingdom. She also acted as its President. This organization acts as a front for all the Health Stores and any product used as alternative medicine.
By 1983, she rated the longest entry in Who's Who (though most of that article was a list of her books), and she was named the top-selling author in the world by the Guinness Book of Records. Additionally, in 1983, Cartland wrote 23 novels, earning her the Guinness World Record for the most novels written in a single year.
She traveled widely and conducted historical research in order to write her novels, which usually feature beautiful, virginal young women and handsome, rakish young men. Her output of books grew steadily, averaging 23 a year from the mid-1970s; altogether, her works had sold more than one billion copies in some 35 languages by 2000. Her nonfiction includes five autobiographies and books of advice on health food, vitamins, and beauty. She also wrote film scripts for several of her novels and some 30 plays. In 1991 she was made Dame Commander of the Order of the British Empire.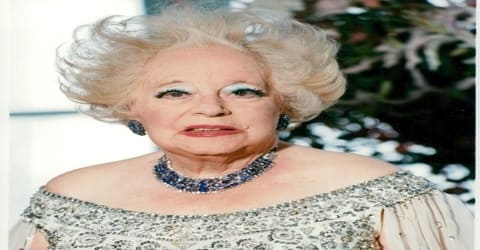 In 1978, Cartland released An Album of Love Songs through State Records, produced by Sir Norman Newell. The album featured Cartland performing a series of popular standards with the Royal Philharmonic Orchestra, including "I'll Follow My Secret Heart" and "A Nightingale Sang in Berkeley Square".
She also campaigned for better condition and salaries for midwives and nurses. For her contribution in this field, she received Dame of Grace of the Order of St John of Jerusalem.
In the mid-1990s, by which time she had sold over a billion books, Vogue called Cartland "the true Queen of Romance". She became a mainstay of the popular media in her trademark pink dresses and plumed hats, discoursing on matters of love, marriage, politics, religion, health, and fashion. She was publicly opposed to the removal of prayer from state schools, and spoke against infidelity and divorce, although she admitted to being acquainted with both of these subjects.
Awards and Honor
In 1931, she, along with two Royal Air Force Officers, created the first airplane-towed glider airmail.
For her remarkable contribution in the aviation field, she received the Bishop Wright Air Industry Award in the year 1984.
In January 1988, Cartland received the Médaille de Vermeil de la Ville de Paris, the highest honor of the city of Paris, for publishing 25 million books in France.
In 1991, Cartland was invested by Queen Elizabeth II as a Dame Commander of the Order of the British Empire (DBE) in honor of the author's almost 70 years of literary, political, and social contributions.
A waxwork of Cartland was on display at Madame Tussauds, though according to her son Ian, Cartland was displeased because it wasn't "pretty enough"
Death and Legacy
Cartland suffered from a poor physical and mental condition when in her mid-90s. She still remained busy giving interviews and making preparations to launch her website. She died peacefully in her sleep, on 21 May 2000, seven weeks before her 99th birthday (and the same day as prominent British actor Sir John Gielgud), at her residence, Camfield Place, near Hatfield, Hertfordshire. She had been suffering from ill health and dementia for six months beforehand, and was subsequently bedridden and sequestered. Both of her sons, Ian and Glen McCorquodale, were present at her bedside when she died. Shortly afterward, Cartland's daughter from her first marriage, Raine, traveled to the family home.
After originally deciding she would like to be buried in her local parish church, featuring a coffin of marble construction, covered in angels, this was later changed; Cartland was buried in a cardboard coffin, because of her concerns for environmental issues. She was interred at her private estate in Hatfield, Hertfordshire, under an oak that had been planted by Queen Elizabeth I.
Her approximately 600 books, mostly romance novels, have sold more than 600 million copies. She left behind a series of 160 unpublished novels, known as the Barbara Cartland Pink Collection. These are being published in ebook format by her son Ian McCorquodale; each month, a new novel is published from the collection.
In 2010, to mark the 10th anniversary of her death, Cartland's first novel, Jig-Saw (first published in 1925), was reprinted.
"As a tribute to Her Majesty the Queen on her Diamond Jubilee and to Barbara's enduring appeal to romantics everywhere, her publishers have re-released her catalog collection, entitled – "The Eternal Collection." This collection, released beginning in November 2013, includes some novels published at the time Queen Elizabeth II ascended to the throne in 1952.
Information Source: