Bob Marley (1945-1981) – Singer, Musician and Songwriter
Full name: Robert Nesta "Bob" Marley
Date of birth: 6 February 1945
Place of birth: Nine Mile, Saint Ann Parish, Jamaica
Date of death: 11 May 1981 (aged 36)
Place of death: Miami, Florida, US
Cause of death: Metastatic melanoma
Other names: Donald Marley Tuff Gong
Spouse(s): Alpharita Anderson Marley (m. 1966)
Children: Sharon Marley Prendergast (adopted), Cedella Marley, David Nesta "Ziggy" Marley, Stephen Robert Nesta Marley, Rohan Anthony Marley, Julian Ricardo Marley, Ky-Mani Marley, Damian Robert Nesta Marley
Early Life
Bob Marley was born on February 6, 1945, in Nine Mile, Saint Ann Parish, Jamaica. Jamaican singer, musician and songwriter Bob Marley served as a world ambassador for reggae music and sold more than 20 million records throughout his career—making him the first international superstar to emerge from the so-called Third World.
Starting out in 1963 with the group the Wailers, he forged a distinctive songwriting and vocal style that would later resonate with audiences worldwide. The Wailers would go on to release some of the earliest reggae records with producer Lee "Scratch" Perry.
After the Wailers disbanded in 1974, Marley pursued a solo career upon his relocation to England that culminated in the release of the album Exodus in 1977, which established his worldwide reputation and produced his status as one of the world's best-selling artists of all time, with sales of more than 75 million records. Exodus stayed on the British album charts for 56 consecutive weeks. It included four UK hit singles: "Exodus", "Waiting in Vain", "Jamming", and "One Love". In 1978 he released the album Kaya, which included the hit singles "Is This Love" and "Satisfy My Soul".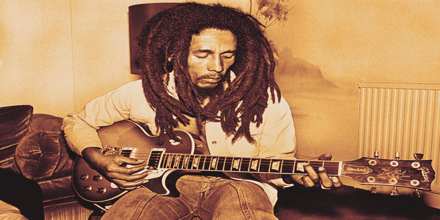 Bob Marley was posthumously inducted into the Rock and Roll Hall of Fame in 1994; in December 1999, his 1977 album "Exodus" was named Album of the Century by Time Magazine and his song "One Love" was designated Song of the Millennium by the BBC. Since its release in 1984, Marley's "Legend" compilation has annually sold over 250,000 copies according to Nielsen Sound Scan, and it is only the 17th album to exceed sales of 10 million copies since SoundScan began its tabulations in 1991.
His music was never recognized with a Grammy nomination but in 2001 he was bestowed The Grammy Lifetime Achievement Award, an honor given by the Recording Academy to "performers who during their lifetimes, have made creative contributions of outstanding artistic significance to the field of recording." That same year, a feature length documentary about Bob Marley's life, Rebel Music, directed by Jeremy Marre, was nominated for a Grammy for Best Long Form Music Video documentary. In 2001 Bob Marley was accorded the 2171st star on the Hollywood Walk of Fame by the Hollywood Historic Trust and the Hollywood Chamber of Commerce, in Hollywood, California. As a recipient of this distinction, Bob Marley joined musical legends including Carlos Santana, Stevie Wonder and The Temptations.
One of the 20th century's most charismatic and challenging performers, Bob Marley's renown now transcends the role of reggae luminary: he is regarded as a cultural icon who implored his people to know their history "coming from the root of King David, through the line of Solomon," as he sang on "Blackman Redemption"; Bob urged his listeners to check out the "Real Situation" and to rebel against the vampiric "Babylon System". "Bob had a rebel type of approach, but his rebelliousness had a clearly defined purpose to it," acknowledges Chris Blackwell, the founder of Island Records, who played a pivotal role in the Bob Marley biography by introducing Marley and the Wailers to an international audience. "It wasn't just mindless rebelliousness, he was rebelling against the circumstances in which he and so many people found themselves."
Diagnosed with acral lentiginous melanoma in 1977, Marley died on 11 May 1981 in Miami at age 36.
Childhood and Personal Life
Bob Marley was born on February 6, 1945, in Nine Mile, Saint Ann Parish, Jamaica. The son of a black teenage mother and much older, later absent white father, he spent his early years in St. Ann Parish, in the rural village known as Nine Miles. Residents of Nine Miles have preserved many customs derived from their African ancestry especially the art of storytelling as a means of sharing the past and time-tested traditions that are oftentimes overlooked in official historical sources. The proverbs, fables and various chores associated with rural life that were inherent to Bob's childhood would provide a deeper cultural context and an aura of mysticism to his adult songwriting.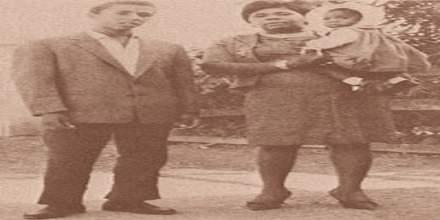 (Bob Marley with his mother)
Bob Marley attended Stepney Primary and Junior High School which serves the catchment area of Saint Ann. In 1955, when Bob Marley was 10 years old, his father died of a heart attack at the age of 70. Marley's mother went on to marry Edward Booker, an American civil servant. The relationship brought Marley two American brothers: Richard and Anthony.
Marley and Neville Livingston (later known as Bunny Wailer) had been childhood friends in Nine Mile. They had started to play music together while at Stepney Primary and Junior High School.
Marley and Livingston devoted much of their time to music. Under the guidance of Joe Higgs, Marley worked on improving his singing abilities. He met another student of Higgs, Peter McIntosh (later Peter Tosh) who would play an important role in Marley's career.
(Bob Marley and his wife)
Bob Marley married Alpharita Constantia "Rita" Anderson in Kingston, Jamaica, on 10 February 1966. Marley had many children: three with his wife Rita, two adopted from Rita's previous relationships, and several others with different women.
It's well known that Bob Marley loved the game of football. There are dozens of pictures around the Internet of him playing ball with friends, and he's been quoted saying, "Football is freedom, a whole universe. Me love it because you have to be skillful to play it."
For better or worse, no individual in history is more closely associated with smoking marijuana – or "herb," as it's called in Rastafarian culture – than Bob Marley. He was instead a staunch supporter of the plant's meditational, spiritual and healing abilities, and a fierce opponent to those ("political forces") who tried using marijuana as a vehicle for oppression, and to keep certain groups of people out of the societal mainstream.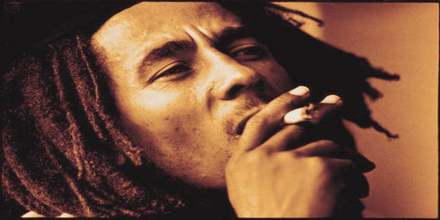 Bob once said in an interview, "Now, when you smoke, it make you cool, you know? It make you stimulate your mind, and make you sit down and meditate. Instead a get foolish, you sit down and you can meditate and be someone. Rum teach to you be a drunkard, and herb teach you to be someone."
Musical Career
Marley and Neville Livingston (later known as Bunny Wailer) had been childhood friends in Nine Mile. Marley and Livingston devoted much of their time to music. Under the guidance of Joe Higgs, Marley worked on improving his singing abilities. He met another student of Higgs, Peter McIntosh (later Peter Tosh) who would play an important role in Marley's career.
In February 1962, Marley recorded four songs, "Judge Not", "One Cup of Coffee", "Do You Still Love Me?" and "Terror", at Federal Studio for local music producer Leslie Kong. Three of the songs were released on Beverley's with "One Cup of Coffee" being released under the pseudonym Bobby Martell.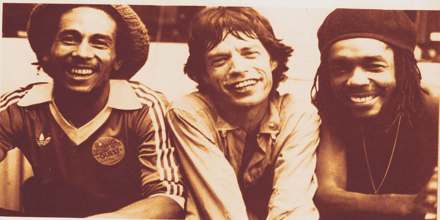 A local record producer, Leslie Kong, liked Marley's vocals and had him record a few singles, the first of which was "Judge Not," released in 1962. While he did not fare well as a solo artist, Marley found some success joining forces with his friends. In 1963, Marley, Livingston, and McIntosh formed the Wailing Wailers. Their first single, "Simmer Down," went to the top of the Jamaican charts in January 1964. By this time, the group also included Junior Braithwaite, Beverly Kelso and Cherry Smith.
The group became quite popular in Jamaica, but they had difficulty making it financially. Braithewaite, Kelso, and Smith left the group. The remaining members drifted a part for a time.
Bob Marley's third album for Island Records "Natty Dread", released in October 1975, was the first credited to Bob Marley and The Wailers; the harmonies of Peter Tosh and Bunny Wailer were replaced with the soulfulness of the I-Threes, Rita Marley, Marcia Griffiths and Judy Mowatt. The Wailers band now included Family Man and Carly Barrett, Junior Marvin on rhythm guitar, Al Anderson on lead guitar, Tyrone Downie and Earl "Wya" Lindo on keyboards and Alvin "Seeco" Patterson playing percussion. Characterized by spiritually and socially conscious lyrics, the "Natty Dread" album included a rousing blues-influenced celebration of reggae, "Lively Up Yourself", which Bob used to open many of his concerts; the joy he experienced among friends amidst the struggles of his Trench Town youth is poignantly conveyed on "No Woman No Cry", while the essential title track played a significant role in introducing Rastafarian culture and philosophies to the world. A commercial as well as a critical success, "Natty Dread" peaked at no. 44 on Billboard's Black Albums chart and no. 92 on the Pop Albums chart.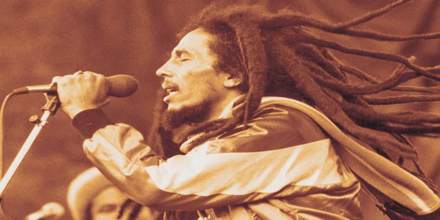 In 1972, Bob Marley signed with CBS Records in London and embarked on a UK tour with American soul singer Johnny Nash. While in London the Wailers asked their road manager Brent Clarke to introduce them to Chris Blackwell, who had licensed some of their Coxsone releases for his Island Records. The Wailers intended to discuss the royalties associated with these releases; instead the meeting resulted in the offer of an advance of £4,000 to record an album.
Bob Marley catapulted to international stardom in 1976 with the release of "Rastaman Vibration", his only album to reach the Billboard Top 200, peaking at no. 8. With the inclusion of "Crazy Baldhead", which decries "brainwash education" and the stirring title cut, "Rastaman Vibration" presented a clearer understanding of Rastafari teachings to the mainstream audience that was now attentively listening to Bob. Also included was "War", its lyrics adapted from an impassioned speech to the United Nations General Assembly in 1963, delivered by Ethiopian Emperor Haile Selassie I whom Rastafarians consider a living God. Thirty-five years after its initial release "War" remains an unassailable anthem of equality, its empowering spirit embraced by dispossessed people everywhere.
Back in Jamaica, Marley continued to be seen as a supporter of the People's National Party. And his influence in his native land was seen as a threat to the PNP's rivals.
On 3 December 1976, two days before "Smile Jamaica", a free concert organised by the Jamaican Prime Minister Michael Manley in an attempt to ease tension between two warring political groups, Marley, his wife, and manager Don Taylor were wounded in an assault by unknown gunmen inside Marley's home. Taylor and Marley's wife sustained serious injuries, but later made full recoveries. Bob Marley received minor wounds in the chest and arm. The attempt on his life was thought to have been politically motivated, as many felt the concert was really a support rally for Manley. Nonetheless, the concert proceeded, and an injured Marley performed as scheduled, two days after the attempt. When asked why, Marley responded, "The people who are trying to make this world worse aren't taking a day off. How can I?" The members of the group Zap Pow played as Bob Marley's backup band before a festival crowd of 80,000 while members of The Wailers were still missing or in hiding.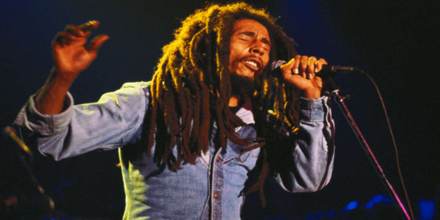 Three months after the Smile Jamaica concert, Bob flew to London where he lived for the next year and a half; there he recorded the albums "Exodus" (1977) and "Kaya" (1978). Exodus' title track provided a call for change, "the movement of Jah people", incorporating spiritual and political concerns into its groundbreaking amalgam of reggae, rock and soul-funk. A second single, the sultry dance tune "Jamming" became a British top 10 hit. The "Exodus" album remained on the UK charts for a staggering 56 consecutive weeks, bringing a level of commercial success to Bob Marley and the Wailers that had previously eluded the band.
Survival, a defiant and politically charged album, was released in 1979. Tracks such as "Zimbabwe", "Africa Unite", "Wake Up and Live", and "Survival" reflected Marley's support for the struggles of Africans. His appearance at the Amandla Festival in Boston in July 1979 showed his strong opposition to South African apartheid, which he already had shown in his song "War" in 1976. In early 1980, he was invited to perform at 17 April celebration of Zimbabwe's Independence Day.
Uprising (1980) was Bob Marley's final studio album, and is one of his most religious productions; it includes "Redemption Song" and "Forever Loving Jah". Confrontation, released posthumously in 1983, contained unreleased material recorded during Marley's lifetime, including the hit "Buffalo Soldier" and new mixes of singles previously only available in Jamaica.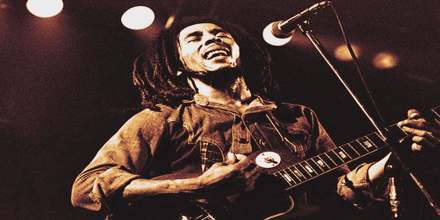 At the end of 1978 Bob made his first trip to Africa, visiting Kenya and Ethiopia, the latter being the spiritual home of Rastafari. During his Ethiopian sojourn, Bob stayed in Shashamane, a communal settlement situated on 500-acres of land donated by His Majesty Emperor Haile Selassie I to Rastafarians that choose to repatriate to Ethiopia. Marley also traveled to the Ethiopian capitol Addis Ababa where he visited several sites significant to His Majesty's life and ancient Ethiopian history.
Illness and Death
Marley had a health scare in 1977. He sought treatment in July of that year on a toe he had injured earlier that year. After discovering cancerous cells in his toe, doctors suggested amputation. Marley refused to have the surgery, however, because his religious beliefs prohibited amputation.
Traveling to Europe, Bob Marley underwent unconventional treatment in Germany, and was subsequently able to fight off the cancer for months. It soon became clear that Marley didn't have much longer to live, however, so the musician set out to return to his beloved Jamaica one last time. Sadly, he would not manage to complete the journey. Despite his illness, he continued touring and was in the process of scheduling a world tour in 1980.
While Marley was flying home from Germany to Jamaica, his vital functions worsened. After landing in Miami, Florida, he was taken to the hospital for immediate medical attention. Marley died on 11 May 1981 at Cedars of Lebanon Hospital in Miami (now University of Miami Hospital), aged 36. The spread of melanoma to his lungs and brain caused his death. His final words to his son Ziggy were "Money can't buy life."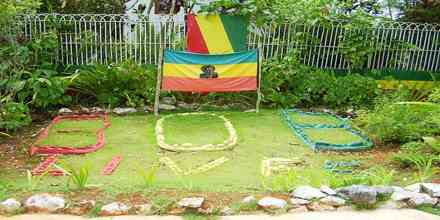 (Bob Marley's Grave)
Shortly before his death, Marley had received the Order of Merit from the Jamaican government. He had also been awarded the Medal of Peace from the United Nations in 1980. Adored by the people of Jamaica, Marley was given a hero's send-off. More than 30,000 people paid their respects to the musician during his memorial service, held at the National Arena in Kingston, Jamaica. Rita Marley, Marcia Griffiths, Judy Mowatt sang and the Wailers performed at the ceremony.
Awards and Honours
Bob Marley achieved several great accomplishments during his lifetime, including serving as a world ambassador for reggae music, earning induction into the Rock and Roll Hall of Fame in 1994, and selling more than 20 million records—making him the first international superstar to emerge from the so-called Third World.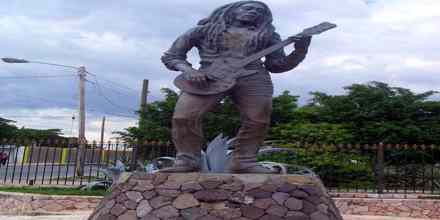 A statue was inaugurated, next to the national stadium on Arthur Wint Drive in Kingston to commemorate him. In 2006, the New York City Department of Education co-named a portion of Church Avenue from Remsen Avenue to East 98th Street in the East Flatbush section of Brooklyn as "Bob Marley Boulevard". In 2008, a statue of Marley was inaugurated in Banatski Sokolac, Serbia.
In March 2008, The Weinstein Company announced its plans to produce a biopic of Bob Marley, based on the book No Woman No Cry: My Life With Bob Marley by Rita Marley. Rudy Langlais will produce the script by Lizzie Borden and Rita Marley will be executive producer. In 2011, ex-girlfriend and filmmaker Esther Anderson, along with Gian Godoy, made the documentary Bob Marley: The Making of a Legend, which premiered at the Edinburgh International Film Festival.
In October 2015, Jamaican author Marlon James' novel A Brief History of Seven Killings, a fictional account of the attempted assassination of Marley, won the 2015 Man Booker Prize at a ceremony in London.
1976: Rolling Stone Band of the Year
June 1978: Awarded the Peace Medal of the Third World from the United Nations.
February 1981: Awarded Jamaica's third highest honour, the Jamaican Order of Merit.
March 1994: Inducted into the Rock and Roll Hall of Fame.
1999: Album of the Century for Exodus by Time Magazine.
February 2001: A star on the Hollywood Walk of Fame.
February 2001: Awarded Grammy Lifetime Achievement Award.
2004: Rolling Stone ranked him No. 11 on their list of the 100 Greatest Artists of All Time.
2004: Among the first inductees into the UK Music Hall of Fame
"One Love" named song of the millennium by BBC. Voted as one of the greatest lyricists of all time by a BBC poll.
2006: An English Heritage blue plaque was unveiled at his first UK residence in Ridgmount Gardens, London, dedicated to him by Nubian Jak community trust and supported by Her Majesty's Foreign Office.
2010: Catch a Fire inducted into the Grammy Hall of Fame (Reggae Album).
In Koh Lipe, Thailand, Bob Marley's February 6th birthday is celebrated for three days with a cultural festival. In New Zealand, his life and music are now essential components of Waitangi Day (February 6) observances honoring the unifying treaty signed between the country's European settlers and its indigenous Maori population.