Biography of Buddy Holly
Buddy Holly – American musician, singer-songwriter and record producer.
Name: Charles Hardin Holley
Date of Birth: September 7, 1936
Place of Birth: Lubbock, Texas, United States
Date of Death: February 3, 1959 (aged 22)
Place of Death: Clear Lake, Iowa, United States
Occupation: Singer-songwriter, Musician, Producer
Father: Lawrence Odell Holley
Mother: Ella Pauline (Drake) Holley
Spouse/Ex: María Elena Holly (m. 1958–1959)
Early Life
Buddy Holly, American singer, and songwriter who produced some of the most distinctive and influential work in rock music was born Charles Hardin Holley on September 7, 1936, in Lubbock, Texas; he was the fourth child of Lawrence Odell "L.O." Holley (1901–1985) and Ella Pauline Drake (1902–1990). He was born to a musical family during the Great Depression and learned to play guitar and sing alongside his siblings. His style was influenced by gospel music, country music, and rhythm and blues acts, and he performed in Lubbock with his friends from high school.
Holly made his first appearance on local television in 1952, and the following year he formed the group "Buddy and Bob" with his friend Bob Montgomery. In 1955, after opening for Elvis Presley, he decided to pursue a career in music. He opened for Presley three times that year; his band's style shifted from country and western to entirely rock and roll. In October that year, when he opened for Bill Haley & His Comets, he was spotted by Nashville scout Eddie Crandall, who helped him get a contract with Decca Records.
His records conveyed a sense of 'joie de vivre' and carried South-Western intonations. Although he became popular only a short while before his death, his music had already left an indelible impression in rock and roll music, which was the most popular genre at the time. He was well-versed in a number of musical styles and was a seasoned performer by the time of his death. Holly was a continuous innovator, who wrote his own music and was among the first to use unconventional studio methods such as 'double-tracking'. In his final months, he also began experimenting with orchestration. His wide set of songs includes standards of rock and roll including 'That'll Be the Day', 'Peggy Sue' and 'Maybe Baby'. Music apart, he was known for his signature horn-rimmed glasses and verbal hiccup. He deeply influenced 'The Beatles' and 'Hollies'. Even the Rolling Stones had their first main hit with Holly's 'Not Fade Away'. It is believed that he was the largest and one of the first influences on contemporary musicians including Bob Dylan, Eric Clapton, Elvis Costello, and Steve Winwood.
During his short career, Holly wrote, recorded, and produced his own material. He is often regarded as the artist who defined the traditional rock-and-roll lineup of two guitars, bass, and drums. He was a major influence on later popular music artists, including Bob Dylan, The Beatles, The Rolling Stones, Eric Clapton, and Elton John. He was among the first artists inducted into the Rock and Roll Hall of Fame, in 1986. Rolling Stone magazine ranked him number 13 in its list of "100 Greatest Artists".
Childhood, Family and Educational Life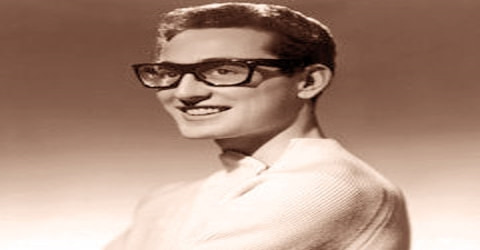 Buddy Holly, byname of Charles Hardin Holley, was born on September 7, 1936, Lubbock, Texas, U.S. He was the fourth child of Lawrence Odell "L.O." Holley (1901–1985) and Ella Pauline Drake (1902–1990). His elder siblings were Larry (born in 1925), Travis (1927–2016), and Patricia Lou (1929–2008). Buddy Holly was of mostly English and Welsh descent but also had small amounts of Native American ancestry as well. From early childhood, he was nicknamed "Buddy".
Holly (the e was dropped from his last name probably accidentally on his first record contract) was the youngest of four children in a family of devout Baptists in the West Texas town of Lubbock, and gospel music was an important part of his life from an early age. A good student possessed of infectious personal charm, Holly was declared "King of the Sixth Grade" by his classmates. He became seriously interested in music at about age 12 and pursued it with remarkable natural ability.
Holly developed his interest in music when he was in school. He teamed up with his friend Bob Montgomery in 1952 at the Hutchison Junior High School, where they studied and teamed up as the musical duo, 'Buddy and Bob'. At age 11, Buddy took piano lessons but abandoned them after nine months. He switched to the guitar after he saw a classmate playing and singing on the school bus. Buddy's parents initially bought him a steel guitar, but he insisted that he wanted a guitar like his brother's. His parents bought the guitar from a pawnshop, and Travis taught him to play it.
During his early childhood, Holley was influenced by the music of Hank Williams, Jimmie Rodgers, Hank Snow, Bob Wills, and the Carter Family. At Roscoe Wilson Elementary, he became friends with Bob Montgomery, and the two played together, practicing with songs by the Louvin Brothers and Johnnie & Jack. They both listened to the radio programs Grand Ole Opry on WSM, Louisiana Hayride on KWKH, and Big D Jamboree. At the same time, Holley played with other musicians he met in high school, including Sonny Curtis and Jerry Allison.
Personal Life
In 1958, Buddy Holly met a receptionist, Maria Elena Santiago and became instantly attracted to her. He asked her to have dinner with him at P.J. Clarke's. He was so smitten by her that he asked her to marry him on their first date itself. The duo got married on August 15, 1958, less than two months after their meeting. Following their marriage, the couple would frequent a number of popular music scenes in New York.
Career and Works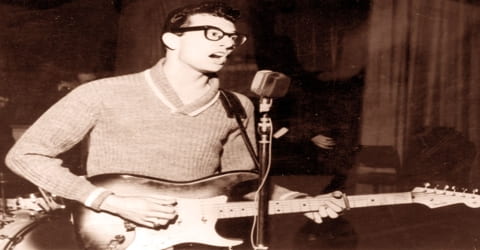 By 1955, after graduating from high school, Buddy Holley decided to pursue a full-time career in music. He was further encouraged after seeing Elvis Presley performing live in Lubbock, whose act was booked by Pappy Dave Stone of KDAV. In February, Holley opened for Presley at the Fair Park Coliseum, in April at the Cotton Club, and again in June at the Coliseum. By that time, he had incorporated into his band Larry Welborn on the stand-up bass and Allison on drums, as his style shifted from C&W to rock and roll due to seeing Presley's performances and hearing his music. In October, Stone booked Bill Haley & His Comets and placed Holley as the opening act to be seen by Nashville scout Eddie Crandall. Impressed, Crandall persuaded Grand Ole Opry manager Jim Denny to seek a recording contract for Holley. Stone sent a demo tape, which Denny forwarded to Paul Cohen, who signed the band to Decca Records in February 1956. In the contract, Decca misspelled Holley's last name as "Holly"; from then on, he was known as "Buddy Holly".
In 1956 Holly signed with Decca Records' Nashville, Tennessee, division, but the records he made for them sold poorly and were uneven in quality (notwithstanding several outstanding efforts, among them his first single, "Blue Days, Black Nights," and the rockabilly classic "Midnight Shift"). His first break came and went quickly.
Inspired by Elvis Presley's rockabilly style, Holly soon began to incorporate this style into his own music. He and his friends Bob Montgomery and Larry Welborn were later spotted by a Nashville talent lookout and they began recording tunes under the name 'Buddy Holly and the Three Tunes'. They officially signed their first record contract with Decca Records and he then went on to form his own rock and roll band called 'The Crickets', in 1957. Holly was the lead guitarist and also the vocalist of the band.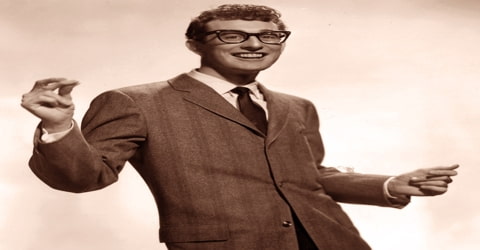 "That'll Be the Day" was issued in May of 1957 mostly as an indulgence to Thiele, to "humor" him, according to Norman. The record was put out on the Brunswick label, which was oriented more toward jazz and R&B, and credited to the Crickets, a group name picked as a dodge to prevent any of the powers-that-were at Decca and especially Decca's Nashville office from having too easy a time figuring out that the singer was the same artist that they'd dropped the year before. Petty also became the group's manager as well as their producer, signing the Crickets identified as Allison, Sullivan, and Mauldin to a contract. Holly wasn't listed as a member in the original document, in order to hide his involvement with "That'll Be the Day," but this omission would later become the source of serious legal and financial problems for him.
The Crickets' records feature unusual microphone placement techniques, imaginative echo chamber effects, and overdubbing, a process that in the 1950s meant superimposing one recording on another. While crafting tracks such as "Not Fade Away," "Peggy Sue," "Listen to Me," and "Everyday," Holly and the Crickets camped out at Petty's studio for days at a time, using it as a combination laboratory and playground. They were the first rock and rollers to approach the recording process in this manner.
"That'll Be the Day" topped the US "Best Sellers in Stores" chart on September 23 and was number one on the UK Singles Chart for three weeks in November. On September 20, Coral released "Peggy Sue", backed with "Everyday", with Holly credited as the performer. By October, "Peggy Sue" had reached number three on Billboard's pop chart and number two on the R&B chart; it peaked at number six on the UK Singles chart. As the success of the song grew, it brought more attention to Holly, with the band at the time being billed as "Buddy Holly and the Crickets".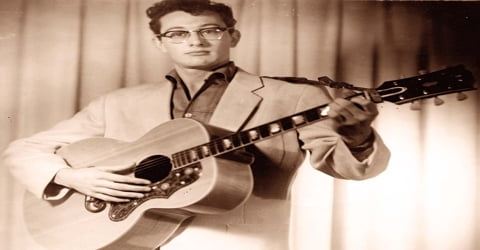 Till 1958, Holly and 'The Crickets' recorded several singles that were featured on a number of famous music charts. He then moved to Greenwich Village, in New York City. In 1958, he released his solo debut self-titled album, 'Buddy Holly'. One of the singles from the album, 'Peggy Sue' charted in a number of popular countdowns. He also released the third album, 'That'll Be the Day', which happened to his last album.
Soon after, Holly became a star and an icon. Holly and the Crickets' association with Petty (who also served as their manager, songwriting partner, and publisher and owned their recordings) were far from all beneficial, however. He advised the group to "carry a bible and READ IT!"; yet, according to virtually all accounts, he collected the Crickets' royalty checks and kept the money.
In 1957-1958, songwriting wasn't considered a skill essential to a career in rock & roll; the music business was still patterned along the lines that it had followed since the '20s, with songwriting a specialized profession organized on the publishing side of the industry, separate from performing and recording. Once in a while, a performer might write a song or, much more rarely, as in the case of a Duke Ellington, count composition among his key talents, but generally, this was an activity left to the experts. Any rock & roller with the inclination to write songs would also have to get past the image of Elvis, who stood to become a millionaire at age 22 and never wrote songs (the few "Presley" songwriting credits were the result of business arrangements rather than any creative activity on his part).
On January 8, 1958, Holly and the Crickets joined America's Greatest Teenage Recording Stars tour. On January 25, Holly recorded "Rave On"; the next day, he made his second appearance on The Ed Sullivan Show, singing "Oh, Boy!" He departed to perform in Honolulu, Hawaii, on January 27 and then started a week-long tour of Australia. In March, the band toured the United Kingdom, playing 50 shows in 25 days. The same month, his debut solo album, Buddy Holly, was released. Upon their return to the United States, Holly and the Crickets joined Alan Freed's Big Beat Show tour for 41 dates. In April, Decca released That'll Be the Day, featuring the songs recorded with Bradley during his early Nashville sessions. In October, Holly recorded tracks for Coral; these were backed by saxophonist Boomie Richman and an 18-piece orchestra composed of former members of the NBC Symphony Orchestra. The three-and-a-half-hour session produced "It Doesn't Matter Anymore", "Raining in My Heart", "Moondreams" (written by Petty), and "True Love Ways".
Holly's split with the group and Petty in the fall of 1958 left him free to pursue some of those newer sounds, but it also left him short of cash resources. In the course of ending the association, it became clear to Holly and everyone else that Petty had manipulated the numbers and likely taken an enormous slice of the group's income for himself, though there was to prove almost no way of establishing this because he never seemed to finish his "accounting" of the money due to anyone, and his books were ultimately found to be in such disarray that when he came up with various low five-figure settlements to those involved, they were glad to get what they got.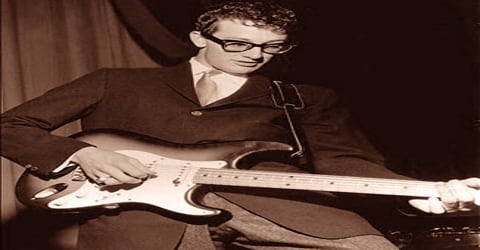 By 1959 the hit records tapered off, and Holly was living in New York with his new bride. Estranged from the Crickets and broke, he was also contemplating legal action against Petty. This left him little choice but to participate in the doomed "Winter Dance Party of 1959" tour through the frozen Midwest, during which he and coheadliners Ritchie Valens and the Big Bopper (J.P. Richardson) were killed in a plane crash.
Awards and Honor
In 1986 Buddy Holly was inducted into the Rock and Roll Hall of Fame, and in 1996 he was honored by the National Academy of Recording Arts and Sciences with a lifetime achievement award.
Death and Legacy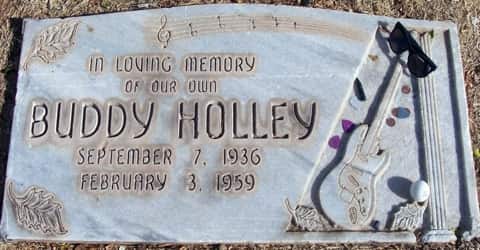 When Holly charted a private plane to take him to his next tour stop, little did he know that he would be breathing his last. The plane that was also carrying Ritchie Valens, Roger Peterson and Richardson, crashed a short while after take-off, killing all on board. It was on that tour that Holly, Ritchie Valens, and J.P. "Big Bopper" Richardson were killed in a plane crash, on February 3, 1959. His wife, Elena, was pregnant at the time of the crash. She had a miscarriage soon after hearing the news about his death.
Holly's funeral was held on February 7, 1959, at the Tabernacle Baptist Church in Lubbock. The service was officiated by Ben D. Johnson, who had presided at Holly's wedding just months earlier. Holly's body was interred in the City of Lubbock Cemetery, in the eastern part of the city. His headstone carries the correct spelling of his surname (Holley) and a carving of his Fender Stratocaster guitar.
The crash was considered a piece of grim but not terribly significant news at the time. Most news organizations, run by men who'd come of age in the 1930s or 1940s, didn't take rock & roll very seriously, except to the degree that it could be exploited to sell newspapers or build viewing audiences. Holly's clean-cut image and scandal-free life, coupled with the news of his recent marriage, did give the story more poignancy than it otherwise might have had and probably got him treated more respectfully than would have been the case with other music stars of the period.
When the plane crashed, the wreckage was strewn across many yards of snow-covered ground. While his other belongings were recovered immediately, there was no record of his signature glasses being found. They were presumed lost until, in March 1980, they were discovered in a Cerro Gordo County courthouse storage area by Sheriff Gerald Allen. They had been found in the spring of 1959, after the snow had melted, and had been given to the sheriff's office. They were placed in an envelope dated April 7, 1959, along with the Big Bopper's watch, a lighter, two pairs of dice and part of another watch, and misplaced when the county moved courthouses. The glasses, missing their lenses, were returned to Maria Elena a year later, after a legal contest over them with his parents. They are now on display at the Buddy Holly Center in Lubbock, Texas.
His life and his experiences spawned a Hollywood film titled 'The Buddy Holly Story', which released in 1978. Other films and musical depictions include, 'La Bamba', 'Buddy The Buddy Holly Story' and 'The Day the Music Died'. Memorials in his honor include a statue of him at Lubbock's Walk of fame, a street in his name and 'The Buddy Holly Center'.
The music of Holly and the Crickets, their innovative use of the studio, and the fact that they wrote most of their songs themselves made them the single most important influence on the Beatles, who knew every Holly record backward and forward. His records, conveying a sense of the wide-open spaces of West Texas and unstoppable joie de vivre, remain vital today.
Although his music career just took off at the time of his death, he had already set the mood and feel for upcoming rock and roll bands. Through his limited music, he also managed to bridge the ethnic divide in America. Holly was instrumental in making rock and roll music more accessible for all races across the world. His trademark 'glasses' style became such a hit that performers like John Lennon and Hank Marvin adopted it during their performances.
Information Source: