Biography of Catherine II
Catherine II – Empress of Russia.
Name: Catherine II (also known as Catherine the Great)
Full name –
German: Sophie Friederike Auguste
Russian: Yekaterina Alekseyevna Romanova
English: Catherine Alexeievna Romanova
Date of Birth: 2 May (O.S. 21 April) 1729
Place of Birth: Stettin, Pomerania, Prussia (now Szczecin, Poland)
Date of Death: 17 November (O.S. 6 November) 1796 (aged 67)
Place of Death: Winter Palace, Saint Petersburg, Russian Empire
Father: Christian August, Prince of Anhalt-Zerbst
Mother: Princess Johanna Elisabeth of Holstein-Gottorp
Spouse: Peter III of Russia (m. 1745– d. 1762)
Children: Paul I of Russia, Alexei Grigorievich Bobrinsky, Anna Petrovna, Yelizaveta Grigoryevna Tyomkina
Early Life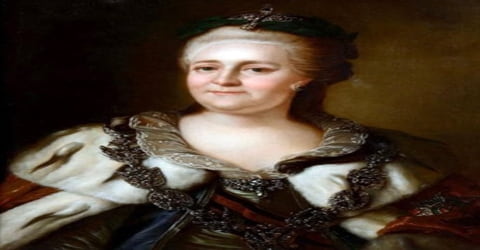 Catherine II served as Empress of Russia was born Sophia Augusta Frederica in the German city of Stettin, Prussia (now Szczecin, Poland), on April 21, 1729. Also known as Catherine the Great (Екатери́на Вели́кая, Yekaterina Velikaya), was Empress of Russia from 1762 until 1796, the country's longest-ruling female leader. She came to power following a coup d'état when her husband, Peter III, was overthrown. Under her reign, Russia was revitalized; it grew larger and stronger and was recognized as one of the great powers of Europe.
She was the daughter of an obscure German prince, Christian August von Anhalt-Zerbst, but she was related through her mother to the dukes of Holstein. At age 14 she was chosen to be the wife of Karl Ulrich, Duke of Holstein-Gottorp, grandson of Peter the Great and heir to the throne of Russia as the grand duke Peter. In 1744 Catherine arrived in Russia, assumed the title of Grand Duchess Catherine Alekseyevna, and married her young cousin the following year. The marriage was a complete failure; the following 18 years were filled with disappointment and humiliation for her.
In her accession to power and her rule of the empire, Catherine often relied on her noble favorites, most notably Grigory Orlov and Grigory Potemkin. Assisted by highly successful generals such as Alexander Suvorov and Pyotr Rumyantsev, and admirals such as Fyodor Ushakov, she governed at a time when the Russian Empire was expanding rapidly by conquest and diplomacy. In the south, the Crimean Khanate was crushed following victories over the Ottoman Empire in the Russo-Turkish wars, and Russia colonised the territories of Novorossiya along the coasts of the Black and Azov Seas. In the west, the Polish–Lithuanian Commonwealth, ruled by Catherine's former lover, king Stanisław August Poniatowski, was eventually partitioned, with the Russian Empire gaining the largest share. In the east, Russia started to colonise Alaska, establishing Russian America.
She expanded the Russian Empire, improved administration, and energetically pursued the policy of Westernization (the process of changing to western ideas and traditions). Under her rule, Russia grew strong and rivaled the great powers of Europe and Asia.
The period of Catherine the Great's rule, the Catherinian Era, is considered the Golden Age of Russia. The Manifesto on Freedom of the Nobility, issued during the short reign of Peter III and confirmed by Catherine, freed Russian nobles from compulsory military or state service. Construction of many mansions of the nobility, in the classical style endorsed by the Empress, changed the face of the country. She enthusiastically supported the ideals of the Enlightenment and is often regarded as an enlightened despot. As a patron of the arts, she presided over the age of the Russian Enlightenment, a period when the Smolny Institute, the first state-financed higher education institution for women in Europe, was established.
Childhood, Family and Educational Life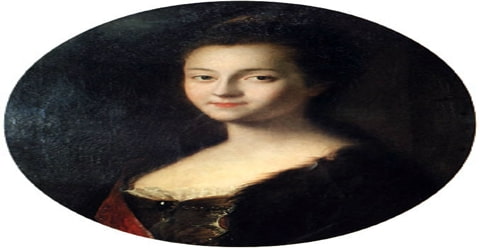 Catherine the Great, Russian Yekaterina Velikaya, also called Catherine II, Russian in full Yekaterina Alekseyevna, original name Sophie Friederike Auguste, Prinzessin (princess) von Anhalt-Zerbst, was born in the German city of Stettin, Prussia (now Szczecin, Poland), on April 21, 1729. She was the daughter of Prince Christian August of Anhalt-Zerbst and Princess Johanna Elizabeth of Holstein-Gottorp. Catherine's parents, who had been hoping for a son, did not show a great deal of affection toward their daughter. As a child, Catherine was close to her governess Babette, who Catherine described as, "the kind of governess every child should have." Catherine's education emphasized the subjects considered proper for one of her class: religion (Lutheranism), history, French, German, and music.
In 1744, a teenage Catherine traveled with her mother to Russia, to meet with the empress; Elizabeth had once been engaged to Johanna's older brother, who died of smallpox, and she felt a connection to Johanna's family. She wanted to see if Catherine would be suitable for her heir, Peter.
Catherine was devoted to the arts and sponsored many cultural projects. In St. Petersburg, she had a theater built for opera and ballet performances and even wrote a few librettos herself. She also became a prominent art collector, and many of these were displayed in the Hermitage in a royal residence in St. Petersburg.
Personal Life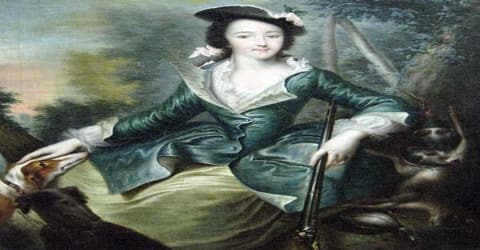 When Catherine was fifteen, she went to Russia at the invitation of Empress Elizabeth to meet the heir to the throne, the Grand Duke Peter (1728–1762), an immature and disagreeable youth of sixteen. Soon after Catherine converted to the Russian Orthodox faith, she and the young Grand Duke were married in 1745. Remembered in large part for her romantic liaisons, Catherine also expanded Russian territories and sought to modernize its culture through progressive views on arts and education.
After years of not having children, Catherine II finally produced an heir with son Paul, born on September 20, 1754. The paternity of the child has been a subject of great debate among scholars, with some claiming that Paul's father was actually Sergei Saltykov, a Russian noble and member of the court, and others pointing to Paul's resemblance to Peter as proof of them being related. In any case, Catherine had little time with her first-born son; Elizabeth took over raising the child soon after his birth. Catherine later had three other children.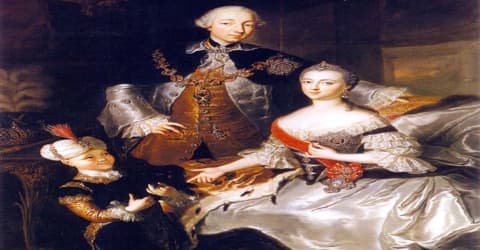 (Catherine II and Grand Duke Peter)
However, her loveless marriage did not overshadow her intellectual and political interests. A sharp-witted and cultured young woman, she read widely, particularly in French. She liked novels, plays, and verse but was particularly interested in the writings of the major figures of the French Enlightenment (a period of cultural and idealistic transformation in France), such as Diderot (1713–1784), Voltaire (1694–1778), and Montesquieu (1689–1755).
By the time Peter ascended to the throne, he was openly cruel to his wife and considering pushing her aside to allow his mistress to rule with him. A few days after his resignation, he was strangled while in the care of Catherine's co-conspirators at Ropsha, one of Peter's estates. The exact role the empress played in her husband's death is unclear.
According to most accounts, Catherine had around 12 lovers during her life. She had a system for managing her affairs often bestowing gifts, honors, and titles on those she liked, in order to win their favor. At each relationship's end, Catherine usually found a way to get her new paramour out of her hair. Gregory Potemkin, perhaps her most significant lover, spent many years as her favorite and remained lifelong friends after their passions cooled.
An avid reader, Catherine was especially fond of the philosophers and writers of the Enlightenment. She exchanged letters with the French writer Voltaire, and writer Denis Diderot came to Russia to visit with her. In fact, Diderot was the one who gave the empress her nickname, "Catherine the Great." With literary aspirations of her own, Catherine also wrote about her life in a collection of memoirs.
Career and Works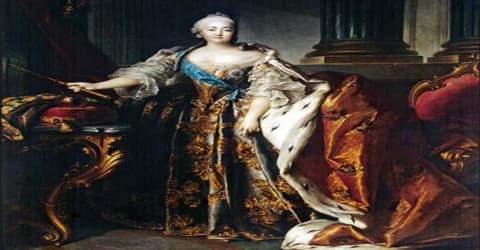 After the death of Empress Elizabeth on 5 January 1762 (OS: 25 December 1761), Peter succeeded to the throne as Emperor Peter III, and Catherine became Empress consort. The imperial couple moved into the new Winter Palace in Saint Petersburg. The tsar's eccentricities and policies, including a great admiration for the Prussian king, Frederick II, alienated the same groups that Catherine had cultivated. Peter intervened in a dispute between his Duchy of Holstein and Denmark over the province of Schleswig (see Count Johann Hartwig Ernst von Bernstorff). Russia and Prussia fought each other during the Seven Years' War (1756–1763), and Russian troops had occupied Berlin in 1760. Peter supported Frederick II, however, eroding much of his support among the nobility. Peter ceased Russian operations against Prussia, and Frederick suggested the partition of Polish territories with Russia.
Along with his strained relations with his wife, Peter had alienated other nobles, officials and the military with his staunch support for Prussia, and angered the Orthodox Church by taking away their lands. During his brief time in power, Catherine II conspired with her lover, Gregory Orlov, a Russian lieutenant, and other powerful figures to leverage the discontent with Peter and build up support for his removal.
Soon there was a plot to overthrow him, place his seven-year-old son Paul on the throne, and name Catherine as regent (temporary ruler) until the boy was old enough to rule on his own. But those involved in the plot had underestimated Catherine's ambition. They thought that by getting rid of Peter, Catherine would become more of a background figure. She aimed for a more powerful role for herself, however. On June 28, 1762, with the aid of her lover Gregory Orlov, she rallied the troops of St. Petersburg to her support and declared herself Catherine II, the sole ruler of Russia. She had Peter arrested and required him to abdicate, or step down from, power. Shortly after his arrest, he was killed in a brawl with his captors.
Concerned about being toppled by opposing forces early in her reign, Catherine II sought to appease the military and the church. She recalled troops that had been sent by Peter to fight Denmark, and promoted and gifted those who had backed her as the new Empress. Despite being a religious skeptic, she also returned the church's land and property that had been taken by Peter, though she later changed course on that front, making the church part of the state.
Catherine styled herself after the beloved ruler Peter the Great, claiming that she was following in his footsteps. She later commissioned the creation of a sculpture, known as the Bronze Horseman, to honor him.
Despite Catherine's personal weaknesses, she was above all a ruler. Truly dedicated to her adopted country, she intended to make Russia a prosperous and powerful state. Since her early days in Russia, she had dreamed of establishing a reign of order and justice, of spreading education, creating a court to rival Versailles, and developing a national culture that would be more than an imitation of French models. Her projects obviously were too numerous to carry out, even if she could have given her full attention to them.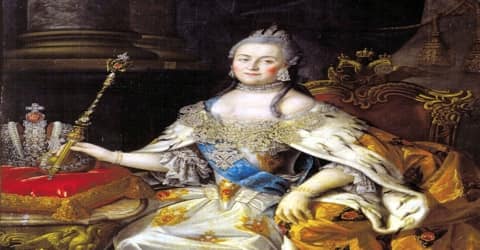 Catherine was crowned at the Assumption Cathedral in Moscow on 22 September 1762. Her coronation marks the creation of one of the main treasures of the Romanov dynasty, the Imperial Crown of Russia, designed by Swiss-French court diamond jeweler Jérémie Pauzié. Inspired by the Byzantine Empire design, the crown was constructed of two gold and silver half spheres, representing the eastern and western Roman empires, divided by a foliate garland and fastened with a low hoop. The crown contains 75 pearls and 4,936 Indian diamonds forming laurel and oak leaves, the symbols of power and strength, and is surmounted by a 398.62-carat ruby spinel that previously belonged to Empress Elizabeth, and a diamond cross. The crown was produced in a record two months and weighed only 2.3 kg. From 1762, the Great Imperial Crown was the coronation crown of all Romanov emperors, until the monarchy's abolition and the death of last Romanov, Nicholas II, in 1918. It is one of the main treasures of the Romanov dynasty and is now on display in the Moscow Kremlin Armoury Museum.
In 1764 she resolved the problem of Poland, a kingdom lacking definite boundaries and coveted by three neighboring powers, by installing one of her old lovers, Stanisław Poniatowski, a weak man entirely devoted to her, as king of Poland.
The percentage of state money spent on the court increased from 10.4% in 1767 to 11.4% in 1781 to 13.5% in 1795. Catherine gave away 66,000 serfs from 1762–72, 202,000 from 1773-93 and 100,000 in one day: 18 August 1795. Just as the church supported her, hoping to get their land back, Catherine bought the support of the bureaucracy. From 19 April 1764, any bureaucrat holding the same rank for seven years or more was instantly promoted. On 13 September 1767, Catherine decreed that after seven years in one rank, civil servants would be automatically promoted regardless of office or merit.
Catherine had ambitious plans regarding both domestic and foreign affairs. But during the first years of her reign, her attention was directed toward securing her position. She knew that a number of influential persons considered her a usurper or someone who seized another's power illegally. They viewed her son, Paul, as the rightful ruler. Her reaction to this situation was to take every opportunity to win favor among the nobility and the military. At the same time, she struck sharply at those who sought to replace her with Paul.
As for general policy, Catherine understood that Russia needed an extended period of peace in order for her to concentrate on domestic (homeland) affairs. This peace could only be gained through cautious foreign policy. The able Count Nikita Panin (1718–1783), whom she placed in charge of foreign affairs, was well chosen to carry out such a policy.
While Catherine believed in an absolute rule, she did make some efforts toward social and political reforms. She put together a document, known as the "Nakaz," on how the country's legal system should run, with a push for capital punishment and torture to be outlawed and calling for every man to be declared equal. Catherine had also sought to address the dire situation of the country's serfs, workers who were owned by landowners for life. The Senate protested any suggestion of changing the feudal system.
After finalizing the Nakaz, Catherine brought delegates together from different social and economic classes to form the Legislative Commission, which met for the first time in 1767. No laws came out of the commission, but it was the first time that Russians from across the empire had been able to express their thoughts about the country's needs and problems. Ultimately, the Nakaz became more known for its ideas rather than its immediate influence.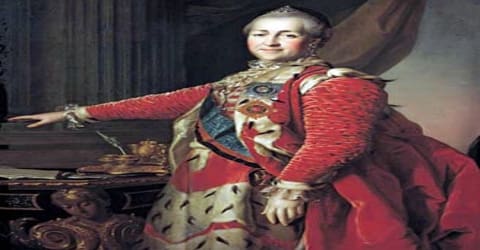 In a 1772 treaty, Catherine gave parts of Poland to Prussia and Austria, while taking the eastern region herself. Russia's actions in Poland triggered a military conflict with Turkey. Enjoying numerous victories in 1769 and 1770, Catherine showed the world that Russia was a mighty power. She reached a peace treaty with the Ottoman Empire in 1774, bringing new lands into the empire and giving Russia a foothold in the Black Sea.
A few years later, Catherine once again clashed with the Ottoman Empire. The two countries battled each other from 1787 to 1792.
Even before the peace talks ended, Catherine had to concern herself with a revolt led by the Cossack Yemelyan Pugachev (1726–1775). The rebel leader claimed that reports of Peter III's death were false and that he was Peter III. Soon tens of thousands were following him, and the uprising was within the threatening range of Moscow. Pugachev's defeat required several major expeditions by the imperial forces. A feeling of security returned to the government only after his capture late in 1774.
In the Treaty of Georgievsk (1783) Russia agreed to protect Georgia against any new invasion and further political aspirations of their Persian suzerains. Catherine waged a new war against Persia in 1796 after they, under the new king Agha Mohammad Khan, had again invaded Georgia and established rule in 1795 and had expelled the newly established Russian garrisons in the Caucasus. The ultimate goal for the Russian government, however, was to topple the anti-Russian shah (king) and to replace him with a half-brother, Morteza Qoli Khan, who had defected to Russia and was therefore pro-Russian.
Thus, 95 percent of the Russian people did not in any way benefit directly from the achievements of Catherine's reign. Rather, their forced labor financed the immense expenditures required for her ever-growing economic, military, and cultural projects. In these undertakings, at least, she proved herself to be a good administrator and could claim that the blood and sweat of the people had not been wasted.
Catherine longed for recognition as an enlightened sovereign. She pioneered for Russia the role that Britain later played through most of the 19th and early 20th centuries as an international mediator in disputes that could, or did, lead to war. She acted as mediator in the War of the Bavarian Succession (1778–79) between the German states of Prussia and Austria. In 1780, she established a League of Armed Neutrality, designed to defend neutral shipping from the British Royal Navy during the American Revolution.
With the Charter of the Nobility in 1785, Catherine made an about-face on policy and greatly augmented upper-class power, with a large amount of citizens forced into the oppressive conditions of serfdom.
After the French Revolution of 1789, Catherine rejected many principles of the Enlightenment she had once viewed favorably. Afraid the May Constitution of Poland (1791) might lead to a resurgence in the power of the Polish–Lithuanian Commonwealth and the growing democratic movements inside the Commonwealth might become a threat to the European monarchies, Catherine decided to intervene in Poland. She provided support to a Polish anti-reform group known as the Targowica Confederation. After defeating Polish loyalist forces in the Polish–Russian War of 1792 and in the Kościuszko Uprising (1794), Russia completed the partitioning of Poland, dividing all of the remaining Commonwealth territories with Prussia and Austria (1795).
By the mid-1790s, Catherine had enjoyed several decades as Russia's absolute ruler. She had a strained relationship with her son and heir, Paul, over her grip on power, but she enjoyed her grandchildren, especially the oldest one, Alexander. In her later years, Catherine continued to possess an active mind and a strong spirit.
In the Far East, Russians became active in fur trapping in Kamchatka and the Kuril Islands. This spurred Russian interest in opening trade with Japan to the south for supplies and food. In 1783, storms drove a Japanese sea captain, Daikokuya Kōdayū, ashore in the Aleutian Islands, at that time Russian territory. Russian local authorities helped his party, and the Russian government decided to use him as a trade envoy. On 28 June 1791, Catherine granted Daikokuya an audience at Tsarskoye Selo. Subsequently, in 1792, the Russian government dispatched a trade mission to Japan, led by Adam Laxman. The Tokugawa shogunate received the mission, but negotiations failed.
Much of Catherine's fame rests on what she accomplished during the dozen years following the Pugachev uprising. Here she directed her time and talent to domestic affairs, particularly those concerned with the way the government functioned. Catherine was also concerned with expanding the country's educational system. In 1786 she adopted a plan that would create a large-scale educational system. Unfortunately, she was unable to carry out the entire plan, but she did add to the number of the country's elementary and secondary schools. Some of the remaining parts of her plan were carried out after her death.
Catherine took many different approaches to Islam during her reign. Between 1762 and 1773, Muslims were actively prohibited from owning any Orthodox serfs. They were also pressured into Orthodoxy through monetary incentives. Catherine promised more serfs of all religions, as well as amnesty for convicts if Muslims chose to convert to Orthodoxy. However, the Legislative Commission of 1767 offered several seats to people professing the Islamic faith. This commission promised to protect their religious rights but did not do so. Many Orthodox peasants felt threatened by the sudden change and burned mosques as a sign of their displeasure. Catherine chose to assimilate Islam into the state rather than eliminate it when public outcry against equality got too disruptive. After the "Toleration of All Faiths" Edict of 1773, Muslims were permitted to build mosques and practice all of their traditions, the most obvious of these being the pilgrimage to Mecca, which had been denied previously. Catherine created the Orenburg Muslim Spiritual Assembly to help regulate Muslim-populated regions, as well as regulate the instruction and ideals of mullahs. The positions on the Assembly were appointed and paid for by Catherine and her government, as a way of regulating the religious affairs of her nation.
In 1785, Catherine approved the subsidizing of new mosques and new town settlements for Muslims. This was another attempt to organize and passively control the outer fringes of her country. By building new settlements with mosques placed in them, Catherine attempted to ground many of the nomadic people who wandered through southern Russia. In 1786, she assimilated the Islamic schools into the Russian public school system, to be regulated by the government. The plan was another attempt to force nomadic people to settle. This allowed the Russian government to control more people, especially those who previously had not fallen under the jurisdiction of Russian law.
As she grew older, Catherine became greatly troubled because her heir, Paul, was becoming mentally unstable and she doubted his ability to rule. She considered naming Paul's oldest son, Alexander, as her successor. Before she was able to alter her original arrangement, however, she died of a stroke on November 6, 1796. While her legacy is open to debate, there is no doubt that Catherine was a key figure in developing Russia into a modern civilization.
Death and Legacy
On 16 November (O.S. 5 November) 1796, Catherine rose early in the morning and had her usual morning coffee, soon settling down to work on papers at her study. Her lady's maid, Maria Perekusikhina, had asked the Empress if she had slept well, and Catherine reportedly replied she had not slept so well in a long time. In mid-November of 1796, Catherine was found unconscious on the floor of her bathroom. It was thought at the time that she suffered a stroke.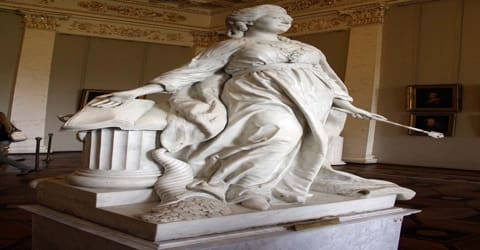 (Marble statue of Catherine II in the guise of Minerva (1789–1790), by Fedot Shubin)
Catherine, Russia's great empress, lingered on until the following night, but never regained consciousness. She died on November 17, 1796. At the Winter Palace, her coffin lay in state next to that of her late husband, Peter III. Her son, Paul, ordered the remains of his father to placed there, giving Peter III the funeral honors that he had not received after his assassination. Catherine II and Peter III were both laid to rest at the Cathedral of St. Peter and St. Paul.
Catherine's undated will, discovered in early 1792 by her secretary Alexander Vasilievich Khrapovitsky among her papers, gave specific instructions should she die: "Lay out my corpse dressed in white, with a golden crown on my head, and on it inscribe my Christian name. Mourning dress is to be worn for six months, and no longer: the shorter the better." In the end, the Empress was laid to rest with a gold crown on her head and clothed in a silver brocade dress.
On 25 November, the coffin, richly decorated in gold fabric, was placed atop an elevated platform at the Grand Gallery's chamber of mourning, designed and decorated by Antonio Rinaldi. According to Élisabeth Vigée Le Brun: "The empress's body lay in state for six weeks in a large and magnificently decorated room in the castle, which was kept lit day and night. Catherine was stretched out on a ceremonial bed surrounded by the coats of arms of all the towns in Russia. Her face was left uncovered, and her fair hand rested on the bed. All the ladies, some of whom took a turn to watch by the body, would go and kiss this hand, or at least appear to." A description of the Empress' funeral is written in Madame Vigée Le Brun's memoirs. Catherine was buried at the Peter and Paul Cathedral in Saint Petersburg.
At the end of Catherine's reign, Russia had expanded westward and southward over an area of more than 200,000 square miles, and the Russian rulers' ancient dream of access to the Bosporus Strait (connecting the Black Sea with the Aegean) had become an attainable goal. At the end of her reign, Catherine claimed that she had reorganized 29 provinces under her administrative reform plan. An uninhibited spender, she invested funds in many projects. More than a hundred new towns were built; old ones were expanded and renovated. As commodities were plentiful, trade expanded and communications developed. These achievements, together with the glory of military victories and the fame of a brilliant court, to which the greatest minds of Europe were drawn, have won her a distinguished place in history.
Information Source: