Biography of Chester Bennington
Chester Bennington– American singer, songwriter, musician, and actor.
Name: Chester Charles Bennington
Date of Birth: March 20, 1976
Place of Birth: Phoenix, Arizona, United States
Date of Death: July 20, 2017
Place of Death: Palos Verdes Estates, California, United States
Occupation: Singer, Songwriter, Musician, Actor
Father: Lee Russell Bennington
Mother: Susan Elaine Johnson
Spouse/Ex: Talinda Ann Bennington (m. 2005–2017), Samantha Marie Olit (m. 1996–2005)
Children: Draven Sebastian Bennington, Isaiah, Jamie, Lila, Lily, Tyler Lee Bennington
Early Life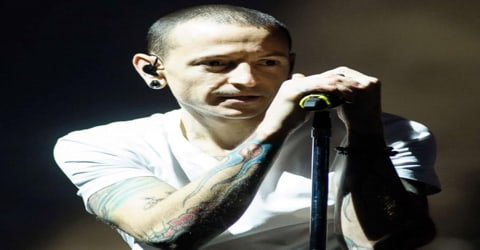 An American singer, songwriter, and actor, known for being the vocalist of bands like Linkin Park and Dead by Sunrise, Chester Bennington was born on March 20, 1976, in Phoenix, Arizona, U.S. He was best known as the lead vocalist for Linkin Park. He was also lead vocalist for the bands Dead by Sunrise, Grey Daze, and Stone Temple Pilots. Bennington is widely regarded as one of the top rock musicians of the 2000s. Hit Parader magazine placed him at number 45 on their list of the "100 Metal Vocalists of All Time"
Bennington's childhood was far from rosy. His parents divorced when he was very young and he became a victim of sexual abuse. As a teenager, he took to the habit of drugs to deal with emotional distress and worked many jobs in order to pay for his drug habit. He was a lonely youngster and hardly had any friends. It was this loneliness that slowly started feeding his passion for music and he soon became a part of his first band, 'Sean Dowdell and His Friends?' He later joined the band, 'Grey Daze'. His career as a musician took off after he auditioned to be a part of the band 'Linkin Park'. The blockbuster reception of the band's debut album, 'Hybrid Theory' catapulted Bennington's position as a musician and gave him the much-needed and deserved recognition as one of the most iconic figures of music in the 21st century.
Bennington formed his own band, Dead by Sunrise, as a side project in 2005. The band's debut album, Out of Ashes, was released on October 13, 2009. He became the lead singer of Stone Temple Pilots in 2013 to release the extended play record High Rise on October 8, 2013, via their own record label, Play Pen, but left in 2015 to focus solely on Linkin Park. He also appeared in cameo roles in several films, including Crank, Crank: High Voltage and Saw 3D.
Childhood, Family and Educational Life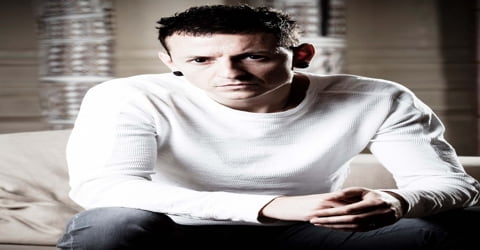 Chester Bennington, byname Chester Charles Bennington, was born on March 20, 1976, in Phoenix, Arizona, the U.S. His father worked as a police detective, while his mother was a nurse. His parents separated when he was 11 years old.
A victim of sexual abuse, Bennington had a childhood that was far from picture perfect, and when his parents divorced at age 11, he turned to drugs to deal with his pain. By the time he was a teenager, Bennington had gotten heavily into cocaine and methamphetamines, supporting his drug habit with a gig working at Burger King.
After the divorce, his father gained custody of him. Bennington was physically bullied in high school. In an interview, he said that he was "knocked around like a rag doll at school, for being skinny and looking different".
Bennington received his basic education from Ironwood High School. As a child, he took to drugs and started abusing marijuana, alcohol, opium, cocaine, methamphetamine, and LSD. He took interest in music at a young age, citing the bands Depeche Mode and Stone Temple Pilots as his earliest inspirations, and dreamed of becoming a member of Stone Temple Pilots, which he later achieved when he became their lead singer.
At the age of 17 years, Bennington moved in with his mother and was banned from leaving the house when his mother discovered his drug activity. He worked at a Burger King before starting his career as a professional musician.
Personal Life
Chester Bennington had a child, Jaime (born May 12, 1996), from his relationship with Elka Brand. In 2006, he adopted Brand's other son, Isaiah (born November 8, 1997). Bennington married his first wife, Samantha Marie Olit, on October 31, 1996. They had one child together, Draven Sebastian (born April 19, 2002). Bennington's relationship with his first wife declined during his early years with Linkin Park, and they divorced in 2005.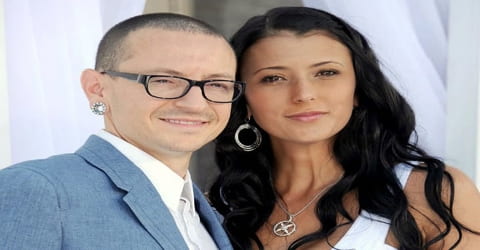 (Chester Bennington and his 2nd wife Talinda Ann Bentley)
After he divorced his first wife, Bennington married former Playboy model, Talinda Ann Bentley, in 2006. The couple had three children: Tyler Lee Bennington (born March 16, 2006) and twins Lilly and Lila (born November 6, 2011).
Bennington and his wife were harassed by a cyberstalker named Devon Townsend (not to be confused with Canadian musician Devin Townsend) for almost a year. Townsend was found guilty of tampering with the couple's email, as well as sending threatening messages, and was later sentenced to two years in prison.
Bennington was a tattoo enthusiast. He had done work and promotions with Club Tattoo, a tattoo parlor in Tempe, Arizona. Club Tattoo is owned by Sean Dowdell, Bennington's friend since high school with whom he played in two bands. Bennington was a fan of the Phoenix Suns, Arizona Cardinals, Arizona Diamondbacks, and Arizona Coyotes.
Career and Works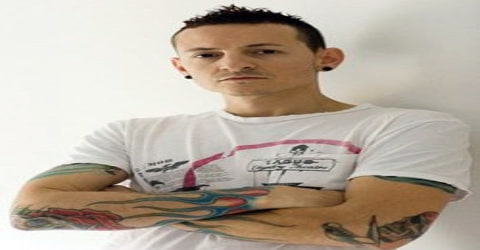 In 1993, Bennington became a part of his first band, 'Sean Dowdell and His Friends?' which was a grunge rock band. That year they came out with a three track cassette.
In 1993, Bennington joined as a vocalist the local rock band called Gray Daze, where he managed to get more musical recognition; however, he left the band in 1998 due to creative differences with the members of the group. Sometime later, Chester Bennington met Jeff Blue, vice president of Zomba Music; who told the young man about the auditions to be a member of the band, Linkin Park.
Bennington was frustrated and almost ready to quit his musical career altogether when Jeff Blue, the vice president of artists and repertoire at Zomba Music in Los Angeles, offered him an audition with the future members of Linkin Park. Bennington quit his day job at a digital services firm and took his family to California, where he had a successful audition with Linkin Park, who were then called Xero. He managed to record the song for his audition in a day, missing his own birthday celebration in the process. Bennington and Mike Shinoda, the band's other vocalist, made significant progress together but failed to find a record deal. After facing numerous rejections, Blue, now a vice president of artists and repertoire at Warner Bros., intervened again to help the band sign with Warner Bros. Records.
For the year 1999, Bennington moved to Los Angeles, to try to enter Xero (Name of the band at that time). At his audition, Chester quickly attracted the attention of the band for his vocal quality, so he was accepted as a vocalist. After his arrival to the band, this changed name to Hybrid Theory and later of the independent way the first work that realized was Hybrid Theory (EP), of which only one thousand copies were made. Later, the band changed its name to Lincoln Park, a name suggested by Chester, but due to an Internet domain that already had the name, they were renamed, Linkin Park.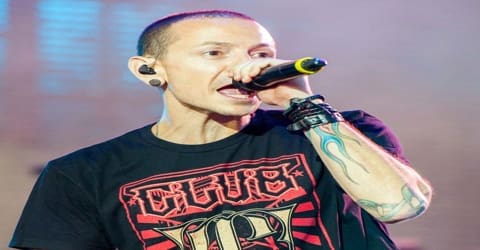 On October 24, 2000, Linkin Park released their debut album, Hybrid Theory, through Warner Bros. Records. Bennington and Shinoda wrote the lyrics to Hybrid Theory based on some early material. Shinoda characterized the lyrics as interpretations of universal feelings, emotions, and experiences, and as "everyday emotions you talk about and think about." Bennington later described the songwriting experience to Rolling Stone magazine in early 2002, "It's easy to fall into that thing 'poor, poor me', that's where songs like 'Crawling' come from: I can't take myself. But that song is about taking responsibility for your actions. I don't say 'you' at any point. It's about how I'm the reason that I feel this way. There's something inside me that pulls me down."
In 2003, Bennington gave the vocals for the 'Linkin Park' album, 'Meteora', which was released under the Warner Bros. Records label. The album included the hit song, 'Numb'. The album earned instant worldwide recognition and catapulted to the number 1 position in the US and UK chart and number 2 in Australia immediately after release.
Bennington co-founded Dead by Sunrise, an electronic rock band from Los Angeles, California, with Orgy and Julien-K members Amir Derakh and Ryan Shuck in 2005. Dead by Sunrise made their live debut in May 2008, performing four songs at the 13th-anniversary party for Club Tattoo in Tempe, Arizona. The band released their debut album Out of Ashes on October 13, 2009.
In 2006, Bennington played the role of a pharmacy customer, adrenaline junkie in the American action film, 'Crank'. The film was directed by Mark Neveldine and Brian Taylor. His third album 'Minutes to Midnight' was released in 2007. With over 600,000 copies in its first week and gaining the top spot on the Billboard Charts, it became one of the most successful albums.
Likewise, Bennington's oft-tortured vocals became one of the most distinctive in the alternative rock scene. Six of the band's seven studio albums hit number one, and each of the first three earned multi-platinum status. Outside of Linkin Park, Bennington enjoyed working on a side solo project with producers Amir Derakh and Ryan Shuck, both of Orgy, entitled Dead by Sunrise. Originally slated for a 2006 release, his Linkin Park commitments pushed the release of the album, Out of Ashes, back to 2009.
In 2010, Bennington gave the vocals for the Linkin Park' fourth album, 'A Thousand Suns', which was a muti-concept album that highlighted the concept of nuclear warfare. The album received positive reviews.
In 2005, Bennington appeared on "Walking Dead", the lead single from turntablist Z-Trip's debut album Shifting Gears. Bennington also made a surprise guest appearance during Z-Trip's performance at the Coachella Valley Music and Arts Festival in 2005. He also joined Alice in Chains and performed the song "Man in the Box" at KROQ's Inland Invasion Festival in 2006. Bennington performed with Kings of Chaos during their six-show 2016 concert tour.
In February 2013, Stone Temple Pilots parted ways with long-time lead singer Scott Weiland. The band recruited Bennington to replace Weiland in May 2013. On May 18, 2013, Bennington took the stage at KROQ's Weenie Roast with the band. The setlist included original Stone Temple Pilots songs, as well as their first single with Bennington on vocals called "Out of Time", which debuted on May 19 and was available for free download via their official website. It was later announced by Chester and the band in an exclusive KROQ interview that he was officially the new frontman of Stone Temple Pilots and discussed the possibility of a new album and tour. The song "Out of Time" is featured on their EP High Rise, which was released on October 8, 2013.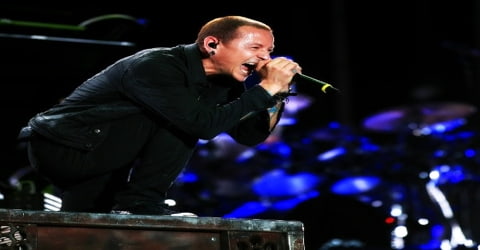 In 2010, Bennington gave the vocals for the Linkin Park' fourth album, 'A Thousand Suns', which was a muti-concept album that highlighted the concept of nuclear warfare. The album received positive reviews. In 2012, he featured as the lead singer for the Linkin Park' album, 'Living Things', which was one among the band's bestselling albums. The album also featured the lead single, 'Burn It Down'.
Bennington possessed a three-octave tenor vocal range, beginning at the low bass G (G2), and reaching its peak at the tenor G (G5). His vocals have shown tremendous durability for the entirety of his career. Altheapi of Rolling Stone wrote: "Bennington's voice embodied the anguish and wide-ranging emotions of the lyrics, from capturing life's vulnerable moments to the fury and catharsis found in his belted screams, which he would often move between at the turn of a dime." Talking about his favorite bands and influences, Bennington mentioned Stone Temple Pilots, Alice in Chains, Arcade Fire, Circle Jerks, Descendents, Deftones, Jane's Addiction, Metallica, Ministry, Minor Threat, Misfits, The Naked and Famous, Nine Inch Nails, Nirvana, Pearl Jam, Refused, Skinny Puppy, Soundgarden, and A Tribe Called Quest. Bennington also considered himself as "a huge Madonna fan", crediting her for making him grow up wanting to be a musician.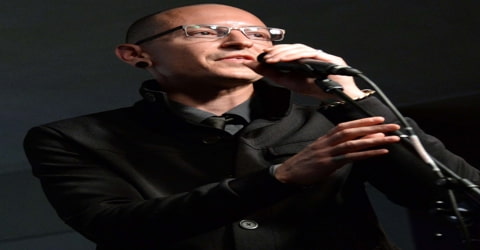 Awards and Honor
On August 27, during the 2017 MTV Video Music Awards ceremony, Jared Leto received media attention for his tribute to Bennington and Chris Cornell. Some of his former bandmates from Dead by Sunrise and Grey Daze united to perform a tribute for Bennington during a concert on September 2 in Las Vegas.
Linkin Park also hosted a public tribute for Bennington in Los Angeles on October 27, 2017, titled Linkin Park and Friends: Celebrate Life in Honor of Chester Bennington.
Death and Legacy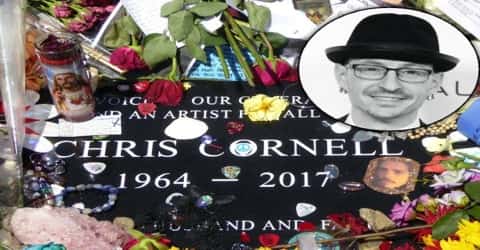 Bennington was found dead at his home in Palos Verdes Estates, California; his housekeeper discovered his body around 9:00 a.m. PDT on July 20, 2017. His death was ruled a suicide. He had apparently committed suicide by hanging. It is reported that he had been very upset following the suicide death of his friend Chris Cornell in May 2017. Bennington's suicide occurred on what would have been Cornell's 53rd birthday.
Bennington's funeral was held at South Coast Botanic Garden in Palos Verdes, California, on July 29. In addition to his family members and close friends, many musicians who toured or played with Linkin Park were also in attendance. The service also included a full stage for musical tributes. Bennington was cremated.
Cornell was a close friend of Bennington. Cornell's death was also ruled as a suicide, by hanging, two months prior. Bennington commented on Cornell's death on Instagram by stating, "I can't imagine a world without you in it." Shinoda noted that Bennington was very emotional when the band performed "One More Light" in his honor on Jimmy Kimmel Live!, where he could not finish singing the song and started getting choked up during both the rehearsal and at the live performance setting. The band was due to record a live performance of their single "Heavy" on the show but decided instead to play "One More Light" after hearing the news about Cornell's death because the song is about the loss of a friend. Bennington sang Leonard Cohen's song "Hallelujah" at Cornell's funeral. He was also the godfather of Cornell's son Christopher.
Bennington's contribution to the band 'Linkin Park' is noteworthy. Right from the band's debut album, 'Hybrid Theory' until its last released album till date, 'Living Things', he was a regular contributor. All the albums peaked to the top spot position at the Billboard list and became bestsellers. He gave vocals for Linkin Park's debut album 'Hybrid Theory', which peaked at the number two position on the Billboard 200. The album was included in the Rock and Roll Hall of Fame. Furthermore, he gave the vocals for the four times platinum certified album, 'Meteora', which sold 16 million copies across the world.
Information Source: