Biography of Claude Debussy
Claude Debussy – French composer.
Name: Achille-Claude Debussy
Date of Birth: August 22, 1862
Place of Birth: Saint-Germain-en-Laye, France
Date of Death: March 25, 1918
Place of Death: Paris, France
Occupation: Composer
Father: Manuel-Achille Debussy
Mother: Victorine Manoury Debussy
Spouse/Ex: Emma Bardac (m. 1908–1918), Rosalie Texier (m. 1899–1905)
Children: Claude-Emma Debussy
Early Life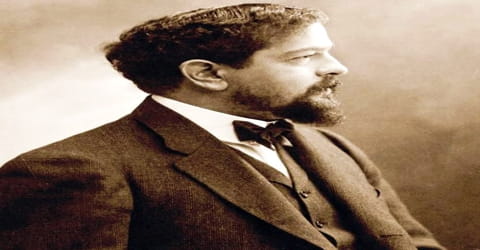 The French composer (writer and arranger of music) Claude Debussy was born on 22 August 1862 in Saint-Germain-en-Laye, Seine-et-Oise, on the north-west fringes of Paris. He has developed a strongly individual style and went against the methods of classical composing by using uncommon arrangements that created a new language of sound. He is sometimes seen as the first Impressionist composer, although he vigorously rejected the term. He was among the most influential composers of the late 19th and early 20th centuries.
Born to a family of modest means and little cultural involvement, Debussy showed enough musical talent to be admitted at the age of ten to France's leading music college, the Conservatoire de Paris. He originally studied the piano, but found his vocation in innovative composition, despite the disapproval of the Conservatoire's conservative professors. He took many years to develop his mature style and was nearly 40 when he achieved international fame in 1902 with the only opera he completed, Pelléas et Mélisande.
Debussy's marvelous contribution to the art of music won him the status of Chevalier of the 'Legion of Honour' in 1903. He dramatically disregarded the traditional chord structures and tonality and pioneered in penetrating into the modern era in Western music. His musical attributes echo sensory components not composed over one key or pitch and his compositions are sans any specific tempo or rhythm. He was triggered by the prevailing musical movement of 'symbolism' and his compositions fit into the impressionist genre of classical music akin to those of the visual art movements.
At age 22, he won the Prix de Rome, which financed two years of further musical study in the Italian capital. After the turn of the century, Debussy established himself as the leading figure of French music.
His orchestral works include Prélude à l'après-midi d'un faune (1894), Nocturnes (1897–1899) and Images (1905–1912). His music was to a considerable extent a reaction against Wagner and the German musical tradition. He regarded the classical symphony as obsolete and sought an alternative in his "symphonic sketches", La Mer (1903–1905; "The Sea"). His piano works include two books of Préludes and two of Études. Throughout his career, he wrote mélodies based on a wide variety of poetry, including his own. He was greatly influenced by the Symbolist poetic movement of the later 19th century. A small number of works, including the early La Damoiselle élue and the late Le Martyre de Saint Sébastien, have important parts for a chorus. In his final years, he focused on chamber music, completing three of six planned sonatas for different combinations of instruments.
Debussy's works are an expression of the happenings and turmoil in his lifetime. His long unsuccessful affairs with several women kept him disturbed most of the times, mirrored in his works. His greatest works such as the revolutionary 'Prélude à l'après-midi d'un faune' and 'Pelléas et Mélisande' and many others had an enduring influence on almost every major composer of the 20th century.
Childhood, Family and Educational Life
Claude Debussy, in full Achille-Claude Debussy (French: aʃil klod dəbysi), was born on 22 August 1862, in Saint-Germain-en-Laye, France. At the time of his birth, his father, Manuel-Achille Debussy, ran a china shop in the town while his mother, Victorine Manoury Debussy, worked as a seamstress. The shop was unsuccessful, and closed in 1864; the family moved to Paris, first living with Victorine's mother, in Clichy, and, from 1868, in their own apartment in the Rue Saint-Honoré. Manuel worked in a printing factory.
In 1870, to escape the Siege of Paris during the Franco-Prussian War, Debussy's pregnant mother took him and his sister Adéle to their paternal aunt's home in Cannes, where they remained until the following year. Debussy began taking piano lessons at age seven and entered the Paris Conservatory (school of fine arts) in Paris, France, at the age of ten. His instructors and fellow students recognized that he had talent, but they thought some of his attempts to create new sounds were odd.
In 1871, Manuel Debussy, living alone in Paris, joined the National Guard, subsequently taking part in the Battle of the Paris Commune. After their defeat, he was held prisoner at Satory camp. Here he met composer Charles de Sivry, who recommended that Claude take a lesson with his mother Antoinette Mauté. In the middle of 1871, Victorine Manoury Debussy returned to Paris with her children, putting up in a very small apartment on Rue Pigalle. Here Claude started taking lessons from Madame Mauté. Unlike his brothers, he never went to school.
Debussy was encouraged by Madame Mauté de Fleurville, who was associated with the Polish composer Frédéric Chopin, and in 1873 he entered the Paris Conservatory, where he studied the piano and composition, eventually winning in 1884 the Grand Prix de Rome with his cantata L'Enfant prodigue (The Prodigal Child).
In 1880 Nadezhda von Meck, who had helped support Russian composer Peter Ilich Tchaikovsky (1840–1893), hired Debussy to teach her children piano. He traveled to Italy and Austria with her and her family and spent parts of the next two years at her estate in Russia.
Personal Life
Apart from his two marriages, Claude Debussy had a number of liaisons. His first love was Marie-Blanche Vasnier, the wife of Parisian civil servant Henri Vasnier. The affair, which started when he was 18 years old, ended when he moved to Rome. In these eight years, he wrote many pieces for her.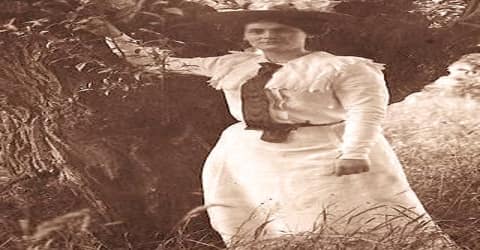 (Lilly Debussy)
Debussy abandoned Dupont for her friend Marie-Rosalie Texier, known as "Lilly", whom he married in October 1899, after threatening suicide if she refused him. She was affectionate, practical, straightforward, and well liked by Debussy's friends and associates, but he became increasingly irritated by her intellectual limitations and lack of musical sensitivity. The marriage lasted barely five years.
On his return from Rome, he started having an affair with Gabrielle (Gaby) Dupon, daughter of a tailor. Eventually, they set up their home their home at 42, Rue de Londres in June 1891. However, he soon started a short-lived affair with singer Thérèse Roger, returning to Dupon at the end of it.
In October 1905 La Mer, Debussy's most substantial orchestral work was premiered in Paris by the Orchestre Lamoureux under the direction of Camille Chevillard; the reception was mixed. Some praised the work, but Pierre Lalo, a critic of Le Temps, hitherto an admirer of Debussy, wrote, "I do not hear, I do not see, I do not smell the sea". In the same month, the composer's only child was born at their home. Claude-Emma, affectionately known as "Chouchou", was a musical inspiration to the composer (she was the dedicatee of his Children's Corner suite). She outlived her father by scarcely a year, succumbing to the diphtheria epidemic of 1919. Mary Garden said, "I honestly don't know if Debussy ever loved anybody really. He loved his music and perhaps himself. I think he was wrapped up in his genius", but biographers are agreed that whatever his relations with lovers and friends, Debussy was devoted to his daughter.
Debussy left Dupon towards the end of 1898 to start a relationship with Marie-Rosalie Texier, also known as Lilly, in April 1899. Eventually, they got married on 19 October 1899; but very soon, he felt alienated from her for her prematurely aged look, lack of musical sensitivity and intellectual shortcomings.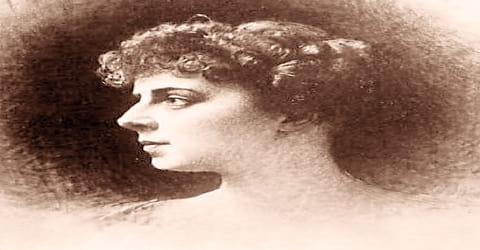 (Emma Debussy)
Eventually, Debussy secured a divorce from Lily on August 2, 1905, and set up his home with Emma in Paris. Their daughter, Claude-Emma, whom he affectionately called Chouchou, was born out of wedlock on 20 December 1905. Continuing to live together Debussy and Emma got married on 20 January 1908. Scarcely a year after his marriage to Emma, Debussy was diagnosed with rectal cancer. In spite of that, he continued to work, giving his last two concerts on 11 and 14 September 1917. Although he underwent an operation in December 1915, the respite was temporary.
Career and Works
In October 1872, after studying with Madame Mauté for one year, Claude Debussy secured admission into Paris Conservatoire. Remaining there for the next eleven years, he began by studying piano with Antoine Marmontel thrice a week. Concurrently, he also joined Albert Lavignac's solfeggio classes. On 13 January 1874, he wrote on his pupil's report card, "Charming child, the true temperament of an artist; will become a distinguished musician; a great future."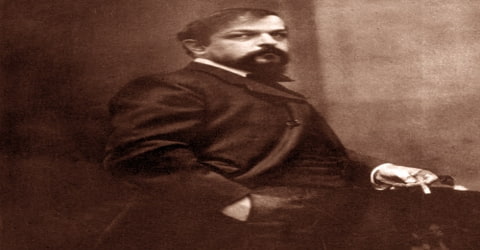 In July 1874 Debussy received the award of deuxième accessit for his performance as soloist in the first movement of Chopin's Second Piano Concerto at the Conservatoire's annual competition. He was a fine pianist and an outstanding sight reader, who could have had a professional career had he wished, but he was only intermittently diligent in his studies. He advanced to premier accessit in 1875 and second prize in 1877 but failed at the competitions in 1878 and 1879. These failures made him ineligible to continue in the Conservatoire's piano classes, but he remained a student for harmony, solfège and, later, composition.
On 16 January 1876, Debussy made his first public appearance, accompanying singer Léontine Mendès at a concert, organized by the local industry's brass band at Chauny (Aisne). He must have made a good impact because we find him attending a second concert on 18 March at the same place.
With Marmontel's help, Debussy secured a summer vacation job in 1879 as resident pianist at the Château de Chenonceau, where he rapidly acquired a taste for luxury that was to remain with him all his life. His first compositions date from this period, two settings of poems by Alfred de Musset: "Ballade à la lune" and "Madrid, Princesse des Espagnes". The following year he secured a job as a pianist in the household of Nadezhda von Meck, the patroness of Tchaikovsky. He traveled with her family for the summers of 1880 to 1882, staying at various places in France, Switzerland, and Italy, as well as at her home in Moscow. He composed his Piano Trio in G major for von Meck's ensemble and made a transcription for piano duet of three dances from Tchaikovsky's Swan Lake.
In 1880, Nadezhda von Meck, who had previously supported Russian composer Peter Ilich Tchaikovsky, hired Claude Debussy to teach piano to her children. With her and her children, Debussy traveled Europe and began accumulating musical and cultural experiences in Russia that he would soon turn toward his compositions, most notably gaining exposure to Russian composers who would greatly influence his work. While continuing his studies with different masters at the Conservatoire, Debussy continued his association with von Meck, traveling with her to Russia in 1881 and 1882. Meanwhile, he started giving private lessons and composed a number of songs, many of them for Marie-Blanche Vasnier, with whom he had fallen in love.
In 1884 Debussy won the Prix de Rome, a competition for composers, for his cantata (a poem set to music) The Prodigal Son. While in Rome, Italy, the following year, he wrote that one of the few things that made him forget how much he missed Paris was the study of German composer Richard Wagner's (1813–1883) opera Tristan und Isolde. Debussy returned to Paris in 1887.
Not many years later Debussy strongly criticized Wagner, but this had more to do with Wagner's drama than his music. Although Debussy scorned the characters in Wagner's Parsifal, he openly praised the music. Throughout his life, Debussy was fascinated by the richness of Wagner's style, although he generally preferred opera that was less flashy.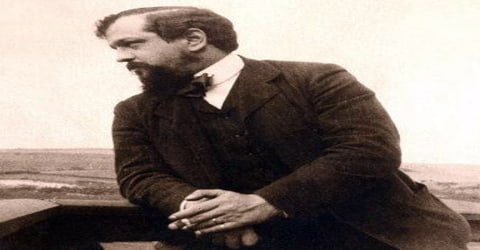 Nevertheless, in 1884 Debussy won France's most prestigious musical award, the Prix de Rome, with his cantata L'enfant prodigue. The Prix carried with it a residence at the Villa Medici, the French Academy in Rome, to further the winner's studies. Debussy was there from January 1885 to March 1887, with three or possibly four absences of several weeks when he returned to France, chiefly to see Marie Vasnier.
Debussy moved to Rome on 28 January 1885. Initially, he found the atmosphere at Villa Médicis too stifling to be able to compose. Over the time, he started making friends and composing new pieces. He also began to study Richard Wagner's music, especially his opera 'Tristan und Isolde'. He soon became a great admirer of Wagner's music, but did not appreciate his extroverted emotionalism.
In June 1885, Debussy wrote of his desire to follow his own way, saying, "I am sure the Institute would not approve, for, naturally it regards the path which it ordains as the only right one. But there is no help for it! I am too enamoured of my freedom, too fond of my own ideas!"
All along, he continued to return to Paris on leave of absence, finally leaving Rome for good on 2 March 1887. Back in Paris, he began living in his parents' home, enjoying his brother, Emmanuel's company. Continuing to compose, Claude Debussy frequently visited cafes like chez Pousset, chez Thommen, and café Vachette, where he could interact with other musicians. He also traveled abroad visiting Bayreuth, Rome, Brittany.
Debussy himself eventually fled from the Villa Medici after two years and returned to Blanche Vasnier in Paris. Several other women, some of the doubtful reputation, were also associated with him in his early years. At this time Debussy lived a life of extreme indulgence. Once one of his mistresses, Gabrielle ("Gaby") Dupont, threatened suicide. His first wife, Rosalie ("Lily") Texier, a dressmaker, whom he married in 1899, did, in fact, shoot herself, though not fatally, and, as is sometimes the case with artists of passionate intensity, Debussy himself was haunted by thoughts of suicide.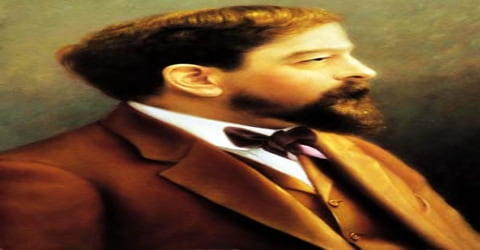 Although Debussy's works showed the influence of Jules Massenet, the latter concluded, "He is an enigma." During his years in Rome Debussy composed not for the Academy most of his Verlaine cycle, Ariettes oubliées, which made little impact at the time but was successfully republished in 1903 after the composer had become well known.
Debussy returned to Paris in 1887 and attended the Paris World Exposition two years later. This orchestra, with its variety of bells, gongs, and xylophones (instruments made up of a series of wooden bars that sound different notes when struck with two small hammers), produced a series of soft effects and rhythms that Debussy loved. The years between 1890 and 1900 brought the elements of the gamelan into play with others already present in Debussy's style and produced a new kind of sound. The completion of this process around 1900 can serve as a line dividing the masterpieces of the earlier years Ariettes oubliées (1888), Prélude à l'après-midi d'un faune (1892; Afternoon of a Faun ), and the String Quartet (1893) from those composed during Debussy's mature period.
His seminal opera, Pelléas et Mélisande, was completed in 1895 and was a sensation when first performed in 1902, though it deeply divided listeners (audience members and critics either loved it or hated it). The attention gained with Pelléas, paired with the success of Prélude in 1892, earned Debussy extensive recognition. Over the following 10 years, he was the leading figure in French music, writing such lasting works as La Mer (The Sea; 1905) and Ibéria (1908), both for orchestra, and Images (1905) and Children's Corner Suite (1908), both for solo piano.
In the spring of 1893, Debussy bought a copy of 'Pelléas et Mélisande' and started reading it with the intention of making an opera on it. Although he completed the work in August 1895 he did not immediately publish it but continued to improve on it, concurrently publishing other works. In September 1895, Georges Hartmann, well-known music publisher, and librettist granted Debussy a monthly income of 500 Francs. In spite of that, he was compelled to return to the weekly Wagner musical events, held at the salon of Madame Godard-Decrais, in February 1896, just to improve his finances.
In January 1902 rehearsals began at the Opéra-Comique for the opening of Pelléas et Mélisande. For three months, Debussy attended rehearsals practically every day.
The publicity surrounding the first performance of Pelléas in 1902 made Debussy the most controversial (causing disputes) musical figure in France; people either loved his music or hated it. Pelléas is the key work of Debussy's creative life; the words and actions of the opera pass as if in a dream, but the dream is filled with a strong feeling of dread. Debussy adds to this feeling with music that is largely quiet, with outbursts thrown in that reveal the underlying terror.
In 1904 Debussy left his wife of five years, Rosalie Texier, to live with Emma Bardac, a woman who had a decent amount of money and whom he would eventually marry. Debussy became more productive after he no longer had to worry about how he was going to earn money. During these years he wrote some of his most lasting works: La Mer (1905) and Ibéria (1908), both for orchestra; Images (1905), Children's Corner Suite (1908), and two books of Préludes (1910–12), all for piano solo.
Debussy and his librettist, Maurice Maeterlinck, declared that they were haunted in this work by the terrifying nightmare tale of Edgar Allan Poe, The Fall of the House of Usher. The style of Pelléas was to be replaced by a bolder, more highly colored manner. In his seascape La Mer (1905) he was inspired by the ideas of the English painter J.M.W. Turner and the French painter Claude Monet. In his work, as in his personal life, he was anxious to gather experience from every region that the imaginative mind could explore.
Also in 1905, Debussy published 'Suite bergamasque'. Originally written in 1890 at the age of 28, he had it extensively revised before its publication. It is comprised of four parts, 'Prélude', 'Menuet', 'Clair de lune' and 'Passepied'. Today, 'Clair de lune' is regarded as one of his best-known pieces. Continuing to write, he published two other masterpieces in 1908; 'Ibéria' for orchestra and 'Children's Corner Suite' for solo piano. Unfortunately, from the following year, his health began to deteriorate, showing the first sign of cancer.
Around this same time, in 1905, Debussy's Suite bergamasque was published. The suite is comprised of four parts "Prélude," "Menuet," "Clair de lune" (now regarded as one of the composer's best-known pieces) and "Passepied."
Debussy's works began to feature increasingly in concert programmes at home and overseas. In 1910 Gustav Mahler conducted the Nocturnes and Prélude à l'après-midi d'un faune in New York in successive months. In the same year, visiting Budapest, Debussy commented that his works were better known there than in Paris.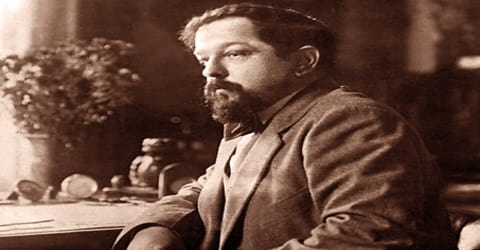 Debussy's spontaneity and the sensitive nature of his perception facilitated his acute insight into the child mind, an insight noticeable particularly in Children's Corner, a French counterpart to Mussorgsky's song cycle The Nursery; in the Douze Préludes, 2 books (1910, 1913; "Twelve Preludes"), for piano; and in the ballet La Boîte à joujoux (1st perf. 1919; The Box of Toys).
In his later years, it is the pursuit of illusion that marks Debussy's instrumental writing, especially the strange, other-worldly Cello Sonata. This noble bass instrument takes on, in chameleon fashion, the character of a violin, a flute, and even a mandolin. Debussy was developing in this work ideas of an earlier period, those expressed in a youthful play he had written, Frères en art (Brothers in Art), where he's challenging, indeed anarchical, ideas are discussed among musicians, painters, and poets.
Debussy's pieces of the following years show certain changes in style. They have less immediate appeal and are more difficult to approach. The emergence of other composers also led to declining interest in his works. His ballet Jeux, his last and most complicated orchestral score, first performed on May 15, 1913, was all but forgotten after Igor Stravinsky's (1882–1971) ballet Rite of Spring came out on May 29. Debussy may have resented the younger composer's arrival on the scene, but he admired Stravinsky's work and even used certain Stravinsky-like elements in En blanc et noir (1915) and the Études (1915).
In spite of illness, Debussy continued to work, composing pieces and giving concerts till the end of 1917. His last major work, 'Sonate pour violon et piano, L. 140', completed in April 1917, is notable for its brevity. A typical performance lasts about 13 minutes.
Awards and Honor
On 23 April 1893, Debussy was elected member of the Committee of the Société nationale de musique.
In 1894, Debussy joined Société des auteurs (SACEM).
In 1903 there was public recognition of Debussy's stature when he was appointed a Chevalier of the Légion d'honneur. Also in the same year, he was made an advisor on the board of the Conservatoire.
Death and Legacy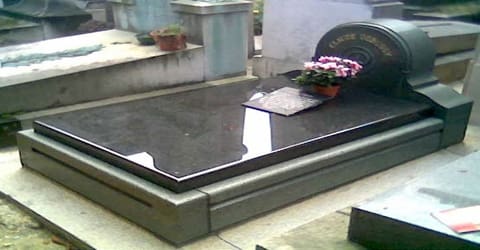 Claude Debussy spent his remaining years writing as a critic, composing and performing his own works internationally. He died of colon cancer on March 25, 1918, when he was just 55 years old, in Paris. The First World War was still raging and Paris was under German aerial and artillery bombardment.
The military situation did not permit the honor of a public funeral with ceremonious graveside orations. The funeral procession made its way through deserted streets to a temporary grave at Père Lachaise Cemetery as the German guns bombarded the city. Debussy's body was reinterred the following year in the small Passy Cemetery sequestered behind the Trocadéro, fulfilling his wish to rest "among the trees and the birds"; his wife and daughter are buried with him.
Debussy's music marks the first of a series of attacks on the traditional language of the 19th century. He did not believe in the stereotyped harmonic procedures of the 19th century, and indeed it becomes clear from a study of mid-20th-century music that the earlier harmonic methods were being followed in an arbitrary, academic manner. His inquiring mind similarly challenged the traditional orchestral usage of instruments. He rejected the traditional dictum that string instruments should be predominantly lyrical.
Today, Debussy is remembered as a musical legend, whose uniquely structured compositions has served as a base for musicians over the past century, and will undoubtedly continue to inspire musical creation for decades to come. Regarded as one of the most eminent composers of the 20th century, his works influenced all most every upcoming composer from across the world. In 1997, he was depicted on a 20 Franc note.
Debussy did not give his works opus numbers, apart from his String Quartet op. 10 in G minor (also the only work where the composer's title included a key). His works were cataloged and indexed by the musicologist François Lesure in 1977 (revised in 2003) and their Lesure number ("L" followed by a number) is sometimes used as a suffix to their title in concert programmes and recordings.
In his last works, the piano pieces En blanc et noir, (1915; In Black and White) and in the Douze Études (1915; "Twelve Études"), Debussy had branched out into modes of composition later to be developed in the styles of Stravinsky and the Hungarian composer Béla Bartók. It is certain that he would have taken part in the leading movements in the composition of the years following World War I had his life not been so tragically cut short by cancer.
In more recent times Debussy's output has been extensively recorded. In 2018, to mark the centenary of the composer's death, Warner Classics, with contributions from other companies, issued a 33-CD set that is claimed to include all the music Debussy wrote.
Information Source: