David Beckham – Football Player
Full Name: David Robert Joseph Beckham
Date of Birth: 2 May 1975 (age 41)
Place of Birth: Leytonstone, London, England
Residence: Beckingham Palace (1999–2014)
London, England (2014–present)
Nationality: British
Occupation: Footballer, businessman, model, spokesperson
Height: 6 ft 0 in (1.83 m)
Spouse(s): Victoria Beckham (m. 1999)
Children: 4
Early Life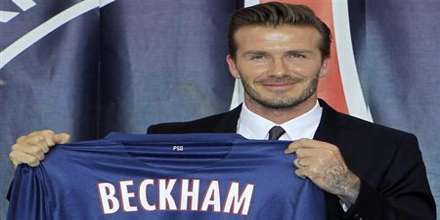 David Robert Joseph Beckham was born on May 2, 1975, in Leytonstone, East London, England. David Beckham is one of Britain's most iconic athletes whose name is also an elite global advertising brand. He was captain of the English national team from 1998 to 2009, scored in three different FIFA World Cups, and played midfield for clubs in Manchester, England, Madrid, Spain, and Milan, Italy; he also won the MLS Cup playing for Los Angeles Galaxy in 2011 and 2012.
A phenom almost from the moment he could first kick a soccer ball, Beckham began playing for Manchester United, England's legendary soccer team, at age 18, and was a starter by age 20. In 2007, he signed a five-year, $250 million contract with the L.A. Galaxy. In May 2013, he announced plans to retire.
He is the first English player to win league titles in four countries: England, Spain, the United States and France.
Known for his range of passing, crossing ability and bending free-kicks as a right winger, Beckham was twice runner-up for FIFA World Player of the Year and in 2004 he was named in the FIFA 100 list of the world's greatest living players. He was inducted into the English Football Hall of Fame in 2008. A global ambassador for the sport, Beckham is regarded as a British cultural icon.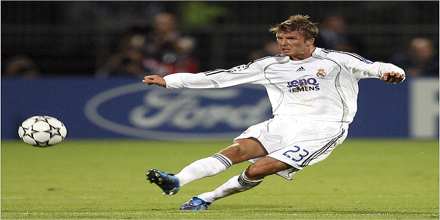 In international football, Beckham made his England debut on 1 September 1996 at the age of 21. He was captain for six years, earning 58 caps during his tenure. He made 115 career appearances in total, appearing at three FIFA World Cup tournaments, the 1998, 2002 and 2006 editions and two UEFA European Championship tournaments, the 2000 and 2004 editions.
One of the most marketable athletes in sport, Beckham has consistently ranked among the highest earners in football, and in 2013 he was listed as the highest-paid player in the world, earning over $50 million in the previous 12 months.
He has been a UNICEF UK ambassador since 2005, and in 2015 he launched 7: The David Beckham UNICEF Fund to help protect children in danger around the world. In February 2014, MLS announced Beckham and a group of investors would own an expansion team in Miami, which would begin in 2016 or 2017.
Personal Life
David Beckham was Born on May 2, 1975, in Leytonstone, London, England, to parents Ted Beckham, an appliance repairman, and his wife Sandra, a hair stylist, he was the family's only son. A middle child between two sisters, Beckham grew up with parents and siblings who were committed fans of Manchester United, England's legendary soccer franchise.
At an early age, Beckham showed his own promise as a footballer, winning the coveted Bobby Charlton Soccer Schools National Skills competition at 11 years old. His talent soon caught the notice of Manchester United team officials, who asked him to try out for the club's youth league. By the age of 16, Beckham had left home and was playing for United's training division. Two years later he made the club, and by 1995, he was a full-time starter.
In 1997, Beckham started dating Victoria Adams, after she attended a Manchester United match. She was famously known as "Posh Spice" of the pop music group Spice Girls, one of the world's top pop groups at the time, and his team was also enjoying a great run of success.
Therefore, their relationship instantly attracted a great deal of media attention. The couple were dubbed "Posh and Becks" by the media. He proposed to her on 24 January 1998 in a restaurant in Cheshunt, England.
On 4 July 1999 he married singer Victoria Beckham (nee' Adams) from the popular musical group The Spice Girls. David and Victoria Beckham have four children: sons Brooklyn Joseph (born 4 March 1999), Romeo James (born 1 September 2002 in London), and Cruz David (born 20 February 2005 in Madrid; the word "cruz" is Spanish for "cross"); and daughter Harper Seven (born 10 July 2011, in Los Angeles).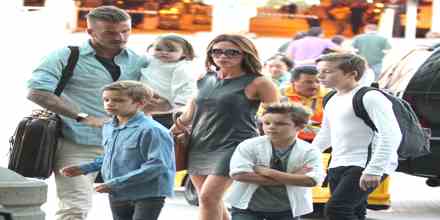 (David Beckham with his family)
Beckham's three sons have all played football in the Arsenal Academy. Like their father, Brooklyn and Romeo have both done modelling work and been named among GQ's best dressed British men. Beckham's eldest son Brooklyn previously played football for Arsenal U16, but was released at the end of the 2014–15 season.
In April 2004, the British tabloid News of the World carried claims by Beckham's former personal assistant Rebecca Loos that he and Loos had an extramarital affair. A week later, the Malaysian-born Australian model Sarah Marbeck claimed that she had slept with Beckham on two occasions. Beckham dismissed both accusations as "ludicrous".
In September 2010, Beckham announced that he was making a court application against prostitute Irma Nici and several others over claims in the magazine In Touch that he had sex with her. Although the magazine later accepted that the allegations against Beckham were untrue, his court application was dismissed under US freedom of speech laws.
Playing Career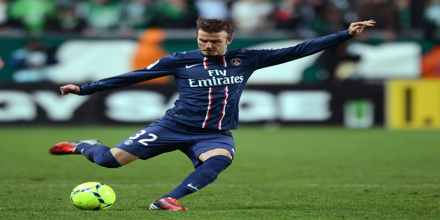 In 1999, he led Manchester United to the Premier League title, the FA Cup championship, and the Champions League title. Thanks to a last-minute free kick against Greece in 2001, England qualified for the 2002 World Cup. That same year, Beckham signed a three-year $22 million contract to remain with Manchester United.
He signed a four-year contract with Real Madrid, beginning on July 1, 2003, and worth a potential 40 million dollars.
Beckham remained a reliable scorer and his performances attracted more public. His shirts sales and other merchandising deals remained lucrative for the club, which continued to under-perform, regardless of the Real's management's higher expectations.
In 2005 Beckham became a UNICEF Goodwill Ambassador. He was also involved in promoting London's successful bid for the 2012 Olympic Games. His third season in Madrid was unremarkable, and he was criticized a lot, mainly because the team finished second to Barcelona in Spanish "La Liga" and lost to Arsenal in the European Champions League.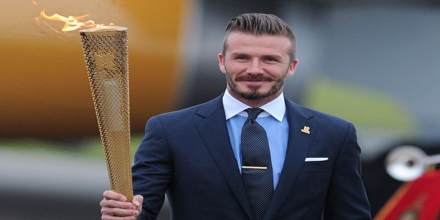 During the FIFA World Cup 2006, he played for England, and became the first ever English player to score in three World Cups. In the quarter final game against Portugal, Beckham was replaced because of his injury in the middle of the game. Without him the English team lost and was knocked out of the World Cup.
In June 2007 Beckham played his final game for Real Madrid, winning a medal and celebrating with his friends Tom and Katie Cruse, who attended the game. This was his fourth, and last season there, ending his contract with the club.
America's fascination with Beckham and his decade of dominance culminated in 2007, when the soccer great moved across the Atlantic to sign a reported five-year, $250 million deal with the L.A. Galaxy. The relocation was as much about giving Victoria Beckham's career a boost (she helped drive the decision to move to the States) as it was to give America's Major League Soccer a shot in the arm. Within 48 hours of the signing, the Galaxy sold more than 5,000 season tickets.
Beckham's career since moving to the United States, however, has been a rocky one. He's been beset by injuries, spraining a knee ligament his first season in L.A., and later missed out on a chance to play in the 2010 World Cup because of an Achilles tendon injury.
In 2011, after winning his first MLS Cup, his five-year deal with the Los Angeles Galaxy ended. At that time, Beckham was invited to play for Paris Saint-Germain.
In 2012, Beckham helped the Los Angeles Galaxy to retain their championship by defeating the Houston Dynamo 3-1 in the final game and winning the MLS Cup 2012. His last appearance for Los Angeles was on December 2, 2012. Beckham's jersey No 23 has been the best selling in the MLS and one of the best in the world, as he expands his image as one of sport's leading icons. Although he plays his best in the right of midfield, Beckham can be dangerous anywhere in the field and can make a difference in a big game with a pass, a cross, or a free kick. Arguably no one in the game can rival Beckham's accuracy in free kicks, as he can put that ball on a teammate's head with uncanny precision. He is still a decisive player, regardless of age.
In January 2013, David Beckham signed a 5 month contract with Paris Saint-Germain.
On May 16, 2013—just days after winning a title with French club Paris Saint-Germain—the 38-year-old Beckham announced that he would be retiring at the end of the 2013 season, ending his 21-year soccer career.
By 2013, Beckham had become credited as England's wealthiest sportsman, reportedly earning more than $46 million annually.
Beckham captained England 59 times, the fourth highest after Bobby Moore and Billy Wright both with and Bryan Robson with 65. With his free kick goal against Ecuador in the second round of the 2006 World Cup, Beckham gained membership into two of football's exclusive clubs: he became the only English player – and the 21st player in the world – to score in three World Cups; Real Madrid teammate Raúl also achieved this feat a few days earlier. It also made him only the fifth player in World Cup history to score twice from a direct free kick; the other four were Pelé, Roberto Rivelino, Teófilo Cubillas, and Bernard Genghini (Beckham had previously scored this way against Colombia in the first round of the 1998 World Cup). All three goals were against South American teams (Colombia, Argentina and Ecuador) and from set pieces (the two aforementioned free kicks and a penalty against Argentina).
Other Activities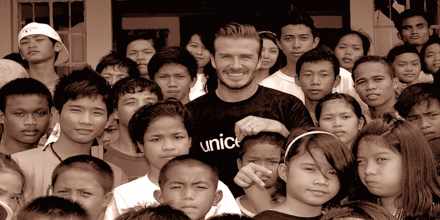 Beckham has supported UNICEF since his days at Manchester United and in January 2005, the English national team captain became a Goodwill Ambassador with a special focus on UNICEF's Sports for Development program. In 2012 he met with UK Prime Minister David Cameron at 10 Downing Street to call for more action to help children affected by malnutrition around the world. In 2015, his tenth year as a UNICEF Ambassador, Beckham launched 7: The David Beckham UNICEF Fund to help protect children in danger. In June 2015 he visited Siem Reap in Cambodia, where he met with child victims of violence. Beckham has pledged his support for the Unite for Children, Unite Against AIDS campaign. He is also a patron of the Elton John AIDS Foundation.
On 17 January 2007, Rebecca Johnstone, a 19-year-old cancer patient from Hamilton, Ontario, Canada, received a surprise phone call from Beckham. After the conversation, he sent her a Real Madrid jersey with his signature on it. Rebecca died on 29 January 2007. On 1 July 2007, Beckham appeared as a speaker at the Concert for Diana held at Wembley Stadium, London to celebrate the life of Princess Diana almost 10 years after her death. Proceeds from the concert went to Diana's charities as well as to charities of which her sons Princes William and Harry are patrons.
Beckham also appeared in a 2007 public service announcement for Malaria No More U.S, advertising the need for inexpensive bed nets. The TV spot aired in the U.S. on Fox Networks, including Fox Soccer Channel, and can also be seen on YouTube.
Honours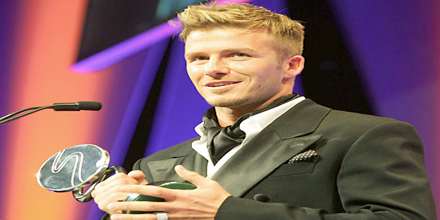 Club
Manchester United
Premier League (6): 1995–96, 1996–97, 1998–99, 1999–2000, 2000–01, 2002–03
FA Cup (2): 1995–96, 1998–99
FA Community Shield (2): 1996, 1997
FA Youth Cup (1): 1992
UEFA Champions League (1): 1998–99
Intercontinental Cup (1): 1999
Real Madrid
La Liga (1): 2006–2007
Supercopa de España (1): 2003
LA Galaxy
MLS Cup (2): 2011, 2012
MLS Supporters' Shield (2): 2010, 2011
MLS Western Conference
Winners (Regular Season) (3): 2009, 2010, 2011
Winners (Playoffs) (3): 2009, 2011, 2012
Paris Saint-Germain
International
England
Tournoi de France: 1997
FA Summer Tournament: 2004
Individual
Ballon d'Or – Runner-up: 1999
FIFA World Player of the Year – Silver Award: 1999, 2001
Premier League Player of the Month (1): August 1996
Premier League leader in assists (3): 1997-1998, 1999-2000, 2000-2001
PFA Young Player of the Year (1): 1996–97
FWA Tribute Award: 2008
Sir Matt Busby Player of the Year (1): 1996–97
England Player of the Year: 2003
ESM Team of the Year: 1998–99
UEFA Club Footballer of the Year (1): 1998–99
UEFA Club Midfielder of the Year (1): 1998–99
UEFA Team of the Year: 2001, 2003
Premier League 10 Seasons Awards (1992–93 to 2001–02):
Domestic & Overall Team of the Decade
Goal of the Decade (vs. Wimbledon, 17 August 1996)
BBC Sports Personality of the Year (1): 2001
BBC Sports Personality of the Year Lifetime Achievement Award (1): 2010
Real Madrid Player of the Year (1): 2005–06
Premier League PFA Team of the Year (4): 1996–97, 1997–98, 1998–99, 1999–2000
FIFA 100
ESPY Awards:
Best Male Soccer Player: 2004
Best MLS Player (2): 2008, 2012
English Football Hall of Fame: 2008
MLS Comeback Player of the Year Award (1): 2011
PFA Team of the Century (1997–2007): 2007
Orders and special awards
Officer of the Order of the British Empire by Queen Elizabeth II: 2003
United Nations Children's Fund (UNICEF) Goodwill Ambassador (2005–present)
"Britain's Greatest Ambassador" – 100 Greatest Britons awards
The Celebrity 100, number 15 – Forbes, 2007
Number 1 on the list of the 40 most influential men under the age of 40 in the UK– Arena, 2007
Time 100: 2008
Gold Blue Peter Badge winner, 2001
Do Something Athlete Award, 2011