Biography of David Bowie
David Bowie – English singer, songwriter, and actor.
Name: David Robert Jones
Date of Birth: January 8, 1947
Place of Birth: Brixton, London, England
Date of Death: 10 January 2016 (aged 69)
Place of Death: New York City, US
Occupation: Singer, Songwriter, Actor
Father: Haywood Stenton Jones
Mother: Margaret Mary Jones
Spouse/Ex: Angie Barnett (m. 1970; div. 1980), Iman (m. 1992)
Children: Alexandria Zahra Jones, Duncan Jones
Early Life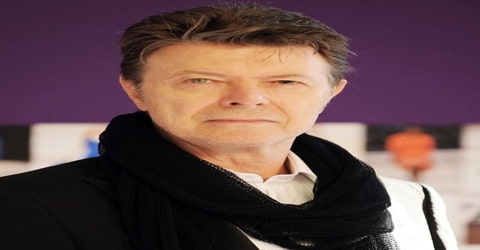 British singer, songwriter, and actor David Bowie was born on 8 January 1947 in Brixton, London. He was an English rock star known for dramatic musical transformations, including his character Ziggy Stardust. He was most prominent in the 1970s and best known for his shifting personae and musical genre-hopping. He was inducted into the Rock and Roll Hall of Fame in 1996.
He was a leading figure in the music industry and is considered one of the most influential musicians of the 20th century, acclaimed by critics and musicians, particularly for his innovative work during the 1970s. His career was marked by reinvention and visual presentation, with his music and stagecraft having a significant impact on popular music. During his lifetime, his record sales, estimated at 140 million albums worldwide, made him one of the world's best-selling music artists. In the UK, he was awarded ten platinum album certifications, eleven gold, and eight silver, and released eleven number-one albums. In the US, he received five platinum and nine gold certifications.
A popular musical figure for over five decades, he was well-known for the creativity he infused into his works. He was a versatile personality who was also a talented multi-instrumentalist, arranger, painter, and actor. Born and raised in Brixton, south London, he became interested in music at a young age and was especially influenced by Elvis Presley. He soon began performing to Presley's numbers at the local Wolf Cub group and took up playing the ukulele, tea-chest bass, and piano. Soon there was no doubt in his mind that his calling was to become a singer. However, his claim to stardom did not come easy. Despite his talent and determination, he struggled a lot during his initial years as a singer before managing to establish himself. He reached the peak of his success with his Ziggy Stardust stage show his flamboyant costumes and androgynous appearance became an iconic element of his image.
His first hit was the song "Space Oddity" in 1969. The original pop chameleon, Bowie became a fantastical sci-fi character for his breakout Ziggy Stardust album. He later co-wrote "Fame" with Carlos Alomar and John Lennon, which became his first American No. 1 single in 1975. An accomplished actor, Bowie starred in The Man Who Fell to Earth in 1976.
In 1976, he further confounded musical expectations with the electronic-inflected album Low (1977), the first of three collaborations with Brian Eno that came to be known as the "Berlin Trilogy". "Heroes" (1977) and Lodger (1979) followed; each album reached the UK top five and received lasting critical praise. After uneven commercial success in the late 1970s, Bowie had UK number ones with the 1980 single "Ashes to Ashes", its parent album Scary Monsters (and Super Creeps), and "Under Pressure", a 1981 collaboration with Queen. He reached his commercial peak in 1983 with Let's Dance; the album's title track topped both UK and US charts.
A singing superstar in the late 1970s and early 1980s, he continued performing and experimenting with musical styles, including "industrial" and "jungle" throughout the 1990s and 2000s. He remained actively involved with music until the very end and died of cancer in 2016.
Childhood, Family and Educational Life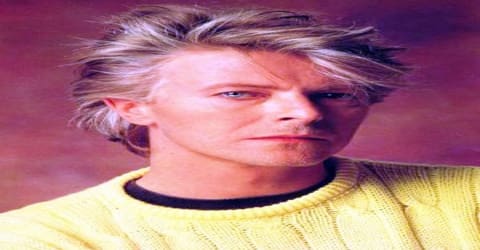 David Bowie, original name David Robert Jones, was born on 8 January 1947 in Brixton, London, England, to Margaret Mary "Peggy" and Haywood Stenton "John" Jones. His mother worked as a waitress while his father was a promotions officer for the children's charity Barnardo's.
Bowie was a creative child who developed an early interest in music. He listened to songs of artists like Frankie Lymon and the Teenagers, the Platters, Fats Domino, Elvis Presley, and Little Richard. He was greatly influenced by Elvis Presley.
In 1953, Bowie moved with his family to Bromley. Two years later, he started attending Burnt Ash Junior School. His voice was considered "adequate" by the school choir, and he demonstrated above-average abilities in playing the recorder. At the age of nine, his dancing during the newly introduced music and movement classes was strikingly imaginative: teachers called his interpretations "vividly artistic" and his poise "astonishing" for a child. The same year, his interest in music was further stimulated when his father brought home a collection of American 45s by artists including the Teenagers, the Platters, Fats Domino, Elvis Presley, and Little Richard. Upon listening to Little Richard's song "Tutti Frutti", Bowie would later say that he had "heard God".
As a teenager Bowie started playing multiple instruments like ukulele, tea-chest bass, and piano, and also began performing at the local Wolf Cub group. At school, he studied art, music, and design, including layout and typesetting. He showed an interest in music from an early age and began playing the saxophone at age 13.
Bowie received a serious injury at school in 1962 when his friend George Underwood punched him in the left eye during a fight over a girl. After a series of operations during a four-month hospitalisation, his doctors determined that the damage could not be fully repaired and Bowie was left with faulty depth perception and a permanently dilated pupil, which gave a false impression of a change in the iris's color; the eye later became one of Bowie's most recognizable features. Despite their altercation, Bowie remained on good terms with Underwood, who went on to create the artwork for Bowie's early albums.
Personal Life
David Bowie married his first wife, Mary Angela Barnett on 19 March 1970 at Bromley Register Office in Bromley, London. Their son Duncan, born on 30 May 1971, was at first known as Zowie. Bowie and Angela divorced on 8 February 1980 in Switzerland.
Bowie declared himself gay in an interview with Michael Watts for a 1972 issue of Melody Maker, coinciding with his campaign for stardom as Ziggy Stardust. According to Buckley, "If Ziggy confused both his creator and his audience, a big part of that confusion centered on the topic of sexuality." In a September 1976 interview with Playboy, Bowie said, "It's true I am a bisexual. But I can't deny that I've used that fact very well. I suppose it's the best thing that ever happened to me." His first wife, Angie, supports his claim of bisexuality and alleges that Bowie had a relationship with Mick Jagger.
(David Bowie and his 2nd wife Iman)
Several years later, he married Somali-American model Iman in a private ceremony in Lausanne on 24 April 1992. The wedding was later solemnized on 6 June in Florence. They had one daughter, Alexandria "Lexi" Zahra Jones, born in August 2000. The couple resided primarily in New York City and London, as well as owning an apartment in Sydney's Elizabeth Bay and Britannia Bay House on the island of Mustique, now renamed Mandalay Estate.
In a 1983 interview with Rolling Stone, Bowie said his public declaration of bisexuality was "the biggest mistake I ever made" and "I was always a closet heterosexual." On other occasions, he said his interest in homosexual and bisexual culture had been more a product of the times and the situation in which he found himself than of his own feelings.
Career and Works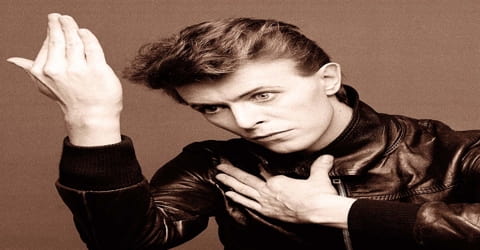 In 1962, Bowie formed his first band at the age of 15, named the Konrads. Playing guitar-based rock and roll at local youth gatherings and weddings, the Konrads had a varying line-up of between four and eight members, Underwood among them. When Bowie left the technical school the following year, he informed his parents of his intention to become a pop star. His mother arranged his employment as an electrician's mate. Frustrated by his bandmates' limited aspirations, Bowie left the Konrads and joined another band, the King Bees. He wrote to the newly successful washing-machine entrepreneur John Bloom inviting him to "do for us what Brian Epstein has done for the Beatles and make another million." Bloom did not respond to the offer, but his referral to Dick James's partner Leslie Conn led to Bowie's first personal management contract.
After graduating from Bromley Technical High School at 16, David started working as a commercial artist. He also continued to play music, hooking up with a number of bands and leading a group himself called Davy Jones and the Lower Third. Several singles came out of this period, but nothing that gave the young performer the kind of commercial traction he needed.
To call Bowie a transitional figure in rock history is less a judgment than a job description. Every niche he ever found was on a cusp, and he was at home nowhere else certainly not in the unmoneyed London suburb where his childhood was as dingy as his adult life would be glitzy. While this born dabbler's favourite pose was that of a Great Artist beguiled by rock's possibilities as a vehicle, in truth he was more a rocker drawn to artiness because it worked better than any other pose he had tried (not that he was not eclectic he admired Anthony Newley and Jacques Brel and studied mime with Lindsay Kemp). During the mod era of the 1960s, he fronted various bands from whose minuscule shadow he having renamed himself to avoid confusion with the singer of the Monkees emerged as a solo singer-songwriter.
During the mid-1960s, he changed his name to David Bowie in order to avoid confusion with Davy Jones of the Monkees. He released his eponymous debut album in 1967 which proved to be a flop. Later in 1967, he met dancer Lindsay Kemp and enrolled in his dance class at the London Dance Centre. There he also studied dramatic arts under Kemp, from avant-garde theatre and mime to commedia dell'arte.
Eventually, Bowie went out on his own. But after recording an unsuccessful solo album, Bowie exited the music world for a temporary period. Like so much of his later life, these few years proved to be incredibly experimental for the young artist. For several weeks in 1967, he lived at a Buddhist monastery in Scotland. Bowie later started his own mime troupe called Feathers.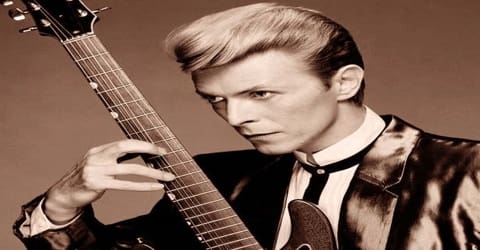 "Space Oddity," the science-fiction single that marks the real beginning of his career, reached the top 10 in Britain in 1969 but did not become an American radio staple until some years later, though Bowie had cannily pegged its original release to the Apollo 11 Moon mission. The song, which is about the launch of Major Tom, a fictional astronaut, reached the top five in the UK. It became a huge success and gave Bowie some much-needed exposure in the music industry. The song was later released in the United States and climbed to No. 15 on the charts.
Bowie's next album, The Man Who Sold the World (1970), further catapulted him to stardom. The record offered up a heavier rock sound than anything Bowie had done before and included the song "All the Madmen," about his institutionalized brother, Terry. His next work, 1971's Hunky Dory, featured two hits: the title track that was a tribute to Andy Warhol, the Velvet Underground, and Bob Dylan; and "Changes," which came to embody Bowie himself.
In 1972, Bowie released 'The Rise and Fall of Ziggy Stardust and the Spiders from Mars' in collaboration with the Spiders from Mars-Ronson, Bolder and Woodmansey. Based on the story of a fictional rock star named Ziggy Stardust, the album peaked at No. 5 in the UK and No. 75 in the United States on the Billboard Music Charts. It became very popular due to its glam rock influences and themes of sexual exploration and social commentary and catapulted Bowie to superstardom.
Bowie contributed backing vocals, keyboards, and guitar to Reed's 1972 solo breakthrough Transformer, co-producing the album with Mick Ronson. The following year, Bowie co-produced and mixed The Stooges album Raw Power alongside Iggy Pop. His own Aladdin Sane (1973) topped the UK chart, his first number-one album. Described by Bowie as "Ziggy goes to America", it contained songs he wrote while traveling to and across the US during the earlier part of the Ziggy tour, which now continued to Japan to promote the new album. Aladdin Sane spawned the UK top five singles "The Jean Genie" and "Drive-In Saturday".
Around this time he showed his affection for his early days in the English mod scene and released Pin Ups, an album filled with cover songs originally recorded by a host of popular bands, including Pretty Things and Pink Floyd.
In the process, Bowie stayed so hard on the heels of the zeitgeist that the doomsaying of Diamond Dogs (1974) and the disco romanticism of Young Americans (1975) were released less than a year apart. Bowie also became the first rock star to turn a confession of bisexuality into a shrewd career move (and also the first, some years later, to suspect that times had changed enough for recanting to be an even shrewder one). Yet all this took a private toll. The latter album featured backing vocals by a young Luther Vandross and included the song "Fame," co-written with John Lennon and Carlos Alomar, which became Bowie's first American number one single.
The 1970s marked the most productive period of his career. His innovative songs and stagecraft combined with his larger-than-life stage persona made him one of the most popular musical stars of the decade. Some of his most successful albums for the decade include 'Aladdin Sane' (1973), 'Pin Ups' (1973), 'Diamond Dogs' (1974), 'Young Americans' (1975), 'Station to Station' (1976), and 'Low' (1977).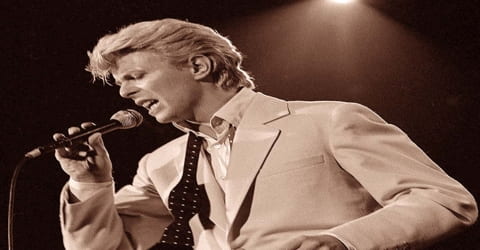 By 1977 Bowie had decamped, ditching his idiosyncratic version of the mainstream for the avant-garde austerities of Low, a collaboration in Berlin with Brian Eno, the most eggheaded of the several musical helpmates that Bowie always knew how to put to good use, including guitarists Mick Ronson and Carlos Alomar and ace nouveau-funk producer Nile Rodgers for "Let's Dance" (1983), when he needed a hit. As music, Low and its sequels, "Heroes" (1977) and Lodger (1979), would prove to be Bowie's most influential and lasting, serving as a blueprint for a later generation of techno-rock. In the short run, they marked the end of his significant mass audience impact, though not his sales thanks mostly to Rodgers.
Bowie welcomed the 1980s with 'Scary Monsters (And Super Creeps)' released in 1980. The album was considered very significant in artistic terms and earned much critical acclaim. It peaked at No. 1 in the UK. Its most successful single, 'Ashes to Ashes' gave international exposure to the underground New Romantic movement. His success as a singer and performer continued throughout the 1980s with hit albums like 'Let's Dance' (1983), 'Tonight' (1984), and 'Never Let Me Down' (1987). During this time he also appeared in some films like 'Merry Christmas, Mr. Lawrence' (1983), 'The Hunger' (1983), and 'Jazzin' for Blue Jean' (1984).
Bowie played Joseph Merrick in the Broadway theatre production The Elephant Man, which he undertook wearing no stage make-up, and which earned high praise for his expressive performance. He played the part 157 times between 1980 and 1981. Christiane F. – We Children from Bahnhof Zoo, a 1981 biographical film focusing on a young girl's drug addiction in West Berlin, featured Bowie in a cameo appearance as himself at a concert in Germany. Its soundtrack album, Christiane F. (1981), featured much material from his Berlin Trilogy albums. Bowie starred in The Hunger (1983), with Catherine Deneuve and Susan Sarandon. In Nagisa Oshima's film the same year, Merry Christmas, Mr. Lawrence, based on Laurens van der Post's novel The Seed and the Sower, Bowie played Major Jack Celliers, a prisoner of war in a Japanese internment camp. Bowie had a cameo in Yellowbeard, a 1983 pirate comedy created by Monty Python members, and a small part as Colin, the hitman in the 1985 film Into the Night. He declined to play the villain Max Zorin in the James Bond film A View to a Kill (1985).
In 1986, Bowie starred as Jareth, the Goblin King, in the fantasy-adventure film Labyrinth, directed by Jim Henson and produced by George Lucas.  Bowie performed opposite teenage Jennifer Connolly and a cast of puppets in the movie, which became a 1980s cult classic.
As of the late 1990s, Bowie seemed a spent force, and perhaps Bowie's greatest innovation in this era was the creation of Bowie Bonds, financial securities backed by the royalties generated by his pre-1990 body of work. The issuing of the bonds in 1997 earned Bowie $55 million, and the rights to his back catalog returned to him when the bonds' term expired in 2007. His 1970s work including, in addition to his own output, service as a producer on landmark albums from Mott the Hoople, Lou Reed, and Iggy and the Stooges remain a vital and often compelling index to a time it did its part to shape. Bowie was inducted into the Rock and Roll Hall of Fame in 1996.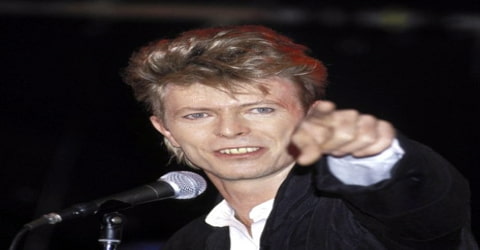 His final solo album of the decade was 1987's Never Let Me Down, where he ditched the light sound of his previous two albums, instead offering harder rock with an industrial/techno dance edge. Peaking at No. 6 in the UK, the album yielded the hits "Day-In, Day-Out" (his 60th single), "Time Will Crawl", and "Never Let Me Down". Bowie later described it as his "nadir", calling it "an awful album". Supporting Never Let Me Down, and preceded by nine promotional press shows, the 86-concert Glass Spider Tour commenced on 30 May. Bowie's backing band included Peter Frampton on lead guitar. Contemporary critics maligned the tour as overproduced, saying it pandered to the current stadium rock trends in its special effects and dancing, although years after the tour's conclusion, critics acknowledged that the tour influenced how other artists performed concerts, including Britney Spears, Madonna, and U2.
Over the next decade, Bowie bounced back and forth between acting and music, with the latter especially suffering. Outside of a couple of modest hits, Bowie's musical career languished. His side project with musicians Reeve Gabrels and Tony and Hunt Sales, known as Tin Machine, released two albums, Tin Machine (1989) and Tin Machine II (1991), which both proved to be flops. His much-hyped album Black Tie White Noise (1993), which Bowie described as a wedding gift to his new wife, supermodel Iman, also struggled to resonate with record buyers.
Bowie was inducted into the Rock and Roll Hall of Fame on 17 January 1996. Incorporating experiments in British jungle and drum 'n' bass, Earthling (1997) was a critical and commercial success in the UK and the US, and two singles from the album – "Little Wonder" and "Dead Man Walking" – became UK Top 40 hits. Bowie's song "I'm Afraid of Americans" from the Paul Verhoeven film Showgirls was re-recorded for the album, and remixed by Trent Reznor for a single release. The heavy rotation of the accompanying video, also featuring Trent Reznor, contributed to the song's 16-week stay in the US Billboard Hot 100. Bowie received a star on the Hollywood Walk of Fame on 12 February 1997. The Earthling Tour took in Europe and North America between June and November 1997. In November 1997, Bowie performed on the BBC's Children in Need charity single "Perfect Day", which reached number one in the UK. Bowie reunited with Visconti in 1998 to record "(Safe in This) Sky Life" for The Rugrats Movie. Although the track was edited out of the final cut, it was later re-recorded and released as "Safe" on the B-side of Bowie's 2002 single "Everyone Says 'Hi'". The reunion led to other collaborations including a limited-edition single release version of Placebo's track "Without You I'm Nothing", co-produced by Visconti, with Bowie's harmonized vocal added to the original recording.
Throughout the 1990s and 2000s, he continued to experiment with musical styles, including industrial and jungle. No longer as popular as he once was, he still managed to maintain his status as an icon in world music. Some of his most notable albums from this period are 'Outside' (1995), 'Earthling' (1997), 'Hours…'(1999), 'Heathen' (2002), and 'Reality '(2003). He last performed live at a charity event in 2006 and went on a long hiatus, eventually returning a decade later.
In 2004, Bowie received a major health scare when he suffered a heart attack while onstage in Germany. He made a full recovery and went on to work with bands such as Arcade Fire and with the actress Scarlett Johansson on her album Anywhere I Lay My Head (2008), a collection of Tom Waits covers.
In September 1998, Bowie launched an Internet service provider, BowieNet, developed in conjunction with Robert Goodale and Ron Roy. Subscribers to the dial-up service were offered exclusive content, as well as a BowieNet email address and Internet access. The service was closed by 2006.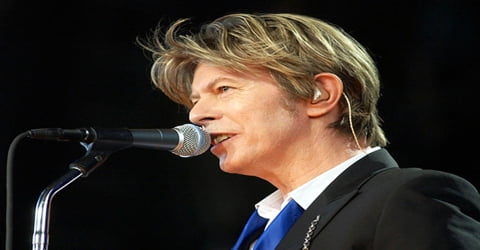 Bowie continued to record into the 21st century, although a fallow period that followed the release of the backward-looking Reality (2003) led to speculation that he had retired. He unexpectedly resurfaced a decade later with The Next Day (2013), a collection of assured, mostly straightforward, rock songs. The searching, jazz-infused Blackstar (2016) was released two days before his death from cancer. In Bowie's final years he also co-wrote the musical Lazarus (premiered 2015), which was inspired by The Man Who Fell to Earth, and he was the subject of a blockbuster art exhibition, David Bowie Is (opened 2013).
In August 2015, it was announced that Bowie was writing songs for a Broadway musical based on the SpongeBob SquarePants cartoon series. Bowie wrote and recorded the opening title song to the television series The Last Panthers, which aired in November 2015. The theme that was used for The Last Panthers was also the title track for his January 2016 release Blackstar which is said to take cues from his earlier krautrock influenced work. According to The Times: "Blackstar may be the oddest work yet from Bowie". On 7 December 2015, Bowie's musical Lazarus debuted in New York. His last public appearance was at opening night of the production. Blackstar was released on 8 January 2016, Bowie's 69th birthday, and was met with critical acclaim.
Awards and Honor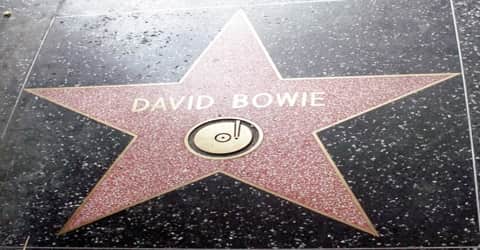 (Bowie's star on the Hollywood Walk of Fame)
Bowie's 1969 commercial breakthrough, the song "Space Oddity", won him an Ivor Novello Special Award For Originality. For his performance in the 1976 science fiction film The Man Who Fell to Earth, he won a Saturn Award for Best Actor.
David Bowie was inducted into the Rock and Roll Hall of Fame in 1996, was a 2006 recipient of the Grammy Lifetime Achievement Award.
In 1999, Bowie was made a Commander of the Ordre des Arts et des Lettres by the French government. He received an honorary doctorate from Berklee College of Music the same year. He declined the royal honor of Commander of the Order of the British Empire (CBE) in 2000 and turned down a knighthood in 2003.
Bowie is the recipient of two Grammy Awards and three Brit Awards (Including Best British Male Artist twice and the award for Outstanding Contribution to Music).
Death and Legacy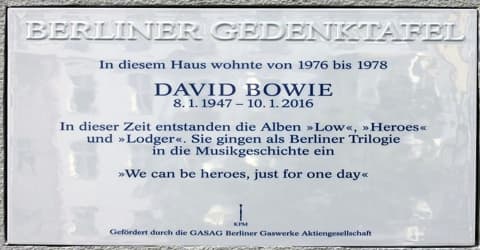 (Berlin Memorial Plaque, Hauptstraße 155, in Schöneberg, Germany)
David Bowie died on 10 January 2016, two days after his 69th birthday after suffering from cancer for several months. Following Bowie's death, fans gathered at impromptu street shrines. At the mural of Bowie in his birthplace of Brixton, south London, which shows him in his Aladdin Sane character, fans laid flowers and sang his songs. Other memorial sites included Berlin, Los Angeles, and outside his apartment in New York. After news of his death, sales of his albums and singles soared. Bowie had insisted that he did not want a funeral, and according to his death certificate he was cremated in New Jersey on 12 January. As he wished in his will, his ashes were scattered in Bali, Indonesia.
Bowie was survived by his wife Iman, his son Duncan Jones and daughter Alexandria, and his step-daughter Zulekha Haywood. Bowie also left behind an impressive musical legacy, which included 26 albums. His producer and friend Tony Visconti wrote on Facebook that his last record, Blackstar, was "his parting gift."
His best-known album was 'The Rise and Fall of Ziggy Stardust and the Spiders from Mars' which is loosely based on a story of a fictional rock star named Ziggy Stardust. The album made Bowie a superstar and was eventually certified platinum and gold in the UK and US respectively. It has been consistently considered one of the greatest albums of all time, with 'Rolling Stone' magazine ranking it the 35th greatest ever.
Bowie's songs and stagecraft brought a new dimension to popular music in the early 1970s, strongly influencing both its immediate forms and its subsequent development. Bowie was a pioneer of glam rock, according to music historians Schinder and Schwartz, who credited Marc Bolan and Bowie with creating the genre. At the same time, he inspired the innovators of the punk rock music movement. Bowie's record company promoted his unique status in popular music with the slogan, "There's an old wave, there's new wave, and there's David Bowie". Musicologist James Perone credited him with having "brought sophistication to rock music", and critical reviews frequently acknowledged the intellectual depth of his work and influence. Human League founder Martyn Ware remarked on the depth of his pervasive artistry that he had lived his life "as though he were an art installation."
In the BBC's 2002 poll of the 100 Greatest Britons, he was ranked 29. In 2004, Rolling Stone magazine ranked him 39th on their list of the 100 Greatest Rock Artists of All Time. Bowie was inducted into the Rock and Roll Hall of Fame in 1996. He was inducted into the Science Fiction and Fantasy Hall of Fame in 2013. In 2016, Rolling Stone proclaimed Bowie "the greatest rock star ever".
On 25 March 2018, a statue of David Bowie was unveiled in Aylesbury, Buckinghamshire, the town where he debuted Ziggy Stardust. The statue features a likeness of Bowie in 2002 accompanied with his alter egos, with Ziggy at the front.
Information Source: