Donald Trump – 45th President of the United States
Full name: Donald John Trump
Date of birth: June 14, 1946 (age 70)
Place of birth: Queens, New York City
Political party: Republican (1987–99, 2009–11, 2012–present)
Other political affiliations: Reform (1999–2001), Democratic (2001–09), Independent (2011–12)
Spouse: Melania Trump (m. 2005), Marla Maples (m. 1993–1999), Ivana Trump (m. 1977–1992)
Children: Ivanka Trump, Tiffany Trump, Eric Trump, Donald Trump Jr., Barron Trump
Occupation: Real estate developer (The Trump Organization), Television producer (The Apprentice)
Early Life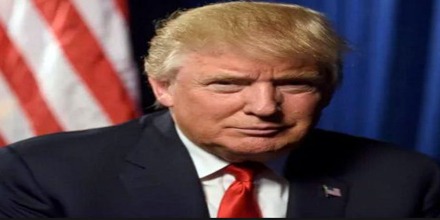 Donald John Trump was born on June 14, 1946, in Queens, New York. He is an American businessman, television personality, politician, and the 45th President of the United States.
In 1971, he became involved in large, profitable building projects in Manhattan. In 1980, he opened the Grand Hyatt, which made him the city's best-known developer. In 2004, Trump began starring in the hit NBC reality series The Apprentice, which also spawned the offshoot The Celebrity Apprentice. Trump turned his attention to politics, and in 2015 he announced his candidacy for president of the United States on the Republican ticket. After winning a majority of the primaries and caucuses, Trump became the official Republican candidate for president on July 19, 2016. That November, Trump was elected the 45th President of the United States, after defeating Democratic candidate Hillary Clinton.
Trump's platform emphasized renegotiating U.S.–China relations and free trade agreements such as NAFTA and the Trans-Pacific Partnership, strongly enforcing immigration laws, and building a new wall along the U.S.–Mexico border. His other positions include pursuing energy independence while opposing climate change regulations such as the Clean Power Plan and the Paris Agreement, modernizing and expediting services for veterans, repealing and replacing the Affordable Care Act, abolishing Common Core education standards, investing in infrastructure, simplifying the tax code while reducing taxes for all economic classes, and imposing tariffs on imports by companies offshoring jobs. He advocates a largely non-interventionist approach to foreign policy while increasing military spending, "extreme vetting" of Muslim immigrants to preempt domestic Islamic terrorism, and aggressive military action against ISIS. His positions have been described by scholars and commentators as populist, protectionist, and nationalist.
Childhood and Educational Life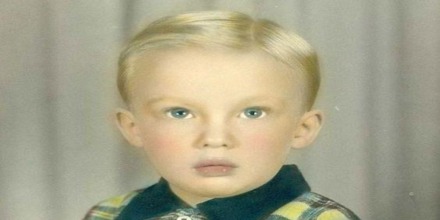 Donald John Trump was born in 1946 in Queens, New York City, the fourth of five children of Frederick C. and Mary MacLeod Trump. His siblings are Maryanne, Fred Jr., Elizabeth, and Robert. Trump's older brother Fred Jr. died in 1981 from alcoholism, which Trump says led him to abstain from alcohol and cigarettes.
Frederick Trump was a builder and real estate developer who specialized in constructing and operating middle-income apartments in Queens, Staten Island and Brooklyn. Donald was an energetic, assertive child, and his parents sent him to the New York Military Academy at age 13, hoping the discipline of the school would channel his energy in a positive manner.
Trump participated in marching drills, wore a uniform, and during his senior year attained the rank of captain. He was transferred from a student command position after the alleged hazing of a new freshman in his barracks by one of Trump's subordinates; Trump later described the transfer as "a promotion".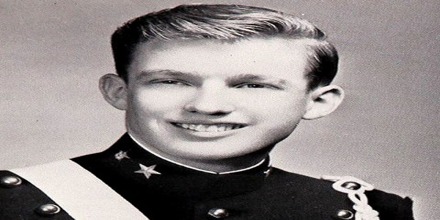 He attended Fordham University in the Bronx for two years, beginning in August 1964. He then transferred to the Wharton School of the University of Pennsylvania in Philadelphia, which offered one of the few real estate studies departments in United States academia at the time. While there, he worked at the family's company, Elizabeth Trump & Son, named for his paternal grandmother. He graduated from Penn in May 1968 with a Bachelor of Science degree in economics.
Trump was not drafted during the Vietnam War. While in college from 1964 to 1968, he obtained four student deferments. In 1966, he was deemed fit for service based upon a military medical examination, and in 1968 was briefly classified as fit by a local draft board, but was given a 1-Y medical deferment in October 1968.
Family and Personal Life
Trump is of paternal German ancestry and maternal Scottish ancestry. His mother and all his grandparents were born in Europe. His paternal grandparents were immigrants from Kallstadt, Germany, and his father, who became a New York City real estate developer, was born in the Bronx. His mother, descended from Clan MacLeod of Lewis, emigrated to New York from her birthplace of Tong, Lewis, Scotland in the Gàidhealtachd. Fred and Mary met in New York and married in 1936, raising their family in Queens.
His uncle, John G. Trump, a professor at MIT from 1936 to 1973, was involved in radar research for the Allies in the Second World War, and helped design X-ray machines that prolonged the lives of cancer patients; in 1943, the Federal Bureau of Investigation requested John Trump examine Nikola Tesla's papers and equipment when Tesla died in his room at the New Yorker Hotel. Donald Trump's grandfather was Frederick Trump, who amassed a fortune operating boom-town restaurants and boarding houses in the region of Seattle and Klondike, Canada.
The Trump family were originally Lutherans, but Trump's parents belonged to the Reformed Church in America. The family name, which was formerly spelled Drumpf, was changed to Trump during the Thirty Years' War in the 17th century. Trump has said that he is proud of his German heritage; he served as grand marshal of the 1999 German-American Steuben Parade in New York City.
In 1977, Trump married Ivana Zelnickova Winklmayr, a New York fashion model who had been an alternate on the 1972 Czech Olympic Ski Team. After the 1977 birth of the couple's first of three children, Donald John Trump Jr., Ivana Trump was named vice president in charge of design in the Trump Organization and played a major role in supervising the renovation of the Commodore and the Plaza Hotel. The couple had two more children together — Ivanka (born in 1981) and Eric (born in 1984) — and went through a highly publicized divorce which was finalized in 1992.
In 1993 Trump married Marla Maples, an actress with whom he had been involved for some time and already had a daughter, Tiffany (born in 1993). Trump would ultimately file for a highly publicized divorce from Maples in 1997, which became final in June 1999. A prenuptial agreement allotted $2 million to Maples.
In January 2005, Trump married for a third time in another highly publicized and lavish wedding, this time to Slovenian model Melania Knauss, more than twenty years his junior. Among the many celebrity guests at the wedding were Hillary Clinton and former President Bill Clinton. She gave birth to their son, Barron William Trump, in March 2006.
Trump's children — Donald Jr., Ivanka and Eric— work as executive vice presidents for The Trump Organization.
Business Career
In 1971 Trump took over the family real estate firm, Elizabeth Trump & Son, and renamed it The Trump Organization. He greatly expanded its real estate operations as well as venturing into numerous other business activities. It eventually became the umbrella organization for several hundred individual business ventures and partnerships.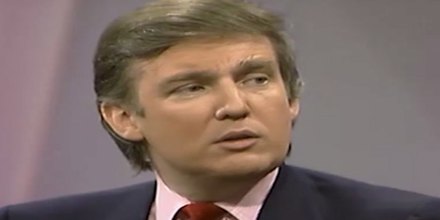 When the Pennsylvania Central Railroad entered bankruptcy, Trump was able to obtain an option (a contract that gives a person the authority to sell something for a specific price during a limited time frame) on the railroad's yards on the west side of Manhattan. When plans for apartments were refused because of a poor economic climate, Trump promoted the property as the location of a city convention center, and the city government selected it over two other sites in 1978. Trump's offer to drop a fee if the center were named after his family, however, was turned down, along with his bid to build the complex.
In 1974 Trump obtained an option on one of the Penn Central's hotels, the Commodore, which was unprofitable but in an excellent location near Grand Central Station. The next year he signed a partnership agreement with the Hyatt Hotel Corporation, which did not have a large downtown hotel. Trump then worked out a complicated deal with the city to revamp the hotel. Renamed the Grand Hyatt, the hotel was popular and an economic success, making Trump the city's best known and most controversial developer.
Trump's business practices were called into question when, in 1973, the federal government filed a complaint against Trump, his father and their company alleging that they had discriminated against tenants and potential tenants based on their race, a violation of the Fair Housing Act, which is part of the Civil Rights Act of 1968. Trump responded to the case in an interview published in the New York Times. "They are absolutely ridiculous," he said of the Justice Department which filed the case. "We never have discriminated, and we never would. There have been a number of local actions against us, and we've won them all. We were charged with discrimination, and we proved in court that we did not discriminate."
After a lengthy legal battle, the case was settled in 1975. As part of the agreement, the Trump Company had to train employees about the Fair Housing Act and inform the community about its fair housing practices. Trump wrote about the resolution of the case in his 1987 memoir Art of the Deal: "In the end, the government couldn't prove its case, and we ended up taking a minor settlement without admitting any guilt."
Meanwhile Trump had set his sights on making a big splash in commercial real estate. In 1974, he obtained an option on one of Penn Central's hotels, the Commodore, which was unprofitable but in an excellent location adjacent to Grand Central Station. The next year he signed a partnership agreement with the Hyatt Hotel Corporation, which did not have a large downtown hotel. Trump then worked out a complex deal with the city to win a 40-year tax abatement, arranged financing and then completely renovated the building, constructing a striking new facade of reflective glass designed by architect Der Scutt. When the hotel, renamed the Grand Hyatt, opened in 1980, it was instantly popular and proved an economic success, making Donald Trump the city's best known developer in the process.
In 1979 Trump rented a site on Fifth Avenue next to the famous Tiffany & Company as the location for a monumental $200 million apartment-retail complex designed by Der Scutt. It was named Trump Tower when it opened in 1982. The fifty-eight-story building featured a six-story courtyard lined with pink marble and included an eighty-foot waterfall. The luxurious building attracted well-known retail stores and celebrity renters and brought Trump national attention.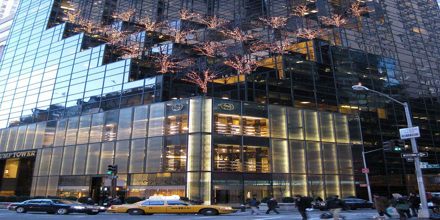 (Trump Tower's distinctive jagged facade in Midtown Manhattan)
During the same period Trump was investigating the profitable casino gambling business, which was approved in New Jersey in 1977, and in 1980 he was able to acquire a piece of property in Atlantic City. Trump brought in his younger brother Robert to head up the complex project of acquiring the land, winning a gambling license and obtaining permits and financing. Holiday Inn Corporation, the parent company of Harrah's casino hotels, offered a partnership, and the $250 million complex opened in 1984 as Harrah's at Trump Plaza. Trump bought out Holiday Inn soon thereafter and renamed the facility Trump Plaza Hotel and Casino. Trump also purchased a Hilton Hotels casino-hotel in Atlantic City when the corporation failed to obtain a gambling license and renamed the $320 million complex Trump's Castle. Later, while it was under construction, he was able to acquire the largest hotel-casino in the world, the Taj Mahal at Atlantic City, which opened in 1990.
Expanding his empire to the south, around this time Trump developed a condominium project in West Palm Beach, Florida, and in 1989 he branched out to purchase the Eastern Air Lines Shuttle for $365 million, which he later renamed the Trump Shuttle. After failing to be profitable, Trump defaulted on the loans and the airline venture ended in 1992 after a merger. In January 1990, Trump flew to Los Angeles to unveil a plan to build a $1 billion commercial and residential project featuring a 125-story office building.
In 2000, Trump construction made headlines again when a state appeals court ruled that he had the right to finish an 856-foot-tall condominium. The Coalition for Responsible Development had sued the city, charging it was violating zoning laws by letting the building reach heights that towered over everything in the neighborhood. The city has since moved to revise its rules to prevent similar projects, but the failure of Trump's opponents to obtain an injunction allowed him to continue construction.
In 2001, Trump completed Trump World Tower, a 72-story residential tower across from the United Nations Headquarters. Trump also began construction on Trump Place, a multi-building development along the Hudson River. He continued to own commercial space in Trump International Hotel and Tower, a 44-story mixed-use (hotel and condominium) tower on Columbus Circle which he acquired in 1996, and also continued to own millions of square feet of other prime Manhattan real estate.
Trump acquired the former Hotel Delmonico in Manhattan in 2002. It was re-opened with 35 stories of luxury condominiums in 2004 as the Trump Park Avenue.
Most recently, The Trump Organization has expanded its footprint beyond the United States, with the co-development and management of hotel towers in Chicago, Honolulu, Las Vegas, New York City, Washington D.C., Panama City, Rio de Janeiro, Toronto, and Vancouver.
Political Career
Presidential Campaigns
On October 7, 1999, Trump announced the formation of an exploratory committee to inform his decision whether or not to seek the Reform Party's nomination for the presidential race of 2000. However, after a poor showing during the California primary, Trump withdrew his candidacy. It would not quell his political aspirations, however.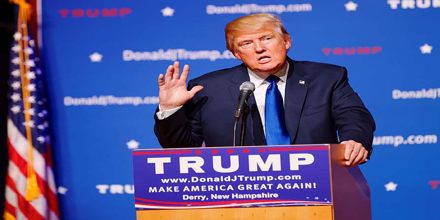 On June 16, 2015, Trump announced his candidacy for President of the United States at Trump Tower in New York City. In the speech, Trump drew attention to domestic issues such as illegal immigration, offshoring of American jobs, the U.S. national debt, and Islamic terrorism, which all remained large themes during the campaign. He also announced his campaign slogan, "Make America Great Again".
Upon Trump's announcement to run for president, his scathing, derogatory remarks about Mexicans and immigration caused NBC to sever business ties with him. "Due to the recent derogatory statements by Donald Trump regarding immigrants, NBCUniversal is ending its business relationship with Mr. Trump," NBC responded in a statement. "To that end, the annual Miss USA and Miss Universe Pageants, which are part of a joint venture between NBC and Trump, will no longer air on NBC."
The statement added: "In addition, as Mr. Trump has already indicated, he will not be participating in The Celebrity Apprentice on NBC. Celebrity Apprentice is licensed from Mark Burnett's United Artists Media Group and that relationship will continue."
In response to NBC, Trump was unapologetic and defiant, filing a $500 million dollar lawsuit against the company, with his daughter Ivanka stating that her father's comments were distorted by the media. Yet among great social outcry, other organizations have withdrawn from associations with Trump as well: The Professional Golfers Association of America pulled plans for its fall Grand Slam tournament to be held at Trump National Golf Club in Los Angeles, while representatives for Macy's announced that the retail chain would no longer carry Trump's menswear collection.
As of March 2016, Trump appeared to be the likely Republican presidential nominee, with only Texas Senator Ted Cruz and Ohio Governor John Kasich holding out hope for their campaigns. Trump maintained a commanding lead over his opponents despite ongoing criticisms and controversies, including his proposal to ban the immigration of Muslims to the United States, an apparent endorsement of waterboarding, and widespread protests at his political rallies, several of which had turned violent.
Trump's decisive Indiana primary victory in May 2016, in which he won 53% of the vote in a three-way race, is marked as the moment he clinched the Republican presidential nomination and laid to rest any notions of a contested convention. On May 26, 2016, 29 unbound delegates told the Associated Press that they would support him at the GOP convention. With their backing, Trump pulled in the support of 1,238 delegates, slightly above the 1,237 delegate count needed to secure the nomination.
On July 21, 2016, Trump accepted the presidential nomination at the Republican National Convention in Cleveland. In a one-hour-and-15-minute long speech, one of the longest acceptance speeches in recent history, Trump outlined the issues he would tackle as president including violence in America, the economy, immigration, trade, terrorism and the appointment of Supreme Court Justices.
On October 7, 2016, just two days before the second presidential debate, Trump was embroiled in another shocking scandal when The Washington Post released a 2005 recording in which he lewdly described kissing and groping women, and trying to have sex with television personality Nancy O'Dell, who was married at the time. The three-minute recording captures Trump speaking to Billy Bush, co-anchor of Access Hollywood, as they prepared to meet soap opera actress Arianne Zucker for a segment of the show. "I've gotta use some Tic Tacs, just in case I start kissing her," Trump said in the recording which was caught on a microphone that had not been turned off. "You know I'm automatically attracted to beautiful — I just start kissing them. It's like a magnet. Just kiss. I don't even wait. And when you're a star they let you do it. You can do anything."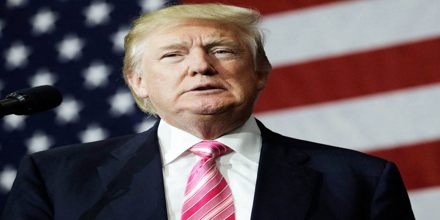 Trump later posted a videotaped apology on Facebook in which he said: "I've never said I'm a perfect person, nor pretended to be someone that I'm not. I've said and done things I regret, and the words released today on this more than a decade-old video are one of them. Anyone who knows me knows these words don't reflect who I am. I said it, I was wrong, and I apologize."
Around the same time as the video leak, numerous women began speaking publicly about their past experiences with Trump, alleging he had either sexually assaulted or harassed them based on their looks. Of the most egregious charges, one woman claimed Trump had raped her when she was 13 years old at a party hosted by convicted pedophile and billionaire Jeffrey Epstein.
Historic Presidential Election 2016
In a stunning victory that defied polls, Trump won the majority of electoral college votes and was elected the 45th president of the United States on November 8, 2016. After one of the most contentious presidential races in U.S. history, Trump's surprising rise to the office of president was considered a resounding rejection of establishment politics by blue-collar and working class Americans. In his victory speech delivered at 2:30 am the following morning at the Hilton Hotel in New York City, Trump said: "I pledge to every citizen of our land that I will be president for all Americans."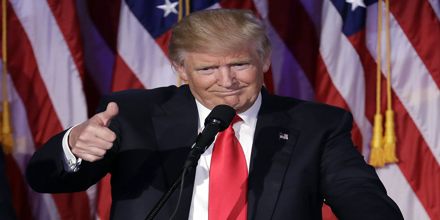 Trump acknowledged his opponent, who called him to concede, saying: "Hillary has worked very long and very hard over a long period of time, and we owe her a major debt of gratitude for her service to our country. I mean that very sincerely."
He ended his victory speech with a promise to the country. "We're going to get to work immediately for the American people," he said. "And we're going to be doing a job that hopefully you will be so proud of your president. You'll be so proud. Again, it's my honor. It was an amazing evening. It's been an amazing two-year period. And I love this country."
Presidency Career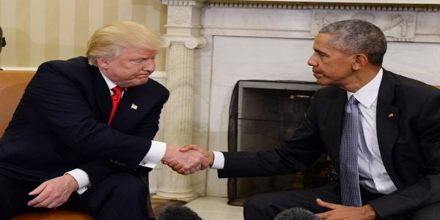 On November 10, President-elect Trump had his first meeting with President Obama to discuss plans for a peaceful transition of power. The New York Times stated that "It was an extraordinary show of cordiality and respect between two men who have been political enemies and are stylistic opposites." The BBC stated that "their antipathy was barely concealed" in "awkward photos" of the meeting.
Trump's transition team was led by Chris Christie until November 11, 2016, when Vice President-elect Mike Pence took over. Since then, Trump has chosen RNC chairman Reince Priebus as White House Chief of Staff and businessman and media executive Steve Bannon as Counselor to the President.
In December 2016, Time magazine named Trump its Person of the Year, calling him "president of the divided states of America." In response, Trump said: "When you say divided states of America, I didn't divide them. They're divided now. I mean there's a lot of division, and we're going to put it back together and we're going to have a country that's very well healed."
Presidential Inauguration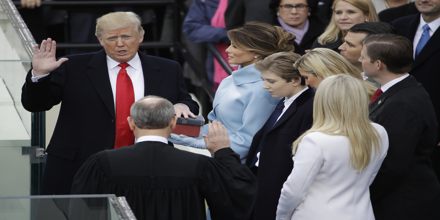 On January 19, 2017, the president-elect, his wife Melania and family attended a pre-inauguration concert on the steps of the Lincoln Memorial. Actor Jon Voight spoke and musicians Sam Moore, Lee Greenwood, Toby Keith, The Piano Guys and the band 3 Doors Down performed. Trump addressed the crowd of thousands at the end of the concert, saying: "This journey began 18 months ago. I had something to do with it, but you had much more to do with it than I did. I'm the messenger. I'm just the messenger. We all got tired of seeing what was happening, and we wanted change, but we wanted real change."
The following day, on January 20, 2017, Trump was sworn in as the 45th president of the United States by Chief Justice of the United States John Roberts. Trump took the oath of office placing his hand on the Bible that was used at Abraham Lincoln's inauguration and his own family Bible, which was presented to him by his mother in 1955 when he graduated from Sunday school at his family's Presbyterian church.
Immigration Order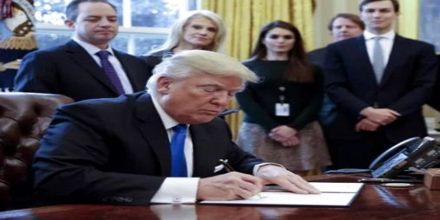 On January 27, an order suspended admission of refugees for 120 days and denied entry to citizens of Iraq, Iran, Libya, Somalia, Sudan, Syria and Yemen for 90 days, citing security concerns about terrorism. The following day, thousands of protesters gathered at airports and other locations throughout the United States to protest the signing of the order and detainment of the foreign nationals. Later, the administration seemed to reverse a portion of part of the order, effectively exempting visitors with a green card. Two Iraqi nationals detained upon arrival filed a complaint. Several federal judges issued rulings that curtailed parts of the immigration order, stopping the federal government from deporting visitors already affected.
Supreme Court nomination
On January 31, Trump nominated U.S. Appeals Court judge Neil Gorsuch to fill the vacancy on the Supreme Court left by the death of Justice Antonin Scalia.
Awards and Honours
The Jewish National Fund's Tree of Life Award for outstanding contributions to Israel–United States relations. (1983)
The Ellis Island Medal of Honor in celebration of "patriotism, tolerance, brotherhood and diversity". (1986)
Golden Raspberry Award for Worst Supporting Actor for his role in Ghosts Can't Do It (1990)
Gaming Hall of Fame (1995)
Street in Kalispell, Montana named Trump Drive (Montana real estate developer Hubert Turner named the streets on his Empire Estates properties after famous NYC business moguls).
Star on the Hollywood Walk of Fame (2007)
Muhammad Ali Entrepreneur Award (2007)
Trump was awarded an honorary doctorate of business administration by Scotland's Robert Gordon University in 2010. The degree was revoked on December 9, 2015, because Trump had made statements that the university deemed "wholly incompatible" with its "ethos and values".
NY Ride of Fame (2010)
Honorary doctorate of business, Liberty University (2012)
WWE Hall of Fame (2013)
The Algemeiner Liberty Award for contributions to Israel–United States relations. (2015)
New Jersey Boxing Hall of Fame (2015)
Marine Corps–Law Enforcement Foundation Commandant's Leadership Award (2015) Trump received the award for pledging to donate $100,000 to the charity, and later claimed he was "given the biggest award by the Marines". The charity is not legally affiliated with the Marine Corps, though the award was presented by Marine Commandant General Joseph Dunford.
Key to the City of Doral, Florida (2015)
Time Person of the Year (2016)
Financial Times Person of the Year (2016)