Biography of Dorothy Dandridge
Dorothy Dandridge – American film and theatre actress, singer, and dancer.
Name: Dorothy Jean Dandridge
Date of Birth: November 9, 1922
Place of Birth: Cleveland, Ohio, United States
Date of Death: September 8, 1965 (aged 42)
Place of Death: West Hollywood, California, United States
Occupation: Actress, Singer, Dancer
Father: Cyril Dandridge
Mother: Ruby Dandridge
Spouse/Ex: Harold Nicholas (m. 1942; div. 1951), Jack Denison (m. 1959; div. 1962)
Children: Harolyn Suzanne Nicholas
Early Life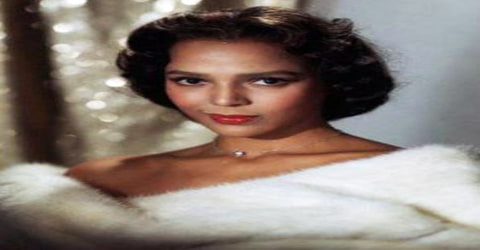 An American singer and film actress who was the first black woman to be nominated for an Academy Award for best actress, Dorothy Dandridge was born on November 9, 1922 in Cleveland, Ohio, to aspiring entertainer Ruby Dandridge (née Butler) and Cyril Dandridge, a cabinetmaker and Baptist minister, who had separated just before her birth. Dandridge performed as a vocalist in venues such as the Cotton Club and the Apollo Theater. During her early career, she performed as a part of The Wonder Children, later The Dandridge Sisters, and appeared in a succession of films, usually in uncredited roles.
It was not at all easy for her as a black woman living in a prejudiced society to get lead or substantial roles that were easily available for the white-skinned divas and many of her initial films went without any credit. However, her stunning beauty and charm along with acting and singing prowess helped her become the first African-American actress to bag leading roles in Hollywood in a career that did not have a long span but was marked with noteworthy films. Some of her notable films were 'Island in the Sun', 'The Murder Men' and 'Porgy and Bess'. But this glamorous and remarkably talented performer faced an extremely perturbed life that was marked with a depressing childhood, fighting with the odds of racism, coming to terms with a number of unsuccessful relations, several setbacks in professional life, financial woes and the continuous battle against alcohol and drug abuse.
In 1959 Dandridge was nominated for a Golden Globe Award for Porgy and Bess. She is the subject of the 1999 HBO biographical film, Introducing Dorothy Dandridge. She has been recognized with a star on the Hollywood Walk of Fame. Dandridge was married and divorced twice, first to dancer Harold Nicholas (the father of her daughter, Harolyn Suzanne) and then to hotel owner Jack Denison. Dandridge died under mysterious circumstances at age 42. The 1999 biopic, 'Introducing Dorothy Dandridge' was based on her. This yesteryear diva left the world under mysterious circumstances.
Childhood, Family and Educational Life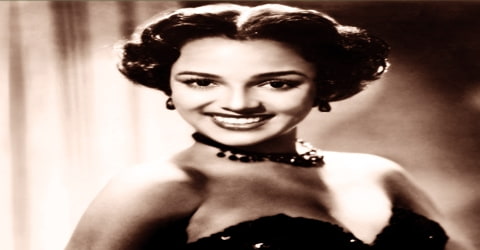 Dorothy Dandridge, in full Dorothy Jean Dandridge, was born on November 9, 1922, in Cleveland, Ohio, as the second child of Cyril Dandridge and Ruby Dandridge. Her father was a cabinetmaker and minister while mother was an actress. Dandridge never saw her father as her parents separated when her mother was pregnant with her.
Dandridge and her family were listed as African-American in the US Federal Census. Ruby created a song-and-dance act for her two young daughters, Vivian and Dorothy, under the name The Wonder Children, that was managed by Geneva Williams. The sisters toured the Southern United States almost nonstop for five years (rarely attending school), while Ruby worked and performed in Cleveland.
Dandridge hardly attended school in the five years of a rigorous tour that they conducted with their song-and-dance team and led a miserable childhood in the hands of Williams who was a strict disciplinarian and often cruel to her. She faced years of physical, emotional and sexual abuse at the hands of Williams. The Great Depression resulted in a dearth of work so Ruby relocated to Hollywood, California in 1930 with her two daughters in search of steady work. While Ruby began working in radio and films doing bit parts mostly as a domestic servant, typical roles offered at that time to black actresses and actors, Dandridge began to study at the 'McKinley Junior High School'.
The Wonder Children were renamed The Dandridge Sisters in 1934, and Dandridge and her sister were teamed with dance schoolmate Etta Jones.
Personal Life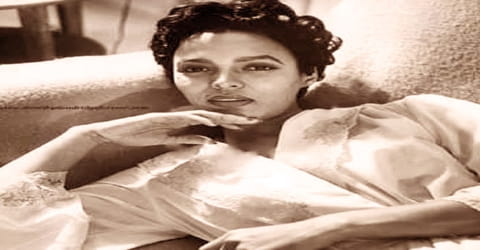 Dorothy Dandridge married twice. Her first marriage was with dancer and entertainer Harold Nicholas on September 6, 1942. She gave birth to her only child, Harolyn Suzanne Nicholas, on September 2, 1943. Harolyn was born with brain damage and required constant care. By 1948, their marriage had deteriorated, and Nicholas abandoned the family. The couple divorced in October 1951.
While filming Carmen Jones (1954), she began an affair with director Otto Preminger that lasted four years, during which Preminger advised her on career matters, demanding she accepts only starring roles. Dandridge later regretted following his advice. She became pregnant by him in 1955 but was forced to have an abortion by the studio. She ended the affair when she realized that Preminger had no plans to leave his wife to marry her. Their affair was depicted in the HBO Films biopic Introducing Dorothy Dandridge, in which Preminger was portrayed by Austrian actor Klaus Maria Brandauer.
After separating from Harold Nicholas, Dandridge married Jack Denison on June 22, 1959, but the couple separated sometime in 1962.
Dandridge was a Democrat who supported the campaign of Adlai Stevenson during the 1952 presidential election. Having developed an interest in activism due to the racism she encountered in the industry, Dandridge became involved with the National Urban League and the National Association for the Advancement of Colored People.
Career and Works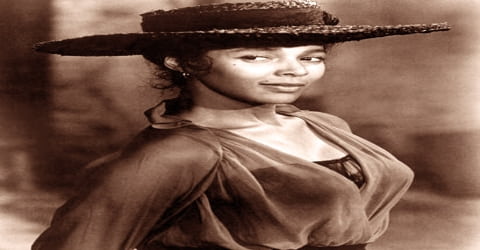 Dorothy Dandridge's mother was an entertainer and comedic actress who, after settling in Los Angeles, had some success in radio and, later, television. The young Dorothy and her sister Vivian began performing publicly as children and in the 1930s joined a third (unrelated) girl as the Dandridge Sisters, singing and dancing. The Dandridge Sisters continued strong for several years and were booked in several high-profile nightclubs, including the Cotton Club and the Apollo Theater. As a part of The Dandridge Sisters, Dandridge also appeared in The Big Broadcast of 1936 (1936) with Bill "Bojangles" Robinson, 'A Day at the Races' with the Marx Brothers, and It Can't Last Forever (both 1937) with the Jackson Brothers. Although these appearances were relatively minor, Dandridge continued to earn recognition through continuing her nightclub performances nationwide.
Dandridge made her debut in films as Dorothy, a cabin kid, with 'Our Gang' short comedy film 'Teacher's Beau' released on April 27, 1935. Thereafter she gave many uncredited performances as part of 'The Dandridge Sisters' in films like 'It Can't Last Forever' (1937), 'A Day at the Races' (1937) and 'Going Places' (1938). The role of Helen Fielding was her first credited film role that she did for the 1940 released supernatural crime film 'Four Shall Die' directed by William Beaudine. Apart from films she also featured in a series of soundies like 'Jig in the Jungle', 'Cow, Cow Boogie' and 'Paper Doll' that again showcased her talent in acting and singing.
Meanwhile, Dandridge continued her singing career, and with Vivian performed as the Dandridge Sisters, sharing stages with the likes of Jimmie Lunceford and Cab Calloway as well as recording with Louis Armstrong. During the early '40s, Dandridge appeared in a series of musical film shorts, and as the decade progressed she became a sensation on the nightclub circuit; eventually appearing in such popular clubs as the Waldorf Astoria's Empire Room in New York City.
Dandridge had small roles in Lady from Louisiana with John Wayne and Sundown with Gene Tierney (both in 1941). Dandridge appeared as part of a Specialty Number, Chattanooga Choo Choo, in the hit 1941 musical Sun Valley Serenade for 20th Century Fox. The film marked the first time she performed with the Nicholas Brothers. Aside from her film appearances, Dandridge appeared in a succession of "soundies" – film clips that were displayed on jukeboxes, including "Paper Doll" by the Mills Brothers, "Cow, Cow Boogie", "Jig in the Jungle", and "Mr. and Mrs. Carpenter's Rent Party" aka "Swing for my Supper", among others. These films were noted not only for showcasing Dandridge as singer and dancer and her acting abilities, but also for featuring a strong emphasis on her physical attributes.
While struggling with her career Dandridge also faced personal setbacks with regard to her marital life and motherhood. To overcome all odds she chose to immerse herself into more work and in that pursuit took acting, singing and dancing lessons. She returned to the nightclub circuit and began performing at high-end nightclubs and supper clubs as a successful solo singer.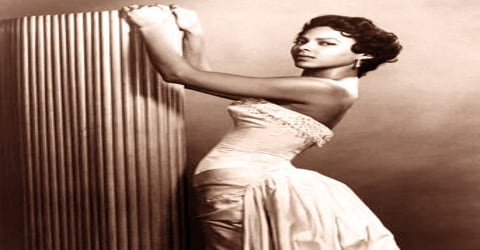 In 1951, Dandridge appeared as Melmendi, Queen of the Ashuba in Tarzan's Peril, starring Lex Barker and Virginia Huston. When the Motion Picture Production Code tut-tutted about the film's "blunt sexuality", Dandridge received considerable attention for wearing what was considered "provocatively revealing" clothing. The continuing publicity buzz surrounding Dandridge's wardrobe got her pictured on the April 1951 cover of Ebony. That same year, she had a supporting role in The Harlem Globetrotters (1951).
In 1951 Dandridge became the first African-American to perform at the 'Empire Room', the supper club of 'Waldorf-Astoria Hotel' in New York City. After having a successful stint at the 'Mocambo' in Hollywood breaking attendance record and such other endeavours, Dandridge became an international star performing around the world including in San Francisco, Rio de Janerio and London.
In May 1951, Dandridge spectacularly opened at the Mocambo nightclub in West Hollywood after assiduous coaching and decisions on style with pianist Phil Moore. This success seemed a new turn to her career and she appeared in New York and London with equal success. In a return engagement at the Mocambo in December 1952, a Metro-Goldwyn-Mayer studio agent saw Dandridge and recommended to Production Chief Dore Schary that she might make an appearance as a club singer, in her own name, in Remains to Be Seen, already in production. During that period she also worked in some TV variety programs.
In 1953 Dandridge bagged the most remarkable film of her career, 'Carmen Jones', an all-black musical based on Oscar Hammerstein II's 1943 Broadway musical of the same title. Directed and written by Otto Preminger and released on October 28, 1954, the film became a critical and huge commercial success worldwide garnering $9.8 million at the box-office. An outstanding performance of Dandridge in the title role in 'Carmen Jones' not only earned her critical acclaim and established her as a sex symbol but also fetched her nomination for Academy Award for Best Actress, marking her as the first African-American actress to be nominated for such an award. She also earned a BAFTA and a Golden Globe nomination for Best Actress. 'Life' magazine featured her on its cover on November 1, 1954, thus marking yet another accomplishment for her as the first black woman to achieve such feat.
On February 15, 1955, Dandridge signed a three-movie deal with 20th Century Fox starting at $75,000 a film. Darryl F. Zanuck, the studio head, had personally suggested the studio sign Dandridge to a contract. Zanuck had big plans for her, hoping she would evolve into the first African-American screen icon. He purchased the film rights to The Blue Angel and intended to cast her as saloon singer Lola-Lola in an all-black remake of the original 1930 film. She was also scheduled to star as Cigarette in a remake of Under Two Flags. Meanwhile, Dandridge agreed to play the role of Tuptim in a film version of The King and I and a sultry upstairs neighbor in The Lieutenant Wore Skirts. However, her former director and now-lover Otto Preminger, suggested she accept only leading roles. As an international star, Dorothy Dandridge rejected the two lesser roles and they were eventually given to Puerto Rican actress Rita Moreno.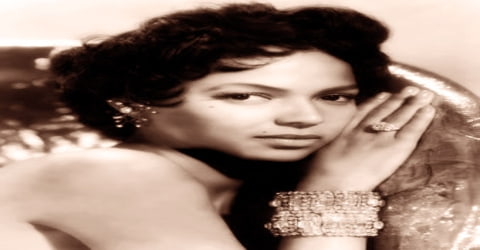 Because Dandridge was a black woman in a racially tense era, film offers thereafter did not come readily, though she did appear in Island in the Sun (1957), which dealt with miscegenation and costarred Harry Belafonte, as well as in The Decks Ran Red (1958), Tamango (1959), and Moment of Danger (1960). One of her most important roles was Bess in Preminger's handsomely produced Porgy and Bess (1959), starring opposite Sidney Poitier.
In 1959, Dandridge starred in a low-budget British thriller, Malaga, in which she played a European woman with an Italian name. The film, co-starring Trevor Howard and Edmund Purdom, plotted a jewel robbery and its aftermath. Some pre-release publicity invited the belief that Dandridge received her first, and only, on-screen kiss with a white actor (Howard) in this film. This was not so (see her film Tamango above), but the actor and actress, under László Benedek's direction, created some strongly understated sexual tension. The film was withheld from a theatrical release abroad until 1960 but went unreleased in the United States until 1962. Malaga was her final completed film appearance.
Her last notable film was Otto Preminger directed musical 'Porgy and Bess' (released on June 24, 1959). It was based on a 1935 opera bearing the same title. Dandridge earned Golden Globe nomination for Best Actress for essaying the role of Bess in the film. It is considered by many as her finest performance.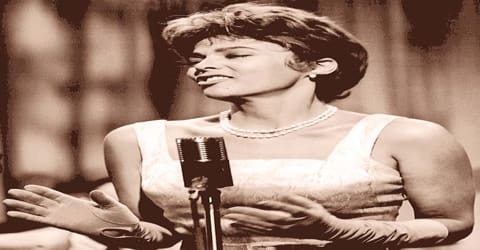 Dandridge first gained fame as a solo artist from her performances in nightclubs, usually accompanied by Phil Moore on piano. Although she was known for her renditions of songs such as "Blow Out the Candle", "You Do Something to Me", and "Talk Sweet Talk To Me", she recorded very little on vinyl. It is unknown whether her lacks of recording were due to personal choice or lack of opportunity. In 1958, Dandridge recorded a full-length album for Verve Records featuring Oscar Peterson with Herb Ellis, Ray Brown, and Alvin Stoller (Catalogue #314 547-514 2) that remained unreleased in the vaults until a CD release in 1999. The tracks "It's a Beautiful Evening" and "Smooth Operator" were aborted for release as a single and remained in the Verve vaults until the Smooth Operator release in 1999. These are the only known songs Dandridge recorded on vinyl. Several songs she sang, including her version of "Cow-Cow Boogie", were recorded on soundies and are not included on this list.
Awards and Honor
On January 18, 1983, Dorothy Dandridge has posthumously conferred a Star on the Hollywood Walk of Fame at 6719 Hollywood Boulevard.
Death and Legacy
On September 8, 1965, Dorothy Dandridge died in mysterious circumstances in West Hollywood, California, the cause of which is split between an accidental overdose of Imipramine and embolism. Her funeral service was held on September 12, 1965, at the 'Little Chapel of the Flowers'. Following cremation, her ashes were buried in the Freedom Mausoleum at 'Forest Lawn Cemetery'.
Three decades later, her career enjoyed a kind of renaissance with an acclaimed 1997 biography by film historian Donald Bogle in addition to Introducing Dorothy Dandridge, a 1999 HBO film starring Halle Berry. Smooth Operator, a long-unreleased recording date from 1958 featuring the Oscar Peterson trio, was finally issued in 1999 as well.
Recording artist Janelle Monáe performs a song entitled "Dorothy Dandridge Eyes" on her 2013 album The Electric Lady, with Esperanza Spalding. In the 1969 movie The Lost Man, a character Dorothy Starr (played by Beverly Todd) states that she named herself after Dandridge. In the February 2016 episode of Black-ish, "Sink or Swim," Beyoncé is referred to as the Dorothy Dandridge of her time, citing the star power Dandridge wielded in her day.
Information Source: