Biography of Ella Fitzgerald
Ella Fitzgerald – American jazz singer.
Name: Ella Jane Fitzgerald
Date of Birth: April 25, 1917
Place of Birth: Newport News, Virginia, United States
Date of Death: June 15, 1996 (aged 79)
Place of Death: Beverly Hills, California, United States
Occupation: Singer
Father: William Fitzgerald
Mother: Temperance Fitzgerald
Spouse/Ex: Benny Kornegay (m. 1941; annulled 1943), Ray Brown (m. 1947; div. 1953)
Children: Ray Brown Jr.
Early Life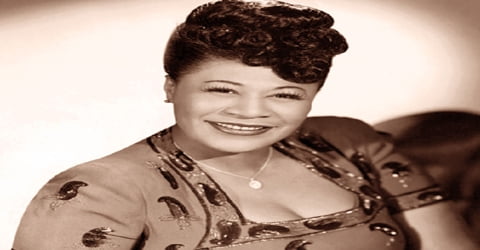 An American jazz singer, Ella Fitzgerald, who became world famous for the wide range and rare sweetness of her voice, and she was born on April 25, 1917, in Newport News, Virginia, U.S. She became an international legend during a career that spanned some six decades. Recognized worldwide as "The First Lady of Song," Ella Fitzgerald is arguably the finest female jazz vocalist of all time. Blessed with a highly resonant voice, wide range, and near-perfect elocution, Fitzgerald also possessed a deft sense of swing, and with her brilliant scat technique, could hold her own against any of her instrumental contemporaries.
Popularly known as the 'First Lady of Song', she harbored the dream of becoming an entertainer from a young age and entered in an amateur contest at Harlem's Apollo Theater in 1934. She not only wowed the audience with her voice but also won the first prize of $25. After she met drummer and bandleader Chick Webb, she started singing in his group. Her song 'A-Tisket, A-Tasket' became her first No. 1 hit in 1938, followed by her second hit, 'I Found My Yellow Basket', co-written by her. After Webb's death, Ella became the leader of the band, which she renamed as Ella Fitzgerald and Her Famous Orchestra. While her career took off in 1946, it reached its peak in the 1950s and 1960s, when she earned the title of the 'First Lady of Song' for her unparalleled popularity and vocal talents. Her ability to mimic instrumental sounds and her vocal improvisation of scatting became her signature techniques.
Fitzgerald made history by winning a Grammy Award in 1958, the first won by any African-American woman. Over the course of her career, she recorded over 200 albums and more than 2,000 songs and sold more than 40 million albums. A hugely important cultural figure, Fitzgerald has had an immeasurable impact on the development of jazz and popular music and remains a touchstone for fans and artists decades after her passing.
In 1993, Fitzgerald ended her nearly 60-year career with her last public performance. Three years later, she died at the age of 79 after years of declining health. Her accolades included fourteen Grammy Awards, the National Medal of Arts, and the Presidential Medal of Freedom.
Childhood, Family and Educational Life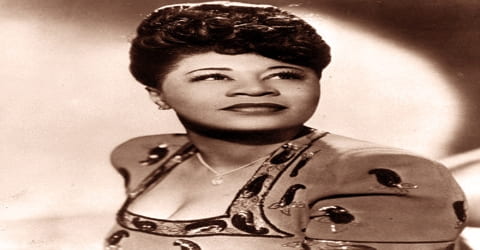 Ella Fitzgerald, in full Ella Jane Fitzgerald, was born on April 25, 1917, in Newport News, Virginia, the U.S. to William Fitzgerald and Temperance 'Tempie' Fitzgerald. Her parents were not legally married. When she was two-and-a-half-years-old, her parents separated. In the early 1920s, Fitzgerald's mother and her boyfriend, Joseph Da Silva, a Portuguese immigrant, moved to Yonkers, New York. Her half-sister, Frances Da Silva, was born in 1923.
By 1925, Fitzgerald and her family had moved to nearby School Street, a poor Italian area. She began her formal education at the age of six and was an outstanding student, moving through a variety of schools before attending Benjamin Franklin Junior High School in 1929. Since she was fond of singing and dancing, her church provided her with formal music lessons and some piano lessons. Fitzgerald performed for her peers on the way to school and at lunchtime. She and her family were Methodists and were active in the Bethany African Methodist Episcopal Church. She regularly attended worship services, Bible study, and Sunday school. The church provided Fitzgerald with her earliest experiences in music. She may also have had a short series of piano lessons during this period.
When Ella Fitzgerald was 15, her mother died from serious injuries she suffered in a car accident. In 1933, she moved in with her aunt in Harlem, maybe because her stepfather abused her, as speculated by her biographer Stuart Nicholson. Ella never spoke in public about her tormented childhood. Following these traumatic experiences, she started skipping school. During this period, she became involved in minor illegal activities, so the authorities caught her and placed her in the Colored Orphan Asylum in Riverdale. She was soon moved to the New York Training School for Girls in Hudson. However, Ella escaped from the school and was homeless for some time. She used to sing on the streets to make her living.
Personal Life
Ella Fitzgerald married at least twice, and there is evidence that suggests that she may have married a third time. She first married Benny Kornegay, a convicted drug dealer, in 1941, but the marriage was annulled in 1942. She married bass player Ray Brown in 1947. They adopted her half-sister's son, whom they named Ray Brown Jr. Fitzgerald and Brown divorced in 1953.
In July 1957, it was reported by Reuters that Ella had secretly married Thor Einar Larsen, a Norwegian. Larsen got into legal trouble when he was arrested for stealing money from a young woman.
Fitzgerald was notoriously shy. Trumpet player Mario Bauzá, who played behind Fitzgerald in her early years with Chick Webb, remembered that "she didn't hang out much. When she got into the band, she was dedicated to her music….She was a lonely girl around New York, just kept herself to herself, for the gig." When, later in her career, the Society of Singers named an award after her, Fitzgerald explained, "I don't want to say the wrong thing, which I always do but I think I do better when I sing."
Fitzgerald was a civil rights activist. During the Jazz at the Philharmonic tour, it was ensured that there were no separate seating arrangements for 'colored' or 'white' people. However, throughout her career, she faced racial discrimination. In 1954, she was not allowed to board the Pan American flight due to racial discrimination.
In 1993, Fitzgerald established the Ella Fitzgerald Charitable Foundation focusing on charitable grants for four major categories: academic opportunities for children, music education, basic care needs for the less fortunate, medical research revolving around diabetes, heart disease, and vision impaired. Her goals were to give back and provide opportunities for those "at risk" and less fortunate. In addition, she supported several nonprofit organizations like the American Heart Association, City of Hope, and the Retina Foundation.
Career and Works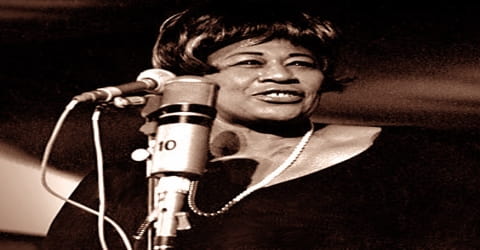 On November 21, 1934, Ella Fitzgerald took part in a contest at Amateur Nights at the Apollo Theater. She sang 'Judy' and 'The Object of My Affection', and won the first prize of $25.
In January 1935, Fitzgerald won the chance to perform for a week with the Tiny Bradshaw band at the Harlem Opera House. She was introduced to drummer and bandleader Chick Webb, who had asked his recently signed singer Charlie Linton to help find him a female singer. Although Webb was "reluctant to sign her…because she was gawky and unkempt, a 'diamond in the rough,'" he offered her the opportunity to test with his band when they played a dance at Yale University. During this time, she met drummer and bandleader Chick Webb and started singing in the band. She recorded the songs 'Love and Kisses' and '(If You Can't Sing It) You'll Have to Swing It (Mr. Paganini)' with the band, which became immediate hits.
Fitzgerald won the crowd over and spent the next few years with the drummer, who became her legal guardian and reworked his show to feature the singer. The band's fame grew exponentially with Fitzgerald, as they dominated at the Savoy battle of the bands, and issued a string of Decca 78s, scoring hits "A Tisket-A-Tasket," in 1938, and the B-side "T'aint What You Do (It's the Way That You Do It)," as well as "Liza," and "Undecided." As the singer's career was on the rise, Webb's health had begun to decline. Though only in his thirties, the drummer, who had struggled with congenital spinal tuberculosis throughout his life, would purportedly collapse from exhaustion after playing a set. Nonetheless, he forged onwards, hoping to keep his band working through the Depression. In 1939, not long after undergoing major surgery at Johns Hopkins Hospital in Baltimore, Maryland, Webb died. Following his death, Fitzgerald continued to front his band with much success until 1941, when she decided to pursue a solo career.
In 1942, Fitzgerald left the band to begin a solo career. While working for Decca Records, she had hits with Bill Kenny & the Ink Spots, Louis Jordan, and the Delta Rhythm Boys. Producer Norman Granz became her manager in the mid-1940s after she began singing for Jazz at the Philharmonic, a concert series begun by Granz. She also worked regularly for the jazz artist Norman Granz and appeared in his Philharmonic concerts. Later, Granz became her manager.
Fitzgerald made her film debut as Ruby in the comedy 'Ride 'Em Cowboy' the same year. Between 1935 and 1942, she recorded about 150 songs with the orchestra. She also recorded with the Benny Goodman Orchestra. Her 1945 scat recording of "Flying Home" arranged by Vic Schoen would later be described by The New York Times as "one of the most influential vocal jazz records of the decade….Where other singers, most notably Louis Armstrong, had tried similar improvisation, no one before Miss Fitzgerald employed the technique with such dazzling inventiveness."
Fitzgerald toured with Dizzy Gillespie's big band, and soon adopted bebop as an integral part of her style, punctuating her live sets with instrumental-style scat solos that wowed audiences and earned her respect from her fellow musicians. Her recordings of "Lady Be Good," "How High the Moon," and "Flying Home" during 1945-1947 were released to great acclaim and helped solidify her stature as a major jazz vocalist. It was while working with Gillespie that she met and married bassist Ray Brown, living with him from 1947 to 1953, during which time she often performed with his trio. The couple also adopted a son, Ray Brown, Jr., (born to Fitzgerald's half-sister Frances in 1949) who would go on to his own career as a pianist and vocalist. In 1951, the singer paired with pianist Ellis Larkins for the duets album Ella Sings Gershwin, on which she interpreted George Gershwin songs, prefiguring her later Songbooks series.
During much of her early career, Fitzgerald had been noted for singing and recording novelty songs. Her status rose dramatically in the 1950s when jazz impresario Norman Granz became her manager. From 1956 to 1964 she recorded a 19-volume series of "songbooks," in which she interpreted nearly 250 outstanding songs by Richard Rodgers, Cole Porter, George Gershwin, Duke Ellington, Jerome Kern, Irving Berlin, and Johnny Mercer. This material, combined with the best jazz instrumental support, clearly demonstrated Fitzgerald's remarkable interpretative skills. Although her diction was excellent, her rendition of lyrics was intuitive rather than studied. For many years the star attraction of Granz's Jazz at the Philharmonic concert tours, she was also one of the best-selling jazz vocal recording artists in history.
From 1956 to 1964, Ella Fitzgerald released eight songbooks or studio albums for Verve Record, the first one being 'Ella Fitzgerald Sings the Cole Porter Song Book,' released in 1956. 'Ella Fitzgerald Sings the Duke Ellington Song Book' was released in 1957. She was also an occasional actress. One of her most notable film roles was the part she played of singer Maggie Jackson in the 1955 jazz film 'Pete Kelly's Blues'. She made innumerable guest appearances on television shows like 'The Frank Sinatra Show', 'The Andy Williams Show', and 'The Pat Boone Chevy Showroom.'
The prestigious albums, which earned Fitzgerald her first four Grammys at the 1959 and 1958 Grammy Awards, further raised her stature as one of the great singers of all time. Other soon-to-be-classic albums followed, including her 1956 pairing with Louis Armstrong Ella & Louis, 1957's Like Someone in Love, and 1958's Porgy and Bess with Armstrong. Also under Granz's guidance, Fitzgerald toured often, issuing a handful of highly regarded live concert albums. Among them, 1960's Ella in Berlin included her off-the-cuff take on "Mack the Knife" in which she forgot the lyrics and improvised her own. One of the best-selling albums of her career, Ella in Berlin earned her Grammy Awards for Best Vocal Performance Single Record or Track, Female, and Best Vocal Performance Album, Female. The album was later inducted into the Grammy Hall of Fame in 1999.
While recording the Song Books and the occasional studio album, Fitzgerald toured 40 to 45 weeks per year in the United States and internationally, under the tutelage of Norman Granz. Granz helped solidify her position as one of the leading live jazz performers. In 1961 Fitzgerald bought a house in the Klampenborg district of Copenhagen, Denmark after she began a relationship with a Danish man. Though the relationship ended after a year, Fitzgerald regularly returned to Denmark over the next three years and even considered buying a jazz club there. The house was sold in 1963, and Fitzgerald permanently returned to the United States. There are several live albums on Verve that are highly regarded by critics. At the Opera House shows a typical JATP set from Fitzgerald. Ella in Rome and Twelve Nights in Hollywood display her vocal jazz canon. Ella in Berlin is still one of her best-selling albums; it includes a Grammy-winning performance of "Mack the Knife" in which she forgets the lyrics but improvises magnificently to compensate.
Verve Records was sold to MGM in 1963 for $3 million, and by 1967 Fitzgerald found herself without a contract. She spent the next few years recording for a number of labels like Capitol, Atlantic, and Reprise. Her albums during these years also found her updating her repertoire with modern pop and rock songs such as Cream's "Sunshine of Your Love" and the Beatles' "Hey Jude." She sang traditional hymns on 1967's Brighten the Corner, while 1969's Ella included her last U.S. chart single with a cover of Smokey Robinson's "Get Ready." Nonetheless, Fitzgerald remained an immensely popular and highly regarded performer.
During the 1970s Fitzgerald began to experience serious health problems, but she continued to perform periodically, even after heart surgery in 1986. In 1993, however, her career was curtailed following complications stemming from diabetes, which resulted in the amputation of both her legs below the knees.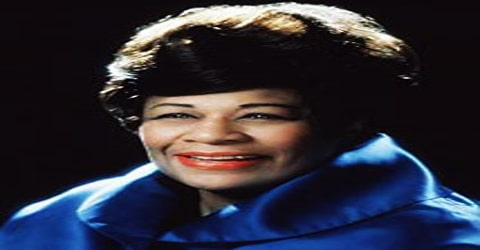 The surprise success of the 1972 album Jazz at Santa Monica Civic '72 led Granz to found Pablo Records, his first record label since the sale of Verve. Fitzgerald recorded some 20 albums for the label. Ella in London recorded live in 1974 with pianist Tommy Flanagan, guitarist Joe Pass, bassist Keter Betts, and drummer Bobby Durham was considered by many to be some of her best work. The following year she again performed with Joe Pass on German television station NDR in Hamburg. Her years with Pablo Records also documented the decline in her voice. "She frequently used shorter, stabbing phrases, and her voice was harder, with a wider vibrato", one biographer wrote. Plagued by health problems, Fitzgerald made her last recording in 1991 and her last public performances in 1993.
Awards and Honor
Ella Fitzgerald won 14 Grammy Awards. In 1958, she received her first two Grammy Awards for best individual jazz performance and best female vocal performance for the two songbooks, 'Ella Fitzgerald Sings the Duke Ellington Song Book', and 'Ella Fitzgerald Sings the Irving Berlin Song Book'.
In 1967, Ella Fitzgerald was bestowed with the Bing Crosby Award (later named the Grammy Lifetime Achievement Award) at the 10th Annual Grammy Awards.
In 1979, Fitzgerald was honored with a Kennedy Center for the Performing Arts Medal of Honor Award.
In 1987, President Ronald Reagan awarded her the National Medal of Arts. She was honored Society of Singers Lifetime Achievement Award (1989).
Ella Fitzgerald earned the George and Ira Gershwin Award for Lifetime Musical Achievement, UCLA Spring Sing award, and the UCLA Medal in 1987. In 1990, she received an honorary doctorate of Music from Harvard University.
In 1987, Fitzgerald received the National Medal of Arts and the country's highest non-military honor the Presidential Medal of Freedom. She was awarded the National Association for the Advancement of Colored People Equal Justice Award and the American Black Achievement Award as well.
Death and Legacy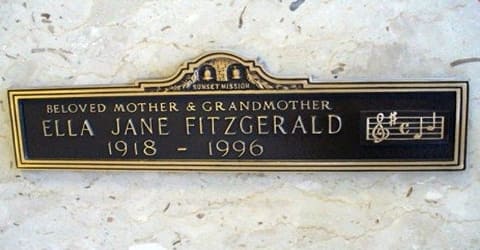 Ella Fitzgerald suffered from acute diabetes which led to various complications. In 1993, both her legs were amputated below the knee due to the disease. Her eyesight was also affected. She spent her last days at home with her son Ray and 12-year-old granddaughter, Alice.
Ella Fitzgerald died in her home from a stroke on June 15, 1996, at the age of 79. A few hours after her death, the Playboy Jazz Festival was launched at the Hollywood Bowl. In tribute, the marquee read: "Ella We Will Miss You." Her funeral was private, and she was buried at Inglewood Park Cemetery in Los Angeles.
Fitzgerald's clear tone and wide vocal range were complemented by her mastery of rhythm, harmony, intonation, and diction. She was an excellent ballad singer, conveying a winsome, ingenuous quality. Her infectious scat singing brought excitement to such concert recordings as Mack the Knife: Ella in Berlin and was widely imitated by others. In the decades following her death, Fitzgerald's reputation as one of the most influential and recognizable figures in jazz and popular music only increased. She remains a household name around the world and has received a number of posthumous accolades, including four Hall of Fame Grammys and the Presidential Medal of Freedom.
Ella Fitzgerald is considered to be one of the greatest scat singers in jazz history. Her scat recording of 'Flying Home' (1945) was one of the most influential vocal jazz records of the decade. Her bebop recording of 'Oh, Lady Be Good!' (1947) was equally popular. Her studio album 'Ella Fitzgerald Sings the Duke Ellington Song Book' earned her a Grammy. The album was released in two volumes. The entire "Songbook" series was highly acclaimed critically and was also commercially successful. Critics called the Songbook series her most valuable gift to American culture. 'The New York Times' praised the albums as "a vehicle for serious musical exploration."
The career history and archival material from Fitzgerald's long career are housed in the Archives Center at the Smithsonian's National Museum of American History, while her personal music arrangements are at the Library of Congress. Her extensive cookbook collection was donated to the Schlesinger Library at Harvard University, and her extensive collection of published sheet music was donated to UCLA.
The archival material from her long career is housed in the Archives Center at the Smithsonian's National Museum of American History, and her personal music arrangements are found at the Library of Congress. A bronze sculpture of Fitzgerald was installed in Yonkers, where she grew up. It was created by the American artist Vinnie Bagwell.
Information Source: