Biography of Fela Kuti
Fela Kuti – Nigerian multi-instrumentalist, musician, composer, and human rights activist.
Name: Fela Anikulapo Kuti
Date of Birth: 15 October 1938
Place of Birth: Abeokuta, Western Region, British Nigeria (now Abeokuta, Ogun State, Nigeria)
Date of Death: 2 August 1997 (aged 58)
Place of Death: Lagos, Lagos State, Nigeria
Occupation: Singer-songwriter, Musician, Activist
Father: Israel Oludotun Ransome-Kuti
Mother: Funmilayo Ransome-Kuti
Early Life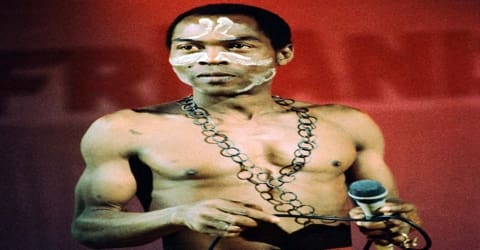 Nigerian musician and activist who launched a modern style of music called Afro-beat, which fused American blues, jazz, and funk with traditional Yoruba music, Fela Kuti was born on 15 October 1938 in Abeokuta, the modern-day capital of Ogun State in the Federal Republic of Nigeria, then a city in the British Colony of Nigeria into an upper-middle-class family. He has been called "superstar, singer, musician, Panafricanist, polygamist, mystic, legend." During the height of his popularity, he was often hailed as one of Africa's most "challenging and charismatic music performers."
Kuti also became known as a prolific civil rights activist and a political force in Nigeria and beyond, with especially outspoken views about both bureaucratic corruption and the after-effects of colonialism. Deeply influenced by the politics of the 'Black Panther Party,' Kuti's music grew increasingly radical as he transitioned to pidgin English to increase his pan-African appeal. The Nigerian government he criticized did not react well to his catechisms and had the singer arrested over 200 times. The government also had his family and friends harassed repeatedly. Kuti believed in polygamy and was married to several women at the same time. He had eight children, three of them with his first wife. Kuti's legacy has only grown stronger after his death, and he continues to be hailed as an African legend.
Kuti was all that, as well as showman par excellence, inventor of Afro-beat, an unredeemable sexist, and a moody megalomaniac. His death on August 3, 1997, of complications from AIDS deeply affected musicians and fans internationally, as a musical and sociopolitical voice on a par with Bob Marley was silenced. A press release from the United Democratic Front of Nigeria on the occasion of Fela's death noted: "Those who knew you well were insistent that you could never compromise with the evil you had fought all your life. Even though made weak by time and fate, you remained strong in will and never abandoned your goal of a free, democratic, socialist Africa." This is as succinct a summation of Fela's political agenda as one is likely to find.
Childhood, Family and Educational Life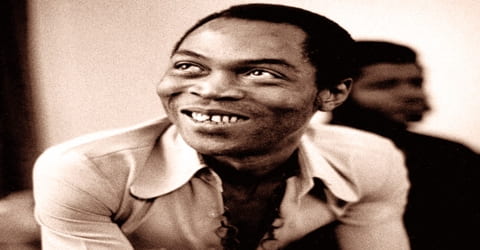 Fela Kuti, byname of Olufela Olusegun Oludotun Ransome-Kuti, also called Fela Anikulapo-Kuti, was born on October 15, 1938, in Abeokuta, Nigeria. His mother, Funmilayo, was a feminist activist and an anti-colonialist who became the first woman to drive a car in Nigeria. His father, Israel Oludotun, was a minister in the Anglican church and the first president of the 'Nigeria Union of Teachers.' He had two brothers, Beko and Olikoye, both of whom later became well-known doctors, and a sister, Dolu. His cousin, Wole Soyinka, was a writer who became the first African to win the 'Nobel Prize for Literature.'
Kuti attended Abeokuta Grammar School. Later he was sent to London in 1958 to study medicine but decided to study music instead at the Trinity College of Music, the trumpet being his preferred instrument. He was briefly employed as a clerk at the 'Federal Ministry of Commerce' before being sent to London to study medicine. While in London, Kuti encountered various musical styles by playing piano in jazz and rock bands.
In 1963, Fela Kuti moved back to the newly independent Federation of Nigeria, re-formed Koola Lobitos and trained as a radio producer for the Nigerian Broadcasting Corporation. He played for some time with Victor Olaiya and his All-Stars.
Personal Life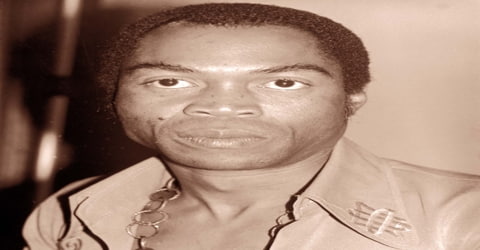 In 1960, Fela Kuti met his first wife, Remilekun (Remi) Taylor in London. They married in 1961, when he was 23, and had three children: Yeni, Femi, and Sola, born in 1961, 1962 and 1963, respectively. The first two children were born in England, while Sola was born in Lagos, Nigeria. Kuti had at least five other children, one of whom, Seun Kuti, is also a well-known musician.
Fela Kuti was a proponent of polygamy, marrying 27 women at the same time in 1978. Although he later switched to a rotation system of keeping 12 wives simultaneously, he finally came to believe that marriage was an "imposition" and divorced all his wives. His attitude toward women (in his music and personal life) has been subjected to much scrutiny with allegations of misogyny leveled against him.
Career and Works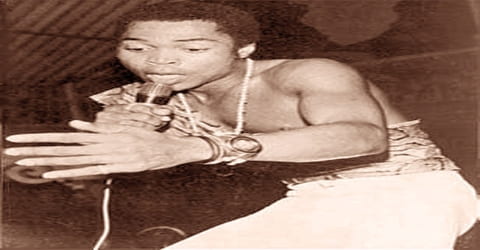 Fela Kuti returned to Nigeria in 1963 and started another version of Koola Lobitos that was more influenced by the James Brown-style singing of Geraldo Pina from Sierra Leone. Combining this with elements of traditional high life and jazz, Fela dubbed this intensely rhythmic hybrid "Afro-beat," partly as a critique of African performers whom he felt had turned their backs on their African musical roots in order to emulate current American pop music trends.
In 1967, Kuti went to Ghana to think up a new musical direction. That was when Kuti first called his music Afrobeat. In 1969, Fela took the band to the United States where they spent 10 months in Los Angeles. While there, Fela discovered the Black Power movement through Sandra Smith (now Sandra Izsadore), a partisan of the Black Panther Party. The experience would heavily influence his music and political views.
Kuti renamed the band Nigeria '70. Soon afterward, the Immigration and Naturalization Service was tipped off by a promoter that Fela and his band were in the US without work permits. The band performed a quick recording session in Los Angeles that would later be released as The '69 Los Angeles Sessions.
Following his 1969 tour of the United States, where Kuti was influenced by the politics of Malcolm X, the Black Panthers, and other militants, Kuti's music became increasingly politicized. Kuti exhorted social change in such songs as "Zombie," "Monkey Banana," "Beasts of No Nation," and "Upside Down." Fela (as he was popularly known) and his band, which was known variously as the Nigeria 70, Africa 70, and later the Egypt 80, performed for packed houses at the early-morning concerts that they staged at Fela's often-raided nightclub in Lagos. The firebrand singer, who gyrated over the keyboard as he sang in English and Yoruba, struck a chord among the unemployed, disadvantaged, and oppressed. His politically charged songs, which decried oppression by Nigeria's military government, prompted authorities to routinely raid his club, looking for reasons to jail him. Near there he also set up a communal compound, which he proclaimed the independent Kalakuta Republic. As head of the commune, he often provoked controversy and attracted attention by promoting indulgence in sex, polygamy (Kuti married 27 women), and drugs, especially marijuana.
After this trip, the band began to focus more on socio-political issues, instead of exclusively romantic concerns. In 1974, Kuti built a fence around his house and created a sovereign commune, the 'Kalakuta Republic.' This location housed a recording studio. Around the same time, he also set up a nightclub where he performed his music and conducted traditional Yoruba ceremonies, in his attempts to return to Nigeria's roots.
Playing constantly and recording at a ferocious pace, Fela Kuti and band (who were now called Africa 70) became huge stars in West Africa. His biggest fan base, however, was Nigeria's poor. Because his music addressed issues important to the Nigerian underclass (specifically a military government that profited from political exploitation and disenfranchisement), Fela was more than a simply a pop star; like Bob Marley in Jamaica, he was the voice of Nigeria's have-nots, a cultural rebel. This was something Nigeria's military junta tried to nip in the bud, and from almost the moment he came back to Nigeria up until his death, Fela was hounded, jailed, harassed, and nearly killed by a government determined to silence him. In one of the most egregious acts of violence committed against him, 1,000 Nigerian soldiers attacked his Kalakuta compound in 1977 (the second government-sanctioned attack). Fela's recording studio, all his master tapes, and musical instruments were destroyed.
In 1977, Fela Kuti, along with and 'Afrika '70,' released 'Zombie,' a politically charged piece that decried the methods of the Nigerian military. Although exceedingly popular with the public, this album invited swift and terrible backlash from the government, which sent 1000 soldiers to attack the 'Kalakuta Republic,' destroyed his property, injured Kuti, and threw his elderly mother from a window. His mother later succumbed to her injuries, prompting Kuti to deliver her coffin to a Nigerian general's residence and composing two more songs criticizing the government.
After the Kalakuta tragedy, Fela briefly lived in exile in Ghana, returning to Nigeria in 1978. In 1979 he formed his own political party, MOP (Movement of the People), and at the start of the new decade renamed his band Egypt 80. From 1980-1983, Nigeria was under civilian rule, and it was a relatively peaceful period for Fela, who recorded and toured non-stop. Military rule returned in 1983, and in 1984 Fela was sentenced to ten years in prison on charges of currency smuggling. With help from Amnesty International, he was freed in 1985.
In 1978, Kuti performed at two notable concerts: one in Accra, which led to him being banned from Ghana, and the other in Berlin, after which most of his troupe left him due to concerns about financial recklessness. During this period, he also changed his middle name to Anikulapo ("He who carries death in his pouch") and dropped the last name, 'Ransome,' which he believed was a slave name. After his return from Europe, he moved to Ikeja and set up a new club, which became a hotbed for drug activities. The anti-Fela sentiment within the government reached a new peak at this time, prompting him to establish his own political party, 'Movement of the People' (MOP), and run for president. His candidature was rejected, and the military overthrew the civilian government and resumed its harassment of the musician. Kuti then created a new band named 'Egypt '80,' claiming Egyptian achievements for Africa.
Stylistically speaking, Fela's music didn't change much during this time, and much of what he recorded, while good, was not as blistering as some of the amazing music he made in the '70s. Still, when a Fela record appeared, it was always worth a listen.
In 1984, Muhammadu Buhari's government, of which Kuti was a vocal opponent, jailed him on a charge of currency smuggling which Amnesty International and others denounced as politically motivated. Amnesty designated him a prisoner of conscience, and his case was also taken up by other human rights groups. After 20 months, he was released from prison by General Ibrahim Babangida. On his release he divorced his 12 remaining wives, saying that "marriage brings jealousy and selfishness". Once again, Fela continued to release albums with Egypt '80, made a number of successful tours of the United States and Europe and also continued to be politically active.
Kuti continued to make music through the 1980s, performing in a notable 'Amnesty International' concert in New Jersey and releasing 'Beasts of No Nation' just before the abolition of apartheid in South Africa.
In 1989, Fela Kuti and Egypt '80 released the anti-apartheid Beasts of No Nation that depicts on its cover U.S. President Ronald Reagan, UK Prime Minister Margaret Thatcher and South African State President Pieter Willem Botha, that title of the composition, as Barrett notes, having evolved out of a statement by Botha: "This uprising against the apartheid system will bring out the best in us."
Fela's album output slowed in the 1990s, and eventually, he stopped releasing albums altogether. In 1993, Fela and four members of the Afrika '70 organization were arrested for murder. The battle against military corruption in Nigeria was taking its toll, especially during the rise of Sani Abacha. Rumors were also spreading that he was suffering from an illness for which he was refusing treatment.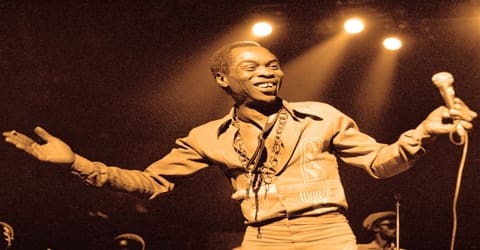 Fela Kuti's performances were especially notable for their wildness: he gyrated frequently over the keyboard, wearing nothing but bikini briefs. After falling out with his saxophonist, he vowed to teach himself to play the instrument in 24 hours, and after 17 hours of practice, appeared on stage to perform a number of saxophone solos proficiently.
Awards and Honor
On 4 May 2010, Fela! was nominated for 11 Tony Awards, including Best Musical, Best Book of a Musical, Best Direction of a Musical for Bill T. Jones, Best Leading Actor in a Musical for Sahr Ngaujah, and Best Featured Actress in a Musical for Lillias White.
In 2011 the London production of Fela! was made into a film. On 11 June 2012, it was announced that FELA! would return to Broadway for 32 performances.
Fela Kuti is remembered as an influential icon who was brave enough to boldly voice his opinions on matters that affected the nation through his music. An annual festival "Felabration" held each year to celebrate the life of this music legend and his birthday.
Death and Legacy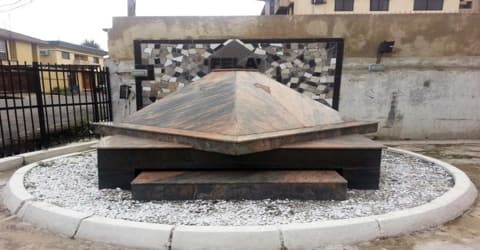 Fela Kuti died of AIDS complications in Lagos, on August 2, 1997. His funeral prompted three days of processions and public service. However, there are no known photos of Kuti with telltale lesions; moreover, Kuti was honored with a lying-in-state in which his remains were encased in a five-sided glass coffin for full public viewing. More than one million people attended Fela's funeral at the site of the old Shrine compound. The New Afrika Shrine has opened since Fela's death in a different section of Lagos under the supervision of his son Femi.
His album 'Zombie' (1977) remains a classic, all the more powerful for the disproportionate state response is solicited. The singles 'Coffin for Head of State' and 'Unknown Soldier' were written in response to his mother's death at the hands of the military. Kuti attacked the 'ITT Corporation' and the military again with his iconic single 'I.T.T. (International Thief Thief).' The 1989 album 'Beasts of No Nation' was a response to remarks by the erstwhile South African president and has now become a pan-African political landmark.
Fela Kuti was unusually quiet in the '90s, which may have had something to do with how ill he was; very little new music appeared, but in as great a series of reissues as the planet has ever seen, the London-based Stern's Africa label re-released some of his long unavailable records (including The '69 Los Angeles Sessions), and the seminal works of this remarkable musician were again filling up CD bins. He never broke big in the U.S. market, and it's hard to imagine him having the same kind of posthumous profile that Marley does, but Fela's 50-something releases offer up plenty of remarkable music and a musical legacy that lives on in the person of his talented son Femi. Around the turn of the millennium, Universal began remastering and reissuing a goodly portion of Fela's many recordings, finally making some of his most important work widely available to American listeners.
Fela's music and a strong sense of sharing humanist and activist ideas grew from the environment he was in. In interview footage found in Faces of Africa on CGTN Africa, Fela Kuti talks about a comparison between English love songs and his own music. Fela States: "Yes, if you are in England the music can be an instrument of enjoyment. You can sing about love, you can sing about whom you are going to bed next. But in my own environment, my society is underdeveloped because of an alien system on our people. So there is no music enjoyment. There is nothing like love. There is something like a struggle for people's existence."
Information Source: