Biography of Florence Nightingale
Florence Nightingale – British nurse.
Name: Florence Nightingale
Date of Birth: 12 May 1820
Place of Birth: Florence, Grand Duchy of Tuscany
Date of Death: 13 August 1910 (aged 90)
Place of Death: Mayfair, London, England
Father: William Edward Nightingale
Mother: Frances Nightingale
Known for: Pioneering modern nursing
Fields: Hospital hygiene and sanitation, statistics
Early Life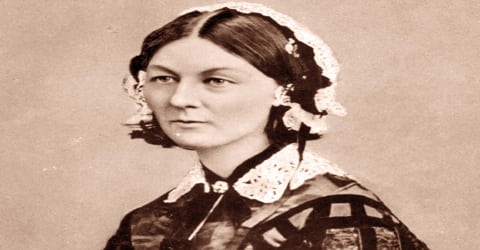 Florence Nightingale was born in Florence, Italy, on May 12, 1820; she was named after the city of her birth. She was an English social reformer and statistician, and the founder of modern nursing.
Nightingale came to prominence while serving as a manager and trainer of nurses during the Crimean War, in which she organized to care for wounded soldiers. She gave nursing a favorable reputation and became an icon of Victorian culture, especially in the persona of "The Lady with the Lamp" making rounds of wounded soldiers at night.
Her father, William E. Nightingale, was a wealthy landowner who had inherited an estate in Derbyshire, England. Like many members of the wealthy class, he and Florence's mother, Fanny, dedicated themselves to the pursuit of active social lives. Florence and her sister, Parthenope, were tutored by their father in languages, mathematics, and history. Though Florence was tempted by the idea of a brilliant social life and marriage, she also wanted to achieve independence, importance in some field of activity, and obedience to God through service to society.
Her efforts to formalize nursing education led her to establish the first scientifically based nursing school the Nightingale School of Nursing, at St. Thomas' Hospital in London (opened 1860). She also was instrumental in setting up training for midwives and nurses in workhouse infirmaries. She was the first woman awarded the Order of Merit (1907). International Nurses Day, observed annually on May 12, commemorates her birth and celebrates the important role of nurses in health care.
Nightingale was a prodigious and versatile writer. In her lifetime, much of her published work was concerned with spreading medical knowledge. Some of her tracts were written in simple English so that they could easily be understood by those with poor literacy skills. She was also a pioneer in the use of infographics, effectively using graphical presentations of statistical data. Much of her writing, including her extensive work on religion and mysticism, has only been published posthumously.
Childhood, Family and Educational Life
Florence Nightingale, byname Lady with the Lamp, was born in Florence, Italy, on May 12, 1820, the city which inspired her name. Florence's older sister Frances Parthenope had similarly been named after her place of birth, Parthenope, a Greek settlement now part of the city of Naples. The family moved back to England in 1821, with Nightingale being brought up in the family's homes at Embley, Hampshire and Lea Hurst, Derbyshire.
Her mother, Frances Nightingale, hailed from a family of merchants and took pride in socializing with people of prominent standing. Despite her mother's interests, Florence herself was reportedly awkward in social situations and preferred to avoid being the center of attention whenever possible. Strong-willed, she often butted heads with her mother, whom she viewed as overly controlling.
Florence's father was William Edward Nightingale (having changed his original surname, "Shore"), a wealthy landowner who would be associated with two estates—one at Lea Hurst, Derbyshire, and the other at Embly, Hampshire. Florence was provided with a classical education, including studies in mathematics along with German, French and Italian.
In 1844 Nightingale decided that she wanted to work in hospitals. Her family objected strongly to her plan; hospital conditions at that time were known to be terrible, and nurses were untrained and thought to be of questionable morals. Ignoring all resistance, Nightingale managed to visit some hospitals and health facilities. She then received permission from her parents to spend a few months at Kaiserworth, a German training school for nurses and female teachers. In 1853 she became superintendent of the London charity-supported Institution for Sick Gentlewomen in Distressed Circumstances. This opportunity allowed her to become independent from her family and also to try out new ideas in organizing and managing an institution, conducted in a scientific, nonreligious setting.
Personal Life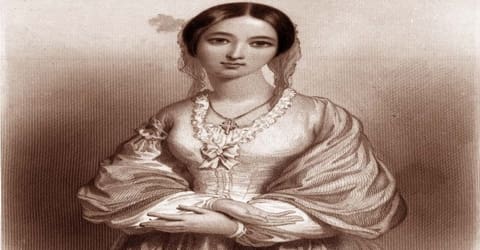 As a young woman, Nightingale was described as attractive, slender and graceful. While her demeanor was often severe, she was said to be very charming and possess a radiant smile.
In Rome in 1847, she met Sidney Herbert, a politician who had been Secretary at War (1845–1846) who was on his honeymoon. He and Nightingale became lifelong close friends. Herbert would be Secretary of War again during the Crimean War when he and his wife would be instrumental in facilitating Nightingale's nursing work in the Crimea. She became Herbert's key adviser throughout his political career, though she was accused by some of having hastened Herbert's death from Bright's Disease in 1861 because of the pressure her programme of reform placed on him. Nightingale also much later had strong relations with academic Benjamin Jowett, who may have wanted to marry her.
In 1849, Nightingale refused a marriage proposal from a "suitable" gentleman, Richard Monckton Milnes, who had pursued her for years. She explained her reason for turning him down, saying that while he stimulated her intellectually and romantically, her "moral…active nature" called for something beyond a domestic life. (One biographer has suggested that the rejection of marriage to Milnes was not, in fact, an outright refusal.) Determined to pursue her true calling despite her parents' objections, Nightingale eventually enrolled as a nursing student in 1850 and '51 at the Institution of Protestant Deaconesses in Kaiserswerth, Germany.
However, she did have several important and long-lasting friendships with women. Later in life, she kept up a prolonged correspondence with Irish nun Sister Mary Clare Moore, with whom she had worked in Crimea. Her most beloved confidante was Mary Clarke, an Englishwoman she met in 1837 and kept in touch with throughout her life.
Some scholars of Nightingale's life believe that she remained chaste for her entire life, perhaps because she felt a religious calling to her career.
Career and Works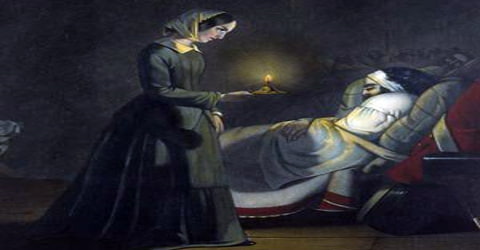 From a young age, Nightingale was active in philanthropy, ministering to the ill and poor people in the village neighboring her family's estate. Nightingale eventually came to the conclusion that nursing was her calling; she believed the vocation to be her divine purpose.
In her youth she was respectful of her family's opposition to her working as a nurse, only announcing her decision to enter the field in 1844.
In the early 1850s, Nightingale returned to London, where she took a nursing job in a Harley Street hospital for ailing governesses. Her performance there so impressed her employer that Nightingale was promoted to superintendent. Nightingale also volunteered at a Middlesex hospital around this time, grappling with a cholera outbreak and unsanitary conditions conducive to the rapid spread of the disease. Nightingale made it her mission to improve hygiene practices, significantly lowering the death rate at the hospital in the process.
Nightingale continued her travels (now with Charles and Selina Bracebridge) as far as Greece and Egypt. Her writings on Egypt, in particular, are the testimony to her learning, literary skill and philosophy of life. Sailing up the Nile as far as Abu Simbel in January 1850, she wrote of the Abu Simbel temples, "Sublime in the highest style of intellectual beauty, intellect without effort, without suffering … not a feature is correct—but the whole effect is more expressive of spiritual grandeur than anything I could have imagined. It makes the impression upon one that thousands of voices do, uniting in one unanimous simultaneous feeling of enthusiasm or emotion, which is said to overcome the strongest man."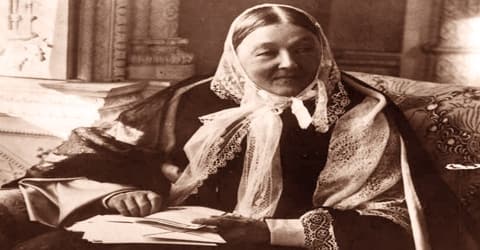 In October of 1854 Nightingale organized a party of thirty-eight nurses, mostly from different religious orders, for service in the Crimean War (1853–56), in which Great Britain, France, and Sardinia fought against Russian expansion in Europe. The nurses arrived at Constantinople (now Istanbul, Turkey) in November. Conditions at the British base hospital at Scutari (now Uskudar, Turkey) were awful and grew steadily worse as the number of sick and wounded soldiers rapidly increased.
On 21 October 1854, she and the staff of 38 women volunteer nurses that she trained, including her aunt Mai Smith, and 15 Catholic nuns (mobilized by Henry Edward Manning) were sent (under the authorization of Sidney Herbert) to the Ottoman Empire. Nightingale was assisted in Paris by her friend Mary Clarke. They were deployed about 295 nautical miles (546 km; 339 mi) across the Black Sea from Balaklava in the Crimea, where the main British camp was based.
The British army did not have enough medical services and used what it did have poorly a confusing and complicated supply system actually cut off deliveries to the patients. The Barrack Hospital, where Nightingale and her nurses worked and lived, was built on a massive cesspool (an underground area into which liquid waste flows), which poisoned the water and even the building itself. The general attitude was that the common soldier was a drunken brute on whom all comforts would be wasted.
On 22 August 1853, Nightingale took the post of superintendent at the Institute for the Care of Sick Gentlewomen in Upper Harley Street, London, a position she held until October 1854. Her father had given her an annual income of £500 (roughly £40,000/US$65,000 in present terms), which allowed her to live comfortably and to pursue her career.
By the end of 1854, some order had been created and the hospital was cleaner not only through Nightingale's efforts but also through improvements made by a governmental sanitary commission. The death rate among patients fell by two-thirds. But with improvement came new problems, including anger from officials who were found at fault for the poor hospital conditions and rising disputes among the nurses.
During her first winter at Scutari, 4,077 soldiers died there. Ten times more soldiers died from illnesses such as typhus, typhoid, cholera, and dysentery than from battle wounds. With overcrowding, defective sewers and lack of ventilation, the Sanitary Commission had to be sent out by the British government to Scutari in March 1855, almost six months after Nightingale had arrived.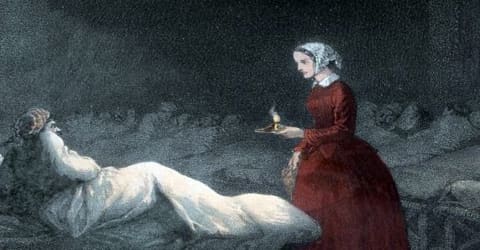 Florence Nightingale left Scutari in the summer of 1856, soon after the war ended. During the Crimean war, Nightingale gained the nickname "The Lady with the Lamp" from a phrase in a report in The Times:
She is a "ministering angel" without any exaggeration in these hospitals, and as her slender form glides quietly along each corridor, every poor fellow's face softens with gratitude at the sight of her. When all the medical officers have retired for the night and silence and darkness have settled down upon those miles of prostrate sick, she may be observed alone, with a little lamp in her hand, making her solitary rounds.
The phrase was further popularised by Henry Wadsworth Longfellow's 1857 poem "Santa Filomena":
Lo! in that house of misery
A lady with a lamp I see
Pass through the glimmering gloom,
And flit from room to room.
The previous year, Queen Victoria had rewarded Nightingale's work by presenting her with an engraved brooch that came to be known as the "Nightingale Jewel" and by granting her a prize of $250,000 from the British government.
In Notes on Matters Affecting the Health, Efficiency and Hospital Administration of the British Army (1857) Nightingale used the experiences of the war to prove that a new system was necessary. Within five years this effort led to the reconstruction of the administrative structure of the War Office. Nightingale's Notes on Hospitals (1859) detailed the proper arrangements for civilian institutions (places that were not a part of the military).
Nightingale decided to use the money to further her cause. In 1860, she funded the establishment of St. Thomas' Hospital, and within it, the Nightingale Training School for Nurses. Nightingale became a figure of public admiration. Poems, songs, and plays were written and dedicated to the heroine's honor. Young women aspired to be like her. Eager to follow her example, even women from the wealthy upper classes started enrolling at the training school. Thanks to Nightingale, nursing was no longer frowned upon by the upper classes; it had, in fact, come to be viewed as an honorable vocation.
In the 1870s, Nightingale mentored Linda Richards, "America's first trained nurse", and enabled her to return to the United States with adequate training and knowledge to establish high-quality nursing schools. Richards went on to become a nursing pioneer in the US and Japan.
By 1882, several Nightingale nurses had become matrons at several leading hospitals, including, in London (St Mary's Hospital, Westminster Hospital, St Marylebone Workhouse Infirmary and the Hospital for Incurables at Putney) and throughout Britain (Royal Victoria Hospital, Netley; Edinburgh Royal Infirmary; Cumberland Infirmary and Liverpool Royal Infirmary), as well as at Sydney Hospital in New South Wales, Australia.
Nightingale also believed that irrigation (the supplying of water to an area using artificial methods) was the solution to the problem of famine. In 1907 Nightingale was the first woman to be awarded the Order of Merit.
In 1883, Nightingale became the first recipient of the Royal Red Cross. In 1904, she was appointed a Lady of Grace of the Order of St John (LGStJ). In 1907, she became the first woman to be awarded the Order of Merit. In the following year, she was given the Honorary Freedom of the City of London. Her birthday is now celebrated as International CFS Awareness Day.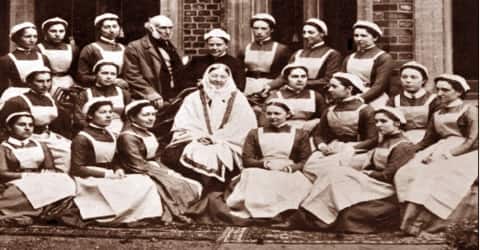 (Florence Nightingale (middle) in 1886 with her graduating class of nurses from St Thomas' outside Claydon House, Buckinghamshire)
Nightingale's personality is well documented. She rebelled against the idle, sheltered existence of her family her entire life. She achieved a leading position in a world dominated by men, driving and directing her male coworkers as hard as she did herself. She often complained that women were selfish, and she had no time for the growing women's rights movement. But she also developed an idea of spiritual (relating to or affecting the spirit) motherhood and saw herself as the mother of the men of the British army—"my children"—whom she had saved. Florence Nightingale never really recovered from the physical strain of the Crimean War. After 1861 she rarely left her home and was confined to her bed much of the time.
Awards and Honor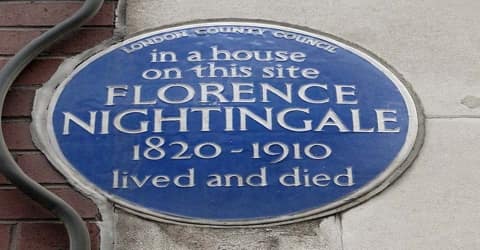 In 1907, she was conferred the Order of Merit by King Edward, and received the Freedom of the City of London the following year, becoming the first woman to receive the honor.
In May of 1910, she received a celebratory message from King George on her 90th birthday.
In 1912, a biographical silent film titled The Victoria Cross, starring Julia Swayne Gordon as Nightingale, was released, followed in 1915 by another silent film, Florence Nightingale, featuring Elisabeth Risdon. In 1936, Kay Francis played Nightingale in the film titled The White Angel. In 1951, The Lady with a Lamp starred Anna Neagle.
In 2002, Nightingale was ranked #52 in the BBC's list of the 100 Greatest Britons following a UK-wide vote. In 2006, the Japanese public ranked Nightingale #17 in The Top 100 Historical Persons in Japan.
Death and Legacy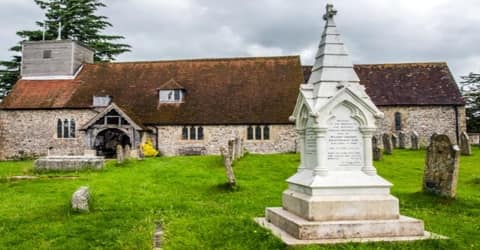 In August 1910, Florence Nightingale fell ill but seemed to recover and was reportedly in good spirits. A week later, on the evening of Friday, August 13, 1910, she developed an array of troubling symptoms. She died unexpectedly at around 2 p.m. the following day, Saturday, August 13, at the age of 90, at her home in London.
The offer of burial in Westminster Abbey was declined by her relatives and she is buried in the graveyard at St Margaret's Church in East Wellow, Hampshire, near Embley Park. She left a large body of work, including several hundred notes that were previously unpublished. A memorial monument to Nightingale was created in Carrara marble by Francis William Sargant in 1913 and placed in the cloister of the Basilica of Santa Croce, Florence.
The "Lady with the Lamp" was laid to rest in her family's plot at St. Margaret's Church, East Wellow, in Hampshire, England.
The Florence Nightingale Museum, which sits at the site of the original Nightingale Training School for Nurses, houses more than 2,000 artifacts commemorating the life and career of the "Angel of the Crimea." To this day, Florence Nightingale is broadly acknowledged and revered as the pioneer of modern nursing.
Information Source: