Biography of Francis Bacon
Francis Bacon – English Philosopher, Statesman, Scientist, Jurist, Orator, and Author.
Name: Francis Bacon
Date of Birth: 22 January 1561
Place of Birth: Strand, London, England
Date of Death: 9 April 1626 (aged 65)
Place of Death: Highgate, Middlesex, England
Father: Sir Nicholas Bacon
Mother: Anne (Cooke) Bacon
Siblings: Anthony Bacon
Spouse/Ex-: Alice Barnham (M. 1606–1625)
Profession: Lawyer, Politician, philosopher
Early Life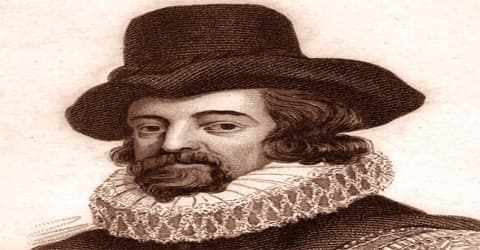 Francis Bacon, 1st Viscount St Alban, PC QC (/ˈbeɪkən/) was an English philosopher, statesman, scientist, jurist, orator, and author. He was one of the most influential personalities in natural philosophy and was also a key thinker to develop new scientific methodologies. He served both as Attorney General as well as Lord Chancellor of England.
was born on 22 January 1561 at York House near the Strand in London, the son of Sir Nicholas Bacon by his second wife, Anne (Cooke) Bacon, the daughter of the noted humanist Anthony Cooke. His mother's sister was married to William Cecil, 1st Baron Burghley, making Burghley Bacon's uncle.
Bacon has been called the father of empiricism. His works argued for the possibility of scientific knowledge based only upon inductive reasoning and careful observation of events in nature. Most importantly, he argued this could be achieved by use of a skeptical and methodical approach whereby scientists aim to avoid misleading themselves.
It is believed that junior Bacon received education at home only, in the starting years of his life due to bad health. He received tuitions from John Walsall who was a graduate of Oxford with a strong bending towards Puritanism. On April 5, 1573, Bacon gained admission in Trinity College, Cambridge at the age of 12. He lived there for three years with his older brother, Anthony under the personal guardianship of Dr. John Whitgift, future Archbishop of Canterbury.
Aged 15, Bacon traveled to the continent, spending time in France but also visiting Italy and Spain. He studied civil law and became acquainted with political realities, serving as part of England's foreign ambassadors. On his travels, he delivered letters for high ranking English officials, including Queen Elizabeth I.
In 1579, the sudden death of his father meant Bacon returned home to London, where he began his practice of law at Gray's Inn. With little or no inheritance, he was forced to borrow from family members to tide him over. Despite ill health, which dogged him throughout his life, Bacon was ambitious to serve his country, church and thirdly to pursue the truth – in philosophy and science.
In 1581, he was elected to Parliament as a member of Bossiney, Cornwall. He would remain a member of parliament (for different constituencies) for the next four decades. This provided a platform to help Bacon become a noted public figure and leading member of the government.
Francis Bacon's work led and popularized inductive methodologies for scientific inquiry. These methodologies are also often denoted as Baconian method. The rhetorical and theoretical composition for science faced a new turn as a result of the Bacon's appeal for a planned procedure of investigating all things natural, most of which still encircle ideas of proper methodology even today.
In 1584 he took his seat in parliament for Melcombe in Dorset, and in 1586 for Taunton. At this time, he began to write on the condition of parties in the church, as well as on the topic of philosophical reform in the lost tract Temporis Partus Maximus. Yet he failed to gain a position that he thought would lead him to success.
He became a bencher in 1586 and was elected a Reader in 1587, delivering his first set of lectures in Lent the following year. In 1589, he received the valuable appointment of reversion to the Clerkship of the Star Chamber, although he did not formally take office until 1608; the post was worth £1,600 a year.
In 1588 he became MP for Liverpool and then for Middlesex in 1593. He later sat three times for Ipswich (1597, 1601, 1604) and once for Cambridge University (1614).
Bacon was a devout Anglican. He believed that philosophy and the natural world must be studied inductively, but argued that we can only study arguments for the existence of God. Information on His attributes (such as nature, action, and purposes) can only come from special revelation. But Bacon also held that knowledge was cumulative, that study encompassed more than a simple preservation of the past. "Knowledge is the rich storehouse for the glory of the Creator and the relief of man's estate," he wrote. In his Essays, he affirms that "a little philosophy inclineth man's mind to atheism, but depth in philosophy bringeth men's minds about to religion."
Bacon's idea of idols of the mind may have self-consciously represented an attempt to Christianize science at the same time as developing a new, reliable scientific method; Bacon gave worship of Neptune as an example of the idola tribus fallacy, hinting at the religious dimensions of his critique of the idols.
Childhood, Family and Educational Life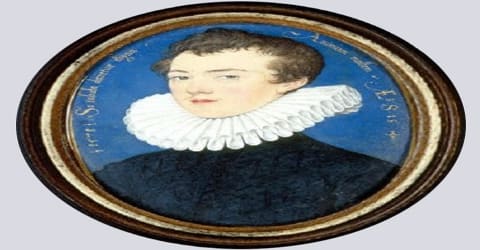 Francis Bacon was born on 22 January 1561 at York House near the Strand in London, the son of Sir Nicholas Bacon by his second wife, Anne (Cooke) Bacon, the daughter of the noted humanist Anthony Cooke. His mother's sister was married to William Cecil, 1st Baron Burghley, making Burghley Bacon's uncle.
Aged 12, he entered Trinity College, Cambridge where he followed a traditional medieval curriculum with most lessons conducted in Latin. Although he admired Aristotle, he was critical of Aristotle's approach to philosophy (he called it 'unhelpful') and the scholastic tradition which was unquestioning in accepting past assumptions of the classic teachers, such as Aristotle and Plato.
Biographers believe that Bacon was educated at home in his early years owing to poor health, which would plague him throughout his life. He received tuition from John Walsall, a graduate of Oxford with a strong leaning toward Puritanism.
Bacon's education was conducted largely in Latin and followed the medieval curriculum. He was also educated at the University of Poitiers. It was at Cambridge that he first met Queen Elizabeth, who was impressed by his precocious intellect, and was accustomed to calling him "The young lord keeper".
Bacon's studies guarded him to the belief that the methods and results of science as practiced then were completely wrong. His high opinion for Aristotle conflicted with his strong disliking of Aristotelian philosophy. He took the Aristotelian philosophy as unprofitable, argumentative and incorrect in its objective. He and his brother, Anthony entered de societate magistrorum at Gray's Inn on 27th June 1576. After some months, Bacon went abroad with Sir Amias Paulet, the English ambassador at Paris. His brother continued studying at home only.
In France, the state of government and society under Henry III gave Bacon valuable political instructions. Following three years, Bacon visited Blois, Poitiers, Tours, Italy, and Spain. He studied languages, statecraft, and civil law while accomplishing routine diplomatic tasks.
The sudden death of his father in February 1579 prompted Bacon to return to England. Sir Nicholas had laid up a considerable sum of money to purchase an estate for his youngest son, but he died before doing so, and Francis was left with only a fifth of that money. Having borrowed money, Bacon got into debt. To support himself, he took up his residence in law at Gray's Inn in 1579, his income is supplemented by a grant from his mother Lady Anne of the manor of Marks near Romford in Essex, which generated a rent of £46.
Personal Life
When he was 36, Bacon courted Elizabeth Hatton, a young widow of 20. Reportedly, she broke off their relationship upon accepting marriage to a wealthier man, Bacon's rival, Sir Edward Coke. Years later, Bacon still wrote of his regret that the marriage to Hatton had not taken place.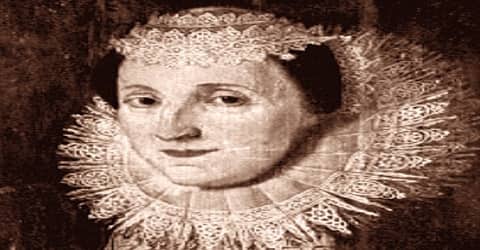 (Portrait of Alice Barnham)
At the age of 45, Bacon married Alice Barnham, the 14-year-old daughter of a well-connected London alderman and MP. Bacon wrote two sonnets proclaiming his love for Alice.
Bacon's personal secretary and chaplain, William Rawley, wrote in his biography of Bacon that his marriage was one of "much conjugal love and respect", mentioning a robe of honor that he gave to Alice and which "she wore unto her dying day, being twenty years and more after his death".
Bunten wrote in her Life of Alice Barnham that, upon their descent into debt, she went on trips to ask for financial favors and assistance from their circle of friends. Bacon disinherited her upon discovering her secret romantic relationship with Sir John Underhill. He subsequently rewrote his will, which had previously been very generous—leaving her lands, goods, and income—and instead revoked it all.
Several authors believe that despite his marriage Bacon was primarily attracted to the same sex. Forker, for example, has explored the "historically documentable sexual preferences" of both Francis Bacon and King James I and concluded they were both orientated to "masculine love", a contemporary term that "seems to have been used exclusively to refer to the sexual preference of men for members of their own gender." The well-connected antiquary John Aubrey noted in his Brief Lives concerning Bacon, "He was a Pederast. His Ganimeds and Favourites tooke Bribes". The Jacobean antiquarian, Sir Simonds D'Ewes implied there had been a question of bringing him to trial for buggery, which his brother Anthony Bacon had also been charged with.
Works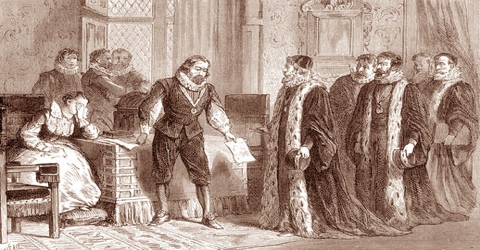 Bacon was a liberal reformer. He supported the monarch within a parliamentary democracy. He supported reform of feudal laws and spoke in favor of religious tolerance. He was also an influential supporter of union between England and Scotland (which occurred in 1707). He advocated the union on the grounds that a constitutional union would bring the nations closer together, promoting peace and economic strength.
Bacon stated that he had three goals: to uncover the truth, to serve his country, and to serve his church. He sought to further these ends by seeking a prestigious post. In 1580, through his uncle, Lord Burghley, he applied for a post at court that might enable him to pursue a life of learning, but his application failed. For two years he worked quietly at Gray's Inn until he was admitted as an outer barrister in 1582.
His parliamentary career began when he was elected MP for Bossiney, Cornwall, in a by-election in 1581. In 1584 he took his seat in parliament for Melcombe in Dorset, and in 1586 for Taunton. At this time, he began to write on the condition of parties in the church, as well as on the topic of philosophical reform in the lost tract Temporis Partus Maximus. Yet he failed to gain a position that he thought would lead him to success.
In the year 1586, Bacon openly disapproved the execution of Queen of Scots, Mary. Due to his increasing progress at the bar, Bacon contacted his uncle for help. The same year, he became Bencher and was chosen as a reader in 1587. He delivered his first lecture in Lent the very next year. Bacon accepted the valuable appointment of reversion to the Clerkship of the Star Chamber in 1589, though he took to office formally only in 1608.
Francis Bacon acquainted with Robert Devereux who was 2nd Earl of Essex and favorite of Queen Elizabeth and by 1591, became the earl's confidential adviser. The following year, Bacon was authorized to write a track in response to the Jesuit Robert Parson's anti-government polemic, which he gave the headline as "Certain Observations Made Upon A Libel", recognizing England with the ideals of democratic Athens opposite of the belligerence of Spain.
The ascension of James I, saw Bacon become one of the kings most trusted civil servants. He managed to mostly stay in favor with both the King and parliament – despite their estrangement over the Kings extravagance. Bacon was appointed Baron Verulam in 1618 and Lord Chancellor (the highest position in the land) in the same year. Bacon was the main mediator between the king and parliament during the tense years. By 1621, he was appointed to the peerage as Viscount St Alban. However, by the end of the year, his meteoric rise to the top of British politics came to an abrupt end as he was arrested for 23 counts of corruption. Bacon had fallen into debt, but also the charges were enthusiastically promoted by Sir Edward Coke, a lifelong enemy of Bacon.
During these years of success, Bacon wrote The Great Instauration, the planned preface for six different works, never completed, intended to describe a restoration of human knowledge. The work is a powerful model for radical change in the pattern of Western scientific thought, characterized by Bacon's clear sense of ordering and classification. Novum Organum, also published in 1620, contains Bacon's argument for a "new logic," the discovery of a finite number of "natures" or "forms" lying at the base of the natural world, and an exhaustive description of natural history.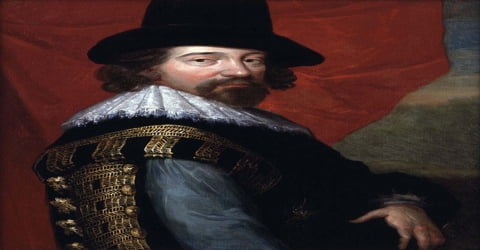 Francis Bacon's philosophy is displayed in the vast and varied writings he left, which might be divided into three great branches:
Scientific works – in which his ideas for a universal reform of knowledge into the scientific methodology and the improvement of mankind's state using the Scientific method are presented.
Religious and literary works – in which he presents his moral philosophy and theological meditations.
Juridical works – in which his reforms in English Law are proposed.
Bacon's seminal work Novum Organum was influential in the 1630s and 1650s among scholars, in particular, Sir Thomas Browne, who in his encyclopedia Pseudodoxia Epidemica (1646–72) frequently adheres to a Baconian approach to his scientific inquiries. This book entails the basis of the Scientific Method as a means of observation and induction. During the Restoration, Bacon was commonly invoked as a guiding spirit of the Royal Society founded under Charles II in 1660. During the 18th-century French Enlightenment, Bacon's non-metaphysical approach to science became more influential than the dualism of his French contemporary Descartes and was associated with criticism of the ancien regime. In 1733 Voltaire introduced him to a French audience as the "father" of the scientific method, an understanding which had become widespread by the 1750s. In the 19th century, his emphasis on induction was revived and developed by William Whewell, among others. He has been reputed as the "Father of Experimental Philosophy".
He also wrote a long treatise on Medicine, History of Life and Death, with natural and experimental observations for the prolongation of life.
Death and Legacy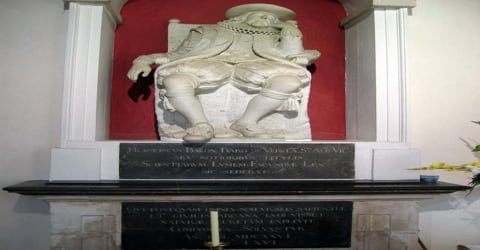 On April 9, 1629, Francis Bacon died at Arundel mansion at Highgate outside London due to severe pneumonia. John Aubrey gave a brief description of the account of his death. It is said they were experimenting some scientific method by using snow for preserving meat. Bacon went to poor lady's home at the Highgate-hill. He brought fowl from there after asking a woman to clean the same. Then he stuffed fowl with lots of snow but developed the dangerous disease, pneumonia. During the process, he felt so ill that he was unable to get well again. Rather he went to the Earle of Arundel's house at Highgate where he was put into a damp cloth. Due to the cold, he died of suffocation. At Bacon's funeral, 30 great minds praised him a lot, which were later published as a collection in Latin.
He left personal assets of about £7,000 and lands that realized £6,000 when sold. His debts amounted to more than £23,000, equivalent to more than £3m at current value.
Information Source: