Biography of Francisco Goya
Francisco Goya – Spanish romantic painter and printmaker.
Name: Francisco José de Goya y Lucientes
Date of Birth: 30 March 1746
Place of Birth: Fuendetodos, Aragon, Spain
Date of Death: 16 April 1828 (aged 82)
Place of Death: Bordeaux, France
Occupation: Painter
Father: José Benito De Goya Y Franque
Mother: Gracia De Lucientes Y Salvador
Spouse/Ex: Josefa Bayeu (m. 1773–1812)
Early Life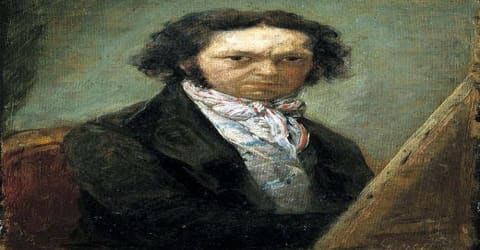 A Spanish romantic painter and printmaker, Francisco Goya was born in Fuendetodos, Aragón, Spain, on 30 March 1746 to José Benito de Goya y Franque and Gracia de Lucientes y Salvador. He began his art studies as a teenager and even spent time in Rome, Italy, to advance his skills. In the 1770s, Goya began to work for the Spanish royal court. In addition to his commissioned portraits of the nobility, he created works that criticized the social and political problems of his era.
He was a Spanish artist whose paintings, drawings, and engravings reflected contemporary historical upheavals and influenced important 19th- and 20th-century painters. The series of etchings The Disasters of War (1810–14) records the horrors of the Napoleonic invasion. His masterpieces in painting include The Naked Maja, The Clothed Maja (c. 1800–05), and The 3rd of May 1808: The Execution of the Defenders of Madrid (1814).
His portraits were unique creations of how he saw things and captured them on the canvas without artificially beautifying them. Considered to be the greatest Spanish painter during the late 18th century and early 19th century, his exemplary portraits, paintings, etches and murals marked the start of the contemporary painting era. After struggling and trying to establish himself as a painter at several places, he found initial success while studying and painting under Aragonese painter, Francisco Bayeu y Subias. His employment at the Royal Tapestry Factory helped him strengthen his career over the next few years, creating numerous cartoons inspired from everyday life, several of which were used to beautify the two Spanish royal palaces. He went on to compose portraits of various royal families, thus earning the reputation as a portrait artist.
Goya was guarded, and although letters and writings survive, little is known about his thoughts. He suffered a severe and undiagnosed illness in 1793 which left him deaf. Sick and disillusioned, after 1793 his work became progressively darker and pessimistic. His later easel and mural paintings, prints and drawings appear to reflect a bleak outlook on personal, social and political levels and contrast with his social climbing. He was appointed Director of the Royal Academy in 1795, the year Manuel Godoy made an unfavorable treaty with France. In 1799 Goya became Primer Pintor de Cámara, the then-highest rank for a Spanish court painter. In the late 1790s, commissioned by Godoy, he completed his La Maja Desnuda, a remarkably daring nude for the time and clearly indebted to Diego Velázquez. In 1801 he painted Charles IV of Spain and His Family, also influenced by Velázquez.
He created a series of masterpieces, which beacon his distinct style and talent, some of them being 'The Black Paintings', 'The Disasters of War', 'The Naked Maja', 'The Clothed Maja', and 'The Third of May 1808'. His works have largely influenced the later generation of artists during the 20th century, especially Pablo Picasso, Paul Cezanne Edgar Degas, Francis Bacon, and Edouard Manet.
Goya eventually abandoned Spain in 1824 to retire to the French city of Bordeaux, accompanied by his much younger maid and companion, Leocadia Weiss, who may or may not have been his lover. There he completed his La Tauromaquia series and a number of other, major, canvases. Famously, the skull was missing, a detail the Spanish consul immediately communicated to his superiors in Madrid, who wired back, "Send Goya, with or without head."
Childhood, Family and Educational Life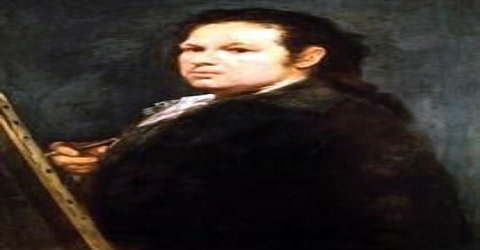 Francisco Goya, in full Francisco José de Goya y Lucientes, was born on March 30, 1746, in Fuendetodos, Aragon, Spain, to master gilder Jose Benito de Goya y Franque and Gracia de Lucientes y Salvador. The family had moved that year from the city of Zaragoza, but there is no record why; likely José was commissioned to work there. They were lower middle-class. José was the son of a notary and of Basque origin, his ancestors being from Zerain, earning his living as a gilder, specializing in religious and decorative craftwork.
About 1749 José and Gracia bought a home in Zaragoza and were able to return to live in the city. Although there are no surviving records it is thought that Goya may have attended the Escuelas Pías de San Antón, which offered free schooling. His education seems to have been adequate but not enlightening; he had reading, writing and numeracy, and some knowledge of the classics. According to Robert Hughes the artist "seems to have taken no more interest than a carpenter in philosophical or theological matters, and his views on painting … were very down to earth: Goya was no theoretician.
Goya began his studies in Zaragoza with José Luzán y Martínez, a local artist trained in Naples, and was later a pupil, in Madrid, of the court painter Francisco Bayeu, whose sister he married in 1773. He went to Italy to continue his studies and was in Rome in 1771. In the same year, he returned to Zaragoza, where he obtained his first important commission for frescoes in the cathedral, which he executed at intervals during the next 10 years.
Personal Life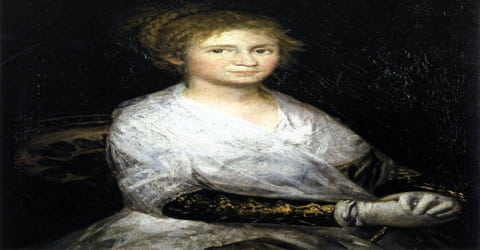 (Portrait of Josefa Bayeu y Subais)
In 1773, Francisco Goya married his art teacher Bayeu's sister, Josefa Bayeu y Subias. Though the couple had several children, only one survived to adulthood – their son Xavier.
Goya moved to the outskirts of Madrid, where he purchased a house along River Manzanares called Quinta del Sordo (Deaf Man's Villa) in 1819, but relocated to Bordeaux in 1824 and later Paris.
Leocadia Weiss (née Zorrilla, 1790–1856) the artist's maid, younger by 35 years, and a distant relative lived with and cared for Goya after Bayeu's death. She stayed with him in his Quinta del Sordo villa until 1824 with her daughter Rosario. Leocadia was probably similar in features to Goya's first wife Josefa Bayeu, to the point that one of his well-known portraits bears the cautious title of Josefa Bayeu (or Leocadia Weiss). There has been much speculation that Goya and Weiss were romantically linked; however, it is more likely the affection between them was sentimental.
Career and Works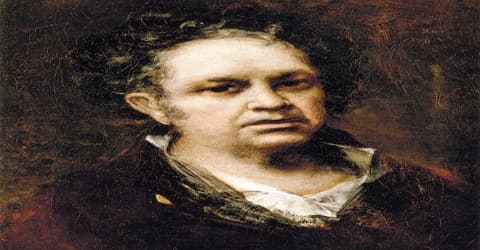 The year 1771 in Rome, Goya studied the classic works there. He submitted a painting to a competition held by the Academy of Fine Arts at Parma. While the judges liked his work, he failed to win the top prize. That year he returned to Zaragoza and painted elements of the cupolas of the Basilica of the Pillar (including Adoration of the Name of God), a cycle of frescoes for the monastic church of the Charterhouse of Aula Dei, and the frescoes of the Sobradiel Palace. He studied with the Aragónese artist Francisco Bayeu y Subías and his painting began to show signs of the delicate tonalities for which he became famous. His introduction to royal workshops in 1774 by Mengs to paint tapestry cartoons for the Royal Tapestry Factory in Madrid proved as a boon to his artistic development.
Goya's career at court began in 1775 when he painted the first of a series of more than 60 cartoons (preparatory paintings; mostly preserved in the Prado, Madrid), on which he was engaged until 1792, for the Royal Tapestry Factory of Santa Bárbara. These paintings of scenes of contemporary life, of aristocratic and popular pastimes, were begun under the direction of the German artist Anton Raphael Mengs, a great exponent of Neoclassicism who, after Tiepolo's death, had become undisputed art dictator at the Spanish court.
Goya was completed more than 60 cartoons over the next five years depicting scenes from everyday life, several of which were used to adorn the two royal Spanish residences at San Lorenzo del Escorial and El Pardo.
Goya was beset by illness, and his condition was used against him by his rivals, who looked jealously upon any artist seen to be rising in stature. Some of the larger cartoons, such as The Wedding, were more than 8 by 10 feet and had proved a drain on his physical strength. Ever resourceful, Goya turned this misfortune around, claiming that his illness had allowed him the insight to produce works that were more personal and informal.
However, Goya found the format limiting, as it did not allow him to capture complex color shifts or texture, and was unsuited to the impasto and glazing techniques he was by then applying to his painted works. The tapestries seem as comments on human types, fashion, and fads. Other works from the period include a canvas for the altar of the Church of San Francisco El Grande in Madrid, which led to his appointment as a member of the Royal Academy of Fine Art.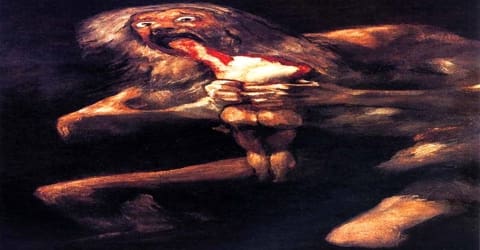 ("Saturno devorando a su hijo"- Goya)
Through the German artist Anton Raphael Mengs, Goya started to create works for Spain's royal family. He first painted tapestry cartoons, which were artworks that served as models for woven tapestries, for a factory in Madrid. These works featured scenes from everyday life, such as "The Parasol" (1777) and "The Pottery Vendor" (1779).
Goya started getting recognition as a portrait artist among various royal circles, composing portraits for the Count of Floridablanca, Crown Prince Don Luis, and the Duke and Duchess of Osuna.
In Goya's early cartoons the influence of Tiepolo's decorative style is modified by the teachings of Mengs, particularly his insistence on simplicity. The later cartoons reflect his growing independence of foreign traditions and the development of an individual style, which began to emerge through his study of the paintings of the 17th-century court painter Diego Velázquez in the royal collection, many of which he copied in etchings (c. 1778). Later in life, he is said to have acknowledged three masters: Velázquez, Rembrandt, and, above all, nature. Rembrandt's etchings were doubtless a source of inspiration for his later drawings and engravings, while the paintings of Velázquez directed him to the study of nature and taught him the language of realism.
In 1779, he won an appointment as a painter to the royal court. Goya continued to rise in status, receiving admission into the Royal Academy of San Fernando the following year. Goya began to establish a reputation as a portrait artist, winning commissions from many in royal circles. Works, such as "The Duke and Duchess of Osuna and their Children" (1787-1788), illustrate Goya's eye for detail. He skillfully captured the tiniest elements of their faces and clothes.
In 1783, the Count of Floridablanca, favorite of King Charles III, commissioned Goya to paint his portrait. He became friends with the King's half-brother Luis and spent two summers working on portraits of both the Infante and his family. During the 1780s, his circle of patrons grew to include the Duke and Duchess of Osuna, the King and other notable people of the kingdom whom he painted.
In 1785, Goya was appointed a deputy director of painting at the Academy and in the following year painter to the king, Charles III. To this decade belong his earliest known portraits of court officials and members of the aristocracy, whom he represented in conventional 18th-century poses. The stiff elegance of the figures in full-length portraits of society ladies, such as The Marquesa de Pontejos, and the fluent painting of their elaborate costumes also relates them to Velázquez's court portraits, and his representation of Charles III as Huntsman is based directly on Velázquez's royal huntsmen.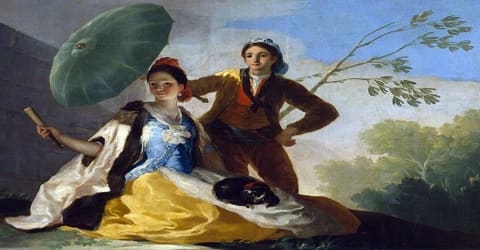 (The Parasol, 1777)
Goya was appointed court painter to Charles IV in 1789. The following year he became First Court Painter, with a salary of 50,000 reales and an allowance of 500 ducats for a coach. He painted portraits of the king and the queen, and the Spanish Prime Minister Manuel de Godoy and many other nobles. These portraits are notable for their disinclination to flatter; his Charles IV of Spain and His Family is an especially brutal assessment of a royal family.
The rule of reaction and political and social corruption that followed under the weak and stupid Charles IV and his clever, unscrupulous queen, Maria Luisa ended with the Napoleonic invasion of Spain. It was under the patronage of the new king, who raised him at once to the rank of court painter, that Goya became the most successful and fashionable artist in Spain; he was made director of the Academy in 1795 (but resigned two years later for reasons of health) and first court painter in 1799. Though he welcomed official honors and worldly success with undisguised enthusiasm, the record that he left of his patrons and of the society in which he lived is ruthlessly penetrating. After an illness in 1792 that left him permanently deaf, his art began to take on a new character, which gave free expression to the observations of his searching eye and critical mind and to his newly developed faculty of imagination.
Goya earned commissions from the highest ranks of the Spanish nobility, including Pedro Téllez-Girón, 9th Duke of Osuna and his wife María Josefa Pimentel, 12th Countess-Duchess of Benavente, María del Pilar de Silva, 13th Duchess of Alba (universally known simply as the "Duchess of Alba"), and her husband José María Álvarez de Toledo, 15th Duke of Medina Sidonia, and María Ana de Pontejos y Sandoval, Marchioness of Pontejos.
During his convalescence Goya painted a set of cabinet pictures said to represent "national diversions," which he submitted to the Vice Protector of the Academy with a covering letter (1794), saying, "I have succeeded in making observations for which there is normally no opportunity in commissioned works, which give no scope for fantasy and invention." The set was completed by The Madhouse in 1794, a scene that Goya had witnessed in Zaragoza, painted in a broad, sketchy manner, with an effect of exaggerated realism that borders on caricature. For his more purposeful and serious satires, however, he now began to use the more intimate mediums of drawing and engraving. In Los caprichos, a series of 80 etchings published in 1799, he attacked political, social, and religious abuses, adopting the popular imagery of caricature, which he enriched with highly original qualities of the invention.
Goya may have been part of the royal establishment, but he did not ignore the plight of the Spanish people in his work. Turning to etchings, Goya created a series of images called "Los Caprichos" in 1799, which has been viewed his commentary on political and social events. The 80 prints explored the corruption, greed, and repression that was rampant in the country. Even in his official work, Goya is thought to have cast a critical eye on his subjects. He painted the family of King Charles IV around 1800, which remains one of his most famous works. Some critics have commented that this portrait seemed to be more a caricature than a realist portrait.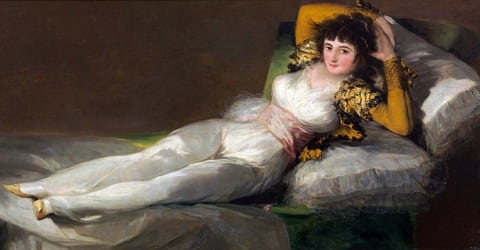 (La Maja Vestida, 1800–1805)
In 1801, Goya painted Godoy in a commission to commemorate the victory in the brief War of the Oranges against Portugal. The two were friends, even if Goya's 1801 portrait is usually seen as satire. Yet even after Godoy's fall from grace, the politician referred to the artist in warm terms. Godoy saw himself as instrumental in the publication of the Caprichos and is widely believed to have commissioned La Maja Desnuda.
Goya also used his art record moments of the country's history. In 1808, France, led by Napoleon Bonaparte, invaded Spain. Napoleon installed his brother Joseph as the country's new leader. While he remained a court painter under Napoleon, Goya created a series of etchings depicting the horrors of war. Goya retained his position as court painter, but in the course of the war he portrayed Spanish as well as French generals, and in 1812 he painted a portrait of The Duke of Wellington. It was, however, in a series of etchings, The Disasters of War (first published 1863), for which he made drawings during the war, that he recorded his reactions to the invasion and to the horrors and disastrous consequences of the war. The violent and tragic events, which he doubtless witnessed, are represented not with documentary realism but in dramatic compositions in line and aquatint with brutal details that create a vivid effect of authenticity.
After Spanish royalty regained the throne in 1814, Goya then painted "The Third of May," which showed to the true human costs of war. The work depicted the uprising in Madrid against French forces.
His 'Disasters of War', created during the 1810s, was believed to be a representation of the Dos de Mayo Uprising during 1808, which led to the Peninsular War of 1808-1814. Goya painted 'The Third of May 1808' and 'The Charge of the Mamelukes' in 1814, portraying the horrors of the Peninsular War fought between Spain and France and the subsequent loss of human lives.
La Maja Desnuda (La Maja Desnuda) was "the first totally profane life-size female nude in Western art" without pretense to allegorical or mythological meaning. The identity of the Majas is uncertain. The most popularly cited models are the Duchess of Alba, with whom Goya was sometimes thought to have had an affair, and Pepita Tudó, mistress of Manuel de Godoy. Neither theory has been verified, and it remains as likely that the paintings represent an idealized composite. The paintings were never publicly exhibited during Goya's lifetime and were owned by Godoy.
Goya's major works during 1814-19 included print series of 'La Tauromaquia', etchings of 'Los Disparates', and the altarpiece of Santa Justa and Santa Rufina for the Cathedral of Seville. He created a group of 14 paintings, known as the 'Black Paintings', as murals on the walls of his house outside Madrid, probably during 1819-1823, which were removed and transferred onto canvas, some 50 years after his death.
Although Goya did not make his intention known when creating The Disasters of War, art historians view them as a visual protest against the violence of the 1808 Dos de Mayo Uprising, the subsequent Peninsular War and the move against liberalism in the aftermath of the restoration of the Bourbon monarchy in 1814. The scenes are singularly disturbing, sometimes macabre in their depiction of battlefield horror, and represent an outraged conscience in the face of death and destruction. They were not published until 1863, 35 years after his death. It is likely that only then was it considered politically safe to distribute a sequence of artworks criticizing both the French and restored Bourbons.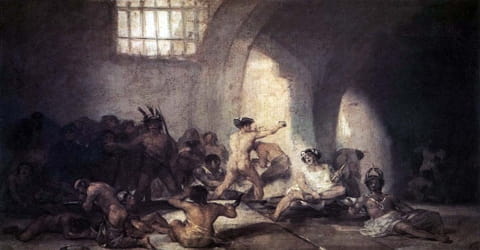 (The Madhouse – Francisco Goya)
In several portraits of Ferdinand VII, painted after his restoration, Goya evoked more forcefully than any description the personality of the cruel tyrant, whose oppressive rule drove most of his friends and eventually Goya himself into exile. He painted few other official portraits, but those of his friends and relations and his Self-Portraits (1815) are equally subjective. Some of his religious compositions of this period, the Agony in the Garden and The Last Communion of St. Joseph of Calasanz (1819), are more suggestive of sincere devotion than any of his earlier church paintings. The enigmatic "black paintings" with which he decorated the walls of his country house, the Quinta del Sordo (1820–23) and Los proverbios or Los disparates, a series of etchings made at about the same time (though not published until 1864), are, on the other hand, nightmare visions in expressionist language that seem to reflect cynicism, pessimism, and despair.
At the age of 75, alone and in mental and physical despair, he completed the work of his 14 Black Paintings, all of which were executed in oil directly onto the plaster walls of his house. Goya did not intend for the paintings to be exhibited, did not write of them, and likely never spoke of them. Around 1874, 50 years after his death, they were taken down and transferred to canvas support. Many of the works were significantly altered during the restoration, and in the words of Arthur Lubow what remain are "at best a crude facsimile of what Goya painted." The effects of time on the murals, coupled with the inevitable damage caused by the delicate operation of mounting the crumbling plaster on canvas, meant that most of the murals suffered extensive damage and loss of paint. Today they are on permanent display at the Museo del Prado, Madrid.
The political climate subsequently became so tense that Goya willingly went into exile in 1824. Despite his poor health, Goya thought he might be safer outside of Spain. Goya moved to Bordeaux, France, where he spent the remainder of his life. During this time, he continued to paint. Some of his later works included portraits of friends also living in exile.
Goya's works from 1814 to 1819 are mostly commissioned portraits, but also include the altarpiece of Santa Justa and Santa Rufina for the Cathedral of Seville, the print series of La Tauromaquia depicting scenes from bullfighting, and probably the etchings of Los Disparates.
His last paintings include genre subjects and several portraits of friends in exile: Don Juan Bautista de Muguiro, Leandro Fernández de Moratín, and Don José Pío de Molina, which show the final development of his style toward a synthesis of form and character in terms of light and shade, without outline or detail and with a minimum of colour.
Awards and Honor
Francisco Goya was laid to rest in Bordeaux but his remains were exhumed and interred at the Royal Chapel of St. Anthony of La Florida, Madrid, in 1919.
Death and Legacy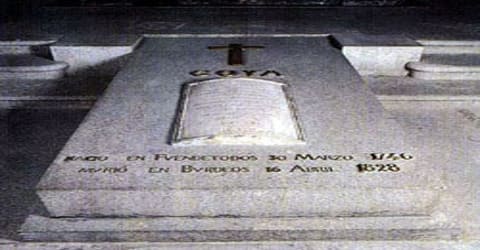 Francisco Goya returned to Spain in 1826 but went back to Bordeaux where he suffered a stroke in 1828 and died in April, aged 82. His body was later re-interred in the Real Ermita de San Antonio de la Florida in Madrid.
'The Nude Maja' (1800) and 'The Clothed Maja' (1803) are said to be his best compositions, illustrating a woman in nude and clothed positions, respectively. His 'Disasters of War', created during the 1810s, was believed to be a representation of the Dos de Mayo Uprising during 1808, which led to the Peninsular War of 1808-1814. Goya painted 'The Third of May 1808' and 'The Charge of the Mamelukes' in 1814, portraying the horrors of the Peninsular War fought between Spain and France and the subsequent loss of human lives.
Though there is little evidence for the legends of Goya's rebellious character and violent actions, he was undoubtedly a revolutionary artist. His enormous and varied production of paintings, drawings, and engravings, relating to nearly every aspect of contemporary life, reflects the period of political and social upheavals in which he lived. He had no immediate followers, but his many original achievements profoundly impressed later 19th-century French artists Eugène Delacroix was one of his great admirers who were the leaders of new European movements, from Romanticism and Realism to Impressionism; and his works continued to be admired and studied by the Expressionists and Surrealists in the 20th and 21st centuries.
Goya's major works during 1814-19 included print series of 'La Tauromaquia', etchings of 'Los Disparates', an the altarpiece of Santa Justa and Santa Rufina for the Cathedral of Seville. He created a group of 14 paintings, known as the 'Black Paintings', as murals on the walls of his house outside Madrid, probably during 1819-1823, which were removed and transferred onto canvas, some 50 years after his death.
A number of movies have been made depicting his life, some being 'The Naked Maja' (1958), 'Goya in Bordeaux' (1999), 'Goya's Ghosts' (2006), and documentary 'Goya – Crazy Like a Genius' (2012).
Information Source: