Biography of Fred Astaire
Fred Astaire – American dancer, singer, actor, choreographer, and television presenter.
Name: Frederick Austerlitz
Date of Birth: May 10, 1899
Place of Birth: Omaha, Nebraska, United States
Date of Death: June 22, 1987 (aged 88)
Place of Death: Century City Hospital, Los Angeles, California, United States
Occupation: Dancer, Singer, Actor, Presenter, Choreographer, Percussionist
Father: Frederic Austerlitz
Mother: Johanna Austerlitz
Spouse/Ex: Robyn Smith (m. 1980–1987), Phyllis Potter (m. 1933–1954)
Children: Ava Astaire-McKenzie, Fred Astaire Jr.
Early Life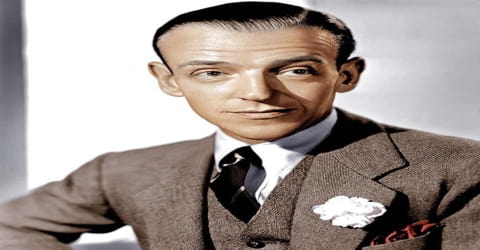 Fred Astaire, original name Frederick Austerlitz, American dancer of stage and motion pictures who is best known for a number of highly successful musical comedy films in which he starred with Ginger Rogers, was born on May 10, 1899 in Omaha, Nebraska, the son of Johanna "Ann" (née Geilus; 1878–1975) and Frederic "Fritz" Austerlitz. He is regarded by many as the greatest popular-music dancer of all time.
He is regarded as one of the best, if not the best, dancers of all time who found admirers in legends like Gene Kelly, George Balanchine, Mikhail Baryshnikov, Margot Fonteyn, Bon Fosse, Gregory Hines, Michael Jackson, and many others. His expertise came from the fact that he could portray any emotion through his dance and his acute sense of rhythm and technical control were awe-inspiring. He could blend elegance, grace, originality, and precision so easily that it looked impossible to be done in one take. While performing, he mixed elements of tapping, classical and the elevated style of Vernon and Irene Castle dancing and called it his 'outlaw style'. His dance influenced the American Smooth style of ballroom dancing and set new parameters for musical films throughout the world.
His stage and subsequent film and television careers spanned a total of 76 years, during which he starred in more than 10 Broadway and London musicals, made 31 musical films, 4 television specials, and issued numerous recordings. As a dancer, he is best remembered for his uncanny sense of rhythm, his perfectionism, his innovation, and as the dancing partner and on-screen romantic interest of Ginger Rogers, with whom he co-starred in a series of ten Hollywood musicals. Astaire was named by the American Film Institute as the fifth greatest male star of Classic Hollywood cinema in 100 Years… 100 Stars.
He was also a fashion icon, something which helped him conquer even more fans and lovers across the world. Another talent that is mentioned every time his name comes up is his singing ability. His light-tone voice coupled with prepossessing lyrics and insightful phrasing led many critics to rate him amongst the finest performers.
Beyond film and television, many dancers and choreographers, including Rudolf Nureyev, Sammy Davis Jr., Michael Jackson, Gregory Hines, Mikhail Baryshnikov, George Balanchine, Jerome Robbins, Madhuri Dixit, and Bob Fosse, who called Astaire his "idol", also acknowledged his influence.
Childhood, Family and Educational Life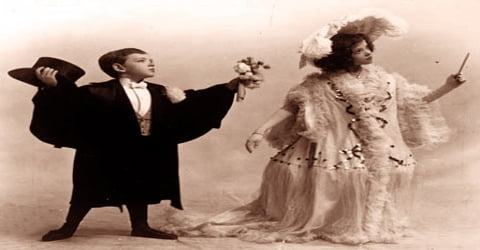 (Fred Astaire and his sister Adele in 1906)
Fred Astaire, original name Frederick Austerlitz, was born on May 10, 1899, in Omaha, Nebraska, US. His father Fredric 'Fritz' Austerlitz was a brewer at the Storz Brewing Company and his mother was Johanna Ann. Fred's elder sister's name was Adele. Astaire's father, "Fritz" Austerlitz, arrived in New York City at the age of 25 on October 26, 1893, at Ellis Island. '"Fritz" was hoping to find work in the brewing trade and moved to Omaha, Nebraska, where he landed a job with the Storz Brewing Company. Astaire's mother dreamed of escaping Omaha by virtue of her children's talents, after Astaire's sister, Adele Astaire, revealed herself to be an instinctive dancer and singer very early on in her childhood. Johanna planned a "brother and sister act," which was common in vaudeville at the time for her two children. Although Fred refused dance lessons at first, he easily mimicked his older sister's steps and took up piano, accordion, and clarinet.
The family shifted to New York City in 1905 to launch the children's show business career and their surnames were changed to Astaire. They were trained at the Alviene Master School of the Theatre and Academy of Cultural Arts.
The two Austerlitz children proved extraordinarily talented and the family moved to New York, where the children continued their training in singing, dancing, and acting. In 1905 Fred and Adele began performing in vaudeville. By 1917 they had changed their last name to Astaire and began performing in musicals. They achieved international fame with stage hits that included For Goodness Sake (1922), Funny Face (1927–28), and The Band Wagon (1931–32).
When Adele retired from show business in 1932 to marry, Astaire sought to reshape his career. He took the featured role in the musical Gay Divorce. This show proved Astaire could succeed without his sister and helped establish the pattern of most of his film musicals: it was a light comedy, built around a love story for Astaire and his partner that was amusing, but basically serious and featuring some great dancing, including routines Astaire was beginning to develop himself.
Personal Life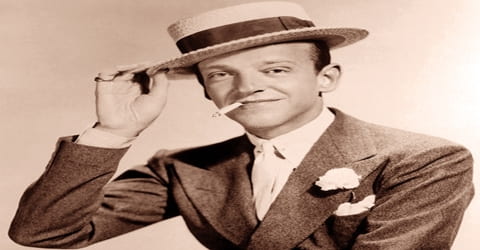 Fred Astaire married 25-year-old Phyllis Potter in 1933 despite his mother and sister's objections. They had two children, Fred Jr., and Ava. Phyllis's death from lung cancer, at the age of 46, ended twenty-one years of blissful marriage and left Astaire devastated. Astaire attempted to drop out of the film Daddy Long Legs (1955), which he was in the process of filming, offering to pay the production costs to date, but was persuaded to stay.
His second marriage on June 24, 1980, was to a jockey named Robyn Smith who was 45 years younger than him.
Always immaculately turned out, he and Cary Grant were called "the best-dressed actors in American movies." Astaire remained a male fashion icon even into his later years, eschewing his trademark top hat, white tie, and tails, which he hated, in favor of a breezy casual style of tailored sports jackets, colored shirts, and slacks the latter usually held up by the idiosyncratic use of an old tie or silk scarf in place of a belt.
Fred Astaire accompanied by Bing Crosby, George Murphy, Ginger Rogers, and some others founded the Hollywood Republican Committee.
Career and Works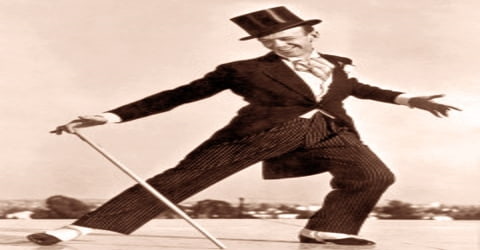 During the 1920s, Fred and Adele appeared on Broadway and on the London stage in shows such as Jerome Kern's The Bunch and Judy (1922), George and Ira Gershwin's Lady, Be Good (1924), and Funny Face (1927) and later in The Band Wagon (1931), winning popular acclaim with the theater crowd on both sides of the Atlantic. By then, Astaire's tap dancing was recognized as among the best, as Robert Benchley wrote in 1930, "I don't think that I will plunge the nation into war by stating that Fred is the greatest tap-dancer in the world." After the close of Funny Face, the Astaires went to Hollywood for a screen test (now lost) at Paramount Pictures, but Paramount deemed them unsuitable for films.
Adele's marriage (1932) to Lord Charles Arthur Francis Cavendish broke up the duo and Fred was left traumatized. But this turned out to be a blessing in disguise as he now expanded his range and could also create romantic acts as well. Fred's first audition was for RKO Radio Pictures, which was unsuccessful. His Hollywood debut was in the MGM-produced film 'Dancing Lady'(1933) starring Joan Crawford.
Free of the brother-sister constraints of the former pairing and working with new partner Claire Luce, Fred created a romantic partnered dance to Cole Porter's "Night and Day," which had been written for Gay Divorce. Luce stated that she had to encourage him to take a more romantic approach: "Come on, Fred, I'm not your sister, you know." The success of the stage play was credited to this number and, when recreated in The Gay Divorcee (1934), the film version of the play, it ushered in a new era in filmed dance. Recently, film footage taken by Fred Stone of Astaire performing in Gay Divorce with Luce's successor, Dorothy Stone, in New York in 1933 was uncovered by dancer and historian Betsy Baytos and now represents the earliest known performance footage of Astaire.
In 1933 Fred Astaire married Phyllis Livingston Potter and shortly afterward went to Hollywood. He had a featured part in Flying Down to Rio (1933). The film was a hit, and it was obvious that Astaire was a major factor in success. The Gay Divorcee (1934), a film version of Gay Divorce, was the first of Astaire's major pictures with Ginger Rogers (1911–1995) and an even bigger hit. With seven more films in the 1930s (the most popular of which was Top Hat in 1935), Astaire and Rogers became one of the legendary partnerships in the history of dance, featuring high spirits, bubbling comedy, and romantic chemistry. By the end of the 1930s, the profits from the Astaire-Rogers films were beginning to decline. Over the next few years, Astaire made nine films at four different studios and continued to create splendid dances, appearing with a variety of partners.
Also in 1933, Fred Astaire was paired with Ginger Rogers in the RKO Radio Pictures production 'Flying Down to Rio'. They were a sensation, stealing the picture from stars Delores del Rio and Gene Raymond. Public demand compelled RKO to feature the pair in a classic series of starring vehicles throughout the 1930s, with The Gay Divorcee (1934), Top Hat (1935), and Swing Time (1936) often cited as the best of the lot. Although Astaire worked well with several leading ladies throughout his career, his partnership with Rogers had a special chemistry. Their respective elegance (Astaire) and earthiness (Rogers) rubbed off on one another, and it has often been said that he gave her class and she gave him sex appeal. Their dance routines, often in the midst of sumptuous Art Deco settings, were intricate tap or graceful ballroom numbers that served as sophisticated statements of romantic love. Only once in Carefree (1938) did Astaire and Rogers share an on-screen kiss, and then only in a dream sequence.
In 1939, Fred Astaire left RKO to freelance and pursue new film opportunities, with mixed though generally successful outcomes. Throughout this period, Astaire continued to value the input of choreographic collaborators and, unlike the 1930s when he worked almost exclusively with Hermes Pan, he tapped the talents of other choreographers in an effort to continually innovate. His first post-Ginger dance partner was the redoubtable Eleanor Powell considered the finest female tap-dancer of her generation in Broadway Melody of 1940, in which they performed a celebrated extended dance routine to Cole Porter's "Begin the Beguine." In his autobiography Steps in Time, Astaire remarked, "She 'put 'em down like a man,' no ricky-ticky-sissy stuff with Ellie. She really knocked out a tap dance in a class by herself."
Fred Astaire made two innovations in his musicals. First, he insisted that the camera should film the entire dance routine in a single shot, with dancers always in full view. And second, he tried to integrate the dance routines into the plotlines of the film instead of using dance as a spectacle. He starred with Rita Hayworth, the daughter of his vaudeville dance idols, the Cansinos, in two films, 'You'll Never Get Rich' (1941) and 'You Were Never Lovelier'(1942).
Fred Astaire played alongside Bing Crosby in Holiday Inn (1942) and later Blue Skies (1946) but, in spite of the enormous financial success of both, was reportedly dissatisfied with roles where he lost the girl to Crosby. The former film is particularly remembered for his virtuoso solo dance to "Let's Say it with Firecrackers" while the latter film featured an innovative song and dance routine to a song indelibly associated with him: "Puttin' On the Ritz." Other partners during this period included Paulette Goddard in Second Chorus (1940), in which he dance-conducted the Artie Shaw orchestra.
In 1946 Fred Astaire retired from motion pictures to create a chain of successful dancing schools. In 1947 he returned to movies to make the highly profitable Easter Parade at Metro Goldwyn Mayer (MGM). Nine more musicals followed. Astaire's success was marred in 1954, however, when his beloved wife died from cancer.
Fred Astaire's immensely popular dancing style appeared relaxed, light, effortless, and largely improvised. In reality, he was a hardworking perfectionist who tirelessly rehearsed routines for hours on end. Working in collaboration with legendary choreographer Hermes Pan for his films with Rogers, Astaire eschewed the then-popular Busby Berkeley approach to filmed musicals and its emphasis on special effects, surreal settings, and chorus girls in ever-changing kaleidoscope patterns. Instead, Astaire revolutionized the movie musical by simplifying it: solo dancers or couples were shot in full-figure, and dances were filmed with a minimum of edits and camera angles. He is regarded as a pioneer in the serious presentation of dance on film.
After the debacle of the Vincente Minelli directed film 'Yolanda and the Thief' (1945), Fred Astaire became insecure and announced his retirement. He now focused his interest in horse-racing and founded the Fred Astaire Dance Studio in 1947. He returned to Hollywood as a replacement for Kelly in the film 'Easter Parade'(1948) and then appeared in the film 'The Barkleys of Broadway'(1949), where he paired up with Rogers for the last time.
By the mid-1950s the era of the Hollywood musical was coming to an end, and Fred Astaire moved into other fields. On television, he produced four award-winning musical specials with Barrie Chase as his partner. He also tried his hand at straight acting roles with considerable success in eight films between 1959 and 1982. Over the years he played a number of characters on television in dramatic specials and series. In 1980, as he entered his eighties, Astaire married Robyn Smith, a successful jockey in her mid-thirties. He died seven years later. Ginger Rogers, Astaire's longtime dance partner, passed away in 1995. Rogers is often quoted as having said, "I did everything Fred did, only backward and in high heels." Their partnership lasted sixteen years, from 1933 to 1949.
Fred Astaire made two pictures with Rita Hayworth, whom he said was his favorite dance partner. The first film, You'll Never Get Rich (1941) and His second film with Hayworth, You Were Never Lovelier (1942). She was also the daughter of his former vaudeville dance idols, the Cansinos. His next partner, Lucille Bremer, was featured in two lavish vehicles, both directed by Vincente Minnelli: the fantasy Yolanda and the Thief, which featured an avant-garde surrealistic ballet, and the musical revue Ziegfeld Follies (1946), which featured a memorable teaming of Astaire with Gene Kelly to "The Babbit and the Bromide," a Gershwin song Astaire had introduced with his sister Adele back in 1927. While Follies was a hit, Yolanda bombed at the box office, and Astaire, ever insecure and believing his career was beginning to falter, surprised his audiences by announcing his retirement during the production of Blue Skies (1946), nominating "Puttin' on the Ritz" as his farewell dance.
Fred Astaire appeared in 212 musical numbers, of which 133 contain fully developed dance routines, many of which are of great artistic value. And, because he worked mainly in film, the vast majority of Astaire's works are preserved in their original form. Astaire's dances are a blend of tap and ballroom dancing with bits from other dance forms thrown in. What holds everything together is Astaire's class, wit, and apparent ease of execution.
After announcing his retirement in 1946, Fred Astaire concentrated on his horse-racing interests and in 1947 founded the Fred Astaire Dance Studios, which he subsequently sold in 1966. He returned to Hollywood as a replacement for Kelly in the film 'Easter Parade'(1948) and then appeared in the film 'The Barkleys of Broadway'(1949), where he paired up with Rogers for the last time.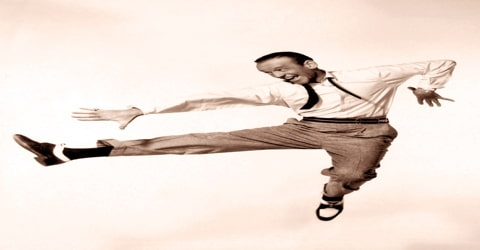 In 'Daddy Long Legs' (1955)
Fred Astaire shut the project 'Daddy Long Legs' (1955) midway due to his wife's death. But the film's composer and studio executives convinced him that working was the best remedy to overcome grief. The film turned out to be a moderate hit. The film 'Funny Face' (1957), a Paramount production and 'Silk Stockings' (1957), an MGM production failed to rally their production costs and subsequently, he disengaged from motion pictures. The film 'Finian's Rainbow'(1968) directed by Francis Ford Coppola was his last major musical film. He featured alongside Petula Clark and the film failed to make its mark at the box-office.
The best of Astaire's films during this period was The Band Wagon (1953), often cited as one of the greatest of film musicals; it featured Astaire's memorable duet with Cyd Charisse to the song "Dancing in the Dark."
However, Johnny Mercer (the film's composer) and Fox studio executives convinced him that work would be the best thing for him at that time. When Daddy Long Legs was released in 1955, it did only moderately well at the box office. His next film for Paramount, Funny Face (1957), teamed him with Audrey Hepburn and Kay Thompson and despite the sumptuousness of the production and the strong reviews from critics, it failed to make back its cost. Similarly, Astaire's next project his final musical at MGM, Silk Stockings (1957), in which he co-starred with Cyd Charisse, also lost money at the box office. As a result, Astaire withdrew from motion pictures for two years.
Astaire's run of classic MGM musicals ended with Silk Stockings (1957), after which his screen appearances were mostly in nondancing character roles. He continued to dance with new partner Barrie Chase for several Emmy Award-winning television specials throughout the 1950s and '60s, and he danced again on-screen in Finian's Rainbow (1968) and for a few steps with Gene Kelly in That's Entertainment, Part II (1976).
Fred Astaire's last major musical film was Finian's Rainbow (1968), directed by Francis Ford Coppola. Astaire shed his white tie and tails to play an Irish rogue who believes that if he buries a crock of gold in the shadows of Fort Knox the gold will multiply. Astaire's dance partner was Petula Clark, who played his character's skeptical daughter. He described himself as nervous about singing with her, while she said she was worried about dancing with him. The film was a modest success both at the box office and among critics.
Astaire spent weeks working out his choreography. He also created an approach to filming dance that was often copied in Hollywood musicals: both camerawork and editing are used to support the flow of the dancing, not to overshadow it. Although his shyness and self-doubt could make him difficult to work with, Astaire was an efficient planner and worker. His courtesy, professionalism, and struggle for improvement earned him the admiration of his coworkers.
Fred Astaire continued to act in the 1970s, appearing on television as the father of Robert Wagner's character, Alexander Mundy, in It Takes a Thief and in such films as The Towering Inferno (1974), in which he danced with Jennifer Jones and for which he received his only Academy Award nomination, in the category of Best Supporting Actor. He voiced the mailman narrator in the 1970s animated television specials Santa Claus Is Comin' to Town and The Easter Bunny Is Comin' to Town. Astaire also appeared in the first two That's Entertainment! documentaries, in the mid-1970s. In the second compilation, aged seventy-six, he performed brief dance linking sequences with Kelly, his last dance performances in a musical film.
In 1975, Fred Astaire launched three albums, 'Attitude Dancing', 'They Can't Take These Away From Me' and 'A Couple of Song and Dance Men' in London. He featured in a supporting role in the cult movie 'The Amazing Dobermans' (1976), in a French film 'The Purple Taxi' (1977) and in the television film, 'A Family Upside Down' (1978). He also made a guest appearance in the TV-series 'Battlestar Galactica'(1979), on account of his grandchildren's interest in the series.
Extremely modest about his singing abilities (he frequently claimed that he could not sing, but the critics rated him as among the finest), Astaire introduced some of the most celebrated songs from the Great American Songbook, in particular, Cole Porter's: "Night and Day" in Gay Divorce (1932) and "So Near and Yet So Far" in You'll Never Get Rich (1941), Irving Berlin's "Isn't This a Lovely Day?", "Cheek to Cheek" and "Top Hat, White Tie and Tails" in Top Hat (1935), "Let's Face the Music and Dance" in Follow the Fleet (1936) and "Change Partners" in Carefree (1938). He first presented Jerome Kern's "The Way You Look Tonight" in Swing Time (1936); the Gershwins' "They Can't Take That Away from Me" in Shall We Dance (1937), "A Foggy Day" and "Nice Work if You Can Get it" in A Damsel in Distress (1937); Johnny Mercer's "One for My Baby" from The Sky's the Limit (1943) and "Something's Gotta Give" from Daddy Long Legs (1955); and Harry Warren and Arthur Freed's "This Heart of Mine" from Ziegfeld Follies (1946).
In addition to Astaire's immeasurable contributions to the art of dance, he was noted for his quintessentially American vocal style. Although possessing a rather thin-toned tenor voice, Astaire received much praise from jazz critics for his innate sense of swing and his conversational way with a song. Several compilations have been issued of Astaire songs from film soundtracks, but his best vocal recordings were those he undertook in the early 1950s with jazz combos led by pianist Oscar Peterson. They were released under several titles over the years.
Although Fred Astaire viewed himself primarily as an entertainer, his artistry won him the admiration of twentieth-century dancers such as Gene Kelly, George Balanchine, the Nicholas Brothers, Mikhail Baryshnikov, Margot Fonteyn, Bob Fosse, Gregory Hines, Rudolf Nureyev, Michael Jackson, and Bill Robinson. Balanchine compared him to Bach, describing him as "the most interesting, the most inventive, the most elegant dancer of our times," while for Baryshnikov he was "a genius… a classical dancer like I never saw in my life." "No dancer can watch Fred Astaire and not know that we all should have been in another business," he concluded.
Awards and Honor
Fred Astaire was presented with an honorary Academy Award "for his unique artistry and his contributions to the technique of musical pictures" in 1950.
Astaire's most-notable dramatic roles were in On the Beach (1959); The Pleasure of His Company (1962); The Towering Inferno (1974), for which he received an Oscar nomination for best-supporting actor; and Ghost Story (1981), his final film.
He was the recipient of several Golden Globe Awards including the 'Best Motion Picture Actor -Music/Comedy' for 'Three Little Words' in 1950 and 'Best Supporting Actor' for 'The Towering Inferno' in 1975.
Fred Astaire received a Life Achievement Award from the American Film Institute in 1981.
Fred Astaire was inducted into the Hall of Fame of the International Best Dressed List, the American Theatre Hall of Fame and the National Museum of Dance's Mr. & Mrs. Cornelius Vanderbilt Whitney Hall of Fame. He received the Grammy Lifetime Achievement Award and a Grammy Hall of Fame Award posthumously. He was also inducted into the Television Hall of Fame and the Ballroom Dancer's Hall of Fame.
Death and Legacy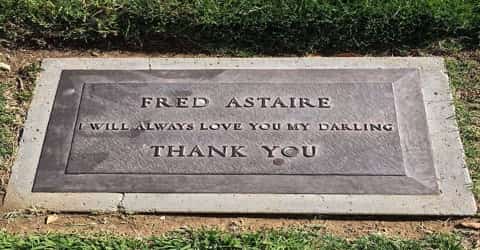 Fred Astaire died of pneumonia on June 22, 1987, at the age of 88. Shortly before his death, Astaire said: "I didn't want to leave this world without knowing who my descendant was thank you Michael" referring to Michael Jackson. His body was buried at Oakwood Memorial Park Cemetery in Chatsworth, California. One of his last requests was to thank his fans for their years of support.
His 1958 musical special 'An Evening with Fred Astaire' won nine Emmy Awards, including the ones for 'Best Single Performer by an Actor' and 'Most Outstanding Single Program of the Year'.
Despite the many accolades for his unquestionable greatness, Astaire remained as modest and elegant as the characters he portrayed. As he said in his autobiography, Steps in Time (1959), "I have no desire to prove anything by it. I just dance."
In January 1997, with Robyn Astaire's blessing, Astaire's image returned to television through special effects editing Dirt Devil inserted its vacuum cleaners into dance scenes from Astaire's films for three of its commercials. The press criticized the commercials. The general feeling was that replacing Ginger Rogers with a vacuum cleaner was in poor taste.
Fred Astaire's life has never been portrayed on film. He always refused permission for such portrayals, saying, "However much they offer me and offers come in all the time I shall not sell." Astaire's will included a clause requesting that no such portrayal ever take place; he commented, "It is there because I have no particular desire to have my life misinterpreted, which it would be."
Information Source: