Biography of Groucho Marx
Groucho Marx – American comedian, writer, stage, film, radio, and television star.
Name: Julius Henry "Groucho" Marx
Date of Birth: October 2, 1890
Place of Birth: New York City, U.S.
Date of Death: August 19, 1977 (aged 86)
Place of Death: Cedars-Sinai Medical Center, Los Angeles, California, U.S.
Father: Simon
Mother: Miene
Spouse/Ex: Eden Hartford (m. 1954–1969), Kay Marvis (m. 1945–1951), Ruth Johnson (m. 1920–1942)
Children: Arthur Marx, Melinda Marx, Miriam Marx
Early Life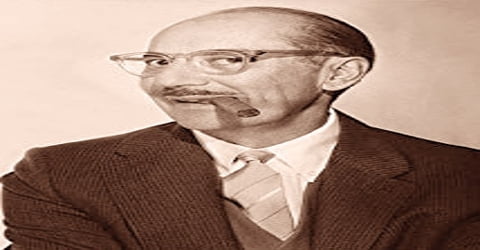 Comedian and film actor Groucho Marx was born on October 2, 1890, in Manhattan, New York. He was an American comedian, writer, stage, film, radio, and television star. He was one of the Marx Brothers. He spent nearly seven decades making people laugh with his snappy one-liners and sharp wit. A master of quick wit, he is widely considered one of America's greatest comedians. He made 13 feature films with his siblings the Marx Brothers, of whom he was the third-born. He also had a successful solo career, most notably as the host of the radio and television game show You Bet Your Life.
A member of the highly popular family comedy act "Marx Brothers" which also included his brothers Chico, Harpo, Gummo, and Zeppo, Groucho Marx also had a tremendously successful solo career. Well-known for his witty comebacks, he was also much loved for his quirky looks and mannerisms. His signature look consisted of glasses, a thick greasepaint mustache and eyebrows, and an ever-present cigar in his mouth. His distinctive appearance, which he had adopted during his early days in vaudeville, became an instant hit in films and television too. Along with his brothers, he made 13 feature films, most of which became super hits five of these were selected by the American Film Institute (AFI) as among the top 100 comedy films. He also enjoyed much success as a solo comedian and gained a lot of attention as the host of the radio and television game show 'You Bet Your Life.' Despite all the success, he enjoyed in his professional career, Marx's personal life was not a happy one with all three of his marriages ending in divorce.
Marx's distinctive appearance, carried over from his days in vaudeville, included quirks such as an exaggerated stooped posture, glasses, cigar, and a thick greasepaint mustache and eyebrows. These exaggerated features resulted in the creation of one of the world's most recognizable and ubiquitous novelty disguises, known as Groucho glasses: a one-piece mask consisting of horn-rimmed glasses, a large plastic nose, bushy eyebrows, and mustache.
Childhood, Family and Educational Life
Julius Henry "Groucho" Marx was born as Julius Henry Marx on October 2, 1890, in Manhattan, New York City, New York, U.S. to Minnie Schönberg and Sam "Frenchie" Marx as one of their five sons. He had four brothers: Leonard (Chico), Adolf (Harpo), Milton (Gummo), and Herbert (Zeppo.)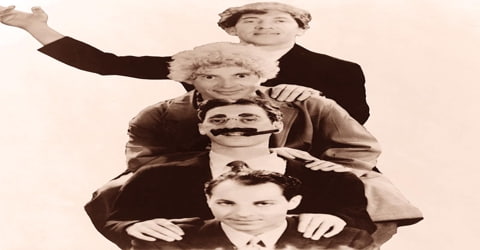 The Marx Brothers in 1931 (from the top, Chico, Harpo, Groucho, and Zeppo)
Marx stated that he was born in a room above a butcher's shop on East 78th Street, "Between Lexington & 3rd", as told to Dick Cavett in a 1969 television interview. The Marx children grew up on East 93rd Street off Lexington Avenue in a neighborhood now known as Carnegie Hill on the Upper East Side of the borough of Manhattan. The turn-of-the-century building that his brother Harpo called "the first real home they ever knew" (in his memoir Harpo Speaks) was populated with European immigrants, mostly artisans. Just across the street were the oldest brownstones in the area, owned by people such as the well-connected Loew Brothers and William Orth. The Marx family lived at this location "for about 14 years", Groucho also told Cavett.
Marx's father Samuel never had much success as a tailor, and the family struggled financially. His mother Minnie hoped that she might find prosperity through her five children. She became the quintessential "stage mother," guiding her children's theatrical acts and even performing herself. The act eventually featured Groucho and his brothers Leonard, Adolph and Milton.
Although Marx dreamed of becoming a doctor, he dropped out of school at 12 to help support his family. In 1905, he began performing as a boy singer on the vaudeville stage, and later, with the help of his mother-manager, Minnie Marx was joined by his brothers as the singing troupe the Four Nightingales. Later, the brothers developed into a successful comedy act, leading to several successful Broadway plays and, in the late '20s, movies like Animal Crackers. Marx initially adapted a German accent for his stage persona, but quickly switched to a fast-talking smart aleck when anti-German sentiment became prevalent on the eve of WW I. The popularity of his persona also helped him establish a career outside of his work with his brothers during the early '30s.
Personal Life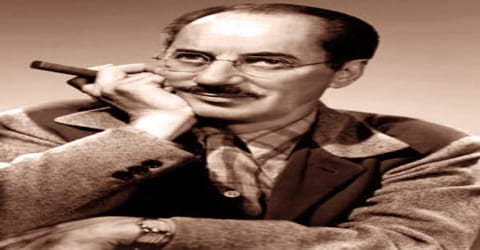 Groucho Marx married chorus girl Ruth Johnson in 1920. He was 29 and she 19 at the time of their wedding. The couple had two children, Arthur Marx, and Miriam Marx. They divorced after 22 years of marriage in 1942.
His second wife was Kay Marvis (m. 1945–51), née Catherine Dittig, former wife of Leo Gorcey. Groucho was 54 and Kay 21 at the time of their marriage. They had a daughter, Melinda Marx. His third wife was actress Eden Hartford who he wed in 1954. This marriage ended in 1969.
Despite his lack of formal education, he wrote many books, including his autobiography, Groucho and Me (1959) and Memoirs of a Mangy Lover (1963). He was a friend of such literary figures as Booth Tarkington, T. S. Eliot, and Carl Sandburg. Much of his personal correspondence with those and other figures are featured in the book The Groucho Letters (1967) with an introduction and commentary on the letters written by Groucho, who donated his letters to the Library of Congress. His daughter Miriam published a collection of his letters to her in 1992 titled Love, Groucho. Groucho Marx made serious efforts to learn to play the guitar. In the 1932 film Horse Feathers, Groucho performs the film's love theme "Everyone Says I Love You" for costar Thelma Todd on a Gibson L-5.
Marx had trouble hearing and his voice was much weaker than it was in his prime. Still, he managed to charm and entertain the audience. Two years later, Marx received a special Academy Award for his stage and screen efforts.
Career and Works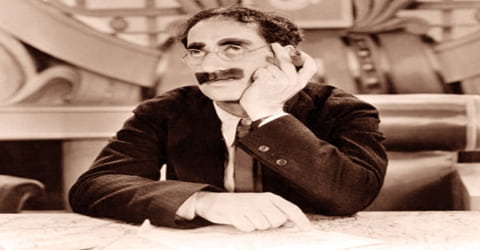 Once the Marx Brothers decided to promote themselves as comedians, they each took up a stage name, with Julius taking the name "Groucho" for himself. His brothers adopted the names Chico, Harpo, Gummo, and Zeppo. They found considerable success on the vaudeville as a family act and before long they had established themselves as the biggest comedic stars of the Palace Theatre in New York City. The Marx Brothers took the Broadway by storm and enjoyed massive success on the stage.
The Marx Brothers had a career breakthrough in 1914 while performing in Texas. During a show, some of the audience left to go see a runaway mule. When they returned, the Marx Brothers put aside their usual routines to make fun of the audience. Groucho's quick-witted quips won over the crowd. The switch to comedy proved to be their ticket to success.
The Marx Brothers became the biggest comedic stars of the Palace Theatre in New York, which billed itself as the "Valhalla of Vaudeville". Brother Chico's deal-making skills resulted in three hit plays on Broadway. No other comedy routine had ever so infected the Broadway circuit. All of this stage work predated their Hollywood career. By the time the Marxes made their first movie, they were already major stars with sharply honed skills; and by the time Groucho was relaunched to stardom on You Bet Your Life, he had been performing successfully for half a century.
By the 1920s, the Marx Brothers had become a hugely popular theatrical act. Groucho had developed some of his trademarks by this time. He often wore a long coat, a painted-on mustache, thick glasses and held on to a cigar on stage. In addition to just liking cigars, Marx explained that they proved useful, too. He said that "if you forget a line, all you have to do is stick the cigar in your mouth and puff on it until you think of what you've forgotten."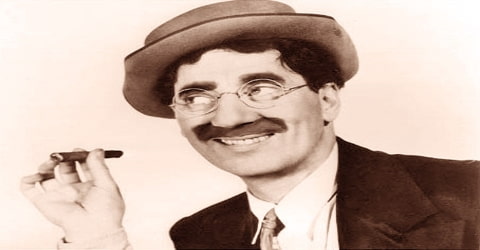 By the 1920s, the family act had become so popular that the brothers didn't even have to utter a word to make the audience laugh. Their very presence was enough to send the audience doubling with laughter!
Films emerged as a new medium of entertainment in the 1920s. Already established entertainers, the Marx Brothers made their first feature film 'Humor Risk' in 1921. The film, however, was never released and has since been lost.
Groucho Marx made 26 movies, 13 of them with his brothers Chico and Harpo. Marx developed a routine as a wisecracking hustler with a distinctive chicken-walking lope, an exaggerated greasepaint mustache and eyebrows, and an ever-present cigar, improvising insults to stuffy dowagers (often played by Margaret Dumont) and anyone else who stood in his way. As the Marx Brothers, he and his brothers starred in a series of popular stage shows and movies. Their first movie was a silent film made in 1921 that was never released and is believed to have been destroyed at the time. A decade later, the team made two of their Broadway hits The Cocoanuts and Animal Crackers into movies. Other successful films were Monkey Business, Horse Feathers, Duck Soup, and A Night at the Opera. One quip from Marx concerned his response to Sam Wood, the director of A Night at the Opera. Furious with the Marx Brothers' ad-libs and antics on the set, Wood yelled in disgust: "You can't make an actor out of clay." Groucho responded, "Nor a director out of Wood."
Over the ensuing years Groucho Marx, along with his brothers, made many other hit films, such as 'Monkey Business' (1931), 'Horse Feathers'(1932), 'Duck Soup' (1933), and 'A Night at the Opera' (1935).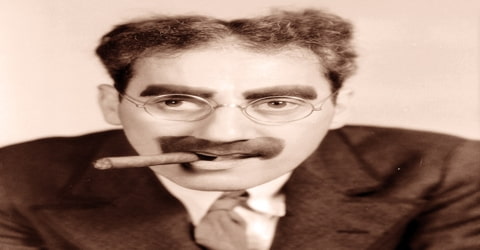 Marx's first radio program was Flywheel, Shyster and Flywheel in 1932, a series co-starring Chico Marx. The series ran for only a short time, and while most of the transcripts and discs were believed destroyed, they were discovered in the Library of Congress in 1988 (as of March 2007, audio versions of the program are out of print).
The late 1930s also marked a successful period for the Marx Brothers. They appeared in various hit films including 'A Day at the Races' (1937), 'Room Service' (1938), and 'At the Circus' (1939). During this period Groucho also gave a few solo performances as two of his brothers were not much active in the show business any longer.
In 1947, Marx was asked to host a radio quiz program You Bet Your Life. It was broadcast by ABC and then CBS before moving to NBC. It moved from radio to television on October 5, 1950, and ran for eleven years. Filmed before an audience, the show consisted of Marx bantering with the contestants and ad-libbing jokes before briefly quizzing them. The show was responsible for popularizing the phrases "Say the secret word and the duck will come down and give you fifty dollars," "Who's buried in Grant's Tomb?" and "What color is the White House?" (asked to reward a losing contestant a consolation prize).
After enjoying unprecedented success for around two decades, Groucho Marx faced quite a few disappointments in the 1940s. His radio show 'Blue Ribbon Town' turned out to be a flop and he found no takers for his proposed sitcom 'The Flotsam Family.' In the late 1940s, his career received a new leash of life when he was asked to host the quiz show 'You Bet Your Life.' The show debuted on ABC Radio on October 27, 1947, and moved to CBS Radio in 1949. Owing to its simple format, it was broadcast simultaneously on both radio and television. It proved to be a major hit and ran successfully for several years.
Throughout his career, Marx introduced a number of memorable songs in films, including "Hooray for Captain Spaulding" and "Hello, I Must Be Going", in Animal Crackers, "Whatever It Is, I'm Against It", "Everyone Says I Love You" and "Lydia the Tattooed Lady". Frank Sinatra, who once quipped that the only thing he could do better than Marx was sing, made a film with Marx and Jane Russell in 1951 entitled Double Dynamite.
On the radio, Groucho worked on several programs before landing a hit in 1947 with You Bet Your Life. He hosted the quirky game show, which focused more on his quick wit than on contestants winning prizes. You Bet Your Life moved from radio to television in 1950, and Marx entertained America with his wisecracks for 11 years, also winning a 1951 Emmy. After that program ended in 1961, he appeared on Tell It to Groucho, a short-lived game show the following year. Then Marx largely retreated from the limelight, making only sporadic appearances on television and in films.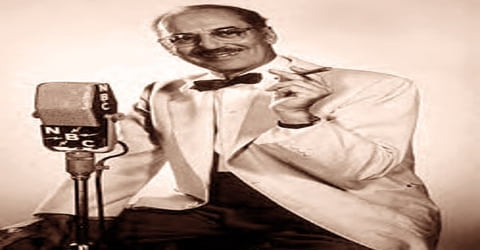 In 1968, Marx made his final film appearance as God in Skidoo, a movie generally panned by reviewers. During the '70s, Marx made a comeback, performing one-man shows. He performed at Carnegie Hall in 1972 and A&M issued An Evening with Groucho, a double album. Marx became a frequent guest on Dick Cavett's talk show, was photographed for Rolling Stone with Alice Cooper and guested on a variety show hosted by Bill Cosby.
Marx did paint the old character mustache over his real one on a few rare performing occasions, including a TV sketch with Jackie Gleason on the latter's variety show in the 1960s (in which they performed a variation on the song "Mister Gallagher and Mister Shean," co-written by Marx's uncle Al Shean) and the 1968 Otto Preminger film Skidoo. In his late 70s at the time, Marx remarked on his appearance: "I looked like I was embalmed." He played a mob boss called "God" and, according to Marx, "both my performance and the film were God-awful!"
Groucho Marx remained active even during his later years. He was in his late seventies when he made appearances in 'I Dream of Jeannie' (1967), 'Skidoo' (1968), and 'Julia' (1968). His final major public appearance was at the 1974 Academy Awards telecast. Later in life, instead of performing, Marx wrote a follow-up to his 1959 autobiography Groucho and Me. This time around, he focused on love and sex in 1963's Memoirs of a Mangy Lover.
Awards and Honor
Groucho Marx was presented with an honorary Academy Award at the 1974 Academy Awards telecast.
The Marx Brothers were collectively named #20 on AFI's list of the Top 25 American male screen legends of Classic Hollywood, becoming the only group to be so honored.
Death and Legacy
By 1977, Marx was in decline both physically and mentally. He struggled with health problems, and his family battled with his companion Erin Fleming over control of his affairs.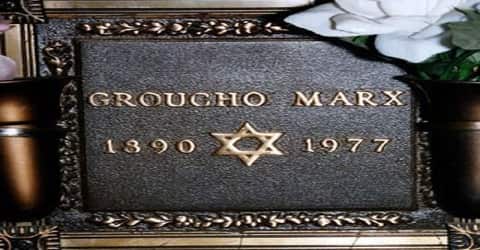 Groucho Marx died of pneumonia on August 19, 1977, at the age of 86, only a few days after Elvis Presley, and was buried in Eden Memorial Park Cemetery in Mission Hills, Los Angeles, CA. Many of his recorded works, including dialog and songs from Coconuts and Monkey Business, remain available. His gravestone bears no epitaph, but in one of his last interviews he suggested one: "Excuse me, I can't stand up."
"He developed the insult into an art form," The New York Times mused on his death. "And he used the insult, delivered with maniacal glee, to shatter the egos of the pompous ?? and to plunge his audience into helpless laughter."
Groucho Marx, along with his brothers, appeared in the 1933 comedy film 'Duck Soup.' The movie, which also featured Margaret Dumont, Louis Calhern, Raquel Torres and Edgar Kennedy along with the Marx Brothers, is considered by critics to be a masterpiece of comedy. The Marx Brothers' movie 'A Night at the Opera' was a massive box office hit at the time of its release. In 1993, it was selected for preservation in the National Film Registry by the Library of Congress as being "culturally, historically, or aesthetically significant".
Groucho Marx was, and remains, the most recognizable and well-known of the Marx Brothers. Groucho-like characters and references have appeared in popular culture both during and after his life, some aimed at audiences who may never have seen a Marx Brothers movie. Groucho's trademark eyeglasses, nose, mustache, and cigar have become icons of comedy glasses with fake noses and mustaches (referred to as "Groucho glasses", "nose-glasses," and other names) are sold by novelty and costume shops around the world.
Information Source: