Biography of Henry Hobson Richardson
Henry Hobson Richardson- American architect.
Name: Henry Hobson Richardson
Date of Birth: September 29, 1838
Place of Birth: Priestly Plantation, St. James Parish, Louisiana, United States
Date of Death: April 27, 1886 (aged 47)
Place of Death: Brookline, Massachusetts, United States
Occupation: Architect
Father: Henry Dickenson Richardson
Mother: Catherine Caroline Priestley
Spouse/Ex: Julia Gorham Hayden (m. 1867)
Children: 6
Early Life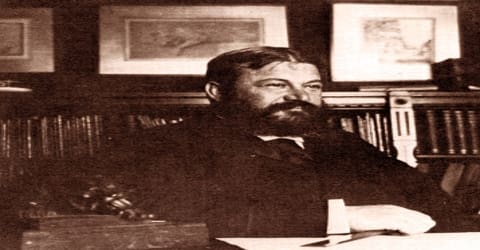 An American architect whose pioneering styles would lay the foundations for truly American styles of architecture yet to come; Henry Hobson Richardson was born on 29th September 1838, at the Priestley Plantation in St. James Parish, Louisiana, U.S. and spent part of his childhood in New Orleans. He designed buildings in Albany, Boston, Buffalo, Chicago, Hartford, Pittsburgh, Cincinnati, and other cities. The style he popularized is named for him: Richardsonian Romanesque. Along with Louis Sullivan and Frank Lloyd Wright, Richardson is one of "the recognized trinity of American architecture".
H.H. Richardson initiated the Romanesque revival in the US and remained an avant-garde in developing and popularising medieval style of architecture in America, which became famous after his name as 'Richardsonian Romanesque'. His early works reflect 'High Victorian Gothic' style designs, which were mostly applied by English architects like Edward Godwin, William Burges, and William Butterfield. Some early works of Richardson that reflect such style include 'Cheney Building' in Hartford, Connecticut; 'Grace Church' in West Medford; 'Town Hall' in Brookline; 'Hampden County Courthouse' and 'North Congregational Church' in Springfield. His body of work includes commercial structures, community libraries, academic buildings, civic structures, and several private residences. His designs were defined with simple contours and horizontal lines and were much inspired by the 'Byzantine' or 'Romanesque' style that differed distinctly from his contemporaries. Some of his major works are 'Trinity Church' in Boston; 'Thomas Crane Public Library' in Quincy, Massachusetts; 'Old Colony Railroad Station' in North Easton, Massachusetts; 'Converse Memorial Building/Library' in Malden, Massachusetts and 'John J. Glessner House' in Chicago, Illinois.
Richardson was the initiator of the Romanesque revival in the United States and a pioneer figure in the development of an indigenous, modern American style of architecture. Many structures designed by other architects later have an uncanny resemblance with some of his designs and style of work. Some such replicas are 'Wellesley Farms Railroad Station'; railroad station in New York's 'Orchard Park' and the 'Castle Hill Light' in Newport, Rhode Island.
Childhood, Family and Educational Life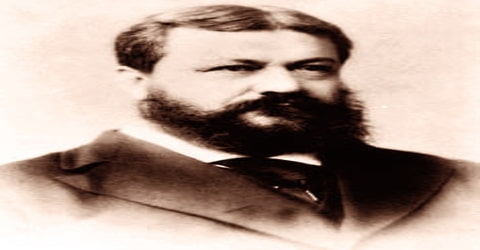 H.H. Richardson, in full Henry Hobson Richardson, was born on 29th September 1838 at the Priestley Plantation in St. James Parish, Louisiana, the U.S. to Henry Dickenson Richardson and Catherine Caroline Priestley. His father was a cotton merchant. His great grandfather Joseph Priestley was a philosopher and an inventor who is considered to be the discoverer of oxygen.
H.H. Richardson studied engineering at Harvard University before switching to a career in architecture. Because no developmental degree courses were available in the United States at the time, Richardson moved to Paris. There he studied for a degree in design at the Ecole des Beaux-Arts (1860-1862). He was only the second U.S. citizen to attend the École's architectural division Richard Morris Hunt was the first and the school was to play an increasingly important role in training Americans in the following decades. He didn't finish his training there, as family backing failed due to the U.S. Civil War.
Thereafter Richardson studied intermittently for a while along with working in the offices of architects J. I. Hittorf and Theodore Labrouste as a draftsman.
Personal Life
On 3rd January 1867, H.H. Richardson married Julia Gorham Hayden. The couple had six children.
Though a notable architect of his time with a handsome income, his negligence of finances saw him in heavy debt, leaving behind very little for his family.
H.H. Richardson spent much of his later years in his house in Brookline, Massachusetts, which had a studio attached to ease the strain on his health. The house fell into disrepair and was listed in 2007 as an endangered historic site. However, the house was purchased in March 2008 for roughly $2 million with an amended deed requiring that the building be historically restored. The house is on a hill, where H.H. Richardson could supposedly watch the construction of the Trinity Church in Copley Square, from his second story window.
Career and Works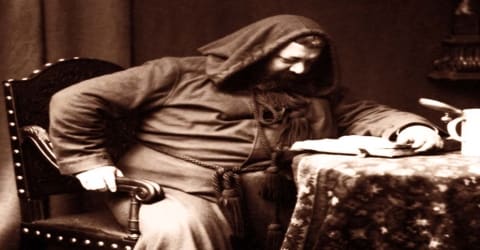 Henry Hobson Richardson returned to America with every expectation of quick success, for he was among the best-trained architects in the country and had many important connections. He settled in New York in October 1865. He found work with a builder, Charles, whom he had met in Paris. The two worked well together but Richardson was not being challenged. Richardson had little to do and yearned for more. With no work, Richardson fell into a state of poverty looking for more work. One of his first commissions was the William Dorsheimer House on Delaware Ave in Buffalo, NY, which is in the style of the Second Empire with a Mansard roof. This important commission led to many other commissions.
During the 19th century, revival movements were very popular in architecture. These styles emulated the motifs of past architectural movements but incorporated them into new, modern buildings. Richardson's style was a revival of the medieval Romanesque style of the 11th century, particularly as it appeared on the pilgrimage trails of France and Spain.
H.H. Richardson began working in a partnership with Charles D. Gambrill, in 1867, an architect who he got acquainted with in Paris. The partnership lasted for eleven years. His early works that were considered mediocre include 'Grace Episcopal Church' (1867) in Medford, Massachusetts; 'H. H. Richardson House' (1868) in Clifton, Staten Island, New York and 'Alexander Dallas Bache Monument' (1868) in Washington, DC. His early works, however, were not very remarkable.
Richardson was awarded his first commission in November 1866, the Church of the Unity in Springfield, Massachusetts (now demolished). His career launched, Richardson married Julia Gorham Hayden of Boston on 3rd January 1867. They moved into a house of his own design (now altered) on Staten Island, New York, where five of his six children were born. Richardson's neighbor was Frederick Law Olmsted, the journalist and renowned landscape architect with whom he later frequently collaborated.
H.H. Richardson captured the aesthetic of medieval Romanesque buildings by focusing on thick and dramatic stone walls, as well as heavy use of arches. Romanesque churches were solid and heavy, predating the fluid and light arches of the Gothic period, so Richardson's structures sought to emulate this visual weight. His buildings were large, grand, and impressive. However, revival movements aren't just about copying the past. The Richardson Romanesque used a medieval aesthetic but combined it with Richardson's innovative and dynamic use of interior spaces.
Richardson had worked on several projects yet he was not content and looked for more innovative and challenging projects. His yearning led him to develop his own style that reflected more of Gothic style inspired by the likes of John Ruskin and William Morris. With the 'Brattle Square Church' (1869) in Boston (at present 'First Baptist Church'), he came up with a more refined style, where he initiated recommendations of a Romanesque revival style. It won him a design competition in 1870.
H.H. Richardson designed the Buffalo State Asylum, in 1869, for the Insane (now known as the Richardson Olmsted Complex) in Buffalo, the largest commission of his career and the first appearance of his eponymous Richardsonian Romanesque style. A massive Medina sandstone complex, it is a National Historic Landmark and, as of 2009, was being restored.
The Richardson Romanesque was a revival movement based on European traditions, so this may seem like an odd place to begin looking at the history of American styles of architecture. However, it's important to realize that Europeans at the time were mostly working in Gothic revival styles; few were interested in reviving the Romanesque. Not only did Richardson's unique structures communicate a right of American architects to interpret European history for themselves, but the grand and solid structures that Richardson produced influenced later architects like Louis Sullivan and Frank Lloyd Wright.
H.H. Richardson executed his next major assignment in 1872, the 'Trinity Church' in Boston, Massachusetts, in collaboration with 'Norcross Brothers', an engineering and construction firm with which he remained associated for around thirty projects. The church designed for the famous preacher Phillips Brooks eventually became one of the most significant Episcopal Churches in the US. Richardson purchased a house in Brookline in 1874, Massachusetts where he also opened his office and studio. Most of his later stage of life was spent here.
During these later years, H.H. Richardson produced the buildings upon which his reputation principally rests. He designed houses, community libraries, suburban railroad stations, educational buildings, and commercial and civic structures. Instead of the splintered massing, narrow vertical proportions, and disparate Gothic features used by his contemporaries, he favored horizontal lines, simple silhouettes, and uniform large-scale details of Romanesque or Byzantine inspiration.
H.H. Richardson's most famous work is the Trinity Church of Boston, completed around in 1877. The floor plan is based on a Greek Cross, with four arms of the same length. This gives the building a solid and centered feel. Although its towers emphasize some verticality, it feels rooted and grounded. Richardson emphasized many horizontal lines in the structure to add to this feeling as well.
Richardson was well-recognized by his peers; of 10 buildings named by American architects as the best in 1885, fully half were his: besides Trinity Church, there were Albany City Hall, Sever Hall at Harvard University, the New York State Capitol in Albany, and Oakes Ames Memorial Hall in North Easton, Massachusetts. Despite the success of Trinity, Richardson built only two more churches, focusing instead on the monumental buildings he preferred, plus libraries, railroad stations, commercial buildings, and houses. Of his buildings, the two he liked best, the Allegheny County Courthouse (Pittsburgh, 1884-1888) and the Marshall Field Wholesale Store (Chicago, 1885-1887, demolished 1930), were completed posthumously by his assistants.
The Crane Memorial Library in Quincy, Massachusetts (1880-82), with its tripartite layering of a rough-faced granite base beneath continuous clerestory windows topped with a tiled gable roof and its cavernous entrance arch, stands with the finest and most characteristic works of his maturity. Richardson's Romanesque style had integrity seldom achieved by his many imitators in the latter part of the 19th century. Moreover, the functionalism of his designs and his expressive use of materials presaged the revolutionary work of Louis Sullivan.
Traditional Romanesque structures were almost always churches, so applying the Richardson Romanesque style to a church was a logical step. However, the Allegheny County Courthouse in Pittsburgh was not a church. Translating a church-based style to a civic structure presented challenges, but Richardson managed to again perfectly capture the spirit of the Romanesque in a modern way. The courthouse features an imposing stone façade filled with wide arches over the windows and includes an impressive tower. As with Trinity Church, it communicates strength and grounded stability.
H.H. Richardson was inspired by Japanese architecture, which he came to know from Harvard zoologist Edward S. Morse. The rail station buildings that he designed, of which nine were for 'Boston & Albany Railroad', reflect the incorporation of Japanese architecture, which can be easily manifested from the design of the 'Old Colony Railroad Station' (1881) in North Easton, Massachusetts. Among the family residences he designed, the most noteworthy was the renowned 'John J. Glessner House' (1885-1887) in Chicago, Illinois, now a 'National Historic Landmark'.
Death and Legacy
Henry Hobson Richardson suffered throughout his career from chronic nephritis or Bright's disease, but nevertheless, he worked at a strenuous pace. H.H. Richardson died in 27th April 1886 at age 47. He was buried in Walnut Hills Cemetery, Brookline, Massachusetts. Despite an enormous income for an architect of his day, his "reckless disregard for financial order" meant that he died deeply in debt, leaving little to his widow and six children.
On his last day, H.H. Richardson signed an informal will directing the three assistants still remaining to carry on the business, which was soon formalized as Shepley, Rutan, and Coolidge. One example includes Richardson's design for the Greater Cincinnati Chamber of Commerce Building. Richardson had won the selection process in 1885 and nearly finalized the work, but after his death, his aforementioned successors completed the project.
The 'Trinity Church', presently a 'National Historic Landmark', cemented his position as a remarkable architect. Even though reflections of Byzantine, Spanish and French Romanesque styles were present, the 'Richardsonian' element was more pronounced than 'Romanesque'. The work fetched him several other major assignments throughout his life. The unique design of the church won him the 1972 design competition.
H.H. Richardson is one of few architects to be immortalized by having a style named after him. "Richardsonian Romanesque", unlike Victorian revival styles like Neo-Gothic, was a highly personal synthesis of the Beaux-Arts predilection for clear and legible plans, with the heavy massing that was favored by the pro-medievalists. It featured picturesque roofline profiles, rustication and polychromy, semi-circular arches supported on clusters of squat columns, and round arches over clusters of windows on massive walls. Following his death, the Richardsonian style was perpetuated by a variety of proteges and other architects, many for civic buildings like city halls, county buildings, courthouses, train stations, and libraries, as well as churches and residences.
Information Source: