Biography of Henry Moore
Henry Moore – English artist.
Name: Henry Spencer Moore
Date of Birth: 30 July 1898
Place of Birth: Castleford, Yorkshire, England
Date of Death: 31 August 1986 (aged 88)
Place of Death: Much Hadham, Hertfordshire, England
Occupation: Artist
Father: Mary Baker
Mother: Raymond Spencer Moore
Spouse/Ex: Irina Radetsky (m. 1929–1986)
Early Life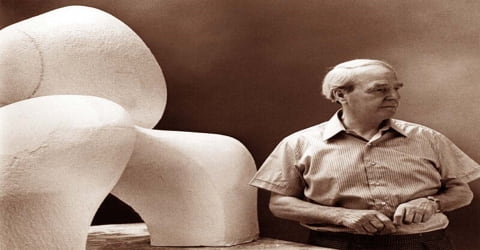 Henry Moore, English sculptor whose organically shaped, abstract, bronze and stone figures constitute the major 20th-century manifestation of the humanist tradition in sculpture, was born on 30 July 1898 in Castleford, Yorkshire, England, to Mary Baker and Raymond Spencer Moore. As well as sculpture, Moore produced many drawings, including a series depicting Londoners sheltering from the Blitz during the Second World War, along with other graphic works on paper. Much of his work is monumental, and he was particularly well-known for a series of reclining nudes.
Moore created abstract forms of bronze sculptures that usually depicted reclining human figures containing hollow spaces. He was also particularly fascinated by family-related themes, especially the bond between mother and child which was often reflected in his artwork. Unlike several other artists who rise in prominence after their deaths, Moore reached the heights of fame while still alive and became exceptionally rich through his talents. He was fascinated by sculpting from a very early age when he learned about Michelangelo's achievements. His art teacher recognized his potential and encouraged him. After a stint in the army, he studied at the Leeds School of Arts. Initially, he followed the standard Victorian romantic style though soon he moved to direct carving in which the imperfections in the material become part of the work.
Moore's forms are usually abstractions of the human figure, typically depicting mother-and-child or reclining figures. Moore's works are usually suggestive of the female body, apart from a phase in the 1950s when he sculpted family groups. His forms are generally pierced or contain hollow spaces. Many interpreters liken the undulating form of his reclining figures to the landscape and hills of his birthplace, Yorkshire. He became well-known through his carved marble and larger-scale abstract cast bronze sculptures and was instrumental in introducing a particular form of modernism to the United Kingdom.
His ability in later life to fulfill large-scale commissions made him exceptionally wealthy. Despite this, he lived frugally; most of the money he earned went towards endowing the Henry Moore Foundation, which continues to support education and promotion of the arts.
Moore became a prominent member of the informal modern art movement during the 1930s and also dabbled a little with the surrealist movement. He worked as a war artist during the Second World War and produced pictures of the war victims. He amassed great wealth which he used to establish the Henry Moore Foundation for promoting education and fine arts.
Childhood, Family and Educational Life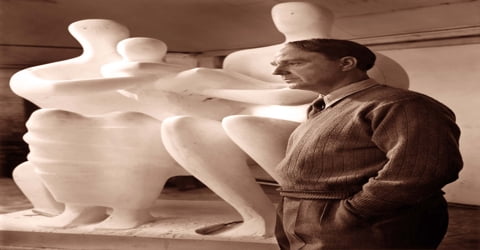 Henry Moore, the full name Henry Spencer Moore, was born on July 30, 1898, Castleford, Yorkshire, England, as the seventh of eight children to Raymond Spencer Moore and Mary Baker. His father worked in a colliery and the family lived in poverty. Raymond wanted his children to have a decent education so that they could build better careers for themselves.
Moore attended infant and elementary schools in Castleford, where he began modelling in clay and carving in wood. He professed to have decided to become a sculptor when he was eleven after hearing of Michelangelo's achievements at a Sunday School reading. On his second attempt, he was accepted at Castleford Grammar School, which several of his siblings had attended, where his headmaster soon noticed his talent and interest in medieval sculpture. His art teacher broadened his knowledge of art, and with her encouragement, he determined to make art his career; first by sitting for examinations for a scholarship to the local art college. Moore's earliest recorded carvings a plaque for the Scott Society at Castleford Secondary School, and a Roll of Honour commemorating the boys who went to fight in the First World War from the school were executed around this time.
Moore joined the army services when he was 18 and was injured in a gas attack in 1917. After recovering he became a physical training instructor.
In 1919, Moore became the first student of sculpture at the Leeds School of Art. After winning a scholarship to study at the Royal College of Art in London in 1921 he expanded his knowledge of primitive art and sculpture. He won a six-month traveling scholarship in 1924 during which he went to Northern Italy where he studied the great works of Michelangelo, Giotto di Bondone, and Giovanni Pisano.
During this period he also visited Paris, took advantage of the timed-sketching classes at the Académie Colarossi, and viewed, in the Trocadero, a plaster cast of a Toltec-Maya sculptural form, the Chac Mool, which he had previously seen in book illustrations. The reclining figure was to have a profound effect upon Moore's work, becoming the primary motif of his sculpture.
Personal Life
In July 1929, Moore married Irina Radetsky, a painting student at the Royal College. Irina was born in Kiev in 1907 to Ukrainian–Polish parents. They had one daughter, Mary.
Career and Works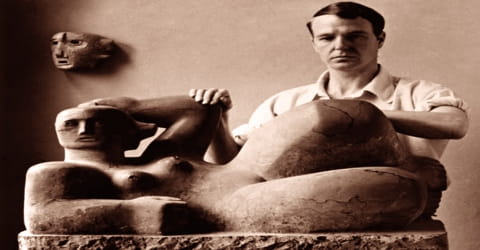 Moore took up a teaching position at the Royal College of Art. This job required him to work only two days a week, so he had ample time to spend on his own work. His first public commission was 'West Wind' which he made during 1928-29.
In the late 1920s and early 1930s, Henry Moore began to receive commissions for large, public sculptures. His early works, such as West Wind (1929) or his own Reclining Figure (1929) combined Renaissance-like fascination with the geometry of the human form with the rationalization of shapes he learned from studying cubism and modernism, as well as with a Mesoamerican aesthetic. At this time, he was also exposed to British Surrealism and its focus on abstraction as a way to tap into the human psyche. Moore's work from this time shows a strong interest in exploring 3-dimensionality in sculpture.
In 1929 Moore married Irina Radetzky, of Russian-Austrian parentage, who was a painting student at the Royal College of Art. The young couple moved into a large studio in Hampstead, one of the northern suburbs of London.
In 1932, after six year's teaching at the Royal College, Moore took up a post as the Head of the Department of Sculpture at the Chelsea School of Art. Artistically, Moore, Hepworth and other members of The Seven and Five Society would develop steadily more abstract work, partly influenced by their frequent trips to Paris and their contact with leading progressive artists, notably Pablo Picasso, Georges Braque, Jean Arp, and Alberto Giacometti. Moore flirted with Surrealism, joining Paul Nash's modern art movement "Unit One", in 1933. In 1934, Moore visited Spain; he visited the cave of Altamira (which he described as the "Royal Academy of Cave Painting"), Madrid, Toledo, and Pamplona.
In his own work from 1931 onward, Moore moved tentatively away from the human figure to experiment with abstract shapes and also to combine abstract shapes with references to the figure. In 1931 he had the first of many one-man exhibitions in the Leicester Galleries in London. His work was enthusiastically introduced by sculptor Jacob Epstein, but it aroused violent criticism in the press and made Moore a notorious figure. He was urged to resign his position at the Royal College of Art, and, when his contract expired in 1932, he left to start a sculpture department at the Chelsea School of Art, also in London.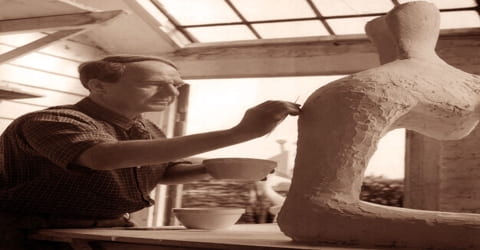 Numerous commissions and exhibitions in the 1930s enabled Moore's reputation as a leading avant-garde artist to grow, but in 1939 war broke out again. Moore was recruited as an official war artist and produced his now famous drawings of people sheltering in the London Underground during the Blitz.
As World War II brought bombing raids to London, Moore started recording images of people's wartime lives. His drawings of the people of London huddled in the bomb shelters of the London Underground are still upheld as some of the most important records of British life, and reflect Moore's devotion to real, human experiences.
Throughout the 1930s Moore displayed in his work not the slightest inclination to please the public. He was very interested in Pablo Picasso's drawings and paintings of the late 1920s, which have strong sculptural implications, and he felt free to distort and break up the forms of the body in a much more radical way than before. Sometimes he seemed to leave the human figure behind altogether. The pages of his sketchbooks of this period show that he was full of ideas for abstract sculptures that would make use of organic and natural forms rather than pure geometrical shapes. He was collecting pebbles, rocks, shells, and bones, making drawings of them and studying them to find what he called "nature's principles of form and rhythm," which he sought to apply to his own sculpture. In particular, this meant opening up the carvings with concavities and even with holes pierced right through the forms a practice that the public initially found shocking and abhorrent when the sculpture retained a strong suggestion of the human figure.
Moore joined Paul Nash's modern art movement, 'Unit One' in 1933. The next year he visited Spain and studied the paintings at the cave of Altamira. He was on the organizing committee of the International Surrealist Exhibition along with Nash. The exhibition was held in 1936.
In 1937, Roland Penrose purchased an abstract 'Mother and Child' in stone from Moore that he displayed in the front garden of his house in Hampstead. The work proved controversial with other residents and the local press ran a campaign against the piece over the next two years. At this time Moore gradually transitioned from direct carving to casting in bronze, modelling preliminary maquettes in clay or plaster rather than making preparatory drawings.
In 1938, Moore met Kenneth Clark for the first time. From this time, Clark became an unlikely but influential champion of Moore's work, and through his position as a member of the Arts Council of Great Britain, he secured exhibitions and commissions for the artist.
When the war broke out the Chelsea School was evacuated from London, and Moore stopped teaching. At first, he worked mostly in his cottage in Kent, until its propinquity to the Channel coast, where the invasion was hourly expected, forced a return to London. The Moores eventually took a house at Perry Green, Much Hadham, in Hertfordshire, which became their permanent home. There, in the tranquil countryside about 20 miles north of London, he slowly added studios and extra rooms to an ancient farmhouse.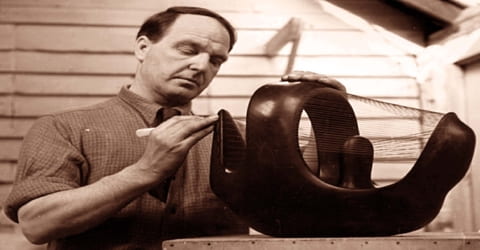 Kenneth Clark, the chairman of the War Artists' Advisory Committee (WAAC), had previously tried to recruit Moore as a full-time salaried war artist and now agreed to purchase some of the shelter drawings and issued contracts for further examples. The shelter drawings WAAC acquired were completed between the autumn of 1940 and the spring of 1941 and are regarded as among the finest products of the WAAC scheme. In August 1941 WAAC commissioned Moore to draw miners working underground at the Wheldale Colliery in Yorkshire, where his father had worked at the start of the century. Moore drew the people in the shelters as passively waiting for the all-clear while miners aggressively worked the coal-faces. These drawings helped to boost Moore's international reputation, particularly in America where examples were included in the WAAC Britain at War exhibition which toured North America throughout the war.
In September 1940, the Moores' London flat was damaged by bombing and the couple moved to Perry Green, Hertfordshire. Hoglands, a farmhouse in the hamlet, became home for the rest of their lives. Their daughter Mary was born in 1946. Over time, Moore developed outbuildings into studios and Irina created beautiful gardens. The landscape was important to Moore and his work is often associated with nature. The human body is another recurring motif in the artist's work and in Perry Green, the analogies between the body and landscape could be readily explored.
In 1943 Moore accepted a public commission to create Madonna and Child for the church of St. Matthew in Northampton. The possibility of reviving the great tradition of religious art appealed to him, and he tried to give his figures for Northampton what he called "an austerity and a nobility, and some touch of grandeur (even hieratic aloofness) which is missing in the everyday 'Mother and Child' idea." Another commission, for a sculpture depicting a family group, followed in 1944, and the result was a dramatic change in Moore's style, away from the experimentation of the 1930s and toward a more naturalistic approach and humanistic subject matter that had an immediate popular appeal.
After the war and following several earlier miscarriages, Irina gave birth to their daughter, Mary Moore, in March 1946. The child was named after Moore's mother, who had died two years earlier. Both the loss of his mother and the arrival of a baby-focused Moore's mind on the family, which he expressed in his work by producing many "mother-and-child" compositions, although reclining and internal/external figures also remained popular. In the same year, Moore made his first visit to America when a retrospective exhibition of his work opened at the Museum of Modern Art in New York City.
Many artists emerged from World War II feeling disillusioned with humanity and withdrew from personal and human-centered subjects. Moore, however, saw things differently. He'd seen two world wars, both destructive and horrible, and yet humanity had persevered and rebuilt. In the early post-war period, he started working more in monumental bronze sculptures, using this timeless medium to communicate stability continuity and strength. It's also worth noting that many of his sculptures focused on families in this time period, partly due to the birth of his own child. The 1950 Family Group was one of the most famous examples.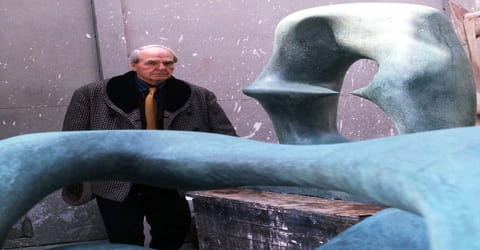 In the 1950s, Moore began to receive increasingly significant commissions. He exhibited Reclining Figure: Festival at the Festival of Britain in 1951, and in 1958 produced a large marble reclining figure for the UNESCO building in Paris. With many more public works of art, the scale of Moore's sculptures grew significantly and he started to employ an increasing number of assistants to work with him at Much Hadham, including Anthony Caro and Richard Wentworth.
Critics who had begun to think that Moore, the revolutionary sculptor, had been tamed, were proven wrong by the appearance in 1950 of the first of Moore's series of bronze standing figures, with their harsh and angular pierced forms and distinct feeling of menace. When, in the summer of 1953, Moore was ill, he began to turn inward in his work, showing a willingness to experiment and to follow private concerns.
His sculpture, 'Nuclear Energy' was unveiled on the 25th anniversary of the first controlled, self-sustaining nuclear chain reaction on the campus of the University of Chicago in December 1967. Moore became a very wealthy man by virtue of his artistic skills though he personally preferred to live frugally. He established the Henry Moore Foundation, a charity for promoting education and fine arts in 1972.
A large marble carving he made in 1957–58 for the headquarters of UNESCO in Paris belongs to a long series of reclining female figures, but the brick sculpture relief made in 1955 for the Bouwcentrum in Rotterdam, Netherlands, reintroduced biomorphic forms into his work, which led to the series of freestanding totemic upright figures made in 1955–56. Moore also varied his subject matter in the 1950s with such works as King and Queen (1952–53), and the two warriors Warrior with Shield (1953–54) and Falling Warrior (1956–57) that were rare examples of Moore's use of the male figure. All three works owe something to Moore's visit to Greece in 1951 when he saw the cities of Athens, Mycenae, and Delphi for the first time. Most of his sculpture since the war was in bronze, though he had not altogether stopped carving in wood and stone. Furthermore, even when the sculptures were cast in bronze, they were not modeled in clay but built up initially in plaster over a wire and wood armature. Moore always liked to work as a carver, cutting and scraping and chiseling the surfaces with a carver's tools.
In 1964, for instance, Moore was featured in the documentary "5 British Sculptors (Work and Talk)" by American filmmaker Warren Forma. By the end of the 1970s, there were some 40 exhibitions a year featuring his work. The number of commissions continued to increase; he completed Knife Edge Two Piece in 1962 for College Green near the Houses of Parliament in London. According to Moore, "When I was offered the site near the House of Lords … I liked the place so much that I didn't bother to go and see an alternative site in Hyde Park one lonely sculpture can be lost in a large park. The House of Lord's site is quite different. It is next to a path where people walk and it has a few seats where they can sit and contemplate it."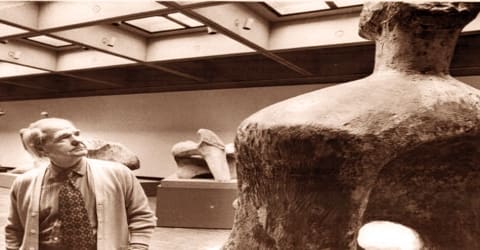 Although the University of Chicago's Atom Piece, with its mushroom-cloud formation at the top, commemorates the splitting of the atom, the sculpture is also closely related to other large abstract sculptures of the 1960s: Knife-Edge Two-Piece (1962), Locking Piece (1963–64), Three-Way Piece No. 1: Points (1964), and Three-Piece Sculpture No. 3: Vertebrae (1968) all of them quite massive objects that have lost their obvious human connotation as a consequence of their enormous size. Some of his abstract sculptures from the mid-1960s were executed in marble rather than in bronze. Beginning in 1965, Moore maintained a summer cottage at Forte dei Marmi, Italy, near the Carrara stone quarries, and, with the assistance of Italian workers, he began to create stone carvings again.
Moore also became a prolific printmaker, executing hundreds of etchings and lithographs from the late 1960s to the early 1980s, including notable series such as Elephant Skull Album (1969), Stonehenge (1972), and Sheep Albums (1972 and 1974).
In 1979 Henry Moore became unexpectedly known in Germany when his sculpture Large Two Forms was installed in the forecourt of the German Chancellery in Bonn, which was the capital city of West Germany prior to German reunification in October 1990.
Awards and Honor
Moore won the International Sculpture Prize at the Venice Biennale in 1948.
He was awarded the Companion of Honour and the Order of Merit in 1955 and 1963 respectively.
International success characterized Moore's career from the 1950s onward. In 1977 he established the Henry Moore Foundation to encourage wider enjoyment and opportunities in the arts.
During his own lifetime, Moore achieved international critical acclaim; he was the first modern English sculptor to do so. He is still regarded as one of the most important sculptors of the 20th century.
Death and Legacy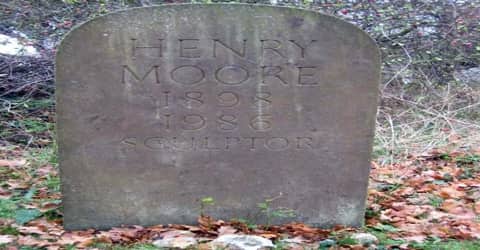 Henry Moore died on 31 August 1986 (at the age of 88) at his home in Perry Green, near Much Hadham, Hertfordshire. His body was interred at the churchyard of St. Thomas's Church.
His famous sculpture 'Draped Reclining Woman' depicts a female figure in a reclining position with its weight supported by the right hand and right leg. It was made with a series of six castings and artists cast.
Information Source: