Biography of Jimi Hendrix
Jimi Hendrix – American rock guitarist, singer, and songwriter.
Name: Johnny Allen Hendrix
Date of Birth: November 27, 1942
Place of Birth: Seattle, Washington, U.S.
Date of Death: September 18, 1970 (aged 27)
Place of Death: Kensington, London, UK
Occupation: Musician, Songwriter, Producer
Father: James Allen Ross Hendrix
Mother: Lucille Jeter
Early Life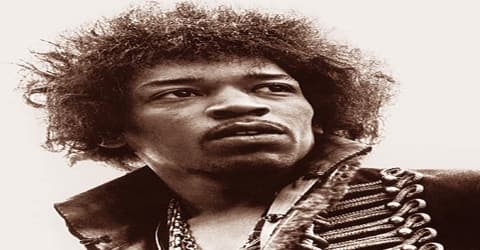 Jimi Hendrix, American rock guitarist, singer, and composer who fused American traditions of blues, jazz, rock, and soul with techniques of British avant-garde rock to redefine the electric guitar in his own image, was born on November 27, 1942, Seattle, Washington, U.S. the son of Al Hendrix and Lucille Jeter. He was one of the most original electric guitarists of all time, combining blues, hard rock, modern jazz, and soul into his own unmistakable sound. He was also a gifted songwriter. The Rock and Roll Hall of Fame describes him as "arguably the greatest instrumentalist in the history of rock music".
In 1961, Jimi enlisted in the U.S. Army and trained as a paratrooper in the 101st Airborne Division; he was granted an honorable discharge the following year. Soon afterward, he moved to Clarksville, Tennessee, and began playing gigs on the Chitlin' Circuit, earning a place in the Isley Brothers' backing band and later with Little Richard, with whom he continued to work through mid-1965. He then played with Curtis Knight and the Squires before moving to England in late 1966 after being discovered by Linda Keith, who in turn interested bassist Chas Chandler of the Animals in becoming his first manager. Within months, Hendrix had earned three UK top ten hits with the Jimi Hendrix Experience: "Hey Joe", "Purple Haze", and "The Wind Cries Mary". He achieved fame in the U.S. after his performance at the Monterey Pop Festival in 1967, and in 1968 his third and final studio album, Electric Ladyland, reached number one in the U.S.; it was Hendrix's most commercially successful release and his first and only number one album.
Jimi composed music combining different genres of hard rock, jazz, and blues into soulful unforgettable renditions. His style of music has been a source of inspiration for many budding musicians. He started his musical career by forming his first band The Jimmy Hendrix Experience where he played the guitar and also sang as the lead vocalist. His first single "Hey, Joe" took the world by storm. He made headlines after his iconic performance in 1969 in the Woodstock Festival and the Isle of Wight Festival in the 1970s. His second album was Axis: Bold as Love released in 1968 and his final album Electric Ladyland was also released in the same year. It featured the hit "All Along the Watchtower." Soon after, the band split in 1969. His style of music was strongly influenced by blues artists like B.B. King, Muddy Waters, Howlin' Wolf, Albert King, Elmore James and rhythm and blues guitarists Curtis Mayfield and Steve Cropper. His music was also inspired by the jazz guitarist Wes Montgomery. This lead guitarist expired at the age of 27 on 18th September 1970.
Jimi Hendrix was inspired musically by American rock and roll and electric blues. He favored overdriven amplifiers with high volume and gain and was instrumental in popularizing the previously undesirable sounds caused by guitar amplifier feedback. He was also one of the first guitarists to make extensive use of tone-altering effects units, such as fuzz tone, Octavia, wah-wah, and Uni-Vibe in mainstream rock. He was the first artist to use stereophonic phasing effects in music recordings. Holly George-Warren of Rolling Stone commented: "Hendrix pioneered the use of the instrument as an electronic sound source. Players before him had experimented with feedback and distortion, but Hendrix turned those effects and others into a controlled, fluid vocabulary every bit as personal as the blues with which he began." He was the recipient of several music awards during his lifetime and posthumously.
Childhood, Family and Educational Life
Jimi Hendrix, byname of James Marshall Hendrix, originally John Allen Hendrix, was born on November 27, 1942, Seattle, Washington, U.S. He was born to father James Allen "Al" Hendrix (1919-2002) and mother Lucille Jeter (1925-1958) in Seattle, Washington. His father was originally from Vancouver, British Columbia whereas his mother was born in Seattle, Washington. Hendrix was the eldest of their five children. His father was a gifted jazz dancer who initially shuffled between lots of jobs before joining as a United States Army at Fort Sill, Oklahoma. He was sent to France during World War II. His father was discharged with honor from the U.S. Army on 1st September 1945.
On December 17, 1951, when Hendrix was nine years old, his parents divorced; the court granted Al custody of him and Leon. His mother, Lucille, was only 17 years old when Hendrix was born. She had a stormy relationship with his father, Al, and eventually left the family after the couple had two more children together, sons Leon and Joseph. Hendrix would only see his mother sporadically before her death in 1958.
Jimi Hendrix wanted a guitar early on. Before acquiring his first real instrument, he "played" guitar on a broom and on a one-stringed ukulele. At last, Al got his son a guitar, and the twelve-year-old Jimi began to teach himself to play. Jimi restrung the guitar upside down as a left-hander, he was forced to turn the instrument in the opposite direction from how it is usually played, which left the strings at the bottom unless he rearranged them. He learned blues songs from records by greats like B. B. King (1925–) and Muddy Waters (1915–1983). The guitar rarely left Jimi's side, even as he slept. By his mid-teens, Hendrix had formed a band called the Rocking Kings. He played behind his back, between his legs, and over his head as had many blues guitarists before him. Thus he became a favorite to audiences, if not to all musicians.
Hendrix was enrolled in a junior school at Washington Junior High School. He passed his school-leaving exam with ease. During his high school days, he got a chance to mix along with African Americans, European Americans, and Asian Americans. He was exposed to a variety of cultures and music. At the age of 15, he bought his first acoustic guitar for $5 from an acquaintance of his father. Initially, Hendrix had no proper formal training in strumming the guitar. He learned to play it by watching others how to play it, by listening to records and got valuable tips from experienced players. By the middle of 1959, his father bought him a white Supro Ozark, which was his first electric guitar ever. He then learned the great songs by Blues by B.B. King and Muddy Waters.
Meanwhile, Hendrix took admission in the Garfield High School in Seattle but he did not complete his graduation owing to his musical career and attendance problem. He was later awarded an honorary diploma in the 1990s.
Personal Life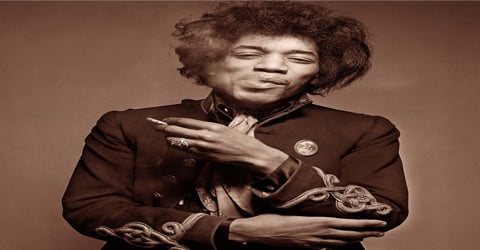 In July 1962, after Jimi Hendrix was discharged from the U.S. Army, he entered a small club in Clarksville, Tennessee. Drawn in by live music, he stopped for a drink and ended up spending most of the $400 he had saved. He explained: "I went in this jazz joint and had a drink. I liked it and I stayed. People tell me I get foolish, good-natured sometimes. Anyway, I guess I felt real benevolent that day. I must have been handing out bills to anyone that asked me. I came out of that place with sixteen dollars left." According to the authors Steven Roby and Brad Schreiber: "Alcohol would later be the scourge of his existence, driving him to fits of pique, even rare bursts of atypical, physical violence."
Jimi Hendrix would often become angry and violent when he drank too much alcohol or when he mixed alcohol with drugs. His friend Herbie Worthington explained: "You wouldn't expect somebody with that kind of love to be that violent … He just couldn't drink … he simply turned into a bastard". According to journalist and friend Sharon Lawrence, Hendrix "admitted he could not handle hard liquor, which set off bottled-up anger, a destructive fury he almost never displayed otherwise".
Career and Works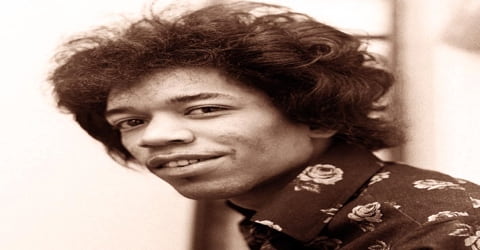 After dropping out of Garfield High School in Seattle, Jimi Hendrix joined the army at age seventeen to avoid a jail sentence for riding in a stolen car. He volunteered as a paratrooper (a person who jumps from planes using a parachute) and was soon jumping out of airplanes. Eventually, he sent for his guitar and continued playing whenever he could. He met another soldier, bass player Billy Cox, with whom he formed a band that entertained troops all over the region. After leaving the army, the two friends formed the King Kasuals and began playing regularly at a club in Nashville, Tennessee. Hendrix became known as the hottest guitarist in town. At the time he lacked confidence in his singing and was content to back other artists.
Though his active career as a featured artist lasted a mere four years, Hendrix altered the course of popular music and became one of the most successful and influential musicians of his era. An instrumentalist who radically redefined the expressive potential and sonic palette of the electric guitar, he was the composer of a classic repertoire of songs ranging from ferocious rockers to delicate, complex ballads. He also was the most charismatic in-concert performer of his generation. Moreover, he was a visionary who collapsed the genre boundaries of rock, soul, blues, and jazz and an iconic figure whose appeal linked the concerns of white hippies and black revolutionaries by clothing black anger in the colorful costumes of London's Carnaby Street.
When Hendrix was 16, his father bought him his first acoustic guitar, and the next year his first electric guitar a right-handed Supro Ozark that the natural lefty had to flip upside down to play. Shortly thereafter, he began performing with his band, the Rocking Kings. In 1959, he dropped out of high school and worked odd jobs while continuing to follow his musical aspirations.
Hendrix also performed in various local bands and played in gigs in neighboring village city areas around New York City's Greenwich and in Vancouver, British Columbia. He performed his first gig with an unknown band in the basement of a synagogue, Seattle's Temple De Hirsch. The first formal band he played in was The Velvetones. He then joined a band called the Rocking Kings and played as a professional guitarist at the Birdland. He played the guitar between his legs, behind his back and over his head and could charm the audience with ease. Soon he became a favorite with the audience.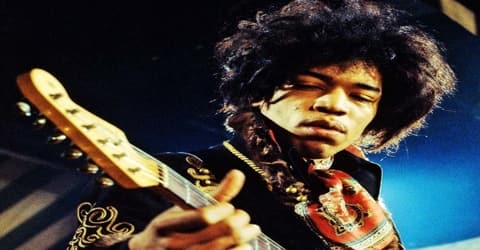 A former paratrooper whose honorable medical discharge exempted him from service in the Vietnam War, Hendrix spent the early 1960s working as a freelance accompanist for a variety of musicians, both famous and obscure. His unorthodox style and penchant for playing at high volume, however, limited him to subsistence-level work until he was discovered in a small New York City club and brought to England in September 1966. Performing alongside two British musicians, bassist Noel Redding, and drummer Mitch Mitchell, he stunned London's clubland with his instrumental virtuosity and extroverted showmanship, numbering members of the Beatles, the Rolling Stones, and the Who among his admirers. It proved a lot easier for him to learn their tricks than it was for them to learn his.
After leaving the military, Hendrix began working under the name Jimmy James as a session musician, playing backup for such performers as Little Richard, B.B. King, Sam Cooke, and the Isley Brothers. In 1965 he also formed a group of his own called Jimmy James and the Blue Flames, which played gigs around New York City's Greenwich Village neighborhood.
In January 1964, feeling he had outgrown the circuit artistically, and frustrated by having to follow the rules of bandleaders, Hendrix decided to venture out on his own. He moved into the Hotel Theresa in Harlem, where he befriended Lithofayne Pridgon, known as "Faye", who became his girlfriend. A Harlem native with connections throughout the area's music scene, Pridgon provided him with shelter, support, and encouragement. Hendrix also met the Allen twins, Arthur and Albert. In February 1964, Hendrix won first prize in the Apollo Theater amateur contest. Hoping to secure a career opportunity, he played the Harlem club circuit and sat in with various bands. At the recommendation of a former associate of Joe Tex, Ronnie Isley granted Hendrix an audition that led to an offer to become the guitarist with the Isley Brothers' back-up band, the I.B. Specials, which he readily accepted.
In September 1966 Hendrix was brought to London, England, by Chas Chandler, a member of the rock group the Animals who wanted to be a manager. Chandler suggested changing the spelling of Hendrix's first name to Jimi and helped him form the Jimi Hendrix Experience with bass player Noel Redding and drummer John "Mitch" Mitchell. Recording began the following month. By December the Experience had released its first hit single, "Hey Joe." Hendrix amazed even London's biggest rock stars with his electrifying stage show. He once said, "I sacrifice part of my soul every time I play."
While performing in England, Hendrix built up quite a following among the country's rock royalty, with the Beatles, the Rolling Stones, the Who, and Eric Clapton all becoming great admirers of his work. One critic for the British music magazine Melody Maker said that he "had great stage presence" and looked at times as if he were playing "with no hands at all."
The Experience's first album, Are You Experienced? was a huge success. Back in the United States, crowds were stunned by Hendrix's performances, which included the burning of his guitar. The band's next album, Axis: Bold as Love, showed Hendrix's growth as a songwriter, but he was unhappy with the way it sounded. He was also becoming tired of audiences who expected a "wild man" act. Hendrix tried to expand his musical range on Electric Ladyland, an album he had complete control over, and that was the greatest achievement of his brief recording career.
By November his band, the Jimi Hendrix Experience, had their first Top Ten single, "Hey Joe." Two more hits, "Purple Haze" and "The Wind Cries Mary," followed before their first album, Are You Experienced?, was released in the summer of 1967, when it was second in impact only to the Beatles' Sgt. Pepper's Lonely Hearts Club Band. Its immediate successor, Axis: Bold as Love, followed that December. On Paul McCartney's recommendation, Hendrix was flown to California for a scene-stealing appearance at the Monterey Pop Festival, which rendered him a sensation in his homeland less than a year after his departure.
In mid-October 1966, Chandler arranged an engagement for the Experience as Johnny Hallyday's supporting act during a brief tour of France. Thus, the Jimi Hendrix Experience performed their very first show on October 13, 1966, at the Novelty in Evreux. They enthusiastically received 15-minute performance at the Olympia theatre in Paris on October 18 marks the earliest known recording of the band. In late October, Kit Lambert and Chris Stamp, managers of the Who, signed the Experience to their newly formed label, Track Records, and the group recorded their first song, "Hey Joe", on October 23. "Stone Free", which was Hendrix's first songwriting effort after arriving in England, was recorded on November 2.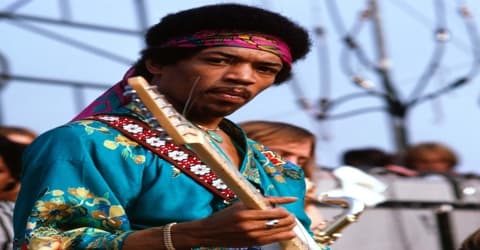 Relocating back to the United States in 1968, Hendrix enjoyed further acclaim with the sprawling, panoramic double album Electric Ladyland, but the second half of his career proved frustrating. Legal complications from an old contract predating his British sojourn froze his recording royalties, necessitating constant touring to pay his bills; and his audiences were reluctant to allow him to progress beyond the musical blueprint of his earliest successes. He was on the verge of solving both these problems when he died of an overdose of barbiturates, leaving behind a massive stockpile of works-in-progress that were eventually edited and completed by others.
In 1969, Hendrix performed at another legendary musical event: the Woodstock Festival. Hendrix, the last performer to appear in the three-day-plus festival, opened his set with a rock rendition of "The Star-Spangled Banner" that amazed the crowds and demonstrated his considerable talents as a musician.  Also an accomplished songwriter and producer by this time, Hendrix had his own recording studio, Electric Lady, in which he worked with different performers to try out new songs and sounds.
In January 1969, after an absence of more than six months, Hendrix briefly moved back into his girlfriend Kathy Etchingham's Brook Street apartment, which was next door to the Handel House Museum in the West End of London. During this time, the Experience toured Scandinavia, Germany, and gave their final two performances in France. On February 18 and 24, they played sold-out concerts at London's Royal Albert Hall, which were the last European appearances of this lineup. The last performance of the original Experience lineup took place on June 29, 1969, at Barry Fey's Denver Pop Festival, a three-day event held at Denver's Mile High Stadium that was marked by police using tear gas to control the audience.
In late 1969, Hendrix put together a new group, forming Band of Gypsys with his army buddy Billy Cox and drummer Buddy Miles. The band never really took off, however, and Hendrix began working on a new album tentatively named First Rays of the New Rising Sun, with Cox and Mitch Mitchell. Sadly, Hendrix would not live to complete the project.
Awards and Honor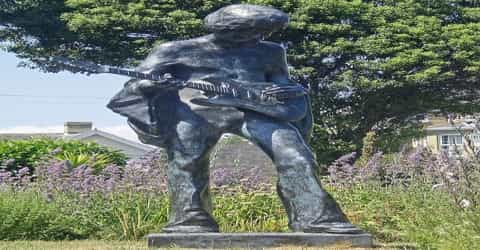 (Hendrix statue outside Dimbola Lodge, Isle of Wight)
In 1967, readers of Melody Maker voted him the Pop Musician of the Year, and in 1968, Rolling Stone declared him the Performer of the Year. Disc and Music Echo honored him with the World Top Musician of 1969 and in 1970; Guitar Player named him the Rock Guitarist of the Year.
Jimi Hendrix was elected to the Rock and Roll Hall of Fame in 1992 and the UK Music Hall of Fame in 2005. The following year (1992) Hendrix received the Grammy Awards Lifetime Achievement Award. Many rocks, rap, and blues artists contributed versions of his songs to the 1993 tribute album Stone Free.
In 1999 Al Hendrix published My Son Jimi, a biography of his son's family life.
Death and Legacy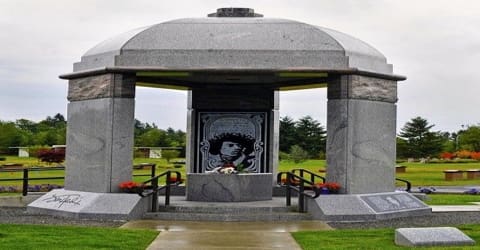 Jimi Hendrix died in London from drug-related complications on September 18, 1970, at the age of 27. After Hendrix's body had been embalmed by Desmond Henley, it was flown to Seattle, Washington, on September 29, 1970. After a service at Dunlap Baptist Church in Seattle's Rainier Valley on October 1, it was interred at Greenwood Cemetery in Renton, Washington, the location of his mother's grave. Hendrix's family and friends traveled in twenty-four limousines and more than two hundred people attended the funeral, including several notable musicians such as original Experience members Mitch Mitchell and Noel Redding, as well as Miles Davis, John Hammond, and Johnny Winter.
For Hendrix, the thunderous drama of his hard rock band was but a fraction of what he aspired to: he wanted to compose more complex music for larger ensembles, rather than simply to improvise endlessly in front of a rhythm section for audiences waiting for him to smash or burn his guitar. Nevertheless, in his all-too-brief career, he managed to combine and extend the soaring improvisational transcendence of John Coltrane, the rhythmic virtuosity of James Brown, the bluesy intimacy of John Lee Hooker, the lyrical aesthetic of Bob Dylan, the bare-knuckle onstage aggression of the Who, and the hallucinatory studio fantasias of the Beatles. Hendrix's work provides a continuing source of inspiration to successive generations of musicians to whom he remains a touchstone for emotional honesty, technological innovation, and an all-inclusive vision of cultural and social brotherhood.
Rolling Stone ranked the band's three studio albums, Are You Experienced, Axis: Bold as Love, and Electric Ladyland, among the 100 greatest albums of all time, and they ranked Hendrix as the greatest guitarist and the sixth greatest artist of all time.
Information Source: