Biography of John Constable
John Constable – English landscape painter in the naturalistic tradition.
Name: John Constable
Date of Birth: 11 June 1776
Place of Birth: East Bergholt, Suffolk, East Anglia, England
Date of Death: 31 March 1837 (aged 60)
Place of Death: Charlotte Street, London, England
Occupation: Painter
Father: Golding Constable
Mother: Ann
Spouse/Ex: Maria Bicknell (m. 1816–1828)
Children: John Charles, Maria Louisa, Charles Golding, Isobel, Emma, Alfred and Lionel
Early Life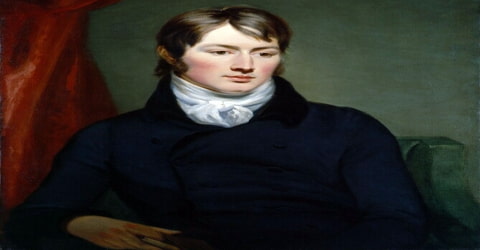 John Constable, a major figure in English landscape painting in the early 19th century, was born in East Bergholt in Suffolk on 11 June 1776. He is best known for his paintings of the English countryside, particularly those representing his native valley of the River Stour, an area that came to be known as "Constable country." John Constable was born in Suffolk, England to Golding and Ann Constable. Golding Constable was a wealthy corn merchant and used his boat 'The Telegraph' to bring corn into London. Although John was the second son of his parents, he was looked upon as the successor to his father's business as his elder brother was intellectually disabled.
Born in Suffolk, he is known principally for his landscape paintings of Dedham Vale, the area surrounding his home now known as "Constable Country" which he invested with an intensity of affection. "I should paint my own places best", he wrote to his friend John Fisher in 1821, "painting is but another word for feeling".
Throughout his career, he sketched his native valley of River Stour extensively and the area later came to be known as the Constable County. After completing his schooling in England, he began working in his father's corn business but chance meetings with artist John Smith and collector Sir George Beaumont made him interested in art. John joined the Royal Academy Schools (now the Royal Academy of Arts) and began studying and copying the paintings of skilled European painters. Much of his life's works are inspired from the amateur sketching trips he took in his youth to Suffolk and Essex countryside. He married childhood friend Maria Elizabeth Bicknell and together they had seven children.
His most famous paintings include Wivenhoe Park of 1816, Dedham Vale of 1802 and The Hay Wain of 1821. Although his paintings are now among the most popular and valuable in British art, he was never financially successful. John became a member of the establishment after he was elected to the Royal Academy at the age of 52. His work was embraced in France, where he sold more than in his native England and inspired the Barbizon school.
Childhood, Family and Educational Life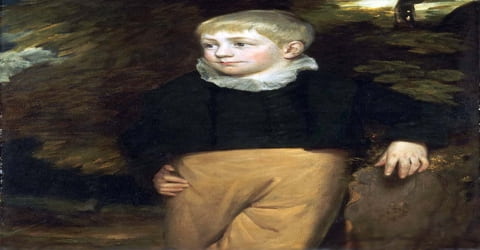 John Constable was born on June 11, 1776, in East Bergholt, Suffolk, England as the second son to Golding and Ann (Watts) Constable. His father was a wealthy corn merchant, owner of Flatford Mill in East Bergholt and, later, Dedham Mill in Essex. Although Constable was his parents' second son, his older brother was intellectually disabled and John was expected to succeed his father in the business.
John left boarding school after being badly bullied and became a day pupil at Dedham grammar school where the headmaster, Reverend Grimwood, encouraged his early interest in painting. He spent many childhood evenings creating numerous sketches of the Suffolk countryside or 'Skying' (sketching different cloud formations for days).
As his elder brother was intellectually disabled, John knew he had to take over the family's business. But after seeing 'Hagar and the Angel' (Claude Lorrain's painting) at Sir George Beaumont's house and meeting professional artist John Smith, he was inspired to pursue art.
In February 1799, John made himself known to the influential academician Joseph Farington, and in March he entered the prestigious Royal Academy schools, with the grudging approval of his father. At the time, art academies stressed history painting as the most appropriate subject matter for their students, but from the beginning, Constable showed a particular interest in the landscape.
Personal Life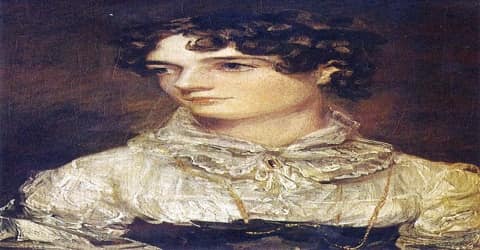 (Maria Bicknell, painted by John Constable in 1816)
John Constable fell in love with Maria Bicknell and when she came of age in 1809, the couple declared their mutual affection. But they met with stern resistance from Maria's family, in particular, from Maria's maternal grandfather, Dr. Rhudde, who threatened to disinherit Maria's family if she married Constable. Constable was determined to prove himself and gain financial security.
He married childhood-friend Maria Elizabeth Bicknell on 2nd October 1816 at St Martin's Church, London. The ceremony was conducted by John Fisher who invited the Constables to spend their honeymoon at his vicarage in Osmington, near Weymouth, in Dorset. Together they had seven children; John Charles, Maria Louisa, Charles Golding, Isobel, Emma, Alfred, and Lionel. Maria Elizabeth passed away in 1828 due to tuberculosis.
Career and Works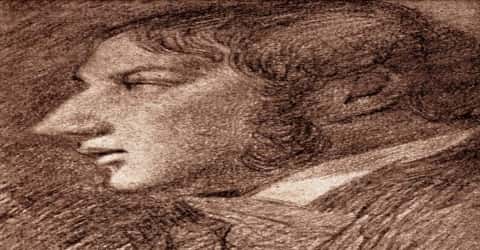 John Constable enrolled in the Royal Academy Schools (London) in 1799 after his father acquiesced and gave him a small allowance to study art. At the Royal Academy, he began studying and copying the works of the old masters, (paintings of a painter who worked in Europe before 1800) such as Thomas Gainsborough, Claude Lorrain, Annibale Carracci, etc, while also attending life classes and anatomical dissections. The Great Marlow Military College offered him the post of drawing master in 1802.
In 1802 he refused the position of drawing master at Great Marlow Military College, a move which Benjamin West (then master of the RA) counselled would mean the end of his career. In that year, Constable wrote a letter to John Dunthorne in which he spelled out his determination to become a professional landscape painter:
For the last two years, I have been running after pictures and seeking the truth at second hand… I have not endeavoured to represent nature with the same elevation of mind with which I set out, but have rather tried to make my performances look like the work of other men…There is room enough for a natural painter. The great vice of the present day is bravura, an attempt to do something beyond the truth.
By 1803, John exhibited his work at the Royal Academy for the first time. Despite some early explorations in oil, in the first part of this decade, he preferred using watercolor and graphic media in his studies of nature. He produced fine studies in these media during a trip to the famously picturesque Lake District in autumn 1806, but his exhibitions of these works in both 1807 and 1808 were unsuccessful in attracting public notice. Constable adopted a routine of spending winter in London and painting at East Bergholt in summer. In 1811 he first visited John Fisher and his family in Salisbury, a city whose cathedral and surrounding landscape was to inspire some of his greatest paintings.
In his spare time, Constable continued to paint and draw, advised by his friend and fellow painter, John Dunthorne, a local plumber whose son later became his studio assistant. Constable was fortunate to have supportive friends offering both patronage and advice. Joseph Farington was an influential member of the Royal Academy who, along with Sir George Beaumont, gave him access to old masters, which he copied to develop his powers of execution. Another valuable friend was Dr. John Fisher, who became Bishop of Salisbury and chaplain to the Royal Academy, and whose nephew John Fisher became Constable's best friend.
John Constable had been regularly sketching in oil since 1808, and
by 1810 he had achieved extraordinary deftness with the medium (he would often be associated with his oil sketches in the future). His art became far more focused about this time: his sketches were either discrete studies or, befitting academic practice, they were made in preparation for preconceived easel paintings. The most significant large easel painting of the period was Dedham Vale: Morning (1811), which married closely observed naturalistic effect to a scene composed according to the academic criteria established by 17th-century French painter Claude Lorrain.
John married Maria Elizabeth Bicknell at an English Anglican church in London in 1816 and the couple traveled to Weymouth and Brighton for their honeymoon. There, the seas inspired John to develop new techniques of brilliant colors and vivacious brushwork.
For the next few years, he spent his winters in London and summers in East Bergholt, where he'd sketch. For financial stability, he even began portraiture, including the occasional religious portraits. John sold his first large-scale painting (approx 6 ft) in 1819 titled 'The White Horse'. That year he was elected an Associate of the Royal Academy. His other painting named 'The Hay Wain' (a view from Flatford Mill) won the Gold medal at the Paris Salon exhibition in 1824.
In 1821 John showed The Hay Wain (a view from Flatford Mill) at the Academy's exhibition. Théodore Géricault saw it on a visit to London and praised Constable in Paris, where a dealer, John Arrowsmith, bought four paintings, including The Hay Wain. It was exhibited at the Paris Salon of 1824, winning a gold medal.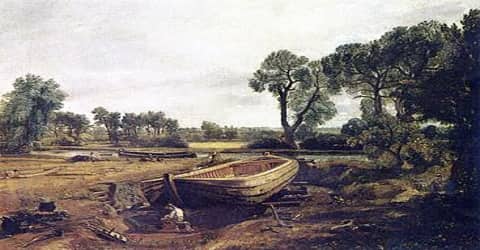 (Boat-building near Flatford Mill, 1815)
In his lifetime, John Constable sold only 20 paintings in England, but in France, he sold more than 20 in just a few years. Despite this, he refused all invitations to travel internationally to promote his work, writing to Francis Darby: "I would rather be a poor man in England than a rich man abroad." The White Horse initiated a series of large, well-received paintings that he exhibited, including Stratford Mill in 1819–20; The Hay-Wain, one of his best-known works, in 1821; View on the Stour near Dedham in 1822; The Lock in 1824; and The Leaping Horse in 1825. These all featured views of the Stour, but at a remove, as if filtered through memory.
In 1825, perhaps due partly to the worry of his wife's ill-health, the uncongeniality of living in Brighton ("Piccadilly by the Seaside"), and the pressure of numerous outstanding commissions, he quarreled with Arrowsmith and lost his French outlet.
After the birth of their seventh child in January 1828, Maria fell ill and died of tuberculosis on 23 November at the age of 41. Intensely saddened, Constable wrote to his brother Golding, "hourly do I feel the loss of my departed Angel God only knows how my children will be brought up…the face of the World is totally changed to me". Thereafter, he dressed in black and was, according to Leslie, "a prey to melancholy and anxious thoughts". He cared for his seven children alone for the rest of his life. The children were John Charles, Maria Louisa, Charles Golding, Isobel, Emma, Alfred, and Lionel. Only Charles Golding Constable produced offspring, a son.
John Constable had sold very little of what he had exhibited, but in 1818, he sold two paintings and started to be noticed by the reviewers. But praise was not universal. Although his work was appreciated for its power, it was often criticized for its surface texture, which was accused of being like "chopped hay and whitewash" and a certain spottiness – "Constable's snow".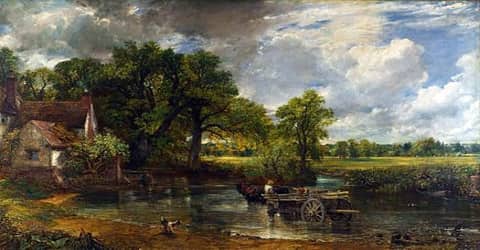 The Hay Wain (1821)
By 1824 Constable's paint surfaces were becoming increasingly fractured, communicating optical effects that evoked the physical experience of nature; these qualities, in addition to his increasingly vibrant, luminous use of color, have led many, erroneously, to see his work as a precursor to Impressionism. He moved away from recording precise details of a certain locale partly because he was sketching at a variety of places during this period briefly in Salisbury in 1823, and from 1824 in the fashionable seaside resort of Brighton, where the family repaired for the sake of Maria's health and where Constable made a last great series of oil sketches. But his abstracted locales and omission of any agricultural representation can be read another way. An economic depression after the Napoleonic Wars had led to agrarian riots, and yet Constable, a loyal Tory, chose to portray an abstracted, well-ordered English society that was untouched by the industrial and social changes surrounding him.
Shortly before his wife Maria passed away in 1828, she had inherited £20,000 and John used this money to pay for the engraving of several mezzotints of some of his landscapes in preparation for a publication. However, the published folios weren't successful and couldn't attract enough subscribers. His long-term affiliation with the Royal Academy continued as he was elected as an Associate in 1819, a member of the Academy in 1829 and appointed Visitor in 1831.
John Constable commissioned David Lucas to engrave several of his paintings and sketches and was intimately involved in their preparation before their publication in 1830-2. In the last years of his life, Constable gave various lectures including a series at the Royal Institution on the history of landscape painting in May to June 1836. He was elected a member of both the Royal Institution and the Graphic Society in 1836.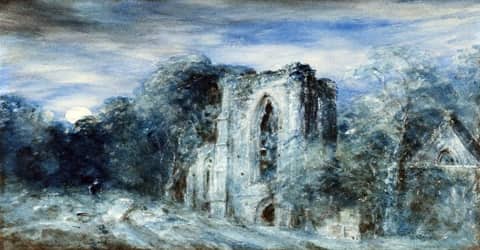 (Netley Abbey by Moonlight, 1833)
John began to deliver public lectures on the history of landscape painting, which was attended by distinguished audiences. In a series of lectures at the Royal Institution, Constable proposed a three-fold thesis: firstly, landscape painting is scientific as well as poetic; secondly, the imagination cannot alone produce art to bear comparison with reality; and thirdly, no great painter was ever self-taught. He also spoke against the new Gothic Revival movement, which he considered mere "imitation".
In 1835, his last lecture to students of the Royal Academy, in which he praised Raphael and called the Academy the "cradle of British art", was "cheered most heartily".
In 1836 Constable submitted his last Royal Academy entry, Cenotaph to the Memory of Sir Joshua Reynolds, Erected in the Grounds of Coleorton Hall, Leicestershire, by the Late Sir George Beaumont. The work was a valediction to Reynolds, the father of British art, whose ties to tradition Constable revered; to George Beaumont, whose early influence inspired him; and to Somerset House, the site of exhibitions by the Royal Academy, England's bastion of historic art, up until this final 1836 show. The painting served as an appropriate ode to the evaporating, traditional world in which Constable's personal and artistic values had been formed.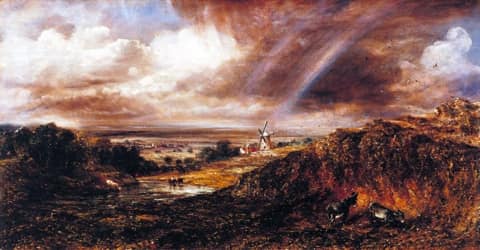 (Hampstead Heath with a Rainbow, 1836)
Undoubtedly, John Constable's oil-painting titled 'The Hay Wain' is his greatest work and one of the most popular English paintings. The canvas-painting depicts a rural scene on the River Stour between the English counties of Suffolk and Essex, near the Flatford Mill with the central feature being three horses pulling a hay wain (large farm cart) across the river. Although it is revered today as one of the greatest British paintings, it couldn't procure a buyer at its exhibition in 1821.
Awards and Honor
John Constable's painting 'The Hay Wain' received no particular fame in London, but in France, it became a sensation and Charles X of France awarded it the Gold medal at the Paris Salon in 1824.
Death and Legacy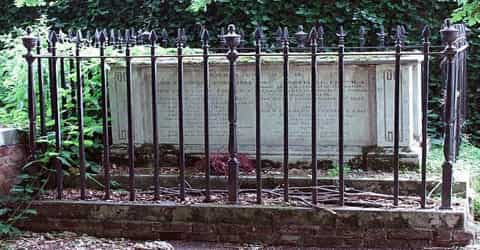 John Constable died on the night of 31st March 1837, apparently from heart failure, and was buried with Maria in the graveyard of St John-at-Hampstead Church, Hampstead in London. His children John Charles Constable and Charles Golding Constable are also buried in this family tomb.
John Constable was a significant painter during a period when the landscape was a dominant genre in British art. His oeuvre was unique in that he usually did not elect to paint places popular with the touring public or other artists, but rather concentrated on sites with which he had family connections, or where, for personal reasons, he happened to be. And while other artists made oil sketches, none did so as extensively and intensively as Constable. His landscapes represent a sometimes astonishing capacity to represent natural appearances particularly, in his later years, the fleeting and dramatic effects of stormy skies as well as a profound and prolonged meditation on the rural realities of a Britain undergoing a bewildering socioeconomic transformation.
John quietly rebelled against the artistic culture that taught artists to use their imagination to compose their pictures rather than nature itself. He told Leslie, "When I sit down to make a sketch from nature, the first thing I try to do is to forget that I have ever seen a picture".
Although John Constable produced paintings throughout his life for the "finished" picture market of patrons and R.A. exhibitions, constant refreshment in the form of on-the-spot studies was essential to his working method. He was never satisfied with following formula. "The world is wide", he wrote, "no two days are alike, nor even two hours; neither were there ever two leaves of a tree alike since the creation of all the world; and the genuine productions of art, like those of nature, are all distinct from each other."
He achieved a reasonable reputation during his lifetime as a respected and significant landscape painter. After Constable's death, Charles Robert Leslie's Memoirs of the Life of John Constable (1843), based on Constable's edited correspondence, extended his reputation, laying out the fictional life of a sincere and dedicated artist struggling against iniquity and incomprehension; it was Leslie's loyalty to his friend that perhaps caused him to gloss over many of Constable's less-appealing characteristics. By the early 20th century Constable's oeuvre was reexamined when scholars' need to find British antecedents to Impressionism led to an overemphasis on his oil sketches. In the late 20th century a reassessment grounded more in historical factors was attempted, an area of study that remains contentious.
Information Source: