Biography of Johnny Cash
Johnny Cash – American singer-songwriter, guitarist, actor, and author.
Name: Johnny Cash (J.R. Cash)
Date of Birth: February 26, 1932
Place of Birth: Kingsland, Arkansas, United States
Date of Death: September 12, 2003 (aged 71)
Place of Death: Saint Thomas Midtown Hospital, Nashville, Tennessee, United States
Occupation: Singer-Songwriter, Guitarist, Actor, Author
Father: Ray Cash
Mother: Carrie Cloveree
Spouse/Ex: June Carter Cash (m. 1968–2003), Vivian Liberto (m. 1954–1968)
Children: Rosanne, Kathy, Cindy, Tara, and John Carter Cash.
Early Life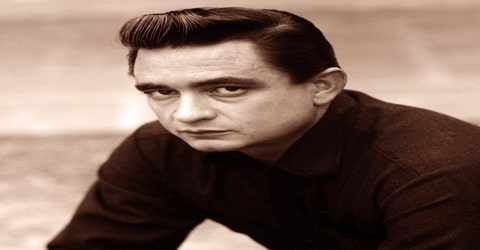 An American singer and songwriter whose work broadened the scope of country and western music, Johnny Cash was born on February 26, 1932, in Kingsland, Arkansas, the U.S. to Ray Cash and Carrie Cloveree (née Rivers). He is one of the best-selling music artists of all time, having sold more than 90 million records worldwide. Although primarily remembered as a country music icon, his genre-spanning songs and sound embraced rock and roll, rockabilly, blues, folk, and gospel. This crossover appeal won Cash the rare honor of being inducted into the Country Music, Rock and Roll, and Gospel Music Halls of Fame.
Although Johnny was known for his country music, his large gamut of work went on to influence genres like rock and roll, blues, folk, gospel, and rockabilly. He is best-remembered for his deep, baritone voice and his meek demeanor, notwithstanding his fame and success which was rife. He earned the nickname, 'The Man in Black', because he would always wear dark clothing while performing live and sang songs that were based on 'dark' themes, echoing his troubled past and other themes of pathos, lust, oddity, misfortune, and redemption. Some of his well-known works include, 'I Walk the Line', 'Ring of Fire', 'Man in Black', 'Jackson', 'Hey, Porter', 'Rock Island Line' and 'A Boy Named Sue'. His typical trooping bass songs have influenced the likes of Waylon Jennings, Bono, and Bob Dylan. He started his career by recording gospel music and ended it by doing covers for more modern artists such as 'Nine Inch Nails'.
Cash didn't sound like Nashville, nor did he sound like honky tonk or rock & roll. He created his own subgenre, falling halfway between the blunt emotional honesty of folk, the rebelliousness of rock & roll, and the world-weariness of country. Cash's career coincided with the birth of rock & roll, and his rebellious attitude and simple, direct musical attack shared a lot of similarities with rock. However, there was a deep sense of history as he would later illustrate with his series of historical albums that kept him forever tied with country. And he was one of country music's biggest stars of the '50s and '60s, scoring well over 100 hit singles.
Childhood, Family and Educational Life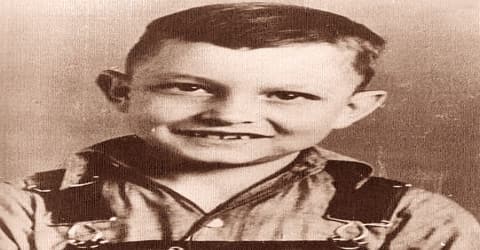 Johnny Cash, byname of J.R. Cash, was born on February 26, 1932, Kingsland, Arkansas, U.S. He was the fourth of seven children, who were in birth order: Roy, Margaret Louise, Jack, J. R., Reba, Joanne, and Tommy (who also became a successful country artist). He was primarily of English and Scottish descent. As an adult, he traced his surname to 11th-century Fife, after meeting with the then-laird of Falkland, Major Michael Crichton-Stuart. Cash Loch and other locations in Fife bear the name of his family.
From a very young age, he helped his family by working in cotton fields. He came from a poor family and 'The Great Depression' caused further financial troubles for the family. Many of these troubles would later be reflected in his songs. Cash was extremely close to his elder brother Jack, who died after almost being cut into two when he was pulled into a rotating head saw in the mill, in 1944. His brother was only 15-years-old at the time. This depression added on to his woes in his childhood, which can also be seen in a number of his songs in later life.
In March 1935, when Cash was three years old, the family settled in Dyess, Arkansas, a New Deal colony established to give poor families a chance to work land that they had a chance to own as a result. J.R. started working in cotton fields at the age of five, singing along with his family while working. The family farm was flooded on at least two occasions, which led him later to write the song "Five Feet High and Rising". His family's economic and personal struggles during the Great Depression inspired many of his songs, especially those about other people facing similar difficulties. He had sympathy for the poor and working class. At birth, Cash was named J. R. Cash. When Cash enlisted in the United States Air Force, he was not permitted to use initials as a first name, so he changed his name to John R. Cash. In 1955, when signing with Sun Records, he started going by Johnny Cash.
Cash was inspired by the country songs he had heard on the radio. While he was in high school, he sang on the Arkansas radio station KLCN. Cash graduated from high school in 1950, moving to Detroit to work in an auto factory for a brief while. With the outbreak of the Korean War, he enlisted in the Air Force. While he was in the Air Force, Cash bought his first guitar and taught himself to play. He began writing songs in earnest, including "Folsom Prison Blues." Cash left the Air Force in 1954, married a Texas woman named Vivian Leberto, and moved to Memphis, where he took a radio announcing course at a broadcasting school on the GI Bill. During the evenings, he played country music in a trio that also consisted of guitarist Luther Perkins and bassist Marshall Grant. The trio occasionally played for free on a local radio station, KWEM, and tried to secure gigs and an audition at Sun Records.
Personal Life
On July 18, 1951, while in Air Force training, Cash met 17-year-old Italian-American Vivian Liberto at a roller skating rink in her native San Antonio. They dated for three weeks until Cash was deployed to Germany for a three-year tour. During that time, the couple exchanged hundreds of pages of love letters. On August 7, 1954, one month after his discharge, they were married at St. Ann's Roman Catholic Church in San Antonio. The ceremony was performed by her uncle, Vincent Liberto. They had four daughters: Rosanne, Kathy, Cindy, and Tara.
Cash had a number of affairs with women and became a chronic alcoholic and a drug addict which finally ended his marriage with his first wife. He filed for divorce in 1966.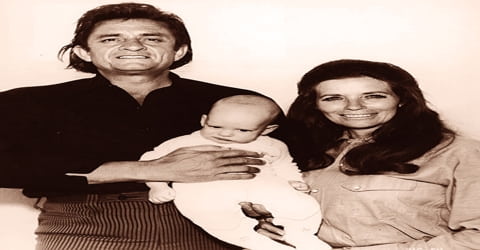 Cash met singer June Carter, of the famed Carter Family while on tour, and the two became infatuated with each other. In 1968, 13 years after they first met backstage at the Grand Ole Opry, Cash proposed to June, during a live performance in London, Ontario. The couple married on March 1, 1968, in Franklin, Kentucky. They had one child together, John Carter Cash, born March 3, 1970. He was the only son for both Johnny and June.
Cash was diagnosed with neurodegenerative disease Shy-Drager syndrome in his final years. In 1998, he was even hospitalized for severe pneumonia which affected his lungs.
Career and Works
Cash was exposed from childhood to the music of the rural South hymns, folk ballads, and songs of work and lament but he learned to play guitar and began writing songs during military service in Germany in the early 1950s. After military service he settled in Memphis, Tennessee, to pursue a musical career. Cash began performing with the Tennessee Two (later Tennessee Three), and appearances at county fairs and other local events led to an audition with Sam Phillips of Sun Records, who signed Cash in 1955.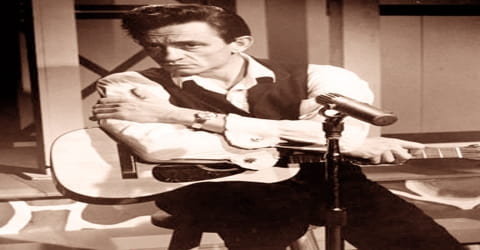 In 1955, Cash made his first recordings at Sun, "Hey Porter" and "Cry! Cry! Cry!", which were released in late June and met with success on the country hit parade. On December 4, 1956, Elvis Presley dropped in on Phillips while Carl Perkins was in the studio cutting new tracks, with Jerry Lee Lewis backing him on piano. Cash was also in the studio, and the four started an impromptu jam session. Phillips left the tapes running and the recordings, almost half of which were gospel songs, survived. They have since been released under the title Million Dollar Quartet. In Cash: the Autobiography, Cash wrote that he was the farthest from the microphone and sang in a higher pitch to blend in with Elvis.
On the single, Phillips billed Cash as "Johnny," which upset the singer because he felt it sounded too young; the record producer also dubbed Perkins and Grant as the Tennessee Two. "Cry Cry Cry" became a success upon its release in 1955, entering the country charts at number 14 and leading to a spot on The Louisiana Hayride, where he stayed for nearly a year. A second single, "Folsom Prison Blues," reached the country Top Five in early 1956 and its follow-up, "I Walk the Line," was number one for six weeks and crossed over into the pop Top 20.
"Home of the Blues" followed, recorded in July 1957. That same year, Cash became the first Sun artist to release a long-playing album. Although he was Sun's most consistently selling and prolific artist at that time, Cash felt constrained by his contract with the small label. Phillips did not want Cash to record gospel and was paying him a 3% royalty rather than the standard rate of 5%. Presley had already left Sun, and Phillips was focusing most of his attention and promotion on Lewis.
In 1958, Cash signed a profitable deal with Columbia Records, where his single, 'Don't Take Your Guns to Town' peaked at all major music charts and also entered the pop charts. His success continued to roll throughout 1958, as he earned his biggest hit, "Ballad of a Teenage Queen" (number one for ten weeks), as well another number one single, "Guess Things Happen That Way." For most of 1958, Cash attempted to record a gospel album, but Sun refused to allow him to record one. Sun also was unwilling to increase Cash's record royalties. Both of these were deciding factors in the vocalist's decision to sign with Columbia Records in 1958. By the end of the year, he had released his first single for the label, "All Over Again," which became another Top Five success. Sun continued to release singles and albums of unissued Cash material into the '60s.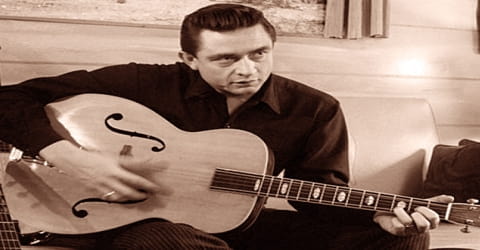 In the 1960s Cash's popularity began to wane as he battled drug addiction, which would recur throughout his life. By the late 1960s, Cash's career was back on track, and he was soon discovered by a wider audience. The signal event in Cash's turnaround was the album Johnny Cash at Folsom Prison (1968), which was recorded live in front of an audience of some 2,000 inmates at California's Folsom Prison. The performance was regarded as a risky move by record company executives, but it proved to be the perfect opportunity for Cash to reestablish himself as one of country music's most relevant artists. He used the success of that album and its follow-up, Johnny Cash at San Quentin (1969), to focus attention on the living conditions of inmates in American prisons, and he became a vocal champion for penal reform and social justice.
Early in his career, Cash was given the teasing nickname "the Undertaker" by fellow artists because of his habit of wearing black clothes. He said he chose them because they were easier to keep looking clean on long tours. In the early 1960s, Cash toured with the Carter Family, which by this time regularly included Mother Maybelle's daughters, Anita, June, and Helen. June later recalled admiring him from afar during these tours. In the 1960s, he appeared on Pete Seeger's short-lived television series Rainbow Quest. Cash also acted in, and wrote and sang the opening theme for, a 1961 film entitled Five Minutes to Live, later re-released as Door-to-door Maniac.
By 1963, Cash had moved to New York, leaving his family behind. He was running into trouble with the law, most notably for starting a forest fire out West. His career began to spiral downwards when he began to drink excessively and also started taking drugs. Around this time, he also separated from his first wife. When he remarried, his life took an extraordinary U-turn in 1968, with the release of the live album, 'Johnny Cash at Folsom Prison'.
Although Cash was in many ways spiraling out of control, Cash could still deliver hits due to his frenetic creativity. His rendition of "Ring of Fire" was a crossover hit, reaching number one on the country charts and entering the top 20 on the pop charts. It was originally performed by June's sister, but the signature mariachi-style horn arrangement was provided by Cash. He said that it had come to him in a dream. Vivian Liberto claimed a different version of the origins of "Ring of Fire". In her book, I Walked the Line: My Life with Johnny, Liberto says that Cash gave Carter the credit for monetary reasons.
Also in 1968, Cash recorded and released his most popular album, Johnny Cash at Folsom Prison. Recorded during a prison concert, the album spawned the number one country hit "Folsom Prison Blues," which also crossed over into the pop charts. By the end of the year, the record had gone gold. The following year, he released a sequel, Johnny Cash at San Quentin, which had his only Top Ten pop single, "A Boy Named Sue," which peaked at number three; it also hit number one on the country charts. Cash guested on Bob Dylan's 1969 country-rock album Nashville Skyline. Dylan returned the favor by appearing on the first episode of The Johnny Cash Show, the singer's television program for ABC. The Johnny Cash Show ran for two years, between 1969 and 1971.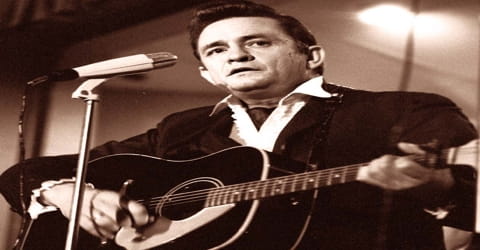 By the 70s, Cash had cemented his image as 'The Man in Black' as he would frequently dress in black, wearing a long black knee-length coat. In 1971, Cash wrote a song, 'Man in Black' explaining his queer choice of clothing. In the mid-70s, his popularity began to wane. In 1973, he released the double album, 'The Gospel Road' the name was used in a Hollywood film of the same name.
In the mid-'70s, Cash's presence on the country charts began to decline, but he continued to have a series of minor hits and the occasional chart-topper like 1976's "One Piece at a Time," or Top Ten hits like the Waylon Jennings duet "There Ain't No Good Chain Gang" and "(Ghost) Riders in the Sky." Man in Black, Cash's autobiography, was published in 1975. Through the remainder part of the 70s, he appeared on television, hosting annual Christmas specials and also appeared in shows like 'Columbo: Swan Song', 'Little House on the Prairie' and 'Dr. Quinn, Medicine Woman'.
Cash began using amphetamines again in 1977. By 1983, he was deeply addicted again and entered the Betty Ford Clinic in Rancho Mirage for treatment. He stayed off drugs for several years but relapsed again. By 1989, he was dependent and entered Nashville's Cumberland Heights Alcohol and Drug Treatment Center. In 1992, he entered the Loma Linda Behavioral Medicine Center in Loma Linda, California, for his final rehabilitation treatment. Several months later, his son followed him into this facility for treatment.
In the 80s, Cash toured with Willie Nelson, Waylon Jennings, and Kris Kirstofferson, recording three hit albums with the group. The first, titled, 'Highwaymen' was released in 1985. During this period, he also appeared in 'The Pride of Jesse Hallam' and the 'Muppet Show'. In 1986, Cash quit Columbia Records and reunited with Sun Studios in Memphis and created the album, 'Class of 55'. The same year, he authored his only novel, 'Man in White'.
In 1981, Cash starred in The Pride of Jesse Hallam, winning fine reviews for a film that called attention to adult illiteracy. In the same year, Cash appeared as a "very special guest star" in an episode of the Muppet Show. In 1983, Cash appeared as a heroic sheriff in Murder in Coweta County, based on a real-life Georgia murder case, which co-starred Andy Griffith as his nemesis and featured June Carter in a small but important role. Cash had tried for years to make the film, for which he won acclaim.
The second album, 'Highwaymen 2' was released in 1990. Four years later, he recorded his album, 'American Recordings', which is largely considered one of his greatest works. Cashe concluded his group 'Highwaymen' series with the third and final album titled 'Highwaymen- The Road Goes on Forever', in 1995. The following year, he released the album, 'Unchained', which also went on to become one of his last hit albums.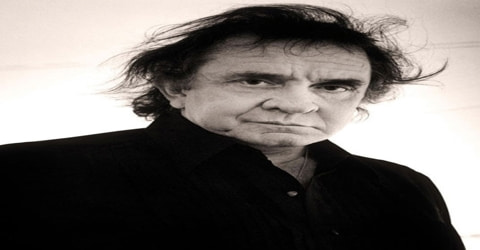 In 1994, however, Cash experienced an unexpected resurgence after signing with Rick Rubin's American Recordings, which was best known for its metal and rap acts. Cash's first release on the label, the acoustic American Recordings, was a critical and popular success, and it won him a new generation of fans. Later records included Unchained (1996), American III: Solitary Man (2000), American IV: The Man Comes Around (2002), and the posthumous American V: A Hundred Highways (2006).
In 1996, Cash enlisted the accompaniment of Tom Petty and the Heartbreakers and released Unchained (also known as American Recordings II), which won the Best Country Album Grammy in 1998. The album was produced by Rick Rubin with Sylvia Massy engineering and mixing. A majority of Unchained was recorded at Sound City Studios and featured guest appearances by Lindsay Buckingham, Mick Fleetwood, and Marty Stuart.
In 1997, Cash wrote the second installment of his autobiography series titled, 'Cash: The Autobiography', which covered details of his life that were not mentioned in the former publication.
During the last stage of his career, Cash released the albums American III: Solitary Man (2000) and American IV: The Man Comes Around (2002). American IV included cover songs by several late 20th-century rock artists, notably "Hurt" by Nine Inch Nails and "Personal Jesus" by Depeche Mode. Trent Reznor of Nine Inch Nails commented that he was initially skeptical about Cash's plan to cover "Hurt", but was later impressed and moved by the rendition. The video for "Hurt" received critical and popular acclaim, including a Grammy Award.
Awards and Honor
In 1969, Cash was presented the Country Music Association Award for 'Entertainer of the Year'. He was inducted into the Country Music Hall of Fame and Museum, in 1980. He won the Academy of Country Music Award for 'Single of the Year' for 'Highwayman', in 1985
His diversity was evidenced by his presence in five major music halls of fame: the Nashville Songwriters Hall of Fame (1977), the Rock and Roll Hall of Fame (1992), GMA's Gospel Music Hall of Fame (2010) and the Memphis Music Hall of Fame (2013). Cash was the only country music artist inducted to the Rock and Roll Hall of Fame as a "performer", unlike the other country members, who were inducted as "early influences".
In 1988, Cash was presented the Academy of Achievement Golden Plate Award.
In 1999, Cash received the Grammy Lifetime Achievement Award.
In 2004, Rolling Stone ranked Cash number 31 on their "100 Greatest Artists of All Time" list and No. 21 on their "100 Greatest Singers" list in 2010. In 2012, Rolling Stone ranked Cash's 1968 live album At Folsom Prison and 1994 studio album American Recordings at No. 88 and No. 366 in its list of the 500 greatest albums of all time.
In 2011, Cash was inducted into the Gospel Music Hall of Fame, posthumously.
Death and Legacy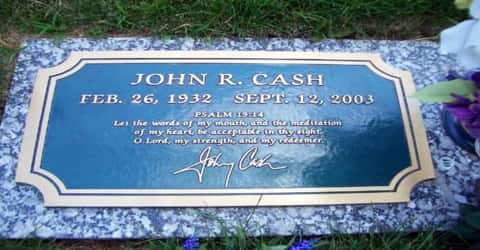 While hospitalized at Baptist Hospital in Nashville, Johnny Cash died of complications from diabetes around 2:00 am CT on September 12, 2003, aged 71 less than four months after his wife. His health may have worsened due to a broken heart over June's death. Cash was buried next to his wife in Hendersonville Memory Gardens near his home in Hendersonville, Tennessee.
His image as a popular alternative country icon influenced a number of artists even after his death including Chris Isaak, Bob Dylan, Wyclef Jean, Willie Nelson, and Dom DeLuise. There is a street in Hendersonville, Tennessee, named after him. The Johnny Cash Museum is also located in the same place.
One of Cash's final collaborations with producer Rick Rubin, American V: A Hundred Highways, was released posthumously on July 4, 2006. The album debuted at number one on the Billboard Top 200 album chart for the week ending July 22, 2006. On February 23, 2010, three days before what would have been Cash's 78th birthday, the Cash Family, Rick Rubin, and Lost Highway Records released his second posthumous record, titled American VI: Ain't No Grave.
In 1973, Cash released 'The Gospel Road' under Columbia Records. The album was ranked one of the best 12 Country albums of the year and went on to spawn a film of the same name which Cash provided the narration to and the soundtrack. 'American Recordings' released in 1994, is believed to be one of his greatest albums till date. It is included in the list of the '500 greatest albums of all time' by Rolling Stone magazine. The album was hailed by critics as one of his best works since the 60s. It also went on to win a Grammy Award for 'Best Contemporary Folk Album' at the Grammy Awards ceremony the same year.
The Johnny Cash Museum, located in one of Cash's properties in Hendersonville until 2006, dubbed the House of Cash, was sold based on Cash's will. Prior to this, having been closed for a number of years, the museum had been featured in Cash's music video for "Hurt". The house subsequently burned down during the renovation by the new owner. A new museum, founded by Shannon and Bill Miller, opened April 26, 2013, in downtown Nashville.
In 2015, a new species of black tarantula was identified near Folsom Prison and named Aphonopelma johnnycashi in his honor. In 2016, the Nashville Sounds Minor League Baseball team added the "Country Legends Race" to its between-innings entertainment. At the middle of the fifth inning, people in oversized foam caricature costumes depicting Cash, as well as George Jones, Reba McEntire, and Dolly Parton, race around the warning track at First Tennessee Park from center field to the home plate side of the first base dugout.
Information Source: