Biography of Kishore Kumar
Kishore Kumar – Indian playback singer, actor, lyricist, composer, producer, director, and screenwriter.
Name: Abhas Kumar Ganguly
Date of Birth: 4 August 1929
Place of Birth: Khandwa, Central Provinces, British India  (present-day Madhya Pradesh, India)
Date of Death: 13 October 1987 (aged 58)
Place of Death: Bombay, Maharashtra, India
Occupation: Singer, Lyricist, Composer, Actor, Film producer, Director, Screenwriter
Father: Kunjalal Ganguly
Mother: Gouri Devi
Spouse/Ex: Ruma Guha Thakurta (m. 1950; div. 1958), Madhubala (m. 1960; died 1969), Yogeeta Bali (m. 1975; div. 1978), Leena Chandavarkar (m. 1980–1987)
Children: Amit Kumar, Sumit Kumar
Early Life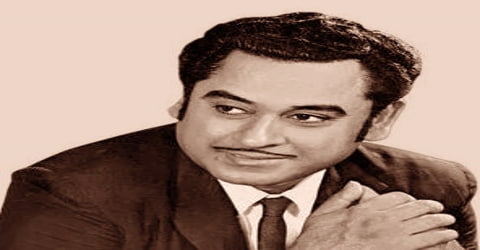 Indian actor, playback singer, composer, and director known for his comic roles in Indian films, Kishore Kumar was born 4 August 1929, in a Bengali family in Khandwa, Central Provinces (now in Madhya Pradesh) as Abhas Kumar Ganguly. He was one of India's greatest performers of the late 20th century. Although he had no formal training as a singer, Kumar became one of India's best-loved vocalists, actors, and comedians. He is considered as one of the most popular and successful singers of Hindi film industry and from soft numbers to peppy tracks to romantic moods, Kumar sang in different genres but some of his rare compositions which were considered classics were lost in time. According to Ashok Kumar, Kumar's success lies in the fact that his voice used to hit the microphone straight at its most sensitive point.
A multifaceted personality, he was not just a playback singer, but also an actor, comedian, lyricist, composer, producer cum director. One of the most recognized and well-loved male voices of Hindi cinema, Kishore Kumar was also a much emotionally unstable personality, a genius troubled by the weights of his own talents. Born as the youngest among the siblings into a wealthy Bengali family, Kishore's venture into filmdom simply happened by chance. In fact, it is nothing but a quirk of fate that the man who would one day become the voice of India's superstars did not even receive basic training in music! He was just a young boy when his elder brother became an actor in Bollywood and the youngster followed his brother to Bombay where his brother helped him find work. How would a young boy without any training in acting or music face up to the challenges of the colorful world of Bollywood? He need not have worried. As fate would have it, Kishore soon became the darling of the masses and still reigns over their hearts years after his death.
Apart from Hindi, he sang in many Indian languages including Bengali, Marathi, Assamese, Gujarati, Kannada, Bhojpuri, Malayalam and Urdu. He has also sung in private albums in several languages especially in Bengali. He won 8 Film Fare Awards for Best Male Playback Singer and holds the record for winning the most Filmfare Awards in that category. He was awarded the "Lata Mangeshkar Award" by the Madhya Pradesh government in the year 1985–86. In the year 1997, the Madhya Pradesh Government initiated an award called the "Kishore Kumar Award" as a contribution to Hindi cinema. Recently, Kishore Kumar's unreleased last song was sold for Rs 15.6 lakh (1.56 million) at the Osian's Cinefan Auction, New Delhi in 2012.
Childhood, Family and Educational Life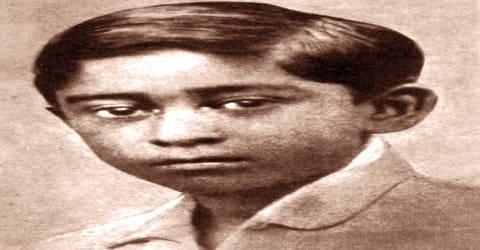 Kishore Kumar, original name Abhas Kumar Ganguly, was born on August 4, 1929, in Khandwa, Central Provinces, British India, in a Bengali family. He was the youngest of four siblings. His father, Kunjalal Ganguly was a lawyer and his mother Gouri Devi, too hailed from a wealthy family.
Abhas's eldest brother, Ashok Kumar became a famous Bollywood actor while Abhas was still young. Later on his, another brother Anoop Kumar too joined Ashok. Abhas too became interested in cinema after observing his elder brothers. As a young boy, he was an ardent fan of the singer-actor K. L. Sahgal.
Personal Life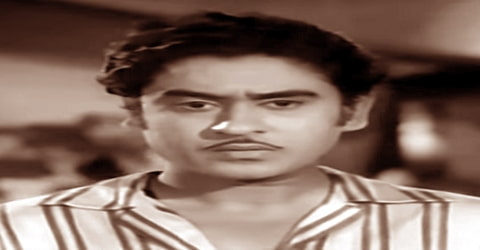 Kishore Kumar married four times. His first wife was Bengali singer and actress Ruma Guha Thakurta aka Ruma Ghosh. Their marriage lasted from 1950 to 1958. The couple had one son.
His second marriage was to actress Madhubala with whom he had worked on many films. Their marriage ended with the actress's death in 1969. Kumar tied the knot for the third time with Yogeeta Bali in 1976. This marriage was too short-lived and ended in divorce in 1978.
Kishore Kumar was married to Leena Chandavarkar from 1980 until his death. The couple had one son.
Kishore Kumar was a loner; in an interview with Pritish Nandy (1985), he said that he had no friends he preferred talking to his trees instead. Once, when a reporter made a comment about how lonely he must be, Kishore Kumar took her to his garden, named some of the trees there and introduced them to the reporter as his closest friends.
Career and Works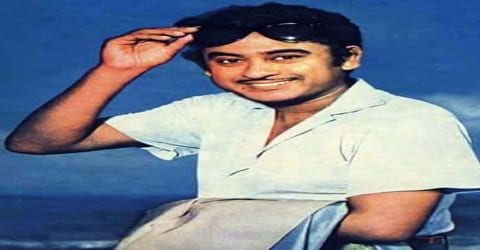 When Kishore Kumar was a teenager, he got a job in Bombay (now Mumbai) as an occasional chorus singer at the Bombay Talkies film studio, where his elder brother Ashok Kumar was the reigning star. Although his heart was in singing, the younger Kumar made his acting debut in 1946 in the nondescript film Shikari. It was the 1951 release of Andolan, however, that propelled him to stardom as a singer-actor and ultimately freed him from the shadow of his brother Ashok.
Kumar inherited his love of music from his mother, Dhananjay Banerjee, a classical singer. Kumar's earliest influence came from K.I. Saigal, a well-known Indian vocalist, and actor. Hoping to meet Saigal, Kumar traveled to Bombay in the late '40s. Although the meeting failed to materialize, Kumar was invited to join a chorus under the direction of Saraswati Devi and his singing soon attracted the attention of composer Khemchand Prakash. In 1948, Kumar was chosen by Prakash to sing "Marne Ki Duayen Kyon Mangu" in the film Ziddi starring Dev Anand. Prakash later provided Kumar his first hit with "Jagmag Jagmag Karta Nikla Chand Poonam Ka Pyara."
Kumar began his musical career as a chorus singer at Bombay Talkies. To make up for his lack of formal training, he practiced singing for hours and perfected a technique called "yodeling" which would soon become his trademark. His brother Ashok wanted him to become an actor like him and helped him get some assignments. Kishore performed reluctantly though his sights were now not on an acting career but singing.
In 1949, Kumar settled in Mumbai. Kumar played the lead in the Bombay Talkies film Andolan (1951), directed by Phani Majumdar. Although he got some acting assignments with the help of his brother, he was more interested in becoming a singer. But Ashok wanted Kumar to be an actor like him. Between 1946 and 1955, Kumar appeared in 22 films of which 16 were flops and since he was disinterested in taking up acting as a career, he would find ways to be in the bad books of the director or producer, so that they throw him from their films. It was only after the success of films such as Ladki, Naukari, Miss Malaysia, Char Paise, and Baap Re Baap that Kumar developed an interest in acting seriously, which resulted in him having successful films as the lead actor between 1955 and 1966.
Kumar began the 1950s by playing the hero in movies like 'Andolan' (1951), 'Naukri' (1954) and 'Musafir' (1957). Initially, music directors like Salil Chowdhury were not willing to give him a chance to sing, but they changed their minds after hearing his melodious voice.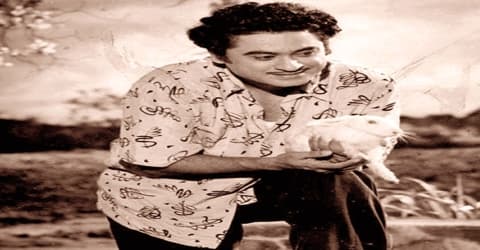 Kumar reached his peak as a comic actor with the film New Delhi (1956), in which he played a North Indian Punjabi pretending to be a South Indian Tamil so that he would be able to rent a room in New Delhi, and in the self-produced film Chalti ka naam gaadi (1958; "That Which Runs Is a Car"), which starred three brothers Ashok Kumar, Anoop Kumar, and Kishore Kumar in the roles of three brothers whose lives are upended by two women who present a threat to the brothers' vow of bachelorhood.
The commercially successful films of Kishore Kumar included Ladki (1953), Naukari (1954), Baap Re Baap (1955), Paisa Hi Paisa (1956), New Delhi (1956), Naya Andaz (1956), Bhagam Bhaag (1956), Bhai Bhai (1956), Aasha (1957), Chalti Ka Naam Gaadi (1958), Dilli Ka Thug (1958), Jaalsaaz (1959), Bombay Ka Chor (1962), Chacha Zindabad (1959), Man-Mauji (1962), Jhumroo (1961), Half Ticket (1962), Mr. X in Bombay (1964), Shreeman Funtoosh (1965), Ek Raaz (1963), Ganga Ki Lahren (1964), Hum Sab Ustaad Hai (1965), Haal E Dil, Pyar Kiye Jaa (1966) and Padosan (1968). As an actor, his best period was between 1954 and 1966. His onscreen pairing with actresses Mala Sinha, Vyjayanthimala, Nutan, Madhubala, and Kumkum gave the biggest hits in his career. Chalti Ka Naam Gaadi (1958), his home production, had the three Ganguly brothers and Madhubala in main roles. Kumar played a car mechanic who has a romance with a city girl; (Madhubala) with a subplot involving the brothers.
In the late 1940s, Kishore Kumar collaborated with the leading actor Dev Anand by serving as his playback singer the voice for his songs. For the next two decades Kumar sang primarily for Anand, and the partnership between the versatile crooner and the romantic film star created a musical gold mine in films such as Munimji (1955), Funtoosh (1956), Nau do gyarah (1957), and Jewel Thief (1967). A new high point in Kumar's career came in 1969: the film Aradhana catapulted Rajesh Khanna to superstardom, and Kumar, who had lent his voice to Khanna, became the leading playback singer of the Hindi film industry. Kumar retained that position until he died.
In 1958 Kumar starred in the film 'Chalti Ka Naam Gaadi' which also had his two brothers in important roles. The female lead was played by the beautiful actress Madhubala. Music director S.D. Burman once heard Kishore mimicking the great singer K.L. Sahgal. Burman realized that the young man was talented in his own right and should be developing his own unique style instead of copying others' styles. Kishore's fortunes changed for the better after being discovered by Burman. He got the opportunity to sing for many films like 'Guide' (1965), 'Jewel Thief' (1967), and 'Prem Pujari' (1970), of which many songs became super hits.
D. Burman recorded Kumar's voice for Dev Anand's Munimji (1954), Taxi Driver (1954), House No. 44 (1955), Funtoosh (1956), Nau Do Gyarah (1957), Paying Guest (1957), Guide (1965), Jewel Thief (1967), Prem Pujari (1970), and Tere Mere Sapne (1971). He also composed music for Kumar's home production Chalti Ka Naam Gaadi (1958). Some of their songs were; "Maana Janaab Ne Pukara Nahin" from Paying Guest, "Hum Hain Rahi Pyar Ke" from Nau Do Gyarah, "Ai Meri Topi Palat Ke Aa" from Funtoosh, and "Ek Ladki Bheegi Bhaagi Si" and "Haal Kaisa Hai Janaab Ka" from Chalti Ka Naam Gaadi. Asha Bhosle and Kishore performed duets composed by Burman including "Chhod Do Aanchal" from Paying Guest, "Ankhon Mein Kya Ji" from Nau Do Gyarah, "Haal Kaisa Hai Janaab Ka" and "Paanch Rupaiya Baara Aana" from Chalti Ka Naam Gaadi and "Arre Yaar Meri Tum Bhi Ho Gajab" from Teen Deviyan (1965).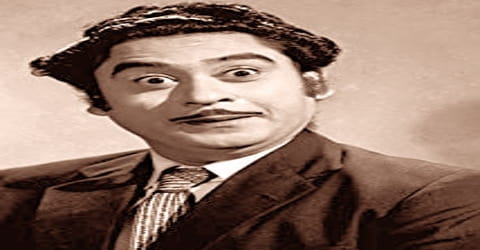 Kumar's rise to the top of India's pool of playback singers was an extraordinary feat. Unlike his colleagues in the profession, most of whom were trained in Indian classical music, Kumar had no formal music training whatsoever. Nevertheless, he was a skilled imitator, interpreter, and innovator. He used colorful timbral effects such as yodeling in his vocalizations, experimented with electric organs and other atypical instruments in his accompaniments, and enlivened his performances with upbeat rhythms. All those features ultimately imparted an appealing sense of modernity to Kumar's overall sound.
As a singer, Kumar's work as singer with many music directors in this period includes "Ye Raatein Ye Mausam" and "Hum Toh Mohabbat Karega" from Dilli Ka Thug, "Piya Piya Mora Jiya" from Baap Re Baap, "Hello Hello Ji" from Bombay Ka Chor, "Micheal Hai Toh Cycle Hai" from Bewaqoof, "Ae Haseeno Nazneeno" from Chacha Zindabad, "Zaroorat Hai Zaroorat Hai" from Manmauji (1961), "Likha Hai Teri Ankhon Mein" from Teen Deviaan, "Suno Jaana Suno Jaana", "Pyaar Baatke Chalo" and "Kya Teri Zulfein Hai" from Hum Sab Ustaad Hai, "Khoobsurat Haseena" from Mr. X in Bombay, "Gaata Rahe Mera Dil" from Guide (1965), "Sultana Sultana" from Shreeman Funtoosh, "Machalti Hui" from Ganga Ki Lahren, "Mera Dil Meri Jaan" and "Pyar Ka Jaahan Hotel" from Jaalsaaz and "Yeh Dil Na Hota Bechara" from Jewel Thief (1967).
Music director C. Ramchandra also recognized Kumar's talent as a singer. They collaborated on songs including "Eena Meena Deeka" from Aasha (1957). Kishore Kumar's work includes "Nakhrewaali" from New Delhi (1956) by Shankar Jaikishan, "C.A.T. Cat Maane Billi" and "Hum To Mohabbat Karega" from Dilli Ka Thug (1958) by Ravi, and "Chhedo Na Meri Zulfein" from Ganga Ki Lahren (1964) by Chitragupta.
The 1970s and 1980s were a highly productive time for the playback singer who to belt out many lovely songs that became the favorites of millions of Indians the world over. During this period he sang for famous actors like Rajesh Khanna, Amitabh Bachchan, Jeetendra, Dev Anand, Anil Kapoor, and many others. Along with singing solos, he also formed hit duet pairs with the singers Lata Mangeshkar and Asha Bhonsle. He also sang duets with Mohammed Rafi, another one of the great voices of Hindi filmdom.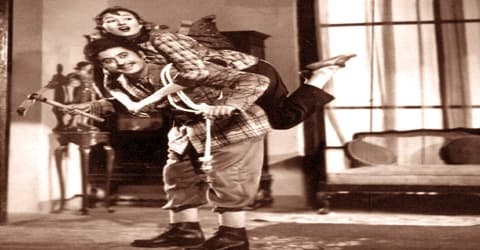 Kumar acted in and composed the music for Jhumroo (1961), and wrote the lyrics for the film's title song, "Main Hoon Jhumroo". Later, he produced and directed Door Gagan Ki Chhaon Mein (1964). He also wrote the script and composed music for the film, which is about the relationship between a father (Kishore Kumar) and his deaf and mute son (played by his real-life son (Amit Kumar). After 1966, as an actor, Kishore Kumar built up notoriety for coming late for the shootings or bunking them altogether. His films flopped frequently after 1965 and he landed in income tax trouble. In 1968, Rahul Dev Burman worked with Kishore Kumar on the soundtrack of the film Padosan (1968), in which Kumar sang "Mere Saamne Wali Khidki Mein" and "Kehna Hai."
In 1969, Shakti Samanta produced and directed Aradhana. He sang three songs in the film; "Mere Sapnon Ki Rani", "Kora Kagaj Tha Ye Man Mera" and "Roop Tera Mastana". Shakti Samanta suggested that Kumar sing the other songs too. When the film was released, Kumar's three songs established him as a leading Bollywood playback singer. Kishore Kumar won his first Filmfare award for "Roop Tera Mastana".
R.D. Burman recorded several songs with Kumar in the 1970s. Burman recorded several duets pairing Kishore with Asha Bhosle and Lata Mangeshkar. Apart from the Burmans, Kumar worked with other famous music directors too. The composer duo Laxmikant-Pyarelal (L-P) composed many songs sung by him. Kishore also worked with other composers including Rajesh Roshan, Sapan Chakraborty, and Bappi Lahiri. During the Indian Emergency (1975–1977), Sanjay Gandhi asked Kishore to sing for an Indian National Congress rally in Mumbai, but he refused. As a result, Information and broadcasting minister Vidya Charan Shukla (1975–1977) put an unofficial ban on playing Kishore Kumar songs on state broadcasters All India Radio and Doordarshan from 4 May 1976 till the end of Emergency.
Even though Kishore Kumar was a highly talented personality, he was quite eccentric by nature. Many times he would get into personal conflicts with actors and stop singing for them. He also had problems managing his finances.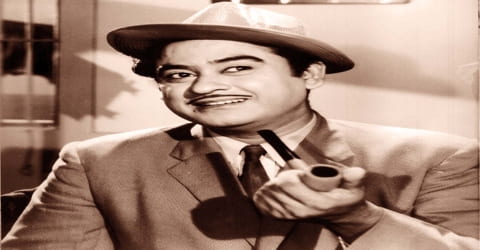 Kishore Kumar produced and directed some movies in the late 1970s and early 1980s. Kishore continued singing for several actors even in the 1980s. Kumar performed stage shows right from 1969 to earn money to pay his income tax arrears. By September 1987, Kumar had decided to retire as he was unhappy with kind of songs and tunes being made by music directors and was planning to return to his birthplace Khandwa.
This eccentric playback singer was a loner Kumar had trees for friends but was not close to any human being.
Awards and Honor
Kishore Kumar was the proud recipient of eight Filmfare Awards for Best Male Playback Singer, the first of which he had won for the song 'Roop Tera Mastana' from the movie 'Aradhana' in 1969. The song was picturized on Rajesh Khanna, associating the voice of the singer with the superstar actor.
Death and Legacy
Kishore Kumar suffered his first heart attack on 24 January 1981 in Kolkata in the noon hours and within a gap of another four hours, suffered his second heart attack. By September 1987, Kumar had decided to retire as he was unhappy with kind of songs and tunes being made by music directors and was planning to return to his birthplace Khandwa.
Kishore Kumar died of a heart attack on 13 October 1987, his brother Ashok's birthday, in Mumbai, India. His body was taken to Khandwa for cremation. Kumar had recorded his last song, "Guru Guru" a duet with Asha Bhosle for the film Waqt Ki Aawaz (1988) composed by Bappi Lahiri for Mithun Chakraborty and Sridevi the day before he died. His song "Pal Bhar Ke Liye" from the film Johny Mera Naam (1970) was used in an episode of The Simpsons titled "Kiss Kiss, Bang Bangalore". His songs have been featured in several films, including Such a Long Journey (1998) and Side Streets (1998). Sony TV organized the television singing contest K For Kishore to search for a singer like Kishore Kumar.
Kishore Kumar's unreleased song was sold for Rs 15.6 lakh at the Osian's Cinefan Auction, New Delhi in 2012, the highest price bid for any Indian singer. The song was "Tum hi to woh ho", written by Kulwant Jani with music by Usha Khanna. This was for a film called "Khel Tamasha" by Rakesh Kumar, which never got made. The song was recorded just three days before his death in October 1987.
Considered to be one of the most successful male playback singers of Indian cinema, Kishore Kumar was a class apart. He sang not only in the Hindi language but also in several other languages including Bengali, Marathi, Gujarati, Kannada, Oriya, and Urdu.
In his memory, the government of Madhya Pradesh has set up a memorial on the outskirts of Khandwa. It is open to the public and has his life-sized statue in a lotus-shaped structure. It also houses a mini-theatre and museum dedicated to him. On his birth and death anniversary each year, a function is held and many fans participate. The mini-theatre also screens his films on these days.
Information Source: