Biography of Le Corbusier
Le Corbusier – Swiss-French architect, designer, painter, urban planner, writer.
Name: Charles-Édouard Jeanneret
Date of Birth: 6 October 1887
Place of Birth: La Chaux-de-Fonds, Switzerland
Date of Death: 27 August 1965 (aged 77)
Place of Death: Roquebrune-Cap-Martin, France
Occupation: Architect, Designer, Writer
Spouse/Ex: Yvonne Gallis (m. 1930)
Early Life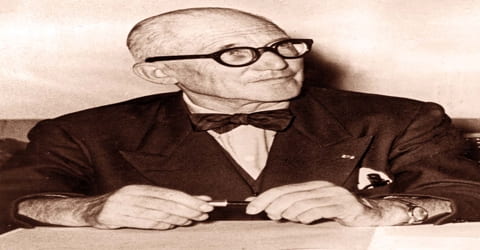 A Swiss architect and city planner, whose designs combine the functionalism of the modern movement with bold, sculptural expressionism, Le Corbusier was born on 6th October 1887, in La Chaux-de-Fonds, in the French-speaking part of Switzerland. He is one of the pioneers of what is now called modern architecture. His career spanned five decades, and he designed buildings in Europe, Japan, India, and North and South America. He was an influential figure in architecture during the 20th century. This Swiss mastermind was not only an architect but also an urban planner, painter, and writer.
He's considered one of the pioneers of the Modern Architecture movement, and he has been acclaimed and also criticized. Dedicated to providing better living conditions for the residents of crowded cities, Le Corbusier was influential in urban planning and was a founding member of the Congrès International d'Architecture Moderne (CIAM). Le Corbusier prepared the master plan for the city of Chandigarh in India and contributed specific designs for several buildings there.
One of the forerunners in the field of modern architecture, this talented artist used both reinforced concrete and steel for his constructions. Besides, he was very famous for his use of elemental geometric forms in building construction. This versatile architect's works are characterized by understandable structures and forms. He introduced the five points of architecture in his books and followed them closely to create wonderful pieces of architecture that are still revered as masterpieces today. In addition, he devised a scale of proportions known as the 'Modulor'. It is based on the famed golden ratio and human measurements. Beginning his colorful career in his father's footsteps as a watchmaker, this artist cum architect traveled far and wide to learn the various dimensions of art and architecture. His masterpieces adorn every corner of the globe including India, America, and Europe. Besides being an urban planner, he was bent upon improving the living conditions of people in crowded cities. He later converted to a French citizen and passed away in France.
Seventeen projects by Le Corbusier in seven countries were inscribed in the list of UNESCO World Heritage Sites as The Architectural Work of Le Corbusier, an Outstanding Contribution to the Modern Movement, on 17th July 2016.
Childhood, Family and Educational Life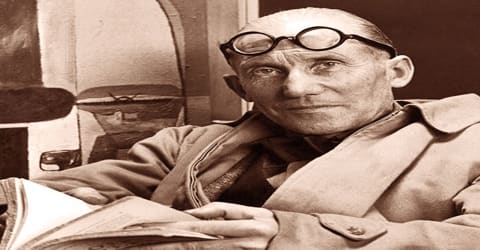 Le Corbusier, byname of Charles-Édouard Jeanneret, was born on 6th October 1887 to Edouard Jeanneret and Madame Jeannerct-Perrct in the Swiss town of La Chaux-de-Fonds. Named Charles-Edouard Jeanneret-Gris at birth, he was the couple's second son. It was an industrial town, devoted to the manufacture of watches. His father was an artisan who enameled boxes and watches, while his mother gave piano lessons. His elder brother Albert was an amateur violinist. He attended a kindergarten that used Fröbelian methods. This great architect reinvented himself by altering his maternal grandfather's name and adopting it as his pseudonym.
Le Corbusier left primary school at the age of 13 to learn the enameling and engraving of watch faces, his father's trade, at the École des Arts Décoratifs at La Chaux-de-Fonds. There, Charles L'Eplattenier, whom Le Corbusier later called his only teacher, taught him art history, drawing, and the naturalist aesthetics of Art Nouveau. Naturally, he opted for art over watchmaking, with the intention of becoming a painter. His teacher also insisted that he study architecture.
Three years later Le Corbusier attended the higher course of decoration, founded by the painter Charles L'Eplattenier, who had studied in Budapest and Paris. Le Corbusier wrote later that L'Eplattenier had made him "a man of the woods" and taught him painting from nature. His father took him frequently into the mountains around the town. He wrote later, "we were constantly on mountaintops; we grew accustomed to a vast horizon."
Personal Life
Le Corbusier got married to the dressmaker-model, Yvonne Gallis in 1930. The couple remains married till Yvonne's death in 1957. He is also said to have an extramarital relationship with the heiress, Marguerite Tjader Harris.
Career and Works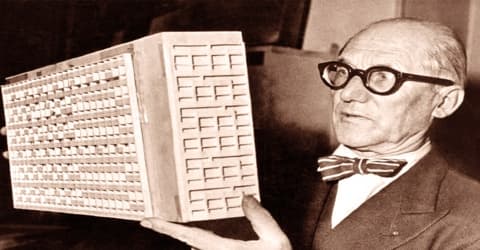 Le Corbusier traveled throughout Italy, Austria, Germany, and France, studying the local architecture. From 1907 to 1911 Le Corbusier undertook a series of trips that played a decisive role in the education of this self-taught architect. During these years of travel through central Europe and the Mediterranean, he made three major architectural discoveries. The Charterhouse of Ema at Galluzzo, in Tuscany, provided a contrast between vast collective spaces and "individual living cells" that formed the basis for his conception of residential buildings.
Le Corbusier met Walter Gropius and Mies Van der Rohe, other two pioneers of modern architecture, in 1910. The next year, he traveled to Eastern Europe and Turkey. When he returned to La Chaux-de-Fonds, he built a house for his parents and got his certificate of competency for teaching art in 1913. He moved to Paris and opened his first architecture studio, in 1917. During the following years, he dedicated a lot of time to painting. He met Picasso and other influential artists of the time.
In 1912, Le Corbusier began his most ambitious project; a new house for his parents also located on the forested hillside near La-Chaux-de-Fonds. The Jeanneret-Perret house was larger than the others, and in a more innovative style; the horizontal planes contrasted dramatically with the steep alpine slopes, and the white walls and lack of decoration were in sharp contrast with the other buildings on the hillside. The interior spaces were organized around the four pillars of the salon in the center, foretelling the open interiors he would create in his later buildings. The project was more expensive to build than he imagined; his parents were forced to move from the house within ten years, and relocate in a more modest house.
Through the 16th-century Late Renaissance architecture of Andrea Palladio in the Veneto region of Italy and the ancient sites of Greece, Le Corbusier discovered classical proportion. Finally, popular architecture in the Mediterranean and in the Balkan peninsula gave him a repertory of geometric forms and also taught him the handling of light and the use of landscape as an architectural background.
Le Corbusier met the renowned painter Amedee Ozenfant, in 1918. They both came out with a book 'Apres Les cubisme' in which they dealt with a new anti-cubism artistic movement called, 'Purism'. In 1920, with the poet Paul Dermée, they founded a polemic avant-garde review, L'Esprit Nouveau. Open to the arts and humanities, with brilliant collaborators, it presented ideas in architecture and city planning already expressed by Adolf Loos and Henri van de Velde, fought against the "styles" of the past and against elaborate nonstructural decoration, and defended functionalism.
Le Corbusier worked on a number of unexecuted architectural projects. He published the book 'Towards a New Architecture' in 1923, which included his five points of architecture or what he considered to be the pillars of any architectural design. Those were constructions guidelines for buildings, such as the use of pillars, the horizontal windows, and the roof garden, among others.
The articles written by Le Corbusier were collected and published as Vers une architecture. Later translated as Toward a New Architecture (1923), the book is written in a telling style that was to be characteristic of Le Corbusier in his long career as a polemicist. "A house is a machine for living in" and "a curved street is a donkey track, a straight street, a road for men" are among his famous declarations. His books, whose essential lines of thought were born of travels and lectures hardly changed at all in 45 years, constituted a bible for succeeding generations of architects. Among the most famous are Urbanisme (1925; The City of Tomorrow, 1929), Quand Les cathédrales étaient blanches (1937; When the Cathedrals Were White, 1947), La Charte d'Athènes (1943), Propos d'urbanisme (1946), Les Trois Établissements humains (1945), and Le Modular I (1948; The Modular, 1954).
Le Corbusier built two houses for the exhibition at Weissenhof, Stuttgart, Germany, in 1927. This was a showcase for architects from the Modern movement. The next year, he was a founding member of the International Congress of Modern Architecture in Switzerland. Le Corbusier built several houses during the next few years. One of his most famous houses was the Villa Savoye in Poissy, France, completed in 1931. Here he applied the five points of architecture. He continued to build houses but published his book Architecture of the Machine Age in 1936.
Le Corbusier took a major step toward establishing modernist architecture as the dominant European style, in 1928. Le Corbusier had met with many of the leading German and Austrian modernists during the competition for the League of Nations in 1927. In the same year, the German Werkbund organized an architectural exposition at the Weissenhof Estate Stuttgart. Seventeen leading modernist architects in Europe were invited to design twenty-one houses; Le Corbusier and Mies Van der Rohe played a major part.
Le Corbusier traveled to many countries and gave lectures in many different places, such as Europe, in the 1930s. He also went to Brazil, where he gave lessons and advice to Brazilian architect Oscar Niemeyer, who became known as the most important modern architect of Brazil. Between 1945 and 1948, he worked on his system of proportion, the Modulor. This system provided a reference for better adapting architecture to the human dimensions.
The end of the 1930s saw such especially famous projects as the masterplans for Algiers (1938-42) and Buenos Aires (1938); the building for the Ministry of Education and Health in Rio de Janeiro (1936); and an infinitely expandable museum for Philippeville (1938), in French North Africa. There was also a trip to the United States (1935), where Le Corbusier was already famous. The architect-painter moved on to urban planning and designed a number of buildings based on his views on urbanism. He expanded his ideas on urbanism and brought out a book titled, 'La Ville radieuse', in 1935.
Le Corbusier wrote a book describing his experiences in the States, Quand Les Cathédrales etait blanc- voyages Au pays des timides (When Cathedrals were White; voyage to the land of the timid) whose title expressed his view of the lack of boldness in American architecture. He wrote a great deal but built very little in the late 1930s. The titles of his books expressed the combined urgency and optimism of his messages: Cannons? Munitions? No thank you, Lodging please! (1938) and The lyricism of modern times and urbanism (1939).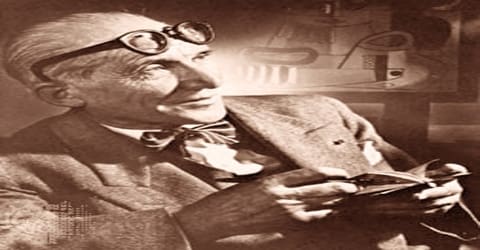 In the 1950s, the gifted architect planned and constructed a number of administrative buildings in the then-newly formed Union Territory of Chandigarh, in India. He also built several buildings in the Indian city of Ahmedabad. Back in Europe, the Unité d'Habitation in Marseilles was inaugurated in 1952. Le Corbusier traveled to Japan in 1954 and did a project for the Museum of Western Art in Tokyo. The Chapel of Ronchamp and the High Court building in Chandigarh were completed in 1955. He built the National Museum of Western Art in Tokyo (1960), the Carpenter Visual Art Center at Harvard University (1964), and designed an Exposition Pavilion in Zürich that was constructed posthumously (1964).
In 1960 Le Corbusier published a new book, L'Atelier de la recherché patiente (The workshop of patient research), simultaneously published in four languages. He received growing recognition for his pioneering work in modernist architecture; in 1959, a successful international campaign was launched to have his Villa Savoye, threatened with demolition, declared a historic monument; it was the first time that a work by a living architect received this distinction.
Le Corbusier was not greatly impressed by his late recognition. He seemed to prefer the image of a solitary and persecuted genius. Nevertheless, he continued to conceive new projects until the end of his life: an art center for Frankfurt (1963), the Olivetti computer center in Milan (1963), the Palais des Congrès in Strasbourg (1964), and the French embassy in Brasília (1964). At the time of his death in 1965, several projects were on the drawing boards; the church of Saint-Pierre in Firminy, finally completed in modified form in 2006; a Palace of Congresses for Strasbourg (1962-65), and a hospital in Venice, (1961-1965) which were never built. Le Corbusier designed an art gallery beside the lake in Zürich for gallery owner Heidi Weber in 1962-1967. Now called the Centre Le Corbusier, it is one of his last finished works.
Awards and Honor
In 1937, Le Corbusier was named Chevalier of the Légion d'honneur. In 1945, he was promoted to Officier of the Légion d'honneur.
In 1955, Le Corbusier received an honorary doctoral degree from the Swiss Federal Institute of Technology in Zurich.
'Fondation Le Corbusier' was established in 1968 to honour the life and works of this great architect. It is a private foundation cum archive, housing a huge collection of his drawings, plans and studies.
Death and Legacy
Le Corbusier died on 27th August 1965 when he went for a swim in the Mediterranean Sea against the advice of his doctor. It was assumed that he may have suffered a heart attack. His funeral took place in the courtyard of the Louvre Palace on 1st September 1965, under the direction of writer and thinker André Malraux, who was at the time France's Minister of Culture. He was buried alongside his wife in the grave he had designated at Roquebrune. His grave is in the cemetery above Roquebrune-Cap-Martin, between Menton and Monaco in southern France.
Le Corbusier, the gifted designer built 'Villa Savoye' in the French capital Paris, between 1929 and 1931. This work of art is the best example to elucidate his famed five points of architecture. The Open Hand Monument that he designed to signify peace can be found in Chandigarh, India. It is the largest one that he constructed and is 28 m high. He also constructed Villa Jeanneret in Paris, where the Fondation Le Corbusier and archives are currently located.
The Open Hand (La Main Ouverte) is a recurring motif in Le Corbusier's architecture, a sign for him of "peace and reconciliation. It is open to give and open to receive." The largest of the many Open Hand sculptures that Le Corbusier created is a 26-meter-high (85 ft) version in Chandigarh, India known as Open Hand Monument. For some critics, the urbanism of Le Corbusier's was the model for a fascist state. These critics cited Le Corbusier himself when he wrote that "not all citizens could become leaders. The technocratic elite, the industrialists, financiers, engineers, and artists would be located in the city center, while the workers would be removed to the fringes of the city".
Information Source: