Biography of Luciano Pavarotti
Luciano Pavarotti – Italian operatic tenor.
Name: Luciano Pavarotti
Date of Birth: 12 October 1935
Place of Birth: Modena, Kingdom of Italy
Date of Death: 6 September 2007 (aged 71)
Place of Death: Modena, Italy
Occupation: Opera singer (tenor)
Father: Fernando Pavarotti
Mother: Adele Venturi
Spouse/Ex: Adua Veroni (m. 1961–2000), Nicoletta Mantovani (m. 2003–2007)
Children: Alice Pavarotti, Lorenza Pavarotti, Cristina Pavarotti, Giuliana Pavarotti, Riccardo Pavarotti
Early Life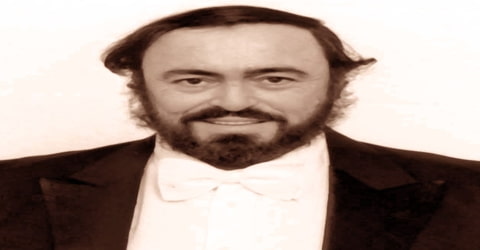 Luciano Pavarotti, Italian operatic lyric tenor who was considered one of the finest bel canto opera singers of the 20th century, was born on 12 October 1935, on the outskirts of Modena in Northern Italy, the son of Fernando Pavarotti, a baker and amateur tenor, and Adele Venturi, a cigar factory worker. He was an Italian operatic tenor who also crossed over into popular music, eventually becoming one of the most commercially successful tenors of all time. Even in the highest register, his voice was noted for its purity of tone, and his concerts, recordings, and television appearances which provided him ample opportunity to display his ebullient personality gained him a wide popular following.
Blessed with a rare voice range, Luciano left audiences across the globe spellbound and was one of the most commercially successful tenors. He established himself as one of the finest baritone singers of the twentieth century and was appreciated for the beauty and brilliance of his tone. The combination of the accuracy of pitch and the natural range of voice was one of his best attributes, which earned him great commercial success. He also became popular for his televised concerts that attracted a large number of audiences. To him goes the credit of increasing the popularity of the opera world over and he is best known for his bel-operatic works such as 'La Boheme', 'Tosca' and 'Madama Butterfly'. He also spent time towards humanitarian efforts and worked for the amelioration of refugees. He was a part of the Red Cross Team and served at various other philanthropic organizations.
As one of the Three Tenors who performed their first concert during the 1990 FIFA World Cup before a global audience, Pavarotti became well known for his televised concerts and media appearances. From the beginning of his professional career as a tenor in 1961 in Italy to his final performance of "Nessun Dorma" at the 2006 Winter Olympics in Turin, Pavarotti was at his best in bel canto operas, pre-Aida Verdi roles, and Puccini works such as La bohème, Tosca, Turandot, and Madama Butterfly. He sold over 100 million records, and the first Three Tenors recording became the best-selling classical album of all time. Pavarotti was also noted for his charity work on behalf of refugees and the Red Cross, amongst others.
Luciano organized the world famous annual charity concert, 'Pavarotti & Friends' that raised millions of dollars for the charities he supported. He made many classical crossovers and pop recordings and also worked with the Irish rock band, 'U2'.
Childhood, Family and Educational Life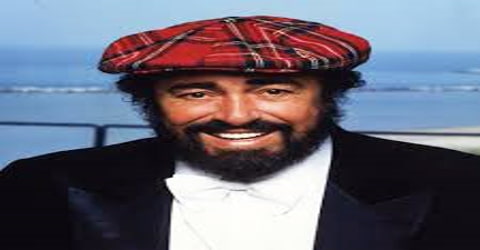 Luciano Pavarotti was born on the outskirts of Modena in north-central Italy on October 12, 1935. His father, Fernando Pavarotti was an amateur tenor but failed to make it big. Young Pavarotti developed an interest in music after he listened to his father's recordings, which featured popular tenors like Bjoerling, Tito Schipa, and his favorite, Giuseppe Di Stefano.
Although Luciano spoke fondly of his childhood, the family had little money; its four members were crowded into a two-room apartment. According to Pavarotti, his father had a fine tenor voice but rejected the possibility of a singing career because of nervousness. World War II forced the family out of the city in 1943. For the following year, they rented a single room from a farmer in the neighboring countryside, where the young Pavarotti developed an interest in farming.
Luciano earliest musical influences were his father's recordings featuring the popular tenors of the day. At around the age of nine, he began singing with his father in a small local church choir. He took a few voice lessons at the time, but he has said they were not significant. After a normal childhood with an interest in sports, especially soccer, he graduated from the Schola Magistrale and faced the dilemma of choosing a career. He was interested in pursuing a career as a professional soccer player, but his mother convinced him to train as a teacher. Luciano taught in an elementary school for two years, but his interest in music finally won out. Recognizing the risk involved, his father reluctantly gave his consent. He agreed that Pavarotti would be given free room and board until age thirty. After that time, if he had not succeeded as a singer, he would earn a living by any means that he could.
Luciano Pavarotti began the serious study of music in 1954 at the age of 19 with Arrigo Pola, a respected teacher and professional tenor in Modena who offered to teach him without remuneration. According to conductor Richard Bonynge, Pavarotti never learned to read music. In 1955, Luciano experienced his first singing success when he was a member of the Corale Rossini, a male voice choir from Modena that also included his father, which won first prize at the International Eisteddfod in Llangollen, Wales. He later said that this was the most important experience of his life and that it inspired him to become a professional singer.
When Pola moved to Japan two and a half years later, Pavarotti became a student of Ettore Campogalliani, who was also teaching the now well-known soprano (the highest female singing voice), Pavarotti's childhood friend Mirella Freni. During his years of study, Pavarotti held part-time jobs in order to help sustain himself first as an elementary school teacher and then, when he failed at that, as an insurance salesman.
The first six years of study resulted in only a few recitals, all in small towns and without pay. When a nodule developed on his vocal cords, causing a "disastrous" concert in Ferrara, Luciano decided to give up singing. Pavarotti attributed his immediate improvement to the psychological release connected with this decision. Whatever the reason, the nodule not only disappeared but, as he related in his autobiography: "Everything I had learned came together with my natural voice to make the sound I had been struggling so hard to achieve".
Personal Life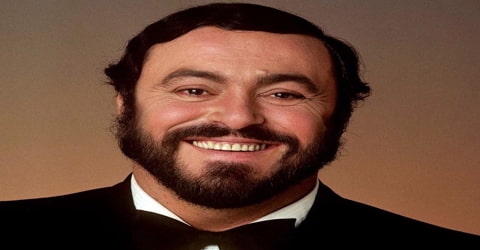 Luciano Pavarotti married Adua Veroni in 1961 and they had three children: Lorenza, Cristina, and Giuliana.
On 13 December 2003, Luciano Pavarotti married his former personal assistant, Nicoletta Mantovani (born 1969), with whom he already had another daughter, Alice. Alice's twin brother, Riccardo, was stillborn after complications in January 2003. At the time of his death, he had one granddaughter.
In 2000 prosecutors in Bologna, Italy, tried Pavarotti on tax fraud charges. They claimed that although Pavarotti lived in Monte Carlo he still had many property holdings in Italy. Pavarotti was accused of owing almost $5 million and could have spent as much as a year and a half in prison. In the end, he was acquitted (had charges dismissed). In 2002 Pavarotti continued to drop hints that he would be retiring soon but had not given any specific date. Through his talent and his desire to reach out to audiences everywhere, Pavarotti has been an important figure in bringing the world of opera to a great variety of people.
In March 2005, Luciano Pavarotti underwent neck surgery to repair two vertebrae. In early 2006, he underwent further back surgery and contracted an infection while in the hospital in New York, forcing cancellation of concerts in the U.S., Canada, and the U.K.
Career and Works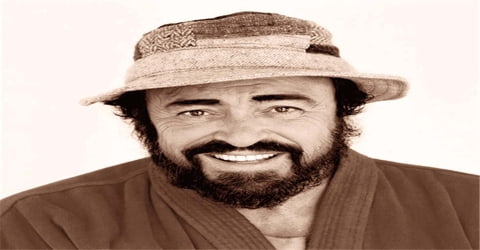 In 1954, Luciano studied music with Arrigo Pola, a professional tenor in Modena. In 1955, he participated in the International Eisteddfod in Llangollen, Wales, as a member of the Corale Rossini voice choir, where they won the first prize.
Luciano Pavarotti began his career as a tenor in smaller regional Italian opera houses, making his debut as Rodolfo in La bohème at the Teatro Municipale in Reggio Emilia in April 1961. Although his debut was a success, a certain amount of maneuvering was necessary to secure his next few contracts. A well-known agent, Alesandro Ziliani, had been in the audience and, after hearing Pavarotti, offered to represent him. When La Bohème was to be produced in Lucca, Italy, Ziliani told the management that they could only have the services of a well-known singer they wanted if they took Pavarotti in a package deal.
Luciano Pavarotti's concert at Covent Garden, London, England, in the fall of 1963 also resulted from an indirect invitation. Giuseppe di Stefano had been scheduled for a series of performances, but the management was aware that he frequently canceled on short notice. They needed someone whose quality matched the rest of the production, yet who would learn the role without any assurance that he would get to sing it. Pavarotti agreed. When di Stefano canceled after one and a half performances, Pavarotti stepped in for the remainder of the series with great success.
Luciano then played in opera houses throughout Europe and Australia and performed the role of Idamante in Mozart's Idomeneo (1781) at the Glyndebourne Festival in 1964. He made his American début with the Greater Miami Opera in February 1965, singing in Donizetti's Lucia di Lammermoor opposite Joan Sutherland on the stage of the Miami-Dade County Auditorium in Miami. The tenor scheduled to perform that night became ill with no understudy. As Sutherland was traveling with him on tour, she recommended the young Pavarotti as he was well acquainted with the role.
Shortly after, on 28 April, Pavarotti made his La Scala debut in the revival of the famous Franco Zeffirelli production of La bohème, with his childhood friend Mirella Freni singing Mimi and Herbert von Karajan conducting. Karajan had requested the singer's engagement. After an extended Australian tour, he returned to La Scala, where he added Tebaldo from I Capuleti e i Montecchi to his repertoire on 26 March 1966, with Giacomo Aragall as Romeo. His first appearance as Tonio in Donizetti's La fille du régiment took place at the Royal Opera House, Covent Garden, on 2 June of that year. It was his performances of this role that would earn him the title of "King of the High Cs".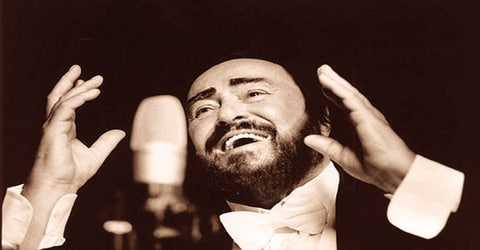 In 1968 Luciano made his debut at the Metropolitan Opera House in New York City, and from 1971 he was a regular performer there. Pavarotti toured the world, performing to as many as 500,000 fans at a time in outdoor venues, as a solo performer or as one of the "Three Tenors" (with Plácido Domingo and José Carreras). Among his many prizes and awards were five Grammy Awards and a Kennedy Center Honor in 2001.
Luciano scored another major triumph in Rome on 20 November 1969 when he sang in I Lombardi opposite Renata Scotto. This was recorded on a private label and widely distributed, as were various recordings of his I Capuleti e i Montecchi, usually with Aragall. Early commercial recordings included a recital of Donizetti (the aria from Don Sebastiano were particularly highly regarded) and Verdi arias, as well as a complete L'elisir d'amore with Sutherland.
His most notable operatic roles included the Duke in Giuseppe Verdi's Rigoletto (1851), Tonio in Gaetano Donizetti's La Fille du régiment (1840; a part remarkable for its demanding sequence of high Cs), Arturo in Vincenzo Bellini's I puritani (1835), and Radamès in Verdi's Aida (1871), all of which are available as sound recordings. He performed in a number of televised opera broadcasts. In addition to his opera work, Pavarotti also recorded a collection of Italian love songs (Amore, 1992; "Love") and a pop album (Ti Adoro, 2003; "I Adore You").
In 1972 Luciano starred in a commercial film, Yes, Giorgio. His solo album of Neapolitan songs, "O Sole Mio," outsold any other record by a classical singer. He performed "La Fille du Regiment" at the New York Metropolitan Opera in 1972. In 1977, he delivered his first live performance on television. This attracted a large number of television audience.
In 1976, Pavarotti debuted at the Salzburg Festival, appearing in a solo recital on 31 July, accompanied by pianist Leone Magiera. Pavarotti returned to the festival in 1978 with a recital and as the Italian singer in Der Rosenkavalier in 1983 with Idomeneo, and both in 1985 and 1988 with solo recitals. In 1979, he was profiled in a cover story in the weekly magazine Time. That same year saw Pavarotti's return to the Vienna State Opera after an absence of fourteen years. With Herbert von Karajan conducting, Pavarotti sang Manrico in Il Trovatore. In 1978, he appeared in a solo recital on Live from Lincoln Center.
Throughout the 1980s Luciano Pavarotti strengthened his status as one of the opera world's leading figures. Televised performances of Pavarotti in many of his greatest and favorite roles helped him broaden his appeal. He was able to reach millions of viewers each time one of his opera performances or solo concerts was seen. He also began to show increasing flexibility as a recording artist. He recorded classical operas and Italian folk songs. He also recorded contemporary popular songs with composer and conductor Henry Mancini (1924–1994). He became the world's third-highest top-selling musician, right behind Madonna and Elton John. By the time Pavarotti proposed and staged the first "Three Tenors" concert in Rome, he was unabashedly (boldly, without disguise) thrilled with his immense popularity. "I want to be famous everywhere," he told Newsweek.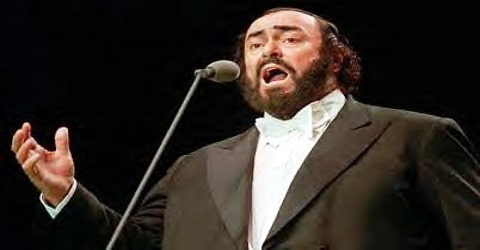 At the beginning of the 1980s, Luciano set up The Pavarotti International Voice Competition for young singers, performing with the winners in 1982 in excerpts of La bohème and L'elisir d'amore. The second competition, in 1986, staged excerpts of La bohème and Un Ballo in Maschera. To celebrate the 25th anniversary of his career, he brought the winners of the competition to Italy for gala performances of La bohème in Modena and Genoa, and then to China where they staged performances of La bohème in Beijing (Peking). To conclude the visit, Pavarotti performed the inaugural concert in the Great Hall of the People before 10,000 people, receiving a standing ovation for nine effortless high Cs. The third competition in 1989 again staged performances of L'elisir d'amore and Un Ballo in Maschera. The winners of the fifth competition accompanied Pavarotti in performances in Philadelphia in 1997.
In 1985, Luciano sang Radames at La Scala opposite Maria Chiara in a Luca Ronconi production conducted by Maazel, recorded on video. His performance of the aria "Celeste Aida" received a two-minute ovation on the opening night. He was reunited with Mirella Freni for the San Francisco Opera production of La bohème in 1988, also recorded on video. In 1992, La Scala saw Pavarotti in a new Zeffirelli production of Don Carlos, conducted by Riccardo Muti. Pavarotti's performance was heavily criticized by some observers and booed by parts of the audience.
Luciano Pavarotti received his share of criticism and rejection as well. He was barred from contracts with the Lyric Opera of Chicago in 1989 because he canceled many performances due to bad health. He was sued by the British Broadcasting Company (BBC) in 1992 for selling the network a lip-synched (pretending to sing to a pre-recorded track) concert. He was booed at La Scala during a performance of Don Carlo. He finally canceled tours and took several months off to rest.
Luciano got more international fame in 1990 when the BBC made "Nessun Dorma" as the theme song of their TV coverage of the 1990 FIFA World Cup. He gave a free performance in 1993, at the Great Lawn of New York's Central Park. The concert attracted over one million people apart from the millions of viewers who watched the event on television from around the world.
In September 1995, Luciano performed Ave Maria along with Dolores O'Riordan; Diana, Princess of Wales, who attended the live performance, told O'Riordan that the song brought her to tears. In 1995, Pavarotti's friends, the singer Lara Saint Paul (as Lara Cariaggi) and her husband showman Pier Quinto Cariaggi, who had produced and organised Pavarotti's 1990 FIFA World Cup Celebration Concert at the PalaTrussardi in Milan, produced and wrote the television documentary The Best is Yet to Come, an extensive biography about the life of Pavarotti. Lara Saint Paul was the interviewer for the documentary with Pavarotti, who spoke candidly about his life and career.
In 1997 the three tenors Placido Domingo, Jose Carreras and Pavarotti toured to mixed reviews, but delighted audiences who seemed unwilling to let Pavarotti even think of retiring. On 12 December 1998, he became the first (and, to date, only) opera singer to perform on Saturday Night Live, singing alongside Vanessa L. Williams. He also sang with U2 in the band's 1995 song "Miss Sarajevo" and with Mercedes Sosa in a big concert at the Boca Juniors arena La Bombonera in Buenos Aires, Argentina, in 1999.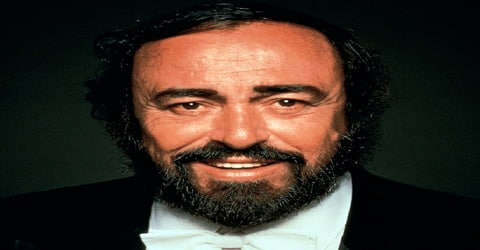 In 2003, Luciano released 'Ti Adoro', his first and only 'crossover' album. It was produced by Michele Centonze.
In 2004 Luciano Pavarotti gave his final performance on the operatic stage, although he continued to sing publicly until 2006. His last public appearance was in the opening ceremony of the 2006 Winter Olympics in Turin, Italy, where he sang his signature aria, "Nessun Dorma," from Giacomo Puccini's Turandot (first performed 1926).
Awards and Honor
In 1998, Luciano Pavarotti was honored with the Grammy Legend Award. He holds two 'Records', one for receiving the most curtain calls and another for the best-selling classical album, 'The Three Tenors'
In 1998, he was appointed as the United Nations Messenger of Peace.
In 2001, he was awarded the Nansen Medal from the UN High Commission for Refugees.
In 2006, he was conferred the honorary citizenship by the city of Sarajevo.
Death and Legacy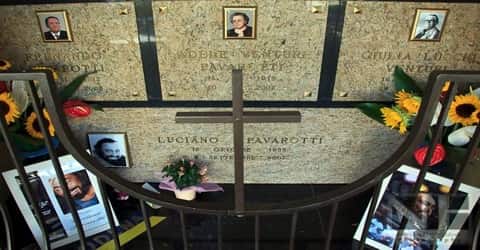 Luciano Pavarotti died at his home in Modena on 6th September 2007. Within hours of his death, his manager, Terri Robson, noted in an e-mailed statement, "The Maestro fought a long, tough battle against pancreatic cancer which eventually took his life. In fitting with the approach that characterized his life and work, he remained positive until finally succumbing to the last stages of his illness". He is survived by four daughters and his ex-wife Adua.
Luciano Pavarotti's funeral was held at Modena Cathedral. After a funeral procession through the center of Modena, Pavarotti's coffin was taken the final ten kilometers to Montale Rangone, a village part of Castelnuovo Rangone, and was interred in the Pavarotti family crypt. The funeral, in its entirety, was also telecast live on CNN. The Vienna State Opera and the Salzburg Festival Hall flew black flags in mourning. Tributes were published by many opera houses, such as London's Royal Opera House.
In 1990, Pavarotti released the album, 'The Essential Pavarotti'. It was the first ever classical album to reach the number one position in the UK Top Charts and remained there for an unprecedented five-week period.
In addition to his very large discography of opera performances, Pavarotti also made many classical crossover and pop recordings, the Pavarotti & Friends series of concerts and, for Decca, a series of studio recital albums: first six albums of opera arias and then, from 1979, six albums of Italian song.
Luciano Pavarotti established the world-famous annual charity concert, 'Pavarotti & Friends', which brought together artists from different parts of the music industry, including, Bryan Adams, Bon Jovi, Elton John and Spice Girls. These charity concerts have raised millions of dollars over the years, which he donated towards humanitarian efforts.
Information Source: