Luís Figo – Football Player
Full name: Luís Filipe Madeira Caeiro Figo
Date of birth: 4 November 1972 (age 44)
Place of birth: Almada, Portugal
Height: 1.80 m (5 ft 11 in)
Playing position: Winger
Nationality: Portuguese
Spouse/Partner: Helen Svedin
Children: Daniela Figo, Martina Figo, Stella Figo
Early Life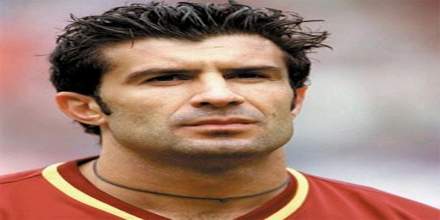 Luís Filipe Madeira Caeiro Figo was born on 4 November 1972 (age 44), in Almada, Portugal. He is a retired Portuguese footballer who played for Sporting CP, Barcelona, Real Madrid and Internazionale. He was not only one of the greatest footballers of his country but also one of the greatest midfielders that football has ever seen. Figo started off as a youth prodigy for Sporting CP in Portugal and also helped Portugal win championships at the age group level before making his senior debut. Before long he was being courted by the biggest clubs in Europe. He played for some of the biggest clubs in the world like Barcelona, Real Madrid and Inter Milan and helped them win major trophies. He was one of the earliest members of the team of 'Galacticos' at Real Madrid. Luis Figo was also the leading member of the Portuguese national team and was the part of the 'Golden Generation' of the national team as they became a team that was feared by everyone. Figo led the team to its best ever finish in the World Cup by finishing third in the World Cup in Germany in 2006 and his place in history as a Portuguese football icon is secured.
Luís Figo was a part of the team winning the FIFA World Youth Championship in 1991. On 16 October 1991 he made his senior team debut in a 1-1 draw against Luxembourg. Throughout his international career he scored 32 goals in 127 matches.
Figo had a successful career highlighted by several trophy wins, including the Portuguese Cup, four La Liga titles, two Spanish Cups, three Spanish Super Cups, one UEFA Champions League title, one UEFA Cup Winners' Cup, two UEFA Super Cups, one Intercontinental Cup, four Serie A titles, one Italian Cup and three Italian Super Cups. On the international level, he scored 32 goals for Portugal, representing the nation at three European Championships and two World Cups, helping it finish runner-up at Euro 2004.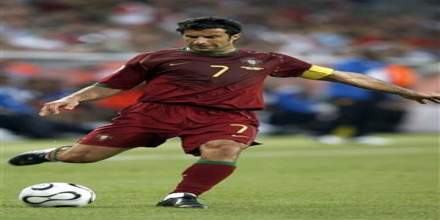 He won numerous individual awards during his playing career among these honors are six Portuguese Footballer of the Year awards, in 2000 he won Ballon d'Or, in 2001 was named FIFA World Player of the Year.
Figo has appeared in commercials for the American sportswear company Nike. In 1996, he starred in a Nike commercial titled "Good vs Evil" in a gladiatorial game set in a Roman amphitheatre. Appearing alongside football players from around the world, including Ronaldo, Paolo Maldini, Eric Cantona, Patrick Kluivert and Jorge Campos, they defend "the beautiful game" against a team of demonic warriors, before it culminates with Cantona striking the ball and destroying evil.
Childhood and Personal Life
Luis Felipe Madeira CaeiroFigo was born on 4 November, 1972 in Almada, Portugal to Antonio CaeiroFigo and his wife Maria Joana Pestana Madeira. According to his parents, Figo used to play football right from the time he was a child and football was his only passion.
Luis Figo joined the club U.F.C. OsPastilhas when he was a child and his talents as a street footballer were recognised by those who watched him. When he was 11 years old, Figo joined the academy at Sporting Clube de Portugal, also known as Sporting CP. He had garnered interest from bigger clubs but he chose Sporting.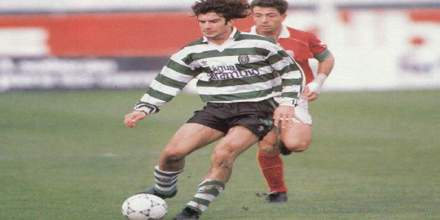 As a youngster, Figo represented the Portuguese national team in the Under 21 World Championship as well as the Under 16 European Championship and helped the team win both those championships to become one of the most sought after young players in Europe.
Luis Figo got married to Swedish super model Helen Svedin in the year 2001 after a relationship of five years. They have three daughters – Daniela (born in March 1999), Martina (born in April 2002), and Stella (born 9 December 2004). They have a house in the countryside outside Sollefteå, Sweden.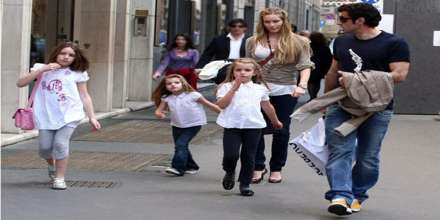 Figo is an ambassador for the Stop TB Partnership in the fight against tuberculosis. He works closely with Internazionale, serving as an ambassador for the club at functions across Europe. He is also a board member of the Inter Campus charity project run by Internazionale.
Figo is the founder of Network90, a private members' networking site for the Professional Football Industry. Figo is fluent in five languages: Portuguese, Spanish, English, Italian and French.
Playing Career
In 1990 Luis Figo made his senior team debut in a league game for Sporting CP and over the next five seasons he scored 16 goals in 137 appearances for the club, helping them win the Portuguese Cup in his final season. A year after his debut for Sporting CP he made his first appearance for the Portuguese national team as well.
He was also a significant part of Portugal's "Golden Generation." In his final season at Sporting he won the 1994–1995 Portuguese Cup.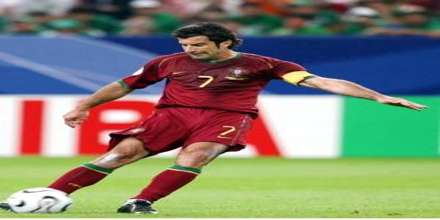 Figo was all set to move to Italy with either Parma or Juventus but eventually he moved to Spanish giants Barcelona FC in the year 1995 for a fee of £2.25 million. It was at Barcelona that Figo really became one of the best players in the world as he helped the team win two Spanish league titles. Figo scored 30 goals in 172 appearances for the club.
In July 2000, Figo made a surprising and controversial $60.1 million move to Barcelona's bitter rivals Real Madrid. Figo became the new focus of the Barcelona–Real Madrid rivalry, with Barcelona fans feeling betrayed by his transfer and turned against him.
He played for Real Madrid for 5 years and won one Spanish League title in addition to the one UEFA Champions League title. He scored 38 goals in 164 games for the club.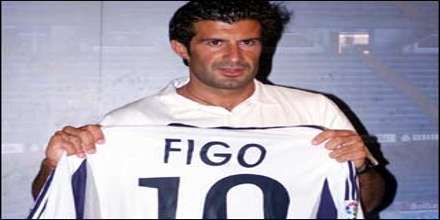 In April 2013, Figo was named by the sports newspaper Marca as a member of the "Best foreign eleven in Real Madrid's history."
Luis Figo left Real Madrid and moved to Italian club Inter Milan in the year 2005. He played for the club for four years, scored 9 goals in 105 appearances and won one Italian Serie A title in his last season at the club.
On 16 May 2009, Figo announced his retirement from football, the same day Inter won the 2008–09 title, and re-confirmed this on 30 May; his final game was on 31 May against Atalanta at the San Siro. At Javier Zanetti's insistence, Figo captained the side for his very last match.
Figo was on the sidelines when Inter won the 2009–10 UEFA Champions League on 22 May 2010.
The leader of Portugal's "Golden Generation," Figo won a FIFA World Youth Championship in 1991, the same year he made his senior debut against Luxembourg on 16 October 1991, in a friendly match that ended 1–1 when he was only 18 years old.
In 1996, Luis Figo represented Portugal at the European Championships in England and scored a goal as the national team reached the quarter finals. Four years later he scored a goal against England in the European Championships but Portugal could not go beyond the quarter finals. Figo also helped Portugal qualify for the World Cup in Japan and Korea for the first time in 16 years but they were knocked out in the group stages.
With six goals in nine matches, Figo helped Portugal qualify for the 2002 FIFA World Cup; on 2 June 2001, in the qualifier against the Republic of Ireland at Lansdowne Road, he served as captain for the first time on his 74th cap and scored the equaliser for a 1–1 draw. In their first World Cup since 1986, Portugal suffered group stage elimination.
In 2004, Luis Figo captained Portugal as the team reached the final of the European Championships held in Portugal and two years later he led the team to a third place finish at the World Cup in Germany.
Figo captained the squad during the 2006 World Cup, leading the team to the semi-finals. With three wins, Portugal finished top of their group and qualified for the knock-out rounds with Mexico. In the semi-final, Portugal were beaten by France courtesy of a penalty from his former club-mate and French captain Zinedine Zidane. This was Portugal's best finish in 40 years.
He finished his international career with 127 caps and scoring 32 goals, and held the record until June 2016 for most appearances with the Portugal national team; he is also Portugal's fourth-highest all time goalscorer.
In 2015, Luis Figo expressed his plan to run for the presidency of FIFA against the allegedly corrupt regime of Sepp Blatter however he withdrew from the campaign five months later.
Figo is regarded as one of the greatest players of his generation, and one of the greatest Portuguese players of all time. At his physical peak, Figo was a quick, elegant, highly skilful player with a dribbling ability that allowed him to frequently take on and beat defenders in one on one situations. He would often employ feints to beat opponents, such as stepovers.
Figo was usually deployed as a winger in his early career, where he was capable of providing several assists, due to his ability to provide curling crosses to teammates. He made the second most assists in La Liga history behind Lionel Messi.
Honours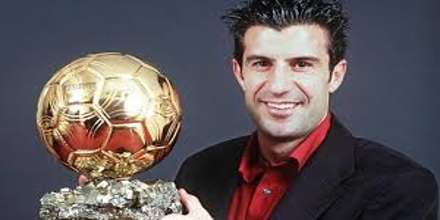 Club
Sporting CP
Taça de Portugal: 1994–95
Barcelona
La Liga: 1997–98, 1998–99
Copa del Rey: 1997, 1998
Supercopa de España: 1996
UEFA Cup Winners' Cup: 1997
UEFA Super Cup: 1997
Real Madrid
La Liga: 2000–01, 2002–03
Supercopa de España: 2001, 2003
UEFA Champions League: 2002
UEFA Super Cup: 2002
Intercontinental Cup: 2002
Internazionale
Serie A: 2005–06, 2006–07, 2007–08, 2008–09
Coppa Italia: 2006
Supercoppa Italiana: 2006, 2008
International
Portugal
UEFA European Football Championship Runner up: 2004
FIFA U-20 World Cup: 1991
UEFA European Under-17 Football Championship: 1989
UEFA European Under-21 Football Championship Runner up: 1994
Individual
UEFA Under-21 Championship Golden Player: 1994
Portuguese Golden Ball: 1994
Portuguese Footballer of the Year: 1995, 1996, 1997, 1998, 1999, 2000
ESM Team of the Year: 1997–98, 1999-00
La Liga Foreign Player of the Year: 1999, 2000, 2001
Sporting CP Player of the Year: 1994
Inter Milan Player of the Year: 2006
UEFA European Championship Team of the Tournament: 2000, 2004
World Soccer (magazine) Player of the Year: 2000
Ballon d'Or: 2000
FIFA World Player of the Year: 2001
FIFA World Player of the Year – Silver Award: 2000
UEFA Team of the Year: 2003
FIFA World Cup All-Star Team: 2006
FIFA 100
Golden Foot: 2011, as football legend