Biography of M. S. Subbulakshmi
M.S. Subbulakshmi – Indian Carnatic singer from Madurai, Tamil Nadu.
Name: Madurai Shanmukhavadivu Subbulakshmi
Date of Birth: 16 September 1916
Place of Birth: Madurai, Madras Presidency, India
Date of Death: 11 December 2004 (aged 88)
Place of Death: Chennai, Tamil Nadu, India
Occupation: Classical vocalist
Father: Subramania Iyer
Mother: Shanmu kavadiver Ammal
Spouse/Ex: Kalki Sadasivam
Early Life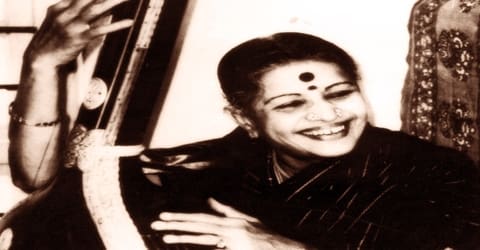 An Indian Carnatic singer from Madurai, Tamil Nadu, M. S. Subbulakshmi was born on 16 September 1916 in Madurai, Madras Presidency, India to veena player Shanmukavadiver Ammal and Subramania Iyer. Her grandmother Akkammal was a violinist. She was known by various sobriquets, namely, the Queen of Music, Nightingale of India, the Eighth Tone of Music and the Goddess of Perfect Note.
A legendary singer, vocalist, and musician, she was blessed with flawless singing capabilities that made her seem like a diva of music. Her powerful renditions of soulful music enthralled the audience and transported them to a world unknown. Subbulakshmi's tryst with music started early. At the age of ten, she made her first stage appearance and her first recording. At thirteen, she performed at her first concert at the Madras Music Academy. She made her film debut at the age of 22 and acted in a few Tamil films. She traveled all over the world as India's cultural ambassador and gave performances. For her outstanding contribution to Carnatic music, she was honored with several prestigious awards including India's highest civilian award, Bharat Ratna, in 1998. She also won the Ramon Magsaysay Award, considered as Asia's Nobel Prize.
Subbulakshmi, fondly addressed as M.S by her fans, was a true pioneer of anything that has to do with women empowerment. She led by example and showed the way to contemporary women of her era. Though she is famous as an exponent of Carnatic music, her expertise in Hindustani classical music was not short of brilliance. Subbulakshmi didn't contain herself with just music, for she forayed into the field of acting as well.
Childhood, Family and Educational Life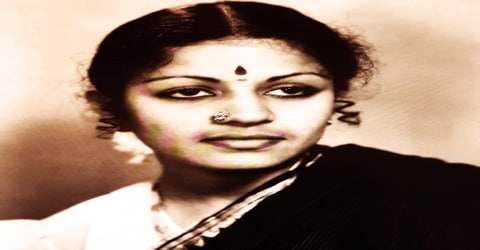 M.S. Subbulakshmi, full name Madurai Shanmukhavadivu Subbulakshmi, was born on September 19, 1916, in Madurai, Madras Presidency to Shanmukavadiver Ammal and Subramania Iyer. Her mother was a veena artist while her grandmother Akkammal was a violinist. Coming from a family of musicians, music reigned in her veins. Her mother was a music proponent and regular stage performer, belonging to the devdasi community. Growing up in such a family, imbibing musical traits and learning music became an intrinsic part of growing up.
Subbulakshmi started learning Carnatic music at an early age and trained in Carnatic music under the tutelage of Semmangudi Srinivasa Iyer and subsequently in Hindustani music under Pandit Narayanrao Vyas.
The musical background of her family exposed Subbulakshmi to various musical colossuses such as Karaikudi Sambasiva Iyer, Mazhavarayanendal Subbarama Bhagavathar and Ariyakudi Ramanuja Iyengar, at a young age. All of them deeply inspired and left an impressionable mark on her mind.
Subbulakshmi gave her first public performance, at the age of eleven, in the year 1927, in the 100 pillar hall inside the Rockfort Temple, Tiruchirappalli; with Mysore Chowdiah on the violin and Dakshinamurthy Pillai on the mridangam. This was organized by the Tiruchirappalli-based Indian National Congress leader F. G. Natesa Iyer.
Personal Life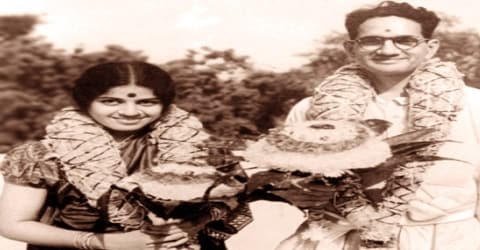 It is said that M.S ran away from her mother, who wanted her to marry the man of her choice. But the young singer was determined to find love instead of wealth, an idea that was far too difficult for her mother to understand. In the year 1936, she met Sadasivam, who helped her with accommodation. He even went to the extent of introducing her in the movies at his own expense. They both got married four years later in 1940.
They had no children. Sadasivam already had children from his first marriage. M.S treated his kids like her own and showered them with love and affection. She was affectionately called 'Amu Paati' by the kids. After the death of her husband in 1997, Subbulakshmi stopped all her public performances.
Career and Works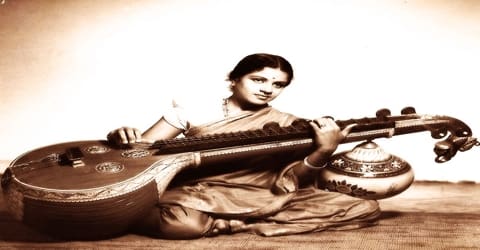 M.S. Subbulakshmi's career in music started early. At merely ten years of age, she recorded her first song, 'Maragatha Vadivum', with Shanmugavadivu playing veena. The song was released by Twin recording company.
In 1926, Subbulakshmi made her stage debut, at Madurai Sethupati High School. Therein, she sang a Marathi song 'Anada Ja'. Interestingly, unlike what normally happens, her stage debut wasn't very conventional one for her; rather, it was a forced one. She was playing with mud when she was asked to sing for a live audience. All through, she only wished to finish her performance so as to return to her favorite game.
The year 1927 marked the start of several other stage shows for this talented musician. In the 100 pillar hall inside the Rockfort Temple, Tiruchirappalli, Subbulakshmi startled her audience with her melodious voice and excellence over music. The event was organized by the Tiruchirappalli based Indian National Congress leader, F. G. Natesa Iyer, and was a major hit.
Her major breakthrough came in the year 1929 when she performed at the Madras Music Academy. The few lucky music lovers present at the event were mesmerized by the skills of a 13-year-old girl, who could sing bhajans with such grace and fluency. Impressed by her vast knowledge of music, the academy invited her for several other performances and by the time she was 17, Subbulakshmi was a major attraction in all of her concerts.
In 1933, at the age of seventeen, Subbulakshmi gave her first performance at the prestigious Madras Music Academy (MMA). Interestingly, MMA was known for its strict and rigid selection process. In having Subbulakshmi play at the Academy, they broke the conventional practice to allow a young girl to perform. Subbulakshmi's performance at the Madras Music Academy grossed her rave reviews from fellow musical aficionados and exponents. Her performance was both mesmerizing and hypnotic and earned her the title of being a musical genius. She was tagged as the 'new find' of Carnatic music. Karaikudi Sambasiva Iyer acknowledged her prowess by stating that she 'carried the veena' in her throat
Following her debut at the Madras Musical Academy, she became a leading proponent of Carnatic music. She started giving concerts on her own, including major performances at the Madras Music Academy. While Subbulakshmi was enjoying a career in music, films happened to her.
M.S. Subbulakshmi also acted in a few Tamil films in her youth. Her first movie, Sevasadanam, was released on 2 May 1938. F.G. Natesa Iyer was the lead actor, opposite Subbulakshmi, in this film, directed by K. Subramanyam. It was a critical and commercial success. Sevasadanam is one of the early Tamil films to be set in a contemporary social setting and to advocate reformist social policies. The film is an adapted version of Premchand's novel Bazaar-e-Husn. The veteran Marxist leader N. Sankaraiah, has described Sevasadanam as an "unusual film" for choosing the subject of marriages between young girls and old men (which had social sanction). According to him, the film successfully brought out the "sufferings of the girl" (acted by M.S.) and the "mental agony of the aged husband".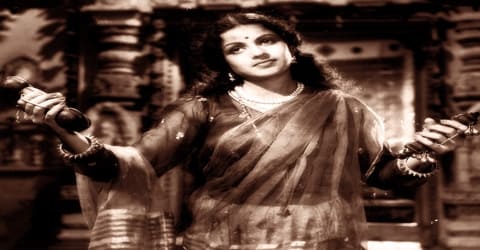 Following the success of 'Sevasadanam', she was seen in a few Tamil films such as 'Sakuntalai', 'Savithiri' and 'Meera'. The role of saint-poetess Meera in the eponymous film brought her national prominence. Subbulakshmi also played the male role of Narada in Savitri (1941) to raise money for launching Kalki, her husband's nationalist Tamil weekly. In 1947, she featured in the Hindi remake of the Tamil film 'Meera' titled 'Meerabai'. The film was directed by Ellis R Dungan. She attained major success by acting in films, but it did not fascinate her for a long time. She quit films and continued to focus on her music and once again started performing in concerts.
Subbulakshmi soon became an Indian ambassador for all things cultural and represented the country in many foreign festivals. In 1963, she was invited to Scotland to take part in the famous Edinburgh International Festival. Her mesmerizing performance in the UK paved the way for her next foreign tour as she was invited to perform at the Carnegie Hall in New York. She ended the decade by singing several songs in front of each idol in the Rameshwaram temple in 1969, having accompanied Indian Railways Advisor SN Venkata Rao.
In 1982, Subbulakshmi got an opportunity to showcase her talent at the famous Royal Albert Hall in London. Five years later, she was invited by the government of Russia to perform at the Festival of India which was held in Moscow. Subbulakshmi also traveled to places like Canada and the Far East and songs of praise just kept following her wherever she went.
Pandit Jawaharlal Nehru had this to say about M.S. Subbulakshmi- "Who am I, a mere Prime Minister before a Queen, a Queen of Music". While Lata Mangeshkar called her Tapaswini (the Renunciate), Ustad Bade Ghulam Ali Khan termed her Suswaralakshmi (the goddess of the perfect note), and Kishori Amonkar labeled her the ultimate eighth note or Aathuvaan Sur, which is above the seven notes basic to all music. The great national leader and poet Sarojini Naidu called her "Nightingale of India". Her many famous renditions of bhajans include the chanting of Bhaja Govindam, Vishnu sahasranama (1000 names of Vishnu), Hari Tuma Haro and the Venkateswara Suprabhatam (musical hymns to awaken Lord Balaji early in the morning).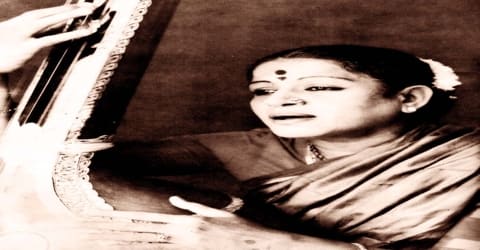 After her husband's death in 1997, Subbulakshmi stopped giving public performances.
Awards and Honor
During her lifetime, M.S. Subbulakshmi was honored with some of the most prestigious and esteemed awards including the Padma Bhushan in 1954, Sangeet Natak Akademi Award in 1956 and Sangeetha Kalanidhi in 1968.
Ramon Magsaysay award – this award is also known as Asia's Nobel Prize. In the year 1974, M.S. Subbulakshmi became the first Indian to be honored with this prestigious award.
In 1975, Subbulakshmi was honored with the Padma Vibhushan, India's second highest civilian award and Sangeetha Kalasikhamani by The Indian Fine Arts Society, Chennai
In 1988, Subbulakshmi was credited with the Kalidas Samman award. Two years later, in 1990, she received the Indira Gandhi Award for National Integration.
In 1998, Subbulakshmi was honored with Bharat Ratna, India's highest civilian award. The award was to honor her excellence over classical Indian music and her efforts in promulgating the same both in India and abroad.
Death and Legacy
M.S. Subbulakshmi passed away on 11th December 2004 in Chennai. Her funeral was attended by hundreds of fans and music lovers from all over the country. Many national leaders like the then President A.P.J Abdul Kalam also paid their homage. Her mortal remain was consigned to flames with full state honors.
M.S. Subbulakshmi was a legendary vocalist in the classical Carnatic style of southern India. She enriched and popularised India's musical tradition. She acted as India's cultural ambassador and introduced the rhythms and richness of Carnatic music to the West through her concerts.
In 2006, the Urban Development Authority of Tirupati installed a bronze statue of her and the same was unveiled by the then C.M of Andhra Pradesh, Y. S. Rajasekhara Reddy. While a postage stamp of M.S. was issued in 2005, United Nations issued her stamps to celebrate her birth centenary. In Kancheepuram, a type of silk saree has been named after her.
M. S. Subbulakshmi was not just a renowned Carnatic singer but a philanthropist as well. Of the several prestigious awards that she received, most came with huge prize money. She donated most of the money to charity. Furthermore, she performed at more than 200 charity concerts raising over amount worth Rs 10,000,000. The royalties which she received from her records were also donated to charitable organizations and trusts.
Information Source: