Biography of Mary Somerville
Mary Somerville – Scottish science writer and polymath.
Name: Mary Somerville
Date of Birth: 26 December 1780
Place of Birth: Jedburgh, Scotland
Date of Death: 29 November 1872 (aged 91)
Place of Death: Naples, Italy
Fields: science writer; polymath
Awards: Patron's Medal (1869)
Early Life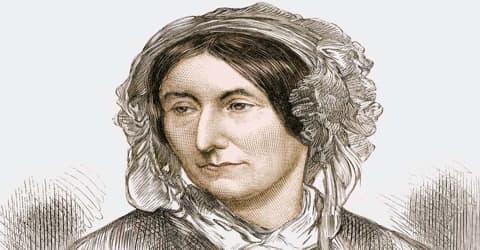 Mary Somerville, née Mary Fairfax, was a Scottish science writer whose influential works synthesized many different scientific disciplines. She studied mathematics and astronomy and was nominated to be jointly the first female member of the Royal Astronomical Society at the same time as Caroline Herschel.
She was born December 26, 1780, Jedburgh, Roxburghshire, Scotland, as the fifth of seven children of Vice-Admiral Sir William George Fairfax and Margaret Charters Fairfax preferred the outdoors to read. She did not have a good experience when sent to an elite boarding school and was sent home in just a year.
As a child, Fairfax had a minimal education. She was taught to read (but not write) by her mother. When she was 10 years old, she attended a boarding school for girls for one year in Musselburgh, Scotland. Upon her return home, she began to educate herself from the family library. She was encouraged only by her uncle, Thomas Somerville, who helped her with Latin.
While accompanying her uncle and aunt to Burntisland in the summer she had access to elementary books on algebra and geometry. She spent the summer learning to play the piano and learning Greek so that she could read Xenophon and Herodotus. Back in Edinburgh, she was allowed to attend the academy Alexander Nasmyth had opened for ladies. Nasmyth advised another student to study Euclid's Elements to gain a foundation in perspective, astronomy and mechanical science. Somerville spotted the opportunity, as she thought the book would help her understand Navigations by John Robertson.
She was more than a popularizer: her acclaimed translation from French to English of Pierre Laplace's groundbreaking book on celestial mechanics, with her own additions, became a standard university textbook. Her book On the Connexion of the Physical Sciences became one of the best-selling science books of the nineteenth century, highlighting the underlying unity of scientific disciplines.
In 1826, age 45, Mary published her first scientific paper in Proceedings of the Royal Society: The magnetic properties of the violet rays of the solar spectrum.
In 1831, age 50, Mary published her glorious The Mechanism of the Heavens. This was her translation of the first two volumes of Pierre Laplace's Mécanique Céleste.
The word scientist was first used in 1834 in a review of Connexion. The reviewer, William Whewell, was conscious that people working in scientific disciplines needed a more specific word than 'philosopher' to describe them: he coined 'scientist' by analogy with 'artist' and 'economist.'
When John Stuart Mill, the philosopher, and economist, organized a massive petition to Parliament to give women the right to vote, he had Somerville put her signature first on the petition.
When she died in 1872, The Morning Post declared in her obituary that "Whatever difficulty we might experience in the middle of the nineteenth century in choosing a king of science, there could be no question whatever as to the queen of science."
Childhood, Family and Educational Life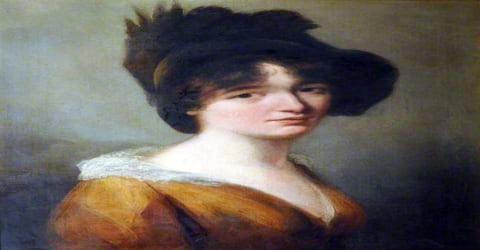 Mary Fairfax was born on December 26, 1780, in the small town of Jedburgh, Scotland, UK. Somerville was her married surname. Her father, William George Fairfax, had joined the British Navy at age 10. With distinguished service in battle, he eventually rose to the rank of vice-admiral. Mary's mother was Janet Margaret Charters, daughter of an eminent solicitor. The couple had seven children, three of whom died in infancy. Mary was the second oldest of the survivors.
The family moved to the small coastal town of Burntisland, about 9 miles from the city of Edinburgh – 9 miles of tidal river crossed by ferry. The family lived simply, keeping livestock and growing fruit, vegetables, and flowers – Mary's father was not yet a senior officer and his pay was modest. Despite this, they could afford a cook, maid, and gardener.
Thus the 10-year-old was sent for a year of tuition at Musselburgh, an expensive boarding school. Somerville learned the first principles of writing, rudimentary French and English grammar. Upon returning home, she:
…was no longer amused in the gardens, but wandered about the country. When the tide was out I spent hours on the sands, looking at the star-fish and sea-urchins, or watching the children digging for sand-eels, cockles, and the spouting razor-fish. I made collections of shells, such as were cast ashore; some so small that they appeared like white specks in patches of black sand. There was a small pier on the sands for shipping limestone brought from the coal mines inland. I was astonished to see the surface of these bocks of stone covered with beautiful impressions of what seemed to be leaves; how they got there I could not imagine, but I picked up the broken bits, and even large pieces, and brought them to my repository.
She returned home after a year, still unable to write or spell adequately. She spent hours roaming the countryside and beaches observing the wildlife. In the evenings she read Shakespeare. After some lessons with a local teacher, she became absorbed in astronomy, observing the night sky, and the northern lights.
Mary Fairfax had a carefree if rather lonely childhood living on the coast. She loved wild birds and would feed them crumbs in winter when there was snow on the ground.
Personal Life
In 1804 Mary Fairfax married under pressure from the family her cousin, Captain Samuel Greig. They had two sons. He too opposed Mary's studying mathematics and science, but after his death in 1807 followed by the death of one of their sons she found herself able to be financially independent. She returned to Scotland with her other son and began to study astronomy and mathematics seriously. On the advice of William Wallace, a mathematics teacher at a military college, she acquired a library of books on mathematics. She began solving math problems posed by a mathematics journal and in 1811 won a medal for a solution she submitted.
She married Dr. William Somerville in 1812, another cousin. A surgeon, Dr. Somerville supported her study, writing, and contact with scientists. They had three daughters and a son.
Four years after this marriage Mary Somerville and her family moved to London. They also traveled extensively in Europe.
Children – From her first marriage: Woronzow Greig (1805-1865) named after Count Semen Vorontsov (pronounced Woronzow) the Russian ambassador in London who had appointed Samuel Grieg as his Consul General. Woronzow married Agnes Graham but all their children died in childbirth or infancy.
From her second marriage: Margaret Farquhar Somerville (1813-1823) died in her childhood; Thomas Somerville (1814-1815) died in infancy; Martha Charters Somerville (1815-1879); and Mary Charlotte Somerville (1817-1875). Her two surviving daughters spent most of their lives caring for Mary.
Career and Works
In 1794, at age 13, Mary received formal school lessons in Edinburgh she learned arithmetic and how to write properly. She began applying herself more intently to learning.
In 1804 Fairfax married a cousin, Samuel Greig, who was a captain in the Russian navy and the Russian consul in London. She continued to study mathematics, but, as she later wrote, "Although my husband did not prevent me from studying, I met with no sympathy whatever from him, as he had a very low opinion of the capacity of my sex." After Samuel's death in 1807, she had the freedom to dedicate herself to her mathematical studies. She was married again in 1812, to another cousin, William Somerville, who took pride in his wife's educational accomplishments. She began to study botany and geology.
In 1816 the Somervilles moved to London, where they became friends with such eminent scientists as astronomers Sir William Herschel and Caroline Herschel, metallurgist William Hyde Wollaston, physicist Thomas Young, and mathematician Charles Babbage, who showed the Somervilles the mechanical calculators he was making. On a trip to Europe in 1817, Somerville met French physicist François Arago and French mathematician Pierre-Simon Laplace. She published her first scientific paper, "On the Magnetizing Power of the More Refrangible Solar Rays," in 1826.
Sir David Brewster, an inventor of the kaleidoscope, wrote in 1829 that Mary Somerville was "certainly the most extraordinary woman in Europe – a mathematician of the very first rank with all the gentleness of a woman".
Mary Somerville began publishing papers on scientific subjects in 1826, using her own research, and after 1831, she began writing about the ideas and work of other scientists, too. One book prompted John Couch Adams to search for the planet Neptune, for which is he is credited as a co-discoverer.
Mary Somerville's translation and expansion of Pierre Laplace's Celestial Mechanics in 1831 won her acclaim and success. She wrote a standalone exposition of the mathematics behind the workings of the solar system, of which she said: "I translated Laplace's work from algebra into common language". It was published in 1831, under the title of The Mechanism of the Heavens. It made her at once famous. The mechanism was set as a textbook for undergraduates at the University of Cambridge until the 1880s.
After receiving a copy of Mechanism Joanna Baillie wrote to Somerville, "I feel myself greatly honored by receiving such a mark of regard from one who has done more to remove the light estimation in which the capacity of women is too often held than all that has been accomplished by the whole Sisterhood of Poetical Damsels & novel-writing Authors." The book was praised by George Peacock, Professor of the University of Cambridge, thus many of the 750 copies printed were bought in Cambridge. Reviews were favorable and Somerville received letters of congratulation from "many men of science". She was elected an honorary member of the Royal Irish Academy, of the Bristol Philosophical Institution and the Société de Physique et d'Histoire Naturelle de Genève in 1834. The British Crown granted her a civil pension of £200 a year in recognition of her eminence in science and literature.
In 1833 Mary Somerville and Caroline Herschel were named honorary members of the Royal Astronomical Society, the first time women had won that recognition.
Somerville's next book, The Connection of the Physical Sciences (1834), was even more ambitious in summarizing astronomy, physics, geography, and meteorology. She wrote nine subsequent editions over the rest of her life to update it. In the third edition, published in 1836, she wrote that difficulties in calculating the position of Uranus may point to the existence of an undiscovered planet. This hint inspired British astronomer John Couch Adams to begin the calculations that ultimately led to the discovery of Neptune. In 1835, on the recommendation of Prime Minister Sir Robert Peel, Somerville received a pension of £200 per year (later £300) from the Civil List. The Somerville family went to Italy in 1838 because of her husband's ill health, and she spent the rest of her life there.
Mary's published her next major work Physical Geography in 1848 when she was 67 years old. Again it was over 500 pages long, highly regarded, and popular with both scientists and the public. The great German geographer and explorer Alexander von Humboldt read it twice, then wrote to Mary:
"I do not know of a work of Physical Geography in any language that one could compare to yours… No facts, no grand views of nature escape you… You dominate in this as you do in astronomy, meteorology, and magnetism."
– LETTER FROM ALEXANDER VON HUMBOLDT (1849)
Her fourth book Molecular and Microscopic Science was published in 1869 and had taken her 10 years to write. But she started to have doubts about her choice to devote herself to popularising science, instead of concentrating on mathematics alone.
Of the book, she said: "In writing this book I made a great mistake, and repent it – Mathematics is the natural bent of my mind. If I had devoted myself exclusively to that study, I might probably have written something useful, as a new era had begun in that science."
Regardless, the book was another success. It gave an up-to-date description of the latest discoveries revealed through the microscope and was published in two volumes and three parts. In the first part Somerville explained the latest thinking on atoms and molecules, the second part covered plant life and the third part explored animal life. The book included 180 illustrations, which caused her publisher great expense.
Dr. Somerville died in 1860. In 1869, Mary Somerville published yet another major work, was awarded a gold medal from the Royal Geographical Society and was elected to the American Philosophical Society. She had outlived her husband's and her sons and wrote, in 1871, "Few of my early friends now remain — I am nearly left alone."
She had been working on another mathematical article at the time, and regularly read about higher algebra and solved problems to be each day. Her daughter published Personal Recollections of Mary Somerville the next year, parts of a work which Mary Somerville had completed most of before her death.
Honor and Award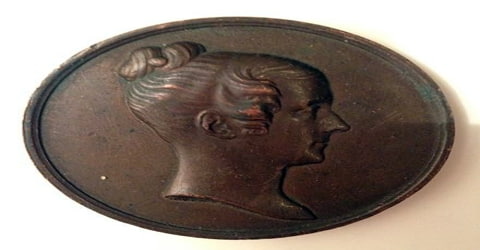 (Commemorative medal of Mary Somerville)
The British government, in a desire to advance the cause of mathematics and science, awarded Mary an immediate pension of £200 a year in recognition of the importance of her work.
In 1811, age 30, she was awarded a silver medal for her solution to a Diophantine mathematical problem.
In 1819, Sir William Edward Parry named an island in Barrow Strait, Nunavut Somerville Island.
In 1869, Mary was awarded the Royal Geographical Society's most prestigious honor – the Victoria Gold Medal – for her work.
In 1879, the University of Oxford opened its first women's colleges: Somerville Hall, named for Mary, and Lady Margaret Hall. Somerville Hall is now named Somerville College.
In 2017, the Royal Bank of Scotland replaced its paper £10 bills with polymer bills featuring Mary Somerville.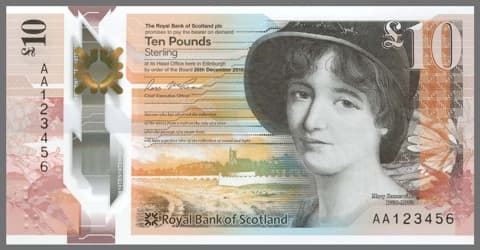 (A Royal Bank of Scotland £10 bill featuring Mary Somerville)
Death and Legacy
Mary Somerville died in Naples in 1872, just before turning 92. She was buried in the city's English Cemetery. She was survived by Martha and Mary. Her husband, William, died in 1860.
Somerville Square in Burntisland is named after her family and marks the site of their home.
Somerville College, Oxford, was named after Somerville, as is Somerville House, Burntisland, where she lived for a time and Somerville House, a high school for girls in Brisbane, Australia. One of the Committee Rooms of the Scottish Parliament in Edinburgh has been named after her.
Somerville appears as a character in the 2014 film 'Mr. Turner', whereas a friend of the painter J. M. W. Turner, she demonstrates the scientific use of light and color, via a prism, much to Turner's amazement.
Information Source: