Biography of Merle Haggard
Merle Haggard – American country singer, songwriter, guitarist, and fiddler.
Name: Merle Ronald Haggard
Date of Birth: April 6, 1937
Place of Birth: Oildale, California, United States
Date of Death: April 6, 2016 (aged 79)
Place of Death: Palo Cedro, California, United States
Occupation: Songwriter, Musician, Guitarist, Singer
Father: James Francis
Mother: Flossie Mae (Née Harp) Haggard
Spouse/Ex: Leona Hobbs (m. 1956–1964), Bonnie Owens (m. 1968–1978), Leona Williams (m. 1978–1983), Debbie Parret (m. 1985–1991), Theresa Ann Lane (m. 1993-2016)
Children: Ben Haggard, Marty Haggard, Noel Haggard, Jenessa Haggard, Dana Haggard, Kelli Haggard
Early Life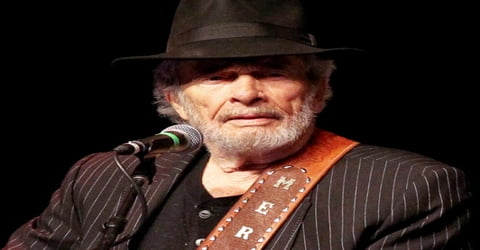 American singer, guitarist, and songwriter, one of the most popular country music performers of the late 20th century, Merle Haggard was born on April 6, 1937, in Oildale, California, United States. Along with Buck Owens, Haggard and his band the Strangers helped create the Bakersfield sound, which is characterized by the twang of the Fender Telecaster mixed with the sound of the steel guitar, vocal harmony styles in which the words are minimal, and a rough edge not heard on the more polished Nashville sound recordings of the same era.
While his music remained a hardcore country, he pushed the boundaries of the music quite far. Like his idol, Bob Wills, his music was a melting pot that drew from all forms of traditional American music country, jazz, blues, and folk and in the process, developed a distinctive style of his own. As a performer, singer, and musician, he was one of the best, influencing countless other artists. Not coincidentally, he was the best singer/songwriter in country music since Hank Williams, writing a body of songs that became classics. Throughout his career, Haggard was a champion of the working man, largely due to his rough-and-tumble history.
Haggard created a unique kind of music by infusing traditional elements with the sound of 'Fender' guitar and new vocal styles. A native of Bakersfield, Haggard struggled during his childhood with the respiratory condition which didn't allow him to attend school. Also, his father's untimely death made him rebellious. Even as he learned to play the guitar, his personal life was extremely turbulent and he repeatedly got imprisoned for various petty crimes. Following many insubordinations, he had an epiphany after spending time with a death-row inmate following which, he turned around his life, got parole and started focusing on his music career. He achieved fame very soon with his unique and appealing music and churned out a series of number-one tracks. Over the next two decades, he established himself as one of the most influential and commercially successful country musicians, as well as a supporter of the working classes. His influence spread to other artists as well. In spite of his age and health issues, he retained his passion for music and gave live performances for his devoted fans.
Haggard received many honors and awards for his music, including a Kennedy Center Honor (2010), a Grammy Lifetime Achievement Award (2006), a BMI Icon Award (2006), and induction into the Nashville Songwriters Hall of Fame (1977), Country Music Hall of Fame (1994) and Oklahoma Music Hall of Fame (1997). He died on April 6, 2016, his 79th birthday at his ranch in Shasta County, California, having recently suffered from double pneumonia.
Childhood, Family and Educational Life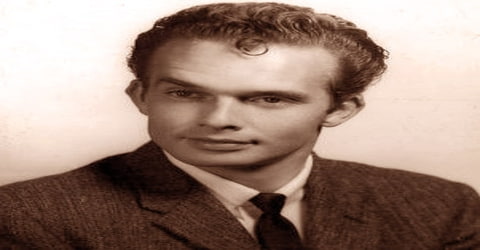 Merle Haggard, in full Merle Ronald Haggard, was born on April 6, 1937, Oildale, California, the U.S. to James Francis, a railroad worker, and Flossie Mae. His family stayed in a boxcar which had been converted into a house. He couldn't attend school due to a respiratory condition which made him bedridden.
When Haggard was eight years old, his father died of the brain hemorrhage, which affected Haggard's childhood. After this, his mother started working as a bookkeeper. At the age of twelve, Haggard got his brother's guitar and learned to play it by himself. Haggard learned to play alone, with the records he had at home, influenced by Bob Wills, Lefty Frizzell, and Hank Williams. As his mother was absent due to work, Haggard became progressively rebellious. His mother sent him for a weekend to a juvenile detention center to change his attitude, but it worsened.
Haggard committed a number of minor offenses, such as thefts and writing bad checks. He was sent to a juvenile detention center for shoplifting in 1950. When he was 14, Haggard ran away to Texas with his friend Bob Teague. He rode freight trains and hitchhiked throughout the state. After his return from the trip, he did another stint at the detention center, but escaped yet again and went to Modesto, California where he did numerous odd jobs such as truck driver, cook, hay pitcher, etc. During this period, he started performing at bars with his friend.
In the early 1950s, Haggard was sent to prison three more times for different offenses. At country musician Lefty Frizzell's concert, Frizzell heard him singing backstage and pushed Haggard to sing on-stage. Due to the audiences' good response, he made up his mind to take up music as a career. Haggard ran into financial problems and tried in vain to rob an inn in 1957, subsequently getting arrested and imprisoned that year. He had a turbulent time in prison as he was involved in failed escape attempts, starting illegal activities like gambling, drinking etc.
While at San Quentin, Haggard started a gambling and brewing racket with his cellmate. After he was caught drunk, he was sent for a week to solitary confinement where he encountered Caryl Chessman, an author, and a death-row inmate. Meanwhile, "Rabbit" had successfully escaped, only to shoot a police officer and be returned to San Quentin for execution. Chessman's predicament, along with the execution of "Rabbit," inspired Haggard to change his life. He soon earned a high school equivalency diploma and kept a steady job in the prison's textile plant. He also played for the prison's country music band, attributing a performance by Johnny Cash at the prison on New Year's Day 1959 as his main inspiration to join it. He was released from San Quentin on parole in 1960.
Personal Life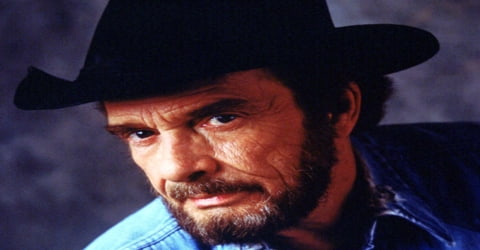 Merle Haggard was married five times. He first married Leona Hobbs in 1956 and had four children from her. They divorced in 1964.
Shortly after divorcing Hobbs, in 1965, he married a singer, Bonnie Owens. Haggard credited her with helping him make his big break as a country artist. Haggard and Owens divorced in 1978 but remained close friends as Owens continued as his backing vocalist until her death in 2006.
In 1978, Haggard married Leona Williams. In 1983, they divorced. In 1985 Haggard married Debbie Parret; they divorced in 1991. He married his fifth wife, Theresa Ann Lane, on September 11, 1993. They had two children, Jenessa and Ben.
Haggard admitted past use of marijuana and cocaine, but quit them both soon after starting. In 1995, he was treated by angioplasty to clear blocked arteries. He contacted Lung Cancer in 2008 and had to undergo surgery to remove a part of his lung containing the tumor. Post the surgery, he recovered rapidly and began touring and performing again.
Career and Works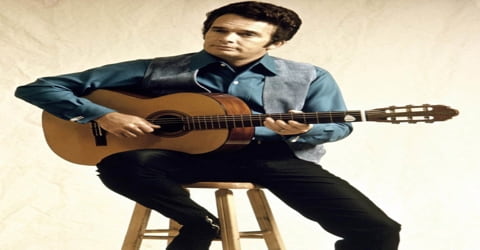 Upon his release from San Quentin in 1960, Haggard started digging ditches for his brother's electrical contracting company. Soon, he was performing again and later began recording with Tally Records. The Bakersfield sound was developing in the area as a reaction against the overproduced Nashville sound. Haggard's first record for Tally was "Singing My Heart Out" backed by "Skid Row"; it was not a success, and only 200 copies were pressed.
Haggard moved back in with Leona and returned to manual labor. In the meantime, he sang at local clubs at night. After taking second place at a local talent contest, Haggard was asked to become a relief singer for a band led by Johnny Barnett at one of the most popular Bakersfield clubs, Lucky Spot. Soon, Merle was making enough money playing music that he could quit his ditch-digging job. While singing with Barnett, he gained the attention of Fuzzy Owen, who owned the small record label Tally Records. Owen and his cousin Lewis Talley were instrumental in establishing Haggard's musical career. Owen made the first recording of Haggard, cutting a demo version of one of the singer's first songs, "Skid Row." Shortly after the recording, Haggard called Talley, who had praised him earlier in his career. Talley was able to land Haggard a job at Paul's Cocktail Lounge, which led to a slot on a local music television show.
In 1962, Haggard wound up performing at a Wynn Stewart show in Las Vegas and heard Wynn's "Sing a Sad Song." He asked for permission to record it, and the resulting single was a national hit in 1964. The following year, he had his first national top-10 record with "(My Friends Are Gonna Be) Strangers," written by Liz Anderson, mother of country singer Lynn Anderson, and his career was off and running. Haggard recalls having been talked into visiting Anderson a woman he did not know at her house to hear her sing some songs she had written. "If there was anything I didn't wanna do, it was sitting around some danged woman's house and listen to her cute little songs. But I went anyway. She was a pleasant enough lady, pretty, with a nice smile, but I was all set to be bored to death, even more so when she got out a whole bunch of songs and went over to an old pump organ… There they were. My God, one hit right after another. There must have been four or five number one songs there…."
Over the next few years, he formed 'Strangers', his backing band with whom he released his first studio album, 'Strangers'. Haggard signed with 'Capitol Records' in 1965 and collaborated with songwriter Liz Anderson for two tracks, including 'I'm a Lonesome Fugitive', his first number one song. From 1967 to 1969, he released six number one singles, such as 'Branded Man', 'Mama Tried' and 'Workin' Man Blues'. His song 'Okie from Muskogee', which Haggard wrote in response to the American protests against the Vietnam War, achieved widespread popularity and acclaim.
"Sam Hill," Haggard's second single, wasn't as successful, but a duet with Bonnie Owens, the former wife of Buck Owens, called "Just Between the Two of Us," broke into the Top 40. The next year, his version of Liz Anderson's "(My Friends Are Gonna Be) Strangers" broke him into the Top Ten and established him as a budding star. Capitol Records bought out his contract with Tally and Merle released "I'm Gonna Break Every Heart I Can," his first single for Capitol, in the fall of 1965. The single wasn't a success, scratching into the Top 50, but his next single, "Swinging Doors," was a smash hit, rocketing to number five in the spring of 1966. Late in 1965, Haggard began recruiting a backing band and named them the Strangers.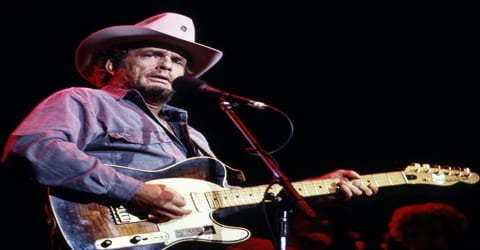 Haggard had his first chart-topper three years later with "The Fugitive" (1967; later called "I'm a Lonesome Fugitive"). There is a sombre cast to many of the songs he wrote including "The Bottle Let Me Down" (1966), "Mama Tried" (1968), "Hungry Eyes" (1969), and "If We Make It Through December" (1973) that in part reflects his difficult youth. He also wrote, "Okie From Muskogee" (1969), his best-known recording, a novelty song that became controversial for its apparent attack on hippies. Also popular was the patriotic anthem "The Fightin' Side of Me" (1970), though his music was rarely political and more frequently and empathetically drew on the lives of the working class and the poor and downtrodden.
In a May 1967 profile in Music City News, his prison record is never mentioned, but in July 1968, in the very same publication, it's spoken of as if it were common knowledge." The 1967 album Branded Man with The Strangers kicked off an artistically and commercially successful run for Haggard. In 2013, Haggard biographer David Cantwell stated, "The immediate successors to I'm a Lonesome Fugitive Branded Man in 1967 and, in '68, Sing Me Back Home and The Legend of Bonnie and Clyde were among the finest albums of their respective years." Haggard's new recordings showcased his band The Strangers, specifically Roy Nichols's Telecaster, Ralph Mooney's steel guitar, and the harmony vocals provided by Bonnie Owens.
At this time many other artists like the rock band 'Grateful Dead', country rock band 'The Flying Burrito Brothers', folk singer 'Joan Baez' and rock and roll singers 'Everly Brothers' began using and performing his songs. Merle released three singles in 1969 "Hungry Eyes," "Workin' Man Blues," and "Okie from Muskogee" and all three reached number one.
Haggard possessed a supple baritone voice, and his repertoire ranged from early jazz and country songs to contemporary tunes. He often recorded the songs of other writers, including western swing bandleader Bob Wills, one of his formative inspirations, whom he honored with the album A Tribute to the Best Damned Fiddle Player in the World (1970). A multi-instrumentalist himself, Haggard was known for the high quality and versatility of his accompanying bands, which by the 1970s included some of Wills's former sidemen.
In the early 1970s, Haggard consistently delivered number-one hits such as 'Someday We'll Look Back', 'Carolyn', 'Grandma Harp', 'Always Wanting You', 'The Roots of My Raising' etc. as he dominated country-music charts. By 1970, he was talking about his time in San Quentin in the press, yet these songs represented the first time he had mentioned his past directly. Each single was a bigger hit than the previous song, which encouraged Haggard to continue writing in a more personal style.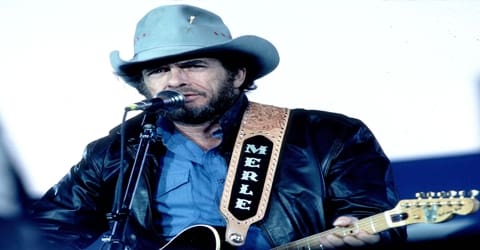 Haggard released a sequel to "Okie" called "The Fightin' Side of Me" at the beginning of 1970, and it also shot to number one. That year, he released A Tribute to the Best Damn Fiddle Player in the World (Or My Salute to Bob Wills), which helped spark a revival of Western swing in the '70s. Throughout 1971 and 1972, the hits kept coming, including "Soldier's Last Letter," "Someday We'll Look Back," "Daddy Frank (The Guitar Man)," "Carolyn," "Grandma Harp," "It's Not Love (But It's Not Bad)," and "I Wonder If They Ever Think of Me."
On his next single, "The Fightin' Side of Me," released by his record company in 1970 over Haggard's objections, Haggard's lyrics stated that he did not mind the counterculture "switchin' sides and standin' up for what they believe in," but resolutely declared, "If you don't love it, leave it!" In May 1970, Haggard explained to John Grissom of Rolling Stone, "I don't like their views on life, their filth, their visible self-disrespect, y'know. They don't give a shit what they look like or what they smell like… What do they have to offer humanity?"
In 1972, the governor of California, Ronald Reagan, granted Haggard a full pardon. The following year, his hit streak continued, and he scored his biggest hit, "If We Make It Through December," which peaked at number 28 on the pop charts. As his reign on the top of the country charts continued in 1974, Haggard played on Bob Wills' last album, For the Last Time. Wills died in 1975, leaving Merle his fiddle.
Haggard's success continued until the mid-1980s as his songs established him as a supporter of the working classes. His most popular albums were 'The Fightin' Side of Me', 'Someday We'll Look Back' and 'If We Make It Through December'. By the later 1980s, many new younger singers started coming to the fore as Haggard's dominance receded. However, most of these new singers were influenced by Haggard. 'Twinkle, Twinkle Lucky Star' remains his last number one song.
His first two singles for the record label, "If We're Not Back in Love by Monday" and "Ramblin' Fever," hit number two and he continued to have hits with the label throughout the end of the decade and the first part of the '80s. "I'm Always on a Mountain When I Fall" and "It's Been a Great Afternoon" were number two hits in 1978. In 1979, Haggard only had two hits, while in 1980, two selections from the Clint Eastwood movie Bronco Billy reached the Top Three, "The Way I Am" and "Misery and Gin"; Haggard also appeared in the film. The two hits paved the way for his two biggest singles with MCA, the number one duet with Eastwood "Bar Room Buddies" and the number one "I Think I'll Just Stay Here and Drink." Early in 1981, Haggard had a Top Ten hit with "Leonard," a tribute to his old friend Tommy Collins.
Haggard was hampered by financial woes well into the 1990s, as his presence on the charts diminished in favor of newer country singers, such as George Strait and Randy Travis. Haggard's last number-one hit was "Twinkle, Twinkle Lucky Star" from his smash album Chill Factor in 1988. In 1989, Haggard recorded a song, "Me and Crippled Soldiers Give a Damn," in response to the Supreme Court's decision not to allow banning flag burning, considering it to be "speech" and therefore protected under the First Amendment. After CBS Records Nashville avoided releasing the song, Haggard bought his way out of the contract and signed with Curb Records, which was willing to release the song. Haggard commented about the situation, "I've never been a guy that can do what people told me… It's always been my nature to fight the system."
In 1990, Haggard signed with Curb Records, but he continued to have trouble reaching the charts; 1994 spawned his last modest hit, "In My Next Life," which reached the Top 60. In the 2000s, he returned to mainstream following a period of relative inactivity with a series of albums, including the acclaimed 'If I Could Only Fly' and 'Chicago Wind'.
In October 2005, Haggard released his album Chicago Wind to mostly positive reviews. The album contained an anti-Iraq war song titled "America First," in which he laments the nation's economy and faltering infrastructure, applauds its soldiers, and sings, "Let's get out of Iraq, and get back on track." This follows from his 2003 release "Haggard Like Never Before" in which he includes a song, "That's The News." Haggard released a bluegrass album, The Bluegrass Sessions, on October 2, 2007.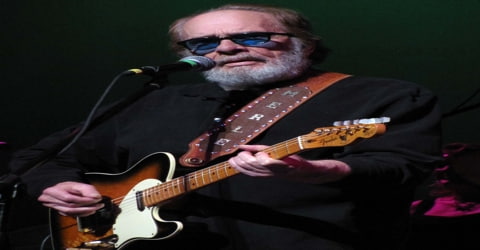 In 2008, Haggard was going to perform at Riverfest in Little Rock, Arkansas, but the concert was canceled because he was ailing, and three other concerts were canceled, as well. However, he was back on the road in June and successfully completed a tour that ended on October 19, 2008. In April 2010, Haggard released a new album, I Am What I Am, to strong reviews, and he performed the title song on The Tonight Show with Jay Leno in February 2011.
A second Vanguard album, Working in Tennessee, co-produced by Haggard with Lou Bradley at Haggard's own northern California studio, appeared the following year in 2011. Four years later, Haggard teamed up with his old friend Willie Nelson for Django and Jimmie, their first collaboration in 20 years. Preceded by the single "It's All Going to Pot," the album debuted at number one on the Billboard country chart upon its June 2015 release.
Awards and Honor
Haggard was awarded the 'Top Male Vocalist' award in 1966 by the 'Academy of Country Music'.
In 1969, Haggard received the 'Album of the Year' from the 'Academy of Country Music' for his album 'Okie from Muskogee'.
Haggard won numerous awards from the Country Music Association and the Academy of Country Music, and in 1984 he captured a Grammy Award for best country vocal performance for "That's the Way Love Goes."
Haggard was inducted into the Country Music Hall of Fame (1994) and the Songwriters Hall of Fame (2007).
In 1999, Haggard won a 'Grammy Hall of Fame Award' for one of his earliest albums, 'Mama Tried'.
In 2010 Haggard was named a Kennedy Center honoree.
Death and Legacy
Merle Haggard died of complications from pneumonia on the morning of April 6, 2016, on his 79th birthday, at his home in Palo Cedro, California, U.S. He was buried in a private funeral at his ranch on April 9, 2016; longtime friend Marty Stuart officiated.
Haggard's 1969 single 'Okie From Muskogee' is among his most famous songs and also served as a political statement. The song is a satire on the reactions of patriotic small-town Americans to the Vietnam War protests. Commercially, the song was a huge success as it spent four weeks atop the 'U.S. Billboard Hot Country Singles' charts.
Even when success eluded him, Merle Haggard's music remained some of the most consistently interesting and inventive in country music. Not only have his recordings remained fresh, but each subsequent generation of country singers shows a great debt to his work. That fact stands as a testament to his great talent even more than his induction into the Country Music Hall of Fame.
Merle appeared in season five, episode three of The Waltons called "The Comeback". He played Red Turner, a local musician who had become depressed and withdrawn after the death of his son, played by Ron Howard, in the episode called "The Gift".
Information Source: