Phil Mickelson – American Professional Golfer
Full name: Philip Alfred Mickelson
Nickname: Lefty
Date off birth: June 16, 1970 (age 46)
Place of birth: San Diego, California
Height: 6 ft 3 in (1.91 m)
Weight: 200 lb (91 kg; 14 st)
Nationality: United States
Spouse: Amy (née McBride) (m. 1996)
Children: Evan Samuel Mickelson, Sophia Isabel Mickelson, Amanda Brynn Mickelson
Early Life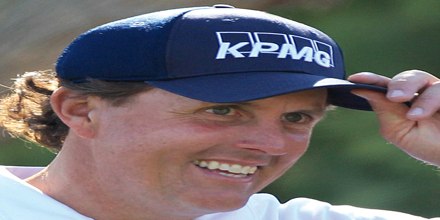 Phil Mickelson, in full Philip Alfred Mickelson, byname Lefty was born on June 16, 1970, in San Diego, California, U.S. He is an American professional golfer who became one of the most dominant players on the Professional Golfers' Association of America (PGA) Tour in the 1990s and early 2000s.
He is one of 16 golfers in the history of the sport to win at least three of the four majors. He has won every major except the U.S. Open, where he has finished runner-up a record six times.
Mickelson turned professional at the age of 22 and is now one of the sport's highest-paid players, boasting more than 40 career wins by 2013, including three Masters titles.
Childhood, Family and Personal Life
Philip Alfred Mickelson was born on June 16, 1970, in San Diego, California. Mickelson's career in golf began around the time he could walk. His parents, Phil and Mary, tell the story of a young Phil running away from home at the age of 3, telling neighbors he was going to the golf course.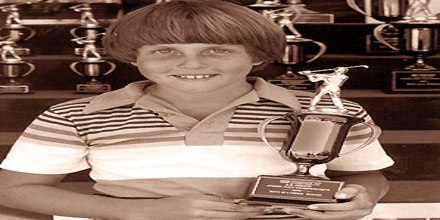 Mickelson began golf under his father's instruction before starting school. Phil Sr.'s work schedule as a commercial pilot allowed them to play together several times a week, and young Phil honed his creative short game in an extensive practice area in their San Diego backyard. Mickelson graduated from the University of San Diego High School in 1988.
He attended Arizona State University in Tempe on a golf scholarship, graduating in 1992. During his time at Arizona State, Mickelson jumped to the top of the national amateur golfing ranks. He won three NCAA individual championships, three Haskins Awards for outstanding collegiate golfer, and became only the second collegiate golfer to earn 1st team All-American honors all four years. He earned his bachelor's degree at ASU after his 1991 win in Tucson. He was the second collegiate golfer to earn first-team All-American honors all four years.
Mickelson is married to Amy McBride, who was diagnosed with breast cancer in 2009. The couple has three children: Amanda, Sophia and Evan.
Playing Career
In 1990, while a junior in college, Mickelson became the first left-hander to win the U.S. Amateur title. That same year, he stunned critics when he won his first PGA Tour tournament as an amateur, becoming the fourth golfer in PGA history to accomplish this feat.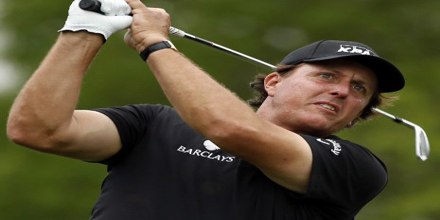 In 1992, on the eve of his 22nd birthday, he turned professional. Mickelson's first win as a pro was in 1993 at Torrey Pines, and the golfer continued to win many PGA Tour tournaments, including the Byron Nelson Golf Classic and the World Series of Golf in 1996.
In 1998, Mickelson won the AT&T Pebble Beach National Pro-Am, followed by the Colonial National Invitation in 2000. He also won the Buick Invitational in 2000, defeating favorite Tiger Woods and ending the golf icon's streak of consecutive tournament victories.
Although he had performed very well in the majors up to the end of the 2003 season, Mickelson's inability to win any of them lead to him frequently being described as the "best golfer never to win a major".
Mickelson's first major championship win came in his thirteenth year on the PGA Tour, when he secured victory in the 2004 Masters with an 18-foot (5.5 m) birdie putt on the final hole. Ernie Els was the runner-up at a stroke back; the two men played in different pairs in the final round and had traded birdies and eagles on the back nine. In addition to getting the "majors monkey" off his back, Mickelson was now only the third golfer with a left-handed swing to win a major, the others being New Zealander Sir Bob Charles, who won The Open Championship in 1963, and Canadian Mike Weir, who won The Masters in 2003. (Like Mickelson, Weir is a right-hander who plays left-handed.) A fourth left-handed winner of a major is Bubba Watson, the Masters champion in 2012 and 2014. Unlike Mickelson and Weir, Watson is a natural left-hander.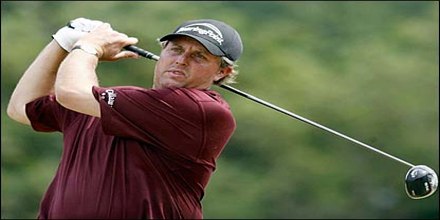 Mickelson's 2004 Masters Tournament victory was ranked No. 9 in TV Guide's list of the "25 Most Awesome Sports Moments (of the last 15 years)." In 2007, Forbes magazine estimated his earnings for the year at $42 million—making him one of golf's highest-paid players.
In 2009, Mickelson came back into view as a possible U.S. Open champ. The neck-and-neck competition involved underdog Ricky Barnes, Tiger Woods and Lucas Glover, with Glover ultimately taking home the trophy. That same year, Mickelson defended his fifth career title at the Northern Trust Open, finishing 2-1-1 in consecutive seasons. At the WGC-CA Championship at Doral, he beat Nick Watney for the title. At the 2009 Masters Tournament, he was paired with Tiger Woods in the final round, and ultimately placed fifth.
The following season marked a 40-year-old Mickelson's 18th year on the PGA Tour, but it wouldn't start out a victorious one. He managed just one top-10 in his first seven starts. Then, in April 2010, Mickelson beat Lee Westwood with a 16-under-par performance for the Masters Tournament title.
Mickelson started his season at the Farmers Insurance Open at Torrey Pines Golf Course. He shot 3 rounds of 67-69-68 and was tied for the 54 hole lead with Bill Haas. Mickelson needed to hole out on the 18th hole for eagle from 74 yards to force a playoff with Bubba Watson. He hit it to 4 feet and Watson won the tournament.
On April 3, 2011, Mickelson won the Shell Houston Open with a 20-under-par, three-stroke win over Scott Verplank. Mickelson rose to No. 3 in the world ranking, while Tiger Woods fell to No. 7. Mickelson had not been ranked above Woods since the week prior to the 1997 Masters Tournament.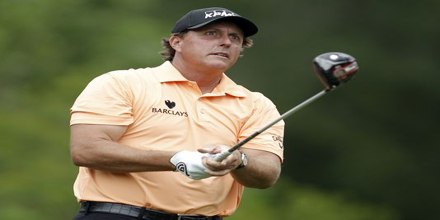 At the 2011 Open Championship, Mickelson recorded just his second top-ten finish in 18 tournaments by tying for second with Dustin Johnson. His front nine 30 put him briefly in a tie for the lead with eventual champion Darren Clarke. However, some putting problems caused him to fade from contention toward the end, to finish in a tie for second place.
Mickelson made his 2012 debut at the Humana Challenge and finished tied for 49th. He missed the cut at the Farmers Insurance Open after shooting rounds of 77 and 68. In the final round of the 2012 AT&T Pebble Beach National Pro-Am, Mickelson rallied from six shots back, winning the tournament by two strokes with a final round score of 8-under 64 and a four-round total of 269.
Mickelson began the 2013 season in January by playing in the Humana Challenge, where he finished T37 at −17. His next event was the following week in his home event near San Diego at the Farmers Insurance Open. Mickelson endured a disappointing tournament, finishing T51, shooting all four rounds in the 70's.
Mickelson struggled in 2014, missing the cut at the Masters for the first time since 1997. He failed to contend at the U.S. Open at Pinehurst in his first bid to complete the career grand slam. Mickelson's lone top-10 of the PGA Tour season came at the year's final major, the PGA Championship at Valhalla Golf Club. Mickelson shot rounds of 69-67-67-66 to finish solo second, one shot behind world number one Rory McIlroy.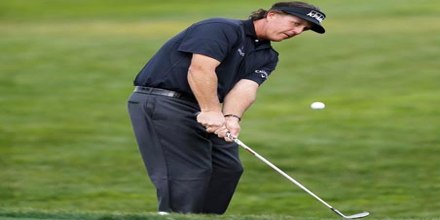 Prior to the 2015 Masters, Mickelson's best finish in 2015 was a tie for 17th. At the 2015 Masters, Mickelson shot rounds of 70-68-67-69 to finish tied for second with Justin Rose, four shots behind champion Jordan Spieth. The second-place finish was Mickelson's 10th such finish in a major, placing him second all time only to Jack Nicklaus in that regard.
In the fall of 2016, Mickelson had two sports hernia surgeries, those in the golf community excepting him to miss much time recovering, however his unexpected return at the Careerbuilder Challenge was a triumphant one, leading to a T21 finish. However, he fell apart with bogeys at 11, 12, 14, 15, and a double bogey at the easy 17th hole. He stumbled in after 71 strokes, still earning a T16 finish, good for his sixth straight top-25 finish on tour.
Awards and Honours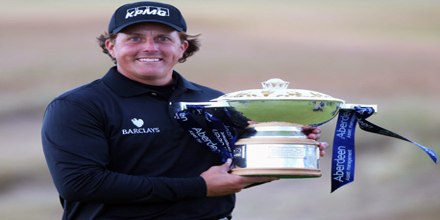 Best Male Golfer ESPY Award
Best Championship Performance ESPY Award