Biography of Ray Charles
Ray Charles – American singer, songwriter, musician, and composer.
Name: Ray Charles Robinson
Date of Birth: September 23, 1930
Place of Birth: Albany, Georgia, United States
Date of Death: June 10, 2004 (aged 73)
Place of Death: Beverly Hills, California, United States
Occupation: Musician, Singer, Songwriter
Father: Bailey Robinson
Mother: Aretha
Spouse/Ex: Eileen Williams (m. 1951–1952), Della Beatrice Howard Robinson (m. 1955–1977)
Children: 12
Early Life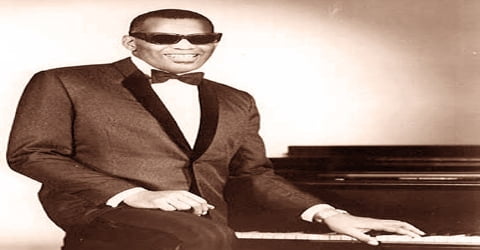 American pianist, singer, composer, and bandleader, Ray Charles was born on September 23, 1930, Albany, Georgia, U.S. He was a leading black entertainer billed as "the Genius." Charles was credited with the early development of soul music, a style based on a melding of gospel, rhythm, and blues, and jazz music. Among friends and fellow musicians he preferred being called "Brother Ray". He was often referred to as "The Genius". Charles started losing his vision at the age of 5, and by 7 he was blind.
Charles was the forerunner of soul music, assimilating other genres like gospel, pop, R&B and country to create a new form of music, that went on to produce hits like 'Hit the Road Jack', 'Georgia On My Mind' and 'Unchain My Heart'. Considered the 'Father of Soul Music', Ray Charles left an indelible impression in the world of music that is still prevalent and enduring even after his death. Best-known for his secular lyrics and his popular jazz arrangements in music, his works were largely improvisational. Over his career that spanned nearly five decades, he inspired a number of other musicians and singer/songwriters. What made him an even bigger international star was the fact that he did not let his visual impairment get in the way of his music, his personal life, and his career. He was a man who loved to shoulder responsibilities and was extremely friendly with his peers and other musicians.
Charles contributed to the integration of country music, rhythm and blues, and pop music during the 1960s with his crossover success on ABC Records, notably with his two Modern Sounds albums. While he was with ABC, Charles became one of the first black musicians to be granted artistic control by a mainstream record company. Charles cited Nat King Cole as a primary influence, but his music was also influenced by Louis Jordan and Charles Brown. He became friends with Quincy Jones. Their friendship lasted until the end of Charles's life. Frank Sinatra called Ray Charles "the only true genius in show business", although Charles downplayed this notion. He combined elements of jazz, gospel, and rhythm-and-blues to create a new kind of African American music known as soul.
He is now remembered for his pleasing, amicable personality and is considered one of the 'Godfathers' of soul music. From 'Confession Blues' to 'What'd I Say', his songs went on to chart some of the most popular international countdowns and continue to reverberate in the world of music today.
Childhood, Family and Educational Life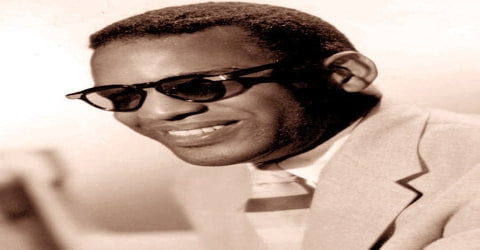 Ray Charles, original name Ray Charles Robinson, was born in Albany, Georgia, the U.S. on September 23, 1932. He was the son of Bailey Robinson, a laborer, and Aretha (or Reatha) Williams. His father, Bailey Robinson, worked as a railroad mechanic and handyman; his mother, Aretha Robinson, worked in a sawmill and sometimes washed other people's clothes to make extra money. In his autobiography (the story of his own life) Brother Ray, Charles remembered that "The old man…was hardly ever around." The family moved to Greenville, Florida, when Charles was still a child. At the age of five, Charles watched his four-year-old brother drown in a laundry tub despite his efforts to save the boy.
Charles was diagnosed with glaucoma at a very young age and by the age of seven, he had become completely blind. He studied at the Florida School for the Deaf and the Blind from 1937 to 1945, during which time, he honed his musical skills. By the time he was 15 years old, both his parents were dead and he was orphaned, but he did not let these personal losses deter him from pursuing a musical career.
Charles further developed his musical talent at school and was taught to play the classical piano music of J.S. Bach, Mozart, and Beethoven. His teacher, Mrs. Lawrence, taught him how to use braille music which was a difficult process that requires learning the left-hand movements by reading braille with the right hand and learning the right-hand movements by reading braille with the left hand and then combining the two parts. While Charles was happy to play classical music, he was more interested in the jazz, blues, and country music he heard on the radio. On Fridays, the South Campus Literary Society held assemblies at which Charles would play piano and sing popular songs. On both Halloween and George Washington's birthday, the black department of the school held socials at which Charles would play. It was here he established "RC Robinson and the Shop Boys" and sang his own arrangement of "Jingle Bell Boogie". During this time, he performed on WFOY radio in St. Augustine.
Charles joined a number of local bands at Tallahassee, which further heightened his interest in music such as the 'Florida A&M University Student Band' and the 'Adderley Brothers'. He was soon noticed for his musical talent and he began performing in a number of clubs and was even invited for the Governor's Ball.
Personal Life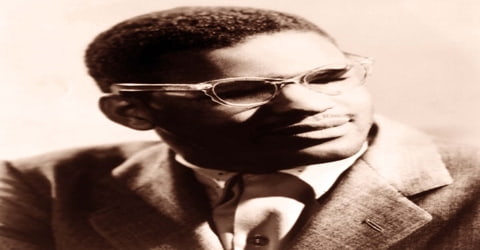 Ray Charles was married twice and had 12 children with ten different women. His first child, Evelyn, was born in 1949 to his companion, Louise Flowers. His first marriage was to Eileen Williams Robinson and lasted from July 31, 1951, until the following year, 1952.
In 1955, Charles married Della Beatrice Howard Robinson (called "Bea" by Charles). The marriage lasted for two decades. Their first child together, Ray Jr., was born in 1955. Charles was not in town for birth because he was playing a show in Texas. The couple had two more children, David (1958) and Robert (1960). Charles felt that his heroin addiction took a toll on Della during their marriage.
Apart from his two marriages, he was in a relationship with Norma Pinella, who stayed with him until his death.
Charles had a six-year-long affair with Margie Hendricks, one of the original Raelettes, and in 1959 they had a son, Charles Wayne. His affair with Mae Mosley Lyles resulted in another daughter, Renee, born in 1961. In 1963, by Sandra Jean Betts, Ray Charles had a daughter, Sheila Raye Charles, a singer and songwriter who died of breast cancer on June 15, 2017.
In 1961, Charles was arrested after marijuana; heroin and other drugs were seized from his room. He was addicted to drugs during his lifetime and he responded to this addiction in comeback songs like 'I Don't Need No Doctor' and 'Let's Go Get Stoned'. Apart from music, he liked playing chess.
Ray Charles also remains in the news for his generous donations to educational institutions. In 2000 he gave Wilberforce University in Ohio a two-million-dollar gift to fund music scholarships, and in 2001 he donated one million dollars to all-black Morehouse College in Atlanta, Georgia. Both universities awarded honorary degrees (received without having met the usual requirements) to Charles. Charles also appeared in Las Vegas, Nevada, in 2001 to promote a new line of slot machines that the Alliance Gaming Corporation had created for the blind to use.
Career and Works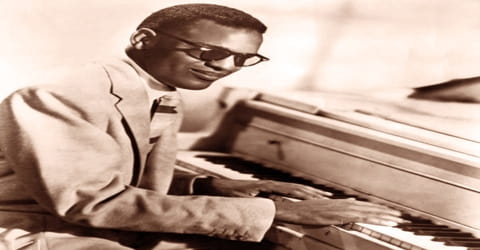 After graduation from the Saint Augustine School, Charles traveled across Florida and performed with country and western bands. It was an experience that helped him later when he added western songs to his performances. Shortly afterward he began touring with rhythm-and-blues bands, arranging and composing music as well as playing the piano, clarinet, and saxophone. In order to avoid being confused with boxing champion Ray Robinson (1921–1989), he dropped his last name and became known as Ray Charles.
At age 16, Charles moved to Orlando, where he lived in borderline poverty and went without food for days. It was difficult for musicians to find work, as since World War II had ended there was no "G.I. Joes" left to entertain. Charles eventually started to write arrangements for a pop music band, and in the summer of 1947, he unsuccessfully auditioned to play piano for Lucky Millinder and his sixteen-piece band. In 1947, Charles moved to Tampa, where he had two jobs: one as a pianist for Charles Brantley's Honeydippers.
He moved to Seattle in 1947 and became a member of the 'Maxin Trio' along with Milton Garrett and G.D. McKee. The trio recorded their first song together under the 'Down Beat Label' titled, 'Confession Blues'. The song went on to become an R&B hit.
Charles built a remarkable career based on the immediacy of emotion in his performances. After emerging as a blues and jazz pianist indebted to Nat King Cole's style in the late 1940s, Charles recorded the boogie-woogie classic "Mess Around" and the novelty song "It Should've Been Me" in 1952–53. His arrangement for Guitar Slim's "The Things That I Used to Do" became a blues million-seller in 1953. By 1954 Charles had created a successful combination of blues and gospel influences and signed on with Atlantic Records. Propelled by Charles's distinctive raspy voice, "I've Got a Woman" and "Hallelujah I Love You So" became hit records. "What'd I Say" led the rhythm and blues sales charts in 1959 and was Charles's own first million-seller.
In his early career, Charles modeled himself on Nat King Cole. His first four recordings "Wondering and Wondering", "Walking and Talking", "Why Did You Go?" and "I Found My Baby There" were allegedly made in Tampa, although some discographies claim he recorded them in Miami in 1951 or Los Angeles in 1952. Charles had always played piano for other people, but he was keen to have his own band. He decided to leave Florida for a large city, and, considering Chicago and New York City too big, followed his friend Gossie McKee to Seattle, Washington, in March 1948, knowing that the biggest radio hits came from northern cities.
As a singer, blues singers Guitar Slim (1926–1959) and Percy Mayfield influenced Charles. At the piano, the jazz arrangements of Lloyd Glenn influenced him. The influence of gospel music was always present in his style. Charles's singing of romantic songs continued in the smooth tradition of Nat "King" Cole (1917–1965) but was boosted by deep-throated growls and high notes that were often thought to be coming from a female voice. His strong voice, his mixing of styles, and his skill as a musician gave him international appeal, but for an English-speaking audience, his storytelling power added something extra that made Charles stand out from other artists.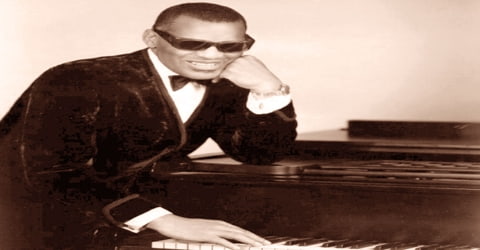 In 1950, his performance in a Miami hotel impressed Henry Stone, who went on to record a Ray Charles Rockin' record (which never became particularly popular). During his stay in Miami, Charles was required to stay in the segregated but thriving black community of Overtown. Stone later helped Jerry Wexler find Charles in St. Petersburg.
In 1951, he signed a deal with 'Swing Time Records' and recorded another hit single, 'Let Me Hold Your Hand' followed by 'Kissa Me Baby' the subsequent year. After the success of these two singles, he was signed on by Atlantic Records. His first hit with Atlantic Records came in 1953 when he recorded, 'Mess Around'. He then recorded a number of other singles including 'It Should Have Been Me' and 'Don't You Know'.
Late in 1954, Charles recorded "I've Got a Woman". The lyrics were written by bandleader Renald Richard. Charles claimed the composition. They later admitted that the song went back to The Southern Tones' "It Must Be Jesus" (1954). It became one of his most notable hits, reaching number two on the R&B chart. "I've Got a Woman" combined gospel, jazz, and blues. In 1955, he had hits with "This Little Girl of Mine" and "A Fool for You". In upcoming years, he scored with "Drown in My Own Tears" and "Hallelujah I Love Her So". In 1959, "What'd I Say" reached No. 6 on the Billboard Pop chart and No. 1 on the Billboard R&B chart.
Charles also recorded jazz, such as The Great Ray Charles (1957) and worked with vibraphonist Milt Jackson, releasing Soul Brothers in 1958 and Soul Meeting in 1961. By 1958, he was not only headlining black venues such as the Apollo Theater in New York but also bigger venues such as Carnegie Hall and the Newport Jazz Festival where his first live album was recorded in 1958. He hired a female singing group, The Cookies, and renamed them The Raelettes. In 1959 Raelette Margie Hendricks gave birth to Ray's son Charles Wayne Hendricks.
In 1956, Charles formed his own 'female-singing group' called 'Cookies' who later came to be known as 'The Raelettes'. In 1957, he released his debut album with Atlantic Records which was a self-titled album. The same year, he released the instrumental album, 'The Great Ray Charles'.
In 1959, on the ABC-Paramount label, Charles recorded his famous "Georgia on My Mind," which later became the official song of the state of Georgia. Charles won ten Grammy Awards from the National Academy of Recording Arts and Sciences.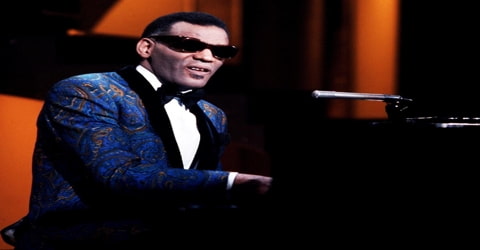 Charles's rhythmic piano playing and band arranging revived the "funky" quality of jazz, but he also recorded in many other musical genres. He entered the pop market with the best-sellers "Georgia on My Mind" (1960) and "Hit the Road, Jack" (1961). His album Modern Sounds in Country and Western Music (1962) sold more than a million copies, as did its single "I Can't Stop Loving You." Thereafter his music emphasized jazz standards and renditions of pop and show tunes.
Charles touched the zenith of success after he released the single, 'What'd I Say', in 1959, which was released in two parts. The song became a huge hit because he finally broke into crossover mainstream pop music. Later, the same year, he released his first cover of a country song, 'Movin' On'. He recorded a live album in 1960 titled, 'Ray Charles in Prison'. The same year, he produced the hit single 'Georgia on my Mind' in his hit concept album, 'The Genius Hits the Road'. It was during this time, he signed a lucrative deal with ABC-Paramount Records.
With "Georgia on My Mind", his first hit single for ABC-Paramount in 1960, Charles received national acclaim and four Grammy Awards, including two for "Georgia on My Mind" (Best Vocal Performance Single Record or Track, Male, and Best Performance by a Pop Single Artist). Written by Stuart Gorrell and Hoagy Carmichael, the song was Charles's first work with Sid Feller, who produced, arranged and conducted the recording. Charles earned another Grammy for the follow-up "Hit the Road Jack", written by R&B singer Percy Mayfield.
Charles also appeared on television and worked in films such as Ballad in Blue (1964) and The Blues Brothers (1980) as a featured act and soundtrack composer. He formed his own custom recording labels, Tangerine in 1962 and Crossover Records in 1973. The recipient of many national and international awards, he received 13 Grammy Awards, including a lifetime achievement award in 1987. In 1986 Charles was inducted into the Rock and Roll Hall of Fame and received a Kennedy Center Honor. He published an autobiography, Brother Ray: Ray Charles' Own Story (1978), written with David Ritz. He was the subject of the acclaimed biopic Ray (2004), which starred Jamie Foxx as Charles in an Academy Award-winning performance.
The 1962 album Modern Sounds in Country and Western Music and its sequel, Modern Sounds in Country and Western Music, Vol. 2, helped to bring country music into the musical mainstream. Charles's version of the Don Gibson song "I Can't Stop Loving You" topped the Pop chart for five weeks, stayed at number 1 on the R&B chart for ten weeks, and gave him his only number-one record in the UK. In 1962, he founded his record label, Tangerine, which ABC-Paramount promoted and distributed. He had major pop hits in 1963 with "Busted" (US number 4) and Take These Chains from My Heart (US number 8).
From 1963 to 1968, Charles released a string of albums were not as successful due to the advent of psychedelic rock, which decreased his appeal. These included 'Ingredients in a Recipe for Soul', 'Sweet & Sour Tears', 'Have a Smile with Me', 'Crying Time', 'Ray's Moods' and 'A Portrait of Ray'. Nonetheless, he actively continued to record songs and released the 1972 album, 'Message from the People', which included the hit, 'America the Beautiful'. Two years later, he left ABC Records.
In 1976 Charles recorded songs from George Gershwin's (1898–1937) Porgy and Bess with Cleo Laine. A television ad for Pepsi in the 1990s helped make sure that Charles would be known to a new generation of music lovers. He also kept the albums coming, including My World, The Best of Ray Charles: The Atlantic Years, and Love Affair. He also appeared in films such as Ballad in Blue, The Blues Brothers, Limit Up, and Spy Hard.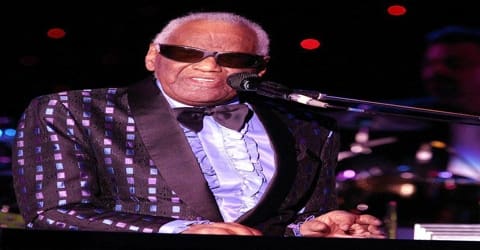 Charles re-signed to Atlantic Records in 1977 and recorded, 'True to Life'. The same year, he appeared in an episode of 'Saturday Night Live'. Two years later 'Georgia on My Mind' was proclaimed the song of Georgia. In 1980, he appeared in the film, 'The Blues Brothers'. Three years later, he signed a record deal with Columbia Records and began to record a string of country hits with musicians like B.J. Thomas, George Jones, and Chet Atkins.
In April 1979, his version of "Georgia on My Mind" was proclaimed the state song of Georgia, and an emotional Charles performed the song on the floor of the state legislature. Although he had notably supported the American Civil Rights Movement and Martin Luther King, Jr. in the 1960s, Charles was criticized for performing at the Sun City resort in South Africa in 1981, during an international boycott protesting that country's apartheid policy. He later defended his choice of performing thereafter insisting that the audience of black and white fans would integrate while he was there. In 1983, Charles signed a contract with Columbia.
In 1984, Charles recorded the single 'Seven Spanish Angels' which would go on to become his most popular country single. The next year, he was seen performing at Ronald Reagan's second inauguration. In 1991, his catch-phrase, 'You Got the Right One, Baby' would make him an international star in the Diet Pepsi commercials. Two years later, he performed for the inauguration of Bill Clinton.
In 1994 Charles appeared on the NBC news show Now, admitting that "I'm probably going to lose at least a third of my fans," when he told interviewer Bob Costas (1952–) that Elvis Presley (1935–1977) had just copied what African American artists were already doing. "To say that Elvis was … 'the king,' I don't think of Elvis like that because I know too many artists that were far greater than Elvis." While this statement caused a stir, it was known that rock music, especially in its early years, was heavily rooted in blues. Many rock artists performed and became popular by playing music that originally belonged to African American blues singers.
Charles was seen in four episodes of the popular TV series, 'The Nanny' from 1997 to 1998. In the new millennium, he appeared in a number of commercials for the 'New Jersey Lottery'.
In 2001-02, Charles appeared in commercials for the New Jersey Lottery to promote its campaign "For every dream, there's a jackpot". In 2003, he headlined the White House Correspondents Dinner in Washington, D.C., attended by President George W. Bush, Laura Bush, Colin Powell, and Condoleezza Rice.
In 2002, Charles released the album, 'Thanks for Bringing Love Around Again', followed by 'Ray Charles Celebrates a Gospel Christmas with the Voices of Jubilation' and 'Live at Olympia 2000', two years later. He made his last public appearance during the dedication of his music atelier as a significant landmark in Los Angeles on April 30, 2004.
Awards and Honor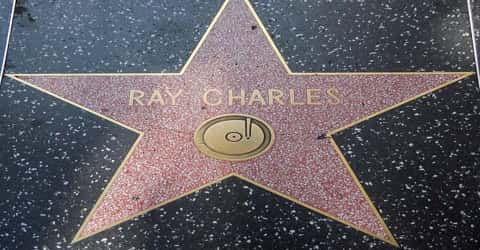 Ray Charles star on Hollywood Walk of Fame (HWF)
In 1981 Ray Charles was given a star on the Hollywood Walk of Fame and was one of the first inductees to the Rock & Roll Hall of Fame at its inaugural ceremony, in 1986. He also received the Kennedy Center Honors in 1986.
In 1987, Charles was presented the 'Grammy Lifetime Achievement Award'. In 1991, he was inducted to the Rhythm & Blues Foundation and was presented with the George and Ira Gershwin Award for Lifetime Musical Achievement during the 1991 UCLA Spring Sing.
In 1993, Charles was awarded the National Medal of Arts. In 1998 he was awarded the Polar Music Prize, together with Ravi Shankar, in Stockholm, Sweden. In 2004 he was inducted to the National Black Sports & Entertainment Hall of Fame. The Grammy Awards of 2005 were dedicated to Charles.
The Grammy Awards in 2005 were all dedicated to Ray Charles. In 2015, Charles was inducted into the Rhythm and Blues Music Hall of Fame.
Death and Legacy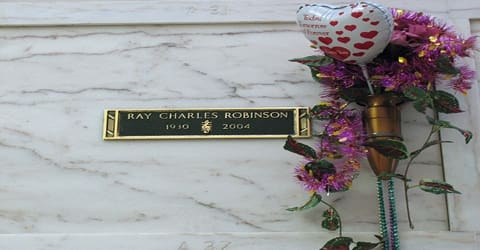 Ray Charles died at his home in Beverly Hills, California of complications resulting from acute liver disease, on June 10, 2004, at the age of 73. His funeral took place on June 18, 2004, at the First AME Church in Los Angeles with numerous musical figures in attendance. B. B. King, Glen Campbell, Stevie Wonder, and Wynton Marsalis each played a tribute at the funeral. He was interred in the Inglewood Park Cemetery. After his death, two of his posthumous albums, 'Genius & Friends' and 'Ray Sings, Basie Swings' were released.
'Georgia on my Mind' is a single that was released for his 1960 album, 'The Genius Hits the Road'. After this record was released, it became extremely successful and was covered by a number of artists including Billie Holiday, Coldplay and Van Morrison to name a few. The song also became the state song of Georgia in 1979.
His style and success in the genres of rhythm and blues and jazz had an influence on a number of highly successful artists, including, as Jon Pareles has noted, Elvis Presley, Aretha Franklin, Stevie Wonder, Van Morrison, and Billy Joel. Other singers who have acknowledged Charles' influence on their own styles include James Booker, Steve Winwood, Richard Manuel, and Gregg Allman. According to Joe Levy, a music editor for Rolling Stone, "The hit records he made for Atlantic in the mid-50's mapped out everything that would happen to rock 'n' roll and soul music in the years that followed". Charles was also an inspiration to Pink Floyd member Roger Waters, who told the Turkish newspaper Hurriyet: "I was about 15. In the middle of the night with friends, we were listening to jazz. It was "Georgia on My Mind", Ray Charles's version. Then I thought 'One day if I make some people feel only one-twentieth of what I am feeling now, it will be quite enough for me.'"
'Hit the Road Jack', another one of his singles released in 1960 went on to become one of his greatest works. It stayed at the No. 1 position for two weeks on the Billboard Hot 100 and also earned him a Grammy Award. The song is regarded as one of 'The 500 Greatest Songs of All Time' by the 'Rolling Stone' magazine.
In 2004, a biopic was made on his life titled 'Ray'. Three years later, the 'Ray Charles Plaza' was opened in Albany, Georgia.
Information Source: