Biography of Robert Johnson
Robert Johnson – American blues singer-songwriter and musician.
Name: Robert Leroy Johnson
Date of Birth: May 8, 1911
Place of Birth: Hazlehurst, Mississippi, United States
Date of Death: August 16, 1938 (aged 27)
Place of Death: Greenwood, Mississippi, United States
Occupation: Musician, Singer, Songwriter
Father: Noah Johnson
Mother: Julia Major Dodds
Spouse/Ex: Virginia Travis (m. 1929–1930), Caletta Craft (m. 1931–1938)
Early Life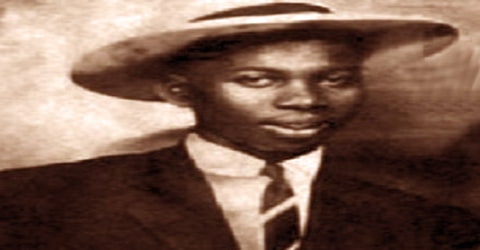 American blues composer, guitarist, and singer, Robert Johnson was born in Hazlehurst, Mississippi, the U.S. possibly on May 8, 1911, to Julia Major Dodds (born October 1874) and Noah Johnson (born December 1884). His eerie falsetto singing voice and masterful rhythmic slide guitar influenced both his contemporaries and many later blues and rock musicians. His landmark recordings in 1936 and 1937 display a combination of singing, guitar skills, and songwriting talent that has influenced later generations of musicians. Johnson's poorly documented life and death at age 27 have given rise to many legends. One Faustian myth says that he sold his soul to the devil at a local crossroads of Mississippi highways to achieve success. As an itinerant performer who played mostly on street corners, in juke joints, and at Saturday night dances, Johnson had little commercial success or public recognition in his lifetime.
In Robinsonville, where he spent the bulk of his youth, Johnson came in contact with Delta blues masters Willie Brown, Charley Patton, and Son House, who was not particularly impressed by his talent. They were, however, astonished by his musical ability when he returned to his town after being away for a year. According to legends, during that period he made a deal with Satan at a crossroad, acquiring his prodigious talent as a guitarist, singer, and songwriting in exchange for the stipulation that he would have only eight more years to live. He traveled throughout Mississippi, Arkansas, Texas, and Tennessee and as far north as Chicago and New York, playing at house parties, juke joints and on the street. In 1936–37, he made a series of recordings in a hotel room in San Antonio, Texas, and at a warehouse in Dallas. His repertoire included several blues songs but his original numbers, 'Hellhound on My Trail', and 'Terraplane Blues' are most compelling pieces. Despite the limited body of work, he had a major impact on several other brilliant musicians, including Muddy Waters, Elmore James, Eric Clapton, and the Rolling Stones.
As a singer, a composer, and as a guitarist of considerable skills, he produced some of the genre's best music and the ultimate blues legend to deal with. Doomed, haunted, driven by demons, a tormented genius dead at an early age, all of these add up to making him a character of mythology who if he hadn't actually existed would have to be created by some biographer's overactive romantic imagination.
Johnson is credited by many rock musicians as an important influence; the blues and rock musician Eric Clapton has called Johnson "the most important blues singer that ever lived." He was inducted into the Rock and Roll Hall of Fame in its first induction ceremony, in 1986, as an early influence on rock and roll. In 2003, David Fricke ranked Johnson fifth in Rolling Stone magazine's "100 Greatest Guitarists of All Time".
Childhood, Family and Educational Life
Robert Johnson, by the name Robert Leroy Johnson, was born on May 8, 1911, in Hazlehurst, Mississippi, the U.S. to Julia Major Dodds and Noah Johnson, a laborer in a local sawmill. Julia was married to Charles Dodds (born February 1865), a relatively prosperous landowner and furniture maker, with whom she had ten children. Charles Dodds had been forced by a lynch mob to leave Hazlehurst following a dispute with white landowners. Julia left Hazlehurst with baby Robert, but after two years sent the boy to Memphis to live with her husband, who had changed his name to Charles Spencer.
Julia brought Robert Johnson to live with her husband Charles Spencer in Memphis in 1913. Three years later, he started attending school there, quite possibly St. Peter's elementary school. At Memphis, his older brother Leroy spent time in the musical establishments in the area (dance halls, bars, etc.) and played the guitar. He probably taught Robert a few elements of guitar playing.
1920 Census records show him living with his mother and her new husband, William "Dusty" Willis in Crittenden, Arkansas, where he attended Indian Creek school in Commerce, Mississippi. Robert was at school in 1924 and 1927.
Personal Life
After school, Robert adopted the surname of his natural father, signing himself as Robert Johnson on the certificate of his marriage to sixteen-year-old Virginia Travis in February 1929. She died during childbirth. Surviving relatives of Virginia told the blues researcher Robert "Mack" McCormick that this was divine punishment for Robert's decision to sing secular songs, known as "selling your soul to the Devil". McCormick believed that Johnson himself accepted the phrase as a description of his resolve to abandon the settled life of a husband and farmer to become a full-time blues musician.
While living in Martinsville, Johnson fathered a child with Vergie Mae Smith. He married Caletta Craft in May 1931. In 1932, the couple moved to Clarksdale, Mississippi, in the Delta. Caletta died in childbirth, and Johnson left for a career as a "walking" or itinerant musician.
Johnson had a relationship with numerous women wherever he happened to be. There is little evidence to believe that he had any family. However, the blues singer Robert Junior Lockwood was said to be the son of one his 'girlfriends' as also Claude Johnson.
Career and Works
By 1928, Johnson learned one of his first guitar songs, 'I'm Gonna Sit Down and Tell My Mama', from Harry Hard Rock Glenn and could also play harmonica, Jews harp-piano, pump organ, and guitar.
Around this time, the blues musician Son House moved to Robinsonville, where his musical partner Willie Brown lived. Late in life, House remembered Johnson as a "little boy" who was a competent harmonica player but an embarrassingly bad guitarist. Soon after, Johnson left Robinsonville for the area around Martinsville, close to his birthplace, possibly searching for his natural father. Here he perfected the guitar style of House and learned other styles from Isaiah "Ike" Zimmerman. Zimmerman was rumored to have learned supernaturally to play guitar by visiting graveyards at midnight. When Johnson next appeared in Robinsonville, he seemed to have miraculously acquired a guitar technique. House was interviewed at a time when the legend of Johnson's pact with the devil was well known among blues researchers. He was asked whether he attributed Johnson's technique to this pact, and his equivocal answers have been taken as confirmation.
In 1930, Son House, a blues singer, and guitarist, moved to Robinsonville. House remembered Johnson as a 'little boy' who was a competent harmonica player but an embarrassingly bad guitarist. In 1931, he left the Delta to find his biological father Noah. He arrived in Martinsville, close to his birthplace Hazlehurst and met Ike Zimmerman who took him home and taught him the guitar. When Johnson next appeared in Robinsonville, he seemed to have acquired a miraculous guitar technique. In a later interview, Son House attributed Johnson's new technique and progress to the Devil pact.
From 1932 until his death in 1938, Johnson moved frequently between the cities of Memphis and Helena and the smaller towns of the Mississippi Delta and neighboring regions of Mississippi and Arkansas. On occasion, he traveled much farther. The blues musician Johnny Shines accompanied him to Chicago, Texas, New York, Canada, Kentucky, and Indiana. Henry Townsend shared a musical engagement with him in St. Louis. In many places, he stayed with members of his large extended family or with female friends. He did not marry again but formed some long-term relationships with women to whom he would return periodically. In other places, he stayed with a woman he seduced at his first performance. In each location, Johnson's hosts were largely ignorant of his life elsewhere. He used different names in different places, employing at least eight distinct surnames.
After returning briefly to Robinsonville, Johnson settled in Helena, Arkansas, where he played with Elmore James, Robert Nighthawk, and Howlin' Wolf, among others. He also became involved with Estella Coleman and informally adopted her son, Robert Lockwood, Jr., who later became a notable blues musician under the name Robert Jr. Lockwood. Johnson traveled widely throughout Mississippi, Arkansas, Texas, and Tennessee and as far north as Chicago and New York, playing at house parties, juke joints, and lumber camps and on the street.
In 1935, Johnson met Johnny Shines whom he inspired to return to music. They traveled south and headed as far north as Ontario where they appeared on a local radio program. When he made up his mind to record in 1936, he approached H. C. Speirs, a white record store owner in Jackson, MS. Speirs sent him to Ernie Oertle, an ARC scout. Oertle and Johnson went to San Antonio. In his first recording session in 1936 at a makeshift studio in the Gunter Hotel, San Antonio, Texas, Johnson recorded songs including 'Come On In My Kitchen', 'Kind Hearted Woman Blues' and 'Terraplane Blues'.
In 1937, Johnson traveled to Dallas, Texas, for another recording session with Don Law in a makeshift studio at the Vitagraph (Warner Brothers) Building, at 508 Park Avenue, where Brunswick Record Corporation was located on the third floor. Eleven records from this session would be released within the following year. Johnson did two takes of most of these songs, and recordings of those takes survived. Because of this, there is more opportunity to compare different performances of a single song by Johnson than for any other blues performer of his time and place. Johnson recorded almost half of the 29 songs that make up his entire discography in Dallas.
Johnson returned to recording in 1937. His repertoire included several blues songs by House and others, but Johnson's original numbers such as "Me and the Devil Blues," "Hellhound on My Trail," "Sweet Home Chicago," "I Believe I'll Dust My Broom," "Ramblin' on My Mind," and "Love in Vain" is his most compelling pieces. Unlike the songs of many of his contemporaries which tended to unspool loosely, employing combinations of traditional and improvised lyrics Johnson's songs were tightly composed, and his song structure and lyrics were praised by Bob Dylan. Despite the limited number of his recordings, Johnson had a major impact on other musicians, including Muddy Waters, Elmore James, Eric Clapton, and the Rolling Stones.
Playing with Honeyboy Edwards and Sonny Boy Williamson (Rice Miller), Johnson was given a jug of moonshine whiskey laced with either poison or lye, presumably by the husband of a woman the singer had made advances toward. He continued playing into the night until he was too sick to continue, then brought back to a boarding house in Greenwood, some 15 miles away. Johnson lay sick for several days, successfully sweating the poison out of his system, but caught pneumonia as a result and died on August 16th. The legend was just beginning.
Awards and Honor
Robert Johnson was inducted into the Blues Hall of Fame in its inaugural class (1980), and he became a member of the Rock and Roll Hall of Fame in 1986.
In 1990, The Complete Recordings, released by Sony/ Columbia won the Grammy in the Best Historical Album category while his song 'Cross Road Blues" has been inducted in the Grammy Hall of Fame.
The Rock and Roll Hall of Fame included four songs by him, 'Sweet Home Chicago', 'Cross Road Blues', 'Hellhound on My Trail', 'Love in Vain', in the 500 songs that shaped rock and roll.
The Complete Recordings won 1991 The Blues Foundation Awards in the Vintage or Reissue Album category. It is a compilation album released on Columbia Records, recorded in the Dallas and San Antonio sessions.
Johnson has been inducted into the Blues Hall Of Fame, Rock and Roll Hall Of Fame, and the Mississippi Musicians Hall of Fame, and in 2006 presented the Grammy Lifetime Achievement Award.
Death and Legacy
Robert Johnson died on August 16, 1938, after drinking poisoned whiskey allegedly given to him by friends of a man on whose wife he showed too much interest. The exact location of his grave is, unfortunately, officially unknown; three different markers have been erected at possible sites in church cemeteries outside Greenwood.
Johnson had only one moderate hit song during his lifetime ("Terraplane Blues"), but, after Columbia Records released a collection of his recordings, King of the Delta Blues (1961), the man and his music both achieved near-mythic status. Columbia later issued the box set by Robert Johnson: The Complete Recordings (1990).
'Terraplane Blues', recorded in 1936, was Johnson' first single. A moderate regional hit, selling 5,000 copies, he used the car model Terraplane as a metaphor for sex with clear sexual innuendos. "Hellhound on My Trail", a song recorded by him in 1937 in Dallas, is considered his greatest. It was inducted into the Blues Foundation Hall of Fame in the "Classic of Blues Recording" category.
In the intervening years since the release of the box set, Johnson's name and likeness have become a cottage growth merchandising industry. Posters, postcards, t-shirts, guitar picks, strings, straps, and polishing cloths all bearing either his likeness or signature (taken from his second marriage certificate) have become available, making him the ultimate blues commodity with his image being reproduced for profit far more than any contemporary bluesman, dead or alive. Although the man himself (and his contemporaries) could never have imagined it in a million years, the music and the legend both live on.
Information Source: