Biography of Robin McLaurin Williams
Robin McLaurin Williams – American actor and comedian.
Name: Robin McLaurin Williams
Date of Birth: July 21, 1951
Place of Birth: Chicago, Illinois, U.S.
Date of Death: August 11, 2014 (aged 63)
Place of Death: Paradise Cay, California, U.S.
Occupation: Actor
Father: Robert Williams
Mother: Laurie Williams
Spouse/Ex: Susan Schneider (m. 2011–2014), Marsha Garces (m. 1989–2010), Valerie Velardi (m. 1978–1988)
Children: Cody Alan Williams, Zachary Pym Williams, Zelda Rae Williams
Early Life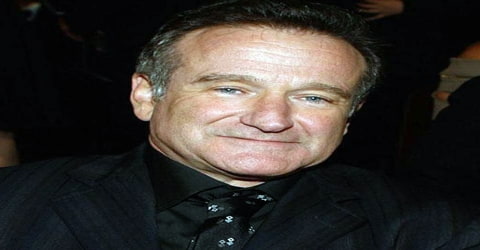 Robin McLaurin Williams, an American comedian, and an actor is known for his manic stand-up routines and his diverse film performances were born at St. Luke's Hospital in Chicago, Illinois, on July 21, 1951. He was an American actor and comedian. Born in Chicago, Williams began performing stand-up comedy in San Francisco and Los Angeles in the mid-1970s and is credited with leading San Francisco's comedy renaissance. After rising to fame playing the alien Mork in the sitcom Mork & Mindy, Williams established a career in both stand-up comedy and feature film acting. He was known for his improvisation skills and the wide variety of memorable character voices he created. Williams has been called the funniest person of all time. He was known for his fast-paced, improvisational performance style and for his performances in films like 'Good Will Hunting' and 'Dead Poets Society.'
Even though more famous as a comedian, Williams was a very talented personality who could pull off a very serious role with the same ease as he performed a comedic one. Thrice nominated for the coveted Academy Awards, he won it once for his much-acclaimed performance in the movie 'Good Will Hunting'. The son of a senior executive, showbiz seemed to be an unlikely career path for the young Robin. As a boy, he always joked around at school and made others laugh with his jokes, no doubt his classmates voted him the "Funniest"!
After developing his improvisational style as a stand-up comedian, Williams landed his own television show, Mork and Mindy, and moved into leading parts in the film with Robert Altman's Popeye.
After his first starring film role in Popeye (1980), Williams starred in numerous films that achieved critical and financial success, including The World According to Garp (1982), Moscow on the Hudson (1984), Good Morning, Vietnam (1987), Dead Poets Society (1989), Awakenings (1990), Aladdin (1992), The Fisher King (1991), One Hour Photo (2002), and World's Greatest Dad (2009), as well as box office hits, such as Hook (1991), Mrs. Doubtfire (1993), Jumanji (1995), The Birdcage (1996), Good Will Hunting (1997), and the Night at the Museum trilogy (2006–2014).
Williams began his career as a stand-up comedian where he found success. One thing led to another and soon he was on television doing comedy shows. The hit sitcom 'Mork & Mindy' made him so popular that he realized that he was meant for greater success. Thus, he entered the world of movies and became the funnyman everyone fell in love with. He was nominated four times for the Academy Awards, winning once for Best Supporting Actor for his performance as psychologist Sean Maguire in Good Will Hunting. He also received two Primetime Emmy Awards, seven Golden Globe Awards, two Screen Actors Guild Awards, and four Grammy Awards.
Childhood, Family and Educational Life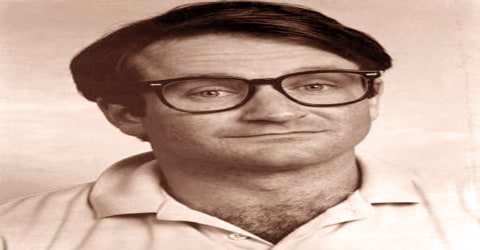 Robin Williams, in full Robin McLaurin Williams, was born on July 21, 1951, in Chicago, Illinois to Robert Fitzgerald Williams and Laurie McLaurin in Chicago as one of their three sons. His father worked as a senior executive at Ford Motor Company while his mother had been a former model. He was of mixed ancestry. Williams had two elder half-brothers; paternal half-brother Robert (also known as Todd) and maternal half-brother McLaurin. He had English, Irish, Scottish, Welsh, German, and French ancestry.
While his mother was a practitioner of Christian Science, Williams was raised in the Episcopal Church his father belonged to. Williams wrote a list: "Top Ten Reasons to Be an Episcopalian". During a television interview on Inside the Actors Studio in 2001, Williams credited his mother as an important early influence on his humor, and he tried to make her laugh to gain attention.
He attended public elementary school in Lake Forest at Gorton Elementary School (now Gorton Community Center) and middle school at Deer Path Junior High School (now Deer Path Middle School). Williams described himself as a quiet child who did not overcome his shyness until he became involved with his high school drama department. His friends recall him as very funny. He was a very good student and also played sports. Yet, he was bullied much of the time in school.
As a teenager, Williams attended Redwood High School from where he graduated in 1969. He was a popular student in school, always telling jokes and making others laugh.
When Williams was 16, his father retired, and the family moved to the San Francisco area. Williams studied political science at Claremont Men's College (now Claremont McKenna College), where he began taking courses in improvisation. He then attended the College of Marin to study acting but later received a scholarship to study at the Juilliard School in New York City. Williams eventually moved back to California, where he began appearing in comedy clubs in the early 1970s.
In 1973, Williams attained a full scholarship to the Juilliard School (Group 6, 1973–1976) in New York City. He was one of 20 students accepted into the freshman class and one of two accepted by John Houseman into the Advanced Program at the school that year; the other was Christopher Reeve. William Hurt and Mandy Patinkin were also classmates.
During the summers of 1974, 1975 and 1976, Williams worked as a busser at The Trident in Sausalito, California. He left Juilliard during his junior year in 1976 at the suggestion of Houseman, who said there was nothing more Juilliard could teach him. Gerald Freedman, another of his teachers at Juilliard, said that Williams was a "genius" and that the school's conservative and classical style of training did not suit him; no one was surprised that he left.
Personal Life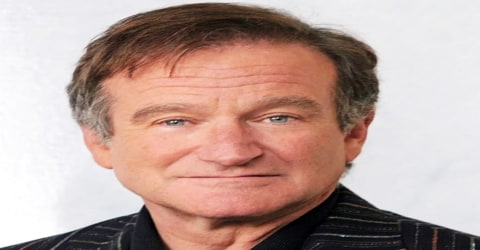 Robin Williams married his first wife Valerie Velardi in June 1978, following a live-in relationship with comedian Elayne Boosler. Velardi and Williams met in 1976 while he was working as a bartender at a tavern in San Francisco. Their son Zachary Pym "Zak" Williams was born in 1983. Velardi and Williams were divorced in 1988.
Williams again married Marsha Garces, his son's nanny, in 1989. The couple went on to have two children, Zelda Rae Williams (born 1989) and Cody Alan Williams (born 1991). This marriage too did not last long and ended in divorce. While it was reported that Williams began an affair with Zachary's nanny Marsha Garces in 1986, Velardi stated in the 2018 documentary Robin Williams: Come Inside My Mind that the relationship with Garces began after the two had separated.
In March 2008, Garces filed for divorce from Williams, citing irreconcilable differences. Their divorce was finalized in 2010. Williams married his third wife, graphic designer Susan Schneider, on October 22, 2011, in St. Helena, California. The two lived at their house in Sea Cliff, San Francisco, California.
Robin Williams stated, "My children give me a great sense of wonder. Just to see them develop into these extraordinary human beings."
Robin Williams said that partly due to the stress of performing stand-up, he started using drugs and alcohol early in his career. He further said that he neither drank nor took drugs while on stage, but occasionally performed when hung over from the previous day. During the period he was using cocaine, he said that it made him paranoid when performing on stage.
Williams was an enthusiast of both pen-and-paper role-playing games and video games. His daughter Zelda was named after the title character from The Legend of Zelda, a family favorite video game series, and he sometimes performed at consumer entertainment trade shows.
Career and Works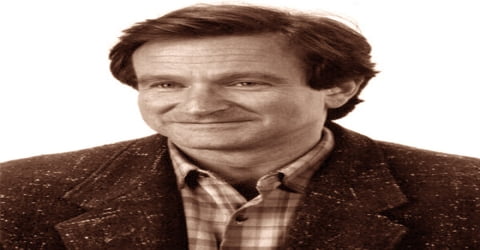 Robin Williams gave his first performance at the Holy City Zoo, a comedy club in San Francisco, where he worked his way up from tending bar. In the 1960s, San Francisco was a center for a rock music renaissance, hippies, drugs, and a sexual revolution, and in the 1970s, Williams helped lead its "comedy renaissance", writes critic Gerald Nachman. Williams says he found out about "drugs and happiness" during that period, adding that he saw "the best brains of my time turned to mud".
By the mid-1970s Robin Williams was guest starring on several television shows, including The Richard Pryor Show and Laugh-In. That year, Williams also performed a show at the LA Improv for Home Box Office. While the Laugh-In revival failed, it led Williams into a television career; he continued performing stand-up at comedy clubs such as the Roxy to help keep his improvisational skills sharp. After guest appearances as the alien Mork on Happy Days, Williams was given his own show, Mork & Mindy (1978–82). The series offered Williams the opportunity to transfer the enthusiasm of his stand-up performances to the small screen and provided an outlet for his prolific improvisational talents. Mork & Mindy proved an immense success and was instrumental in launching Williams's film career.
His debut TV appearance happened in late 1977 where he performed an extension of his stand-up routines. Even though the Laugh-In was not a success, it definitely led to his talent getting recognized. Williams auditioned for the role of Mork the Alien for the show 'Happy Days' in 1978. When asked to take a seat, he promptly sat on his head which really impressed the producer, Garry Marshall. The character was so successful that it set off a spin-off.
Williams won a Grammy Award for the recording of his 1979 live show at the Copacabana in New York, Reality … What a Concept. Some of his later tours, after he became a TV and film star, include An Evening With Robin Williams, Robin Williams: At The Met and Robin Williams: Live on Broadway. The latter broke many long-held records for a comedy show. In some cases, tickets sold out within 30 minutes. In 1986, Williams released A Night at the Met.
The American sitcom 'Mork & Mindy' was the first broadcast in 1978 featuring Robin as Mork the Alien from the planet Ork. The show was a huge success and made him a popular figure in comedy. The show ran till 1982. Even though he had made his big screen debut in 1977 with the comedy movie, 'Can I Do It 'Till I Need Glasses?', it wasn't until 1980 that he got his first big break with 'Popeye' in which he played Popeye the Sailor Man.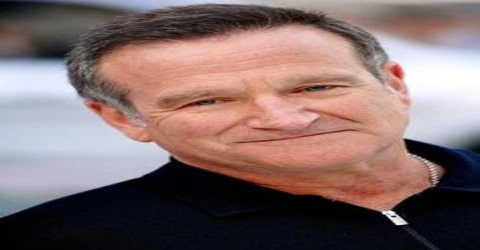 A string of successful film roles for Williams followed over the years, showcasing his stellar comedic talents as well as his ability to take on serious work. His early movie appearances included leads in Popeye (1980) and The World According to Garp (1982), but his first major role came with Good Morning, Vietnam (1987), in which he portrayed the irreverent military disc jockey, Adrian Cronauer. The role earned Williams his first Academy Award nomination. His second came soon after for his performance as an inspirational English teacher at a preparatory school in Dead Poets Society (1989). Both projects earned him Academy Award nods for lead actor.
In the early 1990s Williams lent his talents to a number of successful family-oriented films, including Mrs. Doubtfire (1993), in which he played a divorced man who impersonates a female nanny in order to be close to his children, and the animated feature Aladdin (1992), in which he voiced a frenetic genie.
While his career was taking off, Williams faced many personal challenges. He developed a drug and alcohol problem while working on the sitcom Mork and Mindy, and would struggle with addiction for more than two decades. He also became involved in several tumultuous romantic relationships; while married to actress Valerie Velardi, he was involved with other women. Williams and Velardi ultimately divorced in 1988. The following year, he married his son's nanny, Marsha Garces.
During a Playboy interview in 1992, Williams was asked whether he ever feared to lose his balance between his work and his life. He replied, "There's that fear if I felt like I was becoming not just dull but a rock, that I still couldn't speak, fire off or talk about things if I'd start to worry or get too afraid to say something … If I stop trying, I get afraid." While he attributed the recent suicide of novelist Jerzy Kosiński to his fear of losing his creativity and sharpness, Williams felt he could overcome those risks. For that, he credited his father for strengthening his self-confidence, telling him to never be afraid of talking about subjects which were important to him.
Despite personal setbacks, Williams continued acting. He appeared in the hit Penny Marshall drama Awakenings (1990) with Robert De Niro and Julie Kavner, and received his third Oscar nomination for his role as homeless man Parry in the 1991 redemptive drama The Fisher King. Tackling family-friendly fare as well, he starred as a grown-up Peter Pan in Hook (1991) and provided the voice of the genie in Disney's animated film Aladdin (1992). Williams starred in Mrs. Doubtfire (1993), Jumangi (1995) and Flubber (1997) as well.
While undoubtedly a successful comedic actor, Williams was equally adept at more-sober roles. He played a distressed former professor in The Fisher King (1991) and a psychiatrist who mentors a troubled but mathematically gifted young man (played by Matt Damon) in Good Will Hunting (1997). Both films earned Williams Academy Award nominations, and for Good Will Hunting he finally received an Oscar.
One of his most memorable comedy films was 'Mrs. Doubtfire' (1993) in which he pretends to be a woman so that he can be closer to the kids he has with his ex-wife. The year 1997 was a good one for him as he got the opportunity to star in the brilliant movie, 'Good Will Hunting' in which he plays the role of a therapist who counsels a troubled yet hugely talented young man.
After the Laugh-In revival and appearing in the cast of The Richard Pryor Show on NBC, Williams was cast by Garry Marshall as the alien Mork in a 1978 episode of the TV series Happy Days, "My Favorite Orkan". Sought after as a last-minute cast replacement for a departing actor, Williams impressed the producer with his quirky sense of humor when he sat on his head when asked to take a seat for the audition. As Mork, Williams improvised much of his dialogue and physical comedy, speaking in a high, nasal voice. The cast and crew, as well as TV network executives, were deeply impressed at his performance. Mork's appearance proved so popular with viewers that it led to the spin-off television sitcom Mork & Mindy, which co-starred Pam Dawber, and ran from 1978 to 1982; the show was written to accommodate his extreme improvisations in dialog and behavior. Although he portrayed the same character as in Happy Days, the series was set in the present in Boulder, Colorado, instead of the late 1950s in Milwaukee. Mork & Mindy at its peak had a weekly audience of 60 million and was credited with turning Williams into a "superstar."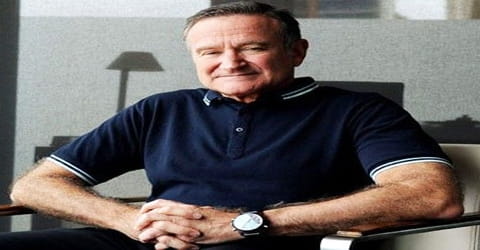 More roles soon followed and in 1984 he found himself playing the role of Vladimir Ivanoff in the comedy-drama 'Moscow on the Hudson' for which he was nominated for the Golden Globe Award for Best Actor.
Williams more adult-oriented films also made waves, including The Birdcage (1996) and Good Will Hunting (1997). His performance as the psychiatrist in the latter project won him an Academy Award as best supporting actor. For the next few years, Williams took on a range of roles. He starred as the doctor who treated his patients with humor in Patch Adams (1998) and then portrayed a Jewish man in Germany during World War II in Jakob the Liar (1999). Based on a work by Isaac Asimov, Bicentennial Man (1999) gave Williams the opportunity to play an android who develops human emotions. And he returned to voice acting as Dr. Know in A.I.: Artificial Intelligence in 2001.
A 2002 stand-up performance led to the hugely successful Robin Williams: Live on Broadway (2002), which was released as both an album and a video. He later portrayed Teddy Roosevelt in the comedy Night at the Museum (2006) and two sequels (2009, 2014). He provided voices for the animated films Happy Feet (2006) and Happy Feet Two (2011). Williams was sidelined with heart problems in early 2009, but he returned to work shortly thereafter, promoting his films and resuming his Weapons of Self-Destruction comedy tour. Later that year he starred in the family comedy Old Dogs.
While best known for his thrilling humor, Robin Williams also explored darker characters and situations on screen. He played a creepy photo developer in One Hour Photo (2002); a writer of pulp novels in Insomnia (2002); and a radio host who gets caught up in the mystery surrounding a troubled fan in The Night Listener (2006). Williams returned to his comedic talents as well with Man of the Year (2006), a send-up of U.S. presidential politics. Ironically, that same year, he portrayed Teddy Roosevelt in the popular family film Night at the Museum, co-starring Ben Stiller. Williams also appeared in the family comedy RV with Cheryl Hines, Kristin Chenoweth and Jeff Daniels in 2006.
In 2006, Williams starred in The Night Listener, a thriller about a radio show host who realizes that a child with whom he has developed a friendship may or may not exist; that year, he starred in five movies, including Man of the Year, was the Surprise Guest at the Nickelodeon Kids' Choice Awards and appeared on an episode of Extreme Makeover: Home Edition that aired on January 30, 2006. At the time of his death in 2014, Williams had appeared in four movies not yet released: Night at the Museum: Secret of the Tomb, A Merry Friggin' Christmas, Boulevard and Absolutely Anything.
In 2011 Williams who had appeared in a 1988 Off-Broadway production of Samuel Beckett's Waiting for Godot made his Broadway acting debut in Bengal Tiger at the Baghdad Zoo, a surreal comic drama set during the Iraq War. In 2013 he returned to movies, portraying a priest in the star-studded farce The Big Wedding and U.S. President Dwight D. Eisenhower in Lee Daniels' The Butler. The TV series The Crazy Ones, in which he played the head of an ad agency, premiered later that year; it was canceled in 2014. Williams then portrayed a man who attempts to reconcile with friends and family following a terminal diagnosis in the comedy The Angriest Man in Brooklyn (2014). Boulevard (2014), in which he played a closeted gay man who befriends a male prostitute, was released after his death.
Williams appeared opposite Steve Martin at Lincoln Center in an off-Broadway production of Waiting for Godot in 1988. He made his Broadway acting debut in Rajiv Joseph's Bengal Tiger at the Baghdad Zoo, which opened at the Richard Rodgers Theatre on March 31, 2011. He headlined his own one-man show, Robin Williams: Live on Broadway, that played at the Broadway theatre in July 2002. He hosted a talk show for Audible. The program premiered in April 2000 and was available exclusively from Audible's website.
In the summer of 2006, Williams suffered a drug relapse. He admitted himself to a rehabilitation facility for alcoholism treatment that August. The actor quickly rebounded and, in 2007, he starred as a reverend in the comedy License to Wed with Mandy Moore and John Krasinski. In September 2008, Robin Williams started touring for his one-man stand-up comedy show, Weapons of Self Destruction, focusing on "social and political absurdities."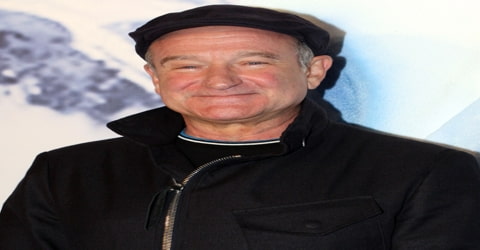 Williams had supporting roles in two 2013 projects: the romantic comedy The Big Wedding with Robert De Niro and Diane Keaton, and the Lee Daniels' drama The Butler, where Williams portrayed Dwight D. Eisenhower. That year, Williams also announced his return to series TV. He co-starred with Sarah Michelle Gellar on the sitcom The Crazy Ones, which debuted in the fall. Set in an advertising firm, the show featured Williams and Gellar as father and daughter. The show was canceled after only one season. Then in 2014, Williams starred as disgruntled Henry Altmann in the film Angriest Man in Brooklyn.
Over the past few years, his depression had been worsening and he was also having problems with alcoholism. Williams died suddenly in 2014; some of his movies like 'Merry Friggin' Christmas' and 'Night at the Museum: Secret of the Tomb' are scheduled for posthumous release.
Awards and Honor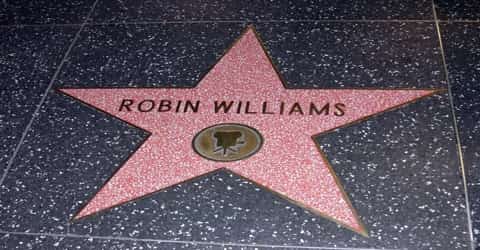 (Star on the Hollywood Walk of Fame)
Robin Williams was nominated for the Academy Award for the Best Actor thrice.
In 1997 Williams won the Academy Award for the Best Supporting Actor for his role as Dr. Sean Maguire in the film 'Good Will Hunting'.
On television, during the 66th Primetime Emmy Awards on August 25, 2014, Billy Crystal presented a tribute to Robin Williams, referring to him as "the brightest star in our comedy galaxy". On September 9, 2014, PBS aired a one-hour special devoted to his career, and on September 27, 2014, dozens of leading stars and celebrities held a tribute in San Francisco to celebrate his life and career.
Death and Legacy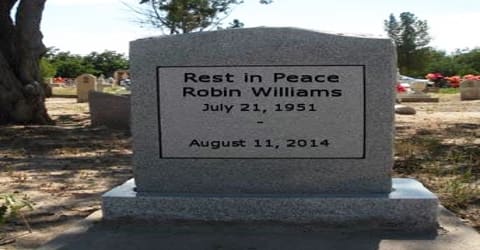 Robin Williams had always had problems with alcoholism and drug abuse. He also suffered from depression. On August 11, 2014, Williams committed suicide in his Paradise Cay, California home. His body was cremated at Montes Chapel of the Hills in San Anselmo and his ashes were scattered over San Francisco Bay the day after his death. His publicist released this statement: "Robin Williams passed away this morning. He has been battling severe depression of late. This is a tragic and sudden loss. The family respectfully asks for their privacy as they grieve during this very difficult time."
A press release issued by the Marin Country sheriff's office on August 12 stated, "The preliminary results of the forensic examination revealed supporting physical signs that Mr. Williams life ended from asphyxia due to hanging." Additionally, a pocket knife was found at the scene and several cuts were found on Williams' left wrist. Toxicology tests were administered as part of the autopsy. The final report was released in November 2014 and revealed no alcohol or illegal drugs had been found in his system. Prescription medications were found, but in "therapeutic concentrations." The coroner confirmed the results were in line with the preliminary findings.
Williams was best known for his role as a therapist in the 1997 drama film 'Good Will Hunting' which was both a critical and commercial success. He shared the screen with Matt Damon and Ben Affleck in this much-acclaimed movie.
Williams favorite books were the Foundation trilogy by Isaac Asimov, with his favorite book as a child being The Lion, The Witch, and The Wardrobe, which he later shared with his children. He also became a devoted cycling enthusiast, having taken up the sport partly as a substitute for drugs. Eventually, he accumulated a large bicycle collection of his own and became a fan of professional road cycling, often traveling to racing events, such as the Tour de France. In 2016, his children donated 87 of his bicycles in support of the Challenged Athletes Foundation and the Christopher & Dana Reeve Foundation.
Williams was active with a number of charities, including Comic Relief and the Christopher and Dana Reeve Foundation, an organization founded by the late Superman star that is dedicated to curing spinal cord injury. Through his work with the United Service Organizations, Inc. (USO), he was also a frequent performer for American troops stationed abroad.
The Lewy Body Dementia Association (LBDA) clarified the distinction between the term used in the autopsy report, diffuse Lewy body dementia which is more commonly called diffuse Lewy body disease and refers to the underlying disease process and the umbrella term, Lewy body dementia which encompasses both Parkinson's disease dementia (PD) and dementia with Lewy bodies (DLB). According to LBDA spokesperson Dennis Dickson, "The report confirms he experienced depression, anxiety, and paranoia, which may occur in either Parkinson's disease or dementia with Lewy bodies … In early PD, Lewy bodies are generally limited in distribution, but in DLB, the Lewy bodies are spread widely throughout the brain, as was the case with Robin Williams."
In November 2014, reports surfaced that prior to his death Williams was also suffering from Lewy body dementia, a type of progressive dementia often found in people diagnosed with Parkinson's disease. That same month, the dark comedy A Merry Friggin' Christmas was released, which starred Williams as part of an ensemble cast that included Joel McHale, Lauren Graham, and Candace Bergen, among others. In December of that year, Night at the Museum: Secret of the Tomb, the final film in the series, was released in which Williams reprised his role as Teddy Roosevelt.
In honor of his theater work, the lights of Broadway were darkened for the evening of August 14, 2014. That night, the cast of the Aladdin musical honored Williams by having the audience join them in a sing-along of "Friend Like Me", an Oscar-nominated song originally sung by Williams in the 1992 film Aladdin. Fans of Williams created makeshift memorials at his star on the Hollywood Walk of Fame and at locations from his television and film career, such as the bench in Boston's Public Garden featured in Good Will Hunting; the Pacific Heights, San Francisco, home used in Mrs. Doubtfire; the sign for Parrish Shoes in Keene, New Hampshire, where parts of Jumanji were filmed; and the Boulder, Colorado, home used for Mork & Mindy. Work on a book biography was begun by New York Times writer David Itzkoff in 2014 and was published in 2018, entitled simply Robin. In addition, a tunnel on Highway 101 north of the Golden Gate Bridge was officially named the "Robin Williams Tunnel" on February 29, 2016.
In July 2015, Williams' final film, Boulevard, hit theaters. He plays Nolan Mack, a husband in a long time, loving yet passionless marriage (opposite Kathy Baker). His character has hidden his homosexuality but this change with an encounter with a young male prostitute. The film showcases Williams' talent in a role filled with grace and dignity, where quiet moments speak volumes.
Williams credited comedians including Jonathan Winters, Peter Sellers, Nichols and May, and Lenny Bruce as influences, admiring their ability to attract a more intellectual audience with a higher level of wit. He also liked Jay Leno for his quickness in ad-libbing comedy routines and Sid Caesar, whose acts he felt were "precious".
Years after his death, Williams's show business career and final days remained a captivating subject for fans. Dave Itzkoff's Robin became a bestseller following its May 2018 publication, and two months later, HBO offered a character study of the comedian via footage of stand-up clips and interviews with family and friends in Robin Williams: Come Inside My Mind.
Information Source: