Roger Federer – Professional Tennis Player
Full name: Roger Federar
Date of birth: 8 August 1981 (age 35)
Place of birth: Basel, Switzerland
Height: 1.85 m (6 ft 1 in)
Turned pro: 1998
Plays: Right-handed (one-handed backhand)
Father: Robert Federer
Mother: Lynette Federer
Spouse: Mirka Federer (m. 2009)
Children: Lenny Federer, Myla Rose Federer, Charlene Riva Federer, Leo Federer
Early Life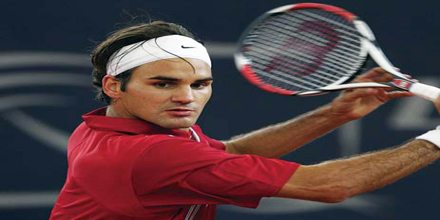 Roger Federer was born on August 8, 1981, in Basel, Switzerland. He is a Swiss tennis player, who dominated the sport in the early 21st century with his exceptional all-around game. His total of 17 career men's singles Grand Slam championships is the most in tennis history.
Deemed by tennis pundits as the greatest player of all time, Federer is known for his prompt speed, fluid play and exceptional shot making. His power packed smashes, excellent footwork and efficient techniques not only made him win matches but create history. He holds a record of being the only player to hold the no. 1 position for 302 weeks overall, out of which 237-weeks were for a stretch from 2004 until 2008. He remained in the Top 2 for eight years on the run, from 2003 to 2010 and at Top 3 from 2003 until 2012. He has the distinction of being one amongst the seven tennis players in the world to have a career Grand Slam. Furthermore, he has bagged a total of 17 Grand Slam titles till date. This apart, he is the proud recipient of an Olympic gold medal and silver medal for doubles and singles respectively.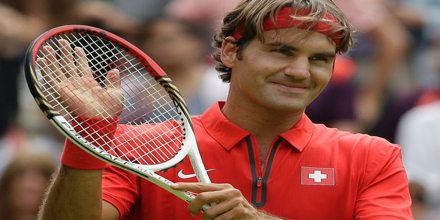 Earlier at the 2016 Australian Open, he played in a record 65th consecutive Grand Slam tournament. At the 2015 US Open, he reached a record 27th Grand Slam final. Earlier at the 2013 French Open, Federer reached a record 36th consecutive Grand Slam quarterfinal. Federer has won the most matches in Grand Slam events (312) and is the first to record 65+ wins at each Grand Slam tournament.
This professional tennis player is popularly referred to as Fed Express or FedEx. People even call him Swiss Maestro or simply Maestro for his exceptional skills at the game.
Childhood and Personal Life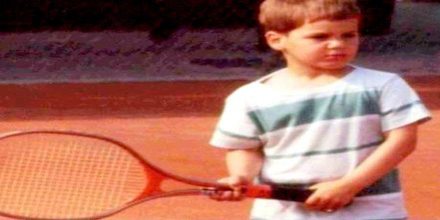 Tennis star Roger Federer was born on August 8, 1981, in Basel, Switzerland, to Swiss father Robert Federer and South African mother Lynette Du Rand. Federer's parents met while on a business trip for a pharmaceutical company, where they both worked.
Federer has one sibling, his older sister Diana, who is the mother of a set of twins. He holds both Swiss and South African citizenship. He grew up in nearby Birsfelden, Riehen, and then Münchenstein, close to the French and German borders and speaks Swiss German, Standard German, English and French fluently, Swiss German being his native language.
Raised as a Roman Catholic, he took to playing tennis and soccer at an early age. Though everyone in his family enjoyed the game, it was young Federer who showed promise of making it big. By the time he turned 11, he became one of the Top 3 Junior Tennis Players in Switzerland.
He concentrated his energies on tennis alone, leaving behind all other sports. At the age of 14, he started playing tournaments, practicing and conditioning himself to become a professional. Thereafter, he clinched the National Junior Championship in Switzerland.
His prodigious talent and playing skills earned him a sponsorship at the Swiss National Tennis Center in Ecublens. No sooner than in 1996, he was a part of the International Tennis Federation junior tennis circuit.
In 1998, before launching himself professionally, he left his mark as an amateur by winning the junior Wimbledon title and the Orange Bowl, thus becoming recognized as the ITF World Junior Tennis Champion of the Year.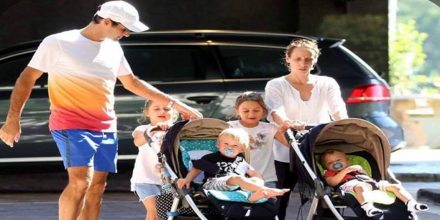 He tied the nuptial knot with tennis player, Mirka Vavrinec, a former member of the Women's Tennis Association on April 11, 2009. The two had first met during the Sydney Olympics in 2000. Vavrinec retired from the tour in 2002 because of a foot injury. In July 2009, Mirka gave birth to identical twin girls, Myla Rose and Charlene Riva. The Federers had another set of twins in 2014, this time boys whom they named Leo and Lennart, called Lenny.
In 2003, Federer established the Roger Federer Foundation, which helps provide grants to poor countries that have child mortality rates of more than 15 percent, for education- and sports-related projects, among others.
Playing (Tennis) Career
Turning professional, his first match was against Lucas Arnold Ker in Gstaad, Switzerland which he lost. Though he had already established himself in amateur tennis, replicating the success professionally required time and experience.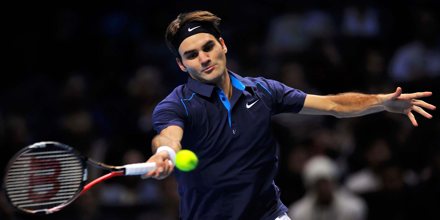 Federer won the Wimbledon boys' singles and doubles titles in 1998, and turned professional later that year. At Wimbledon in 2001, he caused a sensation by knocking out reigning singles champion Pete Sampras in the fourth round. In 2003, following a successful season on grass, Federer became the first Swiss man to win a Grand Slam title when he emerged victorious at Wimbledon.
At the beginning of 2004, Federer had a world ranking of No. 2, and that same year, he won the Australian Open, the U.S. Open, the ATP Masters and retained the Wimbledon singles title. He was ranked No. 1 at the start of 2005, and his successes that year included the Wimbledon singles title (for a third successive year) and the U.S. Open.
Year 2005 started on a bad note as he lost two Grand Slam titles. However, he soon recuperated, winning the Wimbledon and the US Open. Furthermore, his winning streak at the four ATP Masters Series 1000 and two ATP 500 series continued, which helped him retain his no.1 position.
In 2006, his proficiency at the game rose above the expertise of his competitors, as he went onto win three Grand Slam singles titles. What's more, he won four of the ATP Masters Series 1000 finals and one out of the two ATP 500 series. He made a hat-trick by making it to the World no. 1 position for a third time in a row.
2007 was a replica of 2006 as far as his performance in the Grand Slam were concerned, as he yet again made it to the finals of all four, winning three at the end. As far as ATP Masters Series 1000 is concerned, he won five while in the ATP 500 series he won one. He secured the no. 1 status for a fourth time, thus virtually dominating the game.
In 2008, Federer beat Scottish player Andy Murray at the U.S. Open—his fifth U.S. Open win. However, that year proved to be a difficult time in Federer's career: He lost to rival Rafael Nadal at both the French Open and Wimbledon, and lost to another young star, Novak Djokovic, at the 2008 Australian Open. His ranking also slid to No. 2 for the first time in four years.
The 2009 season was a memorable one for the Swiss star. He beat Robin Soderling to win the French Open and complete the career Grand Slam, and defeated Andy Roddick in an epic Wimbledon final to surpass Sampras for a record 15th Grand Slam singles title. Federer also reached the finals of the two other major tournaments, falling in five sets to Nadal at the Australian Open and to Juan Martin del Potro at the U.S. Open. His brilliant all-around play enabled him to regain the world's No. 1 ranking.
The downfall in his career graph continued as he failed to bag a single title at the four Grand Slams for the year 2011, his first time since 2002. His world ranking slowly glided further as he was dropped out of the top 3. What seemed to be a title-less year however ended on a high note as he eradicated the drought caused by winning the Swiss Indoors his fifth time and his debut Paris Masters title!
During the 2011 ATP tour, he revived his sinking career by defeating David Ferrer to reach the final at the year-end championships for the seventh time, which was his 100th final. It was his performance at the ATP Tour that helped him regain the no.3 ranking.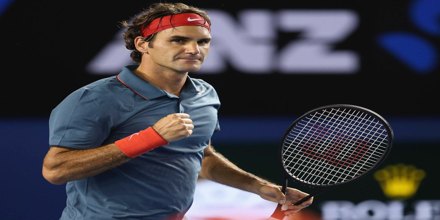 Federer's career escalated once again in 2012, when he defeated Andy Murray for a record-tying seventh Wimbledon singles title. The victory helped the 30-year-old tennis star return to the No. 1 spot, and by the end of the year he had established a record with a total of 302 weeks atop the world rankings.
In 2013, Federer made a surprise departure from Wimbledon. He was knocked out of the singles competition in the second round by Sergiy Stakhovsky, who was ranked 116th at the time. At the U.S. Open, Federer again struggled on the court. He was beaten by Spain's Tommy Robredo in the fourth round, losing in three straight sets. According to the U.S. Open website, Federer admitted that he "struggled throughout, which is not very satisfying." His confidence seemingly shaken by the loss, he lamented how he "missed so many opportunities" and that his "rhythm was off" during the match.
Federer battled Djokovic in the 2014 men's singles final at Wimbledon, but was denied a record eighth championship on the famed grass courts in a five-set loss. He then lost in the semifinals of the U.S. Open to hard-hitting Croatian Marin Cilic, who went on to win the tournament.
Federer's 2015 season began on a disappointing note with a loss to Italy's Andreas Seppi in the third round of the Australian Open. He proved he could still compete with the sport's elite players by defeating Djokovic to win the Dubai Championships in February, but his quest for a second French Open crown was thwarted with a quarterfinal loss to countryman Stan Wawrinka.
Federer charged through the draw at Wimbledon a month later, but he was defeated in the final by Djokovic, delaying his quest for a record eighth title for at least another year. His fate was the same at the U.S. Open: Despite an impressive showing that suggested career Grand Slam title No. 18 was on the way, Federer simply could not get past the top-ranked Djokovic in a hard-fought final.
In July 2016, Federer didn't make it to the Wimbeldon finals either. He was defeated in five sets by Milos Raonic in a historic victory for Raonic, who became the first Canadian man to reach a grand slam final. Earlier that year Federer lost the Australian Open to Novak Djokovic, and after their match Federer was sidelined with a knee injury. Later in the season, Federer suffered back problems, and he was forced to withdraw from the French Open to avoid further injury.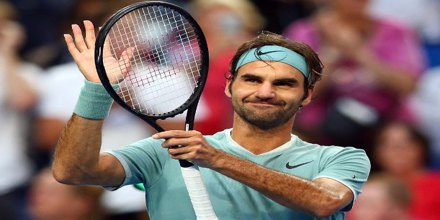 Federer played in the Hopman Cup and Australian Open in January 2017. At the Australian Open, he beat top-10 players Tomáš Berdych and Kei Nishikori to reach the quarterfinals, where he beat Mischa Zverev, making Federer the oldest man to compete in a grand slam semi-final since Jimmy Connors in 1991.
An elite athlete, Federer is an all-court, all-around player known for his speed, fluid style of play, and exceptional shot making. Federer mainly plays from the baseline but is also comfortable at the net, being one of the best volleyers in the game today. He has a powerful, accurate smash and very effectively performs rare elements in today's tennis, such as backhand smash and skyhook, half-volley and jump smash (slam dunk). David Foster Wallace compared the brute force of Federer's forehand motion with that of "a great liquid whip", while John McEnroe has referred to Federer's forehand as "the greatest shot in our sport." Federer is also known for his efficient movement around the court and excellent footwork, which enables him to run around shots directed to his backhand and instead hit a powerful inside-out or inside-in forehand, one of his best shots.
His first serve is typically around 200 km/h (125 mph); however, he is capable of serving at 220 km/h (137 mph). Federer is also accomplished at serve and volleying, and employed this tactic frequently in his early career.
Awards & Achievements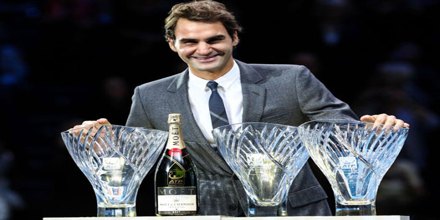 From 2003 until 2012, he was felicitated by the Fans' Favorite Award from the ATPWorldTour.com.
His colleagues, rivals and competitors have voted him for the Stefan Edberg Sportsmanship Award for a record eight times, from 2004 until 2009, in 2011 and 2012.
He is the proud recipient of the Laureus World Sportsman of the Year award for a record four times, from 2005 to 2008.
In 2006, he was conferred with the Arthur Ashe Humanitarian of the Year Award.