Ronald Reagan – 40th President of the United States
Full name: Ronald Wilson Reagan
Date of birth: February 6, 1911
Place of birth: Tampico, Illinois, U.S.
Date of death: June 5, 2004 (aged 93)
Place of death: Bel Air, California, U.S.
Cause of death: Pneumonia complicated by Alzheimer's disease
Profession: Actor politician sports commentator
Political party: Republican (1962–death)
Other political affiliations: Democratic (before 1962)
Father: Jack Reagan
Mother: Nelle Wilson Reagan
Spouse(s): Jane Wyman (m. 1940–49), Nancy Davis (m. 1952)
Children: Ron Reagan, Patti Davis, Michael Reagan, Maureen Reagan, Christine Reagan
Early Life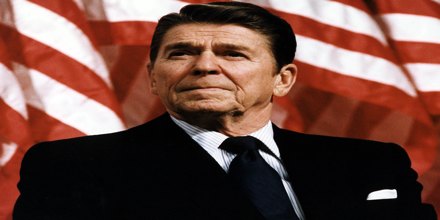 Ronald Reagan, in full Ronald Wilson Reagan was born on February 6, 1911, Tampico, Illinois, U.S. He was the 40th president of the United States (1981–89), noted for his conservative Republicanism, his fervent anticommunism, and his appealing personal style, characterized by a jaunty affability and folksy charm. The only movie actor ever to become president, he had a remarkable skill as an orator that earned him the title "the Great Communicator." His policies have been credited with contributing to the demise of Soviet communism. Building a network of supporters, he was elected Governor of California in 1966. As governor, Reagan raised taxes, turned a state budget deficit to a surplus, challenged the protesters at the University of California, ordered National Guard troops in during a period of protest movements in 1969, and was re-elected in 1970. He twice ran unsuccessfully for the Republican nomination for the U.S. presidency in 1968 and 1976; four years later, he easily won the nomination outright, becoming the oldest elected U.S. president up to that time, defeating incumbent Jimmy Carter in 1980.
Entering the presidency in 1981, Reagan implemented sweeping new political and economic initiatives. His supply-side economic policies, dubbed "Reaganomics", advocated tax rate reduction to spur economic growth, control of the money supply to curb inflation, economic deregulation, and reduction in government spending. In his first term he survived an assassination attempt, spurred the War on Drugs, and fought public sector labor. Over his two terms, the economy saw a reduction of inflation from 12.5% to 4.4%, and an average annual growth of real GDP of 3.4; while Reagan did enact cuts in domestic discretionary spending, tax cuts and increased military spending contributed to increased federal outlays overall, even after adjustment for inflation.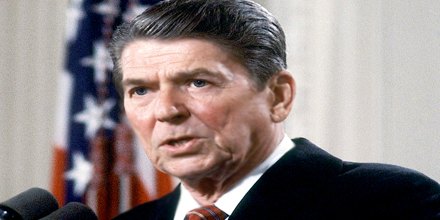 He was the first president since Dwight D. Eisenhower to serve two full terms, after a succession of five prior presidents failed to do so. While having planned an active post-presidency, in 1994 Reagan disclosed his diagnosis with Alzheimer's disease earlier that year, appearing publicly for the last time at the funeral of Richard Nixon; he died ten years later in 2004 at the age of 93. An icon among Republicans, he is viewed favorably in historian rankings of U.S. presidents, and his tenure constituted a realignment toward conservative policies in the U.S.
Childhood and Educational Life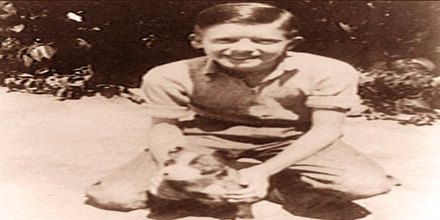 Ronald Wilson Reagan was born on February 6, 1911, in Tampico, Illinois, to John Edward "Jack" Reagan and Nellie Wilson Reagan. His father nicknamed him "Dutch," saying he resembled "a fat little Dutchman." During Reagan's early childhood, his family lived in a series of towns, finally settling in Dixon, Illinois, in 1920, where Jack opened a shoe store. In 1928, Reagan graduated from Dixon High School, where he was an athlete and student body president and performed in school plays. During summer vacations, he worked as a lifeguard in Dixon.
Enrolling at Eureka College in Illinois on an athletic scholarship, Reagan majored in economics and sociology. There, he played football, ran track, captained the swim team, served as student council president and acted in school productions. After graduating in 1932, he found work as a radio sports announcer in Iowa.
Entertainment and Personal Life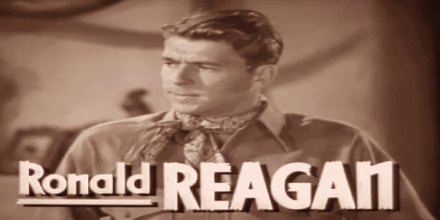 (The Bad Man (1941))
In 1937, Reagan signed a seven-year contract with the movie studio Warner Bros. Over the next three decades, he appeared in more than 50 films. Among his best-known roles was that of Notre Dame football star George Gipp in the 1940 biopic Knute Rockne, All American. Another notable role was in the 1942 film Kings Row, in which Reagan portrays an accident victim who wakes up to discover his legs have been amputated.
In 1940, Reagan married actress Jane Wyman, with whom he had daughter Maureen and adopted a son, Michael. The couple divorced in 1948. During World War II, Reagan was disqualified from combat duty due to poor eyesight and spent his time in the Army making training films. He left the military ranked as a captain.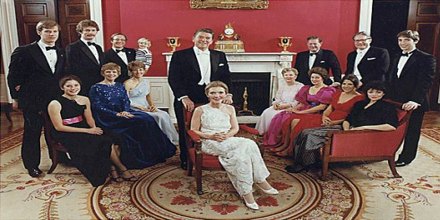 (Ronald Reagan with his family)
From 1947 to 1952, Reagan served as president of the Screen Actors Guild. During this time, he met actress Nancy Davis, who had sought his help after she was mistakenly listed as a possible communist sympathizer on the Hollywood blacklist. Both were immediately attracted to each other, but Reagan was skeptical of marrying again due to his painful divorce from Wyman. Over time he recognized Nancy as his kindred spirit, and they wed in 1952. The pair had two children, Patricia Ann and Ronald.
As Reagan's film career began to plateau, he landed a job as host of the weekly television drama series The General Electric Theater in 1954. Part of his responsibility as host was to tour the United States as a public relations representative for GE. It was during this time that his political views shifted from liberal to conservative; he led pro-business discussions, speaking out against excessive government regulation and wasteful spending—central themes of his future political career.
Political Career
Reagan stepped into the national political spotlight in 1964, when he gave a well-received televised speech for Republican presidential candidate Barry Goldwater, a prominent conservative. Two years later, in his first race for public office, Reagan defeated Democratic incumbent Edmund "Pat" Brown Sr. by almost one million votes, winning the California governorship. He was reelected to a second term in 1970.
After making unsuccessful bids for the Republican presidential nomination in 1968 and 1976, Reagan finally received his party's nod in 1980. In that year's general election, he defeated Democrat incumbent President Jimmy Carter, winning the electoral college (489 to 49) and capturing almost 51 percent of the popular vote. At age 69, Reagan was the oldest person elected to the U.S. presidency.
In his early political career, he joined numerous political committees with a left-wing orientation, such as the American Veterans Committee. He fought against Republican-sponsored right-to-work legislation and supported Helen Gahagan Douglas in 1950 when she was defeated for the Senate by Richard Nixon. It was his realization that Communists were a powerful backstage influence in those groups that led him to rally his friends against them.
Reagan spoke frequently at rallies with a strong ideological dimension; in December 1945, he was stopped from leading an anti-nuclear rally in Hollywood by pressure from the Warner Bros. studio. He would later make nuclear weapons a key point of his presidency, specifically his opposition to mutual assured destruction, and he built on previous efforts to limit the spread of nuclear weapons. In the 1948 presidential election, Reagan strongly supported Harry S. Truman, appearing on stage with him during a campaign speech in Los Angeles. However, in the early 1950s, as his relationship with actress Nancy Davis grew, he shifted to the right and endorsed the presidential candidacies of Dwight D. Eisenhower in 1952 and 1956 as well as Richard Nixon in 1960.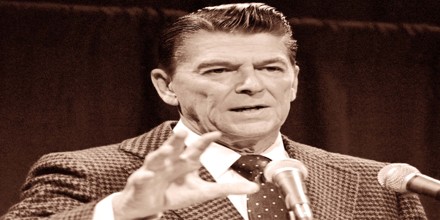 California Republicans were impressed with Reagan's political views and charisma after his "Time for Choosing" speech, and in late 1965 he announced his campaign for Governor of California in the 1966 election. He defeated former San Francisco mayor George Christopher in the GOP primary. In 1966, Reagan accomplished what both U.S. Senator William F. Knowland in 1958 and former Vice President Richard Nixon in 1962 had attempted to do: he was elected, defeating two-term governor Edmund G. "Pat" Brown, and was sworn in on January 2, 1967. In his first term, he froze government hiring and approved tax hikes to balance the budget.
In 1967, Reagan signed the Mulford Act, which repealed a law allowing public carrying of loaded firearms (becoming California Penal Code 12031 and 171(c)). The bill, which was named after Republican assemblyman Don Mulford, garnered national attention after the Black Panthers marched bearing arms upon the California State Capitol to protest it.
In 1969, Reagan, as governor, signed the Family Law Act, an amalgam of two bills which had been written and revised by the California State Legislature for over two years. It became the first no-fault divorce legislation in the United States.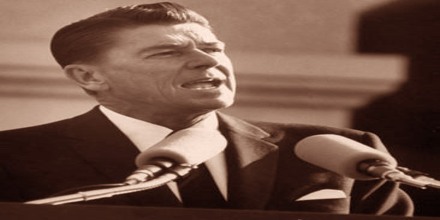 Reagan's terms as governor helped to shape the policies he would pursue in his later political career as president. By campaigning on a platform of sending "the welfare bums back to work," he spoke out against the idea of the welfare state. He also strongly advocated the Republican ideal of less government regulation of the economy, including that of undue federal taxation.
In 1976, Reagan challenged incumbent President Gerald Ford in a bid to become the Republican Party's candidate for president. Reagan soon established himself as the conservative candidate with the support of like-minded organizations such as the American Conservative Union, which became key components of his political base, while President Ford was considered a more moderate Republican.
In his inaugural speech on January 20, 1981, Reagan rhetorically announced that "government is not the solution to our problems; government is the problem." He called for an era of national renewal and hoped that America would again be "a beacon of hope for those who do not have freedom." He and Nancy Reagan also ushered in a new era of glamour to the White House, with designer fashions and a controversial redecoration of the executive mansion.
On March 30, 1981, as President Reagan was exiting the Washington Hilton Hotel with several of his advisers, shots rang out and quick-thinking Secret Service agents thrust the president into his limousine. Once in the car, aides discovered that he had been hit. His would-be assassin, John Hinckley Jr., also shot three other people, none of them fatally. At the hospital, doctors determined that the gunman's bullet had pierced one of the president's lungs and narrowly missed his heart. Reagan, known for his good-natured humor, later told his wife, "Honey, I forgot to duck." Within several weeks of the shooting, President Reagan was back at work.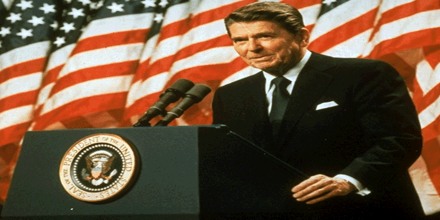 In 1981, Reagan once gain made history by appointing Judge Sandra Day O'Connor as the first woman to the U.S. Supreme Court.
The most pressing foreign policy issue of Reagan's first term was the Cold War. Dubbing the Soviet Union "the evil empire," Reagan embarked on a massive buildup of U.S. weapons and troops. He implemented the Reagan Doctrine, which provided aid to anti-communist movements in Africa, Asia and Latin America. In 1983, he announced the Strategic Defense Initiative, a plan aiming to develop space-based weapons to protect America from attacks by Soviet nuclear missiles.
In the Middle East, Reagan sent 800 U.S. Marines to Lebanon as part of an international peacekeeping force, in June 1982. Nearly one year later, in October 1983, suicide bombers attacked the Marine barracks in Beirut, killing 241 Americans. That same month, Reagan ordered U.S. forces to invade the Caribbean island of Granada after Marxist rebels overthrew the government. In addition to the problems in Lebanon and Grenada, the Reagan administration had to deal with an ongoing contentious relationship with Libyan leader Muammar al-Gaddafi.
In November 1984, Ronald Reagan was reelected in a landslide, defeating Democratic challenger Walter Mondale. Reagan carried 49 of the 50 U.S. states in the election, and received 525 of 538 electoral votes—the largest number ever won by an American presidential candidate. Yet his second term was tarnished by the Iran-Contra affair, a convoluted "arms-for-hostages" deal with Iran to funnel money toward anti-communist insurgencies in Central America. Though he initially denied knowing about it, Reagan later announced that it was a mistake partially at the behest of the first lady.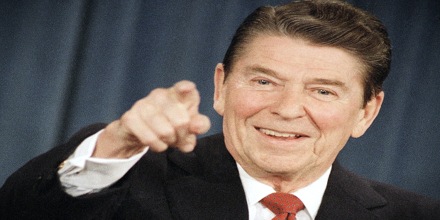 During his second term, Reagan also forged a diplomatic relationship with the reform-minded Mikhail Gorbachev, chairman of the Soviet Union. In 1987, the Americans and Soviets signed a historic agreement to eliminate intermediate-range nuclear missiles. That same year, Reagan spoke at Germany's Berlin Wall, a symbol of communism, and famously challenged Gorbachev to tear it down. More than two years later, Gorbachev allowed the people of Berlin to dismantle the wall, ending Soviet domination of East Germany. After leaving the White House, Reagan returned to Germany in September 1990—just weeks before the country was officially reunified—and, with a hammer, took several symbolic swings at a remaining chunk of the wall.
Death and Legacy
After leaving the White House in January 1989, Reagan and wife Nancy returned to their home in Los Angeles, California. In 1991, the Ronald W. Reagan Presidential Library and Center for Public Affairs opened in Simi Valley, California.
In November 1994, Reagan revealed in a handwritten letter to the American people that he had recently been diagnosed with Alzheimer's disease. Nearly a decade later, on June 5, 2004, he died at his Los Angeles home at age 93, making him the nation's longest-lived president at that time. (In 2006, Gerald Ford surpassed him for this title.) A state funeral was held in Washington, D.C., and Reagan was later buried on the grounds of his presidential library in California. His wife Nancy Reagan died of heart failure in 2016 at the age of 94 and was also interred at The Ronald Reagan Presidential Library and Center for Public Affairs.
Awards and Honours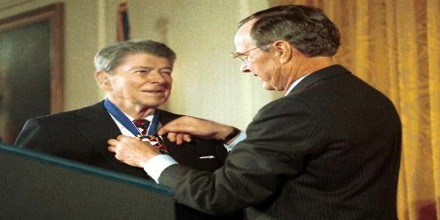 (Former President Ronald Reagan returns to the White House to receive the Presidential Medal of Freedom from President George H. W. Bush in 1993)
Reagan received a number of awards in his pre- and post-presidential years. After his election as president, Reagan received a lifetime gold membership in the Screen Actors Guild, was inducted into the National Speakers Association Speaker Hall of Fame, and received the United States Military Academy's Sylvanus Thayer Award.
In 1981, Reagan was inducted as a Laureate of The Lincoln Academy of Illinois and awarded the Order of Lincoln (the state's highest honor) by the Governor of Illinois in the area of Government.
In 1983, he received the highest distinction of the Scout Association of Japan, the Golden Pheasant Award.
In 1989, Reagan was made an Honorary Knight Grand Cross of the Order of the Bath, one of the highest British orders (this entitled him to the use of the post-nominal letters "GCB" but, as a foreign national, not to be known as "Sir Ronald Reagan"); only two U.S. presidents have received this honor, Reagan and George H. W. Bush. Reagan was also named an honorary Fellow of Keble College, Oxford. Japan awarded him the Grand Cordon of the Order of the Chrysanthemum in 1989; he was the second U.S. president to receive the order and the first to have it given to him for personal reasons (Dwight D. Eisenhower received it as a commemoration of U.S.-Japanese relations).
On January 18, 1993, Reagan received the Presidential Medal of Freedom (awarded with distinction), the highest honor that the United States can bestow, from President George H. W. Bush, his Vice President and successor. Reagan was also awarded the Republican Senatorial Medal of Freedom, the highest honor bestowed by Republican members of the Senate.
On Reagan's 87th birthday, in 1998, Washington National Airport was renamed Ronald Reagan Washington National Airport by a bill signed into law by President Bill Clinton. That year, the Ronald Reagan Building and International Trade Center was dedicated in Washington, D.C. He was among 18 included in Gallup's most admired man and woman poll of the 20th century, from a poll conducted in the U.S. in 1999; two years later, USS Ronald Reagan was christened by Nancy Reagan and the United States Navy. It is one of few Navy ships christened in honor of a living person and the first aircraft carrier to be named in honor of a living former president.
In 1998 the U.S. Navy Memorial Foundation awarded Reagan its Naval Heritage award for his support of the U.S. Navy and military in both his film career and while he served as president.
Congress authorized the creation of the Ronald Reagan Boyhood Home in Dixon, Illinois in 2002, pending federal purchase of the property. On May 16 of that year, Nancy Reagan accepted the Congressional Gold Medal, the highest civilian honor bestowed by Congress, on behalf of the president and herself.
After Reagan's death, the United States Postal Service issued a President Ronald Reagan commemorative postage stamp in 2005. Later in the year, CNN, along with the editors of Time magazine, named him the "most fascinating person" of the network's first 25 years; Time listed Reagan one of the 100 Most Important People of the 20th century as well. The Discovery Channel asked its viewers to vote for The Greatest American in June 2005; Reagan placed in first place, ahead of Lincoln and Martin Luther King Jr.
In 2006, Reagan was inducted into the California Hall of Fame, located at The California Museum. Every year from 2002, California governors Gray Davis and Arnold Schwarzenegger proclaimed February 6 "Ronald Reagan Day" in the state of California in honor of their most famous predecessor. In 2010, Schwarzenegger signed Senate Bill 944, authored by Senator George Runner, to make every February 6 Ronald Reagan Day in California.
In 2007, Polish President Lech Kaczyński posthumously conferred on Reagan the highest Polish distinction, the Order of the White Eagle, saying that Reagan had inspired the Polish people to work for change and helped to unseat the repressive communist regime; Kaczyński said it "would not have been possible if it was not for the tough-mindedness, determination, and feeling of mission of President Ronald Reagan." Reagan backed the nation of Poland throughout his presidency, supporting the anti-communist Solidarity movement, along with Pope John Paul II; the Ronald Reagan Park, a public facility in Gdańsk, was named in his honor.
On June 3, 2009, Nancy Reagan unveiled a statue of her late husband in the United States Capitol rotunda. The statue represents the state of California in the National Statuary Hall Collection. After Reagan's death, both major American political parties agreed to erect a statue of Reagan in the place of that of Thomas Starr King. The day before, President Obama signed the Ronald Reagan Centennial Commission Act into law, establishing a commission to plan activities to mark the upcoming centenary of Reagan's birth.
Independence Day 2011 saw the unveiling of another statue to Reagan—this time in the British capital of London, outside the U.S. embassy in Grosvenor Square.