Biography of Sally Ride
Sally Ride – American astronaut, physicist, and engineer.
Name: Sally Kristen Ride
Date of Birth: May 26, 1951
Place of Birth: Encino, Los Angeles, California, United States
Date of Death: July 23, 2012 (aged 61)
Place of Death: La Jolla, California, United States
Occupation: Physicist
Father: Dale Burdell Ride
Mother: Carol Joyce
Spouse/Ex: Steven Hawley (m. 1982–1987)
Early Life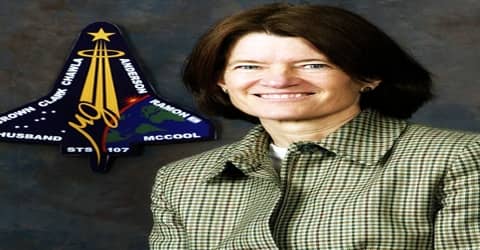 An American astronaut, the first American woman to travel into outer space, Sally Ride was born on May 26, 1951, in Encino California, the older of two daughters. Dr. Sally Ride studied at Stanford University before beating out 1,000 other applicants for a spot in NASA's astronaut program. After rigorous training, Ride joined the Challenger shuttle mission on June 18, 1983, and became the first American woman in space. Only two other women preceded her: Valentina Tereshkova (1963) and Svetlana Savitskaya (1982), both from the former Soviet Union.
Although Ride was interested in science from a very young age, tennis was actually her first love. She made a brave decision to quit her studies at 'Swarthmore College' to try a career in professional tennis. However, after being unable to make any major inroads in her tennis career, she returned to science with a renewed vigor. Ride spent the next few years accumulating degrees and knowledge, which would help her get selected for NASA's space program. She successfully completed an intense training and joined NASA for what would become a historic mission. In a span of four years, Ride was selected to travel in a space flight, which she embraced gladly. Her journey in the 'Challenger' shuttle served as an inspiration for millions of women worldwide. Ride moved on to have a stellar career, going to space once more in the process, and garnering a host of awards and honors. She was involved in a lot of charity work during her older years, most of which was dedicated to girls and young women. Looking back at her incredible career, it would indeed be fitting to state that sports' loss was science's gain.
Childhood, Family and Educational Life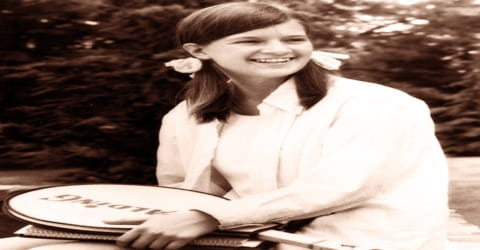 Sally Ride, in full Sally Kristen Ride, was born on May 26, 1951, in Los Angeles, California to Dale Burdell Ride, a political science professor, and Carol Joyce Ride, a counselor. She grew up in Encino, an affluent neighborhood in the San Fernando Valley. Ride's mother had worked as a volunteer counselor at a women's correctional facility. Her father had been a political science professor at Santa Monica College. From a very young age, Ride took an interest in both science and sports, which her parents encouraged.
Ride attended Portola Junior High (now Portola Middle School) and then Birmingham High School before graduating from the private Westlake School for Girls in Los Angeles on a scholarship. In addition to being interested in science, she was a nationally ranked tennis player. Ride attended Swarthmore College for three semesters, took physics courses at the University of California, Los Angeles, and then entered Stanford University as a junior, graduating with a bachelor's degree in English and physics. At Stanford, she earned a master's degree in 1975 and a Ph.D. in physics in 1978 while doing research on the interaction of X-rays with the interstellar medium. Astrophysics and free electron lasers were her specific areas of study.
Personal Life
Sally Ride was extremely private about her personal life. In 1982, she married fellow NASA astronaut Steve Hawley. They divorced in 1987.
In 2001, Sally Ride founded the company 'Sally Ride Science', which has given a lot of direct and indirect support to young girls and women who want to pursue science.
Career and Works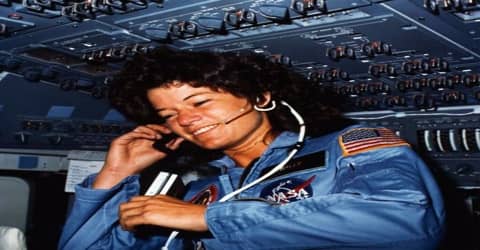 In 1978, as a doctoral candidate and teaching assistant in laser physics at Stanford, Sally Ride was selected by the National Aeronautics and Space Administration (NASA) as one of six women astronaut candidates. She received a Ph.D. in astrophysics and began her training and evaluation courses that same year. In August 1979 she completed her NASA training, obtained a pilot's license, and became eligible for assignment as a U.S. space shuttle mission specialist.
After completing her training, Ride worked as an 'on-orbit capsule communicator' for the second and third shuttle flights, 'STS-2' and 'STS-3' respectively. She was also a part of the team that fabricated the mechanical robot arm.
On June 18, 1983, Ride became the first American woman in space as a crew member on space shuttle Challenger for STS-7. The purpose of the mission was to deploy two communications satellites and the first Shuttle Pallet Satellite (SPAS-1), conduct experiments within the cargo bay, and test the TDRS satellite. SPAS-1 was successfully deployed, underwent experiments, then recollected and brought back to Earth. Part of Ride's job was to operate the robotic arm to deploy and retrieve SPAS-1.
As a mission specialist, Ride helped deploy satellites and worked other projects. She returned to Earth on June 24. The next year, Ride again served as a mission specialist on a space shuttle 'Challenger' flight in October. She was scheduled to take a third trip, but it was canceled after the tragic Challenger accident on January 28, 1986. After the accident, Ride served on the presidential commission that investigated the space shuttle explosion.
NASA appointed a 'Presidential Commission' to investigate the accident and Ride headed the Commission's Subcommittee on Operations. After the investigation, she was allocated the post of Special Assistant to the Administrator for long range & strategic planning at NASA headquarters in Washington D.C. In her new role, Ride headed the first strategic planning effort by NASA, prepared a report titled 'Leadership and America's Future in Space' and assumed the role of director of NASA's 'Office of Exploration', which she helped set up.
In 1987, Ride left her position in Washington, D.C., to work at the Stanford University Center for International Security and Arms Control. In 1989, she became a professor of physics at the University of California, San Diego, and director of the California Space Institute. From the mid-1990s until her death, Ride led two public-outreach programs for NASA the ISS EarthKAM and GRAIL MoonKAM projects, in cooperation with NASA's Jet Propulsion Laboratory and UCSD. The programs allowed middle school students to request images of the Earth and moon.
In 1996, Ride headed ISS EarthKAM, a public-outreach program by NASA which would enable students to access photographs of earth captured from the 'Space Shuttle' and the 'International Space Station'. The program has been a great success.
In 1999-2000 Ride held executive positions with Space.com, a Web site presenting space, astronomy, and technology content. From the 1990s Ride initiated or headed a number of programs and organizations devoted to fostering science in education, particularly to providing support for schoolgirls interested in science, mathematics, or technology. She also wrote or collaborated on several children's books about space exploration and her personal experiences as an astronaut.
In 2001, Ride started her own company to create educational programs and products known as Sally Ride Science to help inspire girls and young women to pursue their interests in science and math. Ride served as president and CEO.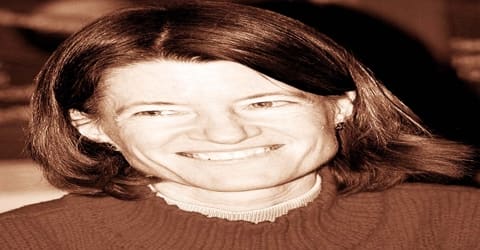 Because of her historical experiences in space aeronautics, Sally Ride continued to work for NASA and was part of the Rogers Commission a team set up by then-president Ronald Reagan that investigated the Challenger disaster. She was part of the accident investigation board that worked on the Columbia shuttle tragedy in 2003 which had disintegrated upon re-entering Earth's atmosphere, killing all seven crew members. Her knowledge also led her to become part of the committee that defined NASA's spaceflight goals in 2009.
Sally Ride co-wrote many books over the years. She published "To Space and Back" in 1986, "Voyager" in 1992, "The Mystery of Mars" in 1999, "Exploring Our Solar System" in 2003 and "The Third Planet" in 2004. She was recognized the time and again for her numerous contributions to space aeronautics and her unending passion for space and science. She became part of the Astronaut Hall of Fame in 2003.
Awards and Honor
Sally Ride received numerous awards throughout her lifetime and after. She received the National Space Society's von Braun Award, the Lindbergh Eagle, and the NCAA's Theodore Roosevelt Award. She was inducted into the National Women's Hall of Fame and was awarded the NASA Space Flight Medal twice.
In 1994, Ride received the Samuel S. Beard Award for Greatest Public Service by an Individual 35 Years or Under, an award is given out annually by Jefferson Awards.
Sally Ride was inducted into the 'Astronaut Hall of Fame' at the 'Kennedy Space Center in 2003.
In 2013 Sally Ride was posthumously awarded the Presidential Medal of Freedom. The medal is the highest civilian award in the US.
Death and Legacy
Sally Ride died on July 23, 2012, at the age of 61, in her home in La Jolla, California, seventeen months after being diagnosed with pancreatic cancer. Following cremation, her ashes were interred next to her father at Woodlawn Memorial Cemetery, Santa Monica.
In 1983, when the 'Challenger' space shuttle took off, Sally Ride became the first American woman to travel in space. This historic feat had far-reaching implications as she inspired many women to venture into a field which was previously open only to men. She went on another space mission in 1984 with a different set of objectives, this time with a bigger crew. During the flight, Ride used the robotic arm to remove ice from the shuttle's outer body and adjust an antenna.
Sally Ride endorsed Barack Obama for U.S. President in 2008. She was a member of the Review of United States Human Space Flight Plans Committee, an independent review requested by the Office of Science and Technology Policy (OSTP) on May 7, 2009. Two elementary schools in the United States are named after her: Sally Ride Elementary School in The Woodlands, Texas, and Sally Ride Elementary School in Germantown, Maryland.
In 1983, this American astronaut became the first American woman to travel into space in the 'Challenger' space shuttle and repeated the feat the very next year.
Information Source: