Biography of Salvador Dali
Salvador Dali – Spanish surrealist.
Name: Salvador Domingo Felipe Jacinto Dalí i Domènech
Date of Birth: 11 May 1904
Place of Birth: Figueres, Catalonia, Spain
Date of Death: 23 January 1989 (aged 84)
Place of Death: Figueres, Catalonia, Spain
Occupation: Artist
Father: Salvador Dalí I Cusí
Mother: Felipa Domenech Ferrés
Spouse/Ex: Gala Dalí (m. 1958–1982)
Early Life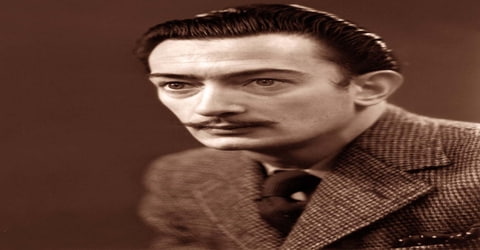 Salvador Dalí, Spanish Surrealist painter and printmaker, influential for his explorations of subconscious imagery, was born on 11 May 1904, at 8:45 am GMT, on the first floor of Carrer Monturiol, 20 (presently 6), in the town of Figueres, in the Empordà region, close to the French border in Catalonia, Spain. He was one of the best-known surrealist artists (artists who seek to express the contents of the unconscious mind). Blessed with an enormous talent for drawing, he painted his dreams and bizarre moods in a precise way.
From an early age, Dalí was encouraged to practice his art, and he would eventually go on to study at an academy in Madrid. In the 1920s, he went to Paris and began interacting with artists such as Picasso, Magritte, and Miró, which led to Dalí's first Surrealist phase. He is perhaps best known for his 1931 painting The Persistence of Memory, showing melting clocks in a landscape setting. The rise of fascist leader Francisco Franco in Spain led to the artist's expulsion from the Surrealist movement, but that didn't stop him from painting.
Dalí was a skilled draftsman, best known for the striking and bizarre images in his surrealist work. His painterly skills are often attributed to the influence of Renaissance masters. Dalí's expansive artistic repertoire included film, sculpture, and photography, at times in collaboration with a range of artists in a variety of media. Dalí attributed his "love of everything that is gilded and excessive, my passion for luxury and my love of oriental clothes" to an "Arab lineage", claiming that his ancestors were descendants of the Moors.
Dali was passionate about style, statement-making, and luxury. He was an excellent draftsman who produced skilled technical drawings. Dali gave many art lectures around Europe. But his fame was greatly popular in the USA. Dali's most famous paintings include "The Metamorphosis of Narcissus", "Landscape Near Figueras", "Dream Caused by the Flight of a Bee Around a Pomegranate a Second Before Awakening" and "The Great Masturbator" which are some of his greatest symbolic art representations. Besides painting, Dali indulged in writing and produced some great literary works like "The Secret Life of Salvador Dalí", "Diary of a Genius" and "Oui: The Paranoid-Critical Revolution". Dali created a great many lithographs, etchings, and graphic arts. Dali was a self-proclaimed genius who is referred for his paintings even in modern times.
Childhood, Family and Educational Life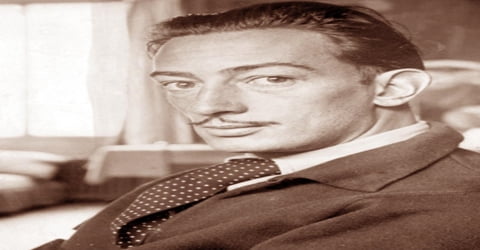 Salvador Dalí, in full Salvador Felipe Jacinto Dalí y Domenech, was born on 11 May 1904 in Figueres town which was located close to the French border in Catalonia, Spain. Salavador Dali was born to father Salvador Dalí i Cusí, a middle-class lawyer and notary and mother Felipa Domenech Ferrés who had encouraged Dali greatly in his artistic pursuits. At the age of 5, Dali was taken to his brother's grave and told by his parents that he was a reincarnated image of his brother's which Dali soon started believing.
Of his brother, Dalí said, "we resembled each other like two drops of water, but we had different reflections." He "was probably the first version of myself but conceived too much in the absolute." Images of his long-dead brother would reappear embedded in his later works, including Portrait of My Dead Brother (1963). Dalí also had a sister, Anna Maria, who was three years younger. In 1949, she published a book about her brother, Dalí as Seen by His Sister.
Dali went to a drawing school. In 1916 Dali made a summer trip to Cadaqués with the family of Ramon Pichot, a local artist who made regular trips to Paris and was greatly inspired by the modern painting. In 1917 Dali's father organized an exhibition that featured Dali's charcoal drawings and the show was held in their family home. It was not before 1919 that Dali held his very first public art exhibition at the Municipal Theater in Figueres. Dali was 16 years old when he lost his mother in February 1921 when she died after suffering from breast cancer. In his later years, Dali had expressed his grief saying his mother's death, "was the greatest blow I had experienced in my life. I worshipped her… I could not resign myself to the loss of a being on whom I counted to make invisible the unavoidable blemishes of my soul". With Dali's mother died his father married his deceased wife's sister. Dali was not against this marriage as he loved and respected his aunt very much.
While in school, Dalí began exploring many forms of art including classical painters like Raphael, Bronzino and Diego Velázquez (from whom he adopted his signature curled moustache). He also dabbled in avant-garde art movements such as Dada, a post-World War I anti-establishment movement. While Dalí's apolitical outlook on life prevented him from becoming a strict follower, the Dada philosophy influenced his work throughout his life.
In 1922, Dalí moved into the Residencia de Estudiantes (Students' Residence) in Madrid and studied at the Real Academia de Bellas Artes de San Fernando. A lean 1.72 meters (5 ft 7 3⁄4 in) tall, Dalí already drew attention as an eccentric and dandy. He had long hair and sideburns, coat, stockings, and knee-breeches in the style of English aesthetes of the late 19th century.
Personal Life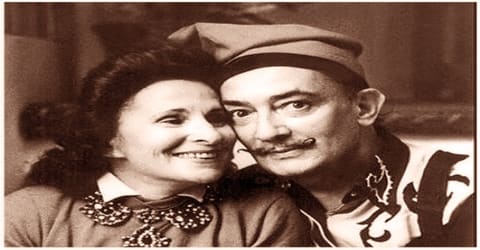 (Salvador Dali and his wife Gala Dali)
In August 1929, Dalí met Elena Dmitrievna Diakonova (sometimes written as Elena Ivanorna Diakonova), a Russian immigrant 10 years his senior. At the time, she was the wife of Surrealist writer Paul Éluard. A strong mental and physical attraction developed between Dalí and Diakonova, and she soon left Éluard for her new lover.
Also known as "Gala," Diakonova was Dalí's muse and inspiration, and would eventually become his wife. She helped balance or one might say counterbalance the creative forces in Dalí's life. With his wild expressions and fantasies, he wasn't capable of dealing with the business side of being an artist. Gala took care of his legal and financial matters and negotiated contracts with dealers and exhibition promoters. The two were married in a civil ceremony in 1934.
Gala died on 10 June 1982, at the age of 87. After Gala's death, Dalí lost much of his will to live. He deliberately dehydrated himself, possibly as a suicide attempt; there are also claims that he had tried to put himself into a state of suspended animation as he had read that some microorganisms could do. He moved from Figueres to the castle in Púbol, which was the site of her death and her grave.
Career and Works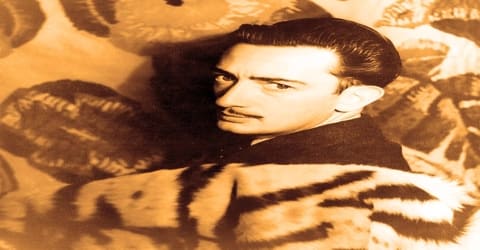 In 1922 Dali shifted into the Residencia de Estudiantes (Students' Residence) in Madrid to pursue his studies at the Academia de San Fernando (School of Fine Arts). Dali soon got much attention for his outrageously fashionable dressing sense and his eccentric behavior. In his college, He was known to wear long hair with sideburns, coat, stockings, and knee breeches in the English style of the late 19th century. While staying at the Students' residence Dali became friends with Pepín Bello, Luis Buñuel, and Federico García Lorca. Dali shared a closer friendship with Lorca who had made sexual advances on Dali which the latter soon rejected.
In 1923, Dalí was suspended from the academy for criticizing his teachers and allegedly starting a riot among students over the academy's choice of a professorship. That same year, he was arrested and briefly imprisoned in Gerona for allegedly supporting the Separatist movement, though Dalí was actually apolitical at the time (and remained so throughout most of his life). He returned to the academy in 1926 but was permanently expelled shortly before his final exams for declaring that no member of the faculty was competent enough to examine him.
Dalí, still unknown to the public, illustrated a book for the first time in 1924. It was a publication of the Catalan poem Les bruixes de Llers ("The Witches of Llers") by his friend and schoolmate, poet Carles Fages de Climent. Dalí also experimented with Dada, which influenced his work throughout his life. Dalí held his first solo exhibition at Galeries Dalmau in Barcelona, from 14 to 27 November 1925. At the time Dalí was not yet immersed in the Surrealist style for which he would later become famous. The exhibition was well received by the public and critics. The following year he exhibited again at Galeries Dalmau, from 31 December 1926 to 14 January 1927, with the support of the art critic Sebastià Gasch.
In 1926 Dali got expelled from his Art College for making a statement that there was no one so competent as to examine him and his work. In 1926 itself Dali produced his brilliant artwork, 'Basket of Bread' which upheld his highest mastery of painting. Again in 1926, Dali made another move by moving to Paris, where he met with Pablo Picasso (a pioneer of Cubism), whom the young Dalí revered. Many of Dali's work bore heavy influences from Picasso and Joan Miró. Picasso heard a lot about Dali and his artistry and with time Dali grew his own form of art.
Dali's own style eventually began to show itself: he would draw, in an extremely precise manner, the strange subjects of his dream world. Each object, while carefully drawn, existed in strange contrast to other objects and was contained in a space that often appeared to tilt sharply upward. He applied bright colors to small objects set off against large patches of dull color. His personal style showed a number of influences, the strongest among which was his contact with surrealism. The surrealists believed in artistic and political freedom to help free the imagination. Dali's first contact with the movement was through seeing paintings; he then met other surrealist artists when he visited Paris, France, in 1928. Dali created some of his finest paintings in 1929.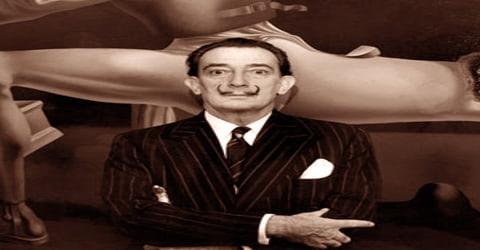 Dalí left the Academy in 1926, shortly before his final exams. His mastery of painting skills at that time was evidenced by his realistic The Basket of Bread, painted in 1926. That same year, he made his first visit to Paris, where he met Pablo Picasso, whom the young Dalí revered. Picasso had already heard favorable reports about Dalí from Joan Miró, a fellow Catalan who introduced him to many Surrealist friends. As he developed his own style over the next few years, Dalí made a number of works strongly influenced by Picasso and Miró. By this time, Dalí was working with styles of Impressionism, Futurism, and Cubism. Dalí's paintings became associated with three general themes: 1) man's universe and sensations, 2) sexual symbolism and 3) ideographic imagery.
In the early 1930s, many of the surrealists began to break away from the movement, feeling that direct political action had to come before any artistic revolutions. Dali put forth his "Paranoic-Critical method" as a way to avoid having to politically conquer the world. He felt that by using his own vision to color reality to his liking it would become unnecessary to actually change the world. The Paranoic-Critical method meant that Dali had trained himself to possess the power to look at one object and "see" another. This did not apply only to painting; it meant that Dali could take a myth that was interpreted a certain way and impose upon it his own personal ideas.
In 1929 Dali went into collaboration with surrealist film director Luis Buñuel to bring out the short film Un Chien Andalou (An Andalusian Dog). The film's script was greatly contributed by Dali who also claimed to have helped Buñuel with the filming of the project. In August 1929 Dali met his future wife, Elena Ivanovna Diakonova who was the artist's inspiration and was better known as Gala. In 1929 he got involved with his several significant exhibitions and he also became an official member of the Surrealist group in the Montparnasse quarter of Paris. Dali became famous with most Surrealists hailing him as a great artist for his tremendous efforts in the paranoiac-critical method of accessing the subconscious for greater artistic creativity.
In the late 1930s, Dalí switched to painting in a more-academic style under the influence of the Renaissance painter Raphael. His ambivalent political views during the rise of fascism alienated his Surrealist colleagues, and he was eventually expelled from the group. Thereafter, he spent much of his time designing theatre sets, interiors of fashionable shops, and jewelry as well as exhibiting his genius for flamboyant self-promotional stunts in the United States, where he lived from 1940 to 1955.
Some trends in Dalí's work that would continue throughout his life were already evident in the 1920s. He was influenced by many styles of art, ranging from the most academically classic, to the most cutting-edge avant-garde. His classical influences included Raphael, Bronzino, Francisco de Zurbarán, Vermeer and Velázquez. Dali used both classical and modernist techniques, sometimes in separate works, and sometimes combined. Exhibitions of his works in Barcelona attracted much attention and a mixture of praise and puzzled debate from critics. Dalí grew a flamboyant moustache, influenced by 17th-century Spanish master painter Diego Velázquez. This moustache became an iconic trademark of his appearance for the rest of his life.
Toward the end of the 1930s, Dali's exaggerated view of himself began to annoy others. André Breton (1896–1966), a French poet and critic who was a leading surrealist, angrily expelled Dali from the surrealist movement. Dali continued to be very successful in painting as well as in writing, stage design, and films, but his seriousness as an artist began to be questioned. He took a strong stand against abstract (unrealistic) art and began to paint Catholic subjects in the same tight style that had previously described his personal nightmares.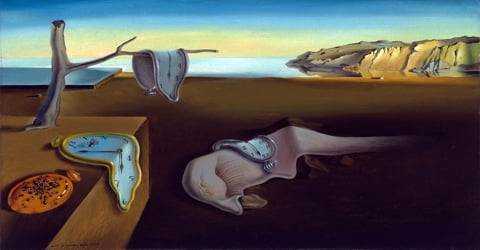 ("The Persistence of Memory" – 1931)
In 1931, Dalí painted one of his most famous works "The Persistence of Memory" which reflected the core of surrealism – soft, melting pocket watches for the first time. Dalio and Gala married in 1934 at a civil ceremony after living together for several years since 1929. In 1934 Dali got introduced to the USA by Julian Levy, an art dealer. His work "The Persistence of Memory" got instant fame and he became a popular figure and attended various balls and parties. Dali attended a masquerade party in New York, hosted for them by heiress Caresse Crosby in 1934. Later in 1934, Dalí was subjected to a "trial", in which he narrowly avoided being expelled from the Surrealist group. To this, Dalí retorted, "The difference between the surrealists and me is, I myself am surrealism" (la différence entre les surréalistes et moi, c'est que moi je suis surréaliste).
n 1936, Dalí took part in the London International Surrealist Exhibition. His lecture, titled Fantômes paranoiaques authentiques, was delivered while wearing a deep-sea diving suit and helmet. He had arrived carrying a billiard cue and leading a pair of Russian wolfhounds, and had to have the helmet unscrewed as he gasped for breath. He commented that "I just wanted to show that I was 'plunging deeply' into the human mind." In 1936, Dalí, aged 32, was featured on the cover of Time magazine.
Also in 1936, at the premiere screening of Joseph Cornell's film Rose Hobart at Julien Levy's gallery in New York City, Dalí became famous for another incident. Levy's program of short surrealist films was timed to take place at the same time as the first surrealism exhibition at the Museum of Modern Art, featuring Dalí's work. Dalí was in the audience at the screening, but halfway through the film, he knocked over the projector in a rage. "My idea for a film is exactly that, and I was going to propose it to someone who would pay to have it made", he said. "I never wrote it down or told anyone, but it is as if he had stolen it". Other versions of Dalí's accusation tend to the more poetic: "He stole it from my subconscious!" or even "He stole my dreams!"
During 1936 Dali was helped greatly by his London based patron, Edward James who was very rich and had purchased several works of Dali. In 1938 Dali met Sigmund Freud with the help of Stefan Zweig. In late September 1938, Salvador Dalí was invited by Gabrielle Coco Chanel to her house La Pausa in Roquebrune. He painted several paintings there which he later exhibited at Julien Levy Gallery in New York.
Despite his expulsion from the movement, Dalí continued to participate in several international Surrealist exhibitions into the 1940s. At the opening of the London Surrealist exhibition in 1936, he delivered a lecture titled "Fantomes paranoiaques athentiques" ("Authentic paranoid ghosts") while dressed in a wetsuit, carrying a billiard cue and walking a pair of Russian wolfhounds. He later said that his attire was a depiction of "plunging into the depths" of the human mind.
Also in 1938, Dalí unveiled Rainy Taxi, a three-dimensional artwork, consisting of an actual automobile with two mannequin occupants. The piece was first displayed at the Galerie Beaux-Arts in Paris at the Exposition Internationale du Surréalisme, organized by André Breton and Paul Éluard. The Exposition was designed by artist Marcel Duchamp, who also served as host. At the 1939 New York World's Fair, Dalí debuted his Dream of Venus surrealist pavilion, located in the Amusements Area of the exposition. It featured bizarre sculptures, statues, and live nude models in "costumes" made of fresh seafood, an event photographed by Horst P. Horst, George Platt Lynes and Murray Korman. Like most attractions in the Amusements Area, an admission fee was charged.
During World War II, Dalí and his wife moved to the United States. They remained there until 1948 when they moved back to his beloved Catalonia. These were important years for Dalí. The Metropolitan Museum of Modern Art in New York gave him his own retrospective exhibit in 1941. This was followed by the publication of his autobiography, The Secret Life of Salvador Dalí (1942). Also during this time, Dalí's focus moved away from Surrealism and into his classical period. His feud with members of the Surrealist movement continued, but Dalí seemed undaunted. His ever-expanding mind had ventured into new subjects.
In 1941, Dalí made a film draft for Jean Gabin named "Moontide". In 1942 Dalí published his autobiography, "The Secret Life of Salvador Dalí". He wrote several catalogs for his exhibitions one of which is the notable exhibition at Knoedler Gallery in New York in 1943. In 1944 Dali wrote a novel about a fashion salon for automobiles.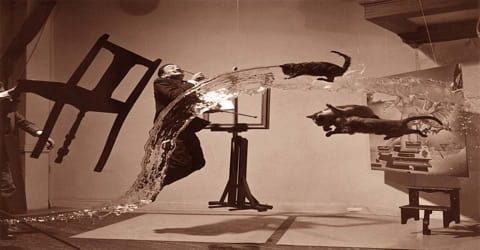 Dali Atomicus, photo by Philippe Halsman (1948)
In The Secret Life, Dalí suggested that he had split with Luis Buñuel because the latter was a Communist and an atheist. Buñuel was fired (or resigned) from his position at the Museum of Modern Art (MOMA), supposedly after Cardinal Spellman of New York went to see Iris Barry, head of the film department at MOMA. Buñuel then went back to Hollywood where he worked in the dubbing department of Warner Brothers from 1942 to 1946. In his 1982 autobiography Mon Dernier soupir (My Last Sigh, 1983), Buñuel wrote that, over the years, he had rejected Dalí's attempts at reconciliation.
Dali's post-war works were mostly on technical virtuosity, optical illusions, science, and religion. Dali's notable works during this period are, The Madonna of Port-Lligat" (first version) (1949) and "Corpus Hypercubus" (1954), "La Gare de Perpignan" (1965) and "The Hallucinogenic Toreador" (1968–70). In 1960, Dalí began working on the Dalí Theatre and Museum in his home town of Figueres which was possibly his largest single project and the main focus of his energy throughout 1974. He made additions throughout the mid-1980s.
In 1968 Dalí filmed a humorous television advertisement for Lanvin chocolates which he claimed in French "Je suis fou de Chocolat Lanvin!" (I'm crazy about Lanvin chocolate). In 1969 Dali designed the Chupa Chups logo. In 1969 itself he was contributed in creating the advertising aspect of the 1969 Eurovision Song Contest for which he made a large metal sculpture that stood on the stage at the Teatro Real in Madrid.
In 1974 Dali broke with English business manager Peter Moore and had the rights to his art sold out from under him by other business managers, leaving him with none of the profits. In 1980 a man named A. Reynolds Morse of Cleveland, Ohio set up an organization called Friends to Save Dali. Dali was said to have been cheated out of much of his wealth, and the goal of the foundation was to put him back on solid financial (relating to money) ground.
In the period from 1950 to 1970, Dalí painted many works with religious themes, though he continued to explore erotic subjects, to represent childhood memories, and to use themes centering on his wife, Gala. Notwithstanding their technical accomplishments, those later paintings are not as highly regarded as the artist's earlier works. The most interesting and revealing of Dalí's books is The Secret Life of Salvador Dalí (1942).
From the period between 1941 and 1970, Dalí created an ensemble of 39 jewels which were brilliantly intricate artworks. The most famous jewel "The Royal Heart" was made out of gold and encrusted with 46 rubies, 42 diamonds, and four emeralds which were made in such a manner as the center had the heartbeat like feature much like the real heart. Dali contributed greatly in creating the scenario for the theatre production of Federico García Lorca's 1927 romantic play Mariana Pineda.
From 1960 to 1974, Dalí dedicated much of his time to creating the Teatro-Museo Dalí (Dalí Theatre-Museum) in Figueres. The museum's building had formerly housed the Municipal Theatre of Figueres, where Dalí saw his public exhibition at the age of 14 (the original 19th-century structure had been destroyed near the end of the Spanish Civil War). Located across the street from the Teatro-Museo Dalí is the Church of Sant Pere, where Dalí was baptized and received his first communion (his funeral would later be held there as well), and just three blocks away is the house where he was born.
Dali had been interested in films since his childhood. He is credited for being the co-creator of Luis Buñuel's surrealist film Un Chien Andalou, a 17-minute French art film co-written with Luis Buñuel. Dali also worked with many other filmmakers which include Alfred Hitchcock for whom Dali created the dream sequence in the film "Spellbound". He also worked on the Disney short film production "Destino". In 1975 Dali completed working on the film, "Impressions of Upper Mongolia" where Dali narrated a story about an expedition in search of giant hallucinogenic mushrooms. The imagery of the film was based on microscopic uric acid stains on the brass band of a ballpoint pen on which Dalí had been urinating for several weeks.
In 1980 at age 76, Dalí's health took a catastrophic turn. His right hand trembled terribly, with Parkinson-like symptoms. His near-senile wife allegedly had been dosing him with a dangerous cocktail of unprescribed medicine that damaged his nervous system, thus causing an untimely end to his artistic capacity. In 1982, King Juan Carlos bestowed on Dalí the title of Marqués de Dalí de Púbol (Marquis of Dalí de Púbol) in the nobility of Spain, hereby referring to Púbol, the place where he lived. The title was in the first instance hereditary, but on request of Dalí changed to life only in 1983.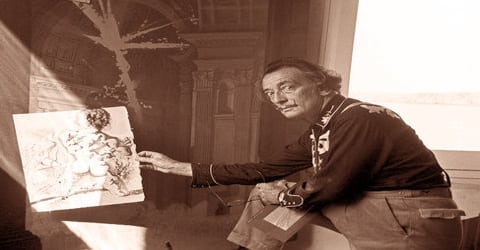 In May 1983, Dalí revealed what would be his last painting, The Swallow's Tail, a work heavily influenced by the mathematical catastrophe theory of René Thom.
In 1983 Dali exhibited many of his works at the Museum of Contemporary Art in Madrid. This show made him hugely famous in Spain and brought him further into favor with the Spanish royal family and major collectors around the world. After 1984 Dali was confined to a wheelchair after suffering injuries in a house fire. Friends, patrons and fellow artists rescued him from the castle and returned him to Figueres, making him comfortable at the Teatro-Museo.
Awards and Honor
The Salvador Dalí Desert in Bolivia and the Dali crater on the planet Mercury are named for him.
Death and Legacy
In November 1988, Dalí entered the hospital with heart failure; a pacemaker had been implanted previously. On 5 December 1988, he was visited by King Juan Carlos, who confessed that he had always been a serious devotee of Dalí. Dalí gave the king a drawing, Head of Europa, which would turn out to be Dalí's final drawing.
On January 23, 1989, in the city of his birth, Dalí died of heart failure at the age of 84. His funeral was held at the Teatro-Museo, where he was buried in a crypt. The location is across the street from the church of Sant Pere, where he had his baptism, first communion, and funeral, and is only 0.45 kilometers (1,500 ft) from the house where he was born. He was remembered as the subject of much controversy (dispute), although in his last years, the controversy had more to do with his associates and their dealings than with Dali himself.
On 26 June 2017, it was announced that a judge in Madrid had ordered the exhumation of Dali's body in order to obtain samples for a paternity suit. Maria Pilar Abel Martínez, who works as a psychic and tarot card reader from Figueres, Girona, born in 1956, had stated that her mother, a maid, had been having an affair with the painter in 1955. Ms. Abel claimed that her mother had told her that Dalí was her father. At the time of the alleged affair, Dalí was married to Gala. The exhumation took place on the evening of 20 July, and DNA was extracted. On Wednesday 6 September 2017 the Dali Foundation stated that the tests carried out proved conclusively that Dali and Martinez were not related. Joan Manuel Sevillano, manager of the Fundación Gala Salvador Dalí, denounced the exhumation as inappropriate.
That October, the artist was back in the news with the announcement of an exhibition at the Dalí museum in Saint Petersburg, Florida, to celebrate his friendship and collaboration with Italian fashion designer Elsa Schiaparelli. The two were known for the joint creation of a "lobster dress" worn by American socialite Wallis Simpson, who later married English King Edward VIII.
Salvador Dalí has been cited as a major inspiration by many modern artists, such as Damien Hirst, Jeff Koons, and most other modern surrealists. Salvador Dalí's manic expression and famous moustache have made him something of a cultural icon for the bizarre and surreal. He has been portrayed on film by Robert Pattinson in Little Ashes (2008), and by Adrien Brody in Midnight in Paris (2011). He was also parodied in a series of painting skits on Captain Kangaroo as "Salvador Silly" (played by Cosmo Allegretti) and in a Sesame Street muppet skit as "Salvador Dada" (an orange gold Anything Muppet performed by Jim Henson).
Information Source: