Thierry Henry – Football Player
Full name: Thierry Daniel Henry
Date of birth: 17 August 1977 (age 39)
Place of birth: Les Ulis, Essonne, France
Height: 1.88 m (6 ft 2 in)
Playing position: Striker
Spouse/Partner: Claire Merry (m. 2003–2007)
Children: Tea
Early Life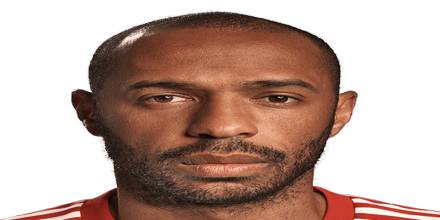 Thierry Henry, in full Thierry Daniel Henry was born on August 17, 1977, in Châtillon, France. He is a French football (soccer) player who scored more international goals than any other player in France's history and who is considered one of the most prolific goal scorers of his time.
He is a retired French footballer and a record scorer for his country. His football career started with Monaco youth ranks under manager Asene Wenger, from where he moved to Juventus where he majorly played as a left winger. Post 2000, Henry got converted into a striker and became one of the most feared players in Europe. He then moved to Arsenal and then to Barcelona where the team captured the Champions' League Trophy in 2008-2009. He moved to Major League Soccer after that and performed brilliantly there and also got loaned to Arsenal once or twice in between. His style of playing has been described as ostentatious, productive and complete and is the only player in the history of European football to have been named the Footballer of the Year for three years and has also been named the French Player of the Year on four different occasions. He is known as the ninth most commercially marketable footballer of the world because of his popularity amongst the audience.
Henry became a prolific striker and Arsenal's all-time leading scorer with 228 goals in all competitions. He won two league titles and three FA Cups at the club. In 2003 and 2004 Henry was runner-up for the FIFA World Player of the Year. He was named the PFA Players' Player of the Year twice, and the FWA Footballer of the Year three times. Henry spent his final two seasons with Arsenal as club captain, leading them to the 2006 UEFA Champions League Final.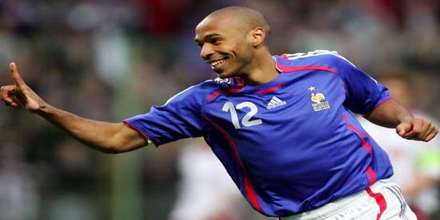 Henry enjoyed success with the French national team, winning the 1998 FIFA World Cup, UEFA Euro 2000 and 2003 FIFA Confederations Cup. In October 2007, he surpassed Michel Platini's record to become France's top goalscorer. After amassing 123 appearances and 51 goals, Henry retired from international football after the 2010 FIFA World Cup. Henry was also one of the top commercially marketed footballers; he was ranked ninth in the world in 2006. In August 2016 he was appointed as the second assistant manager of Belgium's national team, alongside head coach Roberto Martínez and fellow assistant Graeme Jones.
Henry is a member of the UNICEF-FIFA squad, where together with other professional footballers he appeared in a series of TV spots seen by hundreds of millions of fans around the world during the 2002 and 2006 FIFA World Cups. In these spots, the players promote football as a game that must be played on behalf of children.
Along with 45 other football players, Henry took part in FIFA's "Live for Love United" in 2002. The single was released in tandem with the 2002 FIFA World Cup and its proceeds went towards AIDS research. Henry also supports the Cystic Fibrosis Foundation and Cystic Fibrosis Trust.
At the beginning of his career, Henry signed with sportswear giant Nike. In the buildup to the 2002 World Cup in Korea and Japan, Henry featured in Nike's "Secret Tournament" advertisement, directed by Terry Gilliam, along with 24 superstar football players including Ronaldo, Ronaldinho, Luís Figo, Francesco Totti, Roberto Carlos and Japanese star Hidetoshi Nakata, with former player Eric Cantona the tournament "referee."
Henry was part of Pepsi's "Dare For More" campaign in 2005, alongside the likes of David Beckham and Ronaldinho.
Henry features in EA Sports' FIFA video game series; he appears on the covers of FIFA 2001 to FIFA 2005, in several different editions. He was also a cover star for the Konami Pro Evolution Soccer video game series, and was featured on the covers of Pro Evolution Soccer 4 to Pro Evolution Soccer 6.
Childhood and Personal Life
Professional athlete Thierry Daniel Henry was born on August 17, 1977, in Les Ulis, France. The son of a father from Guadalupe and a mother from Martinique, Henry bonded with the other immigrant children of his district through soccer games. His abilities were impressive enough to earn him a spot on CO Les Ulis' youth club as a 7-year-old, and after stints with US Palaiseau and ES Viry-Châtillon, he joined the formidable French club AS Monaco FC in 1992.
He started playing for the junior team of Les Ulis and Palaiseau. At the age of 13, Henry started playing for the Viry-Chatillon's Under-15 team.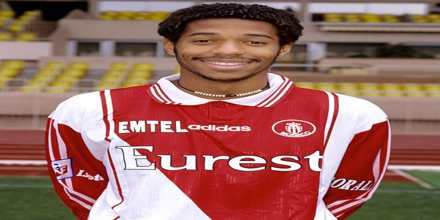 Around the same time, his parents separated and his mother took him to Orsay to get him admitted into the Alexander Fleming School. Even there, Henry's focus was on soccer. At 14, he was elected into the French Football Federation's Clairefontaine Academy.
In 2003, Henry married Nicole Mary, also known as Claire, who is an English model and they had a child together, named Tea, two years after their wedding. But within 5 years of their marriage, the couple divorced in December 2008.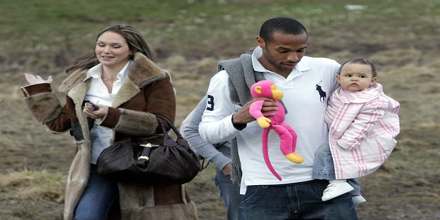 Henry is now dating Bosnian model Andrea Rajačić.
Playing Career
Henry made his senior league debut for legendary coach Arsene Wagner in August 1994, but received limited playing time as he learned the nuances of the winger position. He was an established member of the team by his third season, however, helping Monaco claim the 1996-97 Ligue 1 championship. Just 20 years old when he made his international debut in 1997, Henry topped his countrymen with three goals as France emerged victorious at the 1998 FIFA World Cup.
At the academy, Henry signed an apprentice contract with the manager of the Monaco team, Arsene Wenger. He made his first professional appearance in football in 1994 in a 2-0 loss against Nice. He was put on the left wing by Wenger.
In 1996, Henry became France's Young Player of the year under the guidance and training of Asene Wenger. He led France's Under-18 team to the European Championship and scored 7 goals in the competition.
As a result of his splendid performances at other tournaments, he became a part of the French FIFA World Cup 1998 team. He continued to play for Monaco and impressed everyone with his brilliant performance. He scored 20 goals in 105 matches.
Henry left Monaco in January 1999, one year before his intimate and closest teammate David Trezeguet, and moved to Italian Serie A club Juventus for £10.5 million. He played on the wing, but he was ineffective against the Serie A defensive discipline in a position uncharacteristic for him, and scored just three goals in 16 appearances.
After some time, he was transferred to Arsenal for a sum of 11 million pounds and there he was untied with his old mentor Arsene Wenger. Wenger made him into a striker and he went off the mark in 1-0 win over Southampton.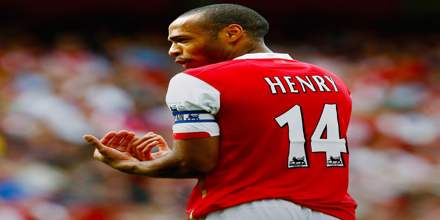 In 2000, Henry's second season with Arsenal was successful as he became the team's ace goal-scorer. The team reached the finals of the FA Cup but lost 2-1 to Liverpool. Henry was pumped up to make his club a powerhouse.
2002–03 proved to be another productive season for Henry, as he scored 32 goals in all competitions while contributing 23 assists—remarkable returns for a striker. In doing so, he led Arsenal to another FA Cup triumph (where he was man-of-the-match in the Final), although Arsenal failed to retain their Premier League title. Throughout the season, he competed with Manchester United's Ruud van Nistelrooy for the league scoring title, but the Dutchman edged Henry to the Golden Boot by a single goal. Nonetheless, Henry was named both the PFA Players' Player of the Year and FWA Footballer of the Year. His rising status as one of the world's best footballers was affirmed when he emerged runner-up for the 2003 FIFA World Player of the Year award.
In 2004, he was the top scorer in the Premier League and scored 30 goals which helped Arsenal win the title without losing even a single match – this kind of victory was last achieved 115 years ago.
The 2005–06 season was a landmark one for Henry. On 17 October 2005, he became the club's top goal-scorer of all time as he broke Ian Wright's record of 185 goals
In 2006, he scored his 200th goal for his club Arsenal in a winning match over Birmingham. He was voted the Footballer of the Year for the 3rd time, which made him the first to receive the award 3 times in 59 years.
He also captained his club Arsenal in their first Champions League final. In that match, Arsenal was beaten by Barcelona by 2-1. He signed another 4 year contract and stayed with Arsenal, turning down 2 high paying bids from Spanish clubs.
On 25 June 2007, in an unexpected turn of events, Henry was transferred to Barcelona for €24 million. He signed a four-year deal for a reported €6.8 (£4.6) million per season. It was revealed that the contract included a release clause of €125 (£84.9) million.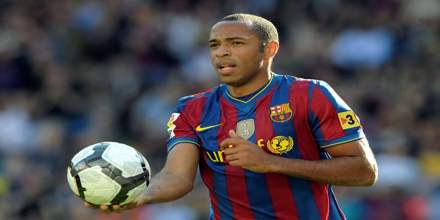 In 2009, Barcelona won the Primera Division and Champions' League and Henry helped his new team to win a sextuple, consisting of the Supercopa de Espana, the UEFA Super Cup and the FIFA Club World Cup.
In 2010, he signed a contract, for multiple years, with Major League Soccer club New York Bulls for the season as its second designated player. He scored his first goal for the club in a 2-0 victory against San Jose Earthquakes.
From 2011-2012, Henry went back to Arsenal for a 2 month loan deal; he covered for Gervinho and Chamakh when they were participating that year in the Africa Cup of Nations. He played against the Leeds United in the FA cup.
In 2012, he went back to the Red Bulls and gave his first hat-trick for the club in a 5-2 against Montreal Impact. He was titled as the MLS Player of the Month. He was the highest paid player of the MLS.
Henry enjoyed a successful career with the France national team, winning the first of his 123 caps in June 1997, when his good form for Monaco was rewarded with a call-up to the Under-20 French national team, where he played in the 1997 FIFA World Youth Championship alongside future teammates William Gallas and David Trezeguet.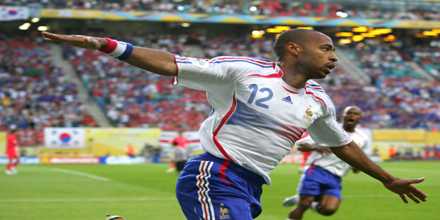 Henry was superb during France's run to the 2006 World Cup finals but struggled with injuries during 2006-07 season, bringing an end to his Arsenal career after a club-record 226 goals. The Frenchman transferred to Spanish giant FC Barcelona, where he helped the club notch a whopping six titles in 2008-09. Barcelona repeated as league champions in 2010, but Henry was embroiled in controversy that season after committing a handball that set up France's winning goal in an important World Cup qualifying match. He retired from the national team after the 2010 World Cup, finishing his international career with 51 goals over 123 caps.
Henry returned to form for his country at the 2003 FIFA Confederations Cup. Despite playing without team stalwarts Zidane and Patrick Vieira, France won, in large part owing to Henry's outstanding play, for which he was named Man of the Match by FIFA's Technical Study Group in three of France's five matches.
He was also influenced by Romário, Ronaldo and African star George Weah, a new breed of strikers in the 1990s who would also operate outside the penalty area before running with the ball towards goal. At his physical peak from the late 1990s to the mid 2000s, Henry's ability to dribble past opponents with exceptional pace, skill and composure, meant that he could get in behind defenders regularly enough to score.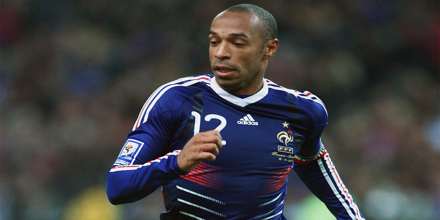 When up front, Henry is occasionally known to move out wide to the left wing position, something which enables him to contribute heavily in assists: between 2002–03 and 2004–05, the striker managed almost 50 assists in total and this was attributed to his unselfish play and creativity. Henry would also drift offside to fool the defence then run back onside before the ball is played and beat the offside trap, although he never provided Arsenal a distinct aerial threat. Given his versatility in being able to operate as both a winger and a striker, the Frenchman is not a prototypical "out-and-out striker", but he has emerged consistently as one of Europe's most prolific strikers. In set pieces, Henry was the first-choice penalty and free kick taker for Arsenal, having scored regularly from those positions.
Honours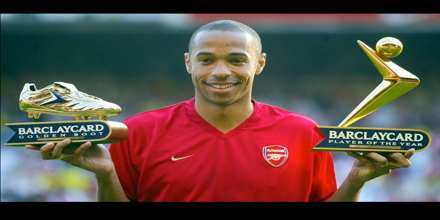 Club
Monaco
Ligue 1: 1996–97
Trophée des Champions: 1997
Arsenal
Premier League (2): 2001–02, 2003–04
FA Cup (2): 2001–02, 2002–03
FA Community Shield (2): 2002, 2004
Barcelona
La Liga (2): 2008–09, 2009–10
Copa del Rey: 2008–09
Supercopa de España: 2009
UEFA Champions League: 2008–09
UEFA Super Cup: 2009
FIFA Club World Cup: 2009
New York Red Bulls
Supporters' Shield: 2013
MLS Eastern Conference (Regular season): 2010, 2013
National
France
FIFA World Cup
Winner: France 1998
Runners-up: Germany 2006
UEFA European Football Championship
Winner: Belgium & Netherlands 2000
FIFA Confederations Cup
King Hassan II International Cup Tournament
Individual
Ballon d'Or – Runner-up: 2003; Third-place: 2006
FIFA World Player of the Year – Silver Award: 2003, 2004
UNFP Ligue 1 Young Player of the Year: 1996–97
PFA Players' Player of the Year: 2002–03, 2003–04
PFA Team of the Year: 2000–01, 2001–02, 2002–03, 2003–04, 2004–05, 2005–06
PFA Team of the Century (1907–2007):

Team of the Century 1997-2007
Overall Team of the Century

FWA Footballer of the Year: 2002–03, 2003–04, 2005–06
Premier League Golden Boot: 2001–02, 2003–04, 2004–05, 2005–06.
Golden Boot Landmark Award 10: 2004–05
Golden Boot Landmark Award 20: 2004–05
Premier League Player of the Month: April 2000, September 2002, January 2004, April 2004
BBC Goal of the Season: 2002–03
UEFA Team of the Year: 2001, 2002, 2003, 2004, 2006
MLS Best XI: 2011, 2012, 2014
MLS Player of the Month: March 2012
Best MLS Player ESPY Award: 2013
MLS All-Star: 2011, 2012, 2013, 2014
Onze d'Or: 2003, 2006
European Golden Boot: 2003–04, 2004–05
French Player of the Year: 2000, 2003, 2004, 2005, 2006
IFFHS World's Top Goal Scorer of the Year: 2003
FIFA FIFPro World XI: 2006
FIFA World Cup All-Star Team: Germany 2006
FIFA Confederations Cup Golden Ball: France 2003
FIFA Confederations Cup Golden Shoe: France 2003
UEFA European Football Championship Team of the Tournament: 2000
FIFA 100: 2004
Time 100 Heroes & Pioneers no.16: 2007
English Football Hall of Fame: 2008
Premier League 10 Seasons Awards (1992–93 – 2001–02)

Overseas Team of the Decade

Premier League 20 Seasons Awards

Fantasy Team (Panel choice)
Fantasy Team (Public choice)

Légion d'Honneur: 1998
UEFA Ultimate Team of the Year (published 2015)
UEFA Euro All-time XI (published 2016)