Biography of Tiny Tim (musician)
Tiny Tim – American singer and ukulele player, and a musical archivist.
Name: Herbert Buckingham Khaury
Date of Birth: April 12, 1932
Place of Birth: Manhattan, New York City, New York, United States
Date of Death: November 30, 1996 (aged 64)
Place of Death: Hennepin County, Minnesota, United States
Occupation: Singer, Musician
Father: Butros Khaury
Mother: Tillie Staff
Spouse/Ex: Miss Vicki (m. 1969–1977), Jan Alweiss (m. 1984–1995), Susan Marie Gardner (m. 1995–1996)
Children: Tulip Victoria Khaury Stewart
Early Life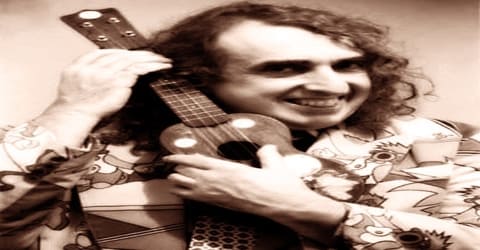 An American singer, musical archivist, and multi-instrumentalist (particularly known for playing the ukulele), Tiny Tim was born in Manhattan, New York City, on April 12, 1932. This yesteryear performer with a distinctive high-pitched falsetto voice complimented with striking appearance including shoulder-length dark curly hair is best recognized for his cover hits 'Tiptoe Through the Tulips', which eventually evolved as his signature song, as also 'Livin' in the Sunlight, Lovin' in the Moonlight'. He commenced his journey in music learning to play different instruments and with time realized his ability to sing.
A school drop-out, he did several odd jobs before landing up with a local talent show. He took up different stage names and performed at dance club amateur nights and then at a gay and lesbian club in Greenwich Village called 'Page 3'. After appearing in the film 'You Are What You Eat', he landed up at the American sketch comedy TV show 'Rowan and Martin's Laugh-In' garnering popularity. Starting from this debut album 'God Bless Tiny Tim', he had over the years released several albums among which 'For All My Little Friends', a collection of children's songs, garnered a Grammy nomination.
During his proverbial 15 minutes of fame in the late '60s, Tiny Tim was one of the most bizarre spectacles on television: a heavy, six-foot-tall man with long, unkempt ringlets of hair, an enormous nose, and a garish plaid wardrobe; warbling the old-time pop standard "Tip-Toe Through the Tulips" in a quavering, shockingly high falsetto while accompanying himself on the ukulele. Pegged as strictly a novelty act, Tim actually possessed an encyclopedic knowledge of vintage American pop and vaudeville songs; he was an avid collector of 78 rpm records and sheet music and often scoured the New York Public Library's musical archives for material. And, although he was best-known for his falsetto, Tim was also a creditable baritone crooner in the pre-Bing Crosby mold, which allowed him to sing duets with himself. Tiny Tim's initial novelty wore off with the public after a couple of years, but he was so genuinely, guilelessly eccentric that he was never really forgotten, remaining something of a pop-culture icon for decades to come.
Childhood, Family and Educational Life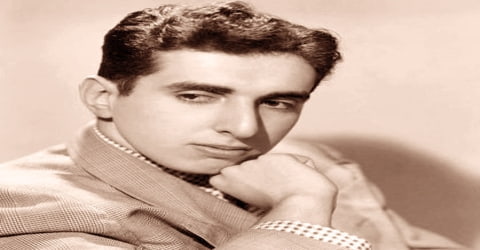 Herbert Buckingham Khaury, known professionally as Tiny Tim, was born on April 12, 1932, in Manhattan, New York City, the U.S. to Butros Hanna Khaury and Tillie (née Staff). His father was a textile worker from Beirut, Lebanon, and a Maronite Christian priest. His mother Tillie (née Staff), who immigrated from Brest-Litovsk in 1914 was a garment worker.
Herbert displayed musical talent at a very young age. At the age of five, his father gave him a vintage wind-up Gramophone and a 78-RPM record of "Beautiful Ohio" by Henry Burr. He would sit for hours listening to the record. At the age of six, he began teaching himself guitar. By his pre-teen years, he developed a passion for records, specifically those from the 1900s through the 1930s.
In 1945 while recovering from an appendix operation, Herbert would spend time reading the Bible and singing along with the songs played on the radio. He was a mediocre student at school and dropped out of high school after repeating his sophomore year. He began spending most of his free time at the New York Public Library, reading about the history of the phonograph industry and its first recording artists. He would research sheet music, often making photographic copies to take home to learn, a hobby he continued for his entire life.
Personal Life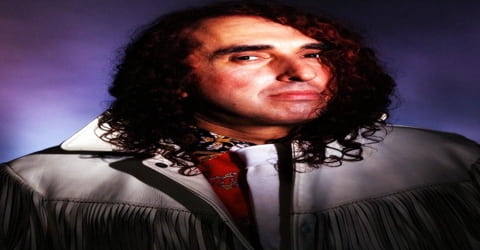 Tiny Tim was married three times, his first marriage to the then 17-year-old Victoria Mae Budinger also known as "Miss Vicki" at the age of 37. Tiny Tim married Miss Vicki on The Tonight Show Starring Johnny Carson on December 17, 1969, with 40 million people watching. Shortly after their marriage, Miss Vicki discovered she was pregnant, but the child was stillborn five months later. Khaury buried the child with a headstone that read "It". The marriage however culminated into a divorce in 1977. His only daughter Tulip Victoria Khaury Stewart was born out of this marriage in 1971.
Tiny Tim was then married to Jan Alweiss from 1984 to 1995, and lastly with Susan Marie Gardner from 1995 till his death. When Tiny Tim first became well-known to the American public, pundits and journalists debated whether this character being presented was just an orchestrated act or the real thing. "It quickly became clear that he was genuine," however, and that he could probably be best described as "a lonely outcast intoxicated by fame" and "a romantic" always in pursuit of his ideal dream.
Tiny Tim suffered a heart attack on September 28, 1996, while performing at a ukulele festival at the Montague Grange Hall in Montague, Massachusetts and was subsequently hospitalized. Although he was advised against performances, Tim continued.
Career and Works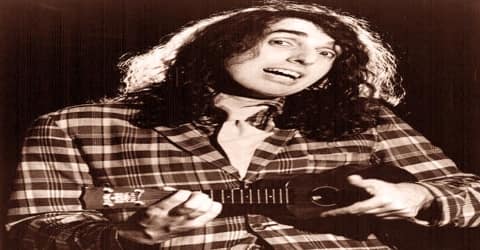 Tiny Tim's first performances under the alias Larry Love took place in the early '50s, and according to legend, he debuted at a lesbian cabaret in Greenwich Village called the Page 3, where he became a regular. Khaury performed at small clubs, parties, and talent shows under a variety of names; his parents tried to discourage him at first, but relented when they saw that not every gig ended in ridicule. By the early '60s, he had gained a cult following around the thriving Greenwich Village music scene, particularly after he began to incorporate bizarre renditions of contemporary songs into his repertoire. He finally settled on the name Tiny Tim after the character in Dickens' A Christmas Carol (according to some accounts, it was suggested by a manager accustomed to working with midgets).
At eleven years of age, Khaury began learning to play the violin, and later picked up the mandolin, and what would be considered his signature instrument, the ukulele, and enjoyed performing at home for his parents. During his recovery from having his appendix removed in 1945, he read the Bible, listened to music on the radio and sang along, and after that rarely left his room, except to go to school, where he was a mediocre student. After repeating his sophomore year of high school, he dropped out entirely, taking a series of menial jobs.
Khaury got a messenger's job at the MGM Studios in New York sometime in the early 1950s which only furthered his interest in showbiz. He took part in a talent show where he sang 'You Are My Sunshine' in a falsetto voice that he only recently found that he can pull off while casually singing along with a radio song. Khaury then started using different names like Emmett Swink and Vernon Castle and performed at dance club amateur nights. Geared up with wild clothing and flaunting shoulder-length hair (inspired by a poster of long-haired Italian actor Rudolph Valentino) in addition to wearing pasty white facial makeup Tim made effort to catch the eye of audience among other performers.
Seeing such change in the appearance of the young man in his twenties, Tim's mother became worried and wanted to take him to a psychiatrist at Bellvue Hospital, which however did not happen as his father intervened.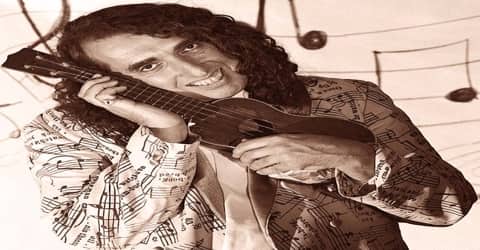 In 1959, he dropped all his other stage names and performed as "Larry Love, the Singing Canary" at Hubert's Museum and Live Flea Circus in New York City's Times Square. While performing there, he signed with a manager who sent him on auditions throughout the Greenwich Village section of New York, where he played the ukulele and sang in his falsetto voice the song which would become his signature, "Tiptoe Through the Tulips", and performed unpaid amateur gigs. With time 'Tiptoe Through The Tulips' would become the signature song that he continued to perform all through his career.
Tim's appearance in the film You Are What You Eat led to a booking on the hugely popular comedy series Rowan and Martin's Laugh-In. He was an instant sensation; whether or not he was seen as an object of ridicule, no one had ever seen anything like him. He appeared several more times on Laugh-In, and became a frequent guest on Johnny Carson's Tonight Show, also performing on the Ed Sullivan and Jackie Gleason variety shows. His eccentric personality became as well-known as his music: he was obsessed with bodily cleanliness, and his distaste for sex seemed logical when paired with his gentle, asexual demeanor.
Khaury started performing in a gay and lesbian club in Greenwich Village called Page 3 in 1963 for 6 hours a night, 6 nights a week earning $96 monthly, marking his first paying gig. For next couple of years, he performed as Sir Timothy Timms and Dary Dover and it was his manager George King who later zeroed in his stage name as Tiny Tim.
Tiny Tim appeared in Jack Smith's Normal Love (1963), as well as the independent feature film You Are What You Eat (1968) in which he sang the Ronettes song "Be My Baby" in his falsetto range; also featured was a rendition of Sonny and Cher's "I Got You Babe", with Tim singing the Cher parts in his falsetto voice, along with Eleanor Barooshian singing Sonny Bono's baritone part. These tracks were recorded with musicians who went on to be in The Band. The "I Got You Babe" performance led to a booking on the Rowan and Martin's Laugh-In, an American television comedy-variety show. Co-host Dan Rowan announced that Laugh-In believed in showcasing new talent, and introduced Tiny Tim. The singer entered carrying a shopping bag, pulled his Martin soprano ukulele from it, and sang a medley of "A Tisket A Tasket" and "On The Good Ship Lollipop" as an apparently dumbfounded co-host Dick Martin watched. For his third number on Laugh-In, Tiny Tim entered blowing kisses, preceded by an elaborate procession of the cast and, after a short interview, he sang "Tiptoe Through the Tulips".
A hot commodity, Tim signed a record deal with Reprise and issued his debut album, God Bless Tiny Tim, in 1968. His signature rendition of "Tip-Toe Through the Tulips" became a hit, and the LP sold over 200,000 copies. Striking while the iron was hot, Tim recorded a follow-up, Tiny Tim's Second Album, which was released in 1969; so was its follow-up, an album of children's songs titled For All My Little Friends. On December 17 of that year, Tim pulled off one of the highest-rated stunts in television history: he actually married his girlfriend, 17-year-old Victoria Budinger (known as Miss Vicki, in typically respectful Tim fashion), on the Johnny Carson show. The couple later had a daughter, Tulip, but mostly lived apart, and divorced after eight years.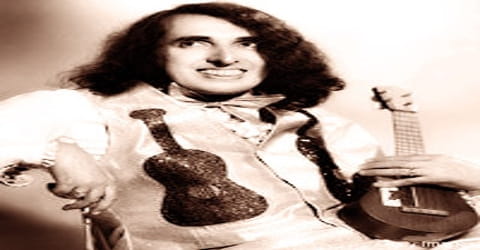 Tiny Tim landed up in the American sketch comedy TV program 'Rowan & Martin's Laugh-In'. He remained one of the regular guest performers of the show during 1968–70 and 1971–72 and was part of the 100th episode celebration of the show. His debut album 'God Bless Tiny Tim' released through Reprise label in April 1968. It consisted of 15 tracks including an orchestrated version of 'Tiptoe Through the Tulips' that emerged as a hit charting at #17 that year garnering Tim popularity. His rendition of the song later became an important part of the 2010 blockbuster hit supernatural horror film 'Insidious'.
On October 7, 1969, Tiny Tim was able to take the ice before a charity hockey event at the hockey shrine Maple Leaf Gardens, with his beloved Toronto Maple Leafs, his favorite pro sports team. Wearing the skates and jersey of future hall of fame member (as a coach), Pat Quinn, Mike Walton, and Jim McKenny helped him skate on the ice, his very first time trying to skate. He was quoted as saying "What a thrill! Just being on the ice was great!". Reacting well to his inability to skate on his own, he said: "I was always athletic spiritually, not physically".
Over the years he spawned several other albums like 'Tiny Tim's 2nd Album' (1968), 'Tiny Tim: The Eternal Troubadour' (1986), 'Rock' (1993), 'I Love Me' (1993), and 'Girl' (1996). One of his albums, a collection of children's song titled 'For All My Little Friends' released via Reprise Records in 1969 garnered a Grammy Award nomination. Tiny Tim also founded his own record label 'Vic Tim Records' after his contract with Reprise Records ended. Although the popularity of this power-packed entertainer dwindled after a certain stage, he continued to perform almost till his last breath.
Tiny Tim performed with the American alternative rock band Camper Van Beethoven in 1986. He played the lead role in the 1987 horror film Blood Harvest, acting the role of Mervo. In the 1990s, he released several albums, including Rock (1993), I Love Me (1993), and Girl (1996). Tiny Tim was published in 1976 by Playboy Press, a biography by Harry Stein.
Following his wedding, Tim continued to perform around the country, including some lucrative gigs in Las Vegas; unfortunately, many of his business associates took advantage of his naïveté, leaving him with few savings from his run of success. By the early '70s, perhaps due to simple familiarity, America's fascination with Tiny Tim had waned. Even after the TV appearances and high-profile gigs dried up, Tim kept plugging away, performing whenever and wherever he could. He spent around a decade off records before returning in 1980 and subsequently recorded steadily for a series of mostly small labels. He remarried in 1984 to 23-year-old Miss Jan, but the relationship dissolved after just under a month; the following year, Tim literally joined a circus for 36 weeks. In the late '80s, he moved to Australia for a few years, then returned to the U.S. to live in Des Moines, IA. In 1993, he married for a third time to Miss Sue, and the couple soon moved to Minneapolis. During the mid-'90s, Tim raised his public profile with appearances on the Conan O'Brien and Howard Stern shows; however, in September of 1996, he suffered a heart attack while performing at a ukulele festival in Massachusetts. Upon his release from the hospital, Tim resumed his concert schedule.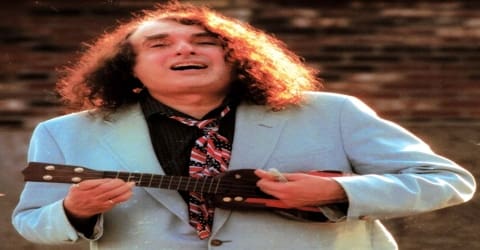 Some posthumous albums of Tim include 'Tiny Tim Live at the Royal Albert Hall' (2000) and I've Never Seen a Straight Banana: Rare Moments Vol. 1(2009). Biographies on the performer include 'Tiny Tim' (1976) by Harry Stein and 'Eternal Troubadour: The Improbable Life of Tiny Tim' (2016) by Justin Martell.
Tiny Tim played the ukulele left-handed (but the guitar right-handed), though he retained the standard string placement. The instruments he played included a vintage Martin, a Favilla, and a Johnston metal resonator. Tiny was a huge fan of Arthur Godfrey and taught himself to play using a method book that came with the Godfrey-endorsed Maccaferri Islander plastic ukulele.
Death and Legacy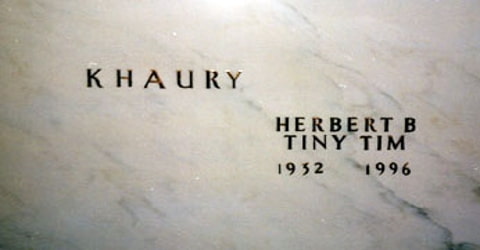 On November 30, 1996, while performing his signature song 'Tip-Toe Through the Tulips' at a gala benefit hosted by the Women's Club of Minneapolis Tim suffered from another heart attack which proved fatal. Tiny Tim was rushed to Hennepin County Medical Center but was declared dead after around an hour. Remains of this ever-energetic performer now lie entombed in a Lakewood Cemetery mausoleum located in Minneapolis.
His cover of "Livin' in the Sunlight, Lovin' in the Moonlight" was featured in the "Help Wanted" segment of the first episode of the cartoon SpongeBob SquarePants. His rendition of "Tiptoe Through the Tulips" was the main part of the 2011 horror film Insidious and also used as a bass track in "The Amazing Adventures of DJ Yoda" in the mix Tip Toe. In Ursula Dubosarsky's trilogy for children, The Strange Adventures of Isador Brown, the hero Isador's Daddy has long red hair and plays the ukulele, and is, according to the author, based on and inspired by Tiny Tim. He also appeared in WWE in 1993, on a skit with Jerry Lawler on 'King's Court' whilst going under his king gimmick at the time. Lawler smashed Tim's ukulele forcing Tim to cry.
Australian writer Ursula Dubosarsky mentioned that the character of Isador's Daddy with long red hair playing the ukulele from her children's trilogy 'The Strange Adventures of Isador Brown' was inspired by him. Tiny Tim is also mentioned in the lyrics "I love your blue-eyed voice, like Tiny Tim shines thru" from the 1992 song 'How Do You Do!' by Roxette.
Information Source: