Biography of Tommy Cooper
Tommy Cooper – Welsh prop comedian and magician.
Name: Thomas Frederick Cooper
Date of Birth: 19 March 1921
Place of Birth: Caerphilly, Glamorgan, Wales
Date of Death: 15 April 1984 (aged 63)
Place of Death: Her Majesty's Theatre, Westminster, UK
Occupation: Prop comedian, magician
Father: Thomas H. Cooper
Mother: Gertrude Cooper
Spouse/Ex: Gwen Cooper (m. 1947–1984)
Children: Thomas Henty, Vicky Cooper
Early Life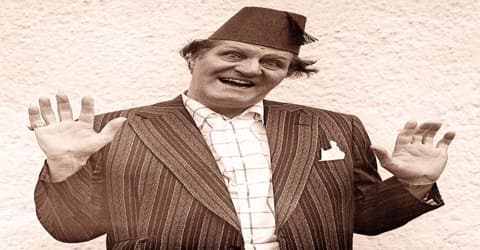 One of Britain's best-loved comedians and magicians, Tommy Cooper was born on 19 March 1921 at 19 Llwyn-On Street in Caerphilly, Glamorgan. He was a member of The Magic Circle and was respected by traditional magicians. He habitually wore a red fez, and his appearance was large and lumbering, at 6 feet 4 inches (1.93 m) and more than 15 stone (210 lb; 95 kg) in weight. Due to his exposure on British TV, he became one of best recognized comedians and magicians in the UK. Cooper was a member of the Magic Circle and incorporated magic into his comedy routine.
Magic set gifted by his aunt when he was a kid laid the foundation for his future career. He was employed as a magician on a boat when he was just 16. However, his first performance was a failure and people started to laugh. Though hurt at that time, he realized that he could develop a unique style of entertainment if he could combine magic with comedy, and that is what he did. He had to serve in the army during the World War II and during a performance at Cairo he could not find his regular hat and in an impromptu move grabbed a red fez a traditional hat and placed it on his head. The audience started laughing so hard at this gesture that the fez became a trademark of the comedian.
Childhood, Family and Educational Life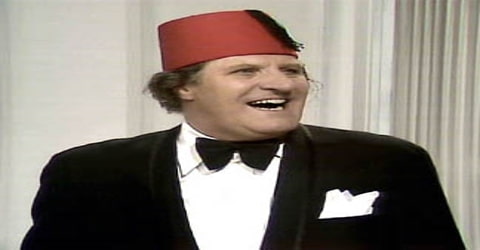 Thomas Frederick Cooper was born in Caerphilly, Wales on March 19, 1921, as the son of army recruiting Sergeant Thomas Cooper and his wife Gertrude. He was born two months prematurely and the doctors warned he might not make it through infancy, but he did survive and grew to be an impressive presence of 6" 4 inches.
When Tommy was three, the family moved to Devon where he acquired the West Country accent that became a part of his act. He went to Mount Radford School for Boys. His aunt gifted him a magic set when he was eight years old. He enthusiastically practiced the tricks till he perfected them. Tommy was appointed as a magician on a boat when he was 16. The young boy had stage fright and messed up his magical acts. The performance was a failure and the audience laughed hard. The boat debacle hurt him badly, but in retrospect, he realized that he could develop a really funny routine by combining failed magic tricks with comedy.
After school, Cooper became a shipwright in Southampton. In 1940, he was called up like a trooper in the Royal Horse Guards, serving for seven years. He joined Montgomery's Desert Rats in Egypt. Cooper became a member of a NAAFI entertainment party and developed an act around his magic tricks interspersed with comedy. One evening in Cairo, during a sketch in which he was supposed to be in a costume that required a pith helmet, having forgotten the prop, Cooper reached out and borrowed a fez from a passing waiter, which got huge laughs. He wore a fez whenever performing after that, the prop later being described as "an icon of 20th-century comedy".
Personal Life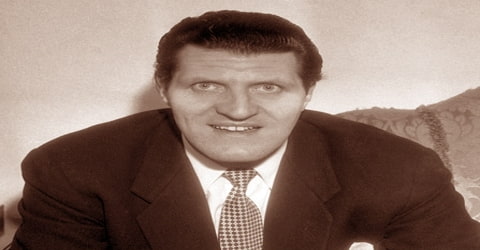 From 1967 until his death, Tommy Cooper had a relationship with his personal assistant, Mary Fieldhouse. She wrote about it in her book, For the Love of Tommy (1986). His widow, Gwen Henty, whom he married in Nicosia, Cyprus on 24 February 1947, but never divorced, died in 2002. One of their two children, actor Thomas Henty, was born in 1956 and died in 1988. Cooper's will was proved via probate, on 29 August 1984, at £327,272.
Cooper was a heavy smoker as well as an excessive drinker; as a result, he experienced a decline in health during the late 1970s, suffering a heart attack in 1977 while performing a show in Rome. Three months later he was back on television in Night Out at the London Casino.
On Christmas Day 2018, the documentary Tommy Cooper: In His Own Words was broadcast on Channel 5. The programme featured Cooper's daughter Vicky who gave her first television interview following years of abstaining, "because of the grief".
Career and Works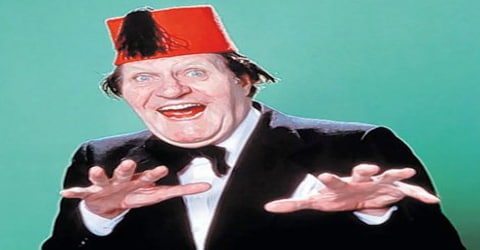 By the age of 16, Tommy got a job as a magician on a boat. His first performance was a disaster. Due to stage fright all his tricks went wrong, people started laughing and he ran away in tears. However, on reflection, he realized that if he concentrated on making people laugh he could develop a very good routine. Soon after the outbreak of World War Two, Tommy Cooper joined the army and served for 7 years until 1947. For much of this time, his regiment was posted to the Middle East. When opportunity allowed, he worked on his performances as a failed magician. It was during his time in Cairo that Tommy Cooper got his trademark hat a Middle Eastern Fez. He was about to perform but realized he had lost his hat. Therefore he swiped a hat of a passing waiter and performed with that. It got a big laugh so he stuck with it becoming a trademark of Tommy Cooper.
When Tommy was demobbed after seven years of military service Cooper took up show business on Christmas Eve, 1947. He later developed a popular monologue about his military experience as "Cooper the Trooper". He worked in variety theatres around the country and at many of London's top night spots, performing as many as 52 shows in one week.
He was a part of the Montgomery's Desert Rats that served in Egypt. As a member of the Navy, Army and Air Force Institutes (NAAFI) entertainment party, he began polishing his magical skills and comedy. He developed a routine that combined magic with comedy and was looking for opportunities to perfect this act.
In 1947, Cooper got his big break with Miff Ferrie, at that time trombonist in a band called The Jackdaws, who booked him to appear as the second-spot comedian in a show starring the sand dance act Marqueeze and the Dance of the Seven Veils. Cooper then began two years of arduous performing, including a tour of Europe and a stint in pantomime, playing one of Cinderella's ugly sisters. The period culminated in a season-long booking at the Windmill Theatre, where he doubled up doing cabaret.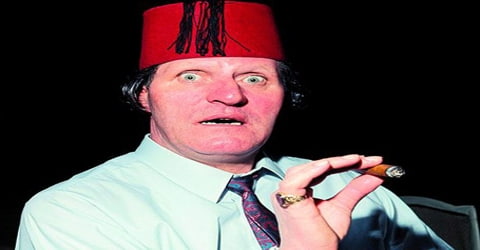 On leaving the army he decided to pursue a career in show business. By 1948, he had made his début on TV performing in the BBC programme, New to You. This led to a very successful TV career mostly with Thames Television. For many years, he had his own show as a stand-up comedian. Later in his career, he also performed with other comedians such as Erik Sykes.
The success of this show led to a highly acclaimed television career as a stand-up comedian. He enjoyed great popularity during the 1950-60s as a magician and comedian. Even though he often deliberated messed up his acts for comic effect, he was, in fact, a very skilled magician.
In addition to being a comedian, Tommy Cooper was an expert magician and member of the Magician's circle. Although an accomplished magician he mastered the art of often failing to complete his tricks for comic effect. Although many tricks would fail, he could also show that he was capable of performing magic tricks with a great degree of professionalism. The comic material of Tommy Cooper was nothing special, what made him one of Britain's favorite comedians of the time was his intrinsically comic nature. He embodied great innocence and childlike qualities which made his failed jokes particularly funny. Many comedians have commended his ability to bring the house down with the thinnest of materials.
Tommy starred in his own shows on the London Weekend Television from 1968 to 1972. He also did shows with Thames television from 1973 to 1980. He was one of the best-loved comedians of the 1970s. He had an inherent comic quality about him that made people laugh even before he started performing.
By the mid-1970s, alcohol had started to erode Cooper's professionalism and club owners complained that he turned up late or rushed through his show in five minutes. In addition, he suffered from chronic indigestion, lumbago, sciatica, bronchitis and severe circulation problems in his legs. When Cooper realized the extent of his maladies he cut down on his drinking, and the energy and confidence returned to his act. However, he never stopped drinking and could be fallible: on an otherwise triumphant appearance with Michael Parkinson he forgot to set the safety catch on the guillotine illusion into which he had cajoled Parkinson, and only a last-minute intervention by the floor manager saved Parkinson from serious injury or worse.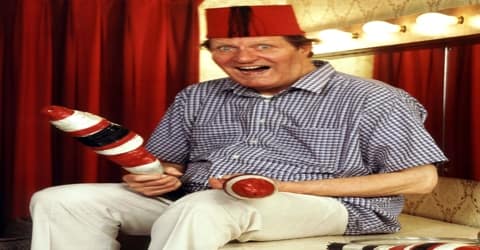 Paul Daniels remembers Tommy Cooper giving an after-dinner speech at a club in London.
"This great big man just stood up. That's all he did. He just stood up and the place was in absolute hysterics at a man standing up. Now, I don't care how much you study comedy, you can't define that, that ability to fill a room with laughter because you are emanating humor. After several minutes of laughter, he turned to his wife and said, "I haven't said anything yet." And the whole place went up again."
By 1980, however, his drinking meant that Thames Television would not give him another starring series, and Cooper's Half Hour was his last. He did continue to appear as a guest on other television shows, however, and worked with Eric Sykes on two Thames productions in 1982.
Awards and Honor
In May 2016, a blue plaque in his memory was unveiled at Cooper's former home in Barrowgate Road, Chiswick, London. In August it was announced that the Victoria and Albert Museum had acquired 116 boxes of Cooper's papers and props, including his "gag file", in which the museum said he had used a system to store his jokes alphabetically "with the meticulousness of an archivist".
Death and Legacy
Tommy Cooper had a heart attack on 15 April 1984 while performing live for a television variety show. He was taken to the hospital where he was declared brought dead.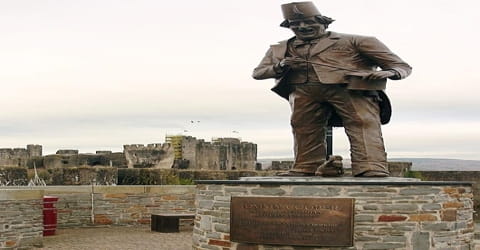 (Statue of Cooper near Caerphilly Castle)
He is mainly remembered as the large funnyman with a red fez who made millions of his viewers laugh over a career spanning almost four decades. Cooper was an intrinsically funny person his very presence could make people laugh and that is the quality that made him immortal in the minds of his fans.
In a 2005 poll The Comedians' Comedian, Cooper was voted the sixth greatest comedy act ever by fellow comedians and comedy insiders. He has been cited as an influence by Jason Manford and John Lydon. Jerome Flynn has toured with his own tribute show to Cooper called Just Like That.
Tommy Cooper was not without his vices, unfortunately, he became more dependent on drink as his life progressed. Also, whilst under the heavy influence of alcohol he sometimes behaved in a violent way towards his wife. Gwen wry noted that Brandy didn't bring the best out in people. However, after his first serious health scare, his behavior improved. Despite arguments and fights and an affair, Gwen still appreciated her husband's many good qualities; she said of him
"He was the nicest, kindest – and most awkward – man, in the world."
A statue of Cooper was unveiled in his birthplace of Caerphilly, Wales, in 2008 by fellow Welsh entertainer Sir Anthony Hopkins, who is a patron of the Tommy Cooper Society. The statue, which cost £45,000, was sculpted by James Done. In 2009 for Red Nose Day, a charity Red Nose was put on the statue, but the nose was stolen. Hip-hop duo Dan le Sac Vs Scroobius Pip wrote the song "Tommy C", about Cooper's career and death, which appears on their 2008 album, Angles. Cooper was a member of the Grand Order of Water Rats.
Information Source: