Full Name: Christian Matthias Theodor Mommsen
Born: 30 November 1817, Garding, Schleswig (Germany)
Died: 1 November 1903, Charlottenburg, Germany
Language: German
Special Fields: Classical scholar, jurist, historian
Notable awards:  Pour le Mérite (civil class)
Nobel Prize in Literature
Theodor Mommsen the greatest classical historian of the nineteenth century, was born in Garding, Schleswig, the son of a Protestant minister. Theodor Mommsen, the son of a poor but scholarly Protestant minister, was born at Garding in the duchy of Schleswig on Nov. 30, 1817.
He read law and classics at Kiel from 1838-43, and after a few years in France and Italy and a short career in journalism, he became a professor of law at the University of Leipzig. His involvement in the revolution of 1848-49 led to his dismissal in 1850. After holding academic positions at the universities of Zürich and Breslau he was appointed to the chair of Ancient History at the University of Berlin in 1858. He was permanent secretary of the Prussian Academy of Arts and Sciences. In the seventies he was an active and prominent member of the Prussian Parliament, first as a National Liberal and later as a Liberal. He was widely considered one of the world's foremost authorities Roman civilizations. His best-known work, A History of Rome, earned him the Nobel Prize in Literature in 1902.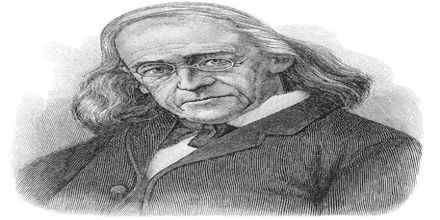 Early life and Education
Mommsen was born to German parents in Garding in the Duchy of Schleswig in 1817, then ruled by the king of Denmark, and grew up in Bad Oldesloe in Holstein, where his father was a Lutheran minister. He studied mostly at home, though he attended the gymnasium Christianeum in Altona for four years. He studied Greek and Latin and received his diploma in 1837. As he could not afford to study at Göttingen, he enrolled at the University of Kiel.
Mommsen studied jurisprudence at Kiel from 1838 to 1843, finishing his studies with the degree of Doctor of Roman Law. During this time he was the roommate of Theodor Storm, who was later to become a renowned poet. Together with Mommsen's brother Tycho, the three friends even published a collection of poems (Liederbuch dreier Freunde). Thanks to a royal Danish grant, Mommsen was able to visit France and Italy to study preserved classical Roman inscriptions. During the revolution of 1848 he worked as a war correspondent in then-Danish Rendsburg, supporting the German annexation of Schleswig-Holstein and a constitutional reform. Having been forced to leave the country by the Danes, he became a professor of law in the same year at the University of Leipzig. When Mommsen protested against the new constitution of Saxony in 1851, he had to resign.
Works
The great historian wrote many other works, like Römisches Staatsrecht (Roman Public Law; 1871-1888) and Römisches Strafrecht (Roman Criminal Law; 1899). He was the first to publish the Res Gestae divi Augusti, and prepared important editions of the Corpus Iuris. In Die Örtlichkeit der Varusschlacht (1885), he correctly identified the site of the battle in the Teutoburg Forest. In an increasingly anti-Semitic world, his treatise 'Auch ein Wort über unser Judentum' (1880) was the embodiment of common sense.
In public life Mommsen intermittently served in the Prussian Parliament (1863-1866 and 1873-1879) and in the German Reichstag (Imperial Diet) (1881-1884) and was a cofounder of and contributor to the Preussischen Jahrbücher, one of the most influential German political journals. A political liberal and patriot, he found much to criticize, both in his own country and abroad. He was torn between despising Bismarck and taking pride in his national accomplishments.
Mommsen as politician
Mommsen was a delegate to the Prussian House of Representatives from 1863–66 and again from 1873–79, and delegate to the Reichstag from 1881–1884, at first for the liberal German Progress Party, later for the National Liberal Party, and finally for the Secessionists. He was very concerned with questions about scientific and educational policies and held national positions. Disappointed with the politics of the German Empire, regarding whose future he was quite pessimistic, in the end he advised collaboration between Liberals and Social Democrats. Mommsen strongly disagreed with Otto von Bismarck about social policies in 1881, using strong words and narrowly avoided prosecution.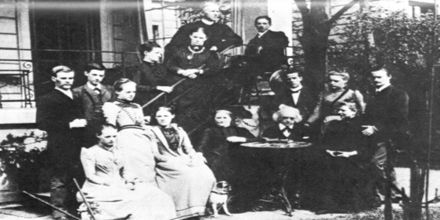 Theodor Mommsen Family Album
Personal Life
In 1854, when he was 41 years old, he married Marie Reimer. Apparently, it was a love match. They had an exceptionally large family of sixteen children. Their daughter Marie was to marry the famous classicst Ulrich von Wilamowitz-Moellendorff. Mommsen's son Ernst married to Clara Weber, sister of the famous sociologist Max Weber. Their son Theodor Ernst Mommsen became a well-known historian himself.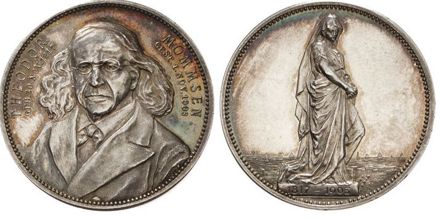 Awards
Theodor Mommsen was awarded the Nobel Prize of Literature in 1902. You only have to read the first chapter of the Römische Geschichte to understand why.
He was widely considered one of the world's foremost authorities Roman civilizations. His best-known work, A History of Rome, earned him the Nobel Prize in Literature in 1902.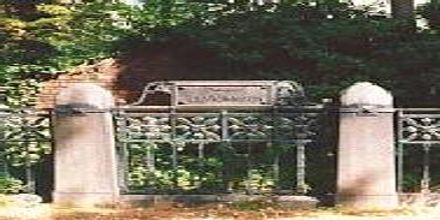 Theodor Mommsen Grave
Death
Theodor Mommsen died on November 1, 1903.