Chuck Berry: A Founding Father of Rock 'N' Roll
Chuck Berry was one of the most popular and influential performers of rhythm-and-blues and rock 'n' roll music during the 1950s, '60s and '70s.
Chuck Berry, rock 'n' roll's founding guitar hero and storyteller who defined the music's joy and rebellion in such classics as "Johnny B. Goode," "Sweet Little Sixteen" and "Roll Over Beethoven," died Saturday at his home west of St. Louis, March 18, 2017 at the age of 90.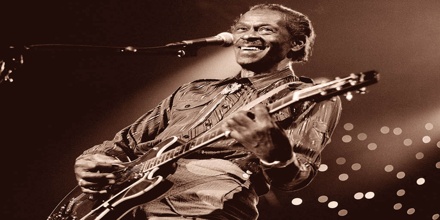 Considered by many as the "father of rock 'n' roll," Chuck Berry was born Charles Anderson Edward Berry on October 18, 1926, in St. Louis, Missouri. His parents — grandchildren of slaves — were accomplished in their own ways: father Henry was a successful carpenter, and mother Martha was a college graduate — rare for a black woman at the time. Young Chuck, the fourth of six children, grew up in a middle-class African-American St. Louis neighborhood. He attended Sumner High School, a prestigious private institution that was the first all-black high school west of the Mississippi. He started guitar lessons soon after, studying with local jazz legend Ira Harris. As a teen, he was sent to prison for three years for armed robbery. He began producing hits in the 1950s, including 1958's "Johnny B. Goode," and had his first No. 1 hit in 1972 with "My Ding-a-Ling." With his clever lyrics and distinctive sounds, Berry became one of the most influential figures in the history of rock music.
Birth of Rock 'N' Roll
Known for chart-toppers such as "Johnny B Goode," "Roll Over Beethoven" and "Brown Eyed Handsome Man," Berry's career rocketed in the 1950s after signing a record deal with Chess Records at the behest of musician Muddy Waters, according to Rolling Stone.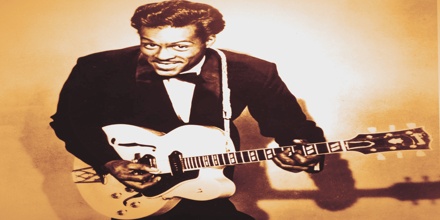 His first hit, "Maybellene," spent nine weeks in the No. 1 spot on the Billboard R&B chart and also rose to No. 5 on the pop charts. Berry reshaped the 1950s with a unique sound that appealed to both sides of a racially divided country. With its unique blend of a rhythm and blues beat, country guitar licks and the flavor of Chicago blues and narrative storytelling, many music historians consider "Maybellene" the first true rock 'n' roll song.
Berry quickly followed with a slew of other unique singles that continued to carve out the new genre of rock 'n' roll: "Roll Over, Beethoven," "Too Much Monkey Business" and "Brown-Eyed Handsome Man," among others. Berry managed to achieve crossover appeal with white youths without alienating his black fans by mixing blues and R&B sounds with storytelling that spoke to the universal themes of youth.
"Chuck Berry was a rock and roll original. A gifted guitar player, an amazing live performer, and a skilled songwriter whose music and lyrics captured the essence of 1950s teenage life," The Rock & Roll Hall of Fame said in a statement.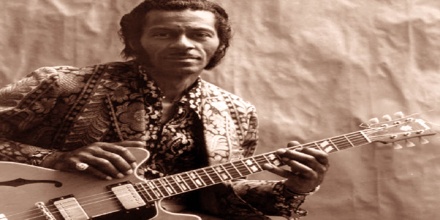 Well before the rise of Bob Dylan, Berry wedded social commentary to the beat and rush of popular music.
"He was singing good lyrics, and intelligent lyrics, in the '50s when people were singing, "Oh, baby, I love you so,'" John Lennon once observed.
"Roll Over Beethoven" was an anthem to rock's history-making power, while "Rock and Roll Music" was a guidebook for all bands that followed ("It's got a back beat, you can't lose it"). "Back in the U.S.A." was a black man's straight-faced tribute to his country at a time there was no guarantee Berry would be served at the drive-ins and corner cafes he was celebrating.
His 1960s hits include "Nadine," "You Can Never Tell," Promised Land" and "Dear Dad." Berry released one of his last albums of original music, Rock It, to fairly positive reviews in 1979. While Berry continued to perform into the 1990s, he would never recapture the magnetic energy and originality that had first catapulted him to fame during the '50s and '60s.
A New Generation
In December 1959 he was arrested under the Mann Act for transporting an underage woman across state lines for immoral purposes. Convicted in 1960, he appealed, but the conviction was upheld at a 1961 trial. Berry was sentenced to three years; he served 20 months. Upon his release in 1963, he found his music had reached a new generation. The Beach Boys reworked "Sweet Little Sixteen" as "Surfin' U.S.A." (Berry later sued due to the similarities, and won.) The Beatles and Rolling Stones, about to kick off the British Invasion of America, covered Berry's songs. Berry's career was rejuvenated, and he responded with such hits as "No Particular Place to Go" and "Nadine."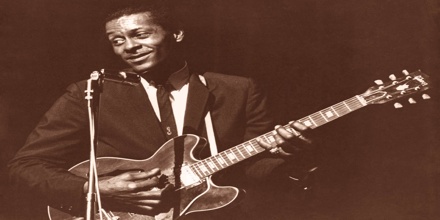 The song was inspired in part by Johnnie Johnson, the boogie-woogie piano master who collaborated on many Berry hits, but the story could have easily been Berry's, Presley's or countless others'. Commercial calculation made the song universal: Berry had meant to call Johnny a "colored boy," but changed "colored" to "country," enabling not only radio play, but musicians of any colour to imagine themselves as stars.
Rock and Roll Hall of Fame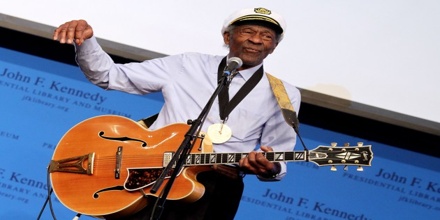 He earned more honors than anybody could have imagined. In 1985, he received the Grammy Lifetime Achievement Award. A year later, in 1986, he became the Rock and Roll Hall of Fame's first inductee. Besides the Rock and Roll Hall of Fame induction, he had a statue dedicated to him in St. Louis (he's portrayed doing his famous hunched-over "duck walk"); received PEN New England's inaugural award for Song Lyrics of Literary Excellence; a Grammy Lifetime Achievement Award; a BMI Icon honor; and a Kennedy Center Honors Award, at which Bill Clinton called him "one of the 20th Century's most influential musicians."