Voluntary Counseling and Testing (VCT) is a cost effective method of intervention which will increase health literacy and ability among people who are at risk of contracting HIV. It is a highly effective entry point to prevention, treatment and support services. VCT is confidential dialogue between a counselor and a client. This dialogue aims to support clients in making informed, responsible and effective decisions regarding his/her future plans and behaviors concerning HIV/AIDS. It is a vital point of entry to other HIV/AIDS services, including prevention and clinical management of STI, HIV-related illnesses, tuberculosis (TB) control, psychosocial and legal support, and prevention of mother-to-child transmission of HIV (MTCT).VCT can also be an effective behavior-change intervention. VCT offers a holistic approach that can address HIV in the broader context of peoples' lives, including the context of poverty and its relationship to risk practice.
VCT offers benefits to those who test positive or negative.VCT alleviates anxiety, increases clients' perception of their vulnerability to HIV, promotes behavior change, facilitates early referral for care and support—including access to antiretroviral (ARV) therapy—and assists in reducing stigma in the community. There is demand for VCT (people want to know their HIV sero status). Demand can also be created when comprehensive services are made available and stigma is reduced. An increasing number of countries are rapidly addressing the quality and quantity of care-related programs. Care-related activities include increased access to ARV therapy. VCT services must be made more widely available given this dynamic context and that access to care (including ARVs) requires knowing the HIV sero status.
HIV/AIDS has created a major global health crisis. Today globally more than 40 million people are living with HIV/AIDS. Over 95% of these are in developing countries and 20 million died by AIDS. Bangladesh is still considered as a low HIV/AIDS prevalent country. However, it is at a critical   moment in the course of its AIDS epidemic. UNAID Estimated that there are 16000 HIV-positive people in the country and total AIDS case is 850. HIV prevalence in the adult population is less than 0.1%.Since the beginning of the AIDS epidemic, sex workers in developing countries have been one of the groups most vulnerable to HIV infection due to their large numbers and rapid change of sexual partners. Transmission of HIV/AIDS by Sexual intercourse is 75-80%.
However, the country's vulnerability is very high. In some situations there is overlapping risk for sex workers between injecting drug use and commercial sex work. National HIV surveillance indicates that the rate of HIV infection among street-based sex workers in central Bangladesh is high. HIV among injecting drug users is already 8%.
The presence of covert multi-partner sexual activity and denial, the low level of knowledge and low condom use, unsafe professional blood donations, lack of a desirable environment and violation of Human Rights, all contribute to the spread of HIV in Bangladesh. The impacts of HIV/AIDS on a country are tremendous. AIDS kills millions of people, thus weakening the workforce, fracturing and improvising families, and leaving millions of children orphaned, with concomitant effects on the whole political, social and economic fabric of a country.
Voluntary counseling and testing (VCT) for HIV allows individuals to determine their HIV status and serve as gateway for both HIV prevention and early access to treatment, care and support. Identifying factors associated with VCT acceptance among different professional and community groups is essential in promoting the service. Still VCT service are limited in Bangladesh's worker have particular needs VCT and psychological interventions tailored specifically to ensure effectiveness. It is crucial that VCT services reach this vulnerable population both to protect the sex workers from HIV and other STI infections and to prevent transmission to their clients and partners.
Mother to child transmission (MTCT) accounts for the majority of HIV infections among children. As it is necessary to know the HIV status of pregnant women to implement the preventive measures against MTCT, Voluntary Counseling and Testing (VCT) is promoted as the entry point to the prevention of MTCT (PMTCT). Since VCT coverage among pregnant women in Thailand is high compared with that in other countries, it could be a model of an effective VCT service3. There is a window of opportunity for Bangladesh to decrease risk behavior before the virus has a chance to take hold.
Background of this study:-The first case of HIV/AIDS in Bangladesh was detected in 1989..The overall prevalence of HIV/AIDS in Bangladesh is less than1%.,however high levels of HIV infection have been found among injecting drug users(7% in one part of the capital city, Dhaka). Due to limited access voluntary counseling and testing services. Very few Bangladeshis are aware of their HIV status. Many Government Organizations and Non-Government Organizations are working in this sector .However the present status of clients are not clearly identified. So I choose this topic.
Justification of the study
VCT provides the opportunity for people to know their HIV status with quality counselling support to help them cope with a positive or a negative test result. The majority of adult populations are HIV negative, even in high HIV prevalence settings. Knowing one is HIV negative can serve as a strong motivating factor to remain negative, particularly for those who may otherwise assume it is too late to adopt safer sexual practices. For people who test positive, while VCT services can link them to options for treatment if and where they exist, and to care and support, just as important, it allows for adoption of preventive measures. For some, self-protection is a stronger motivator for safer sex than the need to protect others; for others, the responsibility to avoid spreading the virus is itself the critical motivator.
HIV preventionamong the many challenges people faces the risk of various life threatening STIlike HIV/AIDS. VCT's role in both preventing new infections and increasing access to care and treatment. The urgent need to help more adults and children, especially in vulnerable, marginalized communities, find out their HIV status and receive treatment is beyond question. The quality of counseling also shows itself in the quality of referrals, follow-ups, treatment adherence, and care including nutritional, psychosocial and medical support, such as cotrimoxazole prophylaxis, to sustain the well-being of adults and children living with HIV.
The rate of HIV infection among sex workers in Bangladesh is high..
Behavior change messages are important about consistent condom use rather than judgmental based to reduce the risk of transmission of HIV/AIDS .
Though in Bangladesh HIV/AIDS prevalence is low but needs timely intervention in prevention.
Men have not reduced commercial sex if practice continued in such pattern would predispose threat to socio economic burden to the nation due to adverse health outcomes.
It will reveal the true picture of ongoing support quality and planning for the future.
It will give the scenario of the effectiveness of VCT.
There have only been a small number of VCT specific studies.
 Can be used as reference for future studies.
This study may help to raise some awareness or create the option for implementing program regarding VCT service among all high risk group and all the community people as well. It can be a new horizon for further study.
Research Question
What is the Present Status of Clients Attending at VCT Center in Dhaka City?
Study Objectives:-
General objective
To assess the present status of clients attending at the VCT center in Dhaka City.
Specific objectives
—  To describe the socio demographic factors of the clients attending at the selected VCT center in Dhaka City
—  To describe the socio economic factors of the clients attending at the selected VCT center in Dhaka City
—  To describe the existing practices of the clients at the VCT center.
—  To assess the level of satisfaction of the clients at the VCT center.
Conceptual framework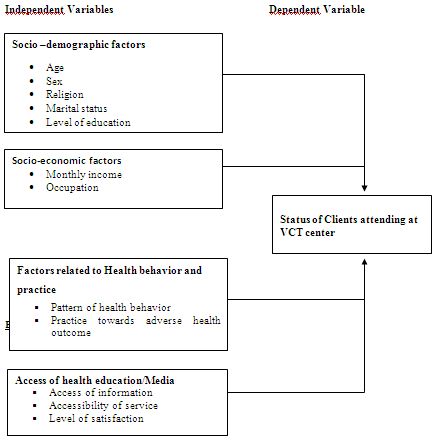 Operational Definition
Status: Condition or situation of a thing or an event
HIV/ AIDS: Acquired immune deficiency syndrome (AIDS) caused by human immune deficiency virus (HIV).AIDS, is a condition that describes an advanced state of HIV infection. With AIDS, the virus has progressed, causing significant loss of white blood cells (CD4 cells) or any of the cancers or infections that result from immune system damage.
Sero status: Sero-status refers to the term 'seroconversion' which is defined as the production of antibodies in response to an antigen. Sero-status can be either seropositive or seronegative; meaning either an individual tests positive or negative for the specific antibodies that are present after exposure to a specific antigen. Sero-status most often refers to HIV status and whether or not an individual is HIV+ or HIV-.
HIV-related illnesses/Opportunistic infections: People with advanced HIV infection are vulnerable to infections and malignancies that are called 'opportunistic infections' because they take advantage of the opportunity offered by a weakened immune system. A partial list of the world's most common HIV-related opportunistic infections and diseases includes: Bacterial diseases such as tuberculosis, MAC, bacterial pneumonia and septicaemia (blood poisoning) Protozoal diseases such as toxoplasmosis, microsporidiosis, cryptosporidiosis, isopsoriasis and leishmaniasis, Fungal diseases such as PCP, candidiasis, cryptococcosis and penicilliosis, Viral diseases such as those caused by cytomegalovirus, herpes simplex and herpes zoster virus, HIV-associated malignancies such as Kaposi's sarcoma, lymphoma and squamous cell carcinoma.
ARV therapy: Antiretroviral therapy, treatment with drugs that inhibit the ability of the human immunodeficiency virus (HIV) or other types of retroviruses to multiply in the body.
STI: Sexually transmitted infection, an infection that can be transferred from one person to another through sexual contact. In this context, sexual contact is more than just sexual intercourse (vaginal and anal) and also includes kissing, oral-genital contact, and the use of sexual "toys," such as vibrators. Among the sexually transmitted infections (STIs) are: AIDS/HIV, chlamydia, genital herpes, genital warts, gonorrhea, hepatitis B, and syphilis.The term "sexually transmitted infection (STI)" corresponds to and is meant to replace the older term "sexually transmitted disease (STD).
Cotrimoxazole prophylaxis: Co-trimoxazole prophylaxis is used in HIV-exposed children, children living with HIV and adolescents and adults living with HIV in the context of scaling up HIV care in resource-limited settings.
LITERATURE REVIEW
A study was done on "The voluntary HIV counseling and testing service in Kenema District, Sierra Leone, 2004-2006: a descriptive study". The study examined data on the population that obtained HIV VCT in Kenema District, Sierra Leone, from 2004 to 2006, using descriptive statistics and exploring potential HIV risk factors using bivariate and multivariable logistic regression. Analysis was performed separately for two subpopulations: those accessing VCT routinely as part of antenatal care and those specifically seeking VCT.
During study period, 2230 people accessed VCT: 1213 through antenatal testing and 1017 specifically seeking VCT. The HIV prevalence was 0.6% in women presenting for antenatal care, 12.6% in women specifically accessing VCT, and 6.7% in men specifically accessing VCT. In both bivariate and multivariable analyses, being female was statistically significantly associated with testing positive in people specifically seeking VCT. These data from the VCT service in Kenema was used to improve the accessibility of HIV testing. Questions raised by the analysis will be used to enhance data collection and to inform further research on risk factors.A cross-sectional observational study and a retrospective observational study, which provided comparison data regarding the title "Efficacy and acceptability of rapid, point-of-care HIV testing in two clinical settings in Ghana"
Methodology indicates that Patients diagnosed with TB and clients seeking testing at the VCT clinic were offered POC testing. Before this evaluation, all newly diagnosed TB patients were offered HIV testing at the hospital but outside of the TB clinic. Subjects provided information regarding demographic characteristics and the testing process, which also was obtained from staff.
Rapid HIV testing was done using the Abbott Determine HIV-1/2 test kit in the VCT and the INSTI HIV-1/HIV-2 antibody test kit in the TB clinic. Initial results were provided in 15-20 minutes at the VCT clinic and within five minutes at the TB clinic. Persons with positive or indeterminate results were retested using a serum sample with one or two rapid tests using a combination of the Vironostika HIV-Uniform test plus 0 ELISA and ELISA/Card Test: HIV 1,2 assays. Serum samples reactive on both assays were assumed to be positive for HIV-1 or HIV-2, or both. Patients who tested positive on the rapid test were given an appointment to attend the HIV clinic within four through eight weeks.
In February 2007, 95 VCT clinic clients and 35 TB clinic patients underwent POC testing. During the comparison period (August-September 2006) 369 (93%) of the VCT clients and 31 (41%) of the 76 TB patients were tested for HIV.
In February 2007, 37% of the VCT clients and 26% of the TB patients tested HIV-positive compared with 52% of the VCT clients and 35% of the TB patients tested between August and September 2006. All persons who underwent POC testing received their test results compared with 60% of the VCT clients and 90% of the TB patients who were tested with conventional HIV tests.
There were 78 subjects who provided feedback on the testing procedures, and the majority viewed the test positively, would recommend the test to others, and felt that providing test results quickly caused less worry than conventional testing. Feedback from staff regarding the POC testing also was positive.
It was concluded that rapid POC testing, which provides results quickly while the tested person waits, was feasible and acceptable in these two clinic populations and resulted in a higher proportion of persons receiving their test results than did conventional testing, in which patients were required to return for results.
A Prospective population-based cohort study of adult men and women was done on "Voluntary counseling and testing: uptake, impact on sexual behavior, and HIV incidence in a rural Zimbabwean cohort" objectives indicating to examine the determinants of uptake of voluntary counseling and testing (VCT) services, to assess changes in sexual risk behavior following VCT, and to compare HIV incidence amongst testers and non-testers.
The cohort was part of the Manicaland HIV/STD Prevention Project, in which all local residents were enumerated, first in a baseline household census conducted from July 1998 to February 2000, and again three years later (referred to as the follow-up survey). Information on demographic and socioeconomic characteristics, HIV knowledge, and sexual behavior were collected. Responses to sensitive questions about sexual behavior were collected using an informal confidential system of voting. Dried blood spots were collected for HIV serological testing, which was performed using a highly sensitive and specific antibody dipstick assay. In parallel with the research, free HIV counseling and testing and free treatment for other sexually transmitted diseases were made available in the study areas through a mobile clinic service. The 12 sites were enumerated in succession with the mobile VCT clinic present within the study site at the time the survey was being conducted. Nine counselors used a systemic approach that emphasized the background of the client and tailored pre- and post-test counseling accordingly. VCT services provided primarily by non-governmental organizations were also available in the study areas and the provincial capital Mutare.
The study populations were males aged 17 to 54 years and females aged 15 to 44 years. The overall participation rate of individuals eligible for the cohort study was 79% at baseline (9,454/11,980) and 79% at follow-up (7,019/8,894). A total of 6,259 individuals (61% female) reported sexual experience at follow-up and were therefore included in the cross-sectional analysis. Of these, 5,775 individuals who participated in the baseline and follow-up study were analyzed for sexual behavior change and HIV incidence.
HIV prevalence based on the undisclosed dipstick tests used in the survey was 20% and 18% for males and 26% and 22% for females at baseline and follow-up, respectively. At baseline, few study participants had ever received VCT (6.6%). At follow-up, 19% reported having had an HIV test at some point in the past, with males being significantly more likely to have been tested (26% males versus 14% females, p<0.001), but less likely to have received the result after testing (46% males versus 71% females, p<0.001). Consequently, 12% of men and 10% of women in the study population had ever collected an HIV test result. The great majority of respondents (88%) said they wanted to know if they were HIV-infected. Of the 1,185 who had tested for HIV, 51% reported having received pre-test counseling. For both males and females, those who received pre-test counseling were significantly more likely to return for their results than those who did not (males: 82% versus 21%; females: 80% versus 53%; p<0.001).
Psychological factors were the most common deterrent for testing (32%), followed by stigma and discrimination (8%) and the belief that knowledge of infection would accelerate disease progression (7%). For both sexes, increasing age was strongly associated with VCT uptake. Men who were tested (compared to those who were not tested) were less likely to live in roadside trading centers (OR 0.36, p<0.05) and reported more partners (OR 2.08, p<0.001). Women who were tested were more likely to live in roadside centers (OR 2.07, p<0.01) and in subsistence farming areas (OR 2.02, p<0.01). Being HIV-infected (OR 1.33, p<0.01) and having greater knowledge about HIV/AIDS (OR 1.18, p<0.01) were predictors for VCT in women, but not in men. Having any secondary/higher education was a significant predictor of testing in both sexes in all ages except 35-44 (OR ~2, p-value not given).
Men and women who received a positive result and post-test counseling had fewer sexual partners in the year prior to follow-up (age- and sex-adjusted OR 0.53, p<0.05) and women reported higher levels of condom use in their regular partnerships (AOR 0.11, where values <1 indicate consistent condom usage, p<0.05). Individuals who received a negative result and counseling were more likely to become risky in terms of beer hall attendance (AOR 1.45, p<0.1), new partners in the last year (AOR 1.34, p<0.1), and number of concurrent partnerships (AOR, 1.50, p<0.05). Individuals who received a negative result but no counseling were more risky in terms of partners in the last month (AOR, 1.51, p<0.01) and last year (AOR 1.31, p<0.05). HIV incidence in males and females who tested negative at or near baseline did not differ significantly from those who had not tested at/near baseline (17.5-23.1 cases per 1,000 person-years).
The authors concluded that motivation for VCT uptake was driven by knowledge of HIV and place of residence, rather than risk behavior. The slow uptake of VCT indicates that the provision of VCT by mobile clinics, based at the site where people have to give a sample specifically for personalized HIV testing, was not a sufficient mechanism to affect wide uptake of services in a three-year period. Increased sexual risk following receipt of a negative result may be a serious unintended consequence of VCT. Therefore, the authors suggest that such risks should be minimized with appropriate pre- and post-test counseling.
A study on "HIV voluntary counseling and testing and HIV incidence in male injecting drug users in northern Thailand: evidence of an urgent need for HIV prevention" it's abstract indicates that  HIV voluntary counseling and testing (VCT), an important strategy for HIV prevention and care, has been available in all government hospitals in Thailand since 1992.They assessed factors associated with HIV testing, its uptake, and estimates of HIV incidence after HIV testing among male northern Thai injecting drug users (IDUs) admitted for inpatient drug treatment. Participants were interviewed about risk behaviors and HIV testing history before VCT was provided as part of the study. Of 825 IDUs who participated, 36% reported a prior HIV test. Factors associated with prior HIV testing in multiple logistic regression analysis included higher education and having >1 lifetime sex partner. Needle sharing was not associated with prior HIV testing. Of the 298 men with a prior test, 80% reported a negative result on their last prior HIV test, of whom 28% tested positive in our study, leading to an estimated incidence rate of 10.2 per 100 person-years. Fifty-nine percent of the IDUs who reported a prior HIV test stated that they did not receive pre- and/or posttest counseling. HIV incidence among IDUs remains high despite having VCT. Extending HIV prevention and harm reduction programs is urgently needed for IDUs in the region.
A study was done in China regarding the title " HIV voluntary counseling and testing among injection drug users in south China: a study of a non-government organization based program" This study examined the feasibility of using a Chinese non-government organization (NGO) to deliver a VCT program to injection drug users (IDUs) in a southern Chinese city. The process data indicated the program successfully recruited and served 226 male and female IDUs in 4 months. The HIV prevalence rate of the study population was 57.5% by rapid HIV testing with a secondary rapid test to confirm. Quantitative and qualitative evaluations indicated that the VCT program was implemented appropriately and participants' HIV knowledge and safe drug and sex practices were significantly improved after participation in the VCT program. This study demonstrates the feasibility of a Chinese NGO to provide VCT for IDUs and documents the processes and outcomes of the program. There remains a great need to find additional sources to provide VCT and other HIV prevention services to IDUs and other high-risk populations in China. Chinese NGOs have the potential to fill this need.
An article on "The costs and effectiveness of four HIV counseling and testing strategies in Uganda". Objectives of the study was to compare costs and outcomes of four different HIV counseling and testing (HCT) strategies in Uganda. The study described the following This was a retrospective cohort of individuals who received HCT at one of four Ugandan HCT programs: stand-alone HCT, hospital-based HCT, household-member HCT, and door-to-door HCT.
Data were collected from four HCT projects in Uganda, each utilizing a different HCT strategy. Projects were selected from similar geographic areas to minimize differences in population characteristics and setting. Uganda has a mature generalized HIV epidemic predominantly driven by heterosexual sex, with an HIV prevalence of 7.5% and 5.0% in 15-49-year-old women and men, respectively. HCT coverage is low, and by 2007 only 25% of women and 21% of men reported ever having tested for HIV.
The study collected de-identified data from project data systems. Projects were evaluated between June 2003 and September 2005, with each project assessed for an evaluation period of 6-12 months coinciding with a period of uninterrupted project operations. Data were collected on a total of 84,323 HCT clients.
All four HCT strategies follow similar procedures, with HIV testing provided in a single session using a serial HIV rapid test algorithm. Pretest and post-test counseling was provided, covering basic HIV/AIDS information, the testing process, risk-reduction strategies, the interpretation of positive or negative test results, partner communication and disclosure, and voluntary consent. Referral for HIV care and treatment was provided for clients diagnosed as having HIV infection. Testing was free, voluntary, and private, and clients were encouraged to test with their partner (couples HCT).
Stand-alone HCT was the conventional HCT strategy, provided through free-standing centers, and was client initiated. Individuals attending the site were provided initial group counseling, with key messages reiterated and consent obtained in private sessions for couples or individuals. Clients found to be infected with HIV were referred to local health centers for follow-up.
Hospital-based HCT was a provider-initiated strategy, which was offered to all patients with unknown or undocumented HIV status who attended hospitals and major health centers regardless of illness presentation and using an opt-out approach. Pretest counseling was provided in a group setting, with key messages reiterated and consent obtained in private sessions. HCT was provided by health providers with HCT-specific training, and counselor-assisted disclosure to sexual partners and family members was provided if requested by the patient.
Door-to-door HCT was a home-based, provider-initiated strategy. Mobile teams offered HCT to clients at home, and community mobilizers ensured all households in a community were offered services. Door-to-door HCT was offered to all adults and to all children aged 0-14 years whose mother was HIV-infected, deceased, or of unknown HIV status. Initial group counseling was provided to family members and peers, followed by private pretest and posttest counseling for individuals and couples deciding to test.
Household-member HCT was similar to door-to-door HCT, with HCT offered to clients in their own homes. This strategy, however, specifically targeted the household members of individuals already identified as HIV-infected, reflecting research showing that household members were at greater HIV risk. Households were approached only after voluntary consent by the HIV-infected index client. This strategy was provided in conjunction with existing HIV treatment programs, and mobile teams traveled to households of willing program participants, offering HCT to all adults and to all children aged 0-14 years whose mother was HIV-infected, deceased, or of unknown HIV status. Individuals identified as HIV-infected were offered treatment through the same treatment program serving the index patient.
Both stand-alone HCT and hospital-based HCT reported high client HIV prevalence, at 19.1% and 27.2%, respectively. In contrast, the two home-based strategies reported relatively low client HIV prevalence. For household-member HCT, the low prevalence reflected a higher proportion of clients in the 5-14- year-old age group, who had a prevalence of 2.4%, compared with 17.0% in those older than 24 years old. For door-to-door HCT, the low average HIV prevalence was low across all age groups. Across all strategies, the peak HIV prevalence was found in the 35-to-44-year-old age group. Women and first-time clients also had higher HIV prevalence. A substantial percentage (>30%) of all HIV-infected clients had advanced immunosuppressant (defined as CD4 cell count below 200 cells/mL) regardless of testing strategy, and almost one quarter of HIV-infected clients identified by hospital-based HCT had a CD4 cell count below 50 cells/mL. The door-to-door strategy identified the highest proportion (69.3%) of HIV-infected clients with a CD4 cell count above 200 cells/mL.
Although no strategy reported more than 25% of clients testing as part of a couple, many clients who tested as individuals were married or part of a cohabiting couple. There was wide variation in the percentage of clients who were married or part of a cohabiting couple who actually undertook couples HCT, ranging from 6.3% (hospital-based HCT) to 64.1% (household-member HCT). Married or cohabiting couples in hospital-based HCT and household-member HCT showed substantially higher risk of HIV discordance, related to the high HIV prevalence in these populations. The proportion of all clients who were part of a discordant couple ranged from 0.7% for hospital-based HCT to 3.1% for household-member HCT. It is notable that for all strategies, the infected partner was male in the majority of discordant couples.
Each of the three nontraditional strategies compared favorably with stand-alone HCT in terms of the crude cost per client, and door-to-door HCT was the least expensive strategy per client tested. Door-to-door HCT also appeared to be the most cost-effective in terms of reaching new clients, whereas hospital-based HCT appeared superior in terms of identifying HIV-infected clients.
The authors concluded all testing strategies had relatively low costs per client. Hospital-based HCT most readily identified HIV-infected individuals eligible for treatment, whereas home-based strategies more efficiently reached populations with low rates of prior testing and HIV-infected people with higher CD4 cell counts. The authors concluded that multiple HCT strategies with different costs and efficiencies will be needed to meet the UNAIDS/WHO call for universal HCT access by 2010.
A study was done on "Acceptability of voluntary HIV testing by pregnant women in developing countries: an international survey". Methods of the study described that A total of 13 studies located in West (n = 3), East (n = 7), Southern Africa (n = 2) and Thailand (n = 1) were identified and contacted. All respondents represented research projects assessing interventions to reduce MCT (antiretroviral therapy, vitamin A supplementation, vaginal cleansing, formula feeding). The survey was conducted before the results of a trial showing the effectiveness of a short course regimen of ZDV in reducing  perinatal HIV transmission were available. In the study in Lusaka, Zambia, the primary objective was to counsel pregnant women about prevention against sexually transmitted diseases (STD) and HIV/AIDS. Interventions evaluated in five of the studies (three with vitamin A supplementation, two with vaginal cleansing) would not require HIV testing if shown to be successful and implemented into a public health programme. Acceptability of HIV testing was nevertheless assessed in these trials.
A standardized questionnaire was sent to each study group in September-October 1997 and filled out by investigators of the research projects. Information collected included a description of the study setting, number of available VCT centers for the population in the city, specific services offered to HIV-infected women and their children, VCT procedures in place, availability and basic training of counselors, estimated mean duration of individual pretest and post-test counseling (independently of HIV serostatus), and acceptability of pretest and post-test session of counseling according to HIV status.
Spearman rank correlation and Fisher's exact test were used for statistical analysis when appropriate.
All study centres were located in urban areas. HIV seroprevalence among pregnant women ranged from 9 to 18% in seven sites, above 27% in five sites in African cities, and was 2.3% in Bangkok, Thailand. Out of the eight cities with more than 2 million inhabitants, four had only one VCT centre available for the whole population. Routine antenatal HIV testing was not offered outside the project except in Soweto (South Africa) and Bangkok (Thailand). In Nairobi, Lusaka, Dar Es Salaam, Durban and Bangkok, pregnant women with prior HIV testing accounted for 1, 2, 5, 10 and 10%, respectively, of the total number of pregnant women to whom VCT was offered. HIV-infected women benefited from specific services such as testing of children, family planning advice in only five sites in Africa (Lusaka, Harare, Soweto, Durban) and Thailand. VCT of partner and support by nongovernmental organizations (NGO) or associations were only provided in two African sites (Lusaka and Soweto) and Thailand.
The majority of the investigators were not able to identify trained counsellors in the antenatal clinics before the start of the project, and more than one-third had to recruit social workers as counsellors outside the antenatal clinics. Nurses or midwifes trained and recruited from the present clinic staff participated to pre- and postnatal care activities. Even under optimal conditions, such as in Soweto and Bangkok, with pre-existing VCT services in the antenatal clinic, clinic staff number was generally considered to be inadequate. Seven of the 13 VCT study centres offered group counselling before testing. The mean duration of the individual pretest and post-test counselling sessions was 15 and 26 min, respectively.
The acceptance rates of VCT at pretest session amongst the women who were offered VCT were high, with the exception of Malawi (median, 92%; range, 53-99.7%;) Return rates varied widely between sites (median, 82%; range, 33-100%). A return rate of 100% was obtained in one site (Lusaka) where rapid test algorithms were used and HIV results were provided on the same day, before the women left the antenatal clinic. In the majority of the sites, the return rates of women diagnosed as HIV-infected were below those of women found to be uninfected. The overall acceptability of VCT (acceptance of both VCT pre- and post-test sessions) varied widely between sites. The median overall acceptability of VCT was 69%, ranging from 33 to 95%. Overall acceptability of VCT most frequently depended on return rates because acceptance rates of the test itself were generally high. Several studies were conducted simultaneously in the same city (Abidjan, Blantyre) or the same country (Kenya, South Africa). In these settings, overall acceptability rates of HIV testing were similar between studies even if the intervention programmes differed, except in Blantyre. Overall acceptability rates increased with higher return rates for test results (Spearman rank correlation, r = 0.8; P = 0.004), with number of VCT centres available for the population (r = 0.6; P = 0.02), and with the number of pregnant women previously tested (r = 0.7; P = 0.009). Sites that reported that the majority of their clinic staff in charge of VCT was also involved in general antenatal care services provided specific services for HIV-infected women and NGO support. These clinics experienced high overall acceptability rates, although these rates were not statistically different compared with other sites that did not offer these services. Overall acceptability rates did not vary with HIV seroprevalence, basic training of counselors, specific interventions and duration or techniques of pretest counseling.
To our knowledge, this is the first report to compare acceptability of VCT by pregnant women in various sites in the world's most affected countries. However, there were potential limitations to our study. Raw data were not available, and the available number of observations sometimes limited the statistical analysis. Investigators could not have well appreciated the duration of pre- or post-test counseling sessions. Many factors associated with the cities themselves, the culture of the population, the perception of the risks, the motivation of the counselors, and the level of discrimination against HIV-infected persons could not be taken into account. In Blantyre, factors associated with the antenatal site, the counselors or specific characteristics of the population in the antenatal site area could explain substantial variations in acceptability of HIV testing. Qualitative research is required to understand local particularities, but this was not available in our survey.
Our findings reflect the experience in research projects with optimal logistics and human resources, where VCT and intervention are offered free of charge. However, none of the interventions assessed in these trials was proven effective at the time of the study and in programmes that included a placebo group, women could not be guaranteed to benefit from the intervention. Acceptability of VCT and interventions are likely to differ when interventions are implemented in a public health  programme  with a real cost and known benefits. In sites where a particular effort in implementing VCT programmes had been made, overall acceptability of HIV testing of pregnant women was high. In many developing countries, possible benefits of VCT (such as medical and psychosocial management) are limited or non-existent, and fear of having to cope with the result is common . Women can therefore be reluctant to be tested for fear of discrimination and loss of marital security or domestic violence. Highly educated women and those who perceive themselves at risk of being already infected may be better able to analyse these risks and develop a negative attitude towards HIV testing. However, these factors could not be evaluated in this international survey using available data from different centres. The generally lower return rates of HIV-infected women suggest that they perceive themselves at risk of HIV infection, as documented by their past sexual behavior (number of sexual partners) and risk associated with their unfaithful regular partner, and also suggest that they do not want to know their test result.
In industrialized countries, acceptance rates reported in prenatal care VCT sessions, before the introduction of zidovudine, were generally high (63-98%), and failure to return was rarely mentioned in most of the settings. In some places, acceptability of HIV testing could be low. Acceptance rates of 30 and 41% and return rates of 66 and 44.5%, respectively, have been observed in two different sites in New York State, United States and a 23% uptake has been reported in inner London, United Kingdom. Acceptability of HIV testing has varied widely according to different sites in the same country (0-92% in California in 1994 , 52.5-92.4% in Connecticut in 1995-1997, and 3.4-51.2% in inner London in 1995-1996 ), even after introduction of the AIDS Clinical Trials Group protocol 076 intervention programme.
In our survey, which was conducted in developing countries, women easily accepted VCT but return rates were low. Overall acceptability of HIV testing, taking into account both pre- and post-test acceptability, is a determining factor for strategies to reduce MCT that require antenatal HIV testing. At a public health level, pretest group discussion is easier to implement than individual counseling. Group counseling reduces the number of resource persons needed. HIV VCT could therefore be integrated into existing sessions of counseling regarding general ante- or postnatal care. A VCT programme with same-day test results represents a possible option to avoid the logistic problem of having to return for the test result. This was shown to result in high overall acceptability in Lusaka, Zambia. Further studies are needed to evaluate psychological stress and acceptability of interventions within such rapid VCT programmes compared with standard programmes where women wait for results for up to 2 weeks.
Our results suggest that perinatal interventions that do not require VCT may be of particular interest in poorly resourced countries. However, at the present time, it is unknown whether any of these interventions will be efficient in reducing MCT of HIV. A short regimen of ZDV has proven effective in the absence of breastfeeding, but its administration will require VCT. Increasing access to VCT and enhancing antenatal HIV screening programmes with true voluntary informed consent require a general commitment against HIV discrimination an offer of HIV-related services to both children and adults infected by HIV, the training of health-care professionals in counseling and management of HIV-infected persons, and the integration of HIV VCT into various services such as prenatal centers, STD and family planning services. A more general counseling and education programme for women should address HIV testing, MCT of HIV and its prevention throughout child-bearing years. Our findings show that despite many obstacles, VCT is feasible and acceptable for pregnant women aiming to reduce the risk of transmitting HIV to their children.
"Factors Related to Female Sex Workers' Willingness to Utilize VCT Service: A Qualitative Study in Jinan City, Northern China  "This study used a geographically diverse convenience sample of EEs representing each type in Jinan city. Twenty-three EEs were approached by public health outreach workers, through acquaintances of EE managers. Of these EEs, 12 (52%) were successfully recruited. Those who declined cited confidentiality as their main concern. Managers from the participating 12 EEs identified 21 FSWs for possible recruitment. Our inclusion criteria for the FSWs included being age 18 or older, identified by managers as informative and able to provide rich and in-depth responses, and working as an FSW in an EE with a participating manager. Of the 21 FSWs, 15 (79%) agreed to participate in the interview. Since some FSWs in Jinan also work outside of EEs, we recruited two "call girls" through our public health outreach workers' contact network, increasing our sample size of FSWs to 17. At least two FSWs and managers from each EE category were interviewed. The criteria for the sample size was to achieve saturation in the qualitative data from all types of EE respondents interviewed, in order to verify that no new information was found. In addition to achieving saturation, data from FSWs was also triangulated with that of managers.
Qualitative data were collected using face-to-face, in-depth interviews by one female and one male interviewer. The interview guide was informed by the Ecological Perspective, which emphasizes the interaction between, and interdependence of, factors within and across all levels of a health problem. It includes intrapersonal or individual, interpersonal, institutional, and community levels. Intrapersonal factors in this research include the individual's knowledge, attitudes, beliefs regarding HIV and VCT, perceived risk of infection, HIV risk behavior, and their expected outcomes for VCT utilization. Interpersonal level includes manager and peer norms regarding FSW use of VCT and FSWs' motivations to comply with the views of their managers or peers. Institutional factors include accessibility of VCT clinics. Community factors include social and cultural attitudes toward FSW and HIV.
Before each interview, oral informed consent was obtained, reviewing the study purpose and addressing any concerns participants had about confidentiality. Interviews lasted about 30 min and were carried out according to the protocol designed by outreach workers from Shandong Institute of Prevention and Treatment of Dermatology and STDs. At the end of each interview, the interviewer provided basic information about HIV, and asked if the participant would be willing to visit a VCT clinic. Each interview was audio taped and interviewees received a small incentive for their participation. This project was approved by the IRB of Chinese Center for Disease Control and Prevention, Institute for Viral Disease Control and Prevention.
National sentinel surveillance and studies have demonstrated high rates of both STDs and HIV in FSWs in China. Unrecognized infection compromises the health of individuals and leads to further spread of HIV. Despite government sponsored free VCT in China, actual use of the service has been low, seriously limiting the overall effectiveness of VCT in China's fight against the AIDS epidemic. This is the first study to explore barriers to VCT in FSWs in Jinan, the capital of a Chinese province that is moderately affected by the epidemic. While HIV has been documented among FSWs in Jinan, it is still early in the epidemic for the general population. The results suggest a number of opportunities for intervention in this and other similar locations in China.
FSWs interviewed in this study had limited knowledge of their actual risk for HIV infection and limited understanding of the disease. Given high reported rates of condom use, it is not surprising that they did not perceive HIV to be a threat and have only modest motivation for testing. These findings, particularly that FSWs associate physical appearance with health status, have been described in other studies of FSWs in China and reinforce the need for education that focuses on the nature of HIV risk from non-symptomatic individuals.
Utilization of public health services is affected by actual need. A theme that emerged in this research is that the inclination of FSWs to utilize a VCT clinic is affected by the perceived HIV infection rate in their environment. This is similar to the findings in Uganda. Reports from other countries suggest that the acceptability of VCT by the general population of low prevalence areas is lower than in high prevalence areas. However, increasing utilization of VCT by high risk individuals in low prevalence areas is a crucial component of the strategy to reduce HIV transmission."Worry about testing positive and unwillingness to face the truth" was another common reason cited by FSWs and managers for not utilizing a VCT clinic. This concern has been observed in other countries as well. It is clear that a successful VCT clinic must address anxiety in its target population. This issue has additional importance for FSWs whose employment is dependent on their HIV negative status. Our interviews also revealed that FSWs are wary of health care service providers, mistrust promises of free service, and are fearful of discrimination related to both HIV and sex work.
Free consultation and testing, and even free treatment, clearly cannot entirely resolve the problem of denial of infection risk or relieve the anxiety of a positive result. The precarious social and economic situation of FSWs reflects some of the underlying causes of the HIV epidemic in China, such as few work opportunities for less educated young women, the increasing gap between rich and poor, and a large and growing migrant population. Only through more comprehensive prevention and treatment measures, that also attempt to create a less discriminatory environment for people with HIV/AIDS and for FSWs and empower FSWs with job training and knowledge of VCT, can we effectively control the transmission of AIDS.
This study contributes to the literature in a number of ways. First, while some findings replicate those from other studies of FSWs, our results demonstrate the importance of understanding local context to increase acceptability of VCT. In Jinan, the managers' response to VCT and influence over FSW activities were not cited as major impediments to utilization, in contrast to reports from other settings in China and elsewhere. Both FSWs and managers expressed concern over the time and travel required to obtain testing and results, but managers did not seem likely to block HIV testing, and FSWs did not express particular fear of these managers. These factors may enhance the importance of peer networks for HIV education and promotion of VCT services––within the context of discrimination and the fact that all those interviewed reported hiding their sex work activities from their families. The suggestion by our respondents for on-site services is an example of a local solution to some of these dilemmas. Lastly, the fact that awareness of VCT services was so limited points to the need for more appropriate information dissemination.
Our study has several important limitations. While we recruited managers and FSWs from the all categories of EEs known to sponsor FSWs and from the street, this study is qualitative and exploratory, with limited generalizability. Furthermore, given FSWs' lack of knowledge of VCT, and the inevitable influence of social desirability during the interviews, statements about intentions to utilize VCT must be considered hypothetical at best. VCT research conducted in other countries has found inconsistencies between stated willingness to visit a VCT clinic and actually visiting one. More important than the number of FSWs who expressed willingness to attend a VCT clinic at the end of the interview are the findings about barriers, negative views, and indifferent attitudes attributed to peers. Our study was not designed to test predictors of VCT utilization; rather, our results will be used to design and evaluate an appropriate intervention to increase VCT utilization by FSWs in Jinan.
China's HIV epidemic is growing in a context of rapidly changing social norms and government policies. The results of this study are highly relevant to truly urgent interventions needed to prevent the HIV epidemic from spreading among FSWs and their clients in locations such as Jinan. Increasing FSWs' utilization of VCT will require dramatically increased knowledge of HIV and VCT and acceptance of VCT services. It is clear that education about the nature of HIV risk and VCT information dissemination are critically needed. Such outreach should be combined with the use of peer support networks and flexible on-site testing at locations that will minimize stigma.
RESEARCH METHODOLOGY
Study Design:
It was a Descriptive  type  of  Cross Sectional Study
Study Area:
The study was carried out at the Social Marketing Company VCT center in Dhaka city.
Study Period:
The study was carried out within January to May 2013.
Study Population:
The study was conducted among the clients attending at SMC VCT center in Dhaka City, Bangladesh.
Selection of  Participants:-
Inclusion Criteria
—  The study was conducted among the people who comes only for VCT services at the center.
—  The study was conducted only at the selected VCT center in Dhaka City.
—  People who were normal in sense and able to provide information.
Exclusion Criteria
—  People who were unable to give information
—  People who refused to give consent
Data collection method:
There was one type of data collection procedure.
A pre-tested semi-structured questionnaire was designed to collect the information .
Data management and Analysis plan:
After collection of data, this was checked and verified for consistency and reduction of errors. Thereafter these data was transferred to a suitable master sheet for processing and subsequent analysis. Data was entered to the computer and saved in Statistical Package for Social Sciences (SPSS) version 16.00 by the Research. Quality and reliability of collected data was re-checked. Appropriate Statistical analysis, calculation and test were carried out to relate variable according to the objectives of the study.
Ethical considerations
Right to refuse and withdraw from the study at any time was accepted
Respondent were told that the collected from the interview would be kept confidential and would be used for the study purpose only
All interviews were conducted with the prior consent of the respondents
No incentives were given to the respondents
Limitations of the Study
—  All the clients did not give consent
—  Few clients refused to continue interview after the starting of the process
—  Sample size could not be determined more accurately
—  I had done this study at the selected VCT center in Dhaka City, so the result may not generalized the whole country.
RESULTS
This was cross sectional study conducted among the clients attending at VCT center in Dhaka City. The following pages describe the findings from the studies.
Table -: Distribution of the Respondents by their age (n=100))
Age

Frequency

Percent

Up to 20 years

10

10.0

21 years-30 years

34

34.0

31 years -40 years

40

40.0

41 years-50 years

12

12.0

50 years above

4

4.0

Total

100

100.0

Mean±SD

31.21±8.35
 Table indicates that out of 100 respondents 10%were up to 20 years of age, 34%were age of between 21-30 years40%were aged between 31-40 years, 12% were between 41-50 years of  age and other 4% were above 50 years of age. The mean age was 32.21±8.35.
Table: 2Distribution of the respondents by their level of education (n=100)
| | | |
| --- | --- | --- |
| Education | Frequency | Percent |
| Illiterate | 12 | 12.0 |
| Primary | 30 | 28.0 |
| Secondary | 32 | 32.0 |
| Higher secondary | 10 | 12.0 |
| graduate | 11 | 11.0 |
| Masters and above | 5 | 5.0 |
| Total | 100 | 100.0 |
Table 2 indicates that out of 100 respondents 12% were illiterate, 30% had primary level education , 32% had secondary level education, 10% had higher secondary degree and other 11 % were graduate and rest 5% had higher level of education.
Table: 3Distribution of the respondents by their monthly family income (n=100)
| | | |
| --- | --- | --- |
| Income | Frequency | Percent |
| Up to 5000 Tk | 6 | 6.0 |
| 5001 Tk -10, 000 Tk | 20 | 20.0 |
| 10,001 Tk- 15,000 Tk | 30 | 30.0 |
| 15,000 Tk -20, 000 Tk | 24 | 24.0 |
| 20,001 Tk -25, 000 Tk | 16 | 16.0 |
| above 25,000 Tk | 4 | 4.0 |
| Total | 100 | 100.0 |
Table 6 indicates that among all the respondents ( n=100) 6%  respondents earned up to 5000 Tk in a month, 20%earned monthly 5001 Tk -10, 000 Tk , 30% respondents earned 10,001 Tk- 15,000 Tk , 24% respondents earned monthly 15,000 Tk -20, 000 Tk, 16% earned 20,000-25,000Tk, and rest 4%  respondents earned above 25,000 Tk.
Table: 4Distribution of the respondents by their condom use during sex (n=62)
| | | |
| --- | --- | --- |
| | Frequency | Percent |
| Yes | 39 | 62.90 |
| No | 23 | 37.09 |
| Total | 62 | 100.0 |
Table 4 indicates that among all the respondents ( n=62) 62.9%clients used condom having sex and  37.9% respondents did not use it.
Table-  Association between occupation and injactable drugs of the respondents  
Occupation

Injactable drugs

Total

Z/p value

Yes

No

Student

No.

14

3

17

z =2.24

p = 0.02

Significant

% within Occupation

82.4%

17.6%

100.0%

Business

No.

2

16

18

z =2.39

p = 0.01

Significant

% within Occupation

11.1%

88.9%

100.0%

Housewife

No.

8

3

11

z =1.27

p = 0.20

Not significant

% within Occupation

72.7%

27.3%

100.0%

Garments

No.

4

2

6

z =0.61

p = 0.54

Not significant

% within Occupation

66.7%

33.3%

100.0%

Commercial sex worker

No.

6

8

14

z =0.49

p = 0.62

Not significant

% within Occupation

42.9%

57.1%

100.0%

Service

No.

10

20

30

z =1.75

p = 0.07

Not significant

% within Occupation

33.3%

66.7%

100.0%

Others

No.

3

1

4

NAP

% within Occupation

75.0%

25.0%

100.0%

Total
No.

47

53

100

% within Occupation

47.0%

53.0%

100.0%
 Discussion:
This cross-sectional study was done to know the present status of clients attending at the SMC MODHUMITA PROJECT VCT  center in DHAKA city Bangladesh. This is a one of the VCT center in Dhaka which works with the generalized population. Due to time constrain 100 workers were selected by randomly and interviewed. Questionnaire was translated in Bengali.15 minutes orientation given about the purpose of the study and then started to fill up the questionnaire.
Sociodemographic and socio-economic factors: Clients of the SMC VCT center were included in this study. According to sociodemographic characteristic the study sample indicated that the age of the clients ranged from 20 to 50 years and above with mean age of 31.21± 8.35 this result is similar and constant with the ICDDRB report that indicates that mean age of the clients of the VCT centers is 33.4years23. Majority (40%) of the clients were age 31-40 years,34%were21-30 years,12%were 41-50,10% were upto20 years and rest 4% were50year and above(table1).Among 100 clients majority(65%) were Muslim because most of the people in our country are Muslim.30%of clients were Hindu, Christian 4% and Buddhist were 1%.(Figure2).Among 100 clients 62% were male and34% were female and rest 4% were transgender(Figure1). The cohort study was conducted in Manicland  HIV/STD Prevention Project where it was found that male were more interested to HIV test than female(26%male versus14%female P<0.001).10 Among 100 clients 12% were illiterate.30 % had primary education, 32% had secondary education, 10% had higher secondary degree, 11% were graduate and 5% had masters and above (Table2) . Educational level were higher in case of male than female. This result shows that woman require special attention in HIV/AIDS program in Bangladesh., given their social economic and political status. Woman lower social and cultural status also comes them to less access to education, employment opportunities and health care., including HIV tests and counseling. Most of the clients (52% ) were married. 5% were unmarried, separated were 32%, divorce were 7% and others were 4% (Figure4). Among 100 respondents 17% were student, 18% were businessmen, 11% were housewife, 30% did service and rest 4% did other types of job (Figure5). Among 100 respondents majority (30%) earned 10000-15000TK. 24% earned 15000-20000 TK, 6% earned 5000TK, 20% earned 5000-10000TK and rest 4% earned above 25000 TK.( Table3). So most of the clients of the center come from middleclass and lower middleclass family.
Factors related to health behavior and practices:-Among 100 respondents male respondents were
62, in them 62.9% used condom and 37.1% did not use it (Table4). Condom use is more in higher educational level. So education has great influence on practice of good health behavior. Majority (78%) clients had multiple sex partner and 22% did not had.( Figure6). This result shows that there is a lack of practices of social norms in our country. So if we practice our moral values more this result may be changed. Among 100 respondents 53% used inject able drugs and 47% did not use it. Among100 respondents student drug user were most 82.4%and drug users were less in service holder ( Table5) Among 100 clients 28% had the history of blood transfusion and 72%  did not transfuse blood before.
Factors related to health education and services: Among 100 clients 46% clients came to know about the VCT center from the health workers.16% from their friends, 8% came to know about the VCT center from their family members. 14% from posters and rest 16% came to know from other sources.Majority 82% visited VCT center voluntarily and 18% did not. Among 100 respondents 51 clients visited the center before. Among 51 respondents mean visit were high for commercial sex workers 7.35 which was higher than other occupation. This result shows the success of VCT center they creates influence among this high risk population. Among 100 clients 84% were satisfied after visiting the VCT center not satisfied (Table7). Only 18% did not satisfy because this center was far away from their house and some had the difficulties to understand the counseling session. Recommendation is, as very few centers are working for generalized population this is not enough for whole Dhaka city, if the number of centers increase this result may change.
CONCLUSION AND RECOMMENDATION
VCT is now a priority intervention in many countries. In these countries, VCT is conducted as a collaborative effort among the host government, development partners (donors) and local and international organizations. VCT is conducted independently or jointly by public and private sector organizations, including non-governmental organizations (NGOs) and community-based organizations (CBOs).
Success for the VCT services require the following things:
Improved quality and expanded availability of culturally appropriate, gender sensitive and sustainable HIV/AIDS program.
Enhanced NGO(Non-Governmental Organization),FBO (Faith- Based Organization) and private sector capacity to design and implement HIV/AIDS program.
Realistic training of counselors in managing complex information processes and psychological reactions + counselor support.
Communicating HIV/AIDS knowledge and prevention messages.
Community awareness, education and mobilization – on test information, against stigma.
Referral networks and support services.
Monitoring and evaluation.
Quality counseling makes the difference in outcomes.
Dissemination of strategic information to assure appropriate use of data for evidence based policy development and decision making.