Banking Product of NCC Bank
Bangladesh banking sector relative to the size of its economy is comparatively larger than many economies of similar level of development and per capita income. The total size of the sector at 26.54% of GDP dominates the financial system, which is proportionately large for a country with a per capita income of only about US$370. Access to banking services for the population has improved during the last three decades. The core objective of this study, in broad objective was to find out the products and services offered by National Credit & Commerce Bank Limited. Emphasis was given to cover all the products, Deposit, loan products of NCC Bank. NCC Bank has 11 types of deposit products. They are Current Account, Savings Bank Deposit, Special Notice Deposit, Term Deposit, Premium Term Deposit, Instant Earning Term Deposit, Special Savings Scheme, Special Fixed Deposit Scheme, Money Double Program and Special Deposit Scheme. Currently NCC Bank started a new product, which is called youngster banking for the school and college going children.
Different account has different requirements. Different Card products of NCC Bank areCredit Card, Debit Card and Mbridge Card. The Remittance Product of NCC Bank is – Welfare Deposit Pension Scheme, Overseas Employment Loan Scheme, Special Interest on Deposit and Loan. Loan and Advanced Products are- Working Capital Financing, Commercial and Trade Financing, Long Term Capital Financing, Agricultural Financing, Import and Export Financing. And finally the Retail/ Consumer Loan Products of NCC Bank are- Personal Loan, Car Loan Scheme, Education Loan, House Building Financing, Consumer Finance Scheme, House Repairing and Renovation Loan, Home Improvement Loan. And finally SME Banking Products are- Small Business Loan, Lease Finance, Working Capital Loan, Festival Business Loan and Festival Personal Loan. From 1985 NCC Bank is servicing the people with these products.
Current Banking Scenario in Bangladesh
When Bangladesh came into existence on the 16th December, 1971, the banking sector of Bangladesh was in total disarray. With the exception of two local banks incorporated in the East Pakistan, all the bigger local banks became in operational. Starting with such a humble condition, the Banking Sector of Bangladesh has grown to a great extent. At present there are 49 banks in Bangladesh. The structure of Banking in Bangladesh is under:
Nationalized Commercial Banks – 4
Specialized Banks- 4
Private sector Commercial Banks:
a) Conventional Banks – 25
b) Islamic Banks – 5
Foreign Commercial Banks:
a) Conventional Banks- 9
b) Islamic Banks – 1
Sonali Bank is the largest among the NCBs while Pubali is leading in the private ones. Among the foreign banks, Standard Chartered has become the largest in the country. Besides the scheduled banks, Samabai (Cooperative) Bank, Ansar-VDP Bank, Karmasansthan (Employment) Bank and Grameen bank are functioning in the financial sector. The number of total branches of all scheduled banks is 6,038 as of June 2000. Of the branches, 39.95 per cent (2,412) are located in the urban areas and 60.05 per cent (3,626) in the rural areas. Of the branches NCBs hold 3,616, private commercial banks 1,214, foreign banks 31 and specialized banks 1,177.
Bangladesh Bank (BB) regulates and supervises the activities of all banks. The BB is now carrying out a reform program to ensure quality services by the banks. Bangladesh Bank (BB) has been working as the central bank since the country's independence. Its prime jobs include issuing of currency, maintaining foreign exchange reserve and providing transaction facilities of all public monetary matters. BB is also Bangladesh Bank (BB) has been working as the central bank since the country's independence. Its prime jobs include issuing of currency, maintaining foreign exchange reserve and providing transaction facilities of all public monetary matters. BB is also responsible for planning the government's monetary policy and implementing it thereby.
The BB has a governing body comprising of nine members with the Governor as its chief. Apart from the head office in Dhaka, it has nine more branches, of which two in Dhaka and one each in Chittagong, Rajshahi, Khulna, Bogra, Sylhet, Rangpur and Barisal.
NCC Bank Limited
 Where Credit and Commerce Integrates
OBJECTIVES OF THE INTERNSHIP PROGRAM
The main objectives are as follows and we have divided them into some broad and specific objectives. These are given below:
Broad Objective
The major objective of this Internship Program is to get the practical experience in the job sector.
Specific Objectives
To know about the working environment and culture of NCC Bank Ltd.
To know the responsibility and duty undertaken by the Commercial Division of NCC Bank Ltd.
To learn about the job responsibility of the NCC Bank Ltd.
To find how well the company meet the compliance
The divisions of NCC Bank are:
The General Banking Division
General Banking also termed as retail banking, is the division where all the banking operation starts for a commercial bank. The division provides day to day services to the clients regarding opening new accounts, remittance funds, issuing pay order and demand drafts and so on. It is divided in to some important sections, described below with relevant elaborations:
Deposit Section
The deposit section serves as the stepping stone to an individual for becoming a valued client of NCCBL. A potential client has a number of options to choose from regarding his/her account type of choice.
Cash Transaction Section
The cash transaction section manages all types of banking services related to receiving and paying cash money and the busiest section. It includes the vault of the branch. This section has to deal with a wide variety of tasks, among which the most common ones are:
Receiving and paying cash to account holders.
Receiving bill payments of various community services like: Electricity, WASA, T&T, Banglalion, Grameen Phone, Robi etc.
Working as agent at the time of issuing IPOs of different companies.
Managing cash transactions of Debit Cards, Credit Cards, Pay Order, Demand Draft & Foreign Remittance.
Clearing & Collection Section
Collection of checks, drafts etc. on behalf of the clients is one of the most basic function of a commercial bank. Clearing stands for mutual settlement of claims made in between member banks at an agreed time and place in respect of instruments drawn on each other. Checks, dividends, warrants and other forms of financial instruments easy for encashment are received in this section of any branch of NCCBL, are sent to the clearing house of Bangladesh Bank for collection. The clearing house does the following steps:
Clearing House
The claims of contracting parties are settled in clearing house. In case of cheque clearing, it is an arrangement under which member banks agree to meet, through their representatives, at appointed time and place to deliver instruments for mutual settlement of claims made among member banks at an agreed time and place in respect of instruments drawn on each other. The claims/payments are settled through banker's accounts of member banks.
Clearing Process: Steps
Step 1: processing of cheques by the collecting branch (outward clearing)
Step 2: processing by the principal branch/local office (consolidation)
Step 3: cheques presented in clearing house and distribution to drawee bank by Bangladesh Bank/Sonali Bank.
Step 4: payment advice by the drawee bank (inward clearing)
Step 5: update return, over payment/under payment (return)
The Card Division
NCCBL launched its VISA Card services on August 22, 2005. The bank offers three different card types with brand names. The description of different types of Credit Cards & Debit Cards will describe in the project part of the report.
The Credit Division
The Credit Division of NCCBL manages the single most significant source of income of the bank- the bank loans. Since Bangladesh has a seemingly inefficient capital market, bank loans still serve as the major source of capital for the economy in general. Managing its credit operations is therefore the task defining the banks performance. For the proper & careful management of the hard earned deposits of its accounts holders, NCCBL has gradually developed a well- organized & skillful group of professional bankers.
The Foreign Exchange Division
The foreign exchange division of NCCBL has been organized with three major sections for the ease of its operations- the import, export and foreign remittance section.
Import Section
According to the Import & Export Control Act 1950, the Office of Chief Controller of Import and Export provides the registration (IRC) to the importer. The bank gives guarantee to the exporter that it will pay for the goods exported if the importer fails to pay. This guarantee is called LC i.e. Letter of Credit, and it's the classical way of secured payment in international trade.
The key function of the import section is to manage and maintain all the tasks related to the banks LC operations. Apart from this, the section also plays its part in sanctioning LTR and LIM.
Export Section
The export section offers export LC services to local exporters, mostly of RMG. NCCBL provides extra cover to its clients throughout the entire export process with facilities like-
Export Letter of Credit advising,
Pre-shipment export financing,
Export documents negotiation,
LC confirmation, etc.
Foreign Remittance Section
According to Foreign Exchange Regulation Act, 1947, section3, commercial banks are titled as authorized dealers of foreign currencies, and with this authority, NCCBL foreign remittance section offers its clients convenient and legal ways of transferring, sending and receiving cash accounts in and from abroad, in addition to fulfilling all their currency conversion needs. Major services include-
Inward and outward remittance service
DD and TT issues
DD and check collection
Endorsements
Travelers check issuance ( a seemingly obsolete service, but still has its uses)
The following services are available in NCCBL for transfer and receive money-
Moneygram
Xpress Money
AFX
Habib Qatar
Dhaka Janata
Placid Express
ANB
Walls street
Turbo cash
Kay Marks
ITAU Unibanko
UAE Exchange
IME
National Exchange
MAJAN Exchange
AL Zaman Exchange
Federal Express
Kushiara Express
The money sending and receiving process is done by swift technology.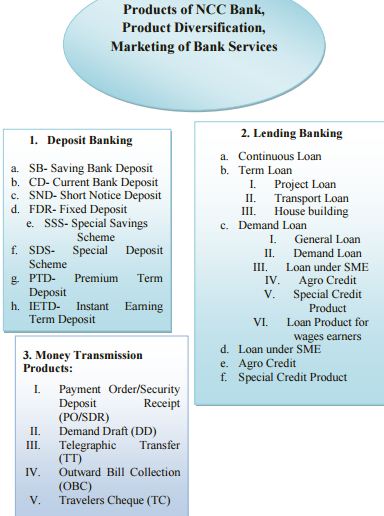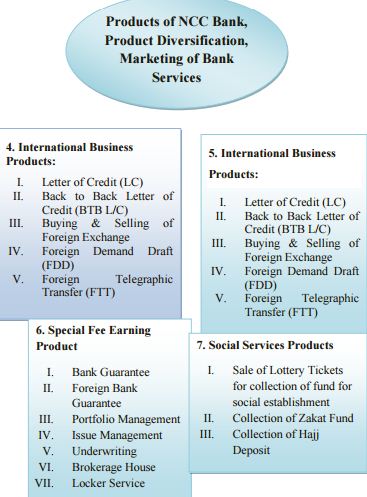 Products and Services of NCC Bank
The products and services of NCC Bank are Loan and Advanced products, Deposit Products, Retail Consumer Loan Products, SME Banking, Cards and Remittance Products. These products have shown below with illustration: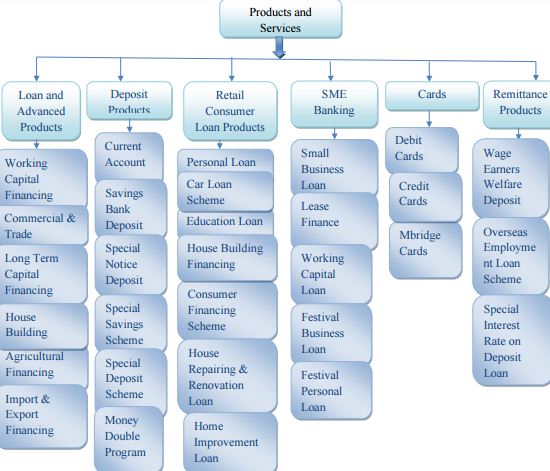 SWOT ANALYSIS
A company's present situation can be determined through the SWOT Analysis which indicates Strengths, Weakness, Opportunity and Threat. This has been
Strength
Efficient Administration
Healthy Financial vitals
200 crore profit in the year 2011
Strong position in CAMEL rating
Using SWIFT Technology & FLORA Software
Good client- banker relationship
High level of cooperation and cohesion among branches
Weakness
Manual record keeping is still around
Inadequate number of needed workforce in some branches
Noticeable reluctance to arranging marketing campaign and promotion
Opportunity
Huge potential of growth in sectors like online banking & ATM card
Currently introduced SMS banking
A steady GDP growth & other sectors means opportunities are always there for carefully designed, attractive services
A country with a population of 160M comes with financial demands, where banks may significantly contribute with mutual benefits.
Threats
A very recent prolonged massive crash in secondary market has created new challenges for the managers
Financially powerful foreign banks with strong brand names would became the choice of big parties
9 more banks are about to established, number of competitors will increased
Strengths
Efficient Administration:
NCC Bank maintains transparency in its entire works. All decision of the Management comes through discussions in appropriate forum and required follow-ups are also made to see their effectiveness.
Healthy Financial vitals:
Due to declined flow of remittance in the first leg of the year 2011 owing to political turmoil or transition of power in some Middle Eastern countries there were some difficulties in running the affairs of the banks. Private Banks faced some difficulties in respect of sanctioning fresh loan and soaring exchange rate against US Dollar slowed down import of capital machineries' as well as caused increase in inflationary rates. Due to strengthening NCC Bank's position they have taken a new approach of centralizing opening of letter of credit administration brought discipline in documentation of loan before disbursement. It will also help secure quality of the assets and lower quantum of NPL in the coming days.
Strong position in CAMEL rating:
The Capital, Asset, Management, Earning, Liquidity and Sensitivity (CAMELS) rating of different commercial banks in 2008 were done recently by the regulatory authority. The serial is made on the basis of performance of 2007 and local banks first, then foreign banks. Based on CAMEL Rating NCC Bank's performance is satisfactory.
SWIFT Technology & FLORA Software:
Swift Technologies' services are designed to generate increased efficiency and business value in key functional areas such as finance, human resources, information technology, supply chain management, and CRM. And FLORA is a logic-based object-oriented language for building knowledge-intensive applications. It is based on F-logic, HiLog, and Transaction Logic. Applications include intelligent agents, Semantic Web, ontology management, and more. NCC Bank IT is headed by Mr. Tapan Kanti Sarkar, Executive Vice President & CTO and teamed with 45 dedicated IT personnel who work round the clock with a view to provide support in core banking Flora UBS software operations along with System, Hardware & Network maintenance support to its 80 Branches & 3 SME branches and Head Office including Chittagong Area office.
Good client- banker relationship:
NCC Bank has a dedicated work force they take their prime objective is to satisfy the needs of the customers. They are trying to reach a vast section of people to include them in the formal banking circle. Their network is expanding in that direction of course.
High level of cooperation and cohesion among branches:
NCC Bank has a very good interpersonal relationship among all the Branches.
Weaknesses
Manual record keeping:
Manual record keeping are still around NCC Bank. The chance of losing instrument and documents can get ruined for many unusual circumstances.
Inadequate number of needed workforce in some branches:
In Dhanmondi Branch more than 10 employees have been transferred to other branches in 1 year. So the workforce in Dhanmondi Branch became inadequate. Sometimes it's really tough for them to manage the streams of clients.
Noticeable reluctance to arranging marketing campaign and promotion:
NCC Bank is not that much efficient in marketing campaign and promoting their products.
Opportunities
Huge potential of growth in sectors like online banking & ATM card:
Now a day's everyone leads a very busy life. Online banking is a very good solution. People don't have to go through a long traffic jam to deposit money in their account. People also fear to carry cash. Online banking and ATM Card has long term opportunity in Bangladesh.
Currently introduced SMS banking:
NCC Bank just introduced SMS Banking. The clients can now check their balance through SMS.
A steady GDP growth & other sectors means opportunities are always there for carefully designed, attractive services:
Steady GDP Growth rate in banking sectors shows opportunity in for banking sectors in Bangladesh.
financial demands:
The current population of Bangladesh is now 16 Million. Financial needs are also increasing as the population is increasing. So the financial institute like banks will have a huge demand.
Threats
Massive crash in secondary market:
The recent prolonged crash in secondary market has created many new challenges for managers.
Financially powerful foreign banks with strong brand names would became the choice of big parties :
There are many foreign banks are now in Bangladesh with a very strong brand name. big parties can go to those banks rather than the Bangladeshi bank.
New Banks:
Nine new banks will establish in Bangladesh by October2012. Competition will become tougher then.
Findings
By three months internship program at NCC Bank my findings are:
NCC Bank emphasize about marketing. Like- Youngster Banking is a new product of NCC Bank, for school and college going children. If they go to schools and colleges, the children could know about this product.
NCC Bank Debit Card didn't have the facility to shopping somewhere. Other bank Debit Card has this facility.
NCCBL Doesn't charges money to the clients to print out their balance in deposit account and loans. So, a client can come every day to ask for the print out for his/her balance, this will be a loss for the banks. However other banks charges for this kind of activities. NCCBL could also charge money and make profit by this.
LIMITATIONS
During preparation of this Internship report I faced several limitations about the topic. This are
Difficult to disclose primary information
Inadequate Information
Difficult to find out the accurate satisfaction level of Customers
I got a limited time to make this report. I got 2 weeks time after completion of my internship period.
Recommendation
The current condition of NCC Bank is good enough. The clients are satisfied with the service.
To hold their current client and to attract new clients NCC Bank needs improvement in the following area-
 They should update their website.
 There is a noticeable absence of the bank from mainstream media, with hardly any well- planned promotional activities.
 There should be more ATM Booths.
 With other Debit Cards people can do their shopping, but NCC Bank doesn't have this facility in their debit card.
 NCCBL must pursue a strong an effective recruitment system so that right people are recruited at the right job. It is worth spending more on attractive qualified human resources rather than recruiting staffs by reference.
 Online banking should be updated to attract more clients.
 Should give more concentration on decoration part of the branch, and take initiatives to maintain the line in cash counter. They can provide token to each client to maintain the line.
Conclusion
Though NCC Bank Ltd faced lots of challenges from different competitors still they succeeded to hold its image and achieved a sustainable growth. NCCBL did several CSR activities started from urban to rural areas.ncc bank has gained acceptance for its csr activities as a voluntary efforts in promoting equitable and sustainable development of the society Further, the Bank should pay attention to manage liability also so as to build up a strong deposit base to satisfy investment need of the market. NCCBL has been awarded various trophies from exchange companies like Moneygram for its initiatives in motivating people in this part of the World to avail of the opportunity of sending money through these enterprises.
The Bank maintains transparency in its entire works. All decision of the Management comes through discussions in appropriate forum and required follow-ups are also made to see their effectiveness. To train up the fresh appointees, the Bank undertakes various training programmers in its Training Institute. Further, training are arranged for making other officers acquainted with changing atmosphere of the sector so as to enable them to be on the race. The Bank is always concerned to keep up its good image through various promotional measures.