Introduction
Today's business world is dynamic and competitive therefore organizations looking for talent, extrovert graduates who belong to high degree of adaptability quality. Today's business post graduates will be the core part of business organization. So business post graduates need to have both theoretical & practical knowledge to manage the business activity properly. In order to be familiar with organizational culture and to gain some practical knowledge about an organization our Department, Management Studies provides a 3 months internship program as a part of the MBA program. After completion of the program period a student must submit the report on the assigned topic to the Supervisor and the department.
Rationale of selecting BDBL:
I was assigned in Bangladesh Development Bank Ltd (BDBL) through our department. I think BDBL being the prime development financing institution continued its effort to make an effective contribution towards expansion of industrialization process of Bangladesh. It seems to me that in BDBL there is a sufficient opportunity to gain practical knowledge about Industrial project and its overall performance, shortfall of capital, loan agreement with the banks and Rehabilitation can be taken for the growth of industrial sector with the other general activities and process of a bank. The working environment is good and the employees are very much cooperative to provide practical knowledge about different functions of the bank. Here I worked in several Departments that helped me a lot to gain some practical knowledge. After completion of my 3 months Internship period in consulting with the supervisor of the program I have selected a topic named "The Role Of Bangladesh Development Bank Limited(BDBL) For Industrial Development ." Bangladesh is a developing country and the present economic condition of Bangladesh is of open market in natures, in this situation, the specialized bank like BDBL can play necessary role toward the economic improvement by providing term loan to different industries and entrepreneurs in Bangladesh. The purpose of BDBL is not only to grant credit but also to develop the country through industrialization. In my report I have analyzed how BDBL appraise and implement their industrial project.
Objective of the study:
Main Objective:
The objective of the report is to comprehensive study on Bangladesh Development Bank Ltd to find out contribution of BDBL towards the economy of Bangladesh  to find out the problems and opportunities for the industrial development. The objective of the study is also to find out in what extent it is successful to achieve its goals.
Specific objectives:
To submit a report for the fulfillment of MBA program.
To present an overview of Bangladesh Development Bank Limited (BDBL).
To understand various departmental activities and their key responsibilities.
To identify weakness & problem of Credit Management Process.
To give some suggestion to overcome the weakness and problems that exists in the existing system.
To know the programs and packages to encourage the entrepreneurs.
To understand various departmental activities and their key responsibilities.
To become familiar with organizational culture.
To determine the limitations of Bangladesh Development Bank Limited (BDBL).
To recommend necessary steps to overcome such problems.
Finally to justify the role of Bangladesh Development Bank Limited (BDBL) to the industrial development sector.
To find out problems and suggesting recommendations for further improvement.
Scope of the Study
The scope of the study was on the organization of Bangladesh Development Bank Limited (BDBL). The study was confined only on the Head Office and gave more concentration on it. Further emphasized on the contribution to develop entrepreneurship, as it the main focused area of the study.
Justification of the Study
As this study has been done based on imperial evidence it will have both practical and academic value. It will help the concerned parties to get a clear picture regarding the contribution of Bangladesh Development Bank Limited (BDBL) since its inception. From this report one can be able to know about present practice of Bangladesh Development Bank Limited (BDBL) in the industrial development sector.
The findings of this study will help to fake appropriate auctions and steps for the betterment   of existing practice   which basically help the industrial development of the country. It would also be clear what procedure an entrepreneur has to follow in case of   getting loan from Bangladesh Development Bank Limited (BDBL).
Methodology
Source of information:
Correct and smooth completion of Internship report requires adherence to some rules and methodologies. In order to conduct the report, the decision had been taken to collect various types of primary data and secondary data. Data have been collected by oral interviewing the responsible officers. Different form of statistical configurations such as table percentages rates and ratios has been used to make the study meaningful and realistic.
Primary information
The primary data have been collected by oral interviewing the responsible officers and staffs of the BDBL, practical deskwork, direct observation of the functions of various departments of BDBL and relevant document's studies as provided by the officers concerned.
Secondary Information/data
The secondary information comes from annual report of the BDBL and BSRS, relevant papers/books and periodicals publication and manual of different departments.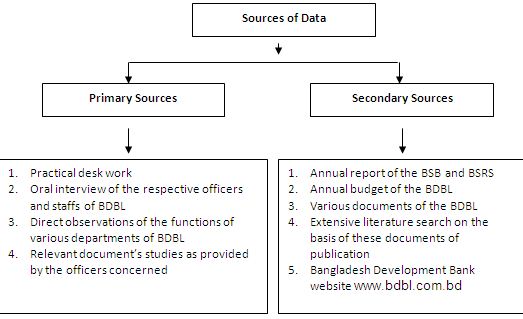 After collecting data from the interview and material provided by them, data was first carefully scrutinized. Then the data was organized as required. In order to make the study effective and efficient, following two sources of data and information have been used widely. These reports and documents have been analyzed in the light of analytical review. Some graphical presentation, growth rate and trend analyses have also been used.
Study approach: Study approach will be survey and practical type.
Study Instrument: The instrument will be questionnaire.
Structure of this report
In the very beginning of this report a brief description of Bangladesh Development Bank Limited has been furnished. Then in the subsequent chapters, elaboration of the three departments of branch, say general banking, Loans & Advance, Local Remittance has been presented. At last few pages of the main report, some problems in banking which are observed while doing work in the branch are detected along with some recommendations to overcome these problems. At the end of this end of this report appendices and bibliography are added.
Background of Bangladesh Development Bank Ltd 
Bangladesh Development Bank Limited (BDBL) is fully state owned Bank of Bangladesh which came to effective at 3rd January 2010. Bangladesh Shilpo Bank (BSB) and Bangladesh Shilpo Rin Songstha(BSRS) were  merge into Bangladesh Development Bank Ltd (BDBL) at 16th November 2009 and come to effective at 3rd January 2010. In addition commercial banking, BDBL provides financial and technical assistance to broaden the private as well as public sector industrial base of the country. It prioritizes, especially, Export Oriented/Export Linkage industrial units, Efficient Import Substitution, Joint Ventures, Commercialization of local technology and promotion of agro-based industry.
Bangladesh Shilpa Bank (BSB) and Bangladesh Shilpa Rin Songstha (BSRS), with almost similar functions, were established on 31st December, 1972 under the presidential order no. 129 to provide loans and facilities to industrial institutions, help to set up new industries and expand investment in Bangladesh. But the two companies failed to meet expectations. In 1992, the government moved to privatize BSRS, which remained unaccomplished due to some complexities. The companies board sat on December 8 to fix a vendor agreement schedule with the government, the BDBL organogram, employee pay structure and select office space for the bank's headquarter. As per merger plans, the accounts of the two organization's consolidated by December 2009.
The paid up capital of the merged company will amount to 400 crore. Before merged the paid-up capital of BSB was Tk. 200 crore was Tk. 70 crore for BSRS. Making adjustments to the reserve funds of the two companies will raise the capital. In the meantime, BSRS raised its funds to Tk. 200 crore. As per BDBL operational plans, the bank will operate across the country by setting up branches at district levels. At present, BSB has 15 branches while BSRS has 2.
Institutional Overview: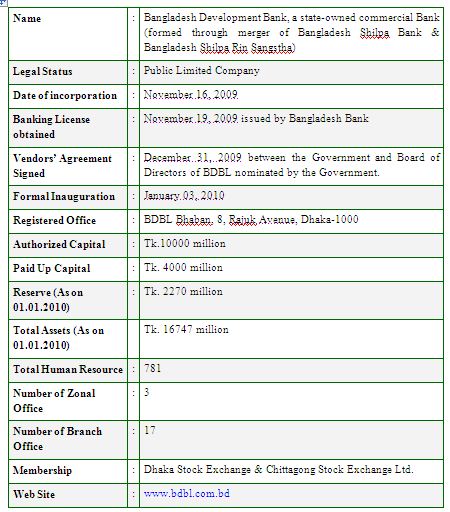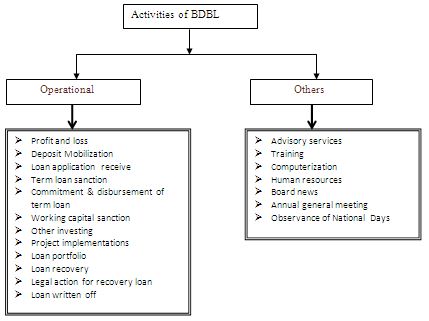 Sources of Fund
Paid up capital
Loan from Government of Bangladesh
Loan from Bangladesh bank
Commercial Banks
Local/overseas Financial Institutions
Suppliers' Credit
Ownership
At least 51% of the authorized capital of BDBL be subscribed by Government and remaining 49 percent be subscribed by Bangladeshi nationals or by local or foreign Financial Institutions. Presently, 100 percent ownership of the Bank belongs to the Government.
Nature of Business
Bangladesh Development both in local and foreign currencies for setting up new industries and rehabilitation of sick industries. Besides, the bank started full-fledged commercial banking function from 1993. Bank Limited (BDBL) as the prime development financing institution of the country extends financial assistance.
Bank's Functions
Bangladesh Development Bank Limited (BDBL) extends term loan facilities in local and foreign currencies to industrial projects (both new and BMRE) in the private and public sectors. Besides, the bank also performs the following activities:
Extends term loans by giving special priority to the Small and Medium Enterprises ( SMEs ) for achieving self-reliance as well as enhancing production and employment including empowerment of women
Provides working capital loans to industrial projects;
Provides equity support in the form of underwriting and bridge loan to public limited companies.
Issues guarantees on behalf of borrowers for repayment of loan;
Extends commercials banking services along with deposit mobilization;
Purchases and sales shares/securities  of enlisted companies for BDBL and on behalf of  its customers as member of Dhaka Stock Exchange (DSE) Ltd. and Chittagong Stock Exchange (CSE) Ltd. for capital market development;
Conducts projects promotional activities along with preparation of various sub-sect oral study reports.
Board of Directors
The overall policy formulation and the general direction of the Bank's operation vested in the Board of Directors appointed by the Government. This Board of Directors consists of 9 (nine) members including the Chairman and the Managing Director. The Managing Director is the Chief Executive Officer (CEO) of the Bank.
Training & Development of Human Resource:
Bank have a Training Department for upgrading the professional competence and skills of its Officers and Staff. Below are the main functions of Training Department:-
To prepare & implement Annual Training Program.
To impart training of the Officers/Staff regarding business & operations of the Bank.
To adopt measures to hold in-house training and make arrangements to send Bank's Officers to overseas training programs.
To establish liaison with domestic & overseas organizations relating to training.
To send Officers to local training institutions for improving professional skills; and
To organize Seminar/Workshop/Symposium on key economic/banking issues.
Credit Rating
Bangladesh bank made  mandatory for all banks from January, 2007 to have themselves credit rated by a Credit Rating Agency vide BPRD circular no. 6   of July 5, 2007. For compiling with the circular, Bangladesh has appointed credit rating information & Services limited (CRISL) to conduct Credit Rating of the bank. Accordingly, a memorandum to understanding (MOU) had   signed in between the BSB and CRISL. The credit rating of the bank for FY20006-07
| | | |
| --- | --- | --- |
| Long term | Short term | Outlook |
| A (adequate safety) | ST-3 ( good grade) | Positive |
Risk Management
Risk, to varying degrees, is involved virtually in all types of business activities. The financial services proving organizations are not different from this. The risk exposures mainly include credit, market, liquidity, operational, etc. Bangladesh bank has identified 5 core risk areas relating to banking operations. These are:
Credit risk
Asset & liability /balance sheet
Foreign exchange risk
Money laundering risks
Internal control & compliance risks
In congruence with the CRM guidelines of Bangladesh bank, BDBL prepared 6 sub manual for its compliance.
Advisory Services
Apart from identification and development of viable projects, the bank assists the interested entrepreneurs in selecting industrial projects having appropriate technology and potential market by providing advisory services and huge information.
Training          
For upgrading the professional competence and skills of its employees, the Bank is continually arranging training programs both at home and abroad. During FY 2008-09, 370 officers participated in 68 in-house and local trainings programs and seminar. Besides officer was sent abroad for training. In 2008-09 about TK. 0.03 million was spent for training purpose. During FY 2008-09 an internal "special training working for the users of software modules developed by EATL under computation scheme of BDBL "was arranged where 107 officers, 10 staff, other senior level executive.
Computerization         
To improve the working efficiency and provide better customer service, computerization of Bank's activities is going on. In this regard, the Bank has undertaken a far-flung action plan. The bank installed activities of LAN & WAN in different Zonal offices and branch offices. In FY2008-09 26 additional modern computers along with network accessories was installed in Dhaka commercial branch office as well as zonal and branch offices outside of Dhaka. Besides these 1 remote access server 9(RAS0 and 1 WAN server and 18 computers were installed.
Corporate Social Responsibility
The banks functions are not only limited to industrial financing , it is also committed to be known as an institution that builds long term relationship and delivers  awards to its clients for regular  payment of loans as well as responsible for its employees and communities. The bank promotes various socio-cultural activities, like picnic, sports, etc. for gearing and cheering up its employees, financial assistance to the bank's employees, and financial assistance to the severe ailing employees for proper treatment. Besides, the bank also donates to charitable institution and government's relief fund.
Achievement of the Bank in FY 2008-09
Recovery of loan Tk. 908 million (96% of the target).
Sanction of loan Tk. 446 million.
Disbursement of loan Tk. 638 million.
Income from purchase and sale of shares Tk. 130 million.
Provision of loan kept Tk. 1237 million as against required provision of Tk. 1212 million.
Capital surplus Tk. 917 million.
DSL payment Tk. 574 million in cash.
Liquidation of loan accounts of 29 projects.
Rephasement/ Rescheduling of loan accounts of 14 projects.
Net Asset Value Per Share Tk. 1727 (value of per share Tk. 1000.
Earning Per Share (EPS) Tk. 127 (value of per share Tk. 1000.
Bangladesh Economy and Industrial Development 
The Bangladesh economy is confronted with the stiff competitive challenges in the context of the free market economy and present globalization. The economic crisis is further aggravated by the persistent hike of oil price and some other necessary importable items in the international market as well as political unrest along with many other internal shocks. Accommodating the challenges alongside for maintaining macro economic stabilization as well as moderate CPI inflation and for achieving desired economic growth , various measures are undertaken by the government and the central bank like , cautious and restricted Monetary policy, reality based fiscal policy, strong participation of modern sector in the economic activities lead to greater success in the manufacturing sub-sector aided by continued  growth in service sector , unique export  growth  of the readymade garments (RMG) industry despite phasing out of global multi  fiber arrangement MFA highest growth in the  remittance flow has made possible to achieve a sustainable economic stable  economic stabilization for the country  which is very helpful for industrial sector development in this country. Vital issues relating to Bangladesh economy are:
Domestic savings and investments
Foreign trade   including import and export business.
Gross official foreign exchange reserve
Total official foreign aid disbursement
Money supply including supply of narrow money and broad money
Wage earners remittances including transfer of fund through electronic system   along with opening of monitoring cell in different banks and taking actions against hundi.
Price situation which includes customer price inflation , etc
Role to Promote Industrial Development of BDBL
Concept of Industrial Development
Bangladesh Development Bank Limited (BDBL) is one of the most important Development Finance Institution (DFI) of the county which spreads financial aid both in local and foreign currencies for setting up new industries in Bangladesh. It also focuses on the Balancing Modernization Reconstruction and Explanation (BMRE) of existing industries and rehabilitation of sick industries to boost-up the industrial development of the Bangladesh by ensuring the consistency with the industrial policy and financial reform programs of the government towards market economy. Besides these, BDBL issues guarantee for repayment of loans to foreign companies, organizations, extends equity support by way of purchasing shares and underwriting public issue of shares of the companies with limited liabilities. With a view to create dynamism and diversity in its activities, the bank started full-fledged commercial banking function form 1993. This enables the bank – financed projects to obtain commercial banking services including working capital loans, the bank extend financial, technical and advisory services to the interested entrepreneurs in setting up of industrial units which broadly indicates the cordial support of BDBL in the industrial development sector of Bangladesh.
List of Industrial Sectors that BDBL can Issue Loan:
Food and related gods
Fruits / vegetables processing industries.
Textile industries
Spinning industries
Specialized textile
Knit composite
Leather and leather related goods:
Leather shoes
Other goods (Gloves, bag, jacket, luggage etc)
Chemical and pharmaceuticals:
Chemicals for leather processing
Other chemicals
Servicing industries
BSCIR developed technology dependent projects.
The other sectors that government declared are thrust sector. Export oriented project dependent on indigenous raw material and agro-based industries will get preference for new financial issue. Besides the above mentioned project new potential projects also considerable.
Industrial Thrust and Priority Sectors of Bangladesh Development Bank Limited (BDBL):
   INDUSTRIAL THRUST AND PRIORITY SECTORS OF BDBL
| | |
| --- | --- |
| 1. | Agro based Industries other than potato preservation of cold storage (Fruit and, especially, vegetable sector) |
| 2. | Computer Software & IT/Data export |
| 3. | Artificial Flowers |
| 4. | Frozen Foods |
| 5. | Gift Items |
| 6. | 100% Export oriented Finished leather goods (Shoes, Gloves, Bags, Jackets, Luggage, etc.) |
| 7. | 100% Export oriented Jute Products |
| 8. | Jewelers and Diamond cutting & Polishing |
| 9. | Oil & Gas |
| 10. | Silk |
| 11. | Stuff Toys and |
| 12. | 100% Export oriented textile industries (other than RMG) |
Other especially encouraged sectors are: Spinning, Specialized textile, terry Towel, knit composite, leather processing, chemicals, industries based upon the technologies developed by BCSIR, etc
How to Approach BDBL for Financial Aid:
When and entrepreneur wants to approach for financial help s/he should fulfill the following requirements:
Any potential entrepreneur seeking financial assistance from BDBL can obtain Bank's Standard Questionnaire Form (BSQF), which is different for new projects and BMRE projects   along with the detailed guidelines, on payment of Tk. 1000.00 – (one thousand) only.
There is no fixed time limit for submission of loan proposal to the bank after issuance of the BSQF.
1/8th of 1% of the project cost subject to a maximum of Tk. 1,00,000 is to be deposited as evaluation fee with the BDBL while submitting the loan proposal irrespective of whether a project is approved or not.
In case of joint venture/co-financing projects, the sponsors are required to make project deposit and pay evaluation fee at prevailing rates to the respective financial institutions on pro rata basis.
Project proposal involving loans exceeding Tk. 50.00 lac require, among others, submission of techno-economic feasibility   report with the proposal.
Proposal submission must be completed with necessary documents following standard checklist   distributed with the BSQF.
Only fully documented loan proposals are accepted for processing. Bank's final decision regarding sanction/rejection of loan is communicated within 2 (two) months from the date of receipt of the fully documented loan proposal.
Preparing Feasibility Report:
To get loan from BDBL by an entrepreneur a feasibility report must be prepared
Requirements for preparing feasibility of the project:
A. Technical aspects
-Cost of the project.
– Annual production capacity & manufacturing process.
– Location, infrastructural facilities feature and estimated cost   of       the land.
– Civil drawing(s) and cost of civil works.
– Estimated cost of machinery with installation.
– Annual requirement of raw material(s) with source of   availability.
– All input output data of the project.
– Utility services required.
– Implementation schedule.
Note: Relevant things to comply with the machinery procurement policy of the Bank
B. Market aspects
– Use and users of the product.
– Estimation of demand.
– Market price of the proposed product(s).
– Analysis/opinions on existing market competition.
– Marketing strategy
– Existing capacity and capacity under development, if any.
C. Financial aspects
-Cost of the project & Means of finance.
– Debt-Equity Ratio.
– Fixed Assets Coverage Ratio (FACR) to be considered as 1.50.
– Capital Structure.
– Assumptions of Financial Evaluation.
– Profit Estimation.
– Sensitivity analysis.
– Debt Service Coverage Ratio (DSCR).
– Break Even Analysis.
– Cash flow statement.
– Projected Balance sheet.
– Internal Rate of Return (IRR).
D. Management aspects
-Structure & Shares.
– Memorandum of Articles and relevant (Joint Stock Company's) registration certificates.
– Introduction to members of the proposed management, relevant experience, net worth (asset   declaration).
– Comparison of equity proposed and net worth declared.
– Source of working capital or working capital loan.
Note: Lending Risk Analysis (LRA) with estimate of Z-score and Y-score estimation required for proposed loan amount more than Bangladesh taka 5.00 million.
E.Recent simplifications:
-No documents of assets declared as net worth need to be submitted to BDBLs.
– Loan proposal be processed within 60 days after submission of application with full documents   required.
– Apart from limited company Partnership and Proprietorship concern too will be financed
against FACR-Fixed Asset Coverage Ratio 2 times.
Securities against Loan
Security of Loans:
Mortgage / Hypothecation of Land, Building and Machinery.
Personal guarantee of the directors/shareholders.
100% Share certificates of the sponsoring directors/shareholders.
Additional collaterals, where necessary.
In case of rented premises fixed assets equivalent to 50% of loan amount.
For Partnership and Proprietorship business concern 2 times security (FACR=2.00).
Project deposit:
After sanction of loan the borrowers have to deposit 10% of equity which will be released as per terms of the sanction letter.
Fees required to be deposited with the bank for new loan:
Documentation fee.
Charge filing fee.
100% share certificates issued in the name of the sponsoring directors/shareholders of the company.
Instrument of Blank Shares Transfer Form-117 duly signed by each of the director/ share holder of the company.
Documentation required for, other than new loan case, is:
Additional Loan
Rephrased Loan.
Change of Director.
Change of Management.
Change of Project Location (land).
Collateral Security.
Underwriting.
Contribution of BDBL as a Loan Provider to Different Sectors Loan Sanction
Introduction
After appraising the project, Project appraisal committee submits the project appraisal report, on the basis of that a project is approved. If the project is approved, loan is sanctioned to the proposed project. During FY 2008-09 the Bank sanctioned total long loan of tk.1050 million to 36 projects and short term loan of tk.10 million to 7 projects and disbursed tk.616 million to 40 projects.
 Loan Sanction Procedure:
First of all, a client who wants to have a loan asks for an application form, which is known as Bangladesh Standard Questionnaire form (BSQE). He has to pay one eighth of one percent cash money 1/8th of 1% of the total loan amount with the filled form. The person is required to submit necessary papers and documents by the bank the information generally consist of
Name of the product
Name & designation of the entrepreneur
Types of Project
Types of Products
Site of the Project
Amount of the Project
Copy of memorandum, articles of association and other papers relating to legality of the projects.
Site, production process flow diagram etc.
When all the required papers and documents are submitted along with the fee Tk. 1000 plus l/8lh of 1% of total loan amount, the proposal is then under consideration of judging the project viability.
 Sanction of long-term Loans:
The Bank kept on sanctioning of term loans during FY 2008-2009 this year local currency loan of BDT 436 million was sanctioned to 27 projects. Of the total sanctioned amount tk.316 million was for 12 new projects, and an additional loan of Tk. 74 million for 5 ongoing projects.
Table- sanction of term loan                             
Nature of Project

2007-2008

2008-2009

Number of Projects
Local Currency
Foreign currency
Total BDT.
Number of Projects
Local Currency
Foreign Currency
Total BDT.
New Project
12
  538
–
538
12
316
–
316
Existing Project
–
–
–
10
46
–
46
Additional Loan
8
380
380
5
   74
74
Total
20
918
918
27
436
436
                                                Source: Annual Report 2008-2009
Commitment and Disbursement of term Loans:
During FY 2008-2009, the bank made commitment of Tk. 511 million in local currency to 8 projects. During the period, the bank disbursed term loans of Tk. 616  million in local currency to 40 projects and FY 2007-2008 these was403 million and 384 million respectively.
Table Commitment and disbursement of term loan
Commitment/ Disbursement

2007-2008

2008-2009

Number of projects
Local Currency
Foreign currency
Total
Number of Projects
Local Currency
Foreign Currency
Total
Commitment
13
403
–
403
8
511
–
511
Disbursement
45
384
–
384
40
616
–
616
Source: Annual Report 2008-2009
Loan sanction scenery of BDBL over last 10 years (Amount in thousand BDT)
Here 10 years loan sanction of BSB to various sectors has been shown in the table:
Table: Loan Sanction of BDBL in 10 Sectors
Name of the Projects

2002-2003

2003-2004

2004-2005

2005-2006

2006-2007

 

2007-2008

 

2008-2009

Textiles

645628

685794

530400

428690

432243

130310

4759000

Electrical

5208

1009

0

0

1581

20550

33000

Food & Allied

17819

22650

49100

29226

22402

246160

352000

Jute & Allied

19313

30513

53800

53671

53575

1380

1000

Machinery & Metallic Products

7101

8019

7600

1119

1083

25260

20000

Petrol Chemicals

3379

6226

13300

12649

12084

122450

107000

Rubber

315

301

398

0

0

–

–

Service

27829

30845

20400

22838

22450

207110

196000

Tannery

13441

15509

10000

10903

10606

89330

79000

Water Transport

3518

60745

5028

6030

6916

74400

54000

Total

900764

90599

586200

565126

563020

5699740

5965000
Findings, Recommendations & Conclusion
STRENGTHS OF BDBL:
As a prime DFI, BDBL has a large number of qualified and experienced professionals.
Structural set up and business location is strategic.
BDBL's asset position is quite satisfactory
Findings of the Study
The findings of my study are as follows:
In spite of establishing new industries and contributing for creating new employment opportunities by BDBL , its role in industrial development is not satisfactory.
The main aim of BDBL is to stimulate industrialization throughout the country.
 Now BDBL is a loosing concern. The main causes are inadequacy of recovery of loan. In some cases they issued loan with out proper justification. As a result some project becomes sick and some had been stopped.
The inefficient allocations of resources have created a huge amount of bad debt. In some cases security against the loan is not sufficient to recover the loan. As a result large number of projects becomes sick. Loan recovery is below the satisfactory level.
Loan appraisal procedure is time consuming and to some extent project plan becomes irrelevant after getting the loan.
The role of BDBL in industrial development is huge. They are promoting industrialization day by day.
BDBL rehabilitates sick industries.
BDBL encourages people to start businesses through their advisory services, seminar and symposium.
BDBL is conscious about the social benefits.
Generally BDBL grants term loan, working capital loan and bridge loan.
Absence of up to date project appraisal manual.
There is lack of adequate and updated information from Management Information Systems (MIS)
There is lack of proper and quick coordination between different departments. As a result normal operations are hampered.
BDBL has a huge amount of accumulated loss.
Sometimes pressure group's involvement in sanctioning loan.
Lack of adequate attention is given to analyze risk and uncertainties associated with the projects.
Lack of financial commitment on the part of the borrower, the result being the failure of mobilization of equity by them in future means they divert their equity in other purpose after getting the loan amount.
Unstable policy of the government due to political changes over time.
RECOMMENDATIONS
From my tinny knowledge the suggestions are:
BDBL should establish a central database for its project appraisal system.
BDBL should give more concentration on physical investigation before issuing loan.
BDBL may use up to date software that may help in automatic selection of profitable projects according to some predetermined criteria.
The Bank should introduce modern communication systems. So that every department or unit can get information in their desk.
Loan sanctioning procedure should be easier for the sponsors.
Time duration of loan sanctioning procedure should be reduced.
Project appraisal manual should be updated.
Reduce the political interference in case of loan sanctioning for establishment of the project.
Proper and quick coordination between different departments should be ensured.
More effective market research should be conducted.
Experienced and motivated entrepreneur should be allowed for sanctioning the loan.
They should start online banking service as early as possible for providing prompt response to the customers so that customers are able to know their transaction status and various necessary information whenever they need.
Encouraging the borrower to repay the loan in time.
Both primary and secondary database of the BDBL should be improved and strengthen.
More emphasis should be taken into consideration on the effect of a project to measure socio-economic cost and benefit.
Responsibility should be established to all according to their involvement in appraisal of project.
BDBL has some skill manpower such as Engineer, Economist, Business executives, Lawyers and so forth who are ignorant of use of modern technological equipments. So BDBL should arrange for training campaign to make them familiar with modern technology so that they can exploit the modern technology for organizational advancement.
BDBL can arrange training programs for the entrepreneurs of those projects which are financed by BDBL.
BDBL should ensure adequate supply of modern technological instrument, such as, computers, access to Internet.
BDBL can target its website as an important medium of advertisement for informing customers about their services and products. Therefore it should regularly update its website.
BDBL may also go for online application procedure for its loan application processing that may reduce much paperwork, duplicity of work, and harassment of employees significantly. 
Conclusion
BDBL is one of the prime development financing institutions in Bangladesh to accelerate the pace of industrialization of the country. It plays significant role in the industrial development of Bangladesh. As a finance institution it has both strength and weakness. Though, it is said that the contribution of BDBL is below the expectation & it fails to achieve the target, at present BDBL has taken so many steps for the expansion of industrial sector development. Today's base of industrial development is totally based on Bangladesh Development Bank Limited, so by any means we cannot deny the generous contribution of BDBL in the industrial development sector.