Executive Summary
Banking service in Bangladesh is characterized as a highly competitive and highly regulated sector. With a good number of banks already in operation and a few more in the pipeline, the market is becoming increasingly competitive day by day. With the global slowdown in the face of rising competition, the commercial banks are constantly looking for ways to develop their market and product offers to remain ahead of others. The city bank is a first private bank in our country. The City Bank Limited provided all kinds of banking services here this branch by assigning the right person for each service. The services provided here range from  Customer Service, Loans, Credit cards, Debit Cards, Opening L\C (Export – Import), Back to Back L\C, Dollar Endorse, Money Link, Account Opening, Sundry Account, Cash Withdrawal and Deposits, Remittances to Foreign Currency Deposits, Savings Certificates Encashment as well as different types of Savings Schemes.
The whole working process is maintained by the Principal Branch. The City Bank Limited is divided into 3 sections-
(i) General Banking section, (ii) Credit / Investment Section, (iii) Foreign Exchange Section.
This report has been presented based on overall Banking Practice, which is consisted of various departments. Foremost, I have tried to make acquainted with the bank and branch in this report. General banking is the starting point of all the banking operations. It is the department, which provides day-to-day services to the customers. It opens new accounts, remit funds, issue bank drafts and pay orders etc. Provide customer through quick and secure service is the goal of the general banking department. The Bank started its operation on 14th March ,1983. Now it has 83 branches in Bangladesh.
The City Bank Limited has been competing with other private banks where all the banks are adopting different incentive programs to attract the customers. Accordingly, the city Bank Limited is offering different type of deposit scheme bearing highest rate of return.
The City Bank Limited, Nikunja Branch has much more potential to explore the existing situation. The main customers of this branch hold a strong background, which is a positive obsession for this branch.
With crumble down of the world economy caused by nine eleven attack. It is observed that the competition becomes intensive in the globalization process. Our country has also participated in the race for its existence. Therefore, it becomes obvious for us to increase the field industrialization. The City Bank Limited is playing a vital role in developing industry of the country and putting the national economy competitive with world economy. Developing country like Bangladesh urges a huge amount of investment both in the private and public sectors.
Introduction:
The Internship program of Stamford UniversityBangladesh is an integral part of the BBA program for the BBA students of the faculty of Business studies. After completion of the program period of a student must submit the report on the assigned topic to the supervisor and the department. Three credit hours for this internship program out of 130 credit hours of the program. The program is of three months duration. I was assigned to  the City Bank Limited, Nikunja  Branch to complete the program. During this period I worked with the employees of the organization. In consulting with the supervisor of the program I have selected a tropic "Financial Statement Analysis of City Bank Limited."
Origin of the Report:
Through the internship in Nikunja Branch of the City Bank Limited, I tried to abridge the gap between the theoretical knowledge and real life experience as part of Bachelor of Business Administration (BBA) program. This internship report has been designed to have a practical experience through the theoretical understanding.
This internship is essential for every students of Business Administration which helps the students to know the real life situation of corporate life. That's why; a student takes the internship program in the end of the BBA program as the requirement for bachelors' degree.
The internship report titled "Financial Statement Analysis of City Bank Limited" is prepared to fulfill the degree requirement of BBA program. In this regard I had been assigned in the City Bank Limited, Nikunja Branch immediately after completion of the course requirement of the program. I had been supervised there by the management of the Bank to gather information which is necessary to prepare my report.
Background of the study
In the 80s there was a shift in the economic policy of the country from public sector orientation to private sector operation. It was felt that banks in the private sector would be suitable for private sector-oriented development in the country .A part from these NCBs were not found adequate to meet the financing needs of the economy. With the pages of time it was felt that banks in the private sector were given the role of engine of development .For the first time seven bank were allowed in 1983 to operate in the private sector. In the 90s development efforts with in the private sector orientation got a boost and eight more banks are allowed in the private sector in1995. A number of banks (13) were also allowed branches in the country stands at around 6000.
The City Bank Limited pursues decentralized management policies and gives adequate work freedom to the employees. This results in less pressure for the worker and acts as a motivational tool for them, which gives them, increased encouragement and inspiration to move up the leader of success. Overall I have experienced a very friendly and supporting environment at The City Bank limited which gave me the pleasure and satisfaction to be a part of them for a while.
Topics of the report:
The topic that has been selected by me "Financial Statement Analysis of City Bank"
Objective of this Study: 
The main objectives of this report are:
1        To know the performance appraisal of The City Bank Limited.
2        To gain knowledge about the general banking.
3         To acquire an in depth understanding of the functions of each department.
4         Coordinating the functions of various departments.
5        To know the general banking activities of The City Bank Ltd
6        To apprise the principal activities and evaluate performance of The City Bank Ltd
7        To learn the making process of the proposal for approval of the head office.
8        To learn the Lending Risk Analysis (LRA).
9        To know the dealings process with the Bangladesh Bank (BB).
10    Above all, to know the overall banking process.
Scope of the Study:
This report on overall general banking system mainly encompasses the performance of The City Bank Limited in comparison the Retail Banking. For the purpose of my internship program, I was assigned in the Nikunja Branch at The city Bank Limited and this provide way to get myself familiarized with banking environment for the first time I have an opportunity to gather experience by working in different departments of the Branch.
Methodology of the Study:
To meet the objectives of the study I realized that a single method would not be effective. Formal & oral discussion, direct observation, questioning clients & printed papers of the Bank were found useful. To collect the necessary and meaningful information the following methods were applied.
Both primary and secondary sources were used in here.
Data Collection:
The report was fully investigative in nature. Data have been collected from two sources:
Primary sources
Secondary sources
Primary Sources are as follows:
1        Face-to-face conversation with the respective officers and staffs of the Branch.
2        Practical work experience in the different desks of the departments of the Branch covered.
3        Relevant file study as provided by the officers concerned.
 Secondary Sources of data and information are:
1        Annual Report of The City Bank Limited.
2        Web site of The City Bank Limited
3        Different 'Procedure Manual', published by The City Bank Limited
4         Progress report of the Bank.
5        Bangladesh Bureau of statistics report
6        Several kinds of Academic test-book and training sheet.
7        Different publications regarding banking function and foreign exchange operation.
The City bank limited
The City Bank Limited is the first private sector Bank in Bangladesh. The Bank has been operating since 1983 with an authorized capital of Tk. 1.75 Billion under the entrepreneurship of twelve prominent & leading businessman of the country. The noble intention behind starting this Bank was to bring about qualitative changes In the sphere of Banking and Financial management. Today The City Bank serves it's customers at home & abroad with 82 branches spread over the country & about three hundred oversea correspondences covering all the major cities and business center of the world.
The services encompass wide diversified areas of trade, commerce & industry which tailored to the specific needs of the customers and are distinguished by an exceptional level of prompt and personal attention. Over the years the Bank has expanded the spectrums of Its Services. The extensive and ever growing domestic network provides and carries various products and services to the doorsteps of millions.
The City Bank Limited has already introduced some new Banking products like duel currency Credit Cards, ATM and Online services which has created attraction among the clients. The Bank is going to introduce real time Internet, SMS and Phone Banking systems with all modern delivery channels at an early date.
For significant performance, The Bank has earned national & international recognition. The City Bank Limited was one of the 12 Banks Of Bangladesh among the 500 Banks in Asia for it's asset, deposit & profit as evaluated by "ASIA WEEK" In The Year 2000. Other than that, The City Bank Limited received the "Top Ten Company" award from the Prime Minister of the People's Republic Of Bangladesh.
They have a distinguished Board Of Directors which consists of thirteen successful and reputed businessmen. Mr. Deen Mohammad, a top leading businessman, industrialist, pioneer personality & entrepreneur of private sector's BankIn Bangladesh, is the Chairman of the Bank.
Department of the Branch:
1. Account opening Department
2. Cash Department
3. Remittance Department
4. Accounts Department
5.  Investment Department.
6. Foreign Exchange Department.
7. Administration Department
Objectives of the city bank
The objective of the city Bank Limited in the context of its role in the economy may be enumerated as follows:
To facilitate efficient allocation of resources.
To help achieving stability in the economy.
To strive for customers best satisfaction & earn their confidence.
To manage & operate the Bank in the most effective manner.
To identify customers needs & monitor their perception towards meeting those requirements.
To review & updates policies, procedures & practices to enhance the ability to extend better services to the customers.
To train & develop all employees & provide them adequate resources so that the customer's needs are reasonably addressed.
To promote organizational efficiency by communicating company plans, polices & procedures openly to the employees in a timely fashion.
To cultivate a congenial working environment.
Organization structure:
There are five different wings to consist the organizational structure of The City Bank. They are,
      Board of Directors
      Board Committees
      Executive Committee
      Policy Committee
      Management Team
Board of Directors:
There are 22 Board of Directors members. The Board of Directors is the apex body of the Bank.
Board of Director Hierarchy: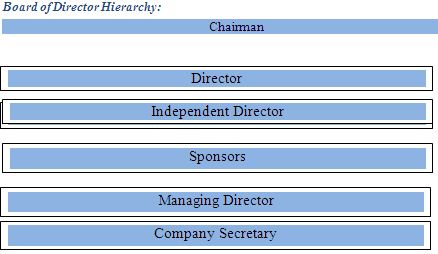 Position of city Bank Limited:
Corporate Banking:
  When the bank do business with big parties such as, who have
      Blue chips in the market
      High turnovers
      Excellent Profit
      Long Reputation in the market
      Goodwill
      Who are under legal bindings by the country law
Online Banking:
The main features of the city Bank Limited online Banking are as follows:
      Centralized Database
      Platform Independent
      Real time any branch banking
      Internet banking interface
      ATM interface
      Corporate MIS facility
24 hours banking ATM:
      The main features of the card are:
      Sense of satisfaction of having an International brand
      Anywhere anytime banking
      24 hours and 7 days a week banking
      Balance Inquiry
      PIN Change
     Avoid pressure at counters of bank
      Minimizing risk of carrying cash
      No Cash Advance Fee at SJIBL ATMs
      1 (one) free supplementary card.
      Account is not required for Prepaid cards
      SMS Notification Service
Threat & New Entries:
New entries in the financial market always threat for banks and it is more threat for the city bank. Because when any new financial company such as bank, insurance company, leasing company introduced in the financial market then it creates more competition with the existing companies and then the city Bank Limited has to face competition with these new companies.
General Banking Division
There are four sections working together to fulfill the target of the organization
      1. Account opening Department
      2. Remittance Department
      3.Cash Department
      4.Accounts Department
Accepts Deposits:
The first primary function of bank is to accept deposits of money from the public or wives group. The total deposits held by the banker are broadly classified as-
1) Demand Deposit: Demand deposits are withdrawn able on demand and thus on prior notice is needed. Deposit in Current Accounts fails in this category.
2) Time Deposit: Time deposits are repayable on the expiry of a fixed period on time only. Fixed Deposit Accounts, recurring Deposit Accounts and deposit payable at Specified notice fall in this category.
Deposit Mobilization of The city bank:
Bank account is a contractual relationship between a bank and the customers. It is the best way for a customer to build relationship with the bank. Like interest-based conventional banks, the main function of the city bank limited (CBL) is to mobilize saving and provide financial support to the entrepreneurs. Depositors receive interest in a predetermined rate for their deposits make with an interest based banks.
Types of deposits
Deposit account can take in a various forms such as:
Current Account
Savings Account
City Onayash
City Shomridhdhi
City Projonmo
City Ichchapurun
Fixed Deposits
Customer Benefit:
Cheque book facility
Opportunity to apply for – safe deposit locker facility
Collect foreign remittance in both T.C. & Taka draft
Transfer of fund from one branch to another by
                               -Demand draft
                              -Mail transfer
                             -Telegraphic transfer
Transfer of fund on Standing Instruction Arrangement
Collection of cheques through Clearing House
Online banking service.
Savings Account:
It is a sound savings for retail customer. We give the major facilities and services to our customer through 84 branches allover in Bangladesh with our skilled manpower.
–       Interest rate:4.00
City Onayash:
 Earn easy on your savings account, earn profit every month!
City Onayash is a unique kind of savings account which calculates interest on your daily balance and pays interest to you every month.
It is a major departure from the conventional savings account available in the market. All such accounts calculate interest on the average or lowest balance of the month, while City Onayash does on daily product basis. Not only that, while those conventional savings accounts pays interest only twice a year – in December and June – City Onayash pays it to you every month. Happiness at each month end!
Eligibility:
1. Age at least 18years
2. Nationality Bangladesh
Availability:  
All 84 of City Bank branches spread across the country
Special Feature:
Withdraw and deposit cash as you wish – without at all having your monthly interest earning eligibility
No hidden or undisclosed fees or charges or profit-cutting
Interest forfeiture rules of a common conventional savings account do not apply here. So, stay tension-free-100%
Every month's interest earning goes into your account automatically. What better way to take care of you family's recurring monthly expenses?
Interest rate- 3.00
City Projonmo –
Financial safety for your future generations backed by complete immense protection!
City Projonmo is a unique monthly deposit scheme that you open for your kids to safeguard their future against all uncertainties and risks. As a guardian of the child you can open this account which builds great & unmatchable savings for you over the years. By the time your child is past his or her school age, there is this sufficient cash in your hand to take care of his / her higher education, marriage or other such large expenses.
However, the most interesting part of this scheme is the full insurance protection that you automatically enjoy. This simply means, in case of death or total physical collapse of the parent or guardian, the bank will pay the full value of the scheme for the full term no matter in reality how many months or years have been actually completed by you.
Different Types of Products & Services:
The city Bank is computerized and provides the following services some of these services will be introduced soon. Different types of products and services of the city bank included such as balance inquiry, cheque book request, cheque leaf status, FC rate information, cheque stop payment instruction, statement request by courier/post, statement request by e-mail, last three transaction statement, help inquiry and PIN change. The city Bank Limited introduced a few products and services, which are very popular. These are given below:
      Online services
      Automation in Banking Operation
      ATM / POS Service
      SMS / Push Pull Services
      Personal Management Information System (PMIS)
      REUTERS
      Signature Verification
      Any Branch Banking
      Other Delivery Channel Services (to be implemented)
Cheque Book Issue:
Cheque Book is a material to withdraw money from the bank. It is a very convenient to transact money from one place to another without any accident If anyone an account then she/he will apply for a Cheque book on requisition slip. After verifying the signature of the account holder by the officer issues Cheque. Then we will assign numbers to the leaves of the Cheque Book and account number in the register book. The account number and branch seal will also be written on every leaf of the Eheque book. Two officers initialize the account number and leaf numbers the issuing officer will also check the register book and initializes it also. Then the Cheque book is delivered to the party after taking the signature on the register book from the party.
Return of the Cheque:
A Cheque may be returned by the following reason:
      Account Closed.
      Insufficient funds.
      Payment stopped.
      Refer to drawer.
      Drawn against uncollected funds.
      Amount in words and figure differ.
      Drawer's signature differs.
      Alternation requires draw's full signature.
      Cheque postdated.
      Date incomplete/missing.
Pay Order (P0):
This is very important instrument of the Bank. Pay Order gives the payee the right to claim payment from the issuing bank. It can be en-cashed from issuing bank only. Unlikely Cheque, there is no possibility of dishonoring pay order because before issuing pay order banks takes out the money of the pay order in advance. Pay order cannot be endorsed or crossed and so it is not negotiable instrument. Pay order commission is like:
| | |
| --- | --- |
|    Pay Order Amount (Taka) |         Commission (Taka) |
| Up to 1.00 Lac |              50 |
| Up to 5.00 Lac |             100 |
| Above 5.00 Lac |             150 |
Table: Pay Order Commission
CITY FOREIGN REMITTANCE
By your side – all the way
The city Bank's Foreign Remittance unit meets growing customer needs for fast, sucure & easy money transfers to an extensive range of destinations. Being a committed bank to its customers, we go all the lengths to remit your hard earned money safely to your loved ones. With us, apart from a range of high-class modem remittance solutions, you will get peace of mind which we believe counts to most.
Facility
City Bank Limited has 83 online branches across the country, Besides, the Bank has a strong remittance network with other major banks of the country. Therefore, wherever your account is, we are able to send your money instantly.
If you are a City Bank account holder, then please visit any of our branches. Our Foreign remittance service personnel will be there to help you out. If you are not an account holder, then please open an account of your choice with us to receive your remittance at earliest convenience.
CBL understands the value of your precious time. That's why have made the payment procedure simple & easy. You have the privilege of enchasing the remitted money instantly from your branch counter without going through any hassle. That is to say, if you are an account holder of City Bank, we can instantly credit the money to your account or pay cash to the receiver.
So, place your trust with City Foreign Remittance Service. Send your money to your loved ones & experience peace of mind
CITY GLOBAL
Foreign currency for all
City Global is completely a foreign currency based service package for Resident and Non Resident Bangladeshi people, where we are offering three financially attractive products (City Global RFCD Account, City Global FCY Account & City Global NFCD Account) with value added bundle offers.
Account holders will be benefited from different transactional services in the form of fee waivers. Account holders can purchase different government security bonds from their foreign currency accounts.
City Global Products
CITY GLOBAL RFCD ACCOUNTS
Resident Bangladeshi nationals can open City Global RFCD (Resident Foreign Currency Deposit) account with foreign currency brought in at the time of return from travel abroad at any time.
Product Features
Open in the form of USD, GBP & EURO
Deposit up to USD 5,000.00 or its equivalent at any time without any declaration
Attractive interest rate on balance above $1,000.00 / £500.00 or its equivalent
Avail International Credit Card against balance
Freely endorsable and carry during travel abroad
Freely convertible into local currencies
Benefits
Payment of international mobile roaming bill
Remit children's tuition fees & living expenses abroad
Purchase airline tickets
Purchase book from abroad
Send international seminar attendance fees
Payment of international credit card bill
25% waiver on Cash & TC issuance fee
850% waiver on Endorsement fee
100% waiver on Cash & TC encashment fee
Function of Foreign Exchange:
The Bank works as a media for the system of foreign exchange policy. For this reason, the employee who is related of the Bank to foreign exchange, especially foreign business should have knowledge of these functions:
      Rate of exchange.
      How the rate of exchange forward and spot rate.
      Methods of quoting exchange rate.
      Premium and discount.
      Risk of exchange rate.
      Causes of exchange rate.
      Exchange control.
      Convertibility.
      Exchange position.
      Intervention money.
      Foreign exchange transaction.
      Foreign exchange trading.
      Export and Import Letter of Credit.
      Non-commercial letter of trade.
      Financing for foreign trade.
      Nature and function of foreign exchange market.
      Rules and regulation used in foreign trade.
      Exchange Arithmetic.
There are three kinds of foreign exchange transaction:
Import
Export
Remittance.
Parties to the L/C:
| | |
| --- | --- |
| Importer | Who applies for L/C |
| Issuing Bank | It is the bank which opens/issues a L/C on behalf of the importer. |
| Confirming Bank | It is the bank, which adds its confirmation to the credit and it, is done at the request of issuing bank. Confirming bank may or may not be advising bank. |
| Advising or Notifying Bank | It is the bank through which the L/C is advised to the exporters. This bank is actually situated in exporter's country. It may also assume the role of confirming and / or negotiating bank depending upon the condition of the credit. |
| Negotiating Bank | It is the bank, which negotiates the bill and pays the amount of the beneficiary. The advising bank and the negotiating bank may or may not be the same. Sometimes it can also be confirming bank. |
| Accepting Bank | It is the bank on which the bill will be drawn (as per condition of the credit). Usually it is the issuing bank. |
| Reimbursing Bank | It is the bank, which would reimburse the negotiating bank after getting payment – instructions from issuing bank. |
Steps for import L/C Operation – 8 steps operation    
Step 1 – Registration with CCI&E
      For engaging in international, trade, every trader must be first registered with the Chief Controller of Import and Export,
      By paying specified registration fees to the CCI&E. the trader will get [RC/ERC (Import/Export Registration Certificate), to open L/C with bank, this IRC is must
Step 2 – Determination terms of credit
      The terms of the letter of credit are depending upon the contract between the Importer and exporter. The terms of the credit specify the amount of credit, name and address of the beneficiary and opener, tenor of the bill of exchange, period and mode of shipment and of destination, nature of credit, expiry date, name and number of sets of shipping documents etc
Step 3 – Proposal for Opening of L/C
To have an import L/C limit an importer submits an application to department to Shahjalal Islami Bank Ltd. The proposal contains the following particulars:
      Full particulars of the bank account
      Nature of business
      Required amount of limit
      Payment terms and conditions
      Goods to be imported
      Offered security
      Repayment schedule
| | |
| --- | --- |
| 1. L/C Application form | 7. Authority to debit account |
| 2. Filled up LCAF form | 8. Filled up amendment request Form |
| 3. Demand Promissory Note | 9. IMP form |
| 4. Proforma Invoice | 10. Insurance cover note and money              receipt. |
| 5. Tax Identification number | 11. Membership certificate  |
| 6.Import registration certificate | 12. Rate fluctuation undertaking |
Step 4 – Application by importer to the banker to open letter of credit
Step 5 – Opening of L/C by the bank for the opener:
      Taking filled up application form from the importer.
      Collects credit report of exporter from exporter's country through his foreign correspondence there.
Opening bank then issues credit by air mail/TEL EX/SWIFT followed by L/C advice as asked by the opener through his foreign correspondent or branch as the case may be, at the place of beneficiary. The advising bank advises the L/C to the beneficiary on his own form where it is addressed to him or merely hand over the original L/C to the beneficiary if it is so addressed.
Step 6 – Shipment of goods and lodgment of documents by exporter:
      Then exporter ships the goods to the destination of the importer country.
      Sends die documents to the L/C opening bank through his negotiating bank.
Generally the following documents are sent to the Opening Banker with L/C:
| | |
| --- | --- |
| 1. Bill of Exchange | 6. Packing List |
| 2. Bill of Lading | 7. Advice Details of Shipment |
| 3. Commercial Invoice | 8. Pre-shipment Inspection Certificate |
| 4. Certification of Origin | 9. Vessel Particular |
| 5. A certificate stating that each packet contains the description of goods over the packet. | 10.Shipment Certificate |
Step 7 – Lodgment of Documents by the opening Bank from the negotiating bank
After receiving the documents, the opening banker scrutinizes the documents. If any discrepancy found, it informs the importer, if importer accepts the fault, then opening bankers call importer retiring the document. At this time many thing can happen. These are indicated in the following:
Discrepancy found but the importer accepts – no problem occurs in lodgment.
Discrepancy found and importer not agreed to accept – In this case, importer protest and send back all the documents to the exporter and request his to make in the specified manner. Here banker is not bound to pay because the documents send by exporter is not in accordance with the terms of L/C.
 Documents are OK but importer is willing to retire the documents – In this case bank is obligated to pay the price of exported goods. Since importer did not pay for bill of exchange, this payment by bank is one kind of credit to the importer and this credit in banking is known as PAD.
 Everything is O.K. but importer fails to clear goods from the port and request bank to clear – In this case banks clear the goods and takes delivery of the same by paying customs duty and sales tax etc. So, this expenditure is debited to the importer's account and in banking it is called LIM.
Step 8 – Retirement
The importer receives the intimation and gives necessary instruction to the bank for retirement of the import bills or for the disposal of the shipping document to clear the imported goods from the customs authority. The importer may instruct the bank to retire the documents by debiting his account with the bank or may ask for LTR (Loan against Trust Receipt .When the officer thinks fit the application to open a L/C, giving the following entries creates the following charge.
Letter of Credit Operation of the city bank:
Today the city bank is one of the leading and most successful Banking enterprises in the country. It plays great role in the economy of the country. By export-import business the bank play a great role to the economy of Bangladesh. The CBL is one of the greatest banks in export-import business.
Foreign trade plays a vital role in the economy advancement process of a nation. So the trend of country's foreign trade; i.e. import and export of a great concern to the government of a country. Fluctuation is the parameters of foreign trade immediately bring about some impact on the total economy. As such the nature, trend and volume of foreign trade are required to keep peace with the national economic needs and objective. There may be some areas where emphasis is to be given where there may be others which deserve restrictions and discouragement. Moreover the items of import and export value and volume of the same, the corresponding time period, sources of fund for payment and receipt, all these factors are to be considered very carefully for making necessary adjustment to match with the national economic policies as well as achieve balanced economic growth through the inter policy co-ordination.
MISCELLANEOUS Services by this Department:
Student File:
Students who are desirous to study abroad can open file in the Bank. By opening this file, bank assures the remittance of funds in abroad for study.
F.C Accounts: Foreign Currency Accounts opened in the names of Bangladeshi nationals or persons of Bangladeshi origin working or self – employed abroad can now are maintained as long as the account holders desires.
RFCD: Stands for Resident Foreign Currency Accounts. Person's ordinary resident in Bangladesh may maintain foreign currency accounts with foreign exchange brought in at abroad. Balance of such accounts is freely remittable abroad.
LOAN
CITY SCHOLER
A Unique education loan offered to fund higher studies not only in Bangladesh but also abroad. You can get up to 95% of your fixed deposit value as student loan or up to Tk 10 lacs on fully collateral – free basis. Now is the time to excel and outshine your peers. You too can be a City Scholar.
Secured overdraft facility –value can be up to 95% of the security deposits.
Unsecured facility – loan amount up to Tk. 10 Lac
Secured Equal Monthly Installments Facility – loan amount up to 95% of the security deposit
CITY DOUBLE
City Double is a unique loan facility where your fixed deposit in City Bank or in any other financial institution will now allow you to avail two loans at the same time from us – one as overdraft (up to 95% of FD value) and other as an EMI loan (up to Tk. 10 Lacs).
Fully secured loan in the for up to 95% of FD value
Unsecured loan for up to Tk. 10 Lac payable in Equal Monthly Installments (tenor ranging from 12 to 60 months).
Zero processing fee for the overdraft facility
CITY DRIVE
  Auto Loan for salaried person, business person & self employed individuals
Loan up to Tk. 20 Lacs
90% – 100% loan of car value
Flexible & low interest rate
CITY SOLUTION
Any purpose personal loan for salaried executives, business person & self employed individuals
Loan up to Tk. 10 Lacs
 12 – 60 months installment option
  Competitive interest rate
CITY EXPRESS
City Express Cash is a fully secured and revolving facility for any legitimate purpose. The security for the loan should be ideally CBL FDR. Bank would finance against clients CBL FDR or other banks/NBFIs security.
City Express Loan is a fully secured and terminating (EMI Based) loan facility for any legitimate purpose. Bank would finance against clients CBL FDR or other bank FDR/NBFIs security.
Card
Credit card
City Bank is the first bank to issue Dual Currency Credit Card in Bangladesh. This card enables you simultaneous usage of your card both in home and in abroad. You do not need to carry two different cards for the same purpose.
Features:
variable interest rate
EMI Plan
Balance Transfer
Round the clock cash withdrawal facility at any Visa branded ATM throughout the world
24% interest on Cash Advance
No cash Advance fee at CITY ATMs
Lowest Annual/Renewal Fee
International Roaming facility
Internet Transaction
CITY Visa Electron Debit Card – By your side, round the clock
Now comes the Visa Debit Card from City Bank. Your life, therefore, becomes hassle-free and safe; and it is Visa Electron branded, which makes you the proud owner of a meaningful plastic.
Features:
Cash withdrawal from 500+ Visa ATMs 24/7/365 all over the country
Shop and dine at hundreds of merchant Visa outlets all over the country
Balance enquiry
 PIN Change
Mini statement
Cash withdrawal @ Taka 12 per transaction at 583 DBBL ATMs
Cash withdrawal @ Taka 10 per transaction at 110 Q-cash network ATMs
Eligibility:
If you are an individual and have a savings, current or STD account in CBL, you are eligible avail this card. Just drop in any nearby CBL branch, collect an application form and submit duly filled up form. Within shortest time you will get the card delivered at your mailing address or at your designated branch.
The Performance of  the city  Bank Limited
Bank's Performance:
Despite changing macro-economic condition and volatile money market & foreign exchange market, the city  Bank Ltd. was successful in achieving much higher than national growth in deposit, Investment, export, import & remittance business. As on 31st December 2008 total deposit of the bank stood at Tk.45,034.33 million total amount of Investment of the bank stood at Tk. 9,031.70 million Foreign Remittance of the bank stood at Tk. 9,827.50 million as of December 31, 2008 as against Tk. 4,932.05 million of 2007. The ratio of non-performing investment is within the acceptable range of 0.44%.  The fact that non-performing investment ratio remained below 1% indicated that the strategy of equity growth by adhering to compliance in spheres of operations is working well.
Deposits:
| | | |
| --- | --- | --- |
| Particular | 2008 | 2007 |
| Current deposits | 15% | 17% |
| Bills payable | 1% | 2% |
| savings | 19% | 19% |
| FDR | 65% | 62% |
Composition of Foreign Exchange Business of 2008
| | | |
| --- | --- | --- |
| Particulars | Amount in Million Taka | Percentage of Total |
| Import | 30,894 | 54.28% |
| Export | 14,765.80 | 33.61% |
| Foreign Remittance | 9,827.50 | 12.11% |
| Total | 55,487.30 | 100.00% |
Comparison loan to2008-2007
Loan and advance of the CBL as on dec31, 2008 stood at BDT.34,421million  compared to BDT. 26,788 million of previous years reflecting a staggering growth of 28.49%
Years to years comparison
| | | |
| --- | --- | --- |
| Particulars | 2008 | 2007 |
| Agricultural industries | 1.61% | 0.02% |
| L&M enterprise | 31.24% | 20.69 |
| Small and cottage industries | 0.49 | 0.10 |
| Commerce and business industries | 38.49 | 41.06 |
| Realestate ,insurance | 2.43 | 8.06 |
| Transportation and communication industries | 2.49 | 1.06 |
| Others | 22.79 | 29.01 |
| Total | 100.00% | 100.00% |
Capital Structure:
At the very inspection, CBL started with an authorized capital of Tk. 1750 million. While it's initial Paid-up Capital was tk. 1366.20 million subscribed by the sponsors in the year 2008. The Capital and reserve of the bank as on 31st December 2008 stood at Tk. 2,851.28 million. The Capital Adequacy Ratio (CAR) as on 31st December 2008 stood at 11.01% that was well above minimum requirement of 10% by Bangladesh Bank
 Highlights The Performance of CBL
(figure in million unless specified)
| | | | | |
| --- | --- | --- | --- | --- |
| SL # | PARTICULARS | 2008 | 2007 | 2009 |
| 1. | Paid up Capital | 1,366.20 | 1,188.00 | 1,571.13 |
| 2. | Total Capital ( Core + Supplementary) | 3,953.47 | 3,156.25 | 5,159.71 |
| 3. | Capital Surplus | 361.58 | 652.55 | 5,88.26 |
| 4. | Total Assets | 57,114,.58 | 48,755.40 | 76,466.80 |
| 5. | Total Deposit | 45,034.94 | 40,539.63 | 62,384.28 |
| 6. | Total Investment (Loans & Advance) | 64,420..94 | 26.788.47 | 43,486.42 |
| 7 | Credit deposit ratio | 76.43% | 66.08% | 69.71% |
| 8 | Total Contingent Liabilities and Commitment | 10,920.87 | 8,277.64 | 10,446.56 |
| 9. | Percentage of Classified Investment against total Investments | 6.30% | 6.24% | 4.87% |
| 10. | Profit after Tax and Provision |                3,98.11 | 3,43.46 | 8,18.72 |
| 11. | Amount of Classified Investment | 2,169.81 |               1,671.83 | 2,116.96 |
| 12. | Provisions kept against classified Investment | 779.80 | 462.78 | 708.47 |
| 13. | Provisions surplus | 0.07 | 0.07 | 40.00 |
| 14. | Cost of Fund | 6.90% | 7.55% | 6.08% |
| 15. | Interest Earning Assets | 49,196.70 | 42,757.28 | 67,249.14 |
| 16. | Non- Interest Earning Assets | 7,917.88 | 5,998.12 | 9,217.67 |
| 17. | Return on Investment in Securities (ROI) | 14.13% | 12.33% | 13.48% |
| 18. | Return on Assets (ROA) | 0.75% | 0.71% | 1.23% |
| 19. | Income from Investment in Securities | 1,171.67 | 860.27 | 1325.04 |
| 20. | Earning Per Share (2008: Basic EPS, 2007: Adjusted EPS) | 29.14 | 25.14 | 52.11 |
| 21. | Net Income Per Share | 29.14 | 25.14 | 52.11 |
| 22. | Price Earning Ratio (Times) | 17.82 | 28.85 | 14.00 |
Credit Rating Report by CRISL:
This is a credit rating report as per the provisions of the Credit Rating Companies Rules 1996. CRISL long-term rating is valid for only one year and short term rating for six months. After the above periods, these ratings will not carry any validity unless the bank goes for rating surveillance.
Long Term
Short Term
Surveillance Rating-2008
AA-
ST-2
Surveillance Rating-2007
A+
ST-2
Outlook
Stable
Introduction about Ratio Analysis:
Analysis of time-series trends in financial ratios is another technique used in financial statement analysis. In some case, this analysis is relatively heuristic. It is analysis the Total Assets Turnover Ratio, Net Profit Margin Ratio, Return on Equity (ROE), Earnings per Share, Cash Reserve Ratio, Statutory Liquidity Ratio, Capital Adequacy Ratio, Investment Deposit Ratio, and Return on Investment in Securities (ROI), Return on Asset (ROA), Price Earning Ratio, and Investment Ratio etc.
Analyze of Ratios:
Earning Per Share has been calculated in accordance with BAS-33.previous year's Earning Per Share of Tk. 29.14 has been adjusted to Tk. 25.14 though  issuance of 15% bonus shares during the year. The CBL's Capital Adequacy Ratio position is good .Return on Asset ratio is 1.23% of the year 2009. Return on Investment in Securities also 13.48%, this is lower than previous year. Bank's Return on Equity is 35.31%, it's higher than previous year. To analyze this ratio the city bank's profitability ratio performance is good and bank's capital adequacy ratio is in good position. Total asset turnover, Cash reserve and Cash to asset ratio shown better liquidity performance.
The city bank's Profit Margin of 2008 is 42.92% it is outstanding for this bank. But in 2009profit margin is 39.92% its lowest than previous year. And CBL's Investment Ratio is outstanding and Investment deposit ratio is shown good position.
By analyze those ratio's CBL's Profitability, Efficiency, Liquidity and Asset-quality position is very good. This ratio also shown the bank's overall performance is outstanding.
Recommendation:
I have the practical experience in the city bank for only two months, with my little experience in the bank with vast and complex banking system, it is very difficult for me to recommend. I have observed some shortcomings regarding operational activities of the bank. On the basis of my observation I would like to recommend the following suggestions:
1. The employees are given deposit target, which creates extra pressure to them for that reason they cannot freely provide customer service. They had to spend most of their time to marketing to fill up their target If the bank can reduce the pressure then they could be able to provide good service.
2. In case of Export, the Government encourages the exporters by giving different facilities like tax-cuts. I think the bank should also consider about such types of facilities to be given to the Exporters.
3. In many cases, the foreign banks choose for a confirmation from other foreign banks, which is dishonor for the local bank. It proves the poor financial condition of our country. Bank should try to improve this situation.
4. To provide quality service to the customer it is necessary to have a trained team of an organization or an institution. For this reason the bank should recruit fresher, bright energetic persons such as MBA, BBA and MEM etc.
5. Bank should offer more facilities to the customers such as Credit card, Visa card, Master card, ATM machine, etc.
6. As the clients are not in favor of introducing system, if possible the rule of introducing to open an account should be changed. Because many face in problem to arrange an introducer at the time of opening accounts
Conclusion:
From the practical implementation of customer dealing producers during the whole period of my practical orientation in The City Bank Limited, I have reached a firm and concrete conclusion in a very confident way. I believe that my realization will be in harmony with most of the banking thinkers. It is quite evident that to build up an effective and efficient considered as soon as possible. Besides, every bank has to survive amidst of a large number of banks including local and foreign. That's why to keep with expected profit margin of the time being and for the future every bank should try heart and soul to please the customers in a smart and trusty way. But quit regretful to mention that most of our bank face decreasing profit trend due to switch over of their present customers to those foreign with higher customer service facilities. So, timely decision for introducing sophisticated banking instruments should be taken as early as possible. After taking effective and time defeating measures regarding efficient employees and instruments will help the local office of the city bank, to reach the pinnacle of success with high profit and productivity.